description
Experience unforgettable day in the heart of Umbria and visit Santa Maria degli Angeli and Assisi in the comfort of your own private deluxe vehicle driven by your personal Rome Cabs English speaking Driver eager to help you have a most memorable day in Italy.
On your day trip to Assisi you will have the opportunity to visit the basilica of Santa Maria degli Angeli to see the Porziuncola where the Franciscan movement began, and the Capella del Transito where St Francis died. See also below the story of Saint Francis.
In Assisi you will visit the impressive basilicas of St Francis and St Clair, the monastery of San Damiano surrounded by olive groves and overlooking the breathtaking vista below, and enjoy a traditional Umbrian lunch the center of Assisi which is believed to be one of the most enchanting medieval towns in Italy!
ASSISI TOUR PRICE LIST


For up to 2 Persons from Rome Hotel: 450 EUROS
For up to 4 Persons from Rome Hotel: 500 EUROS
For up to 6 Persons from Rome Hotel: 550 EUROS
For up to 8 Persons from Rome Hotel: 600 EUROS


** You may also do a QUICK PRICE CHECK using the Price Check & Booking form on the Right Side of this page. Once you receive the PRICE QUOTE based on the information you input, you may proceed to SUBMIT your Tour Request.
*** Dates on the Booking Form Calendar that are NOT Selectable, are NOT AVAILABLE.
BASILICA OF SANTA MARIA DEGLI ANGELI

After a leisurely drive through the countryside of Rome into the picturesque region of Umbria, we will arrive at the foot of Mount Subasio in the quaint town of St Maria degli Angeli (St Mary of the Angels), just downhill from Assisi.
Here we will visit the grand basilica of St. Maria degli Angeli, respected as the place of St. Francis' death. Inside this beautiful Baroque basilica are two small structures: the Capella del Transito and the Porziuncola. The Cappella del Transito is the small room in which St. Francis died on October 3, 1226. Above the small altar in a glass case is the rope belt of St. Francis.
BASILICA OF SAINT FRANCIS


Afterward, we will take a short drive up the scenic slope of Mount Subasio to Assisi to visit the Basilica of St. Francis, which consists of an upper level and a lower level, known as the Upper Church and the Lower Church. It is also in this Basilica that St. Francis is interred.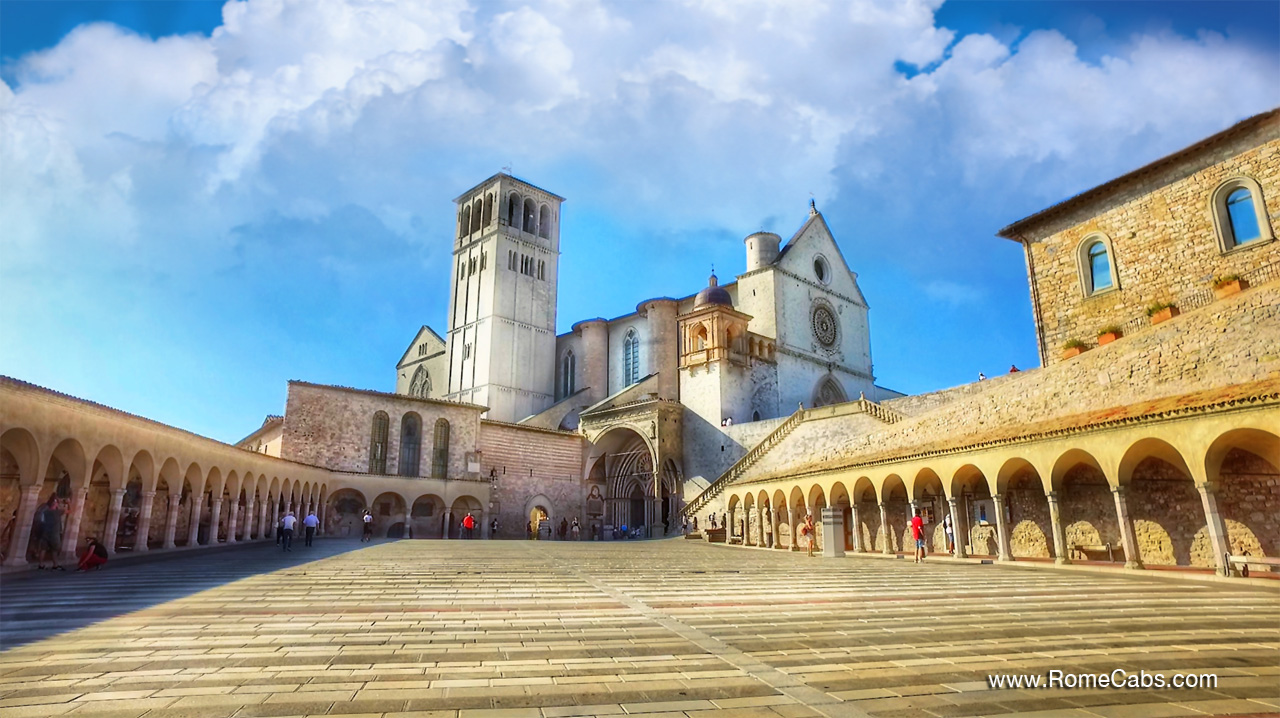 The churches are decorated with many beautiful frescoes by late medieval painters including Cimabue, Giotto do Bondone, Simone Martini, and Pietro Lorenzetti. The basilica was begun immediately after St. Francis' canonization in 1228.
PIAZZA DEL COMMUNE


You will then make your way to Piazza del Comune, the town's main square, built on the site of the Roman forum. Here is where the town gathers not only for special events and festivals, but to socialize at its many cafes and restaurants.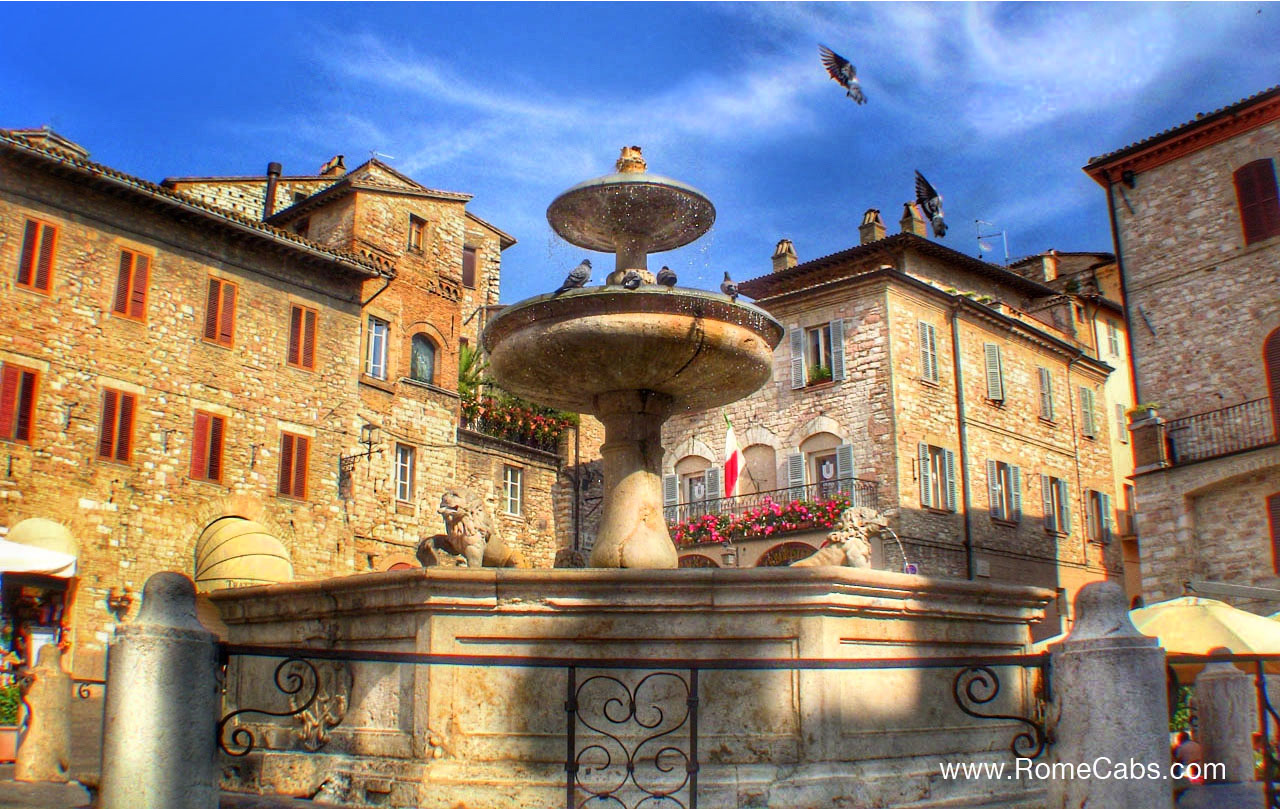 In this piazza towers the ancient 1st century BC Roman temple dedicated to the pagan goddess Minerva. In the 1500s, the temple was transformed into the church of Santa Maria Sopra Minerva, with further alterations added in the rich Baroque style during the 17th century.
It is possible on most days to take a peek inside this amazing structure and admire the tiny jewel box church ornately decorated from ceiling to floor.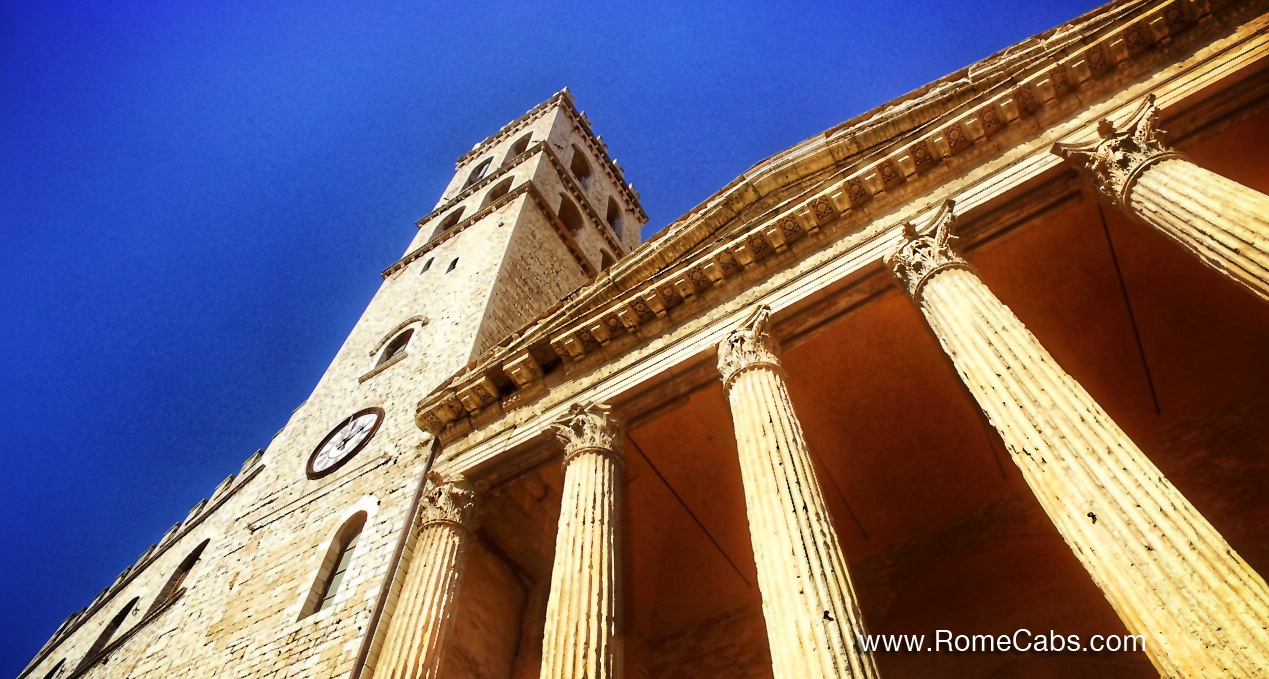 Welcome free time on your own to enjoy lunch at a local restaurant or trattoria to savor the scrumptious Umbrian flavors and cuisine.


BASILICA OF SAINT CLAIRE


After lunch, we will visit the Basilica of St. Clare (Santa Chiara), the 13th-century Gothic-style church where her preserved body is on display in a crypt, with a layer of wax covering her face. Nearby are garments worn by both St. Francis and St. Clare, and some locks of St. Clare's hair that St. Francis cut off when she joined his ministry.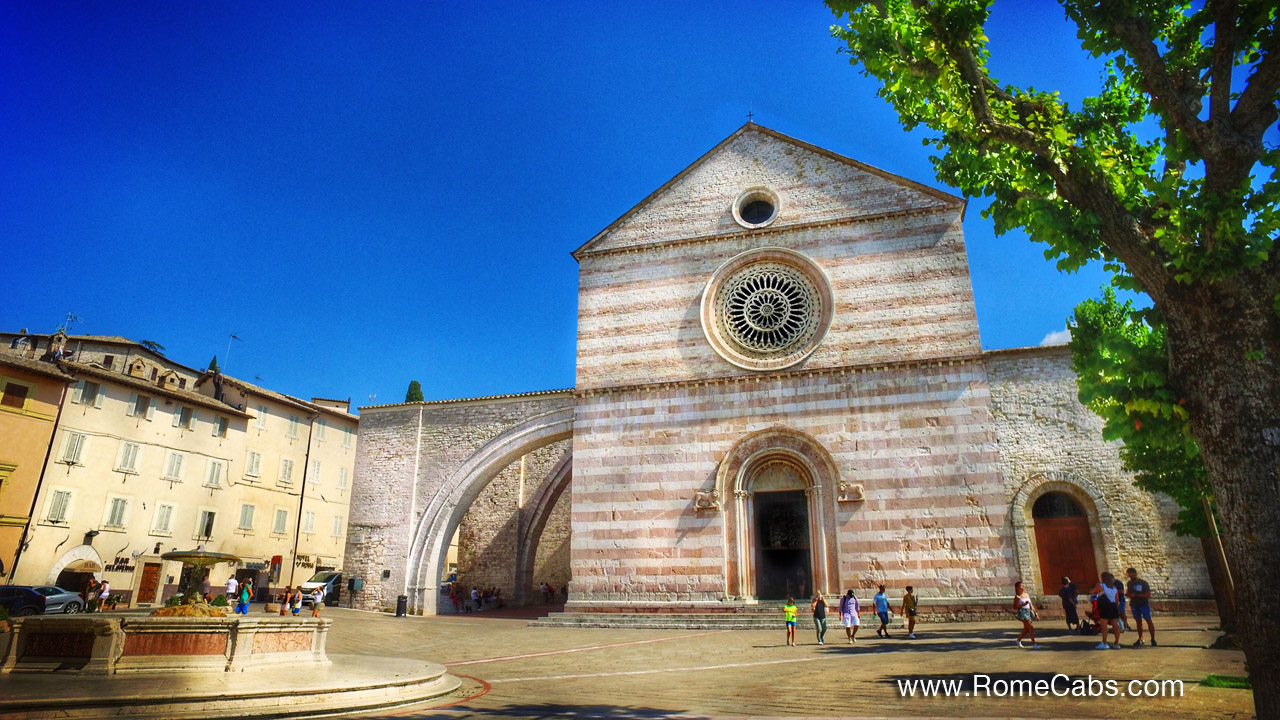 Here you can also admire the original crucifix that is said to have spoken to St Francis inside the run down San Damiano church prior to his conversion.
Outside the basilica in the piazza is a lovely patio where you can take in the verdant patchwork of the Umbrian countryside.


SAN DAMIANO MONASTERY


A few minutes outside of Assisi down a gentle slope, surrounded by rows of gnarly olive trees, is the serene church and monastery of San Damiano. This peaceful sanctuary is small and simple.
This is the place where St. Francis received his calling in 1205 and where St. Clare died in 1253. After claiming to have heard a heavenly voice telling him to "Rebuild My Church", St. Francis reconstructed the little church with his own hands, having literally followed the message that he was given. St. Clare founded the order of 'Poor Clares' here in 1212 and lived there most of her life.
The wooden choir stalls in the church date from the early 16th century, but those in the little Choir of the Poor Clares are original from the time of St. Clare (13th century).
Now, you can sit back and relax inside your private deluxe vehicle for the leisurely drive back to Rome where your driver will drop you off at your hotel.
Thank you for booking our Assisi tour from Rome, and for choosing Stefano's RomeCabs for your private Italy Tours. We look forward to showing you beautiful places in Italy!
Important Information

PLEASE READ THE INFORMATION BELOW AND ACCEPT THE TERMS OF SERVICE AND PRIVACY POLICY BEFORE BOOKING.


PAYMENT OPTIONS
Payment for this Tour can be made in EUROS directly to your driver on the Date of Tour, or prepaid in advance via PayPal or Credit Card online upon request. (See Cancellation policy below)
CANCELLATION POLICY
We kindly ask that cancellations be made via E-mail at least 7 days prior to Date of Service.
Cancellations are accepted only via E-mail so your cancellation is on record. We do not accept cancellations by phone, text message, or 3rd parties.
** Cancelations for PREPAID SERVICES will be refunded the Reduced Net Rate we receive from your prepayment. Reduced Net Rate: actual service price minus PayPal/Credit Card fees retained by PayPal/Credit Card as they do not reimburse us the fees they retain from your payment.
YOUR ASSISI TOUR PRIVATE DRIVER
This tour includes an English-speaking Private Driver who is not a licensed tour guide.
In order to be in compliance with Italy laws protecting the integrity of licensed tour guides, drivers are not lawfully permitted to accompany our guests into squares, churches, museums, or other sites. Your driver will be obliged to remain with the vehicle while you are sightseeing.
On this tour you will SELF TOUR the attractions you visit, unaccompanied by your private driver.

ASSISI TOUR TIPS
On this Assisi tour from Rome, please wear comfortable shoes and expect some minimal uphill and downhill walking.
Churches in Assisi enforce modesty rules, so please have your shoulders and knees covered when entering the churches. Ladies can use a shawl to cover their shoulders.

WHO WAS SAINT FRANCIS?


The story of this gentle man, Francesco di Bernardone, born in a humble Italian hilltop town is both fascinating and inspiring.
Francis was born in 1181 or 1182 and at his baptism, was actually christened Giovanni. Later, his father began calling him Francesco.
In his youth, there was certainly no indication of the man he would become. He enjoyed a filled with pleasure, fine clothes and good times. He soon became the favorite of the young nobles in Assisi.
When he was about twenty years old, Francis went out with other townsmen to fight the Perugians in one of the frequent skirmishes between Assisi and Perugia. He was captured and held captive for about a year.
During that time, he became ill and it is said that he began to think of eternity and of his own mortality.
He considered the emptiness of the kind of life he was leading, but after returning to Assisi, he once again began to enjoy the pleasures of life and decided to embark on a military career.
He set out on a journey to the Neapolitan states with a friend. The night before they were to leave, Francis had a dream of a giant hall filled with armor and all of the armor was marked with a cross. A voice said, "These are for you and your soldiers." Francis answered, "I know I shall be a great prince!" .
But he became ill once again in the city of Spoleto and had another dream in which the same voice told him to return to Assisi, which he did at once.
This was in 1205 when Francis was in his early twenties. It was at this point that Francis seriously began to evaluate what he felt was a call upon his life.
He gave up his fine clothing and put a stop to his wasteful ways.
One day Francis came upon a leper, and he did the unthinkable. He dismounted from his horse, embraced the poor man and gave him all of the money that he had. This was unheard of in that day and time. Shortly thereafter, he made a pilgrimage to Rome and was saddened by the paltry offering at the tomb of St. Peter.
He again gave all of his money and then went a step further; he exchanged clothes with a beggar and stood outside of St. Peter's with the rest of the beggars for the remainder of the day.
He returned to Assisi and took up a life of poverty, totally surrendering all of his worldly goods. He obtained a coarse woolen robe and tied it around himself with a knotted rope.
He then endeavored to rebuild the churches and minister to the people. Eventually he was joined by others who took up the vow of poverty, and the Franciscan order was formed. The Franciscans went from place to place ministering and singing; sleeping in haylofts, grottoes or church porches.
In 1212, a young woman named Clare joined Francis, desiring to embrace the life of poverty. Francis cut off her long hair, clothed her in a habit and made arrangements for her to stay with some Benedictine nuns until he had suitable living quarters for her and other women who joined her. They were established at St. Damiano in Assisi.
Francis was a loving friend of all of God's creatures, and lived to minister and spread the gospel until his death on October 3, 1226.