description
Quality, Reliable, Private Airport Transfers in Rome that our clients have depended on for more than 18 years. Welcome to Stefano's RomeCabs, Rome's leading company for Rome Private Airport Transfers and Cruise Port Transfers with decades of experience and dedication to excellence.
We proudly offer travelers in Rome reliable quality airport transfers you can depend on, in deluxe climate-controlled fully insured vehicles with professionally licensed experienced Transfer Drivers.
Our Rome airport-to-hotel transfer service makes your arrival in Rome easy, comfortable, and efficient. Our black car private driver service offers a reliable and luxurious alternative to Rome airport shuttle taxis and trains, offering our guests peace of mind and stress-free Rome airport transfers. Make your arrival in Rome a grand experience with our stylish private driver service.
Whether you are traveling to Rome for business or pleasure, we take the stress and worry out of your airport transfers from arrival to departure.



ROME - AIRPORT TRANSFERS PRICE LIST

1-3 Persons: 75 EUROS
4 Persons: 85 EUROS
5 Persons: 90 EUROS
6 Persons: 100 EUROS
7 Persons: 110 EUROS
8 Persons: 120 EUROS
* DATES on Booking Form Calendar that are NOT SELECTABLE are NOT AVAILABLE
* Price List above is for Direct Rome Airport Transfer with Driver with Day Time service between 7:00 AM – 7:00 PM.
* NIGHT-TIME Rome Airport Transfers provided between 7:00 PM – 7:00 AM are 20 EUROS EXTRA

* For pick-up times before 6:00 AM, scroll all the way down the Time Picker in the booking widget.

* Prices are per Vehicle and include 1 pickup/drop-off location in central Rome. Multiple pick-ups/drop-offs are extra. The price list does NOT include VIP Tour options.
* Please read the LUGGAGE information below prior to booking to ensure that your luggage does not exceed vehicle luggage capacity. Extra luggage can be accommodated either by an upgrade from a sedan to a minivan or by reserving a 2nd vehicle.
* Please allow up to 24 Hours to process your transfer request, establish availability, and send you an email correspondence. Reservation Requests are confirmed based on availability.
* To SUBMIT your Airport Transfer request, please use the Form at the right side of this page. The Booking Form is NOT to be used for inquiries. For inquiries, please send us an email.
** CHECK YOUR SPAM FOLDER ** If you don't hear from us within 24 hours, check your Spam Folder and let us know. Many users of AOL, Yahoo, Hotmail, Comcast, and Earthlink fail to receive legitimate email correspondences. Always white list our email address to ensure you receive our email correspondences.


Important Information
** BE AN INFORMED TRAVELER **
Read the Important Transfer Info BELOW before booking

*** PLEASE READ THE INFORMATION BELOW AND ACCEPT THE TERMS OF SERVICE AND PRIVACY POLICY BEFORE BOOKING.
For a QUICK PRICE CHECK for your Rome - Airport Transfers and to SUBMIT YOUR AIRPORT TRANSFER REQUEST, please use the form at the right side of this page. Read our TIPS for Booking your Rome Airport Transfers below.


How to Schedule your Airport Transfer TIME:


* NOTE * - What is the "SELECT ESTIMATED TIME" when you book your Transfer?

- For Transfers from Airport to Rome Hotel, it's your Flight Arrival Time
- For Transfers from Rome to Airport, it's your Pick Up Time from your Hotel
YOUR ROME AIRPORT TRANSFER REQUEST:
Please allow up to 24 HOURS to process your Airport Transfer request, establish availability on your Date and Time, and send you correspondence via Email. Transfer requests are confirmed based on availability and are not automatically confirmed.
IMPORTANT LUGGAGE INFORMATION:


Please specify the TOTAL number of large suitcases and small carry-ons in order to be provided a proper size vehicle.
For 1-2 passengers - standard car type deluxe vehicle with a maximum luggage capacity of 1-2 suitcases and 1-2 carryons.
If you bring extra luggage that would not fit into a sedan trunk space, please inform us in the special request box and you will be upgraded to a Larger Vehicle / Minivan at an extra fee.
For 4-8 passengers - a deluxe minivan that can accommodate up to 6 check-in suitcases and up to 6 small carry-ons.
Please advise if your luggage exceeds capacity as you may require a 2nd vehicle.
** IMPORTANT: Failure to inform us of your exact number of luggage may result in our inability to provide the proper size vehicle to accommodate your luggage. If a 2nd vehicle would be required for extra luggage it will be at an additional fee equivalent to an additional transfer service. To avoid extensive wait times for a proper vehicle or vehicles to be available, please provide us with your correct number of suitcases and carry-ons prior to your date of service.
PAYMENT OPTIONS for Rome Airport Transfers:


Payment for our VIP Transfers (Rome Transfer with Tour) can be made in EUROS directly to your driver on the Date of Service, or upon request prepay in advance via PayPal or Credit Card online (see Cancelation policy below for prepayments).
CANCELLATION POLICY for Rome Airport Transfers:


For Rome Airport Transfers, cancellation must be made at least 24 HOURS prior to the Date and Time of Service.

** Cancelations for PREPAID SERVICES will be refunded a REDUCED Net Rate we receive from your prepayment. Net Rate: actual service price minus PayPal/Credit Card fees retained by PayPal/Credit Card as they do not reimburse us the fees they retain from your payment.


YOUR AIRPORT TRANSFER DRIVER:


Professional Transfer Drivers will only speak Italian or perhaps some very limited English.
It is not possible to request English-speaking drivers for Transfers as they are frequently booked with Tours.
If you prefer an English-speaking driver with commentary, we offer our exclusive V.I.P. Transfer with Tour options that offer you a great introduction 1-Hour Tour, 2- Hour Tour, or 4-Hour Tour by car conducted by English Speaking Driver that specializes in Tours by Car.
Enjoy a VIP Rome Airport Transfer with Private Tour of Rome by Car:

Turn your Private Airport Transfer to Rome into an exciting Tour of Rome with our V.I.P. Transfers. Arrive in Rome in style, enhanced by our orientation Rome tours by car with your personal English-speaking Driver at your service.
Visit our VIP TRANSFER page for detailed information, tour options, and prices.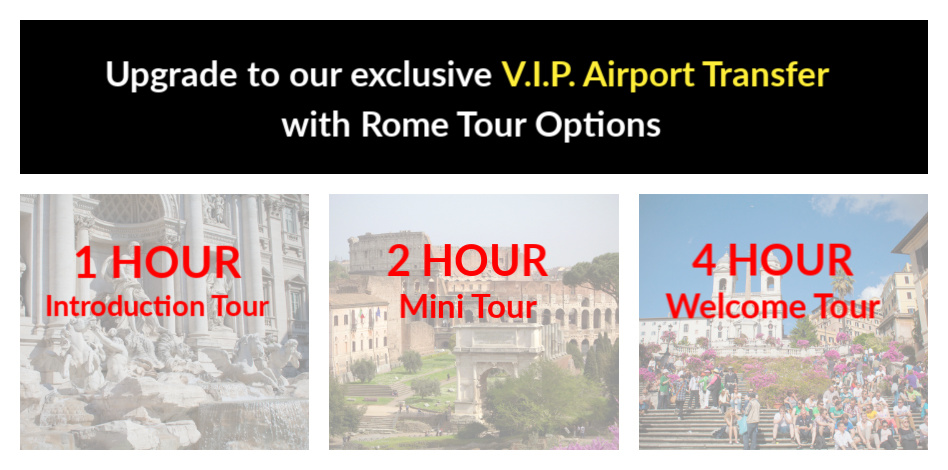 HOW TO BOOK YOUR ROME AIRPORT TRANSFERS:


To ensure a secured accurate service, ALL reservations must be made online on our website. We do not take reservations by phone, email, or through your driver or another third party.
Please place your airport transfer booking requests at least 36 hours in advance as last-minute requests may not be possible as transfer requests are confirmed pending availability on the date and time requested.
Each transfer must be booked individually.
For Transfers from the Airport to Rome, the "SELECT ESTIMATED TIME" should be your Flight Arrival Time at the Airport
Do not book a transfer or other services via the special request box of another transfer.
The booking form must be used only to place actual reservation requests. Please do not utilize the booking form for questions or general inquiries. Please send us an email if you have any questions about our services.
Once you submitted your reservation information, please allow up to 24 hours for your reservation request to be processed and to receive a confirmation email from our staff informing you of availability to accommodate your request.
Please be sure you provide the correct Flight Information (Flight Number, Date, and Time of arrival in Rome). Service cannot be provided if incorrect flight information is received.
Please provide a valid and complete address for your pick-up or drop-off in Rome. Service cannot be provided with an incorrect pickup address.
CHANGES IN YOUR ROME AIRPORT TRANSFER BOOKING?


Last-minute changes to the already confirmed itinerary can only be accommodated pending availability.


TRAVELING TO ROME WITH YOUNG CHILDREN?


Please advise if you are traveling with children 8 years and younger and IF you require a child seat or booster seat to be provided.
If you do require child seats to be provided please include this request along with the children's Ages and Weight (in Kilograms) in the Special Request box of our booking form so proper child seats can be included and confirmed.
HOW TO MEET YOUR DRIVER AT ROME'S AIRPORTS:


** For Transfers from the Airport, your Driver will arrive approximately 40 minutes after your flight has landed to allow sufficient time to clear customs and collect your luggage.

Where to Meet Your Driver at FIUMICINO AIRPORT (FCO)

TERMINALS 1, 3: After you clear customs and collect your luggage in the "Baggage Claims Area", proceed to exit into the Main Waiting Hall.
Your driver will meet you in the Designated Area for Drivers marked by large round Green Columns (labeled N.C.C./ Limo Drivers) where you will see all other drivers waiting for their clients.

* At FCO Airport ALL PASSENGERS will either exit from Terminal 1 or Terminal 3, even if airlines state arrival at Terminal 2 or Terminal 5. Drivers will monitor FCO Airport Arrival Flight monitors to verify exit points.


Where to Meet Your Driver at CIAMPINO AIRPORT
* Ciampino is a smaller airport than Fiumicino Airport it makes it easy to locate your driver waiting for you with a sign bearing your name. Ciampino Airport has only 1 exit. Your driver will meet you outside the terminal, just after you exit through the sliding doors.
ADDITIONAL IMPORTANT ROME AIRPORT TRANSFER INFORMATION:


FIUMICINO AIRPORT VEHICLE PARKING AREA:
Please note at the airport you will be required to walk a few minutes to the designated parking area for car service companies as mandated by airport security.
Car service companies are NOT permitted to provide curbside pick-up.
Be sure to use a trolley for your luggage to assist with walking the distance to your parked vehicle.


TRAVELERS WITH MOBILITY ISSUES
Travelers with mobility issues can request Complimentary Wheelchair Assistance at FCO Airport in advance through their Airline Company. If requesting wheelchair assistance, please inform us in advance so we can include this important information in your reservation.
ROME'S AIRPORTS FLIGHT MONITORING
Flights are monitored for delays, and late arrivals are accommodated by the first available driver.


UNEXPECTEDLY EARLY FLIGHT ARRIVALS:

Flights that land unexpectedly early are often not announced sufficiently in advance to be accommodated. In such cases, drivers will arrive at the originally booked flight arrival time. In such cases, there are cafes inside the terminal building where you may enjoy a beverage or a snack while you wait for your driver to arrive.


If your flight is delayed, we will send the first available driver for your late arrival. On busy days, it may not be possible to arrange last minute for a new driver to arrive right when your late flight lands. In such cases, there are cafes inside the terminal building where you may enjoy a beverage or a snack while you wait for your driver to arrive.
MEETING POINTS for Airport Transfers from ROME HOTELS / ACCOMMODATIONS


Your private driver will meet you inside the lobby of your hotel or in areas permitted by your hotel.
For Apartments or B&Bs without a lobby, your driver will meet you outside the main entrance of your Pick Up Address.
* If your hotel or accommodation is on a street or in an area restricted to vehicle traffic, your driver will park as close as lawfully possible, meet you on foot at your Address, and then accompany you to your parked vehicle. Door-to-Door service is not possible on streets or squares that have vehicle restrictions.


** IMPORTANT for Pick Up from your Hotels: - FOR YOUR SAFETY **
Upon meeting your driver at your hotel, you must REQUIRE your Driver to confirm your Reservation Number to ensure you are departing with your REAL Driver from our company, and NOT with an unauthorized tout who may pose a risk to your personal safety. Only depart with a driver who confirms your Reservation Number.



DEPARTURE TRANSFERS from Rome to Fiumicino Airport/ FCO:
For transfers from Rome to Fiumicino Airport (FCO) please provide the Departure Terminal Number from where your flight will depart as many airlines depart from multiple terminals. You will find your Departure Terminal (T1, T2, T3...) in your Airline Tickets or you may check online here: www.adr.it or www.flightstats.com
LUGGAGE ASSISTANCE / PORTER SERVICE:
If you are staying at private apartments without an elevator and require luggage to be brought upstairs or downstairs, please secure luggage assistance via your Host as our Drivers will only be able to leave your luggage at the main entrance, after which you will need to secure luggage assistance with your Host.
Upon request, we can provide PORTER SERVICE at 25 EUROS to bring your luggage upstairs and downstairs. Be sure to request PORTER SERVICE in advance when booking your transfer so we will provide a Driver who will be physically able to bring your luggage upstairs or downstairs at 25 Euros Per Transfer.
Staying in Rome before a cruise from Civitavecchia?

We also offer private Civitavecchia Private Transfers for cruisers needing transfers from Rome Airports to Civitavecchia Cruise Port, or from Civitavecchia to Rome Airports. Frome Rome hotels, we also offer Rome to Civitavecchia Transfers and Civitavecchia to Rome Transfers.
In addition to Civitavecchia Transfers, we also offer Pre Cruise Tours from Rome to Civitavecchia.
Are you traveling between cities in Italy?
We also offer private long-distance transfers between Rome and many cities in Italy for the safest, most convenient and efficient way to get around Italy. Maximize your sightseeing opportunities in Italy with our Italy Sightseeing Transfers offering wonderful opportunities to visit top destinations along the way making your Italian vacation extra special. We can also customize your private long-distance transfers and sightseeing transfers, please contact us via email for assistance.



* ENHANCE YOUR TIME IN ITALY WITH OUR PRIVATE ITALY TOURS FROM ROME

Turn your Italy trip into your vacation of a lifetime with our private Rome Tours, Rome Countryside Tours, Tuscany Tours from Rome, Amalfi Coast tours, and more! Experience more of Italy in less time, comfortably and safely on our private tours in deluxe vehicles and English-speaking drivers at your service.
* ROME AIRPORT AND CIVITAVECCHIA TRANSFER TIPS FROM OUR BLOG:

Rome Airport Transfers Reviews and Customer Feedback:


Professional company! Ethical with high standards! I used "RomeCabs" to get to and from tours as well as transportation to and from the airport. Drivers are so helpful from luggage assistance to find me when I was lost getting out of a tour. I will also tell you that when I inquired about the cost to a tour they told me that it would be cheaper for me to get a taxi due to the short distance, great ethics which some companies lack nowadays. I chose to stay with "RomeCabs" due to being under time constraints that day and knowing they are dependable. Excellent service, thank you! ~B.R.,


Used Rome Cabs when we arrived and departed Rome. The driver was waiting for us when we arrived and was at our hotel a few minutes early for our departure. Both drivers were very professional, the vehicles were clean and comfortable. I and my friends much preferred using Rome Cabs for the trips to and from the airport versus the regular taxis. They are fine for short trips in town, but it's worth it to pay for something a little better for longer trips- and honestly, the price was not much more than what the taxi would have charged. Will definitely use Rome Cabs again! ~ Elizabeth R.


"I booked two airport transfers for my clients traveling to Rome on their honeymoon. Rome Cabs was a pleasure to communicate with, and they have excellent customer service. They even greeted my clients with a bottle of Prosecco since they knew it was their honeymoon! I wouldn't hesitate to recommend Rome Cabs to future clients." ~ Tara B., Trafalgar Travel (Jamaica)

"…On both transfers, drivers were prompt (actually early on the return), courteous and helpful. When we arrived in Rome, Massimo met us, helped with the luggage and answered all our questions as we drove to the apartment. I will always use RomeCabs! ~ Bill and Jen Aniskovich
"Everything was really great! Thank you for your prompt communication since the beginning, it truly helps to ease the minds of worried travelers…" ~ Cindy Yeh
"Faultless! And I WAS able to practice my Italian with our driver. Brilliant welcome to Rome" ~ Vicki and Andrew
"…Professional all the way…A real pleasure and by far the best service I have received anywhere i have been…. Thanks again and when I decide to go again you are the only company I will use. Take care ~Matt M. from U.K.
"…Great service, smart, punctual, businesslike and efficient. When we return to Rome we will use Rome Cabs again…" ~ Mikael Magnusson
"… clean, newer vehicles, professional & polite drivers who were on time or early, and most importantly,safe drivers who really know their way around!…" ~ David and Becky – Metro Atlanta, GA USA.
"Was very punctual! Thank you for the excellent service". ~ Elizabeth D. from San Francisco, CA
"Loved the service your drivers provided…." ~ Paul, Ajax, Ontario, Canada