Stefano's RomeCabs Tour and Transfer Company
The Original RomeCabs Company

Buon giorno, this is Stefano Costantini, owner of Stefano's RomeCabs Tour and Transfer Company. Thank you for visiting our website.
I was born and raised in the Eternal City of Rome, and created my company RomeCabs in 2005 as a result of my passion for my city and country, and my personal determination to provide exceptional service to visitors of Rome and throughout Italy.
From its conception Rome Cabs became synonymous with reliability, integrity, caring and friendly service, and old fashioned Italian hospitality.
We have offered our tens of thousands of happy clients Private Rome Airport Transfers, Private Civitavecchia Cruise Port Transfers, Private Day Tours by Car and Shore Excursions from Civitavecchia, Livorno, and Naples Cruise Ports to many of Italy's top travel destinations.


I learned from my late father that a man's word is worth everything, and each day I apply this to my business because my clients count on me to keep my promise to them, and that is how trust is built, earned, and maintained. I take humble pride in having the opportunity to provide quality service at competitive prices to our guests and do all I can to make your visit to Rome more enjoyable.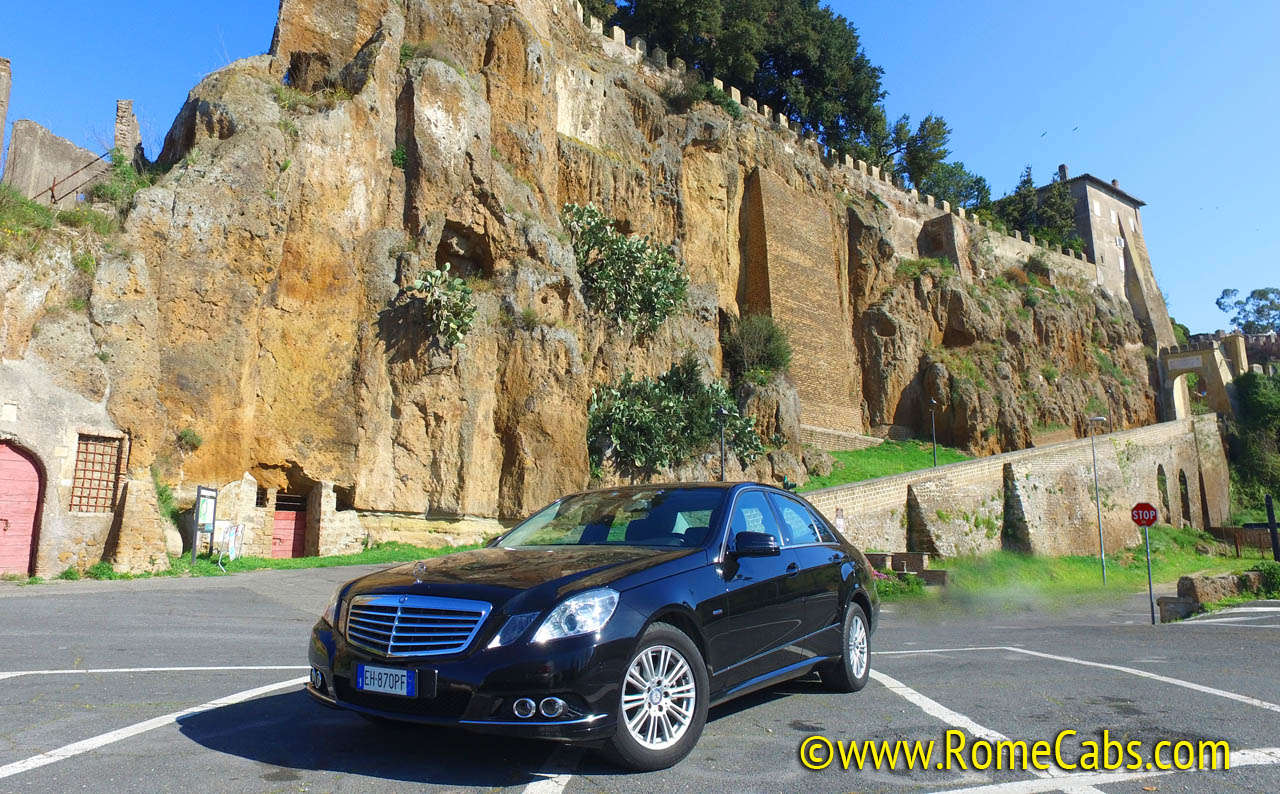 Vehicle Safety and Insurance

My commitment to my guests goes further than just my commitment to providing the service I promised to deliver. Making sure my clients are safe and protected during our transfers and tours is of highest priority. For this reason I spare no expense when it comes to vehicle safety and insurance. Our fleet is regularly maintained only at authorized Mercedes and Opel service centers using top of the line parts, oil and tires. We never take our vehicles to inexpensive neighborhood mechanics where the quality of service is not always guaranteed, in order to cut costs at the expense of vehicle safety. I don't skimp on vehicle insurance either. Our vehicles are ensured for 5,000,000 Euros each, so our clients are always protected.
Quality of Service is very important to us

RomeCabs Tour and Transfer Company does not compete on prices, but on quality,safety and integrity of service because I never cut corners that could potentially compromise your safety, protection, and quality of service you receive. Our prices reflect the extra care I take to ensure our clients are safe, comfortable and happy during our tours and transfers. I will gladly provide scanned copies of our vehicle maintenance records and insurance policy to you upon request.
RomeCabs Transfer and Tour Drivers

Our RomeCabs Transfer and Tour Drivers are selected based on extensive experience as professional drivers in Rome, reliability, personal conduct andintegrity, strong work ethics, and safe driver record to name a few. Each driver isprofessionally licensed as a limo driver by the municipality of Rome. Our drivers are also tested for drugs, alcohol, and have health checks by state physicians that determine their fitness for the job. All this is done with our clients' safety and protection in mind.
My Personal Guarantee for RomeCabs Tour and Transfer Company

As my clients, you are my top priority, and I make it my personal mission to ensure you are pleased with the service you receive from me and my company. I am always there for you from the moment you book your service with us, to the moment we say our good-byes at the end of your transfers or tours, in order for you to have the best possible experience with Rome Cabs in Italy.
I thank you for placing your trust in us and choosing Stefano's RomeCabs Company for your Transfers, Tours and Shore Excursions. I look forward to being of service to you, and seeing you soon in Rome!


~ Stefano Costantini
CEO/ OWNER of Stefano's RomeCabs