description
Searching for a hassle-free comfortable transfer from Rome to Orvieto, or from Orvieto to Rome?
Not sure how to get from Fiumicino Airport to Orvieto? Or how to get from Orvieto to the airport?


Stefano's RomeCabs is pleased to offer long-distance non-stop private transfers between Italy's major cities.
When you choose our long-range transfer service, we take care of your private Orvieto transfers for the easiest, most efficient, and most comfortable way to travel through Italy.
Getting from Rome to Orvieto has never been easier! Our private Rome - Orvieto transfers are offered with the following pick up and drop off options:


- Rome to Orvieto Transfer
- Orvieto to Rome Transfer
Rome hotel - Orvieto Transfer Prices


For up to 2 Persons: 275 EUROS
For up to 4 Persons: 300 EUROS
For up to 6 Persons: 330 EUROS
For up to 8 Persons: 360 EUROS

* Listed Prices are for Daytime Driver Services Booked and Provided between 7:00 AM - 7:00 PM
Night Time services 7 PM - 7 PM are EXTRA. Please send us an email for Night Time Rates
** DATES on the Booking Form Calendar that are NOT Selectable, are NOT AVAILABLE.
HOW TO BOOK YOUR ROME- ORVIETO TRANSFERS ONLINE:

Please include your complete DROP OFF ADDRESS in the Special Request Box of your Booking Form
If you prefer a different pick-up time than the recommended 9:00 AM, let us know in the Special Request Box of your booking form.



ROME - ORVIETO TRANSFERS

Delight in a journey through Italy in your private deluxe vehicle with your personal professional Driver at your service on our private long-distance transfers from your hotel accommodation Rome to Orvieto, or from your hotel accommodation in Orvieto to Rome. We also provide reliable Ciampino or Fiumicino Airport to Orvieto and Orvieto to Fiumicino or Ciampino airport.
Traveling around Italy safely and efficiently has never been easier with our convenient Pick-Up and Drop Off at your hotel, B&B, vacation apartment, or airport.
When booking our private Orvieto transfers, you will never have to depend on limited train or bus routes and schedules, negotiate through chaotic and crowded train stations, or be burdened by heavy luggage.
Our Long Distance Private Transfers in Italy are ideal for families with children, senior travelers, travelers with mobility concerns, or discerning travelers who prefer to travel through Italy safely, comfortably, and effortlessly.
During Orvieto transfers, your luggage will travel secured inside the vehicle's luggage compartment.

FIUMICINO AIRPORT - ORVIETO TRANSFERS

Upon request, we also offer travelers the following airport transfers to Orvieto and back.


Fiumicino Airport to Orvieto transfer
Ciampino Airport to Orvieto transfer
Orvieto to Fiumicino Airport transfer
Orvieto to Ciampino Airport transfer


Our Reservation Specialist will be happy to assist you with information, price quotes, and reserving your preferred transfer service if you provide us with the details of your flight arrival and departure.


For Ciampino / Fiumicino Airport to Orvieto Transfer please send us an email with the information below:
Flight Arrival Date and Time
Arrival Airport Name
Number of Persons in your party
Your Drop Off Location in Orvieto (hotel/accommodation address)

For Orvieto to Fiumicino / Ciampino Airport Transfer please send us an email with the information below:
Flight Departure Date and Time
The Number of Persons in your party
Your Pick Up Location in Orvieto (hotel/accommodation address)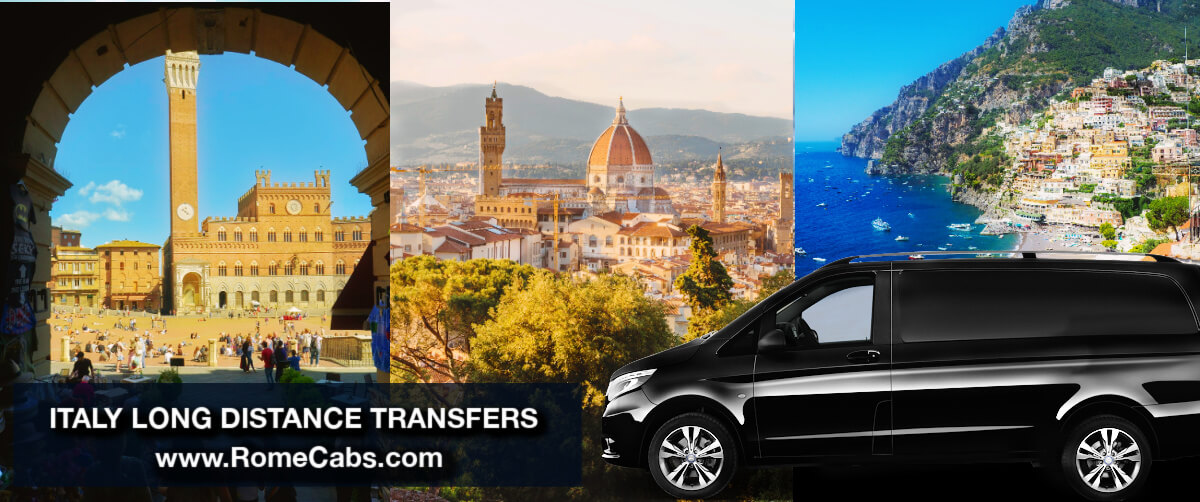 - Transfers between Orvieto and other cities in central Italy -

If you require long-distance transfers between Orvieto and other major cities in the region Lazio (Rome's countryside), or transfers from Sorrento, Naples, or Amalfi Coast to Orvieto, contact us via email with the details of your service and our expert staff will be happy to assist. You can rely on our private transfer services for one-way journeys, or round trips.


Important Information

PLEASE READ THE INFORMATION BELOW AND ACCEPT THE TERMS OF SERVICE AND PRIVACY POLICY BEFORE BOOKING.


PAYMENT OPTIONS:
Payment for this Rome - Orvieto Transfer can be made in EUROS directly to your driver on the Date of Service or prepaid in advance via PayPal or Credit Card
If you wish to PREPAY via PayPal or Credit Card, you may do so online when CONFIRMING your booking by SELECTING your preferred option of payment.
CANCELLATION POLICY
We kindly ask that cancellations be made at least 7 days prior to the Date of Service. Cancellations can only be accepted by E-Mail and confirmed by our office. Cancellations are not accepted via phone, text message, or 3rd party.
** Cancelations for PREPAID SERVICES will be refunded the Net Rate we receive from your prepayment. Net Rate: actual service price minus PayPal/Credit Card fees retained by PayPal/Credit Card as they do not reimburse us the fees they retain from your payment.
LUGGAGE
Sedans priced for 1-2 passengers can accommodate up to 2 standard suitcases and up to 2 small carryons.
Minivans for up to 8 passengers can accommodate up to 6 suitcases and up to 6 carry-ons in TOTAL. If you anticipate bringing luggage in excess of what the standard 8-seater vans can accommodate, please inform us prior to booking this service so we can help ensure that everyone and their luggage will travel safely inside the vehicle.





Private Driver MEETING POINT at hotel/accommodation:


Your private driver will meet you inside the lobby of your hotel or in areas permitted by your hotel management.

For Apartments or B&B's without a lobby, your driver will meet you outside the main entrance of your Pick Up Address.
* DOOR TO DOOR SERVICE is possible if your accommodation address is not in a traffic or parking restricted area. In case you are staying in an area with traffic and/or parking restrictions, your driver will park as close as lawfully possible and meet you outside at your address for your pick up and accompany you to the parked vehicle, or accompany you to your hotel address from the parked vehicle for drop-offs.


Why Choose Orvieto?


Located in the heart of Umbria is one of the most beautiful ancient hilltop towns surrounded by timeless landscapes: Orvieto. Orvieto boasts impressive architecture, inviting shops that sell gorgeous hand-painted ceramics and leather goods, restaurants that serve delicious local cuisines and wines, and pedestrian-friendly streets.
It's no wonder Orvieto tours are a top choice for day tours to Umbria from Rome and a much sought-after destination for travelers seeking quality sojourn in Italy. All you need to do is plan your dream stay in Orvieto, we will take you there and back.