description
Our Orvieto Day Tour will begin with a journey from Rome into the heart of the breathtaking countryside of Umbria to Orvieto in the comfort of your own private deluxe vehicle driven by your personal Rome Cabs knowledgeable English-speaking drivers eager to help you create memories you'll cherish for life!
ORVIETO DAY TOUR PRICE LIST


For up to 3 Persons from Rome Hotel: 500 EUROS
For up to 6 Persons from Rome Hotel: 550 EUROS
For up to 8 Persons from Rome Hotel: 600 EUROS



** You may also do a QUICK PRICE CHECK using the Price Check & Booking form on the Right Side of this page. Once you receive the PRICE QUOTE based on the information you input, you may proceed to SUBMIT your Tour Request.
*** Dates on the Booking Form Calendar that are NOT Selectable, are NOT AVAILABLE.
Upon arrival, we will visit the stunning Cathedral in Orvieto, which was built in the fourteenth century. Pope Urban IV ordered the construction of the cathedral to provide a beautiful, holy place for the Corporal of Bolsena.
The Corporal of Bolsena was a miracle that is said to have occurred in the town of Bolsena in 1263. The Corporal is the small cloth upon which the host and the chalice are placed during the Roman Catholic Eucharist. It was believed that this particular Corporal had drops of blood on it, thus substantiating the Roman Catholic belief that the bread and wine used in the observation of the Eucharist become the literal body and blood of Christ. The Corporal is still held in a reliquary in the center of the cathedral and brought out for various religious observances.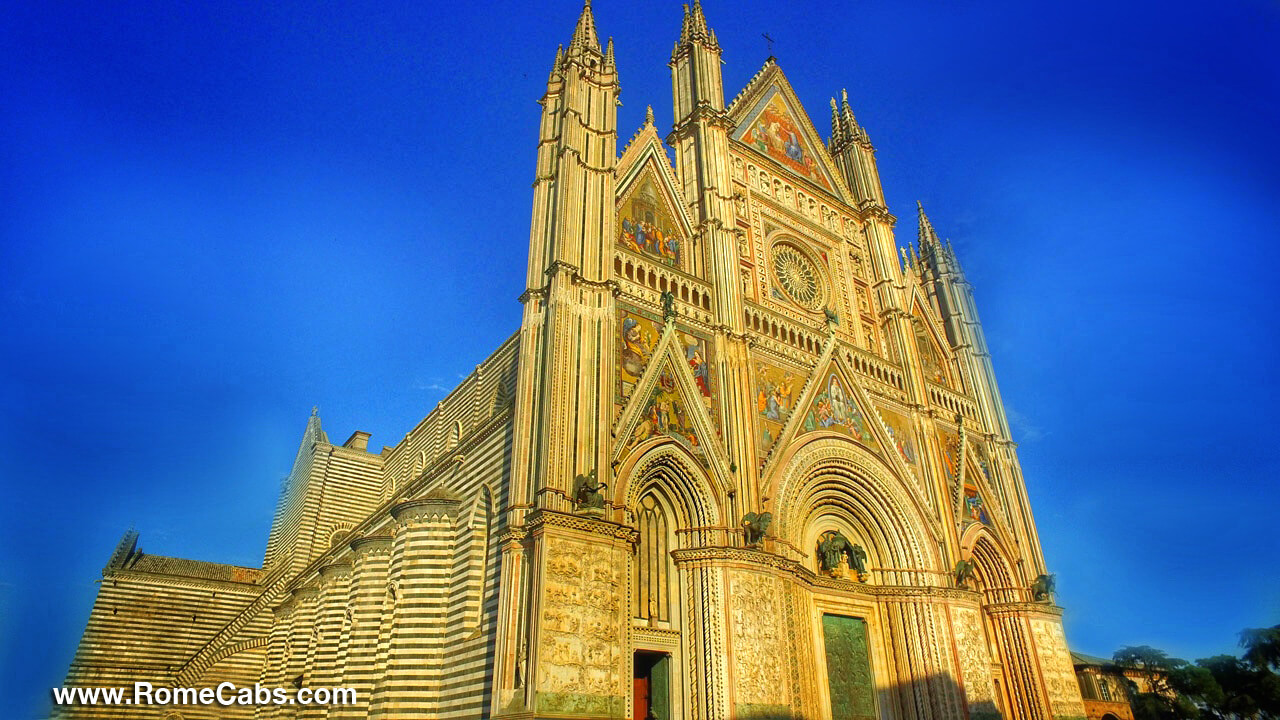 The cathedral's construction was begun in 1290 and lasted for almost 300 years. During the course of that time, the design evolved from Romanesque to Gothic. Many significant works of art can be found in the cathedral, and a visit to the Chapel of the Madonna di San Brizio is a must-see. It contains frescoes begun by the famous artist Fra Angelico and finished by the equally outstanding Signorelli.
The frescoes represent many events in Christianity including the Apocalypse, the Last Judgment. They begin with the Preaching of the Antichrist and continue to the Doomsday and the Resurrection of the Flesh.
The cathedral's façade contains many of the elements of design that were common to religious construction from the 14th to the 20th century. One extremely stunning aspect about the facade is that when the sun light hits it just right, it glows and shimmers ablaze.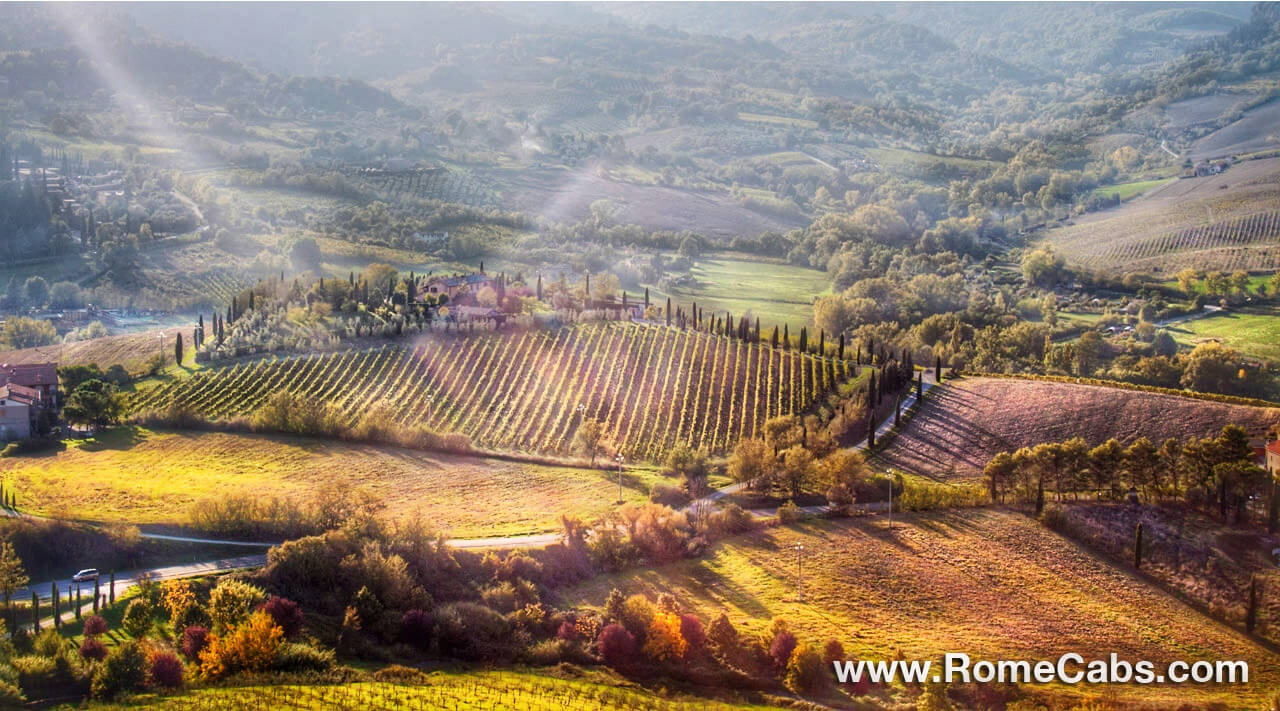 Orvieto has several excellent restaurants where you will enjoy your lunch, and then you may want to take the opportunity to sample the local wine available at wine shops (enoteche) in Orvieto.
The excellent wines are mainly white wines made from a blend of mostly Grechetto and Trebbiano. The region has been producing wine since the middle ages, and today's white Orvieto is dry, but a semi-sweet style, known as Orvieto Abboccato, and dolce (sweet), are also produced in small quantities.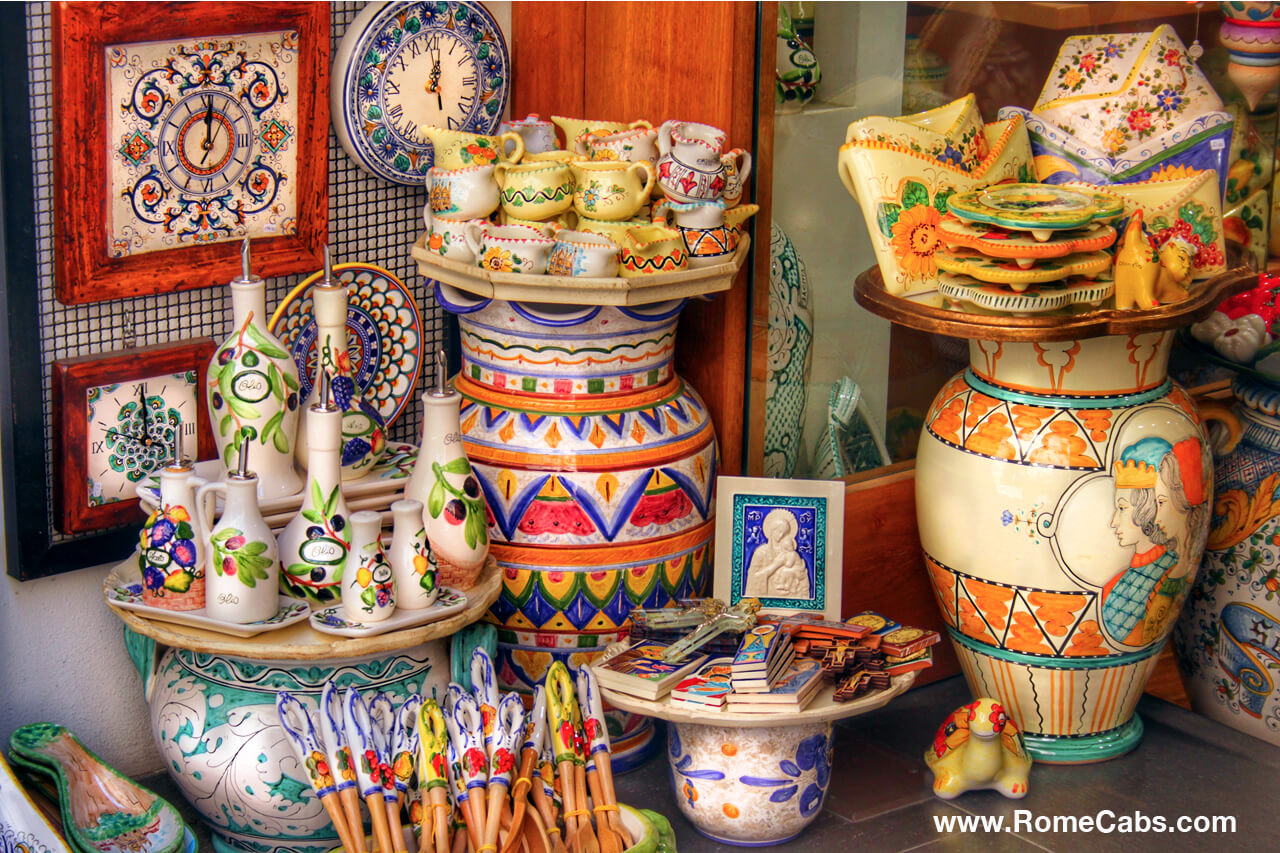 Orvieto's spacious streets are perfect for strolling and shopping, especially at the many gourmet markets and shops where local artisans showcase traditional hand crafted ceramics, whimsical wooden objects and unique sculptures, lace works, and jewelry of exceptional beauty. At the edge of town, you have a perfect vantage point of the alluring Umbrian countryside that surrounds you.
After enjoying the best Orvieto has to offer, a leisurely drive back to Rome will offer you another opportunity to admire the majestic countryside of Umbria and Lazio.
Thank you for booking our Orvieto Day Tour from Rome and for choosing Stefano's RomeCabs for your Private Tours from Rome and Italy Shore Excursions. We look forward to showing you beautiful places in Italy!
Important Information

PLEASE READ THE INFORMATION BELOW AND ACCEPT THE TERMS OF SERVICE AND PRIVACY POLICY BEFORE BOOKING.


PAYMENT OPTIONS
Payment for this Tour can be made in EUROS directly to your driver on the Date of Tour, or prepaid in advance via PayPal or Credit Card online upon request. (See Cancellation policy below)
CANCELLATION POLICY
We kindly ask that cancellations be made via E-mail at least 7 days prior to Date of Service.
Cancellations are accepted only via E-mail so your cancellation is on record. We do not accept cancellations by phone, text message, or 3rd parties.
** Cancelations for PREPAID SERVICES will be refunded the Reduced Net Rate we receive from your prepayment. Reduced Net Rate: actual service price minus PayPal/Credit Card fees retained by PayPal/Credit Card as they do not reimburse us the fees they retain from your payment.
YOUR TOUR DRIVER:
This tour provides an English-speaking driver who is not a licensed tour guide.
Italy laws permit licensed tours to accompany guests into squares, churches, museums, or other tourist attractions. In order to be in compliance with Italian laws, your driver will provide basic information only while inside the vehicle and will remain with the vehicle while you will SELF TOUR away from the vehicle.
During your stay in Rome, we invite you to also visit our Tuscany Tours from Rome, and enjoy Wine Tasting Tours, A day of leisure at a top thermal spa in Tuscany, journey to Florence for a day, or experience a day Under the Tuscan Sun with visits to Cortona and Arezzo. Wine lovers and foodies would savor a day tour to Montepulciano and Pienza from Rome.