description
CORTONA AND AREZZO TUSCANY TOUR PRICE LIST
For up to 2 participants from Rome Hotel: 500 Euros
For up to 4 participants from Rome Hotel: 600 Euros
For up to 6 participants from Rome Hotel: 650 Euros
For up to 8 participants from Rome Hotel: 750 Euros
** You may also do a QUICK PRICE CHECK using the Price Check & Booking form on the Right Side of this page. Once you receive the PRICE QUOTE based on the information you input, you may proceed to SUBMIT your Tour Request.
*** Dates on the Booking Form Calendar that are NOT Selectable, are NOT AVAILABLE.

WATCH: Preview Tuscany's Cortona and Arezzo featured in "Under the Tuscan Sun" and "Life is Beautiful" in our Tour Video:


You don't have to be staying in Florence to enjoy a day in Tuscany, we are pleased to offer our popular tour to two of Italy's most famous towns: Cortona and Arezzo from your accommodation in Rome.
If you enjoy the magnificence of the Tuscan countryside, and films that inspire your soul and make your heart sing, this tour is ideal for you! Already widely recognized in its own right, Cortona's fame rose with the wildly popular book and movie "Under the Tuscan Sun". Arezzo was featured in the award winning film "A Beautiful Life" and is also the hometown of the actor in the movie Roberto Benigni.

Your journey will continue through the picturesque countryside to Tuscany, one of the most charming and well recognized regions of Italy filled with strikingly beautiful characteristic panoramas.
AREZZO


Many of Italy's towns are ancient....and certainly Arezzo and Cortona are no exception. Arezzo's early beginnings extend as far as the Paleolithic Era, and in 9th century BC it became an Etruscan capital named Arretium (notice the similarity of the town's current name).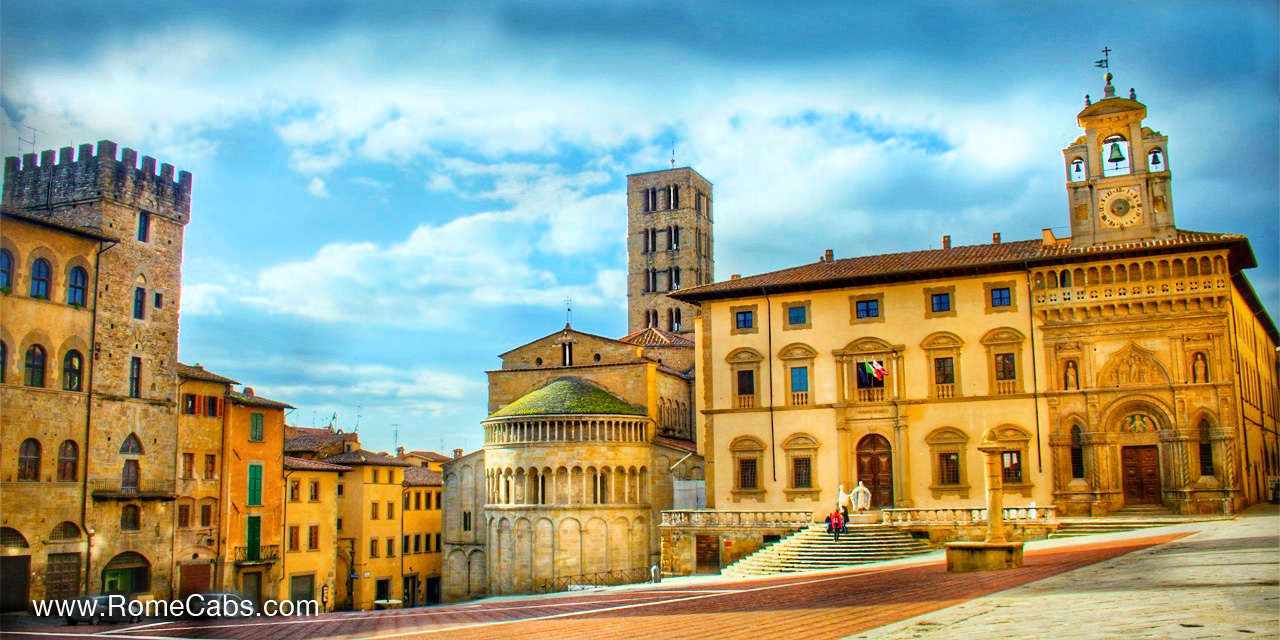 Over the many centuries Arezzo grew and prospered to become one of Tuscany's leading cities possessing remarkable monuments, museums, historical buildings and churches. Arezzo is also Italy's prominent center for goldsmiths, and you will be charmed by Arezzo's elegant gold jewelry and treasures.
During your visit to Arezzo you will have free time to explore the town where ancient traditions reverberate from every corner. Not to miss is the famous Piazza Grande, the graceful medieval square surrounded by an eclectic assortment of beautiful Medieval and Renaissance churches, towers, and palaces (palazzi).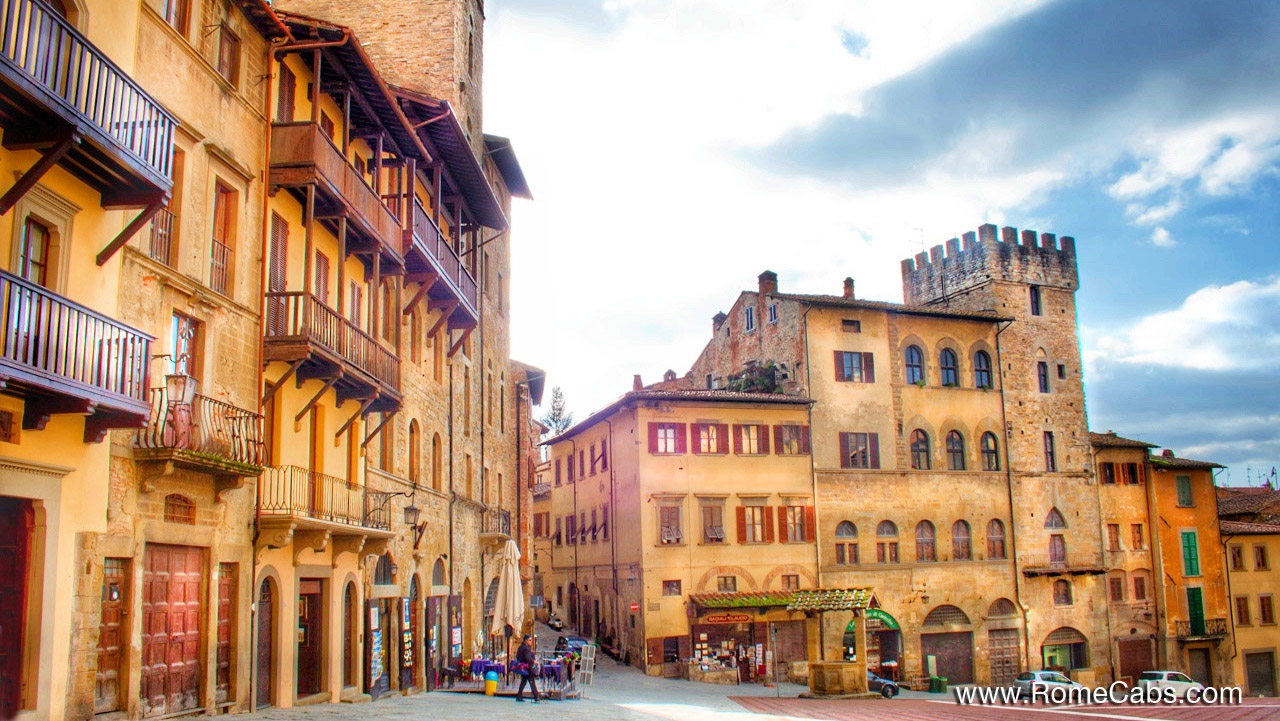 Food in Tuscany is always delicious as Tuscans traditionally take pride in their local cuisine. Your driver can offer some suggestions for a local restaurant or trattoria, but you will find something delightful in any eatery you wish to lunch at.
CORTONA

Cortona's rich history reaches far beyond its Medieval buildings and remains of ancient Etruscan city walls. A popular local quote refers to the city as such: "Cortona: the Mother of Rome".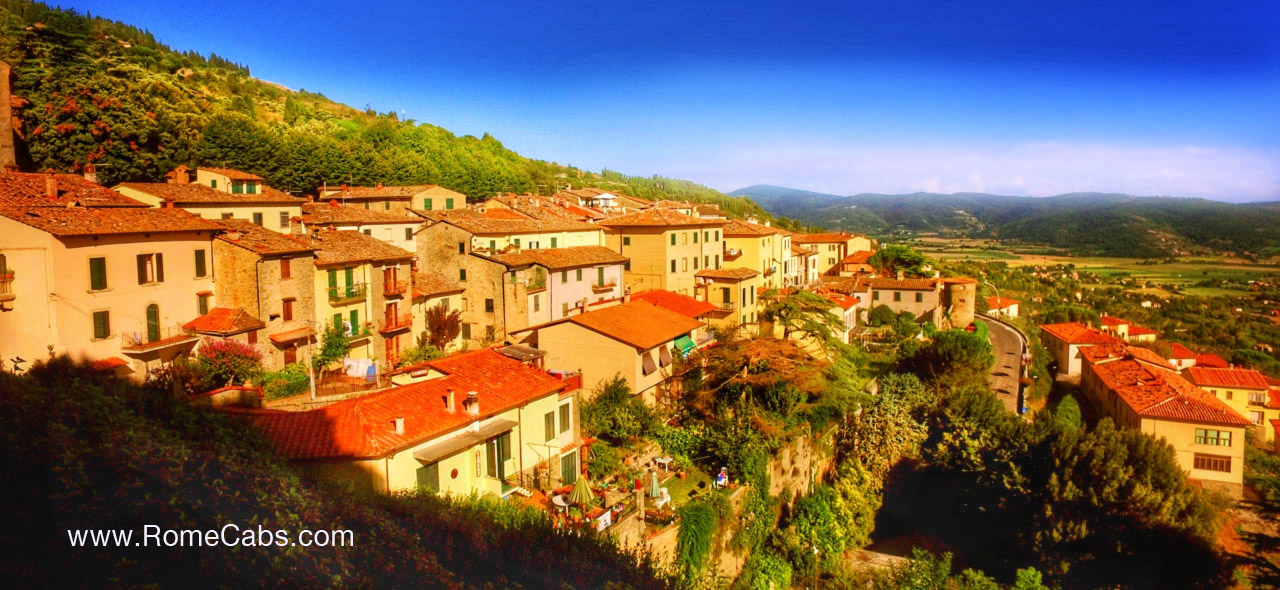 Cortona's history reaches far beyond its Medieval buildings and remnants of Etruscan walls. Legends proclaim of ancient events connected to Cortona include Noah's Flood, the story of Troy, and tales of Ulysses and Pythagoras. Traditions and mysteries aside, historical documents reveal Cortona as a once formidable Etruscan capital, whose remnants can still be seen in its 3,000 year old Etruscan walls.
You will have free time to enjoy the charming squares and narrow medieval streets lined with cafes, boutiques, art galleries, and shops that sell an abundance of local products from wine to gastronomic delights and souvenirs.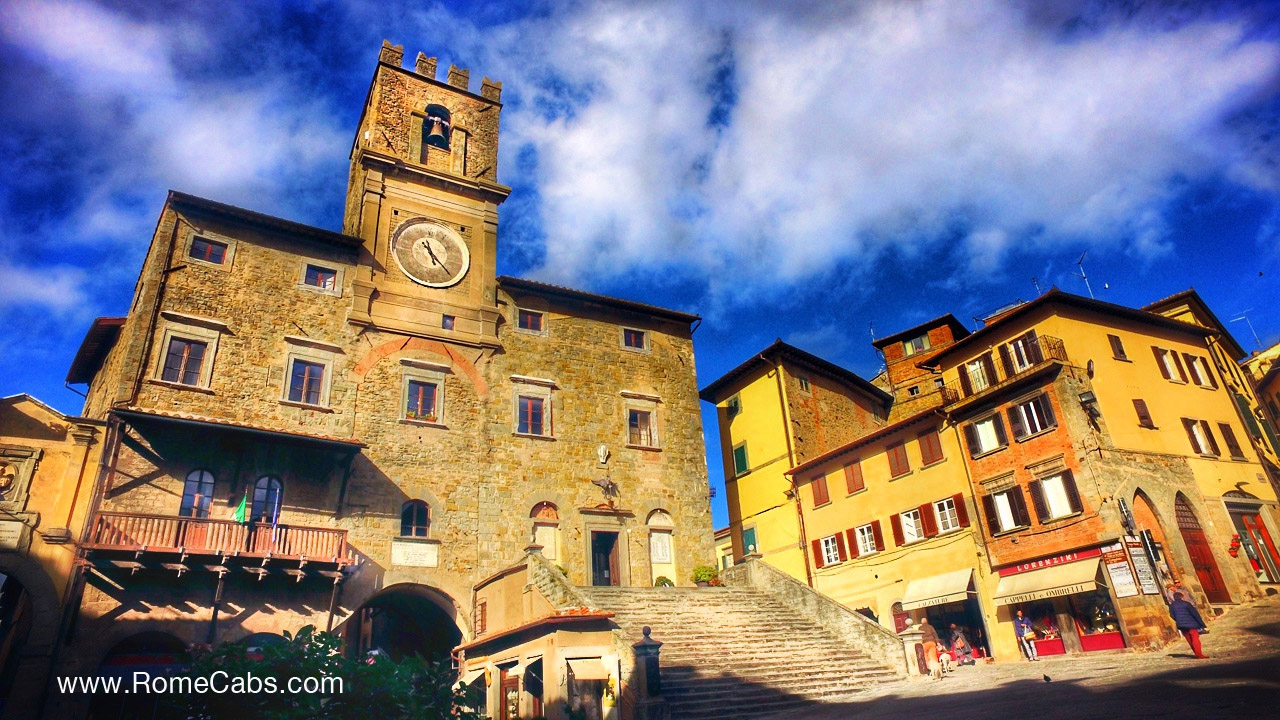 History and art lovers can also visit the MAEC Etruscan Academy Museum inside Palazzo Casali in Piazza della Signoria, or Diocesano Museum in Piazza del Duomo.
Cortona offers its visitors a delightful opportunity to enjoy a leisurely day under the Tuscan sun.
From here you will journey back through the lovely countryside to your accommodations in Rome.
Thank you for booking our Cortona and Arezzo Tuscany Day Tour, and for choosing Stefano's RomeCabs for your private Tours and Transfers in Italy. We look forward to showing you beautiful places!
Important Information

PLEASE READ THE INFORMATION BELOW AND ACCEPT THE TERMS OF SERVICE AND PRIVACY POLICY BEFORE BOOKING.


PAYMENT OPTIONS
Payment for this Tour can be made in EUROS directly to your driver on the Date of Tour, or prepaid in advance via PayPal or Credit Card online upon request. (See Cancellation policy below)
CANCELLATION POLICY
We kindly ask that cancellations be made via E-mail at least 7 days prior to Date of Service.
Cancellations are accepted only via E-mail so your cancellation is on record. We do not accept cancellations by phone, text message, or 3rd parties.
** Cancelations for PREPAID SERVICES will be refunded the Reduced Net Rate we receive from your prepayment. Reduced Net Rate: actual service price minus PayPal/Credit Card fees retained by PayPal/Credit Card as they do not reimburse us the fees they retain from your payment.
YOUR PRIVATE TOUR DRIVER
This Cortona and Arezzo Tuscany Day Tour includes an English-speaking Private Driver who is not a Licensed Tour Guide.
Italy's strict laws prohibit Drivers from providing tour guide services and from accompanying guests away from the vehicle to sightsee on foot. Your Driver will be happy to offer basic touristic information while at the vehicle but will be obliged to remain with the vehicle while you SELF-TOUR the sites included in this tour.
MEETING POINT TO MEET YOUR DRIVER


At ROME HOTEL / ACCOMMODATION:
For day tours from Rome, your private driver will meet you inside the lobby of your hotel or in areas permitted by hotels.

For Apartments or B&Bs without a lobby, your driver will meet you outside the main entrance of your Pick Up Address.

* If your hotel or accommodation is on a street or in an area restricted to vehicle traffic, your driver will park as close as lawfully possible and meet you on foot at your Address, and accompany you to your parked vehicle.


MUSEUM VISITS (OPTIONAL)
If you wish to visit any museums in Cortona, please note that Museums are CLOSED on Mondays and December 25.
Admission Tickets to museums can be purchased on site inside the museums.