description
Enjoy a glorious day in the majestic Tuscan countryside from charming medieval hilltop towns, relax with a sumptuous traditional Italian lunch at a local restaurant, and indulge your senses at a spa resort on our Chiusi, Chianciano Terme, Montepulciano tour from Rome to Tuscany.
TOUR PRICE LIST
For up to 3 people from Rome Hotel 500 EUROS
For up to 4 people from Rome Hotel 550 EUROS
For up to 6 people from Rome Hotel 600 EUROS
For up to 8 people from Rome Hotel 650 EUROS
** You may also do a QUICK PRICE CHECK using the Price Check & Booking form on the Right Side of this page. Once you receive the PRICE QUOTE based on the information you input, you may proceed to SUBMIT your Tour Request.
*** Dates on the Booking Form Calendar that are NOT Selectable, are NOT AVAILABLE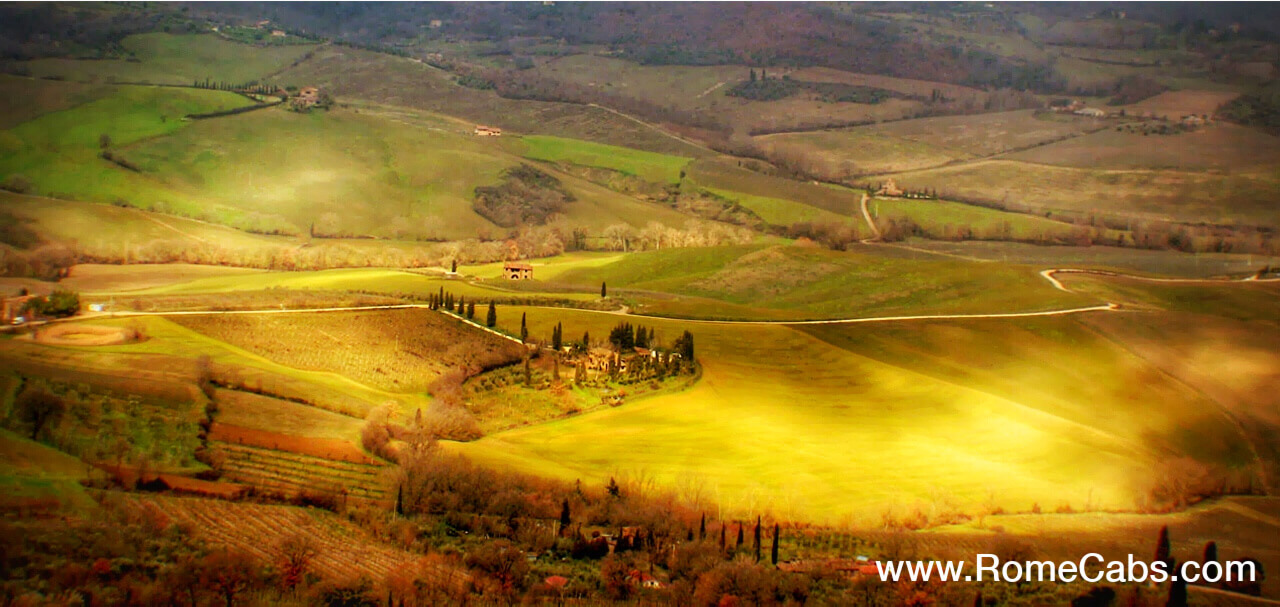 MONTEPULCIANO

Your tour to Tuscany begins with a leisurely drive from your Rome hotel accommodation through the countryside and to Southern Tuscany to the medieval hilltop town known as Montepulciano.
Built on a limestone ridge on Monte Poliziano (hence, the name Montepulciano) overlooking Tuscany's most splendid valleys: Val di Chiana (Valley of Chiana) and Val d'Orcia (Valley of Orcia), Montepulciano is Tuscany at its finest!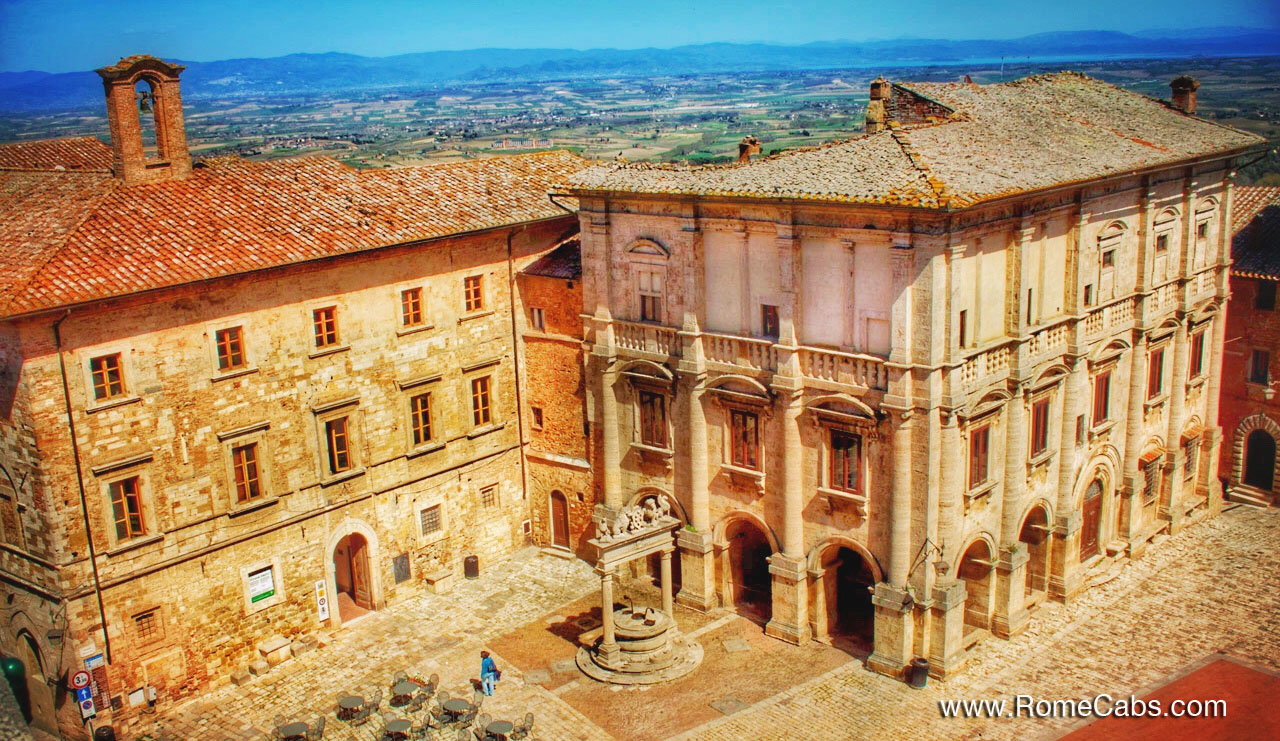 During the ancient Etruscan times, Montepulciano was known as Nocera Alfaterna, and its current attractive architecture reflects its rich Medieval and Renaissance history.
Montepulciano is also well regarded for its exquisite red wine Vino Nobile di Montepulciano (Noble Wine of Montepulciano) which can be sampled along with locally produced foods at various wine shops (enoteche) throughout the town.



CHIUSI
Chiusi is one of the most ancient Italian towns dating back to antiquity and regarded as a powerful Etruscan city-state in the Etruscan Federation during its peak in the 7th-6th centuries BC.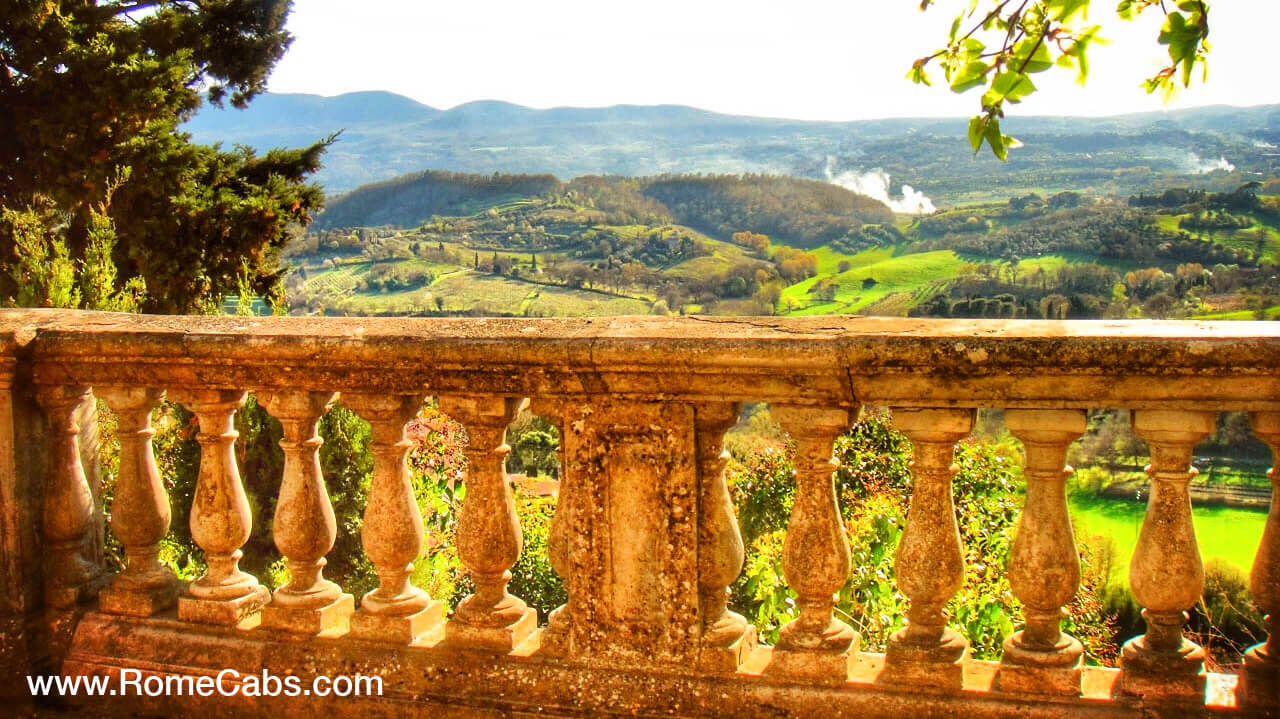 Today, the historic town of Chiusi rests in the midst of a serene Tuscan landscape overlooking the picturesque valley of Val di Chiana.
A visit to Chiusi is not complete without a relaxed light lunch at a local restaurant for a true Tuscan culinary experience.
TERME SENSORIALI in CHIANCIANO TERME
From Chiusi, your driver will take you to the nearby city of health and wellness, Chianciano Terme.
Known since the ancient Etruscan era and highly regarded by Italians for the healing properties of its thermal waters, Chianciano Terme offers a number of excellent spa resorts for personal wellness.
Terme Sensoriali offers guests the ultimate relaxation and well-being experience. You will spend up to 3 hours indulging in traditional thermal baths, mineral water, and mud treatments achieved through the ancient Oriental principles of the five universal elements: ether, air, fire, water, and earth.
Whether you wish to spend your visit at Terme Sensoriali relaxing, energizing, purifying or re-balancing, you will find an itinerary created by expert naturopaths most suitable for your preference.
** NOTE: Terme Sensoriali is closed on Thursday, and visits are possible only with advance reservations pending availability. Availability is generally very limited.
From here we will make our way through the Tuscan countryside again as relax, and enjoy a comfortable drive back to your Rome hotel.


Our guests who booked this Chiusi, Chianciano Terme, and Montepulciano Tour also enjoyed the following popular tours:


ORVIETO DAY TOUR from Rome - experience the jewel of Umbria famous for its local cuisine, wines, and unique ceramics.
ROME TOWN AND COUNTRY TOUR - relish a taste of Rome's highlights and fabled medieval wonders of the Italian Countryside.
HERCULANEUM, SORRENTO AND AMALFI COAST tour from Rome - explore the ancient ruins of Herculaneum and delight in visits to the charming seaside towns of Sorrento and Positano on the Amalfi Coast.
Important Information

PLEASE READ THE INFORMATION BELOW AND ACCEPT THE TERMS OF SERVICE AND PRIVACY POLICY BEFORE BOOKING.



PAYMENT OPTIONS
Payment can be made in EUROS directly to your driver on the Date of Tour, or prepaid in advance via PayPal or Credit Card online when you confirm your Tour.
If you wish to PREPAY you may do so online when CONFIRMING your BOOKING by SELECTING your preferred option of payment.
CANCELLATION POLICY
We kindly ask that cancellations be made at least 7 days in advance by E-MAIL and confirmed by our office staff. To ensure accuracy of cancellation of service, we do NOT accept cancellations by phone, text, or 3rd parties.
** Cancelations for PREPAID SERVICES will be refunded the Net Rate we receive from your prepayment. Net Rate: actual service price minus PayPal/Credit Card fees retained by PayPal/Credit Card as they do not reimburse us the fees they retain from your payment.
TERME SENSORIALI

Terme Sensoriali fees are not included in the tour. The approximate fee for Terme Sensoriali visit is minimum 38-45 Euros per person, for up to 3 hour duration in the spa.
** Spa fees are subject to change without notice.
Access into the spa requires that you bring a bathing suit, which can also be purchased at the inside shop. Guests will be given an elegant bath kit: bath robe, towel, slippers, bathing cap, and thermal hygiene products. If you do not bring a bathing suit with you, you will be obliged to purchase one from the gift shop at their retail prices.
For more information on Terme Sensoriali, services they offer, and PRICES you may visit their website:
YOUR TOUR DRIVER
This tour provides an English speaking Driver who is not a licensed Tour Guide or sommellier.
Drivers will provide basic information about the places you visit but are not authorized to guide guests away from the vehicle to sightsee.