description

This exciting Rome Town and Country Tour (day tour from Rome and cruise excursion from Civitavecchia) offers you the unique opportunity to enjoy Rome's most famous squares and ancient monuments, followed by a trip to the Roman countryside to savor local cuisine at a local restaurant in the Medieval hilltop hamlet of Ceri, and visit the impressive Renaissance Orsini-Odescalchi Castle in Bracciano that overlooks the pristine volcanic Bracciano Lake.
We also offer a Post Cruise Rome Town and Country Tour from Civitavecchia as a debarkation tour for cruisers who are disembarking at Civitavecchia at the end of their cruise.


ROME TOWN AND COUNTRY TOUR PRICE LIST


For Rome Tour starting from Rome Hotel:
For up to 4 Persons from Rome Hotel: 450 EUROS
For up to 6 Persons from Rome Hotel: 500 EUROS
For up to 8 Persons from Rome Hotel: 550 EUROS


For Shore Excursion Tour from Civitavecchia:
For up to 4 Persons from Civitavecchia Port: 550 EUROS
For up to 6 Persons from Civitavecchia Port: 600 EUROS
For up to 8 Persons from Civitavecchia Port: 650 EUROS


* The Tour starting from Rome Hotel is not valid from other cities or airports such as Fiumicino.
* You may also do a QUICK PRICE CHECK using the Price Check & Booking form on the Right Side of this page. Once you receive the PRICE QUOTE based on the information you input, you may proceed to SUBMIT your Tour Reservation Request.
** The Booking Form is NOT to be used for inquiries. For inquiries, please send us an email.
** Tour Reservation Requests are confirmed based on availability.
*** Dates on the Booking Form Calendar that are NOT Selectable, are NOT AVAILABLE.



Enjoy a preview of the remarkable sites in our Rome Town and Country Tour VIDEO:


VISIT ROME'S MOST FAMOUS SQUARES
COLOSSEUM SQUARE - surrounded by grand remains of Ancient Rome


No Rome tours or tours from Civitavecchia to Rome are complete without seeing the Colosseum! At the Colosseum Square, you will enjoy an outside view of the world's most famous amphitheater and Rome's icon. The Colosseum was built in 72 AD over the previous Domus Aurea (Golden House) that was once the vast and opulent personal domain of the infamous Emperor Nero.
Its original name is the Flavian Amphitheater after the family name of Emperor Vespasian who commissioned its construction.
The amphitheater took the name "Colosseum" (Colosseo in Italian) from the Colossus of Nero, an ancient colossal bronze statue of Emperor Nero depicted as the pagan sun god Apollo.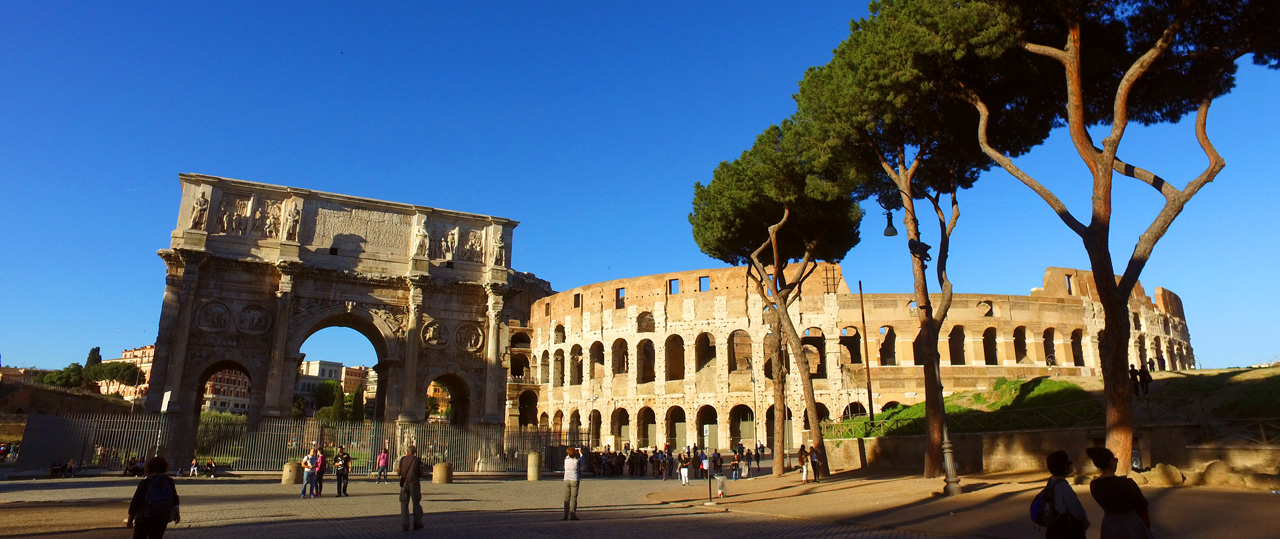 As you stroll around the Colosseum Square to enjoy its magnificence from various angles, don't miss the nearby Arch of Constantine. This imposing and elaborate 4th century AD Victory Arch commissioned the Roman Senate to commemorate Constantine's victory over Maxentius at the Battle of Milvian Bridge in 312 AD. Emperor Constantine (also known as Constantine the Great) is most famously known for having legalized Christianity in the Roman Empire.
NOTE: This tour does NOT include time to visit inside the Colosseum. You will have the opportunity to view the Colosseum from the outside. Due to the limited time in Rome, it will NOT be possible to customize this tour to include a visit inside the Colosseum.
PIAZZA DELLA ROTONDA


Immerse yourself in the vibrant ambiance of Piazza della Rotonda, where the liveliness of the crowd creates an electrifying atmosphere. As you step into this bustling square, prepare to be mesmerized by the Fontana del Pantheon, a hidden gem for fountain enthusiasts. While the Pantheon's renown precedes it, this enchanting fountain is captivating with its exquisite artistic beauty.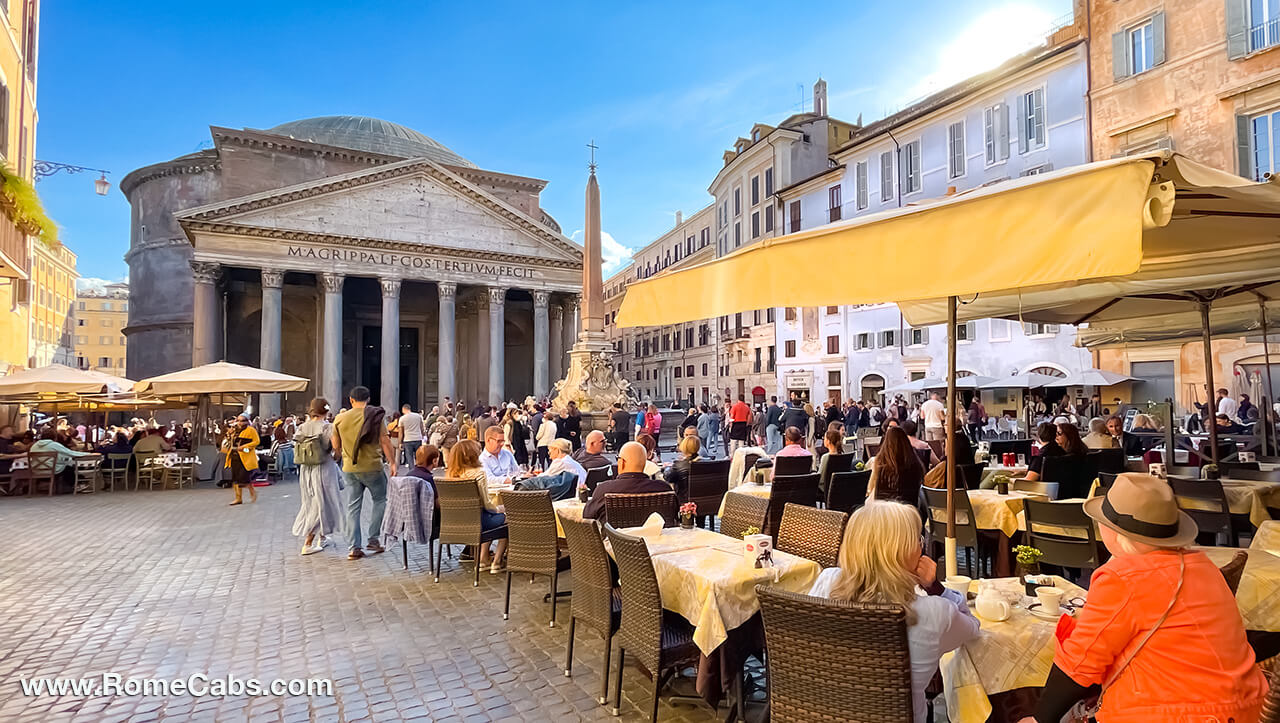 Having undergone its final transformation in 1711 under the guidance of Pope Clement XI, the fountain stands proudly atop a majestic pedestal. The centerpiece that demands attention is a striking red marble Egyptian obelisk, once part of a magnificent pair created for the Temple of Ra in Heliopolis. Its twin counterpart can be found in the Piazza della Minerva, nestled quietly behind the Pantheon.
Take a moment to marvel at the exterior grandeur of the Pantheon, an awe-inspiring monument that dominates the square with its colossal presence. Wander through the square and around the Pantheon, immersing yourself in the beauty of the architecture and indulging in the delightful experiences that await: historical palazzi, charming shops, and Rome's finest gelato at a nearby gelateria
NOTE: Regrettably, a visit inside the Pantheon cannot be included in a day tour of Rome due to excessively long entry lines, even for visitors who have pre-booked tickets which are extremely difficult to obtain.
PIAZZA NAVONA - Rome's charismatic square

The lively Piazza Navona is a showcase of fountains across an oblong square ringed by warm-toned historic buildings.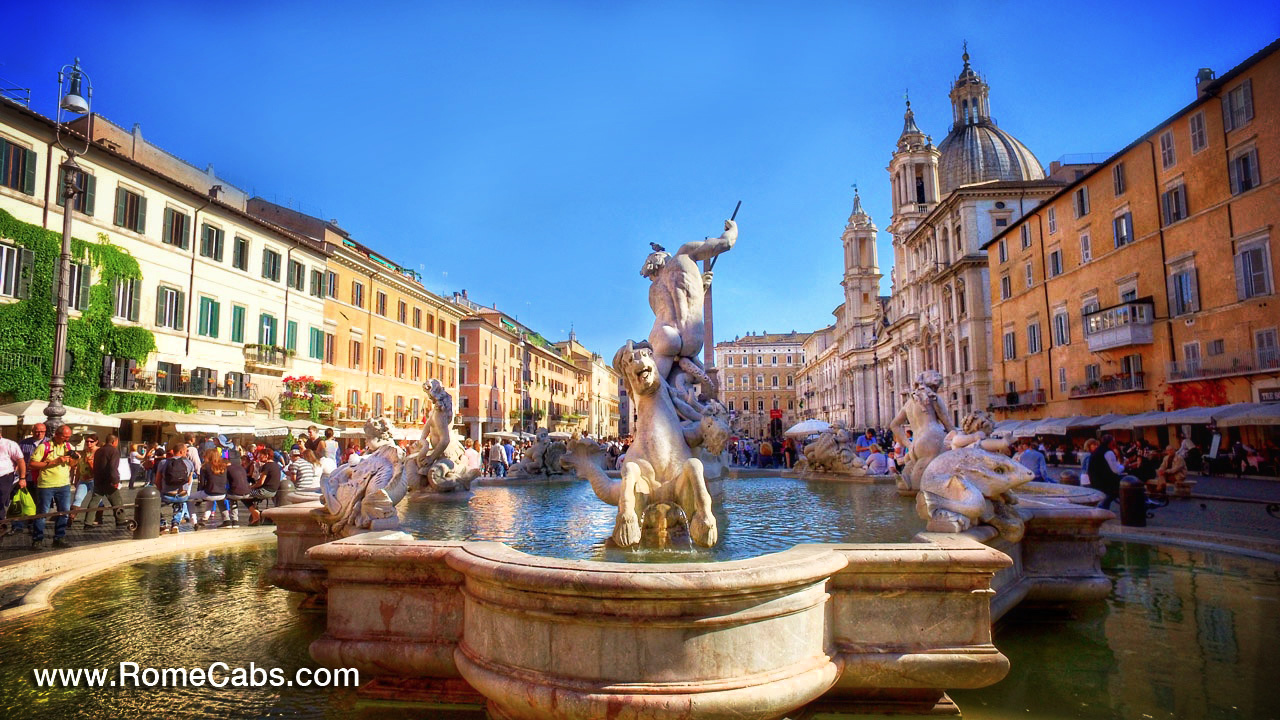 Piazza Navona takes its unique shape and name from the ancient 1st century AD Roman stadium used for athletic competitions built by Roman Emperor Domitian. Today, this remarkable square rests above the ruins of this ancient stadium. The name Navona evolved from an ancient word for games, 'agones'.
Piazza Navona is dominated by the 17th century early Baroque Fountain of the Four Rivers by the famous sculptor Gian Lorenzo Bernini. This remarkable fountain represents the four major rivers as the world was known at that time: Nile (Africa), Danube (Europe), Ganges (Asia), and Rio de la Plata (America). The fountain is topped by an ancient Egyptian obelisk commissioned by Pope Innocent X.
SPANISH STEPS - Rome's Majestic Stairway
The famous Spanish Steps boasts an elegant 18th-century stairway that unfurls to connect Piazza di Spagna (The Spanish Square) below, to the French church of Trinita dei Monti and Obelisk Sallustiano on top of the wide stairs. This unique obelisk is a smaller Roman copy of the original Egyptian obelisk (Flaminio Obelisk) that is currently the centerpiece of Piazza del Popolo (The People's Square).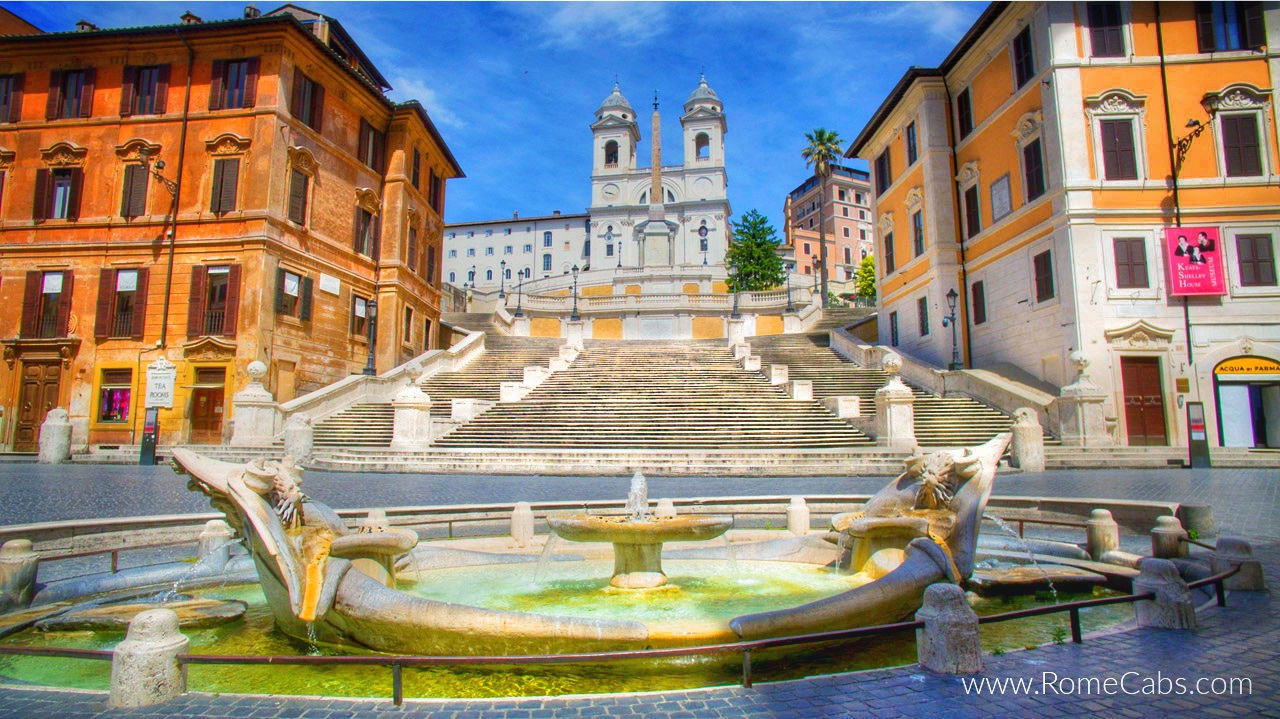 At the foot of the Spanish Steps in the open square, you will see the early 1600's Baroque fountain, "Fontana della Barcaccia ("The Fountain of the Old Boat"). This type of shallow boat was typically used to carry wine to the port of Ripetta. In this unique creation by Pietro Bernini (the father of the well renowned sculptor Gian Lorenzo Bernini) the boat appears to be half sunken with water overflowing into the pool of water.
TREVI FOUNTAIN - the most renowned Baroque fountain in the world

No visit to Rome is complete without a stop at the world's most famous fountain: The Trevi Fountain. Built against the facade of Palazzo Poli, this Baroque masterpiece carved of Travertine with marble statues, is the largest fountain in Rome. You can hear the symphony of water from a block away, beckoning you like a siren. The fountain is dominated by a 16 foot statue of pagan god Ocean standing under a triumphal arch, carried on his sea chariot by two mythical horses steered by two Tritons.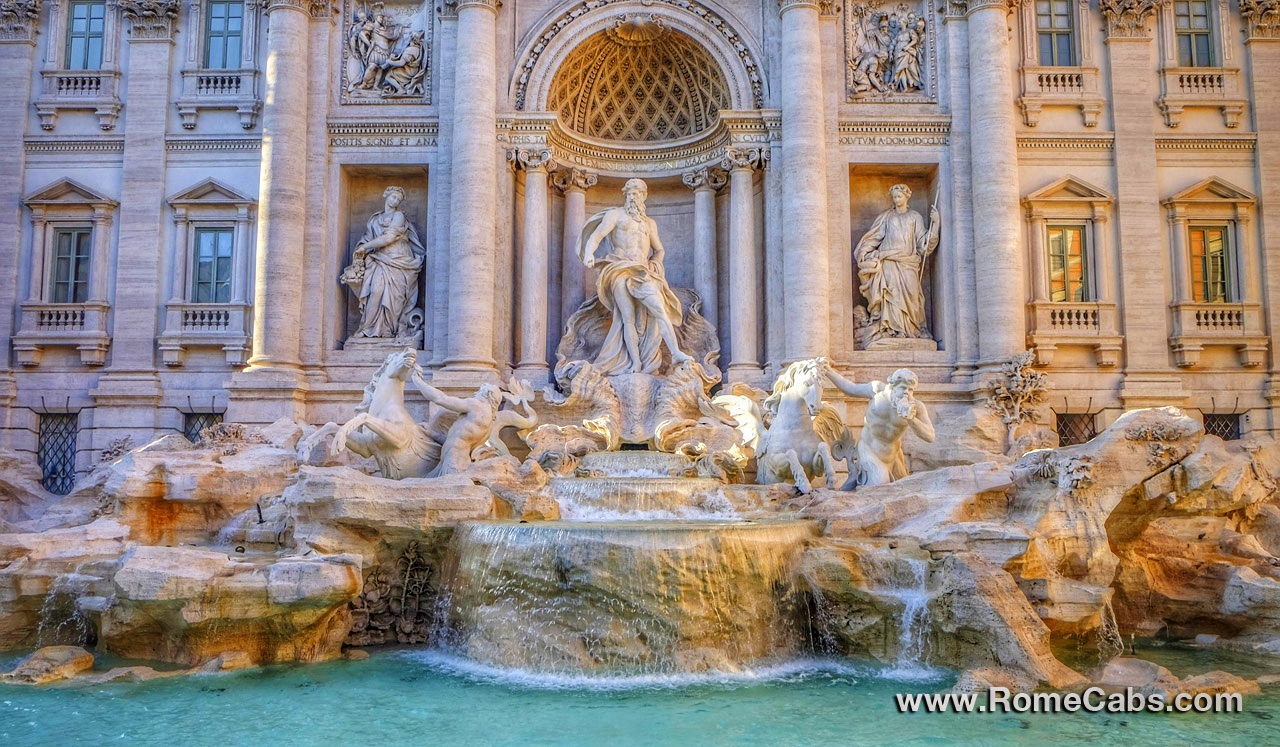 A long-lasting tradition has inspired millions of visitors to throw a coin into the Trevi Fountain with the right hand over the left shoulder to be assured of a future return to Rome.
The Trevi fountain was immortalized in the romantic classic movies Three Coins in a Fountain and Federico Fellini's La Dolce Vita.



EXPLORE THE ITALIAN COUNTRYSIDE NEAR ROME
The Italian countryside of Rome is quite unique and rich in amazing historic places from medieval villages, Medieval and Renaissance Castles, pristine volcanic lakes, and even ancient Etruscan necropoli (as featured in our other countryside tours).
Your next countryside destination is Ceri.

CERI - the charming Medieval hamlet on a cliff

Almost hidden on top of a steep tufa cliff, Ceri's medieval defense walls appear to rise right out of the tuffaceous cliff itself.
Ceri's medieval past dominating the present becomes apparent the moment we arrive at the foot of this tiny hamlet.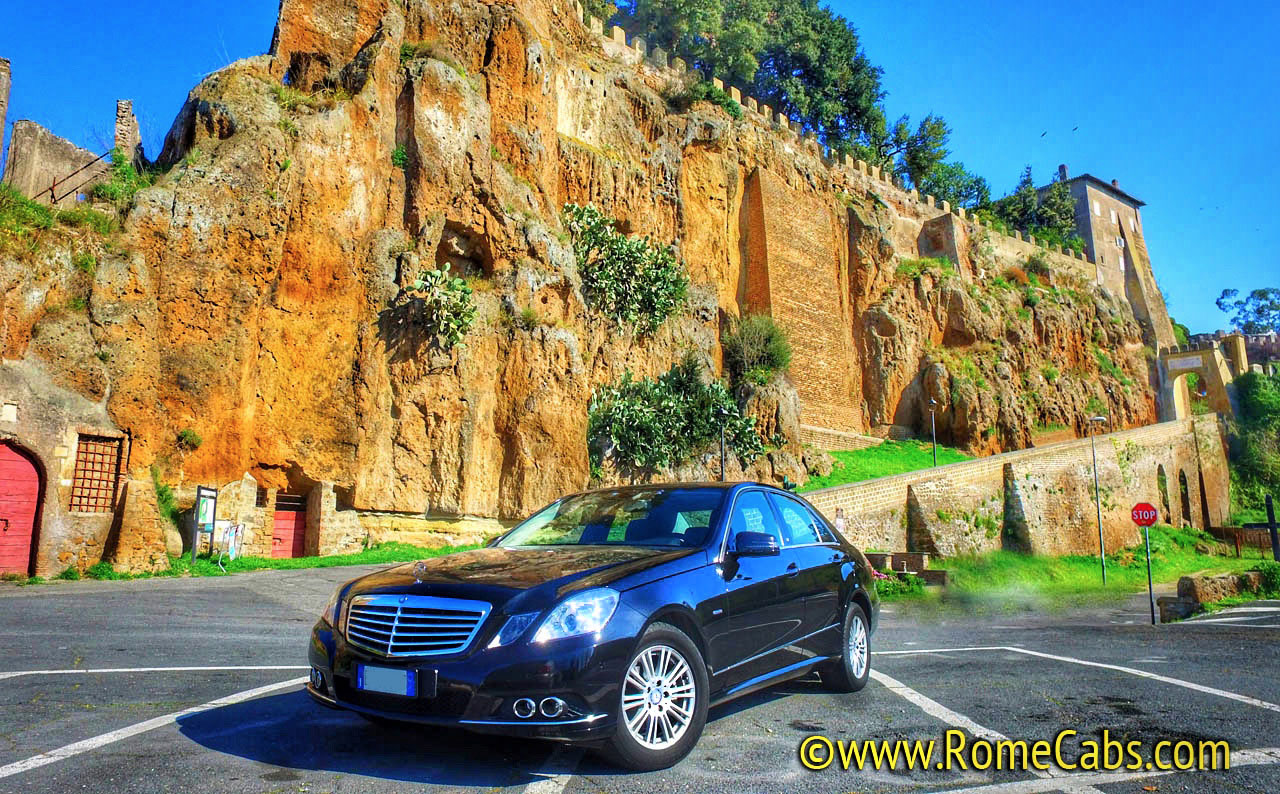 The village's only street that leads through the fortified wall into the village top square is wide enough for just one single vehicle to pass through at a time. This unusual traffic issue was rectified by installing two traffic lights: one at the main gate below, and one in the main square above. Vehicles take turns driving in and out of the village.
While in Ceri, take the opportunity to visit the Sanctuary of the Madonna di Ceri. This quaint church was built on top of the site where pagan goddess Vesta was venerated by the ancient Etruscans and Romans. The church's interior walls still retain original vibrant Medieval era frescoes depicting scenes from the Old Testament.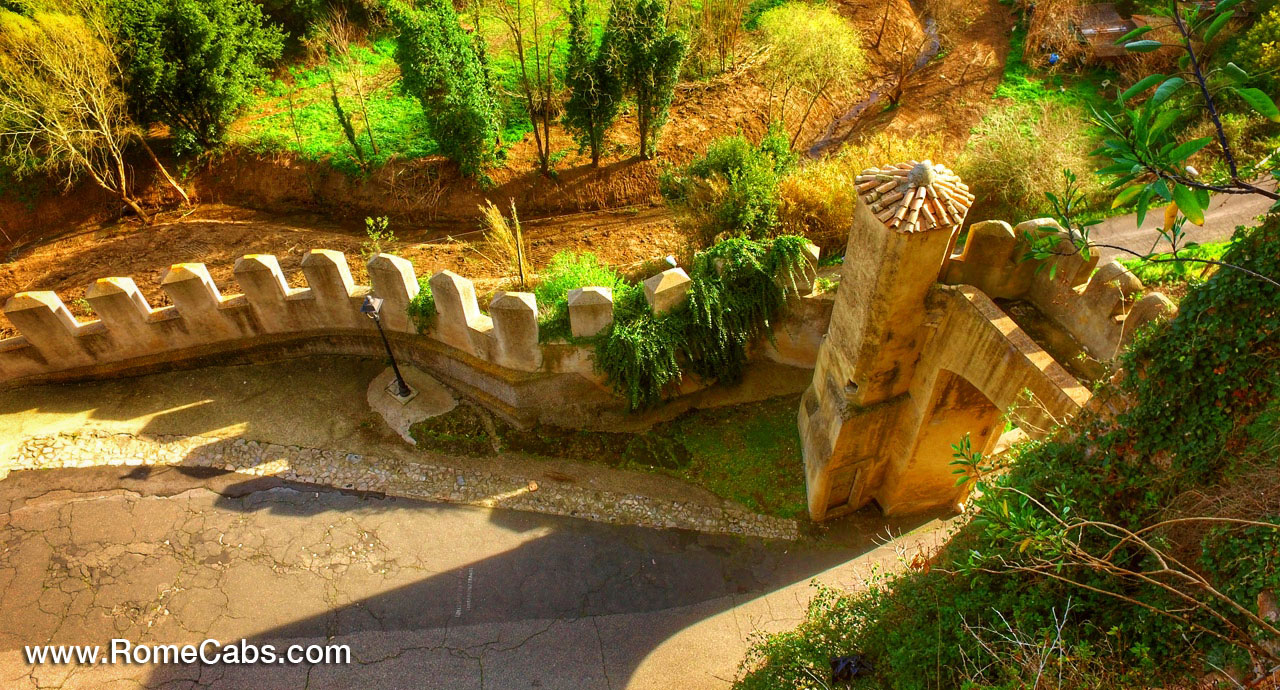 Lunch in Ceri is not to be missed! Although the village is tiny and remote, Ceri is well renowned throughout the region for its family-owned restaurants that draw foodies and culinary connoisseurs from all over the region (and beyond). Traditional homemade cuisine using local fresh and in-season ingredients is still prepared under the careful watch of Nonna (the grandmother, and always the best Italian cook!) to ensure that secret ingredients and cooking techniques passed down from generation to generation are carried out to perfection.
BRACCIANO and ORSINI - ODESCALCHI CASTLE

Overlooking the dazzling Bracciano Lake is the historic town of Bracciano which is dominated by the imposing 16th-century castle formally known as the Orsini - Odescalchi Castle after the 2 Renaissance-era families that owned this castle. Remarkably, after 4 centuries the castle is still owned by the same Odescalchi family today! Due to the complexity of its formal name, the castle is commonly referred to simply as Bracciano Castle.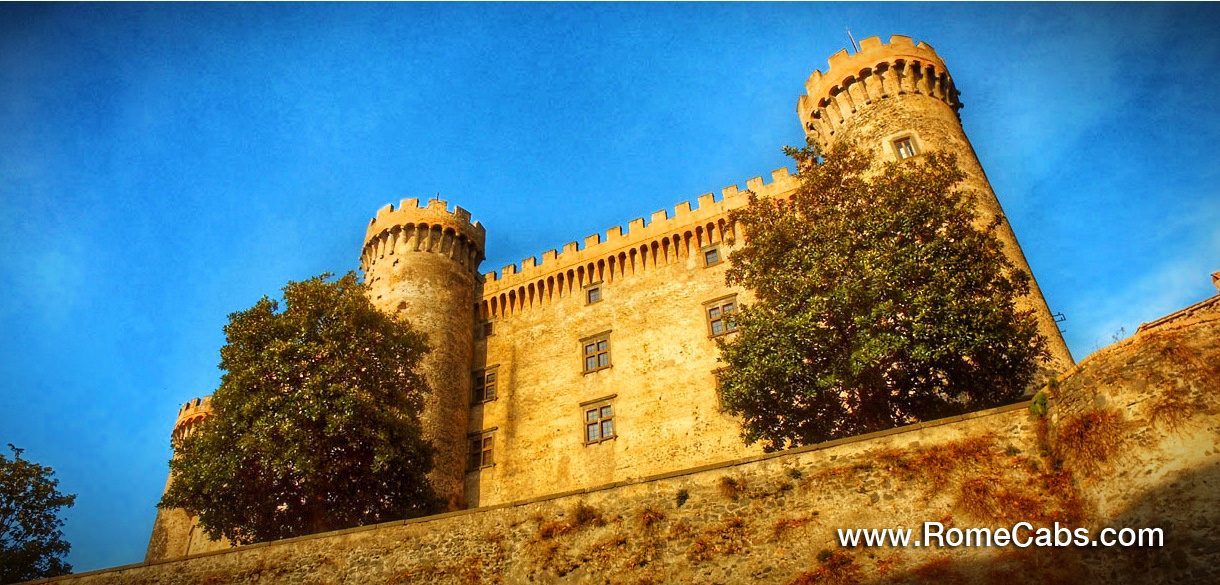 You will have the unique opportunity to self-tour Bracciano Castle and its impressive multi-level rooms that were once the private quarters of Kings, Popes and Lords of the Renaissance era.
The opulent rooms are still adorned with original Renaissance-era furniture, paintings, wall frescoes, and ornate ceilings that you can admire as you make your way through each one during your visit.
Not to miss is the outdoor castle kitchen that centuries ago fed hundreds of people at a time, and climb up the castle defense walls and walk along the ramparts for a stunning view of Lake Bracciano and the lush countryside.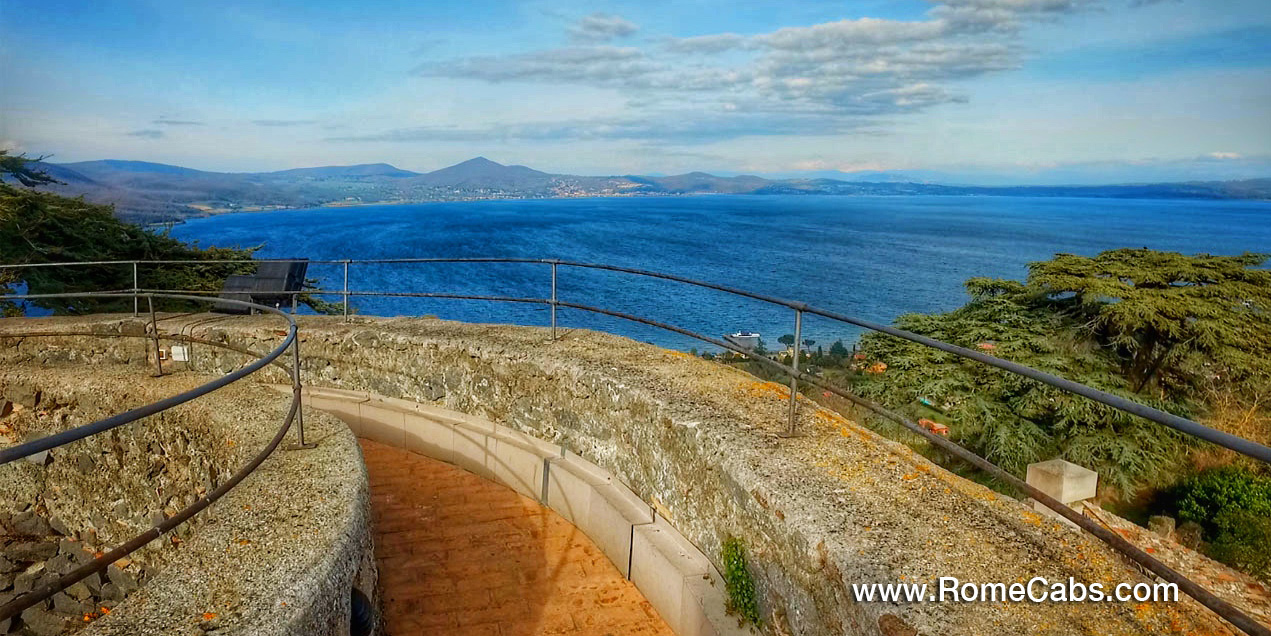 Originally a volcanic crater, Lake Bracciano is one of the cleanest lakes in Italy due to the restriction of motor boats and strict anti-pollution regulations. Its lakeside beaches with dark volcanic sand attract many city dwellers (mostly from Rome) who choose Lake Bracciano as their preferred location to relax, swim, sail, canoe, and enjoy the countryside atmosphere.
Thank you for booking our Rome Town and Country Tour from Rome and Shore Excursion from Civitavecchia. We look forward to showing you beautiful places in Italy on our private tours and cruise excursions in Italy!


Our guests who booked this Rome Town and Country Tour also enjoyed the following popular tours:
Important Information

PLEASE READ THE INFORMATION BELOW AND ACCEPT THE TERMS OF SERVICE AND PRIVACY POLICY BEFORE BOOKING.

PAYMENT OPTIONS
Payment for this Rome Town and Country Tour can be made in EUROS directly to your driver on the Date of Tour, or prepaid in advance via PayPal or Credit Card online upon request.

CANCELLATION POLICY
Cancellations can be made at least 7 days in advance (and a REDUCED NET RATE Refund for prepaid services) so we can recuperate the loss and your reserved driver does not lose work for that day.
Cancellations must be made via E-Mail and confirmed by our office. We do not accept cancellations by telephone, text message, or 3rd party.
** Cancelations for PREPAID SERVICES will be refunded the REDUCED Net Rate we receive from your prepayment. Net Rate: actual service price minus PayPal/Credit Card fees retained by PayPal/Credit Card as they do not reimburse us the fees they retain from your payment.


ADMISSION TICKETS:
Admission Tickets to Odescalchi Castle are currently 10 Euros per person. Tickets can be purchased upon visiting the site. (Ticket prices are subject to change without notice)
** PRIVATE GUIDED TOUR OF THE CASTLE:
Odescalchi Castle offers private tours in English with advance booking at only 180 Euros including tickets.
Please inform us at the time of booking if you wish for us to reserve a private guide for you via Odescalchi Castle. Their guides get booked up quickly, so please reserve yours as far in advance as possible!
Otherwise, you will SELF TOUR the castle on your own.
LUNCH IN CERI
Lunch is available only in the village of Ceri at one of the local family-owned restaurants.
There are no panini or pizza places available in the region of this tour. Restaurant choices in this countryside region are extremely limited.
YOUR PRIVATE TOUR DRIVER
This Rome Town and Country tour includes an English speaking Driver who is not a Licensed Tour Guide.
Italy's stringent laws prohibit Drivers from acting as tour guides accompanying guests away from the vehicle to sightsee. Your Driver will be happy to offer basic touristic information while at the vehicle, but will be obliged to remain with the vehicle while you visit sites included in this and all our tours.


MEETING POINTS TO MEET YOUR DRIVER


For Tours from Rome Hotel / Accommodation:
Your driver will meet you inside the lobby of your hotel or in areas permitted by hotels.

For Apartments or B&B's without a lobby, your driver will meet you outside the main entrance of your Pick Up Address.

* If your hotel or accommodation is on a street or in an area restricted to vehicle traffic, your driver will park as close as lawfully possible and meet you on foot at your Address, and accompany you to your parked vehicle.

For Private Excursions from Civitavecchia Cruise Port:

For all tours from Civitavecchia Port, your driver will meet you on the Pier next to your Ship at your scheduled pick up time holding a sign with the NAME in your reservation.

Please do NOT leave the ship area, and do NOT take a shuttle bus outside the port.

Look for the driver in the same area as ALL private drivers will be waiting for their clients.

TOUR TRAVEL TIPS FROM OUR BLOG