description

Buongiorno and welcome to Stefano's RomeCabs! Our Enchanting Tuscany Tour from Rome takes you on an unforgettable trip into the heart of Tuscany to visit charming medieval villages, admire enthralling views, savor local Tuscan flavors, and enjoy scenic drives through the beguiling Val d'Orcia (Valley of Orcia) that's one of the most spellbinding landscapes in Italy and a UNESCO World Cultural Landscape.

Val d'Orcia is among the most photographed and filmed valleys in Tuscany, having exalted to represent the "Elysian Fields" (a pagan expression for Paradise) in the blockbuster film The Gladiator.

Allow the charms of Tuscany's Val d'Orcia and its captivating Medieval towns and villages to enfold you as you admire windy country roads lined with cypress trees, undulating soft hills punctuated by characteristic farmhouses, charming chapels near and far, and visit splendid Medieval villages that have graced this slice of paradise for centuries: Bagno Vignoni, San Quirico d'Orcia, Pienza, and Monticchiello.
ENCHANTING TUSCANY TOUR FROM ROME PRICE LIST


For up to 4 Persons from Rome Hotel: 550 EUROS
For up to 6 Persons from Rome Hotel: 600 EUROS
For up to 8 Persons from Rome Hotel: 650 EUROS


** You may also do a QUICK PRICE CHECK using the Price Check & Booking Form on the Right Side of this page. Once you receive the PRICE QUOTE based on the information you input, you may proceed to SUBMIT your Tour Request.
*** Dates on the Booking Form Calendar that are NOT Selectable, are NOT AVAILABLE.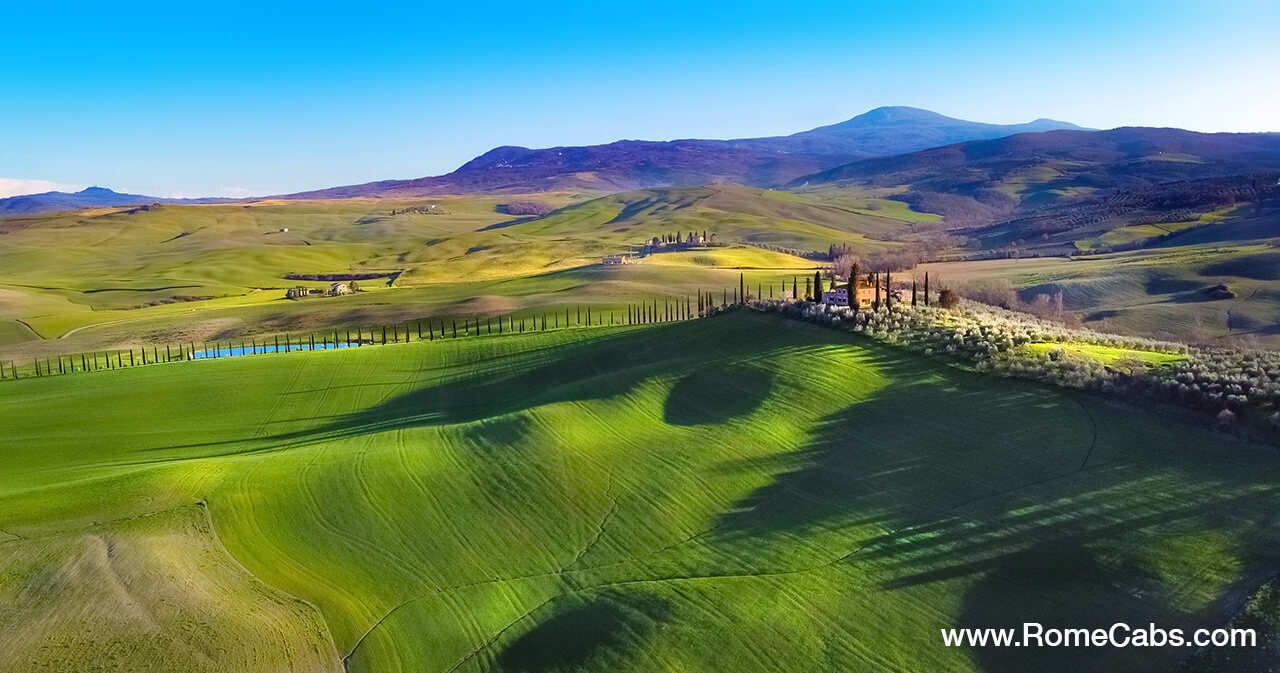 BAGNO VIGNONI - the enchanting thermal spa village
Your personal Stefano's RomeCabs English-speaking driver will pick you up at your hotel in Rome and whisk you off on a relaxing drive traversing the bucolic Roman countryside into Tuscany to your first destination: Bagno Vignoni, a hidden gem that is small in size but huge in charm.
Bagno Vignoni is a tiny charismatic village famous for its fascinating "Square of Water" (Piazza delle Sorgenti) which takes up the entire village square! This picturesque ancient stone pool is enclosed by small stone walls and filled with hot thermal waters that flow from an underground aquifer of volcanic origins.
The healing thermal baths in this area were well known by the ancient Etruscans, revered by the Romans, and enjoyed by many eminent historical figures like Saint Catherine, Pope Pius II, and Lorenzo de Medici who visited Bagno Vignoni for its therapeutic waters.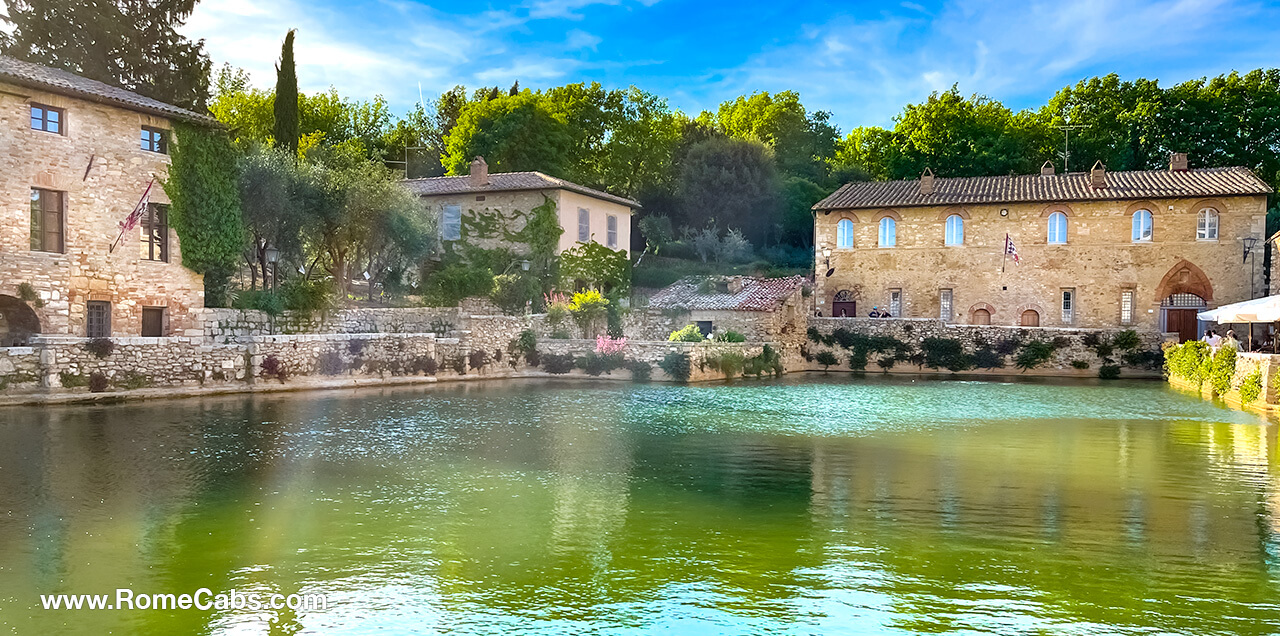 Immaculate medieval buildings with green shutters surround the square of water which mirrors their lovely stone facades creating a sublime painting effect. In the cold winter mornings, vapor lifts from the pool creating an enchanting mist.

The small village extends to another block where you will find quaint cafes and inviting shops. Just beyond the village by the hill's edge is the Park of the Mills (Parco di Mulino), an archaeological site of a medieval mill house and bathing rooms. The hot springs still continue to bubble through the carved paths they created in the stone flowing over the edge to the valley below. From there you can also glimpse beautiful views of the Tuscany countryside beyond.

Following your brief visit to Bagno Vignoni, you will travel a short distance to your next destination: San Quirico d'Orcia.
SAN QUIRICO D'ORCIA - the quintessential Tuscan town

In the heart of the undulating hills of Val d'Orcia and immersed in olive groves and vineyards the graceful village of San Quirico d'Orcia preserves the charm of local Tuscan life. An ancient village of Etruscan origins, San Quirico was named in honor of Saint Quiricus.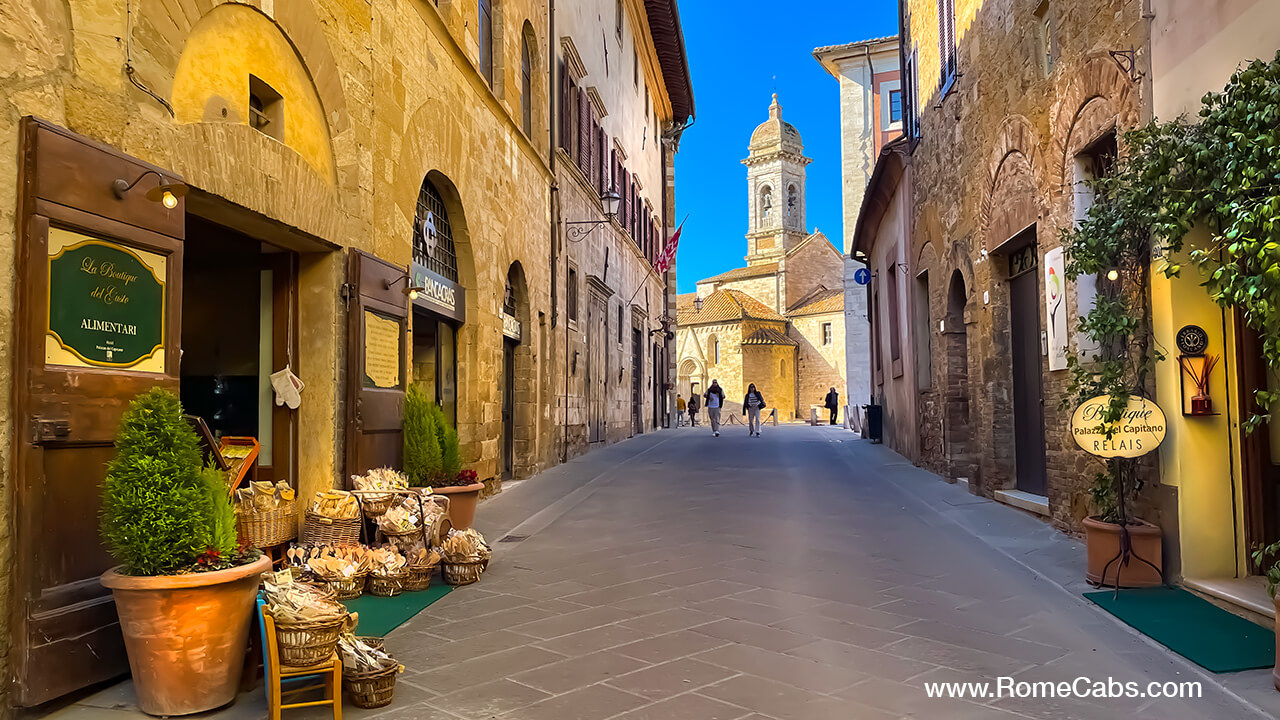 Relish a stroll through this medieval town with well-preserved medieval walls, elegant architecture, and remarkable churches such as the 11th-century church of Santa Maria Assunta, the 13th-century church of San Francesco, and the 13th-century Collegiate Church (also known as Pieve dei Santi Quirico e Giulitta / or Collegiata di San Quirico d'Orcia ).

The pedestrian-friendly main street of San Quirico is lined with historical buildings of varying color nuances and filled with lovely shops and cafes. Nature lovers will delight in the small rose garden behind the church of Santa Maria Assunta, and the elegant Renaissance Italian gardens of Horti Leonini whose entrance is located in Piazza della Liberta (the town's main square).

Following your stroll through San Quirico d'Orcia, you will once again join your driver for another scenic drive to your next destination. The landscape surrounding San Quirico on the way to Pienza is quite spellbinding: endless wheat fields and undulating hills, avenues of cypress trees, curvy country roads, and isolated rural farmhouses in the distance.
PIENZA - the Renaissance Utopia


Pienza is classically referred to as a Renaissance Utopia due to its 15th-century urbanism style of city planning that has inspired cities throughout Europe. Before its harmonious transformation, Pienza was a village named Corsignano where Enea Silvio Bartolomeo Piccolomini, who later became Pope Pius II was born.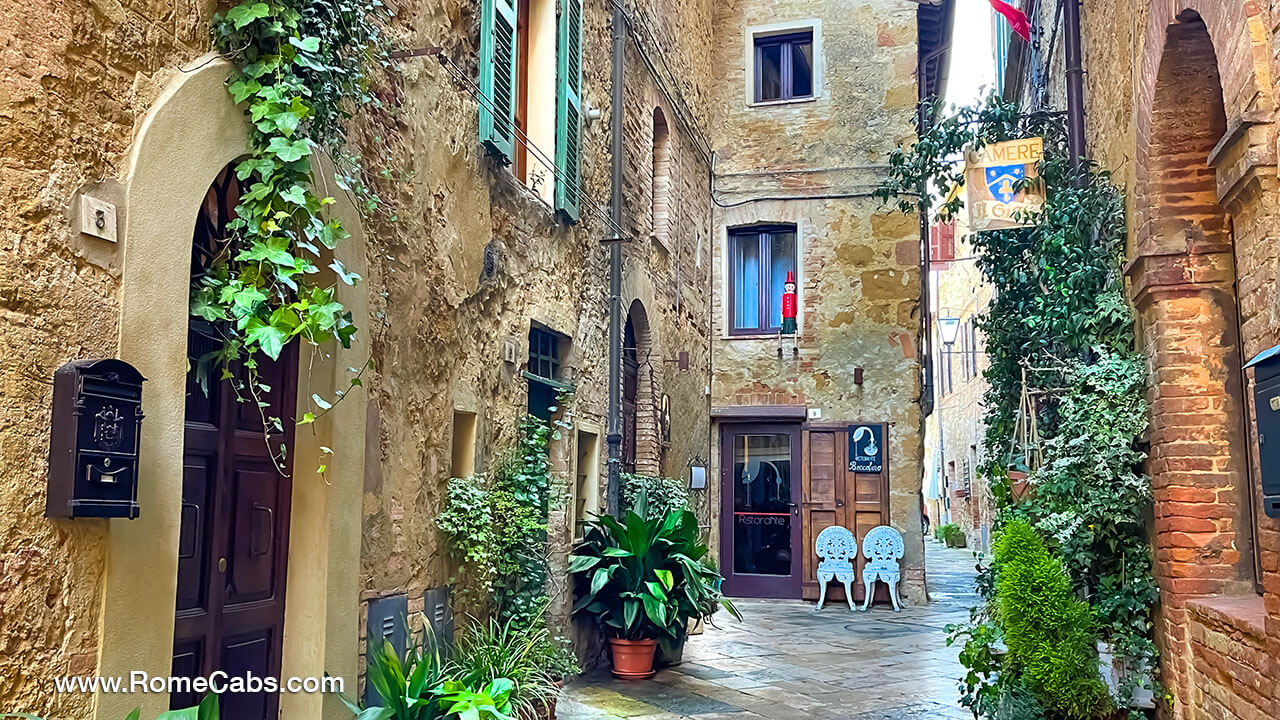 The Pope enjoyed his hometown as his summer retreat and after he rebuilt it into an ideal Renaissance town, it was renamed "Pienza" after the Pope. The town's historical center was also declared a UNESCO World Heritage Site.

With gorgeous Renaissance architecture, beguiling views of Val d'Orcia from walled terraces, and charming lanes with names such as Via del Amore and Via del Baccio (Love Street and Kiss Street), the tiny town of Pienza is one of Tuscany's most enchanting and romantic towns, a perfect retreat from large bustling cities like Rome or Florence.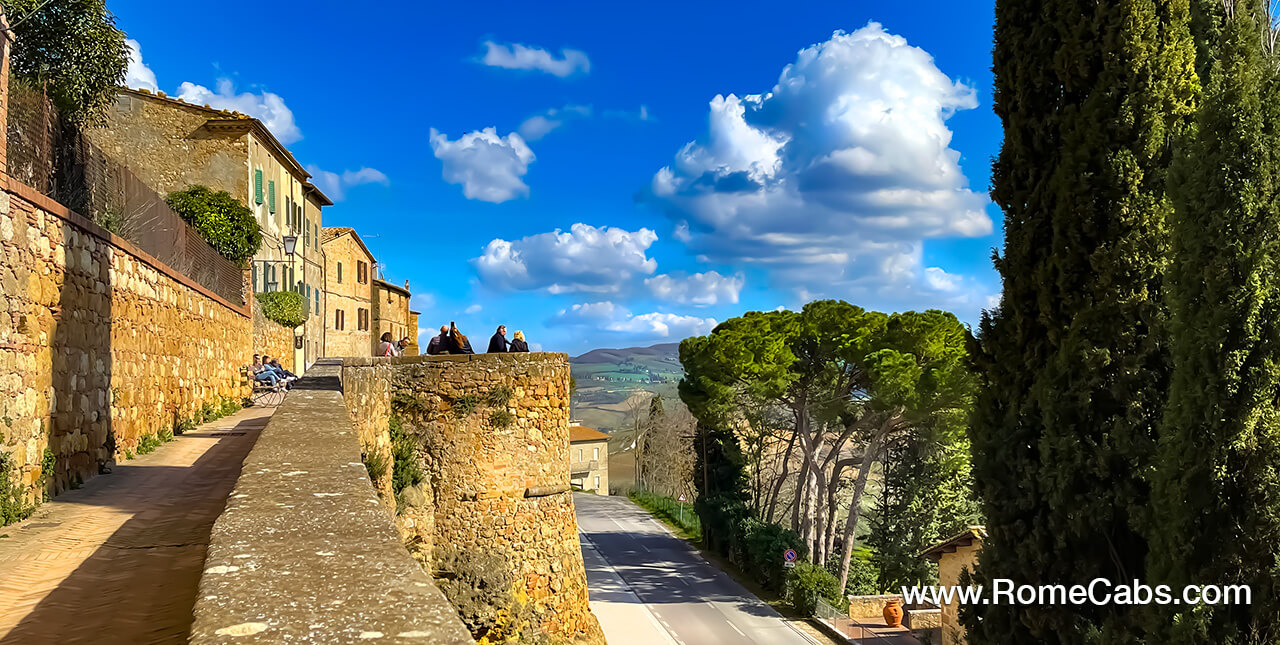 Another of Pienza's claims to fame is its famous Pecorino of Pienza, a delicious locally crafted cheese made from the milk of ewes that graze in the surrounding meadows. Exalted worldwide as one of the finest cheeses in Italy, you too have the opportunity to sample and purchase some of these delectable cheeses at various shops in Pienza.

Food in Tuscany is a local pride well embedded into local traditions, and while in Pienza, you may also enjoy a tasty lunch at any of the local restaurants or trattorias.
MONTICCHIELLO - the charming medieval fortified hamlet
Following a scenic drive along windy roads through the Valley of Orcia, you will reach the small village of Monticchiello, a well-hidden jewel in the heart of Tuscany peacefully nestled in a little corner in the valley of paradise.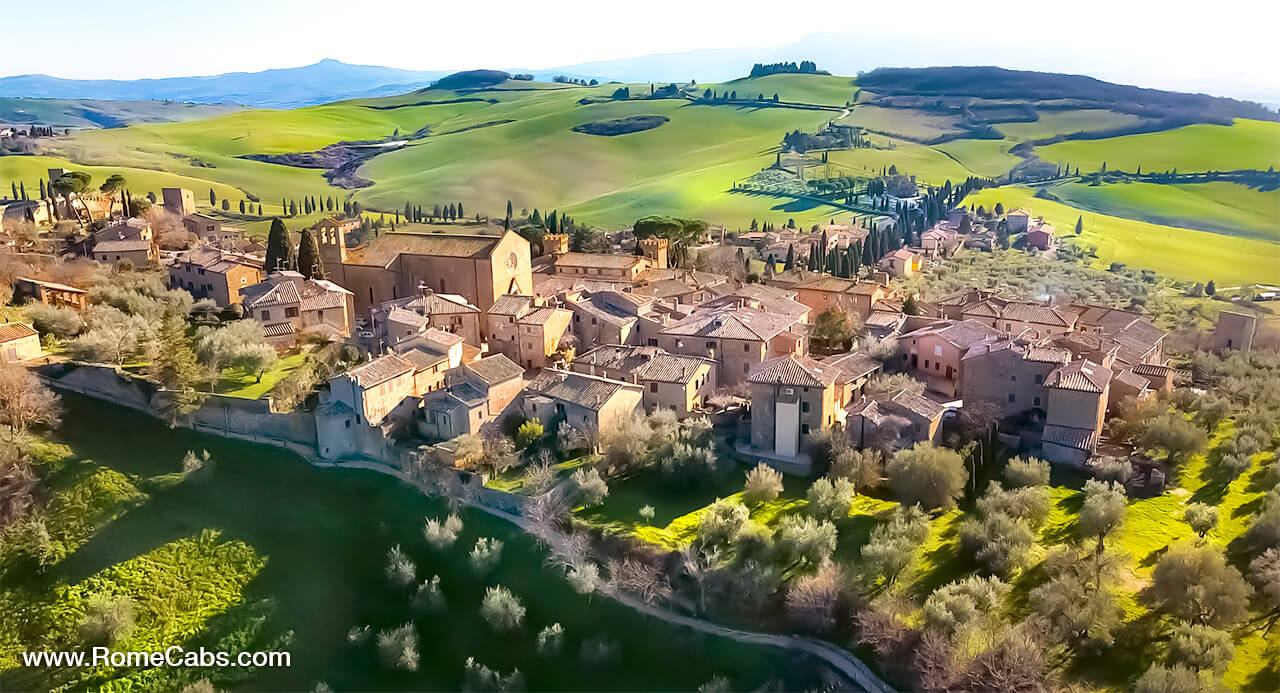 Monticchiello's ancient origins are something of a mystery. During the Ancient Roman times, the village was known as Mons Cloelli, but it wasn't until the 10th century that its current name was discovered in a document.

Although from a distance Monticchiello gives the impression of a small fortress crowning the hill, once you enter the village through its main gate Porta Sant'Agata, you will discover it's surprisingly spacious as opposed to the usual narrow spaces, streets, and alleys that define most Medieval villages.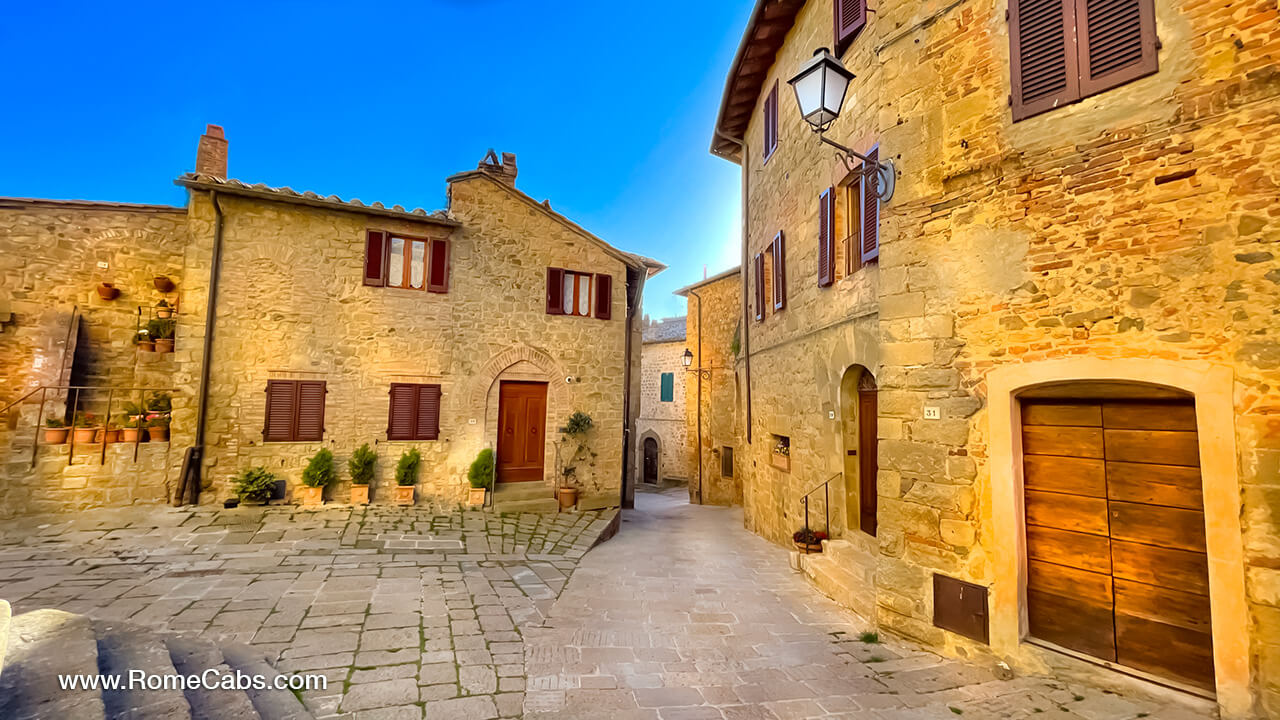 A brief visit is all that is required to explore this tiny sleepy hamlet surrounded by entrancing views of Tuscany's majestic landscapes.

Not to be missed near Monticchiello is a picture-perfect view of the famous and often elusive "windy road of Monticchiello" which is an iconic representation of Tuscany on postcards and in films.
Stop at an ancient Castle Farmhouse
A short drive from Montichiello you will behold a most interesting and surprising sight. Rising in the midst of Val d'Orica Valley is an ancient castle that invites a quick visit for a delightful cap to your tour through Tuscany's Val d'Orcia.

This 14th-century fortified castle was originally established in the late 12th century to provide shelter and assistance to pilgrims and travelers journeying along the nearby Francigena to Rome. Later, it became a large Medieval fortified monastic agricultural farm (or granary) of Cistercian origin. By the end of the 14th century, it was transformed into a magnificent fortified castle with a military garrison to protect the resources housed within.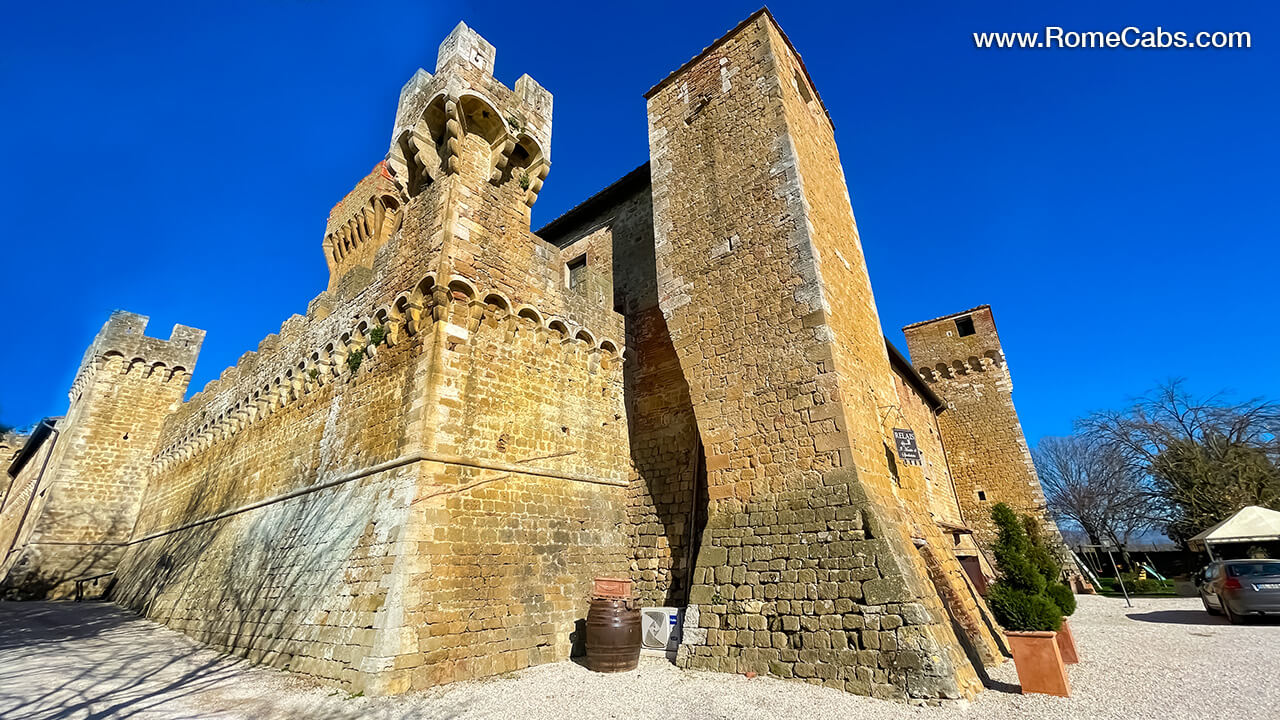 The castle is now an agriturismo farmhouse and the old mill house is now a lovely shop that sells a wide variety of organic artisanal whole-grain pasta crafted from local stone-ground flour ground at the farm's larger mill near Montichiello. Beyond pasta, immerse yourself in the flavors of the region with farm-made quality virgin olive oil, organic wine, artisan beer, and delectable baked goods — a perfect way to bring the essence of Tuscany back home or to share with loved ones.

After this last brief stop on your Enchanting Tuscany tour, you will once again join your driver for your departure from Tuscany at approximately 3:30 PM. Relax in the comfort of your deluxe vehicle while your driver takes you on a scenic journey back to your hotel in Rome.

Thank you for booking our Enchanting Tuscany Tour from Rome, and for choosing Stefano's RomeCabs for your private Italy tours!
Important Information
PLEASE READ THE INFORMATION BELOW AND ACCEPT THE TERMS OF SERVICE AND PRIVACY POLICY BEFORE BOOKING.

PAYMENT OPTIONS
Payment for this Tour can be made in EUROS directly to your driver on the Date of Tour, or prepaid in advance via PayPal or Credit Card online upon request. (See Cancellation policy below)
CANCELLATION POLICY
We kindly ask that cancellations be made via E-mail at least 7 days prior to Date of Service.
Cancellations are accepted only via E-mail so your cancellation is on record. We do not accept cancellations by phone, text message, or 3rd parties.
** Cancelations for PREPAID SERVICES will be refunded the Reduced Net Rate we receive from your prepayment. Reduced Net Rate: actual service price minus PayPal/Credit Card fees retained by PayPal/Credit Card as they do not reimburse us the fees they retain from your payment.
YOUR PRIVATE TOUR DRIVER
This Enchanting Tuscany Tour from Rome provides an English-speaking Private Driver who is not a Licensed Tour Guide or sommelier.
Italy's laws prevent Drivers from acting as guides and accompanying guests away from the vehicle to sightsee. Only licensed tour guides are lawfully authorized to accompany guests to sightsee on foot. Drivers can provide basic touristic information while at the vehicle, but drivers are obliged to remain with the vehicle while guests sightsee on foot.
On this Tuscany tour, you will SELF TOUR on your own while you visit the towns.


MEETING POINT TO MEET YOUR DRIVER


At HOTEL / ACCOMMODATION:
Your private driver will meet you inside the lobby of your hotel or in areas permitted by your hotel.

For Apartments or B&Bs without a lobby, your driver will meet you outside the main entrance of your Pick Up Address.

* If your hotel or accommodation in Rome is on a street or in an area restricted to vehicle traffic, your driver will park as close as lawfully possible and meet you on foot at your Address, and accompany you to your parked vehicle.
HELPFUL TIPS for Tuscany Tours:
Be sure to wear comfortable and season-appropriate clothing and footwear.
Bring your cameras as you will discover so many picturesque places during your tour.
In the summer months wear sunblock and bring sunglasses for the time you will spend outdoors