Surrounded by the idyllic Valley of Orcia, Pienza promises those who wish to visit a perfect Tuscany tour from Rome. Considered a Renaissance Utopia, Pienza will enchant you with its charming stone architecture, romantic lanes, world-famous cheese and local cuisine, and panoramas of picture-perfect landscapes.

We at Stefano's RomeCabs have written this guide as Pienza is one of the villages in Tuscany that we love to visit and to show our guests on our private tours from Rome to Pienza. We will look at how far is Pienza from Rome, how to get to Pienza from Rome, touch on Pienza's fascinating history, and show you what you can discover in Pienza on your next Tuscany day trip from Rome.


Where is Pienza? How far is Pienza from Rome?

Pienza is ideally situated in southern Tuscany about 100 km / 63 miles from Rome and about 115 km / 72 miles from Florence. Its ideal location makes visiting Pienza from Rome as easy as from Florence.

The historical village of Pienza may be small with only 2,000 inhabitants and its historical center is about 400 meters long, but it's huge in charm and beauty. If you wonder what is there to do in such a tiny village that makes it one of the most popular destinations in Tuscany, the list is quite long!

In this article, you will also answer these frequently asked questions about Pienza:
How old is Pienza?
Who built Pienza?
How did Pienza get its name?
What is Pienza known for?
Is Pienza worth visiting?
How do you get to Pienza?
Are there tours from Rome to Pienza?


Before we delve into what to see and do in Pienza, here's a bit of history for those not familiar with this wonderful Tuscan village.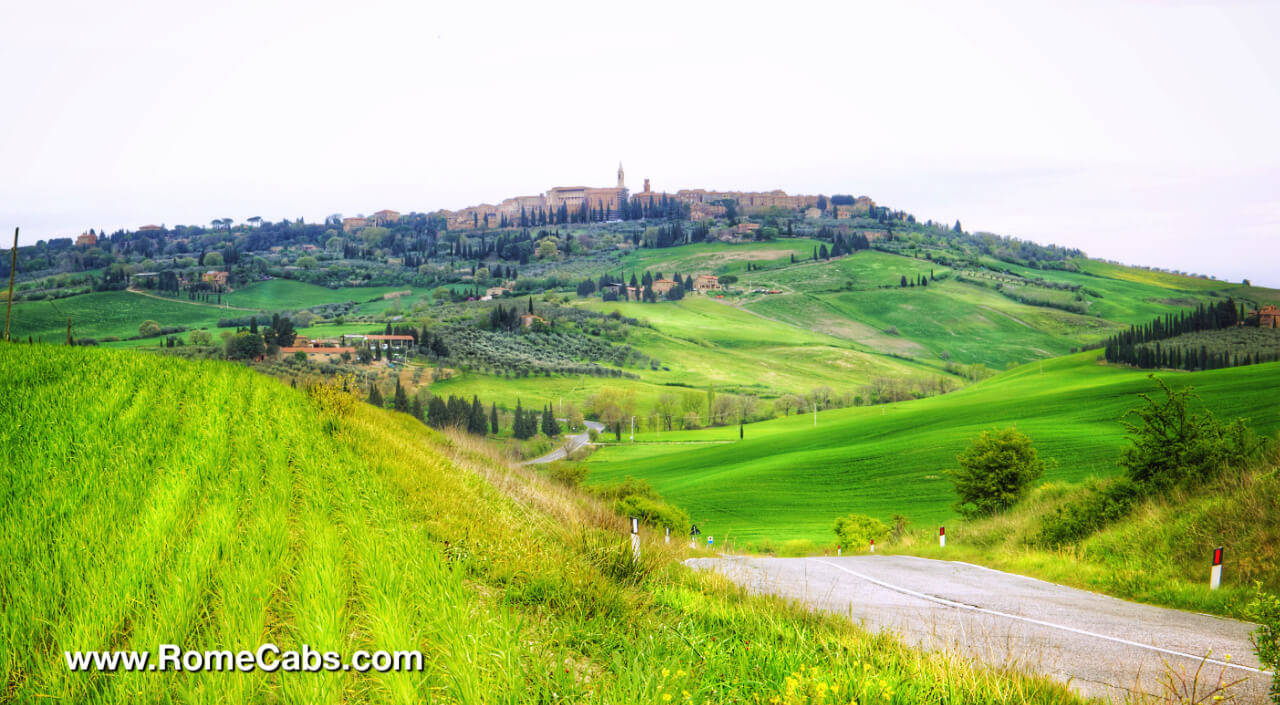 PIENZA: the Renaissance Utopia - a brief history

Originally Pienza was a humble hilltop village known as Corsignano as it surrounded the Castello di Corsignano in the mid-8th century. Everything changed when the local-born aristocrat Eneo Silvio de Piccolomini became Pope Pius II in 1458 and set out to revolutionize his hometown.
Already a well-educated man with a law degree and educated in literature, poetry, and history before he began his career in the church, Eneo was a true Renaissance man. Among Eneo's ambitions as Pope Pius II was to transform the quaint village of Corsignano into an urban Renaissance utopia with elegant architecture and city planning.
For this monumental task, Pope Pius II commissioned the well-regarded Florentine architect Bernardo Rossellini who designed the brick and travertine pavement of the central square, the Cathedral, Palazzo Canonici, and Palazzo Piccolomini - the pope's palatial residence. Once the revival of Corsignano was complete, the pope renamed the village in his honor: Pienza.

The historical center of Pienza is a UNESCO World Heritage Site.
What to see and do in Pienza, Italy TOP 10
1. Visit Palazzo Piccolomini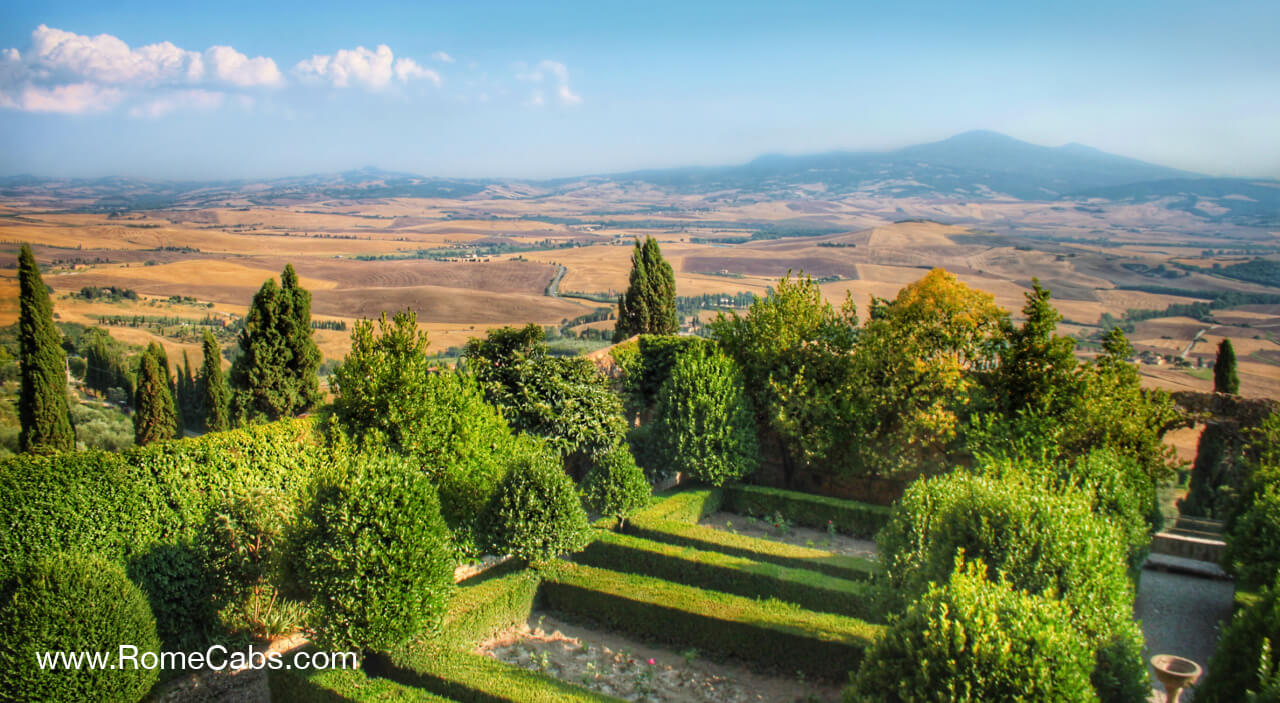 Palazzo Piccolomini, inspired by Florence's Palazzo Rucellai, was built around a courtyard that on three sides overlooks the urban center and the fourth side extends over an elegant Italian hanging garden that overlooks the enchanting Tuscan landscape. Enjoy a taste of Renaissance opulence fit for popes and nobility.

The palazzo is currently a museum across three floors that include an impressive library of previous rare books, and previous papal apartments that exhibit fine period furniture, paintings, and engravings of Piccolomini family members. Glorious views can also be enjoyed from seven-axis loggia and Italian gardens that overlook the resplendent Tuscan landscape.
2. Stroll through Piazza Pio II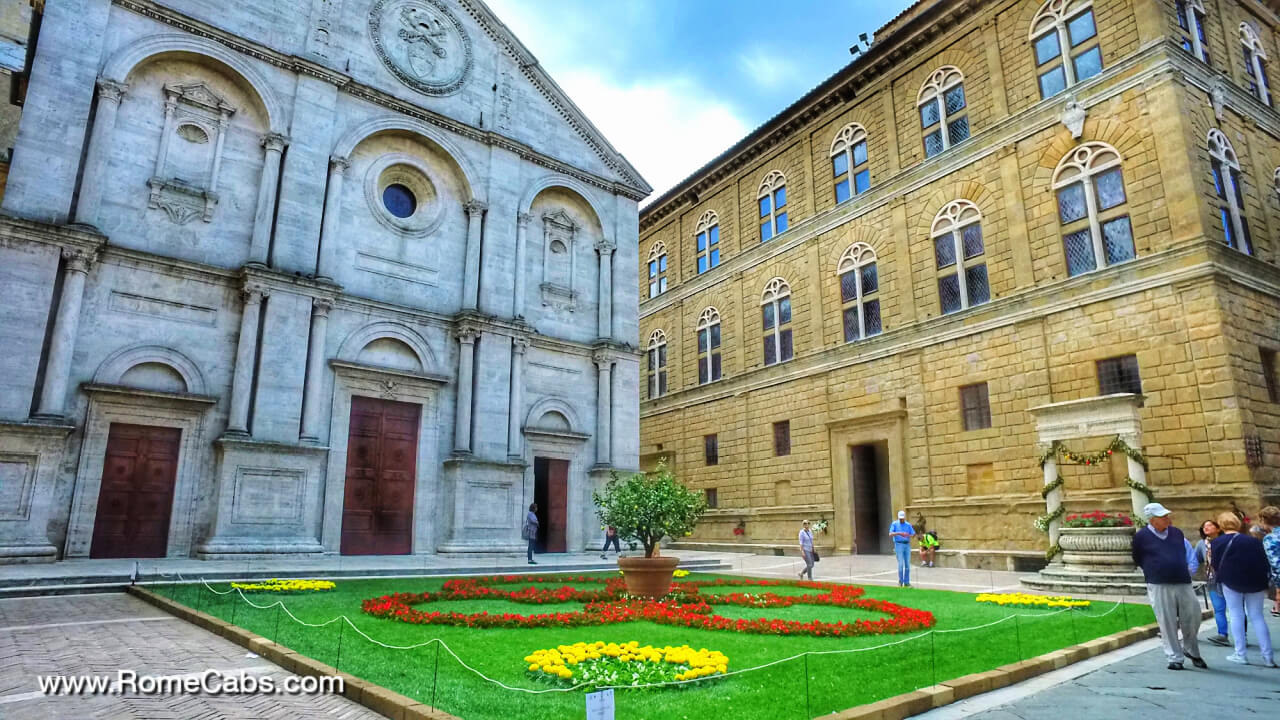 You can't visit Pienza without stopping in its main square, Piazza Pio II. Surrounded on three sides by the Cathedral, Palazzo Borgia, and Palazzo degli Ammannati.

An elegant stone fountain also graces one side of the square.
3. Visit the Duomo of Pienza (Cattedrale dell'Assunta)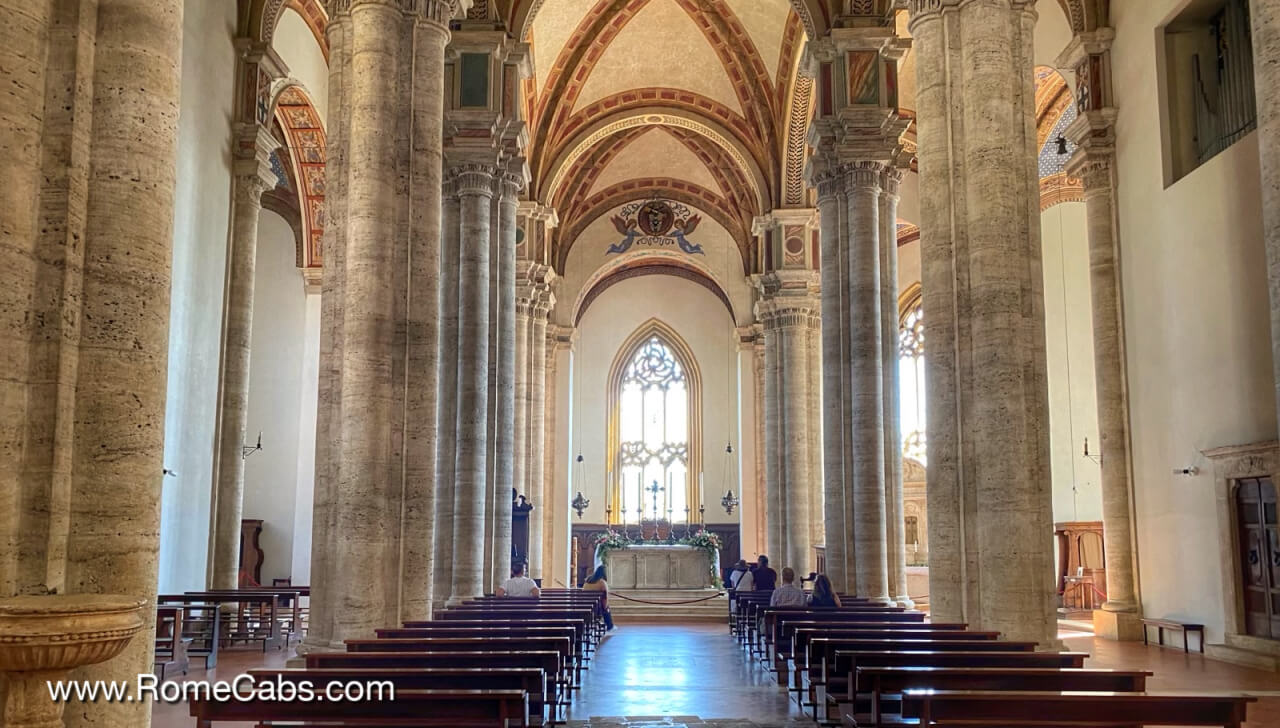 The Cathedral of Pienza was constructed on the site of the old parish church of Santa Maria, and it's believed its design was inspired by a church the Pope had admired during his travels to Austria.
Although the facade of the cathedral was designed in the Renaissance style, its simple interior resembles Gothic architecture.

4. Visit Palazzo Borgia Diocesan Museum of Pienza

The Diocesan Museum of Pienza on Corso Il Rossellino is housed in the Episcopal Palace (Palazzo Borgia) overlooks Piazza Pio II and makes up the magnificent urban center.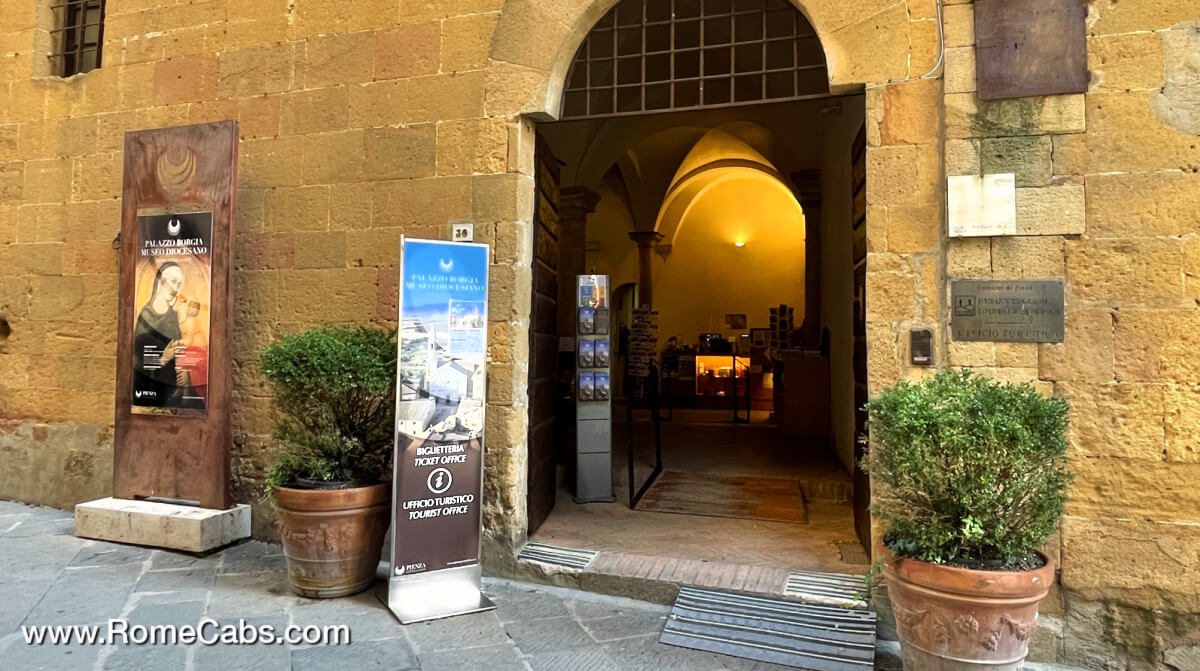 The museum is comprised of 11 rooms showcasing 14th through 16th-century masterpieces by renowned artists from those periods such as Luca Signorelli and Pietro Lorenzetti. In addition to exquisite paintings, the museum also boasts a collection of goldwork from the 13th to the 19th century.
5. Stroll Though the charming village of Pienza

Pienza simply beckons you to stroll through its pedestrian-friendly lanes lined with grand historical buildings and palazzi. Inviting doors and delightful windows adorned with colorful flower beds add to Pienza's enchantment.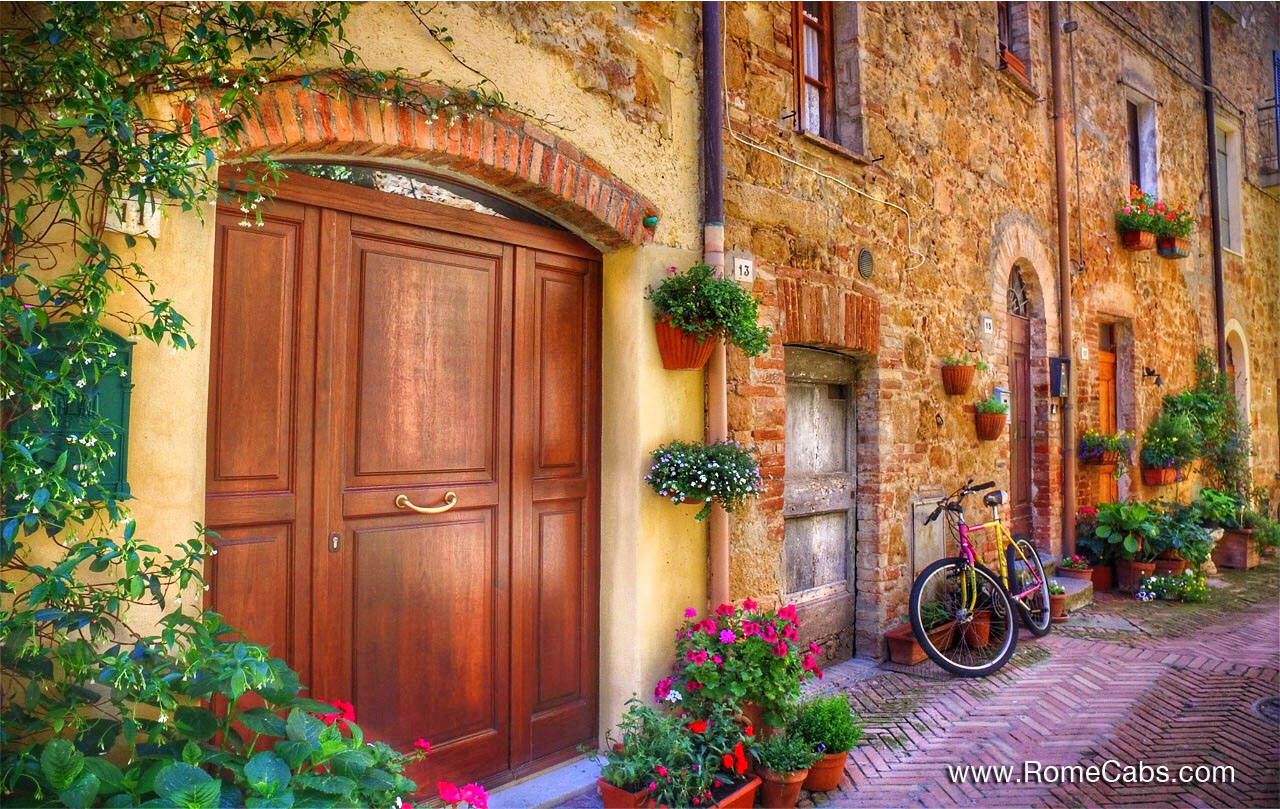 Let your mind wander to a bygone era and imagine the people who dwelled in these very homes they built many centuries ago. And don't worry if you feel a tinge of envy of the locals today who have the privilege of living in this enchanting village and whose homes are behind the lovely doors.

Note a particular medieval jettied building where the upper floor projects beyond the dimensions of the bottom floor. Why were some medieval buildings constructed with this technique? Perhaps to gain space due to narrow streets (which often they were quite narrow), to shelter the lower floors from weather elements, or simply a status symbol.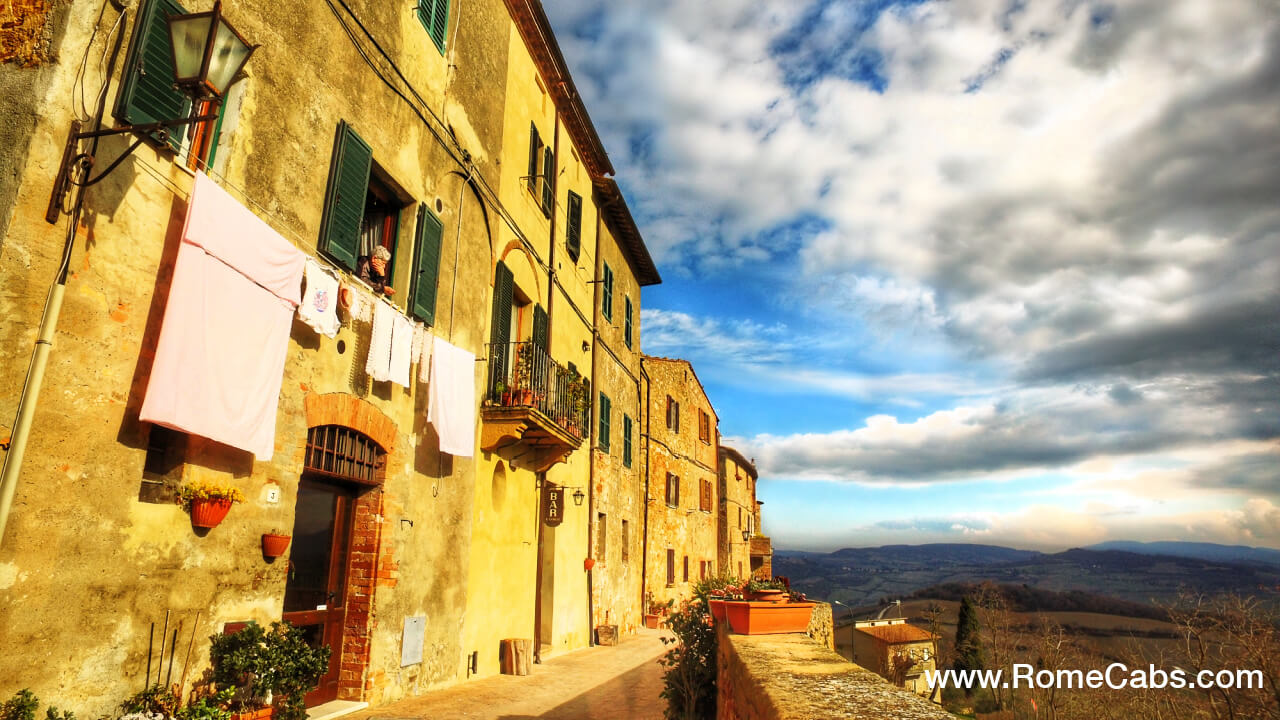 Quaint shops at the street level entice you with prettily dressed window displays. From local delicacies to traditional merchandise, you can't help but take a peek and perhaps purchase a treat or souvenir.
6. Walk Along the Bastions of the Village Walls

While strolling through Pienza, make your way toward the south perimeter of the village to the outer wall which is actually the bastions of the village walls.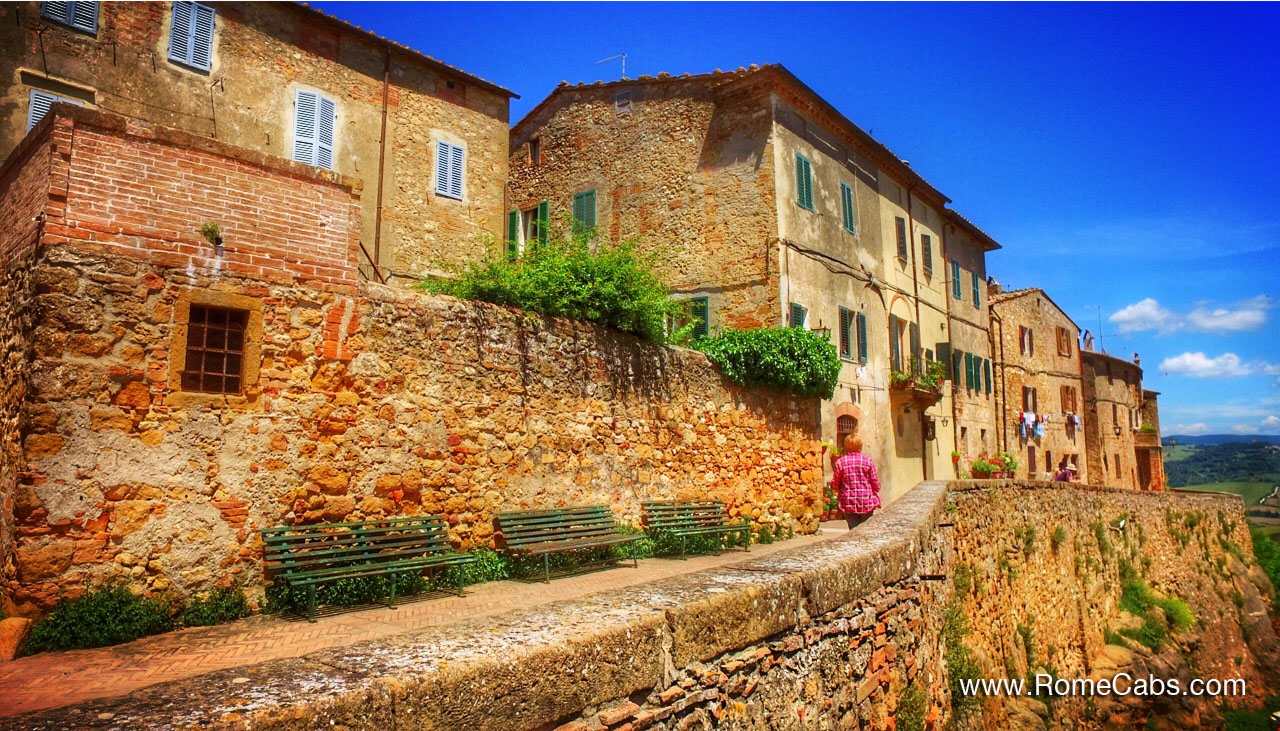 Discover alleys that lead to the outer wall that bear charming names such as Via del Bacio, Via d'Amore, and Via della Fortuna.

The view from the top of the city walls will reward you with a captivating panorama of Tuscany's Val d'Orcia that you may admire (and photograph) to your heart's content.
The valley is so idyllic that it served as the setting of the Elysian Fields (fields of paradise) in the 2000 blockbuster The Gladiator. You can actually see and walk along the ribbony dirt road dotted with cypress trees and surrounded by fields of wheat. See more on this below.
7. Buy local ceramics and crafts in Pienza
One of the loveliest things you can purchase in Tuscany is artisan ceramics hand-painted in the characteristic Tuscan colors and motifs.
There are various shops in Pienza where you may purchase all types of ceramic objects for your dining table or for decoration. Splurge on a Tuscan dining set, delight in a traditional oil and vinegar canteen set, or gift a set of espresso cups. These little treasures will always remind you of your visit to this charming corner of Tuscany.
8. Indulge your tastebuds with Pecorino di Pienza

What is Pienza most known for? It's coveted pecorino cheese, of course! Traditionally, Pecorino di Pienza is as steeped in history as Tuscany's wines. Pecorino derives from the word "pecora" which means sheep in Italian.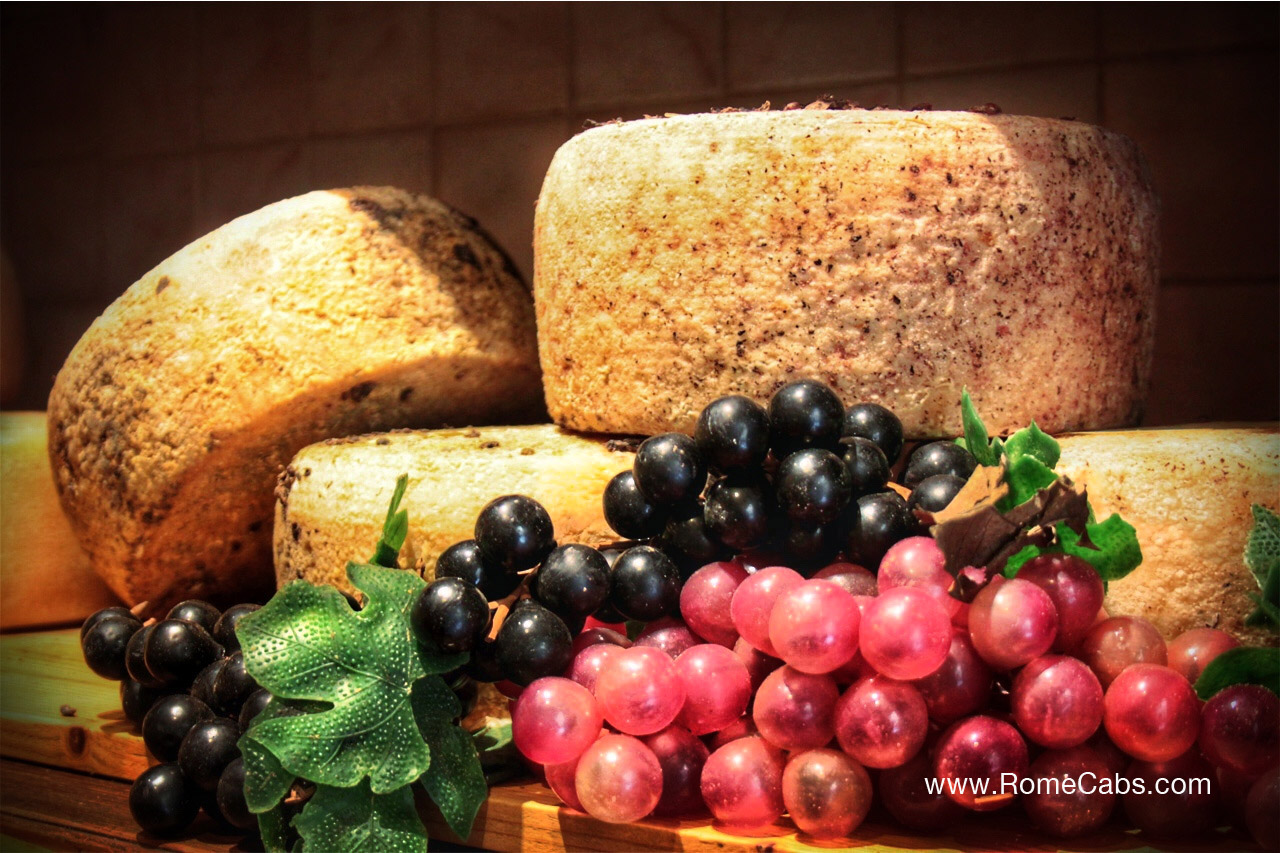 One of the oldest cheeses in the world and Italy's most sacred cheese, Pecorino di Pienza has been around since the Etruscans - the pre-Roman civilization that settled in this part of modern-day Italy. Not only do today's tourists flock to Pienza to get their hands on the local delicacy, but also famous mid-15th-century Florentines like Lorenzo de' Medici traveled from Florence to indulge in this local cheese he was so fond of. Pecorino di Pienza will surprise and delight your pallet.

Pecorino di Pienza is simply cheese made from the milk of ewes that graze in the meadows of Val d'Orcia and feast on special herbs that render its cheese spectacularly delicious!
Pecorino varies from aged, soft, dry, or fresh. What makes Pecorino di Pienza stand out from the rest is a combination of the breed of sheep used for this particular milk (primarily Sardinian sheep), the meadows and wild herbs the sheep consume, and the centuries-old cheese-making traditions continuously perfected and passed down from generation to generation.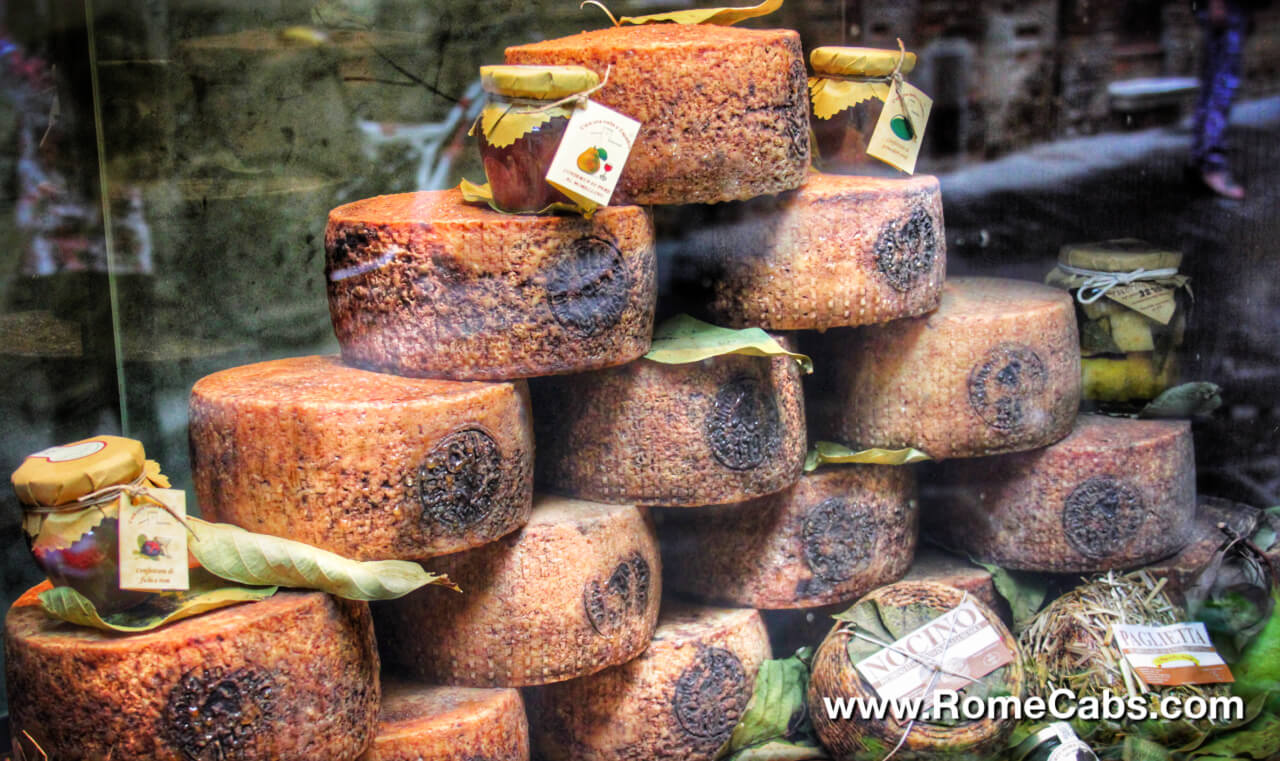 You'll discover rolls of Pecorino di Pienza cheese in the town's numerous shops on display. You'll also be surprised by the different coatings of the rolls of cheese depending on how they were aged: some are coated with pomace from wine or tomato concentrate, others wrapped in leaves, or covered with hay. The different techniques of aging create different flavors. Aging can be anywhere from 1.5 months to 1.5-2 years.

There are up to 20 pecorino producers in Val d'Orcia, many former Sardinians who moved from Sardinia in the 1960s and brought their sheep and cheese-making skills with them. You see, Tuscany was not always Italy's tourist hotspot that it is today.
Some 50-60 years ago nobody wanted to live in Val d'Orcia, there weren't many opportunities for young adults who were dreaming of sophisticated city lives. Tuscany is, as it always was, primarily a farm country. And young people wanted to live in the cities that afforded them more opportunities. It wasn't until the Italian government offered large parcels in Tuscany to Sardinians at next-to-nothing prices because at that time Sardina was teeming with farmers, and Tuscany was lacking.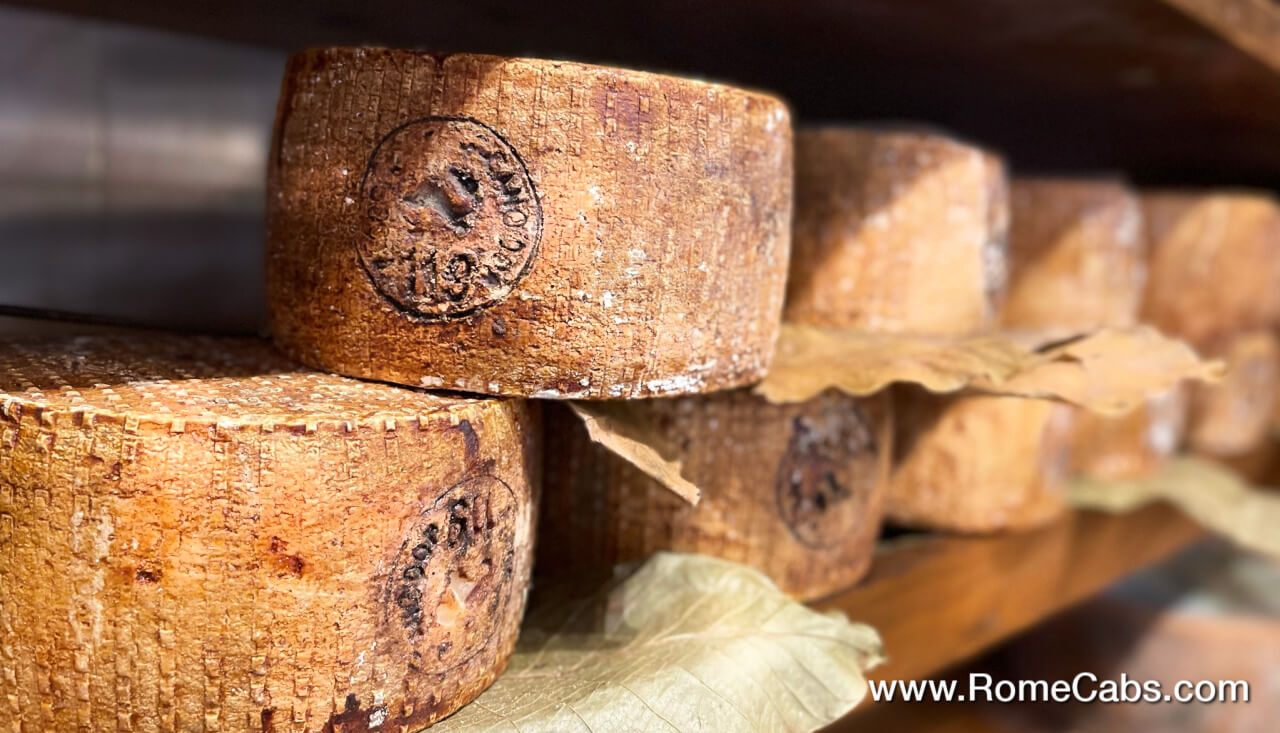 Cheese Tasting in Pienza - A Must!


Sample some of the mouthwatering pecorino varieties and purchase your favorites from mild to spicy, soft to hard, and fresh to aged. The harder cheeses can also be vacuum sealed for travel. While you're sampling the local variety of Pecorino, be sure to also ask for a recommendation for the type of honey or wine that pair well with your preferred Pecorino.
There are many gastronomic shops in Pienza that sell a wide variety of pecorino. If you wish to indulge in a cheese-tasting experience, visit La Taverna del Pecorino on Via Condotti, 1 just off the main street.
For just 5 Euros Per Person, you can sample a variety of fresh and aged pecorinos, balsamic vinegar, and other delicacies. The owner (in the photo) speaks English, and they can vacuum seal your cheese purchases, and even ship them internationally directly to your home.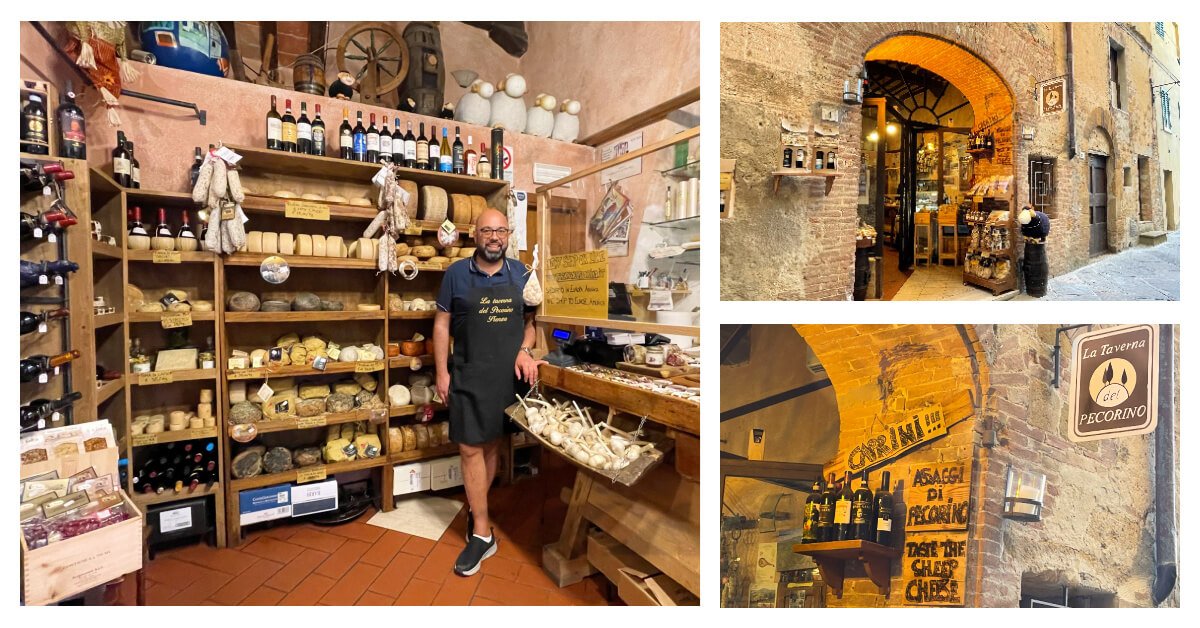 9. Visit the Pieve di Corsignano


By now you've seen most of what's worth seeing in Pienza. It's time to step away from the historical village because there's still more to see and around Pienza!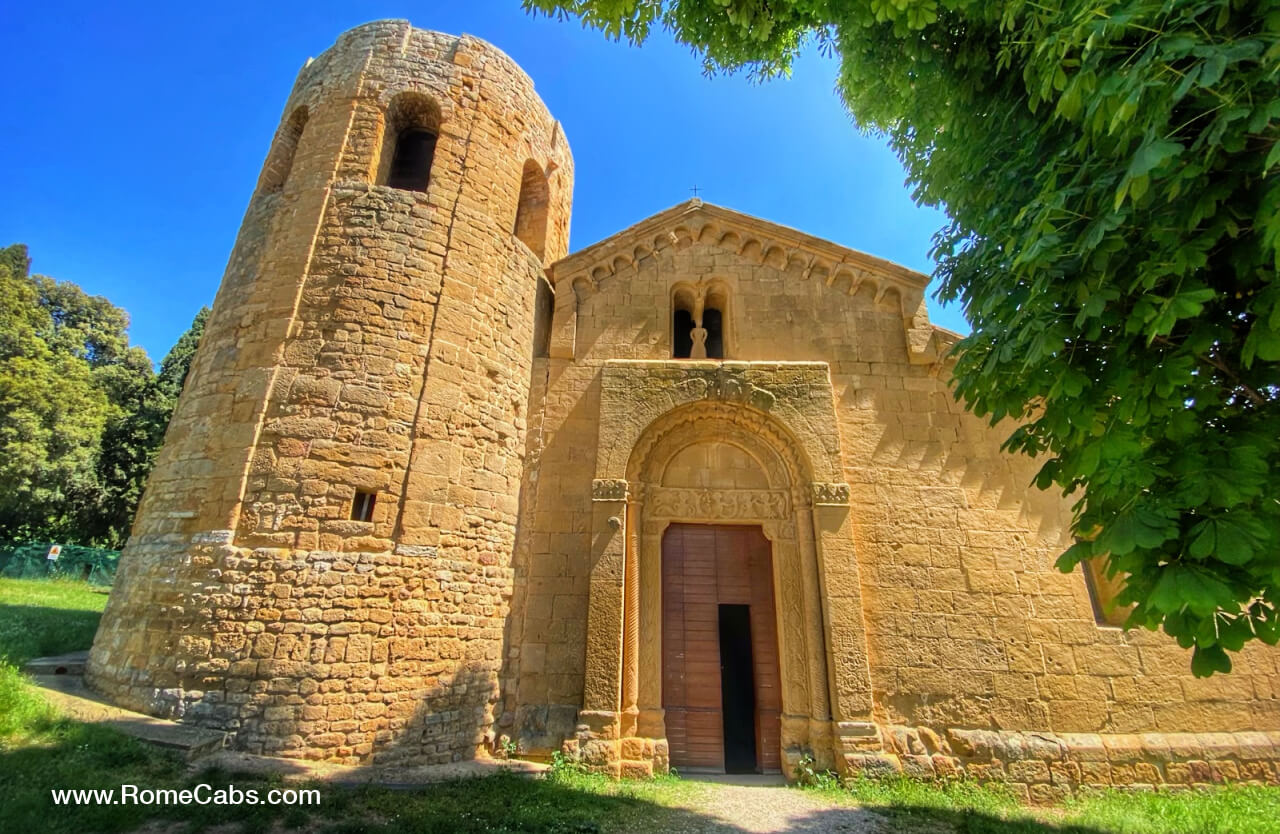 A short walk (or drive) from Pienza lies hidden off the main road the charming Pieve di Corsignano overlooking the sublime valley. This small Romanesque church has distinctive Lombardic architectural influences with vertical arched windows, some of which are mullioned. A cylindrical bell tower stands adjacent to the church. Its unadorned interior seems spartan and insignificant, however, Pope Pius II was baptized in the church's original baptismal font.

You may not always find the church's doors open for visitors. However, your visit shouldn't stop there… if you have some extra time, and good hiking shoes, your adventures have just begun.
10. Walk through the Elysian Fields (from the movie The Gladiator)
If you walk past Pieve di Corsignano and proceed down the sloped dirt road for several minutes (sturdy footwear suitable for hiking is recommended), you will arrive in what was once the scene in the blockbuster movie The Gladiator: the Elysian Fields (the fields of paradise).

Early in the film the Roman general Maximus (Russell Crowe), tells his men before going into battle against the Germans, "If you find yourself alone, riding in green fields with the sun on your face, do not be troubled, for you are in Elysium, and you're already dead!"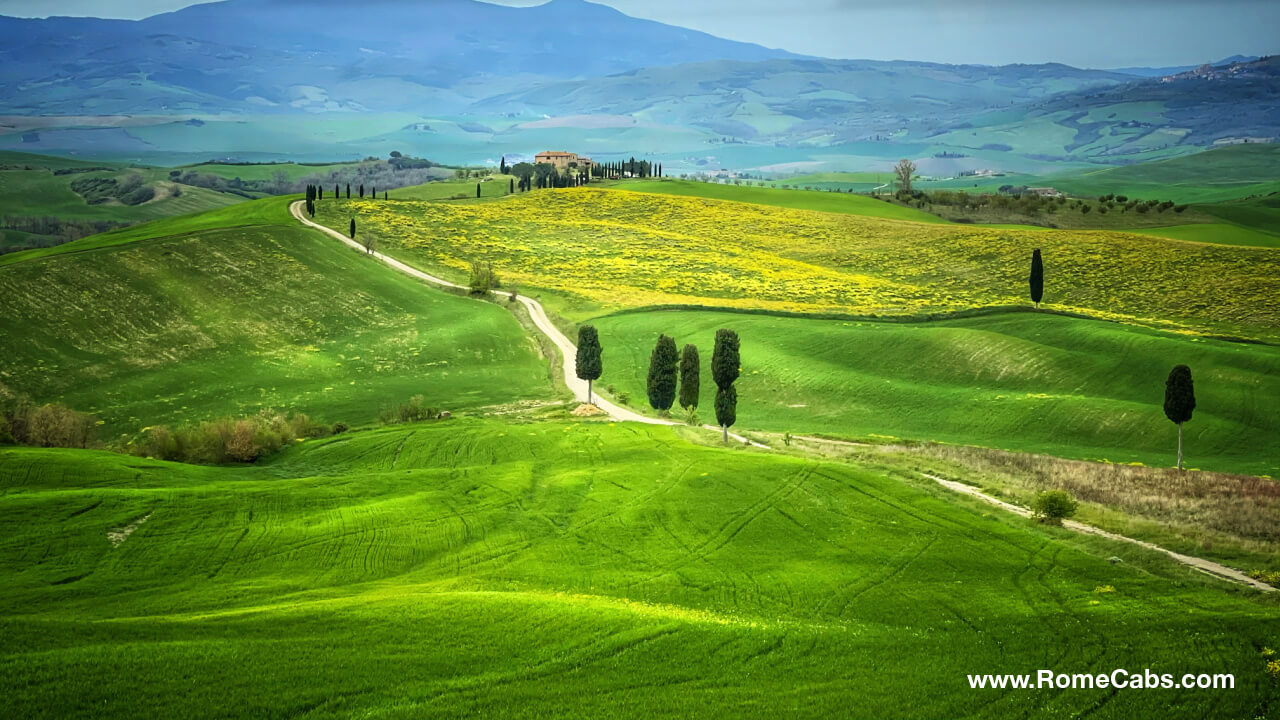 Ridley Scott created the scene based on what was known about Elysium from passages written by Roman and Greek poets Virgil and Homer. They imagined an eternal afterlife comprised of green meadows, groves of trees, and fertile earth bringing forth an abundance of grains and fruit - simply paradise on Earth. Val d'Orcia (Valley of Orcia) is considered a slice of paradise on Earth, and it's quite fitting that it also played the role of the Elysian Fields.

You will immediately recognize the white dusty road that winds through the wheat field like a ribbon, accentuated here and there by exclamatory cypress trees.

If the idyll curvy dirt road and cypress trees are not enough to convince you that you're in the right place, you might spot tourists mimicking the iconic scene of Maximums walking through the wheatfield gliding his hand over the grown waist-high wheat.



This valley also inspired our popular Tuscany tour from Rome Valley of Paradise that includes visits to Pienza, Montichiello, and Montalcino which are situated in this glorious valley.
BONUS PRO TIP: Admire views of Pienza from surrounding areas

We're not yet finished with our list of what to see and do in Pienza. There's one more thing that you can do either on your way to Pienza or from Pienza: admire the sublime view of Pienza as it crowns the hill upon which it was built.

No matter on which side of the hill you find yourself, whether you are viewing Pienza in the distance from Montichiello or on the side of the road, the view of Pienza surrounded by the sublime valley will absolutely enchant you.


Is Pienza worth visiting? In a word: YES!!! With so many things to see and do in Pienza, why not plan your own visit?


How to get to Pienza from Rome

If you wish to enjoy an extended stay in Pienza or near Pienza, you can get there by car as there are no trains or suitable public transportation that serves Val d'Orcia region of Tuscany.

If you wish to just spend a few quiet days at a hotel or apartment rental in Pienza and don't plan on venturing out into Tuscany, we can provide a private transfer from Rome to Pienza or a transfer from Fiumicino Airport to Pienza and back. We specialize in long distance transfers from Rome to Tuscany.

If you wish to stay at a farmhouse near Pienza, and if you also wish to explore Tuscany, you would definitely need a car which you can rent from a major city such as Fiumicino, Rome or Orvieto.
Are there tours from Rome to Pienza?


If you are short on time but would like to experience this slice of heaven yourself, you may book our Montepulciano and Pienza Tour from Rome, or Valley of Paradise Tuscany tour from Rome. Private tours in Italy afford you the luxury, flexibility, and customization for the best possible tour experience in Italy.
Find out also what are the Top 5 Tuscany Tours from Rome and 3 Famous Towns in Italy to visit during Summer Historic Festivals

Thank you very much for reading our article What to See and Do in Pienza, Italy. If you've found this information helpful be sure to share it with others who might enjoy it.

We look forward to showing you beautiful places in Italy!


More Helpful Italy Travel Blogs from RomeCabs:
Find us online also on: