Buon giorno and welcome to Stefano's RomeCabs, Italy top tour company for private luxury Rome Tours, Tuscany Tours, Italy Tours from Rome, and Shore Excursions from Civitavecchia, Livorno, La Spezia, and Naples cruise ports. If you are looking for the best Italy tours, you've come to the right place!
For more than 18 years we have taken tens of thousands of visitors on private day tours from Rome to Tuscany to enjoy this glorious region of Italy that's among the most famous and well regarded. Our clients have enjoyed Day tours to Florence, Montepulciano, Pienza, Cortona, Arezzo, and wine tasting tours in Tuscany and Umbria.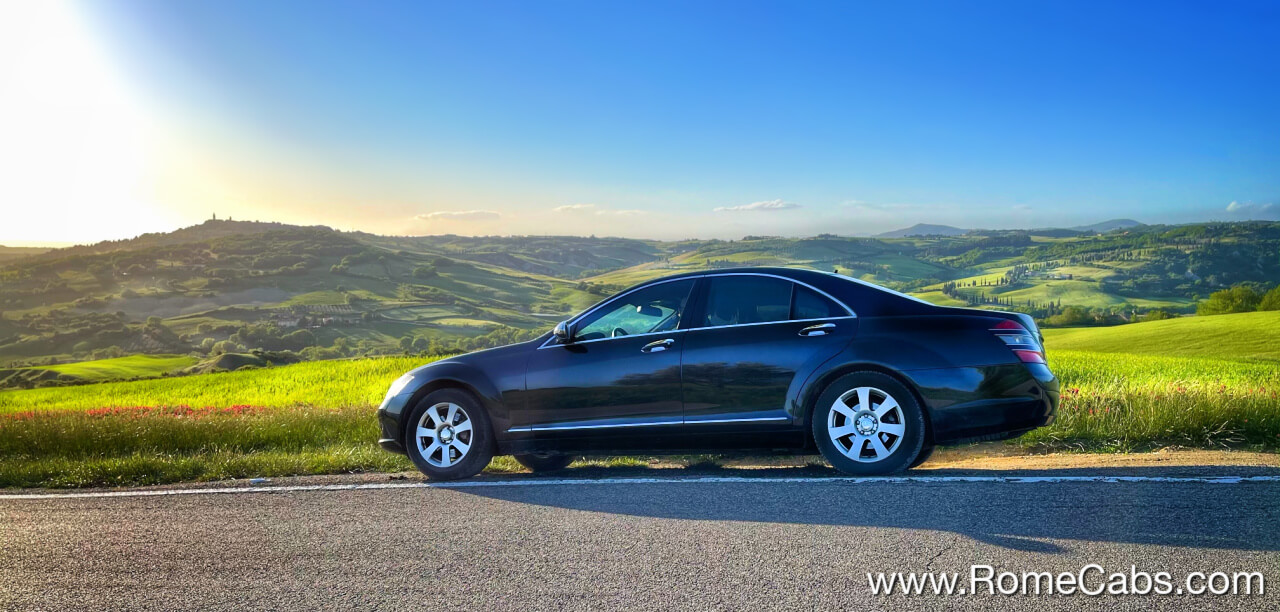 We always look for new opportunities to show our guests the best of Tuscany on our Tuscany Tours from Rome or Florence, and shore excursions from Livorno and La Spezia. Recently we published a tour that we have been excited about visiting these locations, admiring the same views, and savoring the same delightful flavors of Tuscany.
This blog post is about our recent VALLEY OF PARADISE Tuscany Tour from Rome or Florence, and what has inspired us to create this tour (and its name). This tour is among the best Tuscany tours from Rome that you can enjoy on your next Italy trip.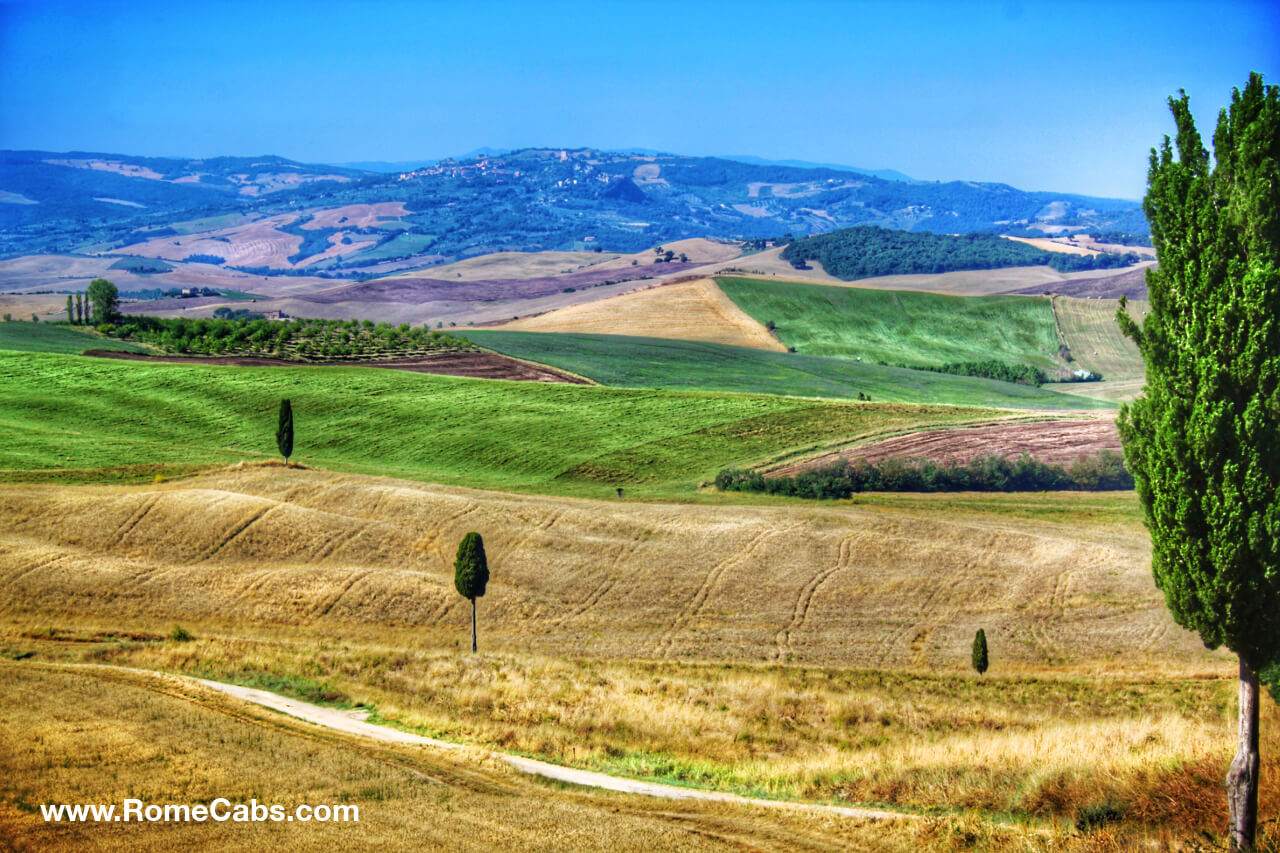 What inspired us to create this Valley of Paradise Tuscany Tour


This tour focuses on a particular region of southern Tuscany not only because it's most accessible from Rome (and reachable also from Florence), but because it's one of the most impressive in all of Tuscany.
We're talking about the Valley of Orcia; or Val d'Orcia as it's commonly known in Italian. This gorgeous Tuscan landscape boasts soft rolling hills crowned with fortified Medieval towns and villages, cypress trees, lush pastoral valleys, vineyards, and olive groves that create a patchwork of patterns and colors. Together they make for an enchanting drive through this little corner of paradise on Earth.


When you book our private Tuscany tours from Rome, you will tour Italy in luxurious comfort in your private deluxe Mercedes vehicle and personal English-speaking Driver at your service.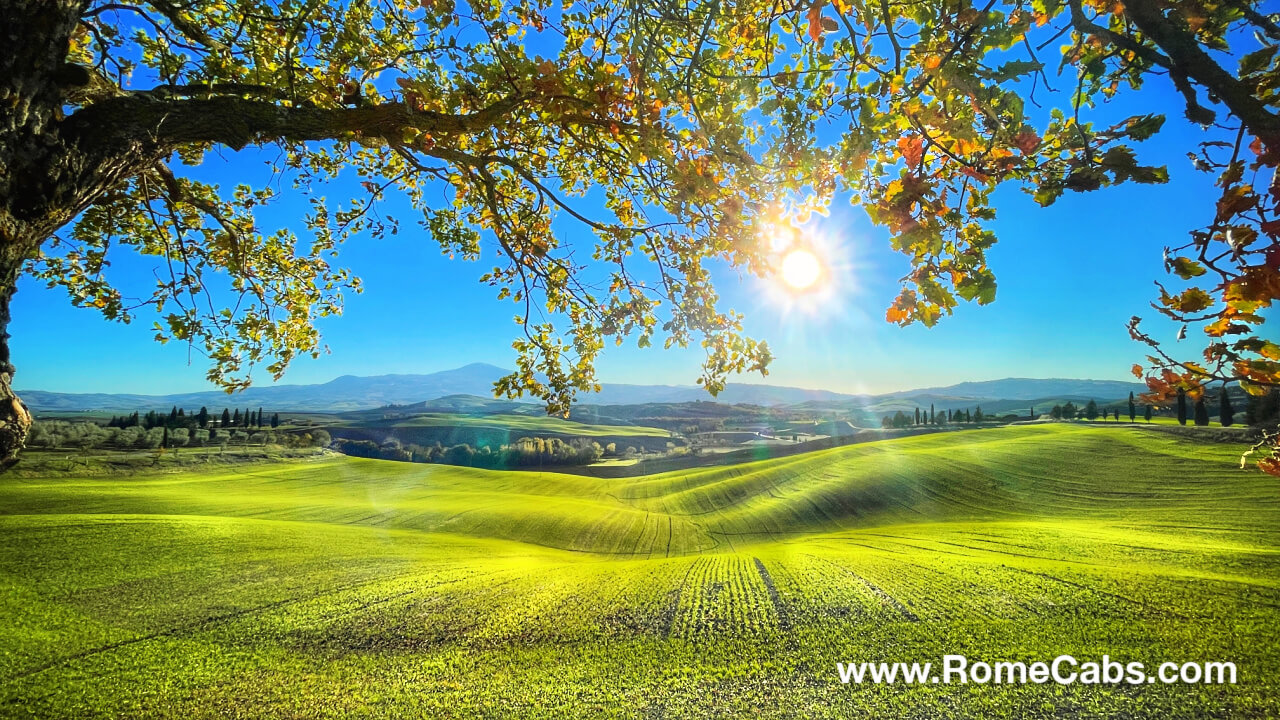 VALLEY OF ORCIA (VAL d'ORCIA)

It's no surprise that Val d'Orcia is a UNESCO World Heritage Site. This distinctive rural agricultural landscape has been part of the 14-15th century Renaissance utopian ideals and ideology of good governance and aesthetically pleasing landscapes to live in harmony with nature. This level of integrity was expressed in the development of agricultural prosperity.
This majestic agricultural landscape consists of small farms which cultivate grain, vines, olive, and produce, interspersed with meadows and pastoral fields for local livestock. Pienza's "pecorino di Pienza' is a prime example of this type of delicious Tuscan cheeses locally produced from ewe's milk that graze upon these very pastoral meadows.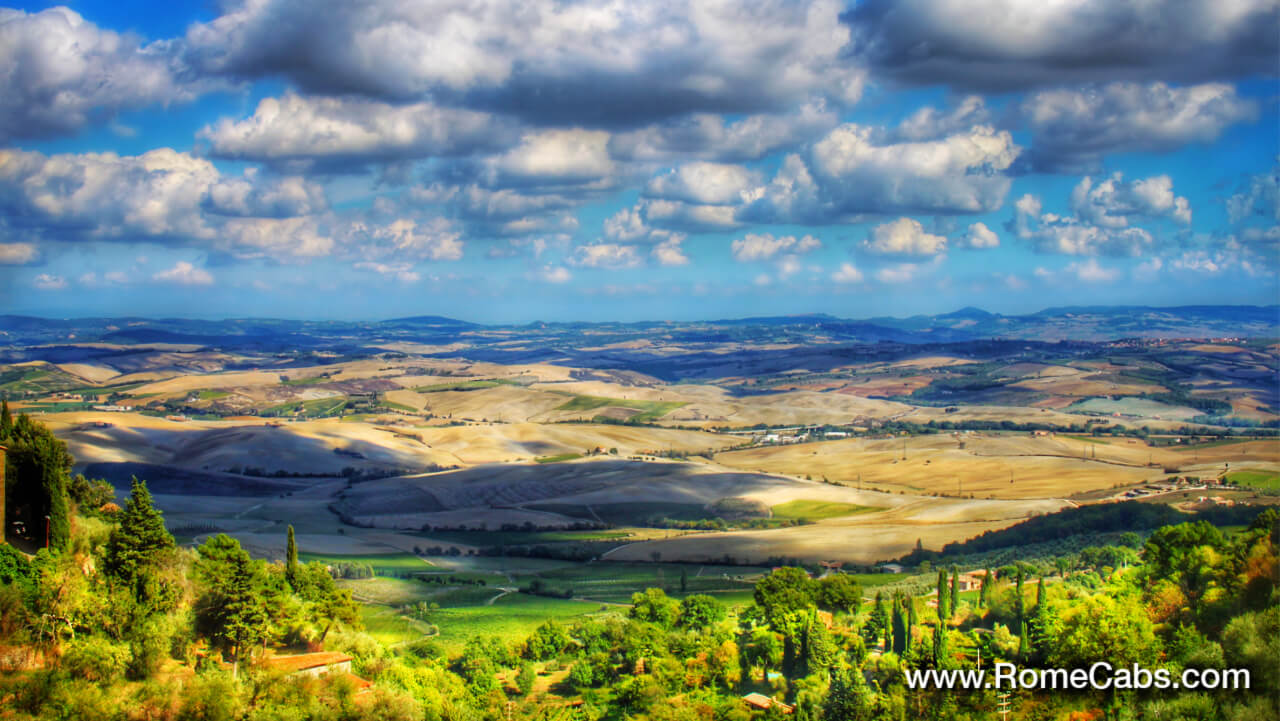 Aesthetically, Val d'Orcia has been celebrated by artists from the Renaissance era to modern times. The spirit of Renaissance painters and farmers created the unmistakable landscapes of Val d'Orcia, where the influence of the landscape on art or the creative influence of art on the landscapes converge.
Among the most iconic landscapes of Tuscany depicted in paintings since the Renaissance era or depicted in modern-day postcards and films are images of this glorious Val d'Orcia.
How did this Valley of Paradise Tuscany tour get its name?

The name of this tour was inspired by the Elysian Fields scene from the blockbuster movie The Gladiator. There is a memorable scene near the conclusion of the film where Maximus, close to death, appears standing alone in a wheatfield, gliding his hand across the golden wheat with a ribbon-like countryside dirt road ahead of him punctuated by cypress trees.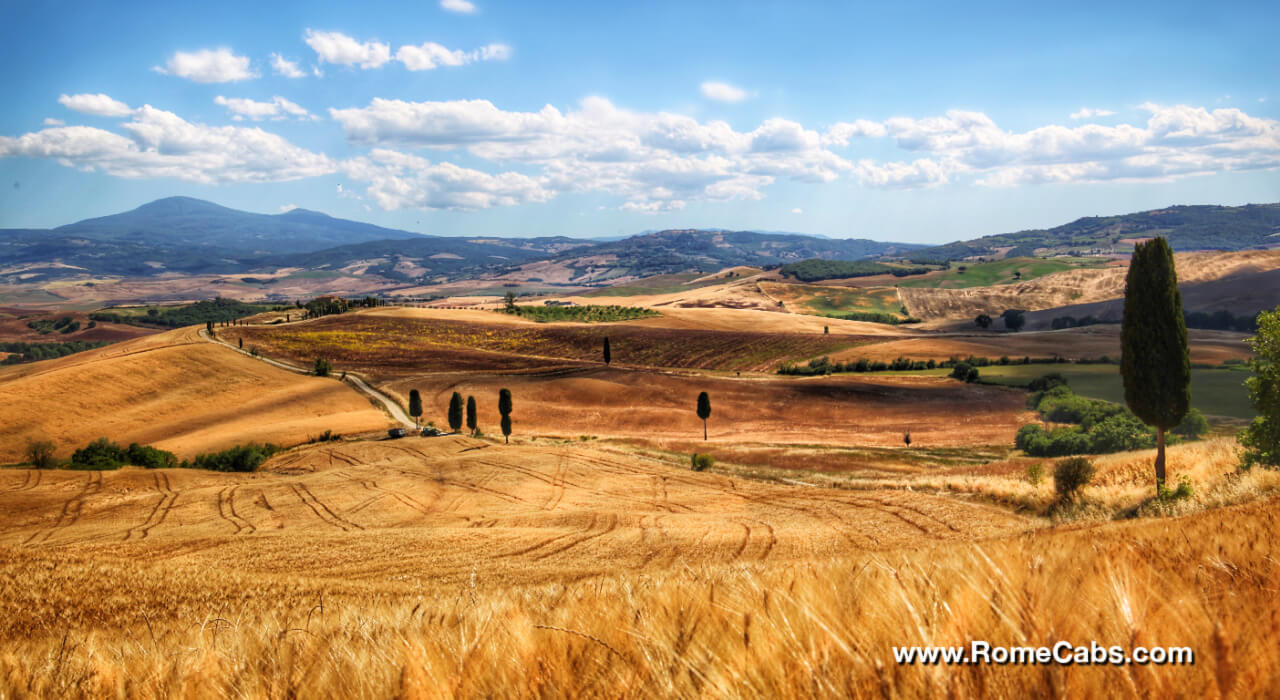 This was the scene depicting the Elysian Fields, the pagan version of Paradise. In the words of general Maximus addressing his troops thusly: "If you find yourself alone, riding in the green fields with the sun on your face, do not be troubled. For you are in Elysium, and you're already dead!"
This scene was filmed in Val d'Orcia. There's no greater compliment than for one of the most epic movies of all time to choose THIS tiny corner in all of Italy (or the world for that matter) to represent Paradise.
And after a few trips and searches (by car and on foot), we found the exact spot in the movie. We can take you there, but only if you are fit to hike up and down a dirt road on a slope and are wearing sturdy shoes for hiking purposes.

It's a bit of an effort to get there. You will have to dedicate extra time from your tour for this side adventure (especially in the off-season months when the days are shorter so you have to make your daylight hours count), but it's well worth the stunning view, especially if you get the money shot (or close enough).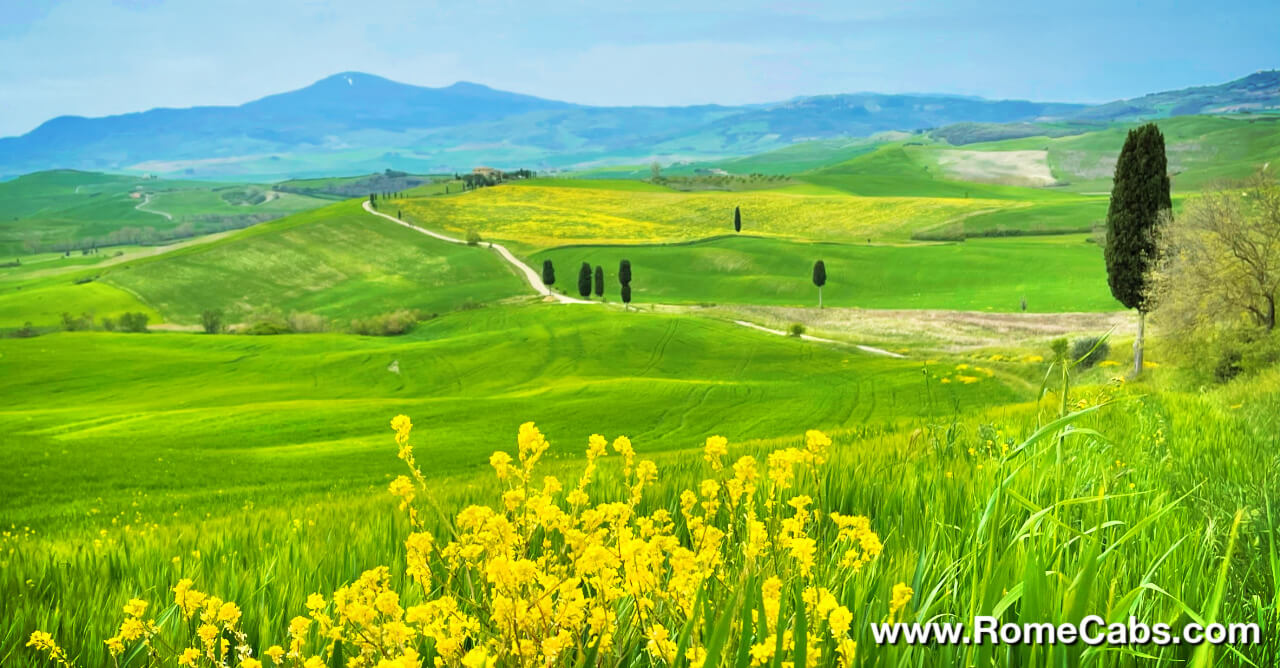 What Tuscany secrets did we discover that you will see in our Fields of Paradise Tuscany Tour?
The Windy Road of Montichiello…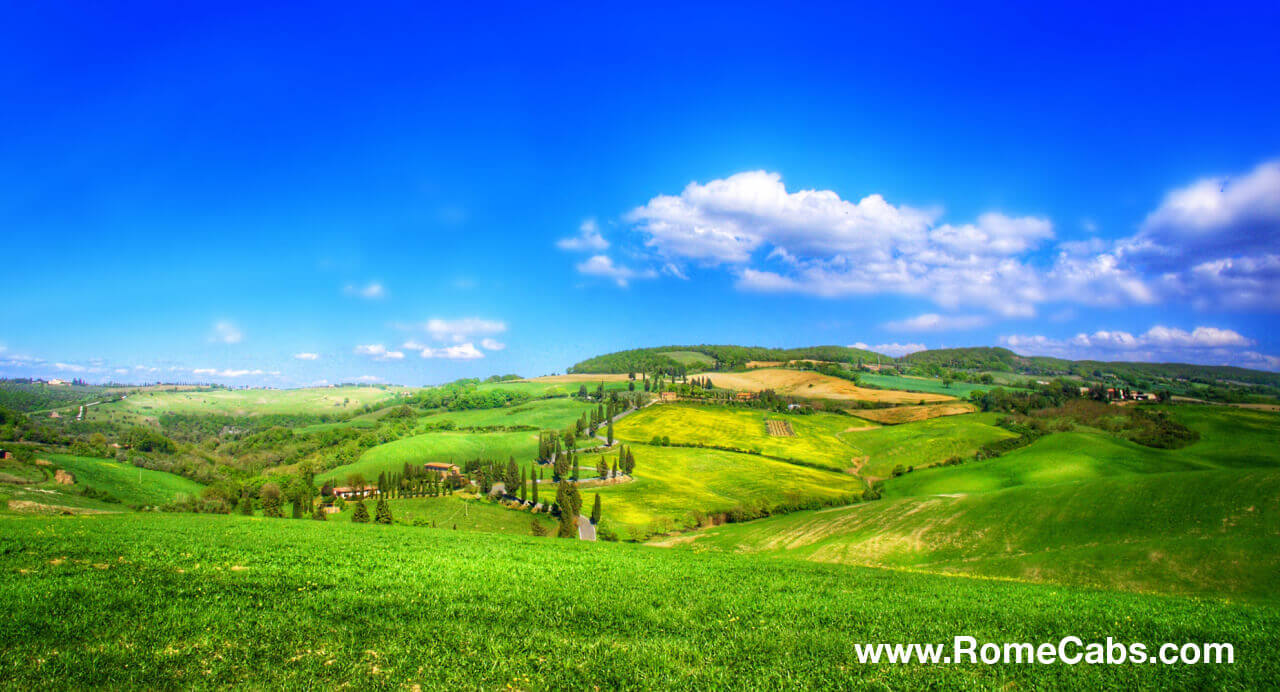 As famous as this windy road lined with cypress trees is that grace postcards, calendars, photo books, and movie screens, most people don't know where it is exactly! It's no wonder it has been so difficult for most people to find, it's almost entirely hidden! Unless you know where to go, you'd easily pass right by (as most everyone does).



Characteristic Tuscan farmhouses, cypress tree-lined dirt roads, perfect views…


There are many undiscovered hidden treasures not visible along the main routes, waiting to be discovered by the curious and the determined.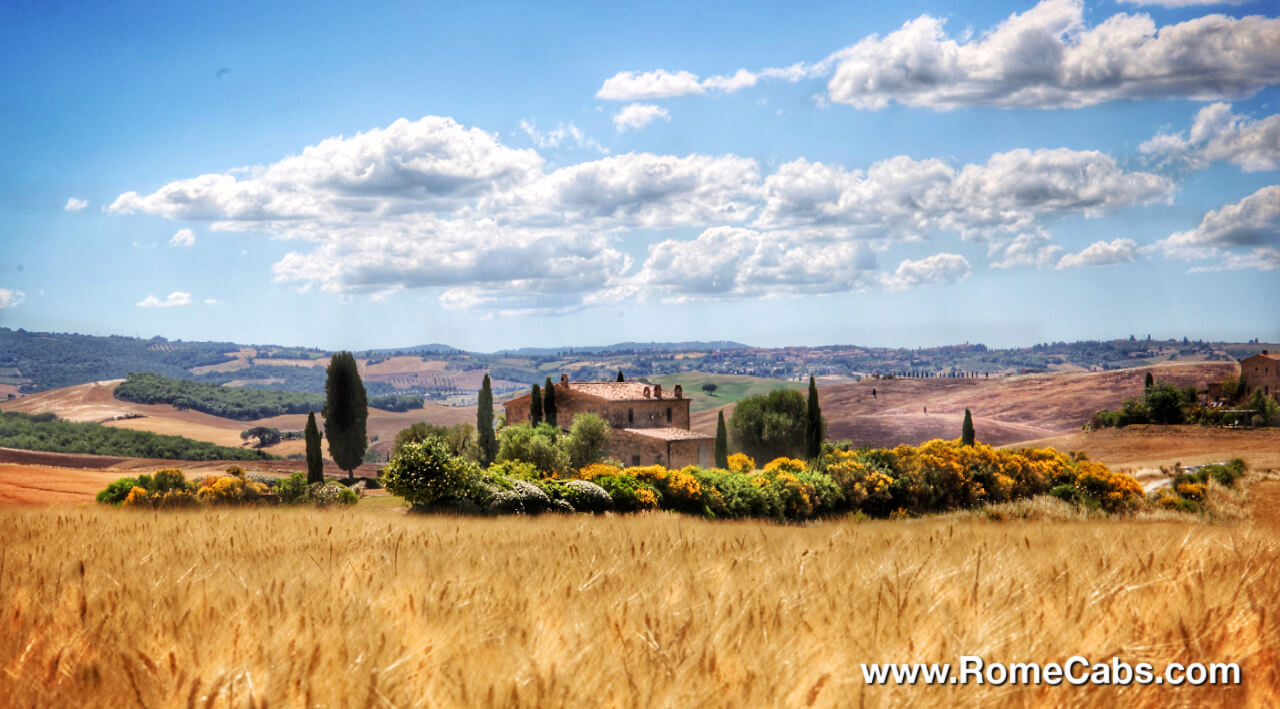 A soft knoll often obscures a picture-perfect Tuscan farmhouse, idyllic fields topped with a row of cypress trees, a country road that leads to an inviting agriturismo, a perfect view of a hilltop town. And we will share with you these hidden treasures we discovered along the way.



You will drive by unforgettable views throughout Val d'Orcia

As you settle in your comfortable Mercedes vehicle driven by your expert English-speaking Driver, there is nothing for you to do but stare out the windows of your private sedan or minivan and gape at the views that make your heart skip a beat. You probably won't catch a break to blink out of fear of missing out. Yes, this region is that beautiful!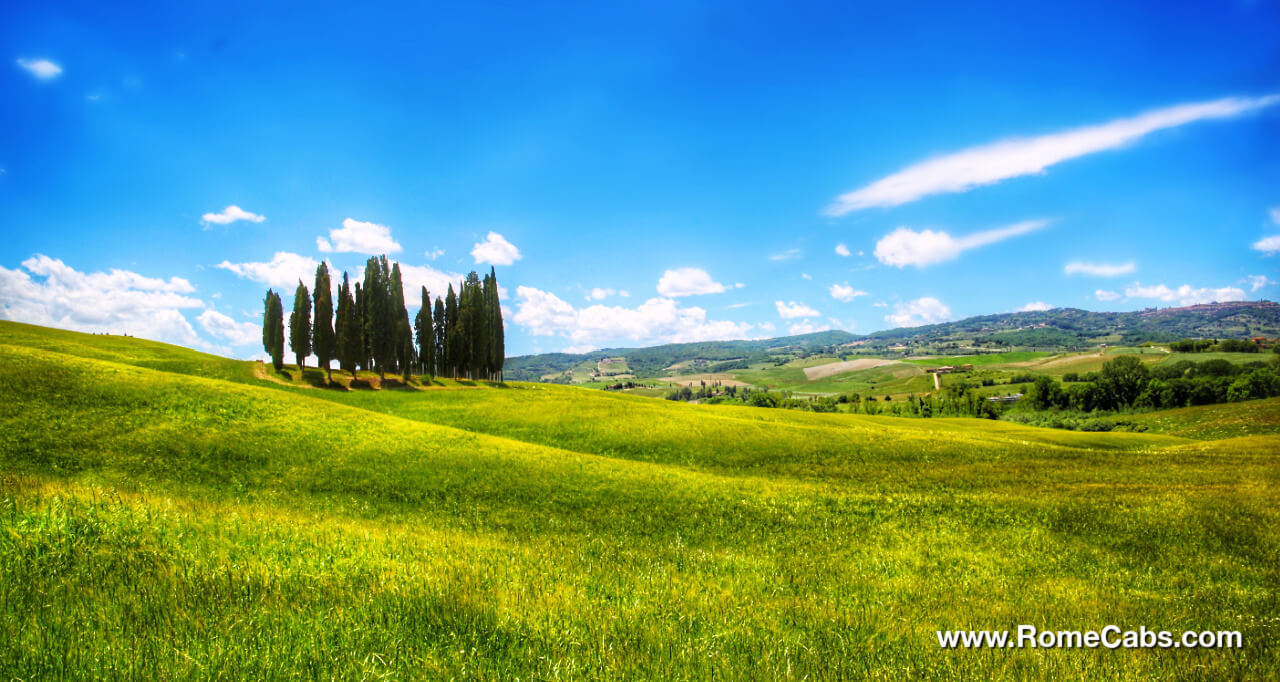 Don't worry, your driver will be happy to pull over for a quick stop where possible for you to admire the beauty around you and take photos (unfortunately there aren't many safe or lawful places to pull over and stop on these narrow country roads).
As you visit Montichiello, Pienza, and Montalcino you will drive by historic stone farmhouses, cypress trees, patchworks of silvery green olive orchards, valleys covered with vineyards, wheatfields (green in the spring, golden in early summer before harvest), and vast meadows.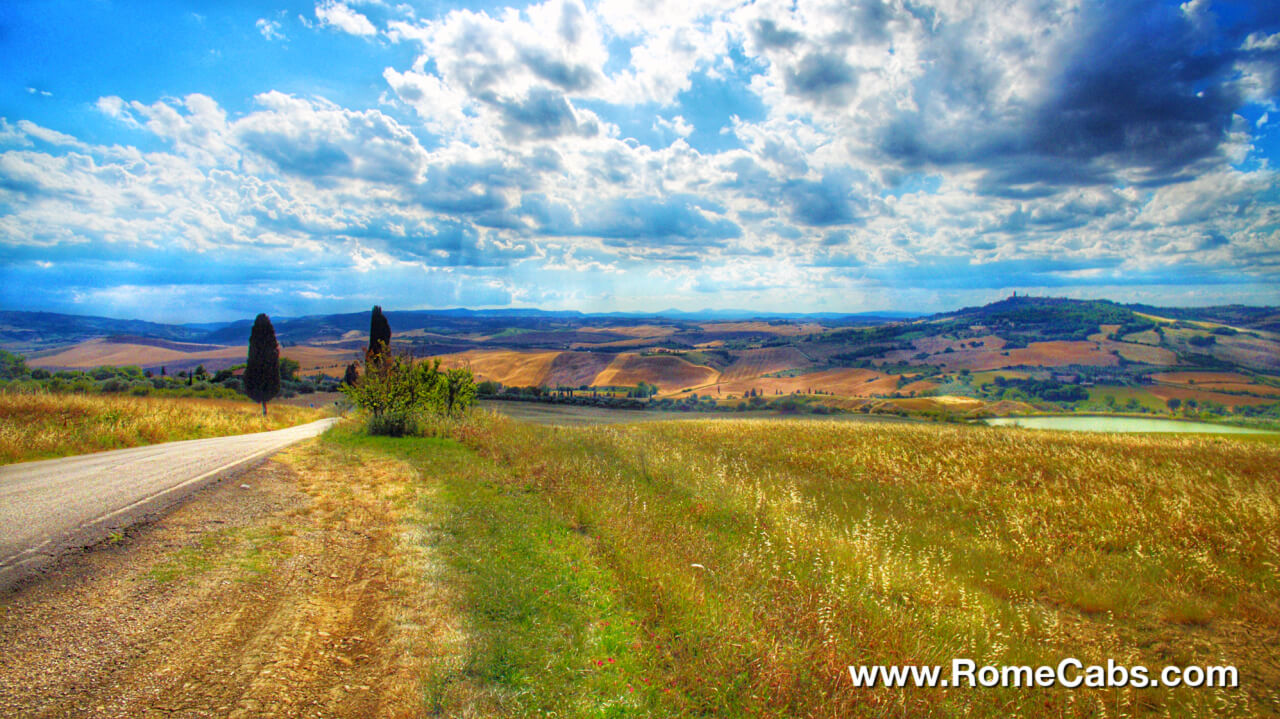 The changing seasons in Tuscany surprise you!


On some particularly windy spring days, strong breezes create ripples through the wheatfields making them appear alive! We've encountered this fantastic phenomenon on some windy days, and each time we were amazed.
To have an idea, here is a short video:
Other particular seasonal changes you will notice are pretty meadow flowers in the spring months of March and April. In the spring nature comes back to life with a bounty of blossoms from small pastel flowers to fields of red poppies.

During the summer months, you will notice fields of sunflowers and charismatic round bales of hay that dot the fields. Rolls of harvested hay sprinkled on the meadows like golden pearls.




In the late summer and early fall months, the soil tilled, and the barren gentle hills and valleys give the impression of lunar landscapes or dunes across an umber desert. By late fall into early winter, the fields take on a velvety green with brown undertones as the grass begins to grow again.
Each season will reward you with its unique and bountiful beauty, inviting you to visit again at a different time of the year.

The charming towns and villages in the Valley of Paradise Tuscany tour

The celebrated Val d'Orcia is home to three of Tuscany's most fascinating towns featured in our Valley of Paradise Tuscany Tour.
MONTICHIELLO

Along characteristic windy roads surrounded by the picturesque landscape, you will arrive in Montichiello, a Medieval fortified hamlet that crests the hill it was built on, with a front-row seat to the splendor of Val d'Orcia.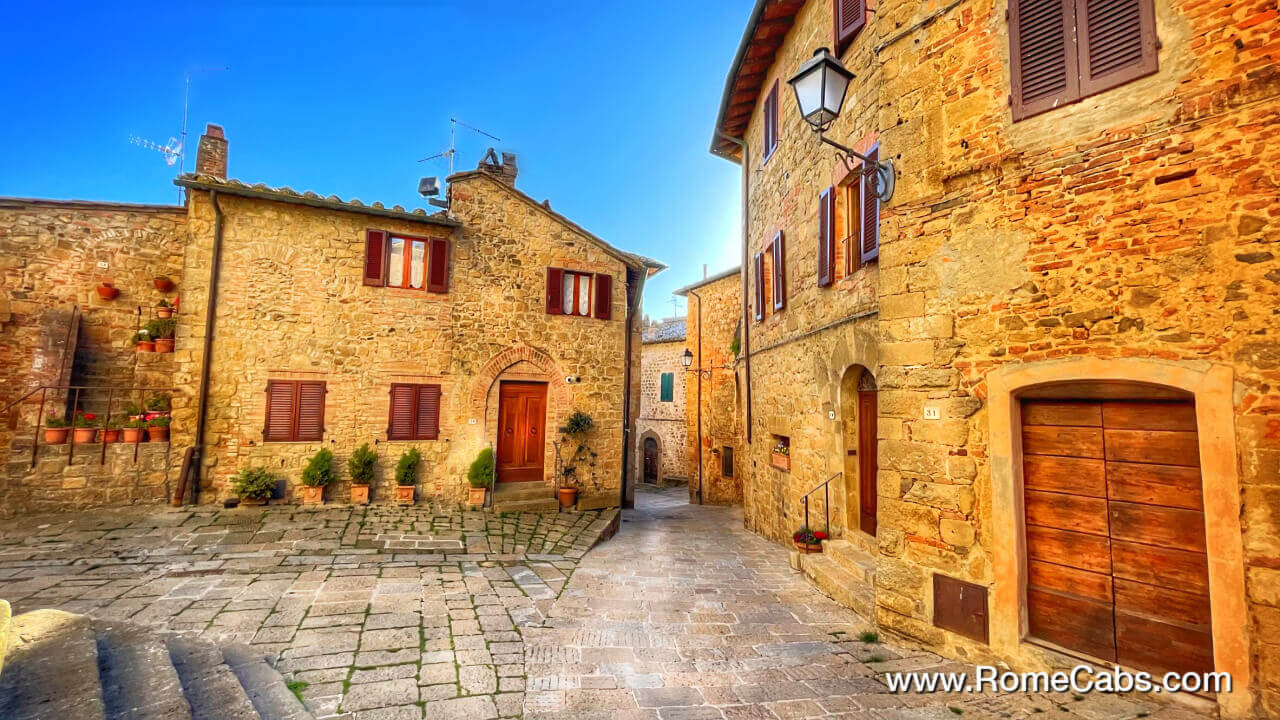 Montichiello traces its mysterious origins to the bygone Roman times from when it took its ancient name of Mons Cloelli. Its current name, "Montichiello" first appeared in a 10th-century manuscript. It is often mind-boggling that a town or village has been in existence for more than a thousand years with the same name, yet this is quite normal in Italy. After all, Rome is a city with more than 2,000 years of history behind it (and an empire to boot!).
From a distance, Montichiello has the appearance of a small Medieval fortress. But once you step through the village main gate Porta Sant'Agata, you will discover a charmingly spacious village of beautiful, well-kept centuries' old stone buildings characteristic of Tuscany.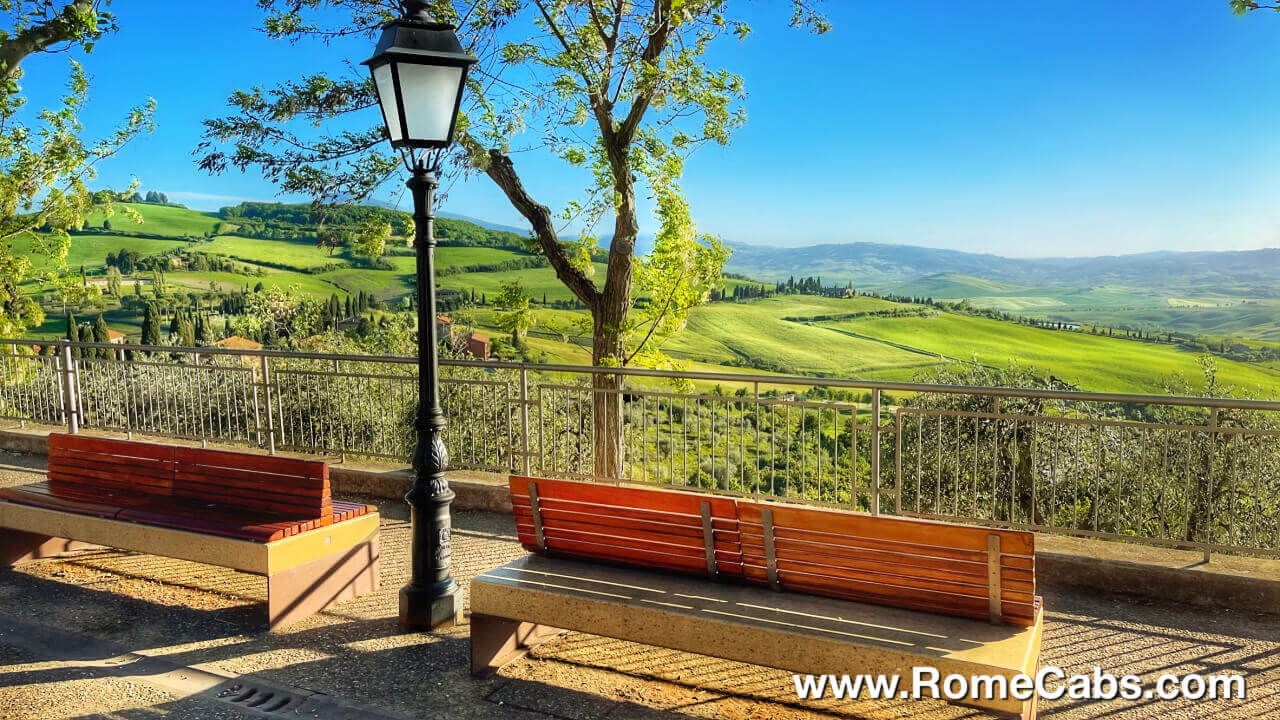 Take a seat on one of the benches on the village terrace and enjoy a front-row view of Val d'Orcia with Pienza in the distance.
Of course, not to be missed is the often elusive picture-perfect "windy road of Montichiello" that graces postcards, and is an iconic representation of Tuscany in films and artwork.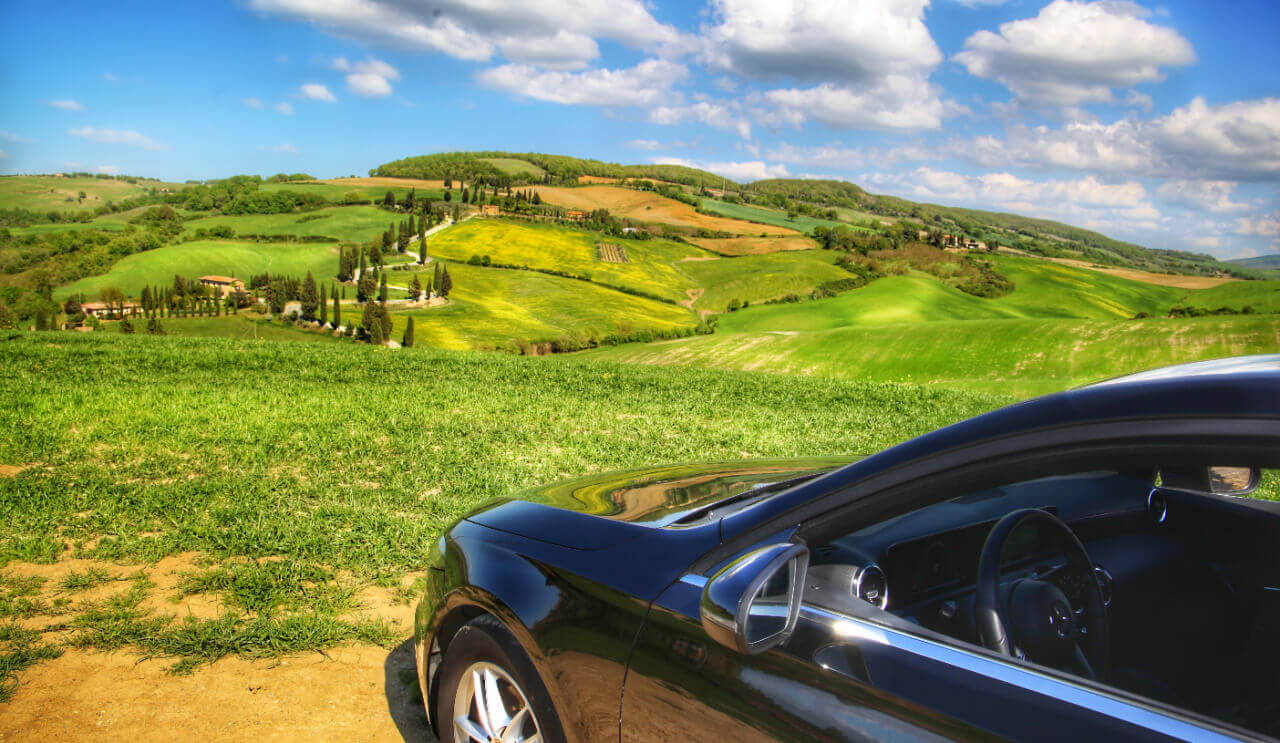 PIENZA


Pienza is another hilltop town surrounded by fortified walls with an advantageous panoramic view of the Valley of Orcia.
Also known as a Renaissance Utopia, Pienza's 15th century Renaissance urbanism style of city planning has inspired cities across Europe. Centuries ago, Pienza served as a Papal retreat by the locally born Pope Pius II when the town was formerly known as Corsiano. It was later renamed Pienza in honor of the homegrown Pope Pius II. The town's historical center was also declared a UNESCO World Heritage Site.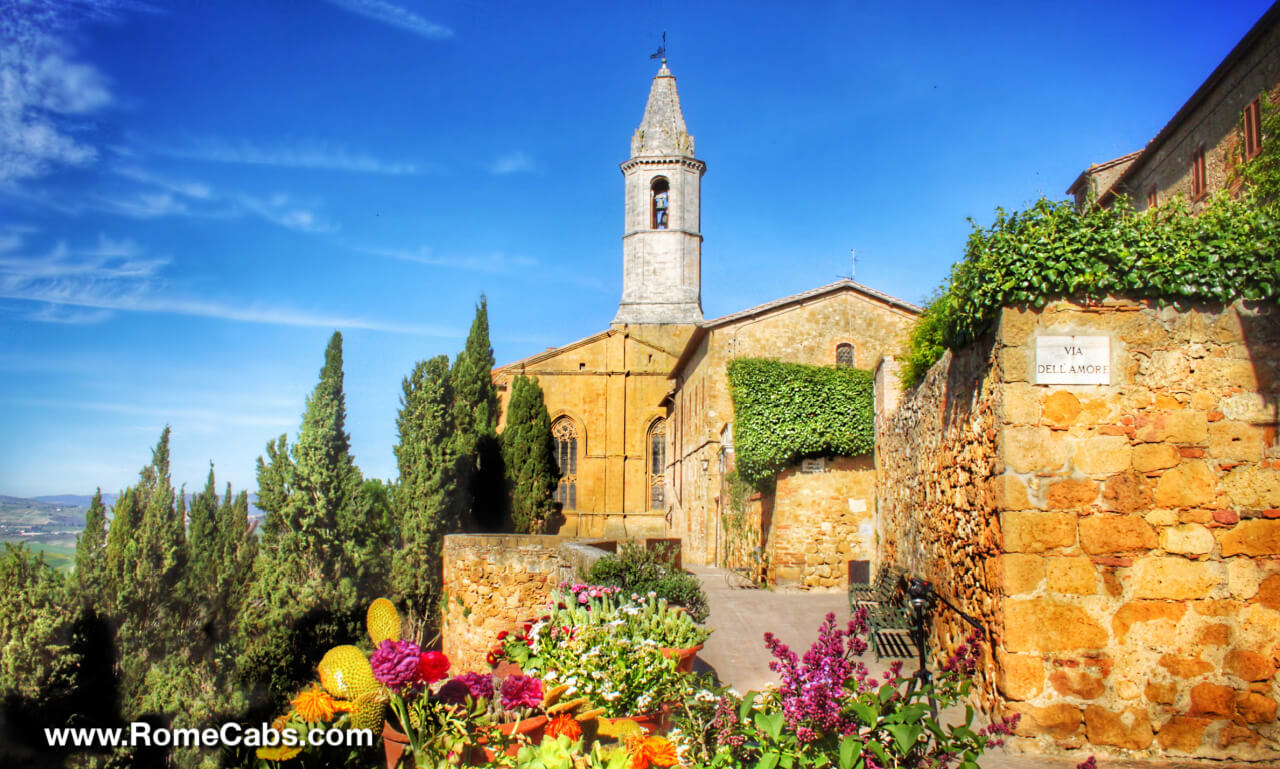 Pienza's gorgeous Renaissance architecture, breathtaking views of Val d'Orcia from its walled terraces, and narrow lanes with charming names such as Via del Amore (Love Street ) and Via del Bacio (Kiss Street ), makes it one of the most enchanting and romantic towns in Tuscany. Like Pope Pius II, visitors today also find Pienza an ideal retreat from large bustling cities like Rome or Florence.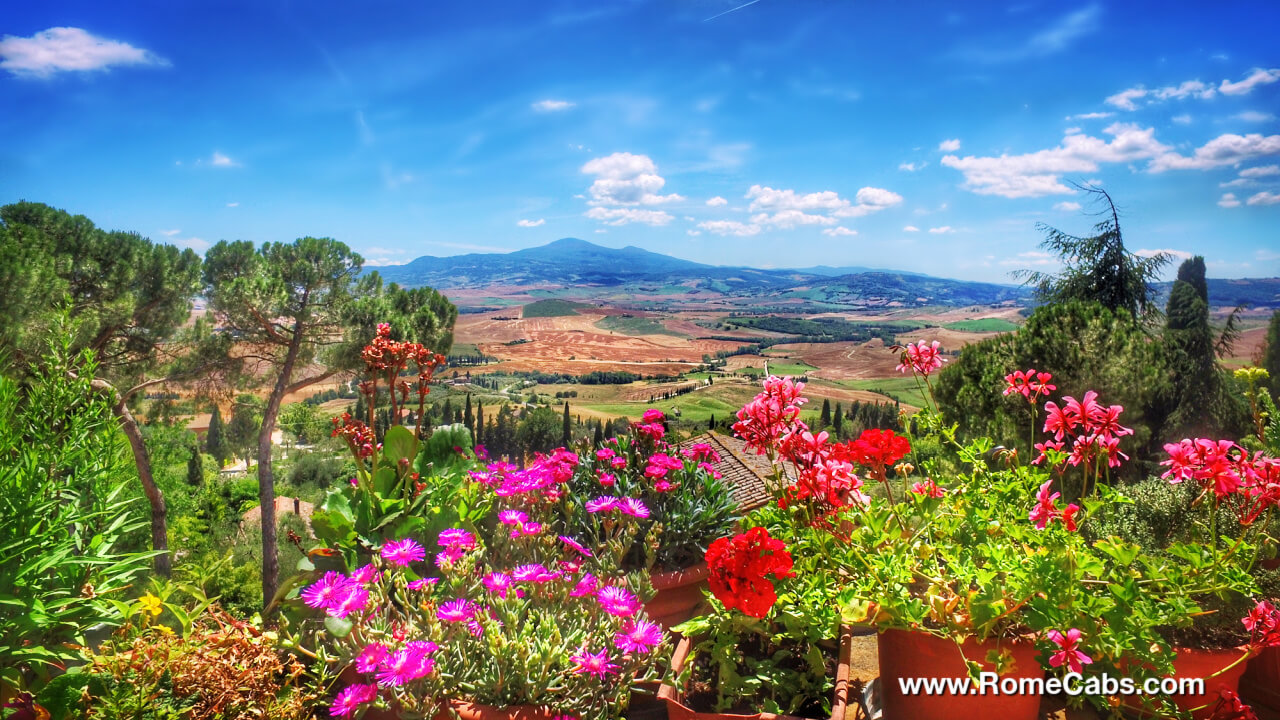 Another of Pienza's claims to fame is its locally crafted Pecorino of Pienza, the delectable cheese made from the milk of sheep that freely graze on the pastoral valleys below. Well regarded worldwide as one of the best cheeses in Italy, you will have the opportunity to sample and purchase various delicious pecorino cheeses at local shops in Pienza.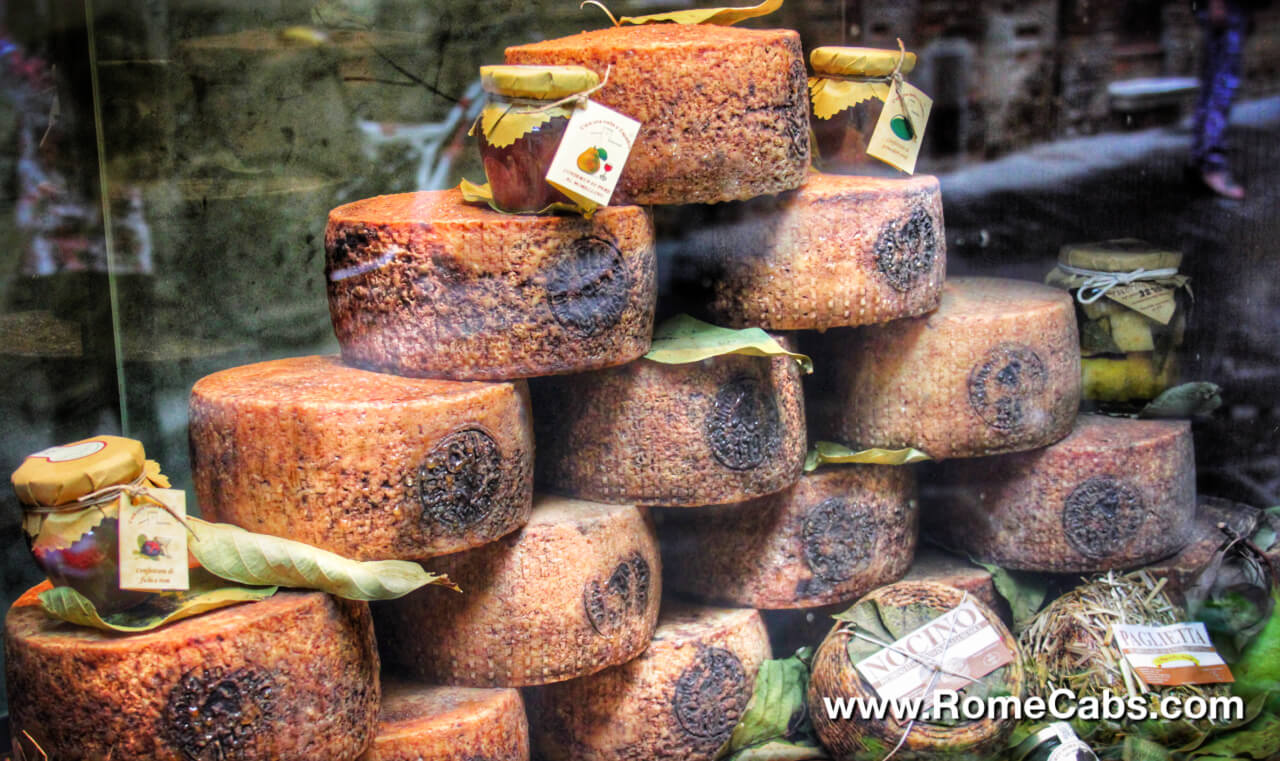 MONTALCINO

Montalcino is a fascinating ancient hilltop town in Val d'Orcia with a history much longer than Montichiello. Montalcino's ancient roots reach as far back as to the Etruscans: the mysterious yet powerful pre-Roman civilization that ruled this region for centuries before being overtaken by the Romans.
Even the name "Tuscany" derives its name from the Etruscans. The town's ancient name, Monte Ilcinus, draws from the oak trees that once covered this area. The modern name "Montalcino" first appeared in documents written in the early 9th century.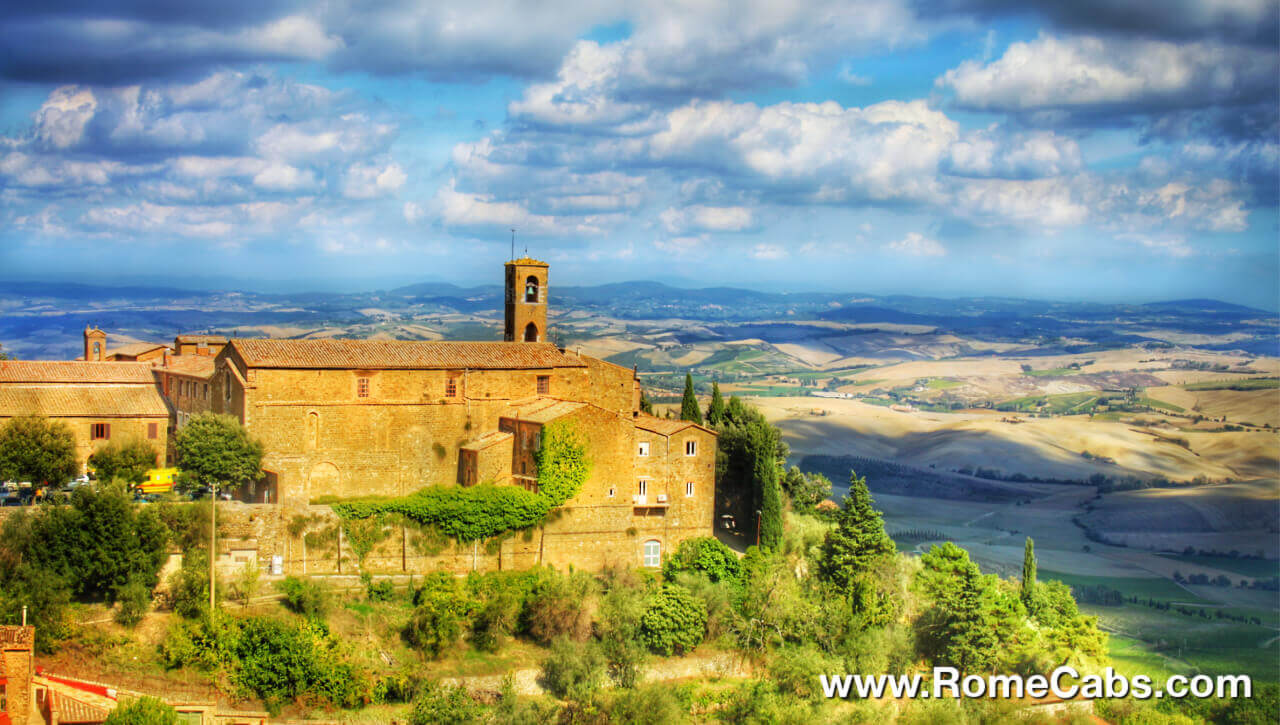 Today Montalcino is famous for another well-known plant that grows within its region: the Brunello grapevine (also called the Sangiovese Grosso). This fine grape that grows locally produces the distinguished local wine Brunello di Montalcino whose acclaimed formula was created in the late 19th century by Ferruccio Biondi Santi.
Brunello was also the first wine to be granted the coveted Italian DOCG status (Denominazione di Origine Controllata e Garantita). It's no wonder that Montalcino is included in so many Tuscany wine tours from Rome or from Florence, along with Montepulciano whose Vino Nobile di Montepulciano crowned the town as "The King of All Wines".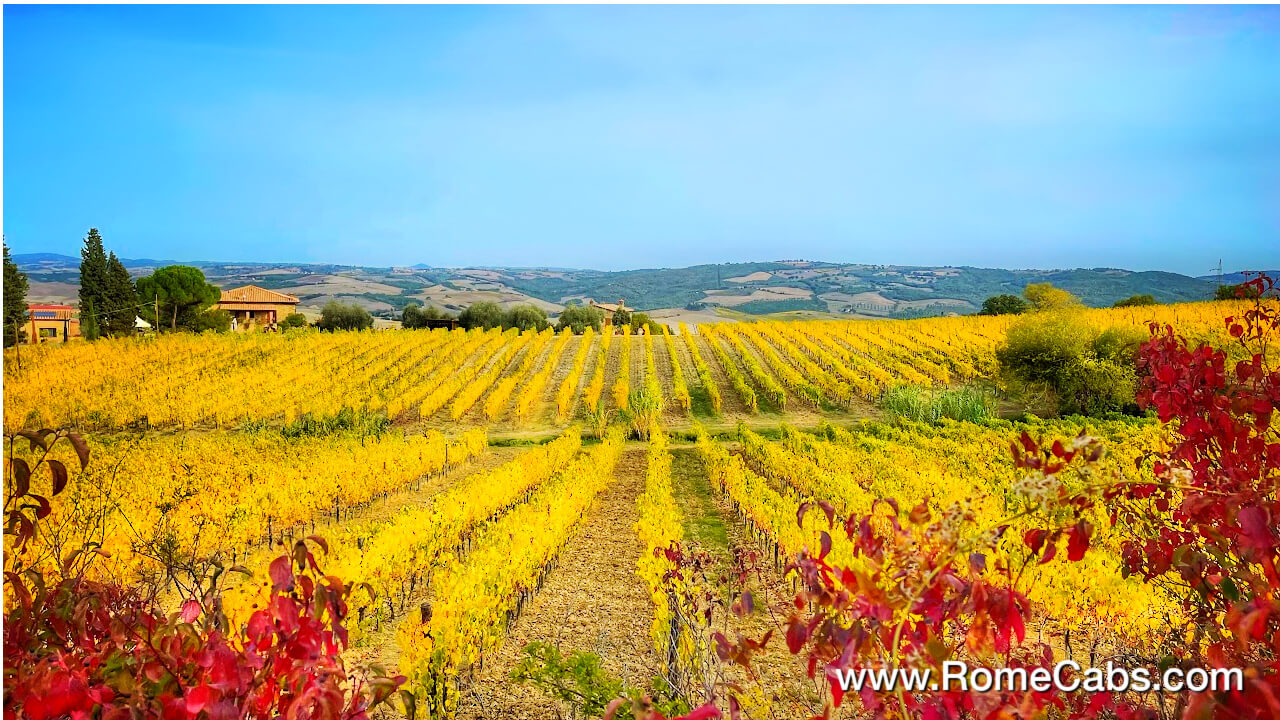 Montalcino attracts visitors for its fine wine and its historical, architectural, and artistic treasures. This hilltop town is crowned by an imposing 14th-century fortress built when Montepulciano came under the influence of Siena.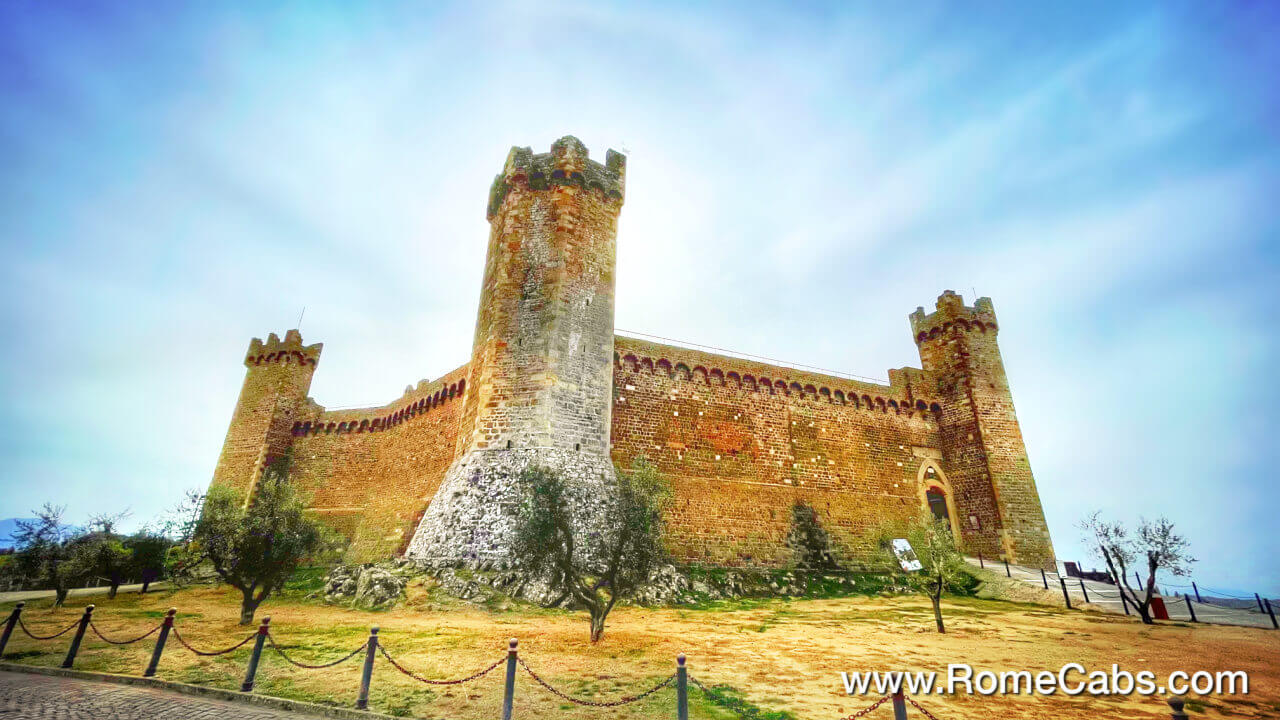 Along the spacious streets, you will discover shops and boutiques that sell local crafts and products, charming cafes and restaurants, and wine shops (enoteche ) where you have the opportunity to purchase some of the local Brunello di Montalcino.
At the conclusion of this unforgettable tour, you will enjoy a relaxing drive through this remarkable region of Tuscany back to your hotel in Rome or Florence. If you are booking this Tuscany tour from Florence, the order you visit the towns will change.


ALSO READ:
If you enjoy visiting beautiful places in Italy with gorgeous landscapes, charming medieval towns, enchanting architecture, and ancient archeological sites, we invite you to view the following Rome Countryside Tours from Rome. We offer some of the best day tours from Rome to the Italian countryside.


This Rome countryside tour includes a visit to the fairytale medieval castle of Bracciano followed by lunch in Ceri, a medieval clifftop hamlet. After lunch, you will enjoy the afternoon exploring the ancient Etruscan tombs at the Banditaccia necropolis in Cerveteri which is also a UNESCO World Heritage Site.
Travel back to the ancient times when central Italy was known as Etruria and visit two distinctive Medieval towns with roots that date back to the ancient Etruscans. Delight in a visit to the medieval village of Tuscania that boasts breath-taking views of the local landscape. In Tarquinia, you will visit the underground painted tombs in the Monterozzi Etruscan Necropolis which is also a UNESCO World Heritage Site.
Cherish a day tour from Rome to Tivoli to explore the villas of Tivoli: Hadrian's Villa and Villa d'Este. Hadrian's villa was a vast ancient Roman imperial complex built by Emperor Hadrian that is comprised of more than 30 buildings. Villa d'Este is an opulent Renaissance villa with lush Italian gardens boasting numerous fountains small and large for a symphony of sounds.
There's no better way to get to know the Ancient World of Italy that is comprised of the ancient Etruscans followed by the Romans. Get in touch with your inner Indiana Jones as you explore the ancient tombs in the Banditaccia Necropolis in Cerveteri and the ancient Roman city of Ostia Antica.
Nature-lovers rejoice in this fantastic Italian countryside tour from Rome offered by our sister company Stefano Rome Tours takes you on a fun-filled exploration of the sacred wood in Bomarzo known as the Monster Park, and the elegant Renaissance villas and gardens of Villa Lante in Bagnaia.
Another exceptional Italian countryside tour from Rome with Stefano Rome Tours takes you into the Roman countryside to visit the evocative ancient hamlet of Civita di Bagnoregio, and to the magnificent historical city of Orvieto in the heart of Umbria.
Thank you for choosing Stefano's RomeCabs, and we hope you have the opportunity to experience the magic of Valley of Paradise Tuscany Tour from Rome or from Florence.
Be sure to subscribe to our RomeCabs YouTube Channel, and follow our Italy Travel blog and FaceBook Page for Italy Travel Inspiration to satisfy your Italy travel wanderlust.
Find us online: