description
Take a day journey from your Rome hotel or from Civitavecchia Cruise Port to Ostia Antica and Cerveteri and travel to distant eras of the mysterious ancient Etruscan civilization that once dominated central Italy, and to ancient Rome when emperors and ruled and gladiators fought.
OSTIA ANTICA AND CERVETERI ANCIENT WORLD TOUR PRICE LIST


Tour from Rome hotel
For up to 4 Persons from Rome Hotel: 450 EUROS
For up to 6 Persons from Rome Hotel: 500 EUROS
For up to 8 Persons from Rome Hotel: 550 EUROS


Shore Excursion from Civitavecchia:
For up to 4 Persons from Civitavecchia Port: 500 EUROS
For up to 6 Persons from Civitavecchia Port: 550 EUROS
For up to 8 Persons from Civitavecchia Port: 600 EUROS



** You may also do a QUICK PRICE CHECK using the Price Check & Booking form on the Right Side of this page. Once you receive the PRICE QUOTE based on the information you input, you may proceed to SUBMIT your Tour Request.
*** Dates on the Booking Form Calendar that are NOT Selectable, are NOT AVAILABLE.

Enjoy a preview of Ostia Antica and Cerveteri on our Ancient World Tour VIDEO:



OSTIA ANTICA - walk in the footsteps of the Ancient Romans

Tradition tell us that Ostia (thus named for having been located near the mouth of the Tiber River), was founded in late 7th century BC by the 4th king of Rome, Ancus Marcius.
Settlements can be traced to 4th century BC, and continued to thrive and grow until it became prosperous city of 50,000 inhabitants by late 2nd century AD. Great building projects including apartment buildings, temples, opulent villas, bath houses, public forums, theaters and commercial centers initiated by emperors Domitian, Trajan, and Hadrian transformed Ostia into a spectacular Roman city.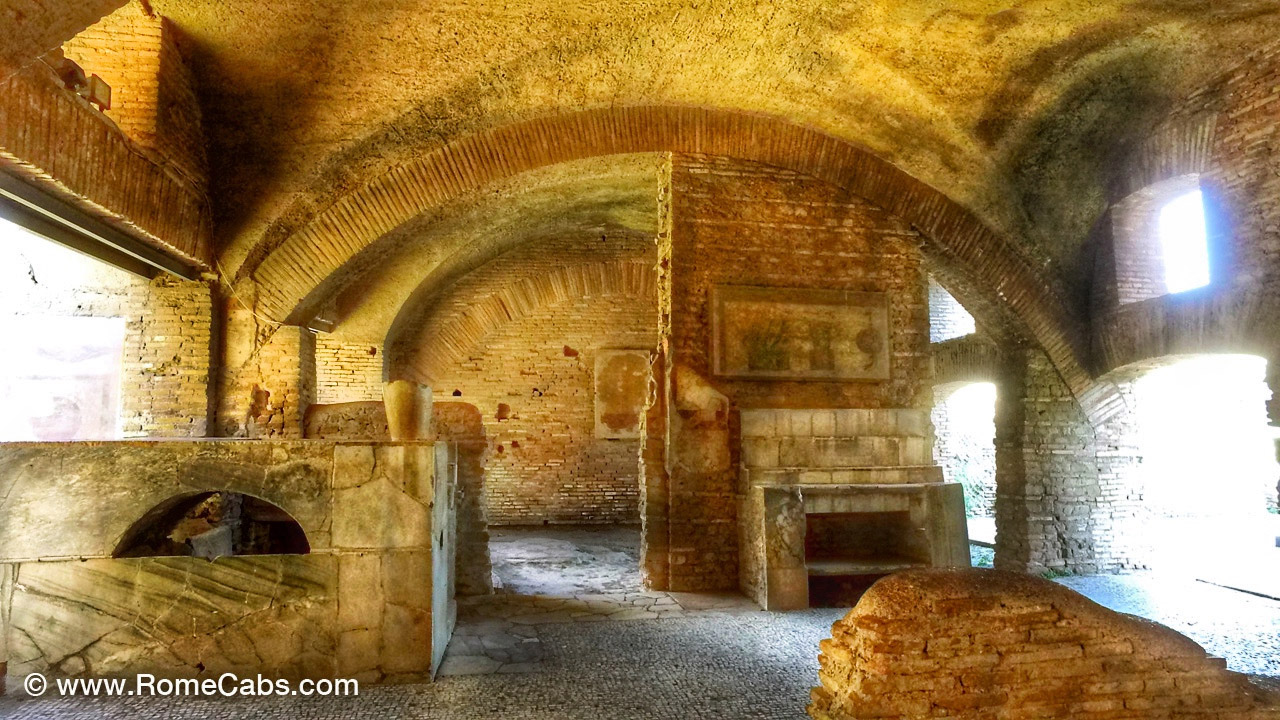 Due to its near sudden abandonment in the subsequent centuries due to historic and economic events, as well as malaria, has helped preserve Ostia in spite of it having been plundered of its stones and marbles to be used in other architectural projects from Pisa to Amalfi Coast. Works of art looted from Ostia have made their way into private collections.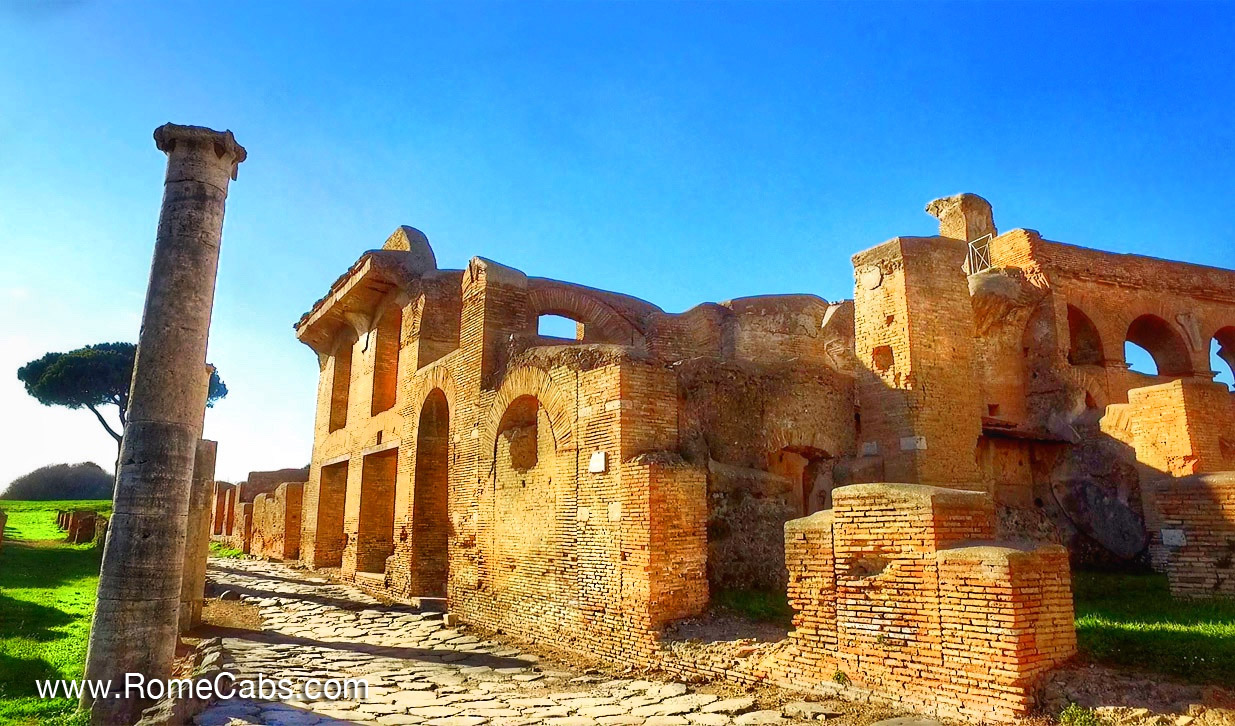 However, early 20th century saw a revived interest in Ostia, and intense archaeological excavations revealed this beautiful ancient town to give you the personal and unique experience of walking through a real Roman town, in the footsteps of the ancients who once lived and thrived here more than 2,000 years ago.

CERI - charming clifftop hamlet steeped in Medieval history


Ceri is a tiny 13th century Medieval hamlet whose ancient medieval fortresses appear to rise right out of the tuffaceous cliff it was built on.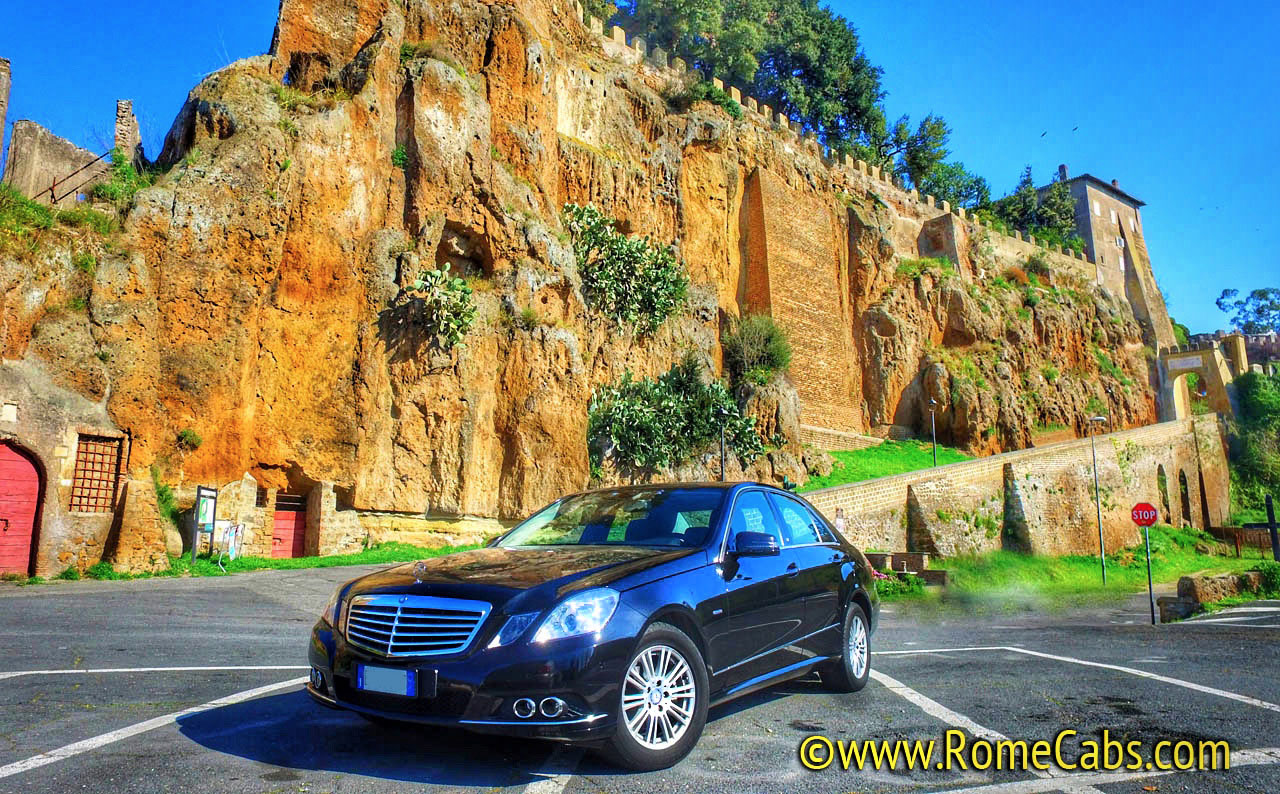 The main fortress gate at the foot of the cliff is connected to the village square on top by a narrow road wide enough for just 1 vehicle to pass through at a time - therefore, a traffic light at the bottom and one at the top controls the traffic flow as modern vehicles make their way through this ancient medieval street.
Not to be missed inside this tiny village is the Sanctuary of the Madonna of Ceri, a church built above an ancient site where Etruscans and Romans once venerated tey pagan goddess of Vesta. The walls inside this church are beautifully decorated with remarkable Medieval era frescoes depicting scenes from the Old Testament.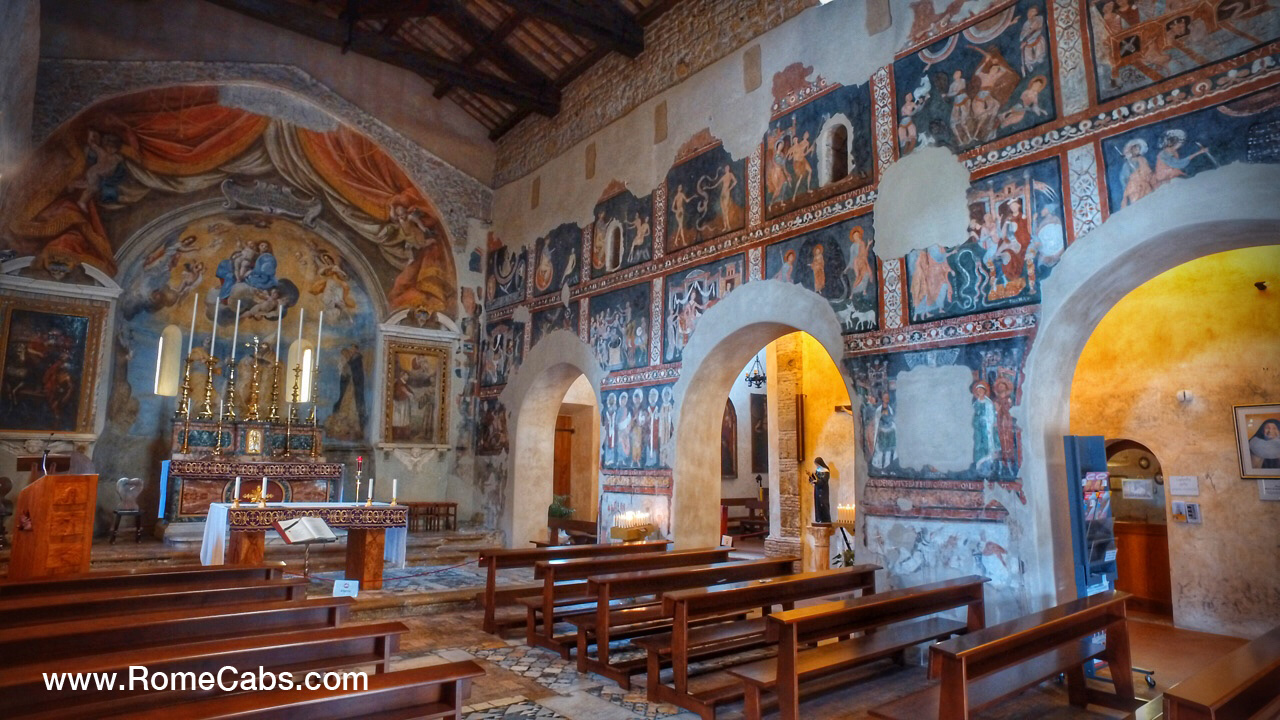 Ceri makes up for it's tiny size by serving up enormous flavors in their local cuisine prepared at the local family owned restaurants that draw connoisseurs from all over the region. Secret recipes passed down from generation to generation using locally fresh and in-season ingredients make for an unforgettable culinary delight!


CERVETERI - Explore the Ancient Etruscan Necropolis


Traveling even farther back in Time before Rome even existed, the vast plains of central Italy were known as Etruria, dominated by the Etruscans, an advanced ancient civilization that since its demise at the hands of the Romans around the same time that Ostia was founded, have never ceased to mystify and inspire awe.



In the town of Cerveteri, you will visit the impressive Banditaccia Necropolis, the Etruscan city of the dead. Inside a serene park-like site, the necropolis that spans across 8 centuries bears witness to the great achievements of the Etruscans and their evolution from a primitive population to a highly advance civilization. Banditaccia Necropolis is also designated a UNESCO World Heritage Site.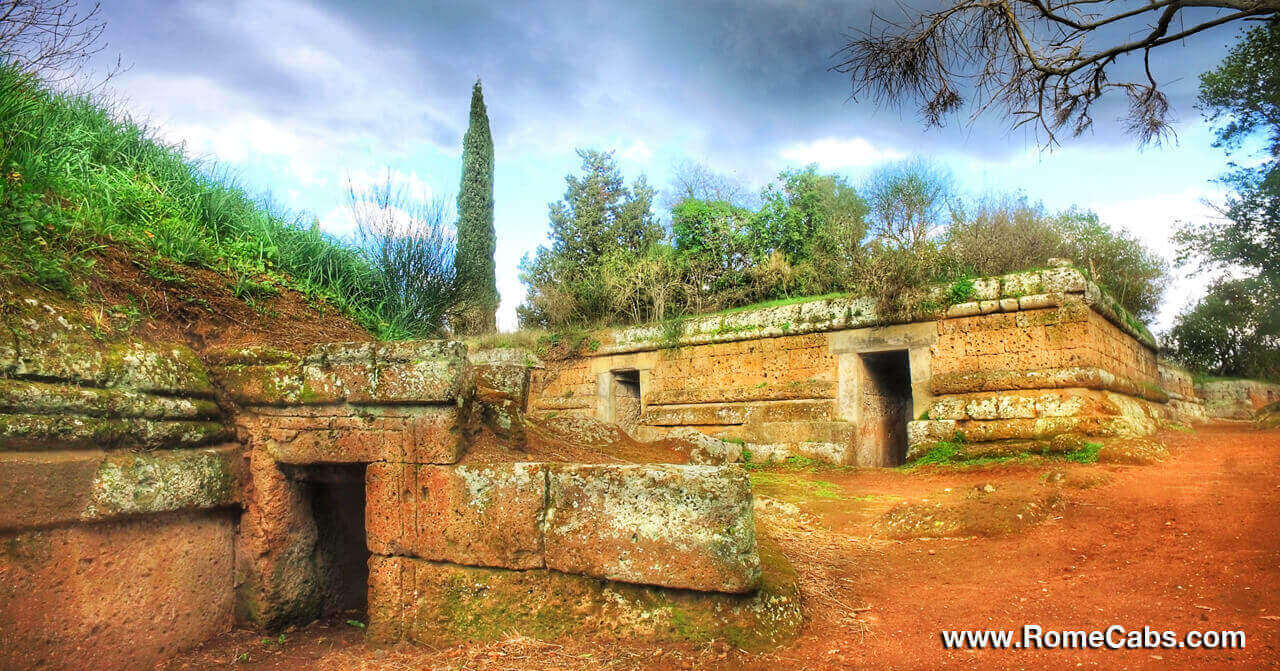 As you make your way through the necropolis, you will discover countless tombs of various styles organized in a structure city plan with neighborhoods, squares, and streets where processions took place.
You will see the earliest forms of tombs from 9th century BC Villanovan culture that were simple trenches cut into the tuffa rock, to more modern 3rd century BC tumuli (mounds) and block shaped (dice) tombs that resembled the huts or houses of the deceased with a great deal of structural details carved or painted on the walls inside the tombs.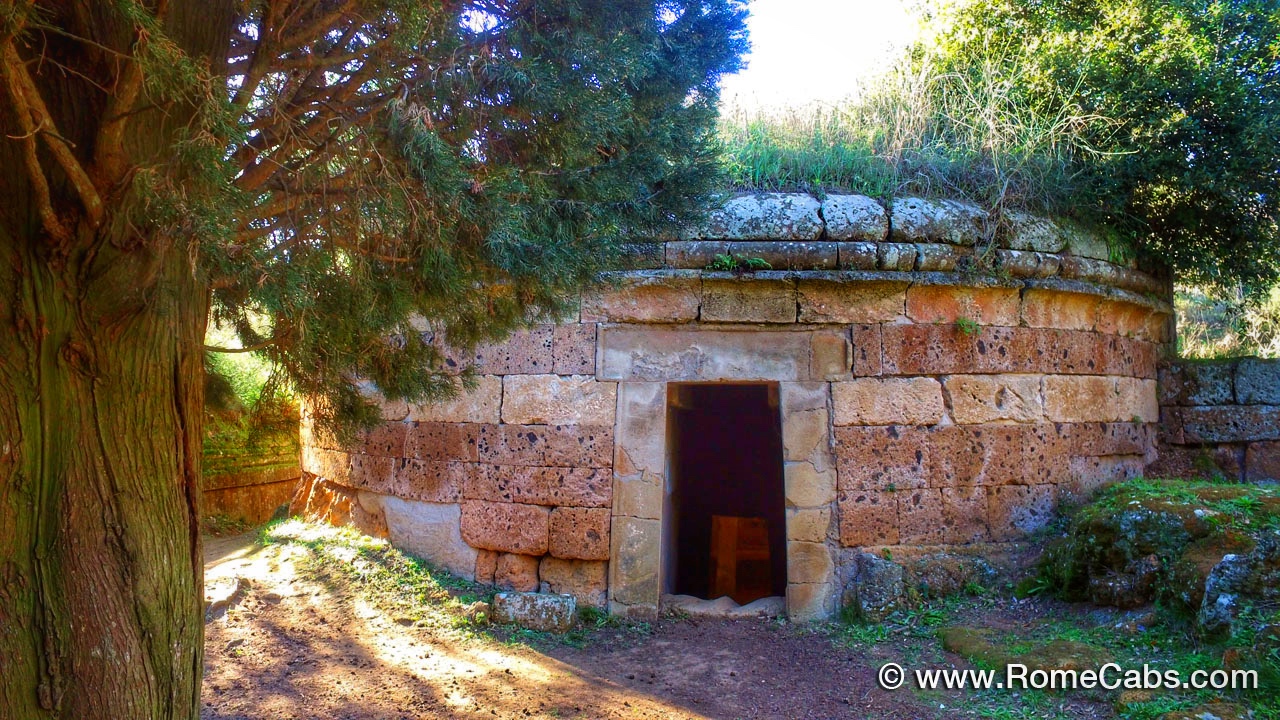 Although actual homes of the Etruscans have not survived (most were made of wood), as you walk through these magnificent tombs, you will have an understanding of what the Etruscan houses looked like as they carved into the stones beds upon which the deceased were laid, seating places, and ceiling beams.
Not to miss is the 3rd century BC Tomb of the Reliefs, where you will see beautiful bas reliefs of household items and contemporary tools of those times, inscriptions, and remains of frescoes on the walls.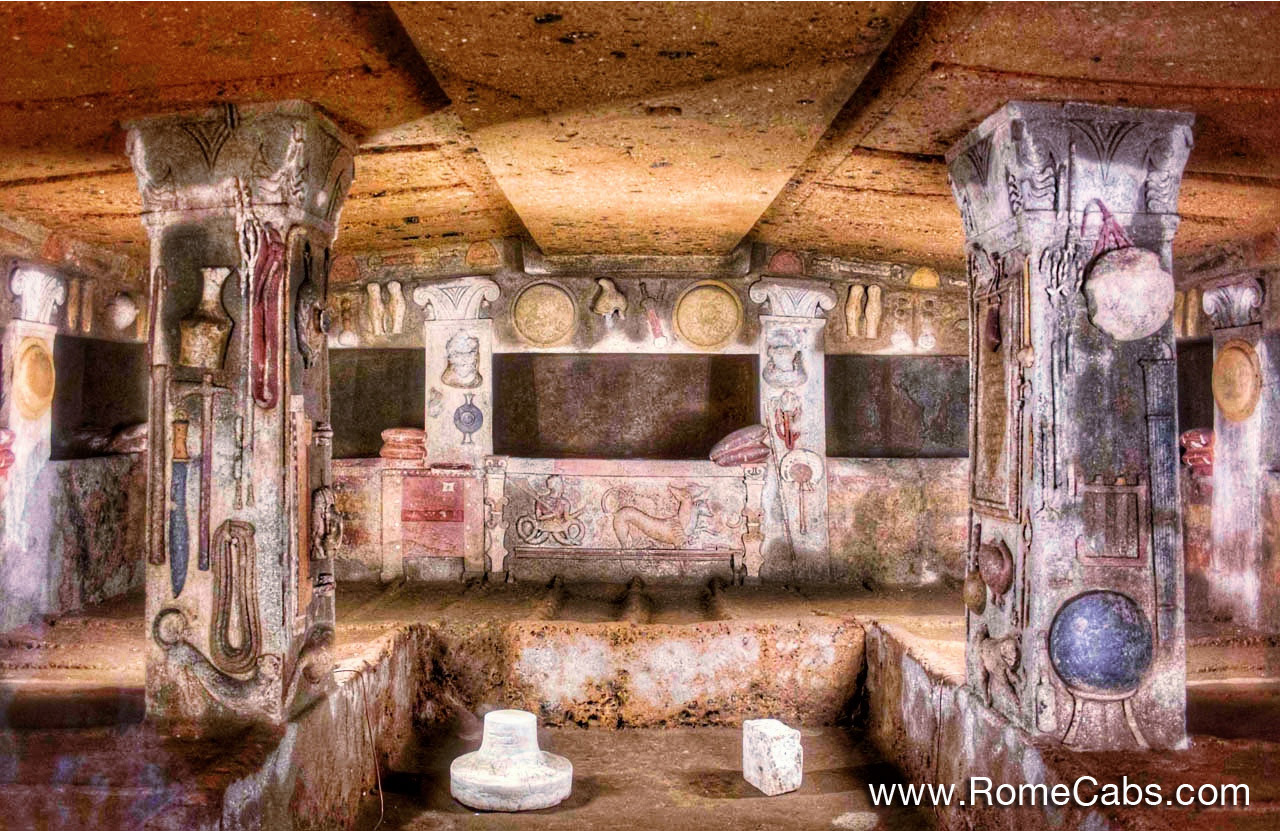 Treasures that once filled the tombs have made their way to local museums, such as the Archaeological Museum at Cerveteri.
Although the necropolis itself contains thousands of tombs, and much of it has not yet been excavated, the Banditaccia necropolis itself is vast enough to encompass the span of this amazing ancient civilization that once lived here and to provide visitors with the unique opportunity to explore and experience a distant world that they never encountered before.
Your Ostia Antica and Cerveteri Ancient World Tour concludes here. Your private driver will take you on a leisurely drive through the Italian countryside back to your hotel in Rome or to your cruise ship in Civitavecchia.

Thank you for booking our Ostia Antica and Cerveteri Ancient World Tour and for choosing Stefano's RomeCabs for your Day Tours from Rome and Shore Excurisons from Civitavecchia. We look forward to showing you beautiful places in Italy!
Important Information

PLEASE READ THE INFORMATION BELOW AND ACCEPT THE TERMS OF SERVICE AND PRIVACY POLICY BEFORE BOOKING.


** This Ostia Antica and Cerveteri Tour is NOT offered on Mondays & Tuesdays as Banditaccia Necropolis in Cerveteri is currently closed on these dates.

PAYMENT OPTIONS
Payment for this Tour can be made in EUROS directly to your driver on the Date of Tour, or prepaid in advance via PayPal or Credit Card online upon request. (See Cancellation policy below)
CANCELLATION POLICY
We kindly ask that cancellations be made via E-mail at least 7 days prior to Date of Service.
Cancellations are accepted only via E-mail so your cancellation is on record. We do not accept cancellations by phone, text message, or 3rd parties.
** Cancelations for PREPAID SERVICES will be refunded the Reduced Net Rate we receive from your prepayment. Reduced Net Rate: actual service price minus PayPal/Credit Card fees retained by PayPal/Credit Card as they do not reimburse us the fees they retain from your payment.
ADMISSION TICKETS
OSTIA ANTICA Tickets are currently 12 Euros per person. Tickets can be purchased at the site before entering. Ticket prices may go up in price when exhibitions are held inside the site.
Admission Tickets to Cerveteri Banditaccia Etruscan Necropolis is currently approximately 10 Euros per person. Tickets can be purchased upon arriving at the site.
* Admission Ticket prices are subject to change without notice.


LUNCH IN CERI
Lunch will be in Ceri at a local restaurant. Ceri is famous for local home cooked cuisine at reasonable prices that draws Italians and visitors from all over the region. There are no sandwiches or sliced ​​pizza anywhere in the hamlet or its environs.

YOUR PRIVATE TOUR DRIVER
This tour by car includes an English speaking Driver who is not a Licensed Tour Guide.
Italy's laws prohibit Drivers from guiding or accompanying guests Your driver will be obliged to remain with the vehicle while you visit sites. For this reason we recommend private licensed tours, sites and monuments if you require in-depth information.

PRIVATE GUIDED TOUR OPTIONS
This is a Tour by Car with only a Driver who is NOT a licensed tour guide. Without a Tour Guide you would be SELF TOURING inside Ostia Antica and Cerveteri.
You may reserve a Licensed Tour Guide for an informative walking tour inside OSTIA ANTICA and/or CERVETERI NECROPOLIS.
Please inquire within for more information and Tour Guide fees and to reserve your private tour guide for your preferred location, or both.
Tour guides do not work for us, however we are happy to make arrangements on our clients' behalf and reserve professional licensed tour guides upon request.
MEETING POINTS TO MEET YOUR DRIVER


At ROME HOTEL / ACCOMMODATION:
For day tours from Rome, your private driver will meet you inside the lobby of your hotel or in areas permitted by hotels.

For Apartments or B&B's without a lobby, your driver will meet you outside the main entrance of your Pick Up Address.

* If your hotel or accommodation is on a street or in an area restricted to vehicle traffic, your driver will park as close as lawfully possible and meet you on foot at your Address, and accompany you to your parked vehicle.

MEETING POINT AT CIVITAVECCHIA CRUISE PORT
For shore excursions from Civitavecchia your private driver will meet you on the Pier next to your Ship at your scheduled pick up time holding a sign with the NAME in your reservation.

Please do NOT leave the ship area, and do NOT take a shuttle bus outside the port.

Look for the driver in the same area as ALL private drivers will be waiting for their clients.
TIPS FOR VISITING OSTIA ANTICA AND CERVETERI NECROPOLIS


Please wear suitable walking shoes and comfortable clothing on this tour.
You will be walking on uneven terrain inside Ostia Antica and Ceveteri Necropolis. This tour may NOT be suitable for visitors with mobility issues.
There are many opportunities to take photographs and videos on this tour, cameras for photos and videos are recommended!
During the hot and sunny summer months please use sunscreen, and wear sunglasses and a summer hat.
TRAVEL TIPS FROM OUR BLOG: