description
Our Mysterious Etruscans Countryside Tour from Rome and Shore Excursion from Civitavecchia takes you on a journey through the captivating Roman countryside that during pre-Roman ancient times more than 2,800 years ago was known as Etruria - the land of the ancient Etruscan civilization that once ruled over Italy's most remarkable region that includes Tuscany, Umbria and the Roman countryside in Lazio.
MYSTERIOUS ETRUSCANS COUNTRYSIDE TOUR PRICE LIST


For Tours starting from Rome Hotel
For up to 4 persons from Rome Hotel: 450 EUROS
For up to 6 persons from Rome Hotel: 500 EUROS
For up to 8 persons from Rome Hotel: 550 EUROS


For Shore Excursions from Civitavecchia
For up to 4 persons from Civitavecchia Cruise Port: 550 EUROS
For up to 6 persons from Civitavecchia Cruise Port: 600 EUROS
For up to 8 persons from Civitavecchia Cruise Port: 650 EUROS
* You may also do a QUICK PRICE CHECK using the Price Check & Booking Form on the Right Side of this page. Once you receive the PRICE QUOTE based on the information you input, you may proceed to SUBMIT your Tour Request.
** This Tour is NOT available on MONDAYS as the Etruscan Necropolis is CLOSED on Mondays.
*** Dates on the Booking Form Calendar that are NOT Selectable, are NOT AVAILABLE.

Enjoy a preview of the remarkable locations in our Mysterious Etruscans Countryside Tour VIDEO:


You will explore the beautifully preserved vibrant painted Etruscan tombs inside the Monterozzi Necropolis in Tarquinia that depict the unique lives of this ancient mysterious civilization with a visit to the nearby Museum to see for yourself the many treasures discovered in the tombs you visited, followed by a visit to Tuscania - one of the most charming historic Medieval towns of central Italy with breathtaking views that was once an important Etruscan city.
The treasures the Etruscans have left behind in their remarkable tombs have filled museums, fueled imagination, and deemed the Etruscan as one of the most advanced civilizations of the ancient world on par with their contemporary Ancient Greece.
While known to have been a highly advanced civilization, the Etruscans are still shrouded in mystery:
Where did the Etruscans come from? What language did they speak? How did they live? What did they look like, what did they wear?
Literary and historical texts in the Etruscan language, as well as their buildings of wood and clay, have not survived, making modern understanding of the Etruscan society, language and culture depend on Roman and Greek sources, and on the untold treasures the Etruscans left behind in their tombs like clues to be pieced together to solve one of the greatest mysteries of Italy's ancient past.
TARQUINIA - Explore ancient painted tombs of Monterozzi Etruscan Necropolis


Tarquinia was the most significant of the 12 city-states of the Etruscan League that also produced at least one Etruscan king that ruled Rome before Rome overthrew its last king and became a Republic.
Today, Tarquinia is a beautiful Medieval walled city and world-famous for the unique in the world painted tombs inside the Monterozzi Necropolis that is also designated a UNESCO World Heritage Site.
Of the more than 6,000 underground tombs discovered in this area, 150 of them were beautifully adorned with vibrant frescoes. Currently, only about a dozen underground tombs are open to the public and rotated for preservation as they are ancient and fragile.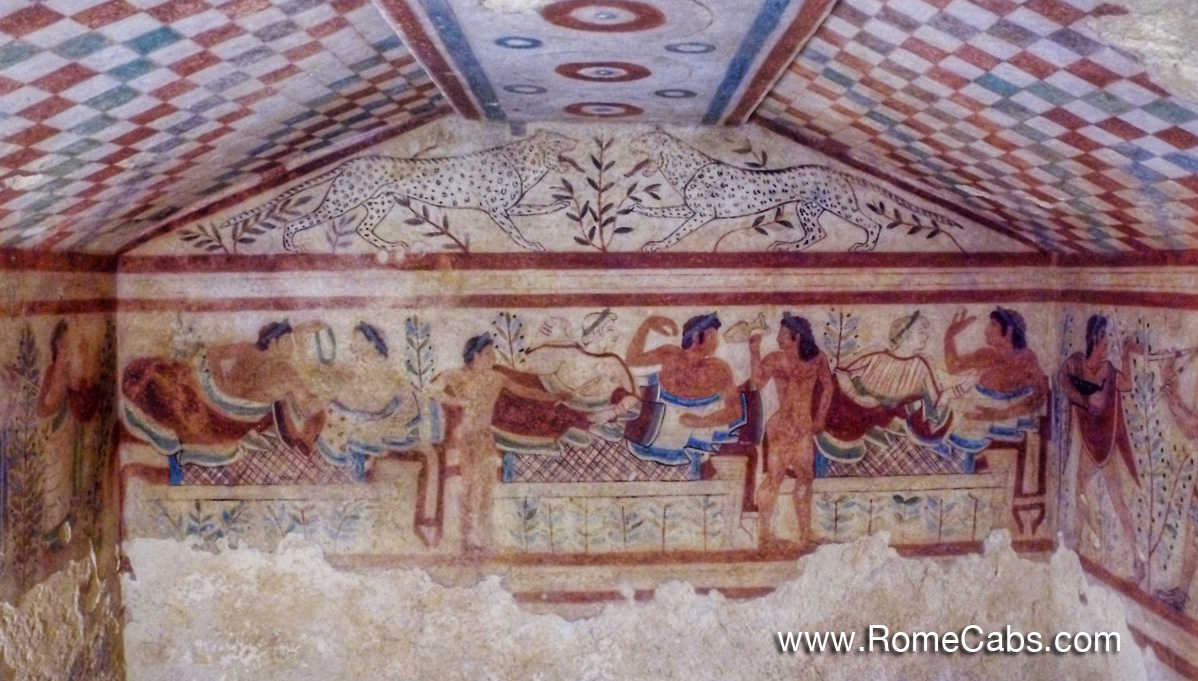 As you climb down the flight of steps to reach each underground burial chamber, you descend 2,500 years into history and discover vibrant details that paint a portrait of the daily lives of these enigmatic ancient people.
The burial chambers themselves were carved into the rock to represent the interior of actual homes of that time. For the Etruscans, the tombs were actual eternal homes for souls in the afterlife while celebrating the pleasures of human life.
As you visit the tombs open to visitors, you will learn that in many ways these ancient people were very much like us today and pursuing the joys of life. Like ancient photo albums, these evocative frescoes on the walls show us how they enjoyed abundant banquets, wine, music, dancing, hunting, fishing, and sports. Etruscan women wore fashionable garments and intricate jewelry, and unlike their patriarchal contemporaries, they were granted equal status to men and enjoyed freedoms most women in other ancient cultures could not.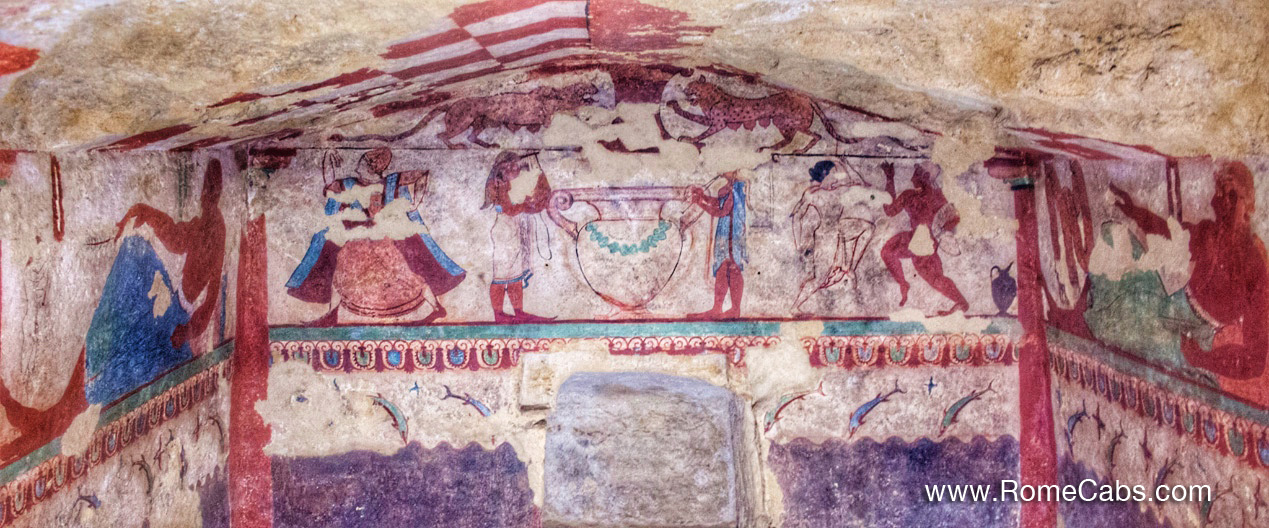 With each tomb, you will also discover some of the many things commonly believed to have been Ancient Roman innovations, that were actually Etruscan inventions....you'll be seeing Rome in a different light after this tour.
During the peak of the Etruscan civilization, the frescoes were cheerful and celebratory…. However, during its decline as Rome expanded throughout the peninsula conquering the Etruscan city-states one by one, you will notice that the frescoes took on a much darker tone - both in color and theme, with infernal demons replacing cheerful celebrations.
To see incredible artifacts discovered inside the tombs in the Monterozzi Necropolis, you have the opportunity to also visit Tarquinia's National Museum inside the elegant Renaissance Palazzo Vitelleschi.
From Tarquinia, you will continue through the unspoiled Etruscan countryside to Tuscania.
TUSCANIA - the fabled walled Medieval town


Tuscania is considered one of the oldest towns in Italy with a history tracing back 3,000 years settled during the Neolithic Age. Italy is full of legends and stories associated with its early origins, and Tuscania is not different.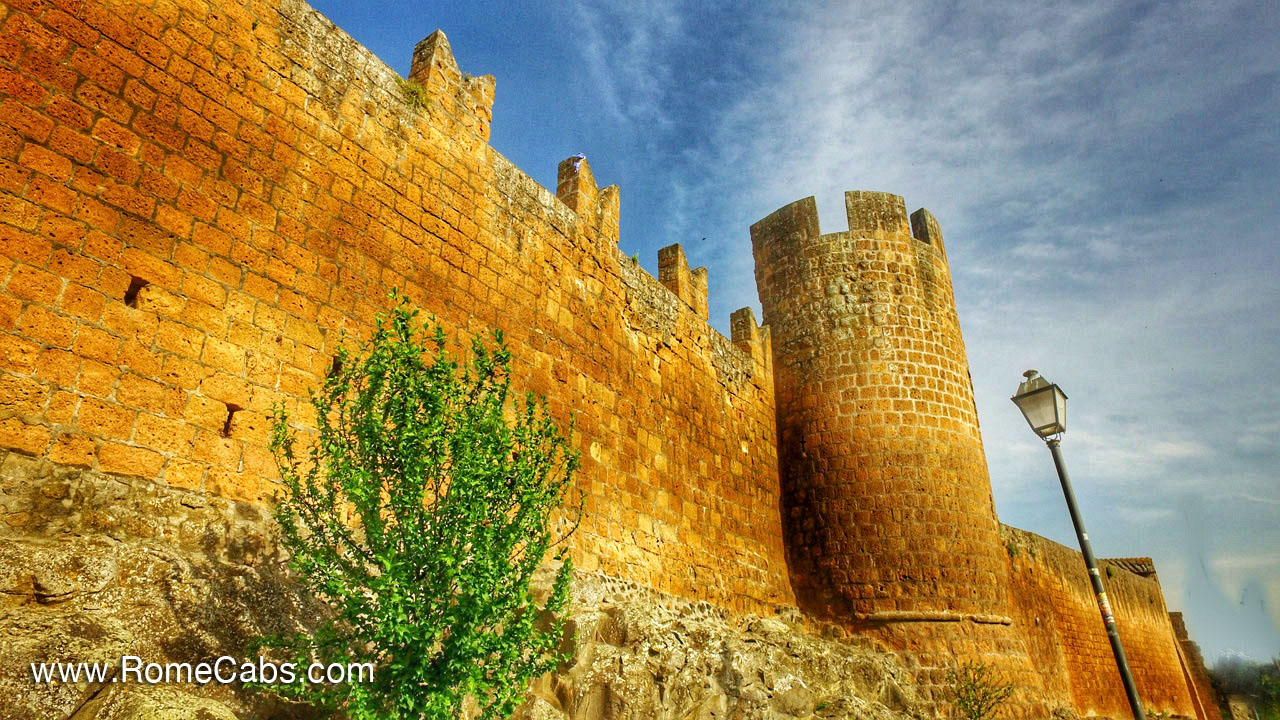 Legends have it Tuscania was either founded by Ascanius (son of the Trojan hero Aeneas) where he found 12 puppies giving the settlement the Etruscan name of Tus-Cana (similar to the Latin word of dog "canis"), or by Tusco, the son of the demigod Hercules (the son of Zeus) and Araxes.
Today, Tucania is a medieval walled hilltop town that boasts a spectacular belvedere of the picturesque valley below with rolling hills topped with castle ruins and an imposing church that inspired poets. Upon visiting Tuscania in the early 1900s, English novelist and poet D.H. Lawrence wrote: "The Most beautiful view in all Italy: the Etruscan valley of Tuscania".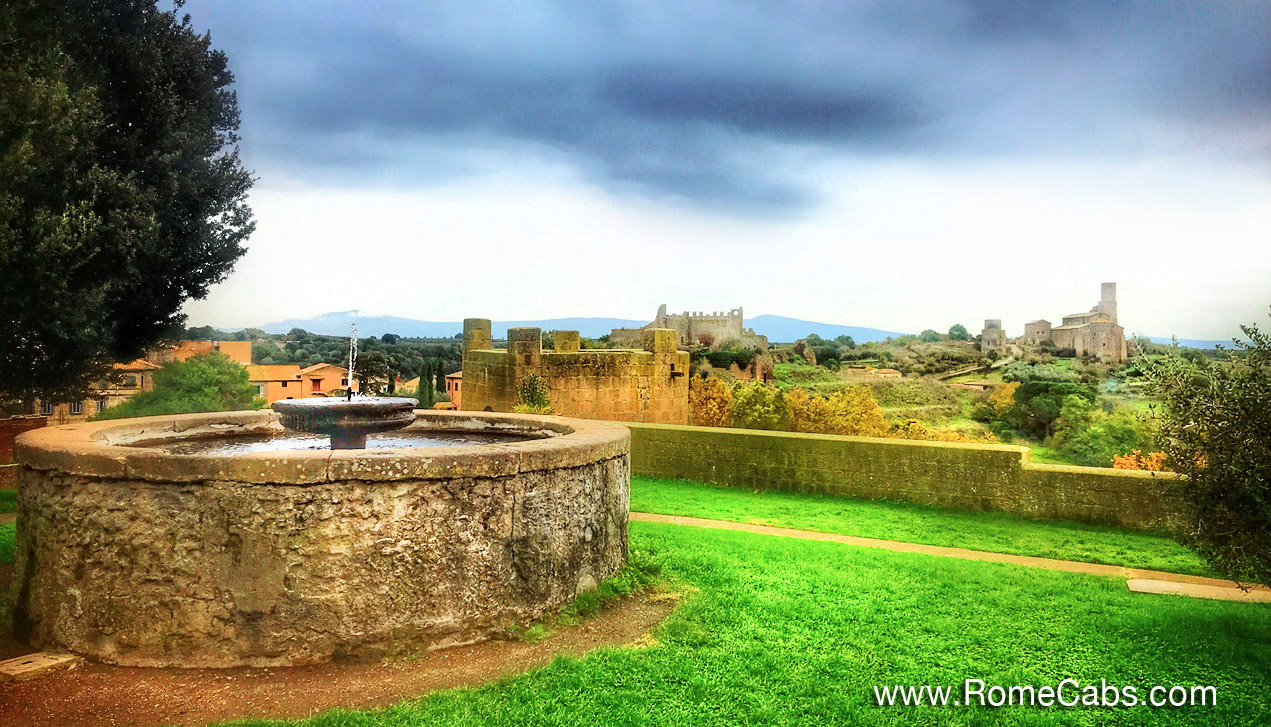 See this much-talked-about view for yourself and take in the breathtaking natural beauty that inspired not only poets but each and everyone one of us.
While in Tuscania, you have the opportunity to visit two historically and architecturally significant churches: the 8th century AD San Pietro situated on a nearby soft hill that used to be an ancient acropolis, and the 11-12th century Santa Maria Maggiore at the foot of the hill.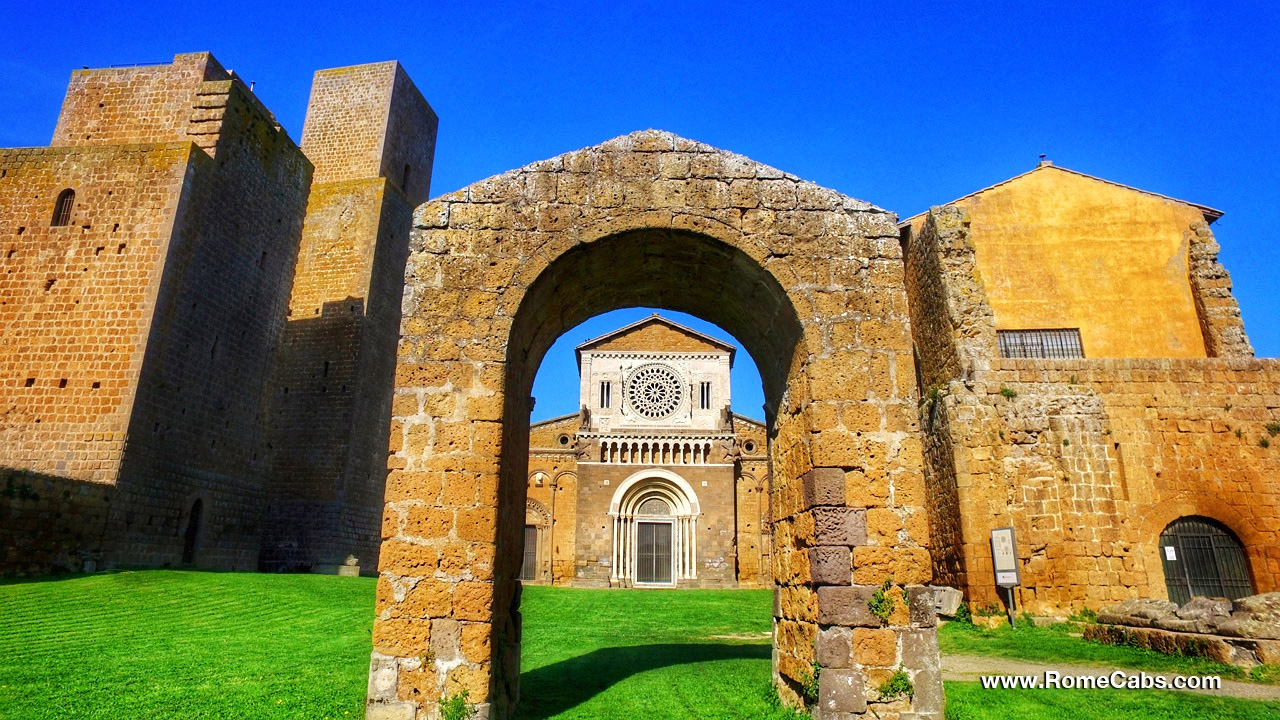 These two remarkable historic churches are unique not only in their Gothic architecture, Pagan influences, and Paleo-Christian origins, but both churches were built on top of ancient Etruscan temples. Santa Maria Maggiore church was built upon the temple of Janus, the 2-faced god of the gateway into the afterworld.
Flanked by a tall bell tower, the facade of Santa Maria Maggiore is decorated with detailed carved and sculpted Christian symbols of the Evangelists and various biblical stories. Inside the church, you can admire beautiful 13th and 14th-century frescoes. A devastating earthquake in 1971 still requires this amazing church to be supported by beams to preserve it through time-consuming and exhaustive restoration efforts.
On top of the Colle San Pietro (Saint Peter Hill), the church of San Pietro also boasts an interesting facade with Christian relief symbols of the Four Apostles framing a rose window made of marble that represents God as the center of the universe.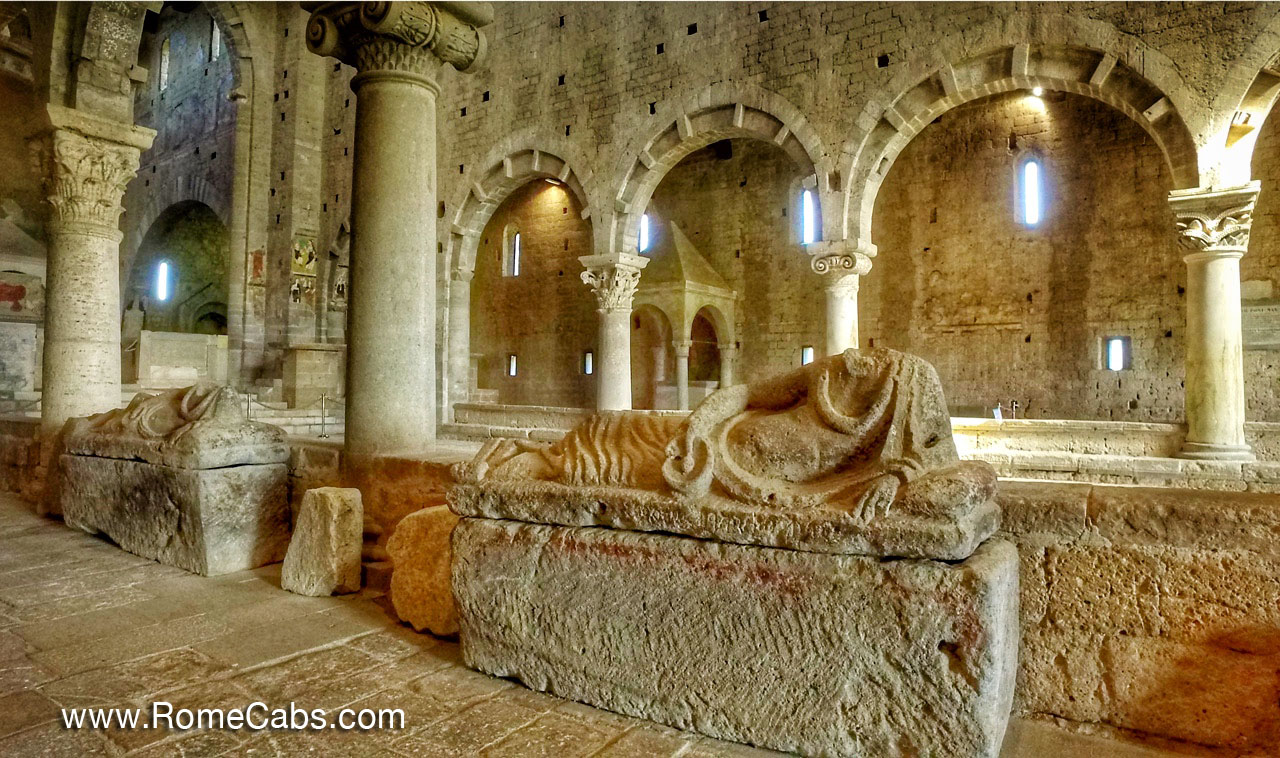 Long after Emperor Constantine legalized Christianity in 313 AD, paganism and Christianity co-existed and clashed, leaving behind traces of their existence well into the 6th century. Ancient Etruscan augurs and spiritual beliefs that influenced the Romans are still visible in symbolic forms in these two Medieval churches.
At the top right side of the facade of San Pietro church is a 3-faced demon that symbolized the Kingdom of Evil. It is believed to have represented paganism whose false beliefs delivered its followers to the devil that is depicted at the bottom.
On the left side of the facade that symbolizes the Kingdom of Good and Salvation, the pagan Greek god Atlas represents Christ holding up the church on his shoulders.
There is a rather fascinating element that connects these two churches together as well as connects Christianity to the pagan cult of the sun (Sol Invictus) that coexisted with Christianity until around the 5th century. Both churches were built to orient towards the pagan solstices: Santa Maria Maggiore orients towards the winter solstice, and San Pietro orients towards the summer solstice.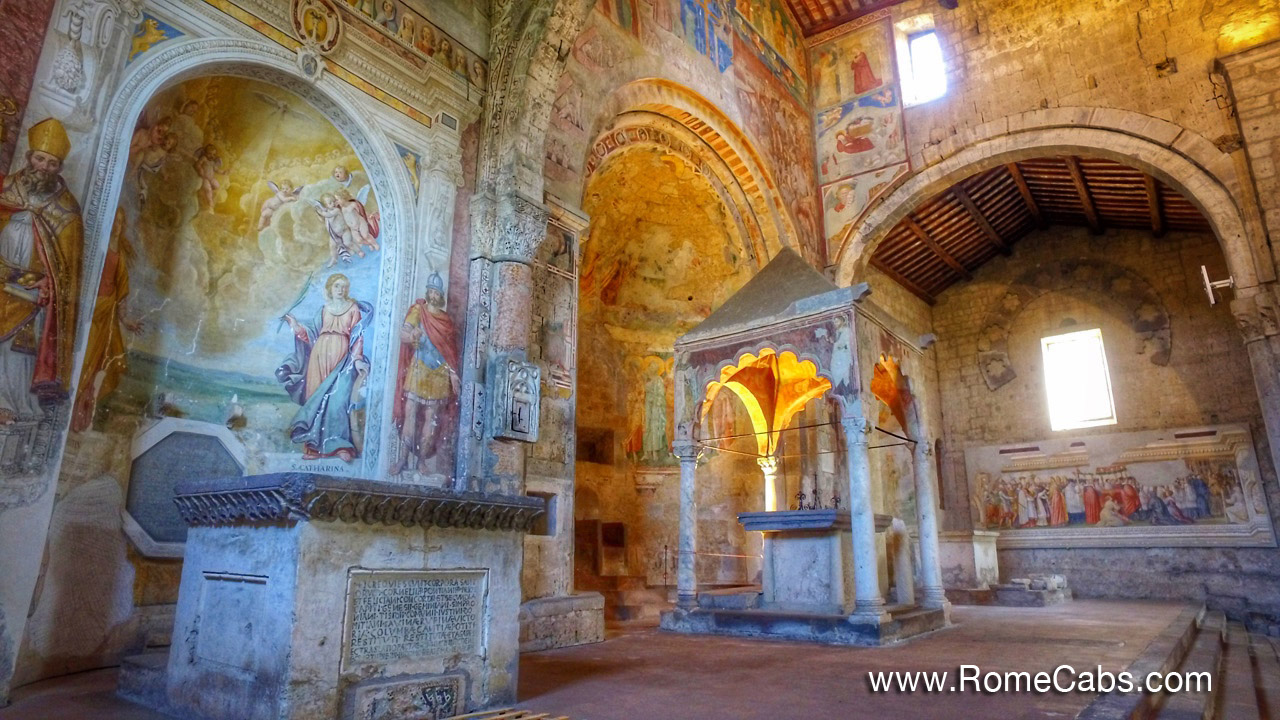 For all these reasons and more, the historic Churches of San Pietro and Santa Maria Maggiore in Tuscania are regarded among the most beautiful and significant churches in central Italy.
Tuscania is also well regarded for some of the most delicious cuisines in the region. While in Tuscania, you can enjoy a relaxing lunch at one of the local restaurants or trattorias.
The mysteries of the Etruscans may take generations to solve, but as you depart from this enchanting Roman countryside that used to be known as Etruria, you will have the knowledge and appreciation that although the ancient Etruscan civilization seems to have vanished once conquered by the growing Roman empire, the Etruscan legacy and influence continued on and manifested into some of the greatest wonders of Ancient Rome!
Thank you for booking our Mysterious Etruscans Countryside Tour, and for choosing Stefano's RomeCabs for your private Day Tours from Rome, and Civitavecchia Shore Excursions. We look forward to showing you beautiful places in Italy!
Important Information

PLEASE READ THE INFORMATION BELOW AND ACCEPT THE TERMS OF SERVICE AND PRIVACY POLICY BEFORE BOOKING.

This Mysterious Etruscans Countryside Tour tour is NOT OFFERED ON MONDAYS as the Monterozzi Necropolis in Tarquinia is CLOSED on Mondays.
PAYMENT OPTIONS
Payment can be made in EUROS directly to your driver on the Date of the Tour or prepaid in advance via PayPal or Credit Card upon request (see cancellation policy below)


CANCELLATION POLICY
Cancellations can be made at least 7 days in advance (and for a Full Refund for prepaid services) so we can recuperate the loss and your reserved driver does not lose work for that day.
Cancellations must be made via E-Mail and confirmed by our office. We do not accept cancellations by telephone, text message, or 3rd party.

** Cancelations for PREPAID SERVICES will be refunded the Reduced Net Rate we receive from your prepayment. Reduced Net Rate: actual service price minus PayPal/Credit Card fees retained by PayPal/Credit Card as they do not reimburse us the fees they retain from your payment.
ADMISSION TICKETS
Tarquinia Monterozzi Necropolis and museum is currently 8 Euros per person.
Ticket prices are at the discretion of the monuments and may change without notice after you book this tour. Ticket prices are NOT guaranteed.

YOUR PRIVATE TOUR DRIVER
This tour includes an English-speaking Private Driver who is not a Licensed Tour Guide.
Italy's strict laws prohibit Drivers from providing tour guide services and from accompanying guests away from the vehicle to sightsee on foot. Your Driver will be happy to offer basic touristic information while at the vehicle but will be obliged to remain with the vehicle while you SELF TOUR the sites included in this tour.

LICENSED TOUR GUIDE IN TARQUINIA
A private licensed tour guide can be reserved for you upon request for a private guided tour of the Monterozzi Necropolis and Etruscan Museum in Tarquinia (2 HOUR duration). For Tour Guide FEE and to Book a Guide, please inquire within.
* Without a Licensed Tour Guide, you will SELF TOUR all the locations in this tour.
MEETING POINTS TO MEET YOUR DRIVER


At ROME HOTEL / ACCOMMODATION:
For day tours from Rome, your private driver will meet you inside the lobby of your hotel or in areas permitted by hotels.

For Apartments or B&B's without a lobby, your driver will meet you outside the main entrance of your Pick Up Address.

* If your hotel or accommodation is on a street or in an area restricted to vehicle traffic, your driver will park as close as lawfully possible and meet you on foot at your Address, and accompany you to your parked vehicle.

MEETING POINT AT CIVITAVECCHIA CRUISE PORT
For shore excursions from Civitavecchia, your private driver will meet you on the Pier next to your Ship at your scheduled pickup time holding a sign with the NAME in your reservation.

Please do NOT leave the ship area, and do NOT take a shuttle bus outside the port.

Look for the driver in the same area as ALL private drivers will be waiting for their clients.



IMPORTANT INFORMATION FOR VISITING THE ETRUSCAN NECROPOLIS TOMBS


Be sure to wear suitable walking shoes and comfortable clothing on this tour
The tombs inside this necropolis are underground and require climbing down and up 1 flight of stairs for each tomb you visit
Only 1 tomb is wheelchair accessible
If you have mobility or health issues or cannot climb multiple flights of stairs visiting the tombs inside Monterozzi Necropolis may not be suitable for you. (Watch Tour Video above for an idea of the average underground stairways)
There are several tombs open at a time for visits.
Etruscan Tombs open for visits alternate for preservation purposes. It is NOT possible to know in advance or guaranteed which tombs will be open for visits on your tour date.