description
Our Herculaneum, Sorrento and Positano Day Tour from Rome takes you on an extended day trip to enjoy the picturesque beachside city of Positano that rests at the foothills Amalfi Coast, stroll through the charming seaside town of Sorrento, and explore the ruins of one of the most fascinating ancient Roman towns known as Herculaneum.



HERCULANEUM, SORRENTO, AND AMALFI COAST TOUR Prices


For up to 4 Persons from Rome Hotel: 750 EUROS
For up to 6 Persons from Rome Hotel: 800 EUROS
For up to 8 Persons from Rome Hotel: 850 EUROS


* You may also do a QUICK PRICE CHECK using the Price Check & Booking form on the Right Side of this page. Once you receive the PRICE QUOTE based on the information you input, you may proceed to SUBMIT your Tour Request.
** Dates on the Booking Form Calendar that are NOT Selectable, are NOT AVAILABLE.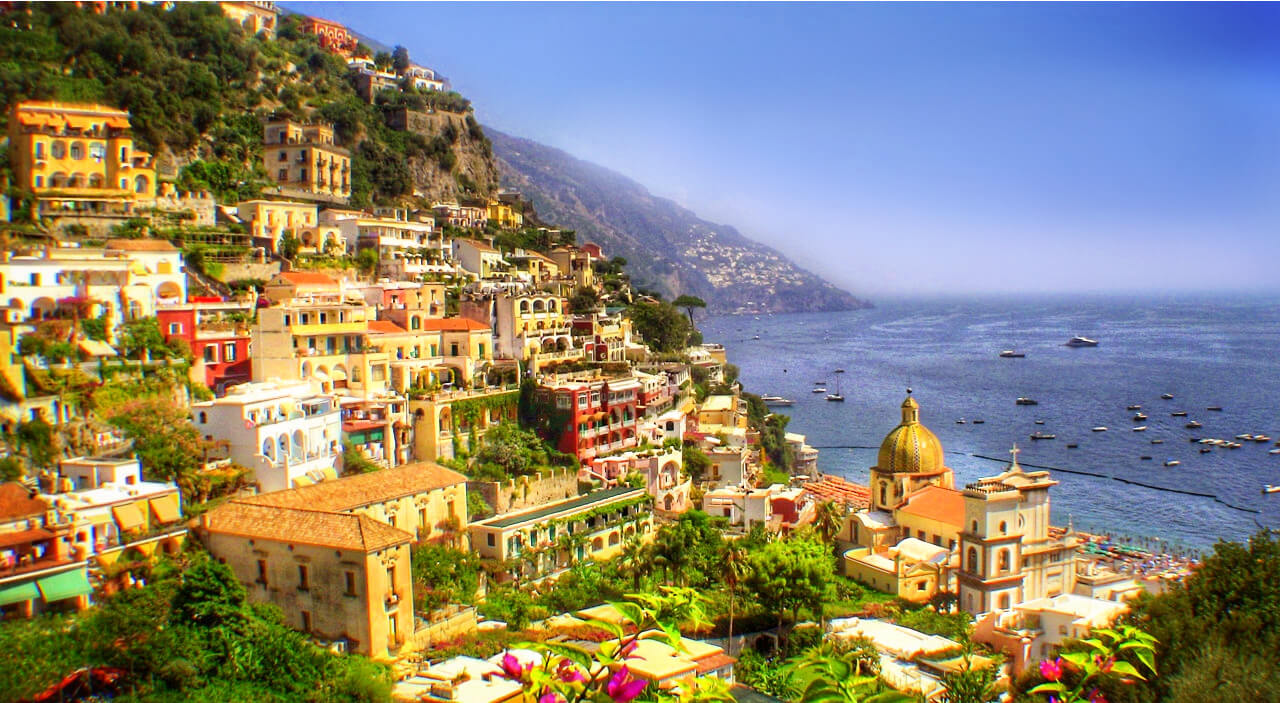 HERCULANEUM


Situated in the shadow of the menacing Mount Vesuvius, the ancient town of Herculaneum takes its unique name from the Greek mythological hero Heracles (Hercules in Roman mythology) as ancient settlers were thought to have been of Greek origins and believed that Heracles / Hercules was the founder of the town and Mount Vesuvius.
Along with nearby Pompeii, Herculaneum was destroyed by volcanic pyroclastic flows when Mount Vesuvius erupted in 79 AD, and for centuries it was left buried and forgotten under 20 meters of ash.

Unlike Pompeii that was entombed by volcanic ash, the incredibly hot pyroclastic material that covered Herculaneum carbonized and preserved perishable objects such as food, and wooden structures. This instant solidification resulted in more complete ruins, impressive frescoes, and lavish mosaics that can be admired in preserved buildings like in the House of Neptune and Amphitrite, and the Villa of the Papyri.
As Herculaneum is much smaller than Pompeii and less crowded, visitors have the opportunity to explore most of the site on a single visit which is impossible to do in Pompeii on limited time.
Herculaneum is also an ideal choice on hot summer days, for individuals who are unable to walk long distances on uneven terrain, or for travelers interested in seeing well preserved ruins, frescoes and marble that transformed Herculaneum into an "open air museum".
SORRENTO


Situated on the Gulf of Naples, Sorrento will greet you with sweeping sea views, plunging cliffs, charming neighborhoods and delicious food.
This delightful seaside town beckons visitors to stroll along its narrow streets and alleys flanked by cafes, restaurants, and local shops that entice with vibrant handcrafted crafted ceramics and delicate laceworks, and local treats.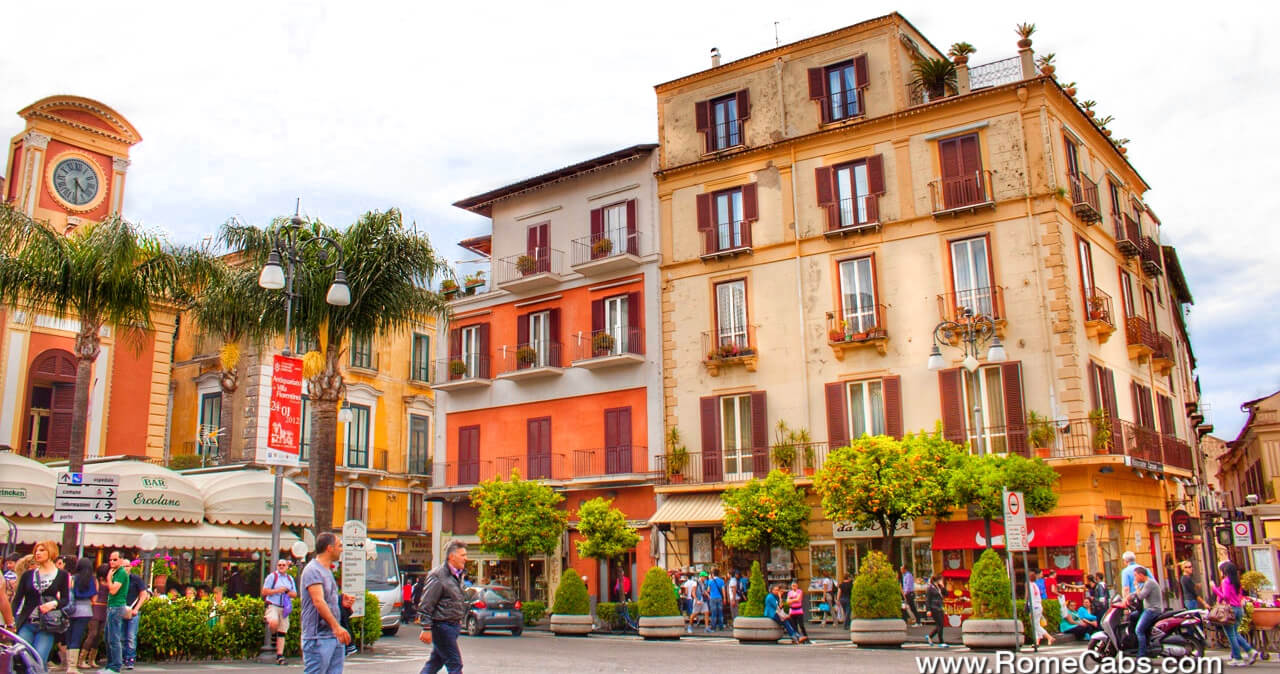 Not to be missed is the traditional lemon liquor known as limoncello, which is one of Sorrento's specialties made from local lemons.
Sorrento is an ideal place to enjoy a delicious local lunch - the fresh local seafood and Sorrento style pizza are legendary!

POSITANO

Born of ancient legends, Positano is said to have been named after the Greek mythological sea god Poseidon. Positano has always been a favorite seaside destination for Romans - both ancient and modern day.
Positano expanded from a small fishing village to one of Italy's top destinations with inviting sunny beaches, towering cliffs, historic sites, small boutiques and restaurants that entice visitors with local unique styles and local flavors. Numerous steep flights of stairs lead to various charming neighborhoods of this vertical cliffside town and reward you with splendid views that surround this unique town.


This concludes your private day tour from Rome to Herculaneum, Sorrento and Amalfi Coast. From here you will enjoy a relaxing journey through the Italian countryside back to your hotel in Rome.
Thank you for booking our Herculaneum, Sorrento and Amalfi Coast Private Day Tour from Rome and for choosing Stefano's RomeCabs for your Italy Private Tours. We look forward to showing you beautiful places in Italy!
Important Information

PLEASE READ THE INFORMATION BELOW AND ACCEPT THE TERMS OF SERVICE AND PRIVACY POLICY BEFORE BOOKING.


PAYMENT OPTIONS
Payment for this Tour can be made in EUROS directly to your driver on the Date of Tour, or prepaid in advance via PayPal or Credit Card online upon request. (See Cancellation policy below)
CANCELLATION POLICY
We kindly ask that cancellations be made via E-mail at least 7 days prior to Date of Service.
Cancellations are accepted only via E-mail so your cancellation is on record. We do not accept cancellations by phone, text message, or 3rd parties.
** Cancelations for PREPAID SERVICES will be refunded the Reduced Net Rate we receive from your prepayment. Reduced Net Rate: actual service price minus PayPal/Credit Card fees retained by PayPal/Credit Card as they do not reimburse us the fees they retain from your payment.
YOUR PRIVATE TOUR DRIVER
This Herculaneum, Sorrento, and Amalfi Coast Tour provides an English-speaking Driver who is NOT a Licensed Tour Guide.
Italy enforces stringent laws and regulations to protect official licensed guides that make it unlawful for Drivers to act as a tour guide, therefore your Driver cannot accompany guests to sightsee on foot away from the vehicle.
On this tour you will SELF-TOUR the attractions you visit, unaccompanied by your driver.
** The windy and traffic-prone roads in Naples, Sorrento, and Positano require the Driver's full attention, therefore your driver will not engage in commentary when it is considered an unsafe distraction to do so. Your safety inside the vehicle is our utmost priority.
HERCULANEUM ADMISSION TICKETS
Entry tickets are currently 11 Euros per person, to be purchased on site upon arrival.
Ticket Prices are subject to change without notice and not guaranteed.


HERCULANEUM PRIVATE LICENSED TOUR GUIDE
If you would like to reserve a private licensed tour guide for a 2 HOUR guided tour of Herculaneum, please let us know and we will be happy to provide a Price Quote for a private Herculaneum Guided Tour with a professionally licensed tour guide
IMPORTANT TOUR GUIDE DISCLAIMER:
Private licensed tour guides are not employees or affiliates of Rome Cabs as they operate independently as a separate entity. We only reserve private guided tours on your behalf as a complimentary service for our clients. We receive no compensation or benefit in any way from the tour guides for booking their services for our clients. We recommend their services based on their lawful qualifications, expertise, professionalism, and reliability and we have no control over the style of tours they provide.
Please be advised that Rome Cabs accepts no responsibility or liability for the style of tours Private Guides provide as they are not part of Rome Cabs company. Any issues you may have regarding your private guides must be addressed immediately to your Driver so they can be resolved on the spot. By allowing us to book a private guide on your behalf, you are entering an agreement that you fully understand and accept all the conditions above with no exceptions.
ADDITIONAL TOUR INFORMATION
* Please note when booking this Herculaneum, Sorrento and Amalfi Coast tour that unexpected road closures may happen on the road to Positano which may make visiting Positano impossible. We accept no responsibility for these unexpected events that you may encounter during your tour. In case a visit to Positano is not possible, your visit to Herculaneum and/or Sorrento will be extended pending on when closure information is made available to us.
* On summer weekends, national holidays, and the month of August there may be unexpected traffic delays due to the popularity of the Amalfi Coast among Italians and Europeans traveling by car. Please be prepared in event of extensive traffic if you wish to book your tour during these times.