description

The Roman countryside is one of the most historically and aesthetically diverse regions in Italy, and this Countryside Splendor Day Tour from Rome and Shore Excursion from Civitavecchia will take you on a relaxing journey through Rome's rustic countryside to experience the unforgettable legacies of Italy's most magnificent long-gone civilizations and eras.
On this chauffeur driven tour you will have the unique opportunity to visit the famous Renaissance Bracciano Odescalchi Castle that overlooks the pristine volcanic Bracciano Lake, enjoy an authentic Italian lunch at a local restaurant in the Medieval hilltop hamlet of Ceri, and continue to Cerveteri to explore the Etruscan Necropolis of Banditaccia that boasts a thousand phenomenal ancient tombs that span across several centuries dating back to 900 BC!
COUNTRYSIDE SPLENDOR TOUR PRICE LIST


For Countryside Tour from Rome Hotel:
For Up to 4 Persons from Rome Hotel: 425 EUROS
For up to 6 Persons from Rome Hotel: 450 EUROS
For up to 8 Persons from Rome Hotel: 500 EUROS


For Shore Excursion from Civitavecchia:
For up to 4 Persons from Civitavecchia Port: 550 EUROS
For up to 6 Persons from Civitavecchia Port: 600 EUROS
For up to 8 Persons from Civitavecchia Port: 650 EUROS



* You may also do a QUICK PRICE CHECK using the Price Check & Booking Form on the Right Side of this page. Once you receive the PRICE QUOTE based on the information you input, you may proceed to SUBMIT your Tour Request.
** This Countryside Splendor Tour is NOT Offered on MONDAYS as the Banditaccia Necropolis is CLOSED on Mondays.
*** Dates on the Booking Form Calendar that are NOT Selectable, are NOT AVAILABLE.
WATCH: Enjoy a preview of the remarkable sites in our Countryside Splendor Tour VIDEO:

BRACCIANO CASTLE - the fairytale Medieval Castle


Originally a volcanic crater, Lake Bracciano is one of the most pristine lakes in Italy and one of the most popular destinations for Italians and an ideal private day trip from Rome when they are seeking to escape the chaos of Rome city life.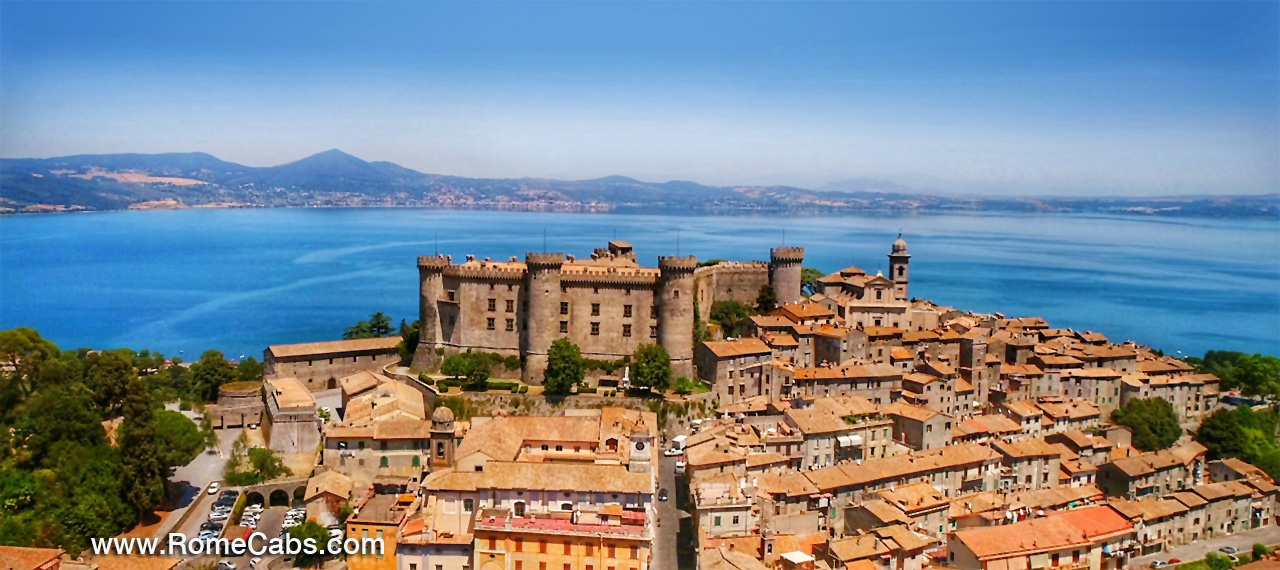 The peaceful lake is surrounded by numerous villages including the town of Bracciano that is dominated by the imposing 15h century Bracciano Orsini-Odescalchi Castle built by the powerful Orsini family. Commonly known as Bracciano Castle, in 1696 it was sold to the Odeschalchi family which still continues to retain the castle today.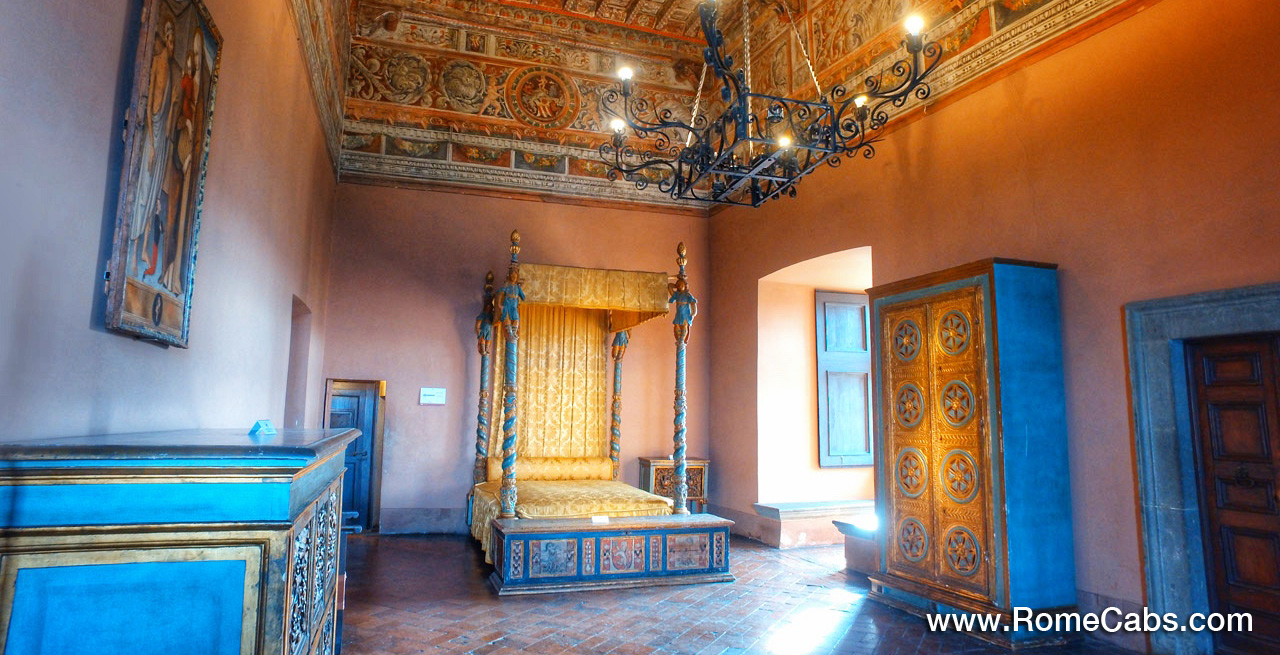 Part sumptuous residential castle, part towering military fortress, Bracciano Castle is open to visitors for a fabulous opportunity to tour the castle's central court and elegant rooms. The many rooms situated on 2 floors are beautifully furnished with original Renaissance-era opulent furnishings and wall paintings.
Once upon a time, Italy's most illustrious figures such as kings, popes, lords, dukes, and ladies have slept and lived here.


MEDIEVAL HAMLET OF CERI


From Bracciano, your day tour from Rome or Civitavecchia will continue your journey to Ceri, a fortified 13th-century medieval hamlet isolated on top of a steep tuff cliff where time seems to have stood still.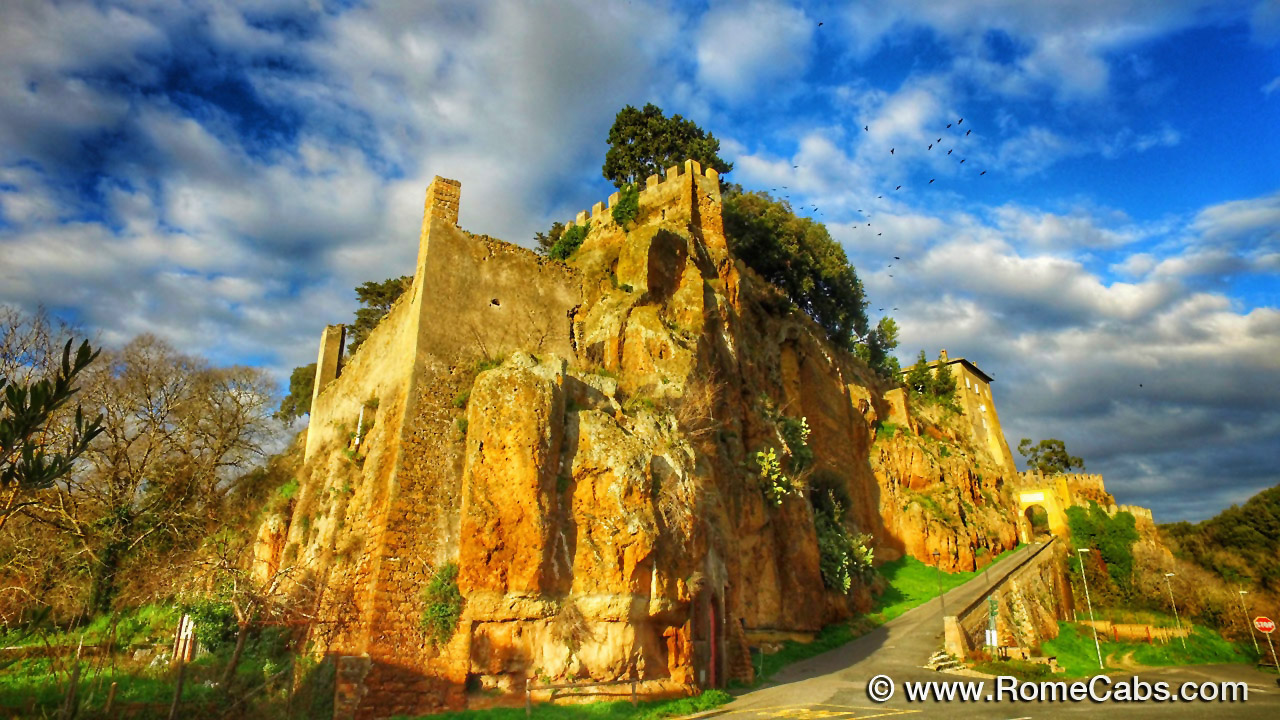 The narrow single-lane street will take you up through the village gate and its defensive walls and upward to the main square of this tiny village. The square is surrounded by historic buildings and the Sanctuary of the Madonna of Ceri, a remarkable church that merits a visit.
The 11th-century Sanctuary was built on top of a sacred site where the pagan goddess Vesta was venerated by the ancient Etruscans and Romans. Notable is the ancient cycle of frescoes depicting scenes from the Old Testament. This Sanctuary is a special place for locals in the region.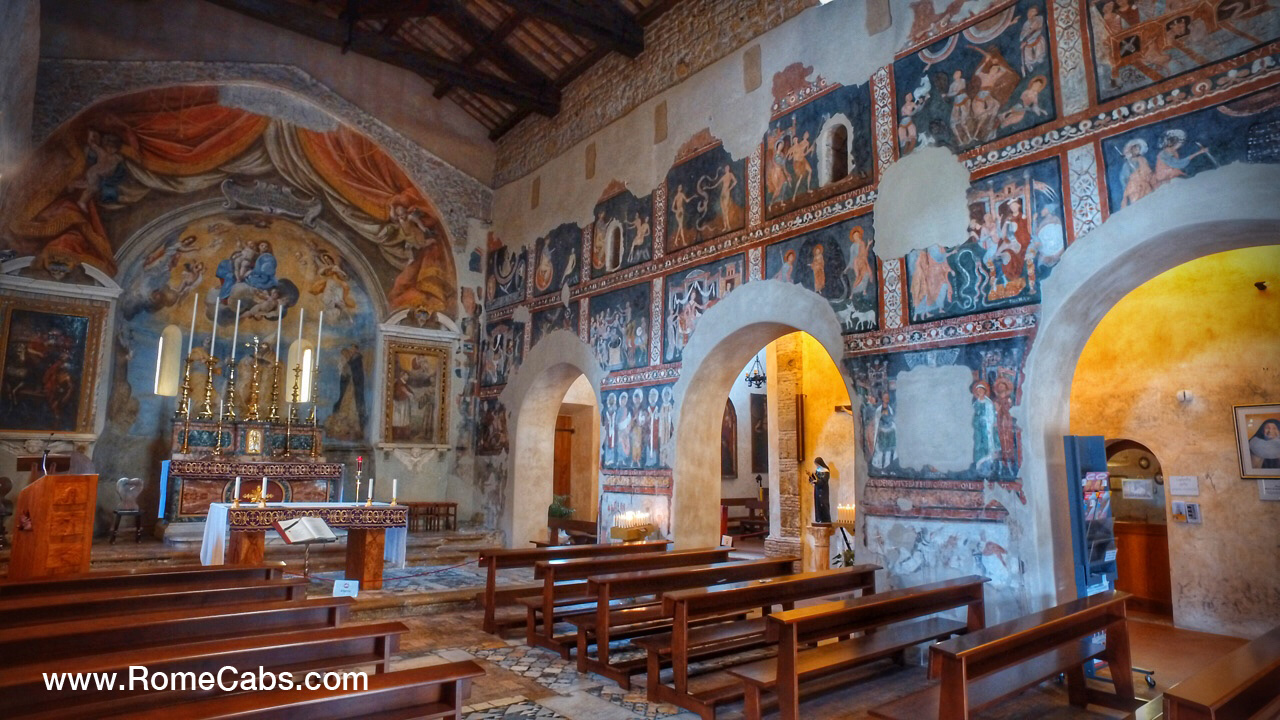 The Virgin Mary, for whom this sanctuary is dedicated, is well regarded for her intercession and for helping people who are experiencing difficulties. When their prayers are answered, they dedicate heart-shaped plaques that are hung on the wall in a side chapel.
Ceri is also popular for its delicious homemade style cuisine served at the local family-owned restaurants for an unforgettable lunch.
CERVETERI ETRUSCAN NECROPOLIS - a UNESCO World Heritage Site


Your countryside journey continues to Cerveteri, one of the ancient Etruscan city-states where you will visit the famous Banditaccia Necropolis - the largest ancient necropolis in the Mediterranean area and a UNESCO World Heritage Site.



Some 3,000 years ago, Cerveteri was one of the city-states of the Etruscan League known as Cisra Caere, and it reached the height of its power at around 600 BC as one of the main trading centers.
In the 3rd century, BC Cisra Caere was defeated during the Roman expansion and by 1st century BC, it ceased to exist. The word "ceremony" comes from the Latin word "caeremonium' - meaning "pertaining to Caere", and it is believed to refer to the ancient rites performed by Etruscan priests at "Caere".


The Etruscans were so advanced that many Etruscan inventions were attributed to the Romans, such as gladiator duels, togas, arches, and more!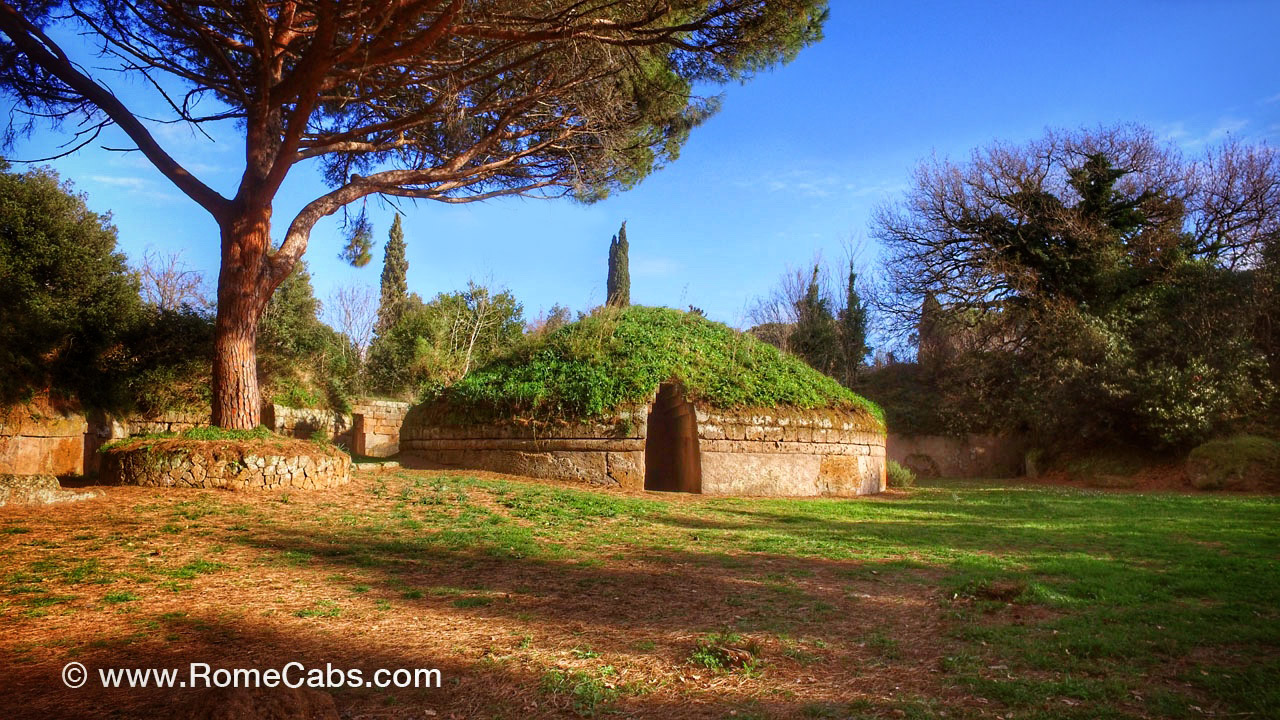 Your visit to Cerveteri's ancient necropolis will take you on a journey through its 25-acre archaeological site that contains around 1,000 tombs that date from 9th century BC to 3rd century BC. The tombs differ in size and style depending on the period of time, family status, and various other criteria.
As you make your way through the necropolis, you will observe the progression of early 9th Century BC Villanovan rock-cut trenches containing urns, the development of circular-shaped mounds that resemble huts, and the advanced and complex 3rd century BC city-like planning of tombs with small squares, neighborhoods, and roads for processions.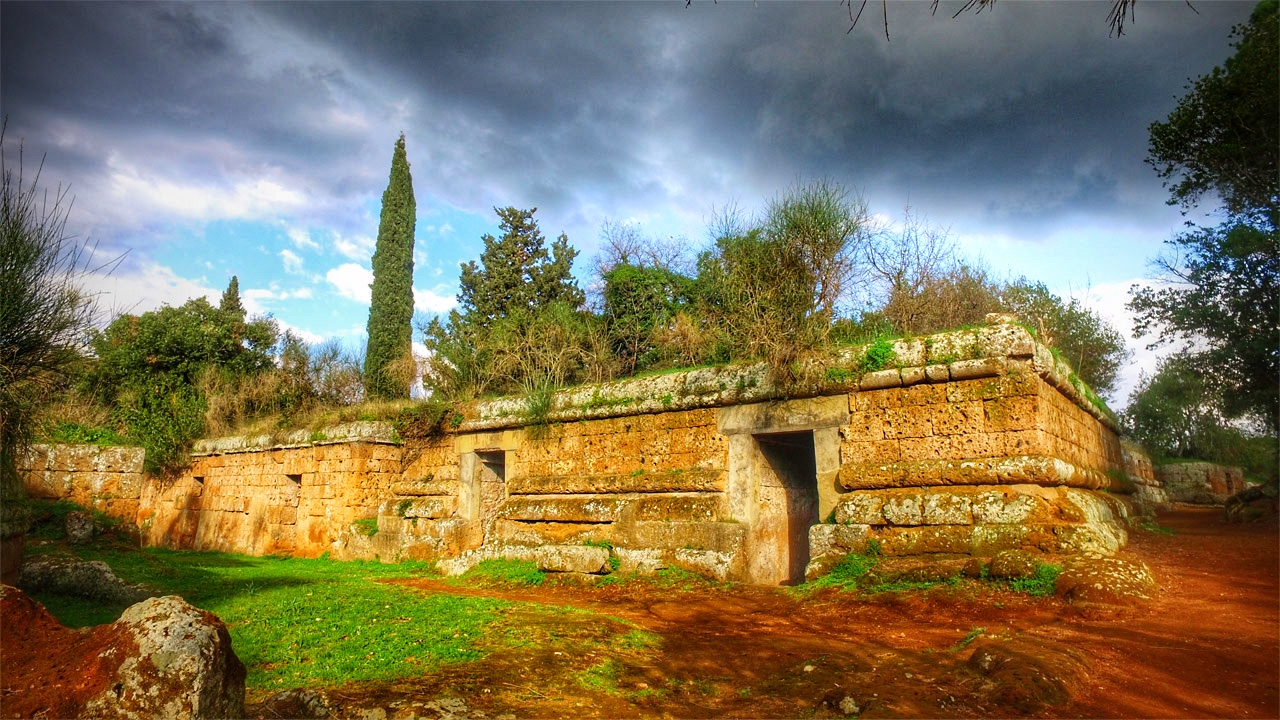 You would find two such "roads", the Via dei Monti Ceriti and the Via dei Monti della Tolfa that date back to circa 6th century BC. In some areas of the roads, you can still see the deep grooves made by carriages that for centuries have made their way through here leaving behind their mark.
The interiors of the tombs are carved from the living tufa rock and represent a reconstruction of the house of the deceased, including a corridor, central hall, several rooms, gabled roofs, stone-carved furnishings, and other decorative architectural details. Considered the permanent homes of the dead, many of the tombs inside the necropolis are exceptionally significant because they are among the very few examples of Etruscan residential architecture that have survived since ancient times.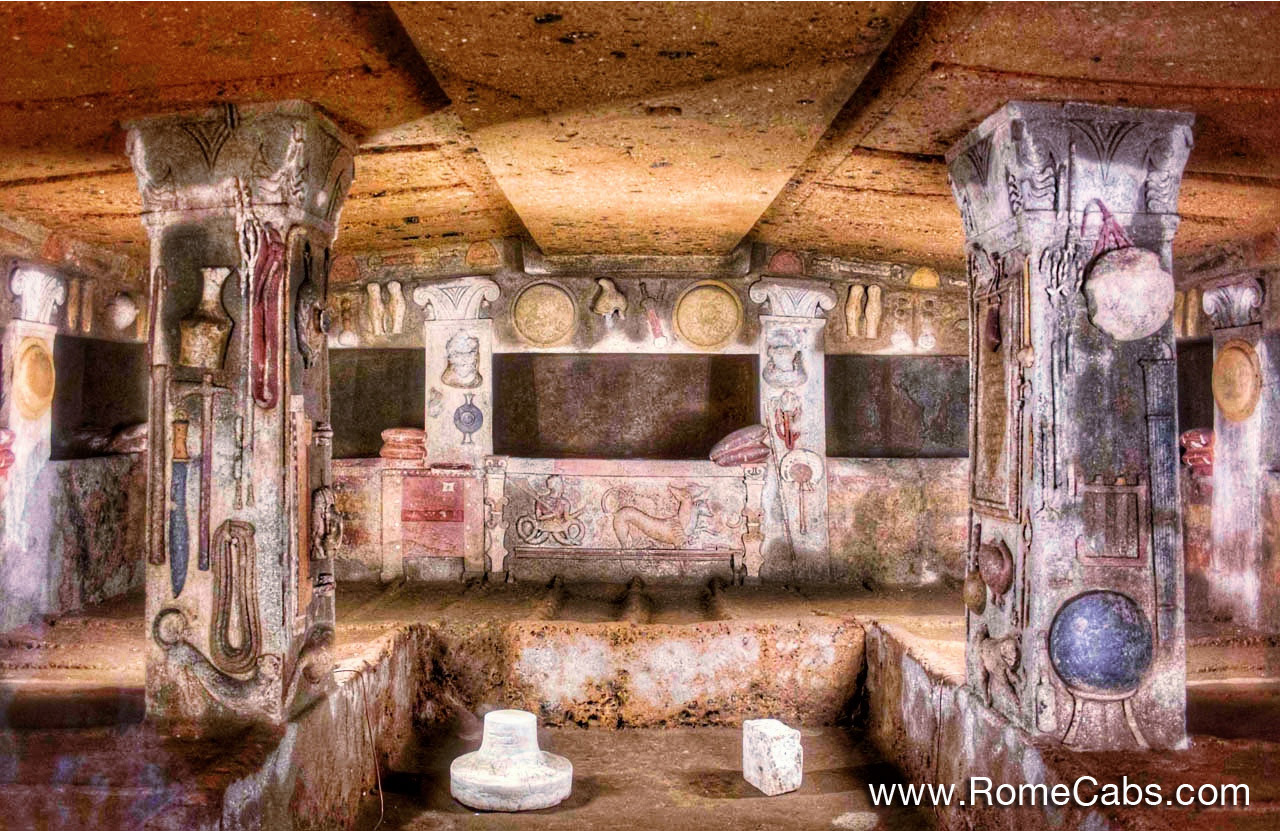 One of the most famous tombs not to be missed is the Tomb of the Reliefs that boasts exceptional bas reliefs, frescoes, and sculptures depicting tools and items used in the everyday life of ancient Etruria. The treasures and sarcophagi that were once sealed inside these tombs have made their way to museums in Cerveteri, Rome, and the Vatican.
Banditaccia Necropolis in Cerveteri is one of the most unique sites in Italy that tells a special story of the lives in an ancient advanced civilization that once thrived in central Italy and although it disappeared after being conquered absorbed by the ancient Romans, the Etruscans have never ceased to inspire awe and fuel our imagination.


This concludes your day tour that has taken you on a magnificent countryside journey through the distant eras of the rustic Middle Ages, elegant Renaissance, and ancient Etruscans. From here, you will enjoy a relaxing drive to your hotel in Rome or cruise ship in Civitavecchia.
Thank you very much for booking our Countryside Splendor Tour from Rome and Shore Excursion from Civitavecchia, and for choosing Stefano's RomeCabs for your Private Tours and Transfers in Rome and beyond. We look forward to meeting you in Italy!

Our guests who booked this Countryside Splendor Tour also enjoyed the following popular tours:


Important Information

PLEASE READ THE INFORMATION BELOW AND ACCEPT THE TERMS OF SERVICE AND PRIVACY POLICY BEFORE BOOKING.


This Countryside Splendor Tour is NOT offered on Mondays and Tuesdays as Banditaccia Necropolis in Cerveteri is currently closed on these dayss.
PAYMENT OPTIONS
Payment for this Countryside Splendor Tour can be made in EUROS directly to your driver on the Date of Tour, or prepaid in advance via PayPal or Credit Card online upon request.

CANCELLATION POLICY
Cancellations can be made at least 7 days in advance (and a REDUCED NET RATE Refund for prepaid services) so we can recuperate the loss and your reserved driver does not lose work for that day.
Cancellations must be made via E-Mail and confirmed by our office. We do not accept cancellations by telephone, text message, or 3rd party.
** Cancelations for PREPAID SERVICES will be refunded the REDUCED Net Rate we receive from your prepayment. Net Rate: actual service price minus PayPal/Credit Card fees retained by PayPal/Credit Card as they do not reimburse us the fees they retain from your payment.
ADMISSION TICKETS
Admission Tickets to Cerveteri Banditaccia Etruscan Necropolis are currently approximately 10 Euros per person. Tickets can be purchased upon arriving at the site.
Admission Tickets to Bracciano Castle are currently approximately 10 Euros Per person to be purchased on-site on arrival

* Admission Ticket prices are subject to change with notice.
PRIVATE GUIDED TOUR OPTIONS


* PRIVATE TOUR OF THE CASTLE:
Odescalchi Castle offers private tours in English with advance reservations at 180 Euros including tickets. Please inform us in advance if you wish to reserve a private guide for your visit to the castle. Private Tours of Bracciano Castle require Non-Refundable prepayment as Bracciano Castle does not issue refunds for cancellations.
Otherwise, you will SELF TOUR the castle on your own.
If you wish to Self Tour the Castle, please READ: Odescalchi Castle in Bracciano: TOURING TIPS

* PRIVATE TOUR OF THE ETRUSCAN NECROPOLIS:
You can reserve a private licensed tour guide for an informative walking tour inside the necropolis. Please inquire within for more information and tour guide fees. Tour guides do not work for us.


LUNCH IN CERI
Lunch will be enjoyed at a local restaurant in Ceri (there are only 2 family-owned restaurants in Ceri). Ceri is famous for local home-cooked cuisine at reasonable prices that draw Italians and visitors from all over the region. There are no sandwiches or sliced ​​pizza anywhere in the hamlet or its environs.


YOUR PRIVATE DRIVER
This chauffeur-driven tour includes an English-speaking Private Driver who is not a Licensed Tour Guide.
Italy's laws prohibit Drivers from guiding or accompanying guests Your driver will be obliged to remain with the vehicle while you visit sites. For this reason, we recommend private licensed tours, sites, and monuments if you require in-depth information.
MEETING POINTS TO MEET YOUR DRIVER


At ROME HOTEL / ACCOMMODATION:
Your driver will meet you inside the lobby of your hotel or in areas permitted by hotels.

For Apartments or B&B's without a lobby, your driver will meet you outside the main entrance of your Pick Up Address.

* If your hotel or accommodation is on a street or in an area restricted to vehicle traffic, your driver will park as close as lawfully possible and meet you on foot at your Address, and accompany you to your parked vehicle.

MEETING POINT AT CIVITAVECCHIA CRUISE PORT
Your driver will meet you on the Pier next to your Ship at your scheduled pickup time holding a sign with the NAME in your reservation.

Please do NOT leave the ship area, and do NOT take a shuttle bus outside the port.

Look for the driver in the same area as ALL private drivers will be waiting for their clients.


VISITS TO BRACCIANO CASTLE AND ETRUSCAN NECROPOLIS IN CERVETERI:


This tour will require extensive walking on uneven terrain and negotiating many steps to access the upper levels of Bracciano Castle and to access some underground tombs inside the Etruscan necropolis.
Guests are encouraged to watch the video of our tour for a general idea of the locations in the tour and determine if the sites are suitable for them. This tour in its entirety may not be suitable for guests who have mobility issues, difficulty walking or climbing stairs. Guests with mobility issues may, however, enjoy the ground level of the Castle, and access limited areas inside the necropolis in the vicinity of the entrance to minimize long walking distances.

TIPS FOR COUNTRYSIDE SPLENDOR TOUR


This countryside tour is created for the experienced traveler and cruiser with a keen interest in culture, history, nature, architecture, and Italian cuisine (slow food). This tour may not be suitable for those seeking tourist attractions, fast-paced activities, or fast food eateries.
Please wear comfortable shoes and clothing on this tour.
You will be walking on uneven terrain inside the necropolis and climbing stairs inside the Odescalchi Castle in Bracciano. This tour may NOT be suitable for visitors with mobility issues.
There are many opportunities to take photographs and videos on this tour, so be sure to bring your cameras, and plenty of batteries and memory cards with you!
During the hot and sunny summer months please use sunscreen, sunglasses, and a summer hat.
TRAVEL TIPS FROM OUR BLOG: