description
With so many roads beginning in Rome and extending to regions essential to Romans throughout the Italian peninsula, the expression "All roads lead to Rome" was born.
Two ancient Roman roads, and still used in modern day, are Via Ostiensis (modern day name Via Ostiense), and Via Appia (the ancient portion of the road known as Ancient Appian Way). Both Roman roads take you from Rome to some incredible places that you will enjoy on our Along Rome's Empire Roads Tour!
ALONG ROME'S EMPIRE ROADS TOUR PRICE LIST


For Tours starting from Rome Hotel:
For up to 4 Persons from Rome Hotel: 400 EUROS
For up to 6 Persons from Rome Hotel: 425 EUROS
For up to 8 Persons from Rome Hotel: 450 EUROS


For Shore Excursions from Civitavecchia:
For up to 4 Persons from Civitavecchia Cruise Port: 500 EUROS
For up to 6 Persons from Civitavecchia Cruise Port: 550 EUROS
For up to 8 Persons from Civitavecchia Cruise Port: 600 EUROS
* The Tour starting from Rome Hotel is not valid from other cities or airports such as Fiumicino.
** You may also do a QUICK PRICE CHECK using the Price Check & Booking form on the Right Side of this page. Once you receive the PRICE QUOTE based on the information you input, you may proceed to SUBMIT your Tour Request.
*** Dates on the Booking Form Calendar that are NOT Selectable, are NOT AVAILABLE.

WATCH THE TOUR VIDEO: Enjoy a preview of the sublime locations in our Along Rome's Empire Roads Tour VIDEO:
VIA OSTIENSIS - follow one of the oldest roads in Ancient Rome

Via Ostiensis was one of the oldest roads in Ancient Rome, extending about 20 miles from the city of Rome to the ancient harbor city of Ostia. The name Ostia derived from the latin word "os", meaning "mouth" as Ostia rested at the mouth of the Tiber River.
The modern Via Ostiense, following a similar route as its ancient counterpart, still connects Rome with Ostia.
On your the way to Ostia Antica along Via Ostiense, you will stop to visit the important Basilica of Saint Paul Outside the Walls.
SAINT PAUL OUTSIDE THE WALLS - the second largest basilica in Rome


St.Paul Outside the Walls Basilica is the second largest basilica in Rome following St Peter's Basilica at the Vatican. This basilica has the words "Outside the Wall" added to its name because it was built outside the ancient 3rd century AD Roman Aurelian Wall that enclosed and protected the city of Rome.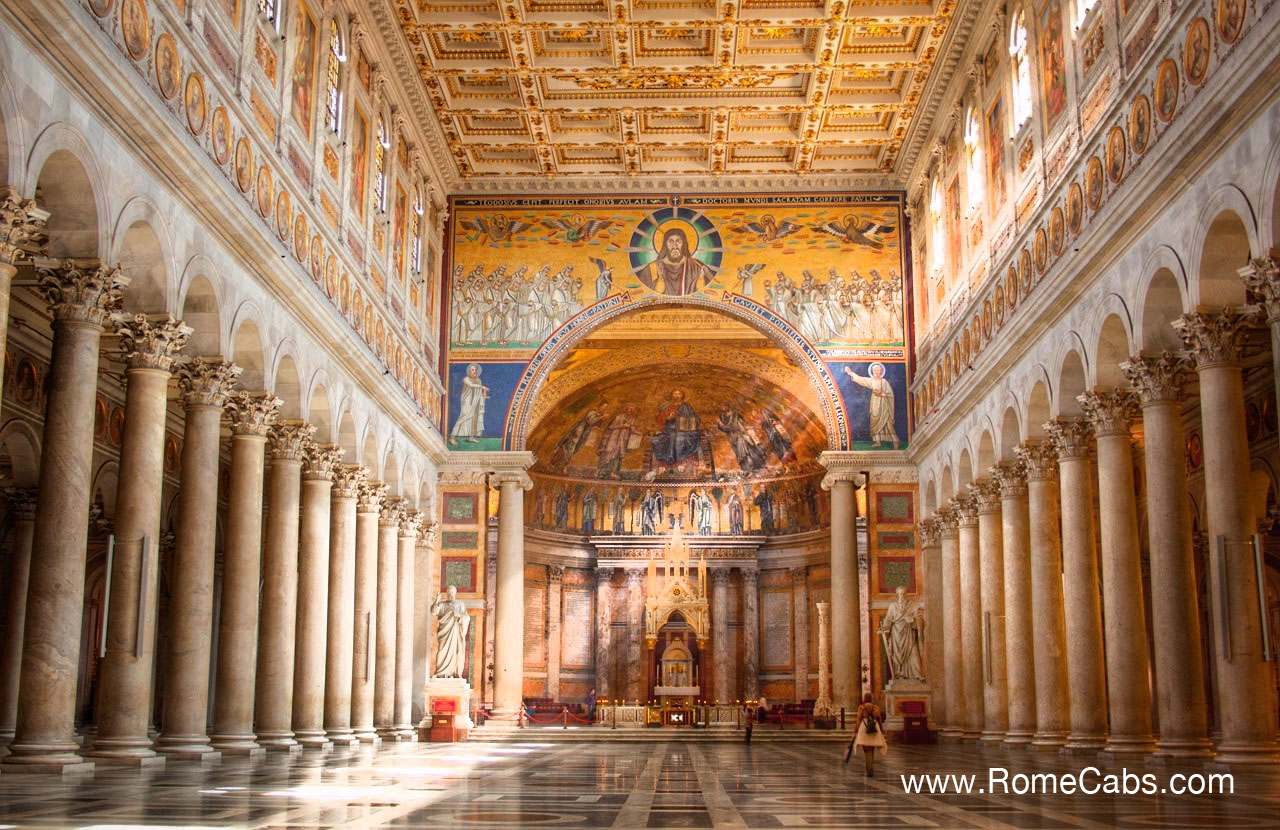 Saint Paul Outside the Walls Basilica is among the four highest ranking Catholic churches known as the Papal Basilicas, and an important pilgrimage destination for millions of Christians.
The Basilica was built in the 4th century by Roman Emperor Constantine above the burial site of St Paul the Apostle. The original basilica was later enlarged by Emperor Theodosius in 386, and by 5th century, this basilica became larger than the original Old Saint Peter's Basilica (The current St Peter's Basilica was built between 1506-1626).
Saint Paul's tomb is below a marble tombstone in the basilica's crypt, about 4.5 feet below the altar.
Regretfully in 1823 a fire broke out and destroyed the basilica. The incredibly beautiful church you see today is an exact replica reconstruction of the previous one with help from donors worldwide who made generous contributions to restore the basilica of this revered saint.
From here you will continue along Via Ostiense to Ostia Antica.
OSTIA ANTICA - walk in the footsteps of Ancient Romans


One of the most beautiful preserved ancient Roman city, Ostia Antica (the Ancient Ostia) rests inside a park-like setting for a relaxing exploration of preserved remnants of ancient timeworn Roman streets, pagan temples, apartment buildings, theaters, baths, bakeries, forum, commercial sites, mosaics, sculptures and more.
Ancient legends have it that Ostia was founded by the fourth king of Rome, Ancus Marcius in approximately 7th century BC.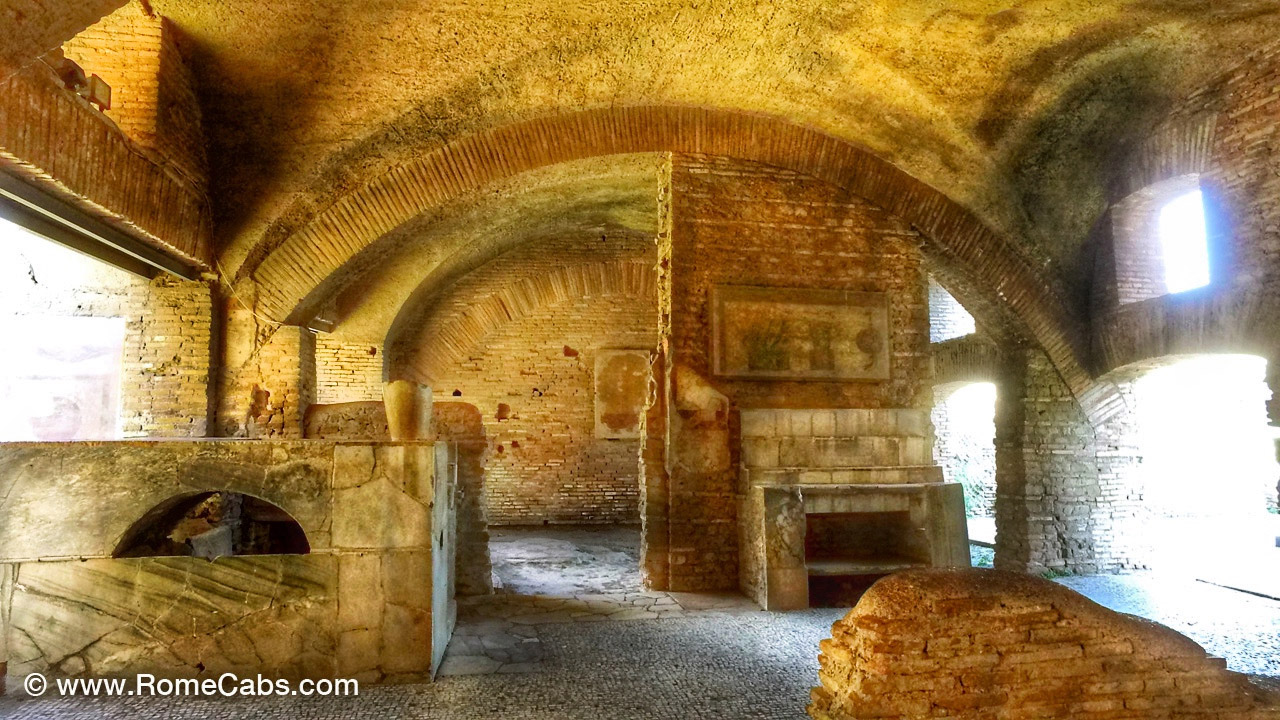 Most of the buildings that we have the opportunity to admire in Ostia Antica were built early 2nd century AD during the reign of Emperors Trajan and Hadrian, and Ostia was considered a "colony" of Rome.
Being at the mouth of the harbor made Ostia an important trading post, and the city grew in population of about 50,000 inhabitants and became increasingly prosperous until the fall of the Roman Empire. Following the fall of the Roman Empire, Ostia fell into disrepair and it was ultimately abandoned by the 9th century due to repeated invasions and sackings by pirates. It was due to this sudden abandonment that this ancient city became preserved deep beneath layers of time.
As you stroll through Ostia Antica and meander through the ancient neighborhoods, you are walking in the footsteps of the ancient Romans. Being so close to the city of Rome, Ostia Antica offers visitors the unique opportunity to see and experience what an ancient Roman city was like.


After free time on your own to enjoy a nice relaxing lunch near Ostia Antica, you will continue on to reach another very important Roman road (and the most recognizable): Via Appia (Ancient Appian Way).
ANCIENT APPIAN WAY / VIA APPIA - the "Queen of the Long Roads"


Constructed in 312 BC, the Appian Way was of the most strategically important and one of the earliest roads of Rome to connect Rome to Brindisi in the south-east region in the heel of Italy. Rome needed a main route of military supplies and troops during the Samnite Wars as well as transport goods between Rome and Campania. Unfortunately the existing roads of that time were primarily built by the Etruscans and generally lead into Etruria (the land of the Etruscans in central Italy).
Upon completion, the remarkably straight Appian Way was considered by the Romans to be the "Queen of the Long Roads".

Appia longarum teritur regina viarum
"The Appian way is the queen of the long roads"
Named after the magistrate who initiated its construction, Appius Claudius Caecus, the Ancient Appian Way is impressively well preserved offering an overall idea of what an ancient Roman road used to be like. Within the original stones, you can see the grooves created by chariot and wagon wheels that traveled through here for centuries.
Construction of ancient Roman roads began as a leveled dirt road on top of which small stones, mortar, then gravel were laid. This foundation was finally covered with tight fitting, interlocking stones to provide a smooth flat surface. The road was a bit arched in the middle to help with water runoff, and ditches were dug on each side of the road.
According to Christian tradition, it was along the Appian Way that Peter encountered a vision of Christ while attempting to escape, inspiring him to go back into the city to face certain martyrdom.
The Ancient Appian Way is located in a relaxing park-like setting with evergreen cypress and sea pines in a romantic serene atmosphere that is also a welcoming respite during hot summer months. The Ancient Appian Way is another road where you would be walking in the footsteps of the Ancient Romans. Pending time and interests, you may also see other ancient Roman ruins that line the Ancient Appian Way.



CHRISTIAN CATACOMBS - explore the ancient subterranean tombs and cryps


Along the Appian Way you will also visit the underground 2nd-3rd century AD Christian catacombs. In ancient times burial sites were forbidden within the city walls, therefore outside the city walls and along main roads, 20 meters deep underground miles of tunnels were hewn out of soft tufa stone. Eventually the underground cemetery complex grew into a labyrinth of galleries and chambers miles long on multiple levels with as many as 170,000 subterranean graves and tombs.
In addition to regular Christians, many early martyrs and popes were buried here too. Decorations and inscriptions are still visible on crypts and tombs inside the catacombs.
For such an underground exploration, a guided group tour is conducted of the most visited areas of the catacombs.
Admission Tickets to the catacombs include a guided group tour (available in many languages) conducted by an expert staff member, explaining the significance of the many things that you will see underground.
After a satisfying day of compelling discoveries of vestiges of the long-gone Ancient Rome, your driver will take you back to your hotel in Rome, or Cruise Ship in Civitavecchia.
Thank you for booking our exciting Along Rome's Empire Roads Tour and for choosing Stefano's RomeCabs for your Rome Private Tours, and Civitavecchia Cruise Shore Excursions. We look forward to showing you beautiful places in Italy!

Guests who booked this Along Rome's Empire Roads tour also enjoyed the following Tours:


COUNTRYSIDE SPLENDOR - delight epochal wonders of the ancient Etruscan and Medieval eras in the Italian countryside
ASSISI Tour from Rome - walk in the footsteps of Saint Francis and Saint Claire in the sublime Umbrian medieval town



Important Information

PLEASE READ THE INFORMATION BELOW AND ACCEPT THE TERMS OF SERVICE AND PRIVACY POLICY BEFORE BOOKING.



PAYMENT OPTIONS
Payment for this Along Rome's Empire Roads Tour can be made in EUROS directly to your driver on the Date of Tour, or prepaid in advance via PayPal or Credit Card online upon request. (See Cancellation policy below)
CANCELLATION POLICY
We kindly ask that cancellations be made via E-mail at least 7 days prior to Date of Service.
Cancellations are accepted only via E-mail so your cancellation is on record. We do not accept cancellations by phone, text message, or 3rd parties.
** Cancelations for PREPAID SERVICES will be refunded the Reduced Net Rate we receive from your prepayment. Reduced Net Rate: actual service price minus PayPal/Credit Card fees retained by PayPal/Credit Card as they do not reimburse us the fees they retain from your payment.
ADMISSION TICKETS


* OSTIA ANTICA:

Admission Tickets to Ostia Antica are currently 10 Euros per person. Tickets can be purchased at the site before entering. Ticket prices go up when there are exhibitions inside the site.

* CHRISTIAN CATACOMBS:
Admission tickets are approximately 8 Euros per person. Tickets can be purchased upon visiting the site. Ticket Price included GUIDED GROUP TOUR of the Catacombs provided by expert staff.



YOUR PRIVATE ROME TOUR DRIVER

Tour Drivers are professional English-speaking Drivers, but are NOT Licensed Tour Guides.
Only licensed Tour Guides may accompany or guide you at the sites you visit.
Italy has strict laws and regulations in place to protect licensed tour guides, thus it makes it unlawful for Tour Drivers to act as a tour guide and accompany guests to sightsee away from the vehicle. In order to comply with Italy's laws, Tour Drivers may not guide guests to sightsee and will be obliged to remain with the vehicle while you sightsee.
On this tour you will SELF TOUR the attractions you visit, unaccompanied by your driver.
PRIVATE TOUR GUIDE FOR OSTIA ANTICA
To enhance your visit to Ostia Antica, you may reserve a Licensed Tour Guide for a 2 Hour in-depth private guided tour of the archaeological site. Please inquire within for TOUR GUIDE FEES and to Book your Private Tour Guide.
MEETING POINTS TO MEET YOUR DRIVER


At ROME HOTEL / ACCOMMODATION:
For day tours starting from Rome accommodation, your private driver will meet you inside the lobby of your hotel or in areas permitted by hotels.

For Apartments or B&B's without a lobby, your driver will meet you outside the main entrance of your Pick Up Address.

* If your hotel or accommodation is on a street or in an area restricted to vehicle traffic, your driver will park as close as lawfully possible and meet you on foot at your Address, and accompany you to your parked vehicle.

MEETING POINT AT CIVITAVECCHIA CRUISE PORT:
For Shore Excursions from Civitavecchia, your private driver will meet you on the Pier next to your Ship at your scheduled pick-up time holding a sign with the NAME in your reservation.

Please do NOT leave the ship area, and do NOT take a shuttle bus outside the port.

Look for the driver in the same area as ALL private drivers will be waiting for their clients.