description

The excitement of your cruise continues on disembarkation day continues with our Post Cruise Countryside Splendor Tour exploring the resplendent Roman countryside dotted with historic castles, medieval villages, and exciting ancient Etruscan places.
On this tour from the Cruise Port of Civitavecchia, you will have a wonderful opportunity to tour the renowned Renaissance Bracciano Odescalchi Castle that overlooks the pristine volcanic Lake Bracciano, delight your taste buds with an authentic Italian lunch at a local family-owned restaurant in the Medieval hilltop hamlet of Ceri, and visit the Etruscan Necropolis of Banditaccia in Cerveteri where you may explore some of the many beautifully preserved ancient Etruscan tombs that span across several centuries dating back to 900 BC!
POST CRUISE COUNTRYSIDE SPLENDOR TOUR PRICE LIST


For up to 4 Persons from Civitavecchia Port: 600 EUROS
For up to 6 Persons from Civitavecchia Port: 650 EUROS
For up to 8 Persons from Civitavecchia Port: 700 EUROS
** You may also do a QUICK PRICE CHECK using the Price Check & Booking form on the Right Side of this page. Once you receive the PRICE QUOTE based on the information you input, you may proceed to SUBMIT your Tour Request.
WATCH: Enjoy a preview of the splendid places in our Post Cruise Countryside Splendor Tour VIDEO


Visit BRACCIANO CASTLE - in the historic town of Bracciano
The peaceful Lake Bracciano is surrounded by numerous medieval villages including the town of Bracciano which is crowned by the imposing 15h century Bracciano Orsini-Odescalchi Castle built by the powerful Italian Orsini family and in the late 1690s sold to the noble Odeschalchi family which still continue to retain the castle today.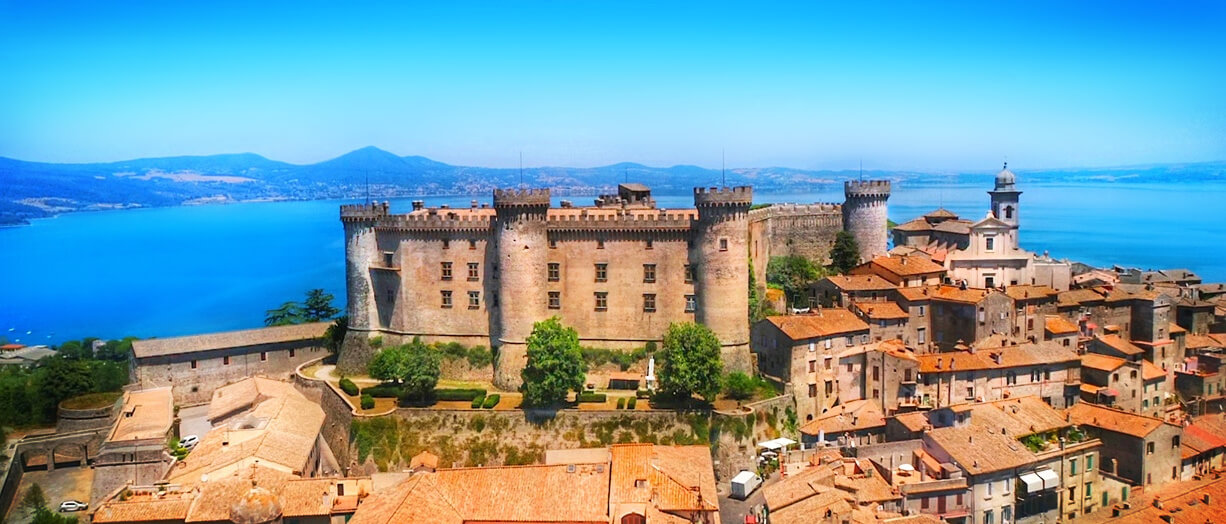 Part part military fortress and part residential castle, Bracciano Castle is open to visitors for a unique opportunity to visit the castle's elegant rooms on 2 floors, and the central court.
The castle's private apartments are remarkably decorated with their original Renaissance-era opulent furnishings and wall paintings. Once upon a time long ago, many of Italy's most illustrious figures including kings, queens, popes, lords, and ladies have lived or spent time here.
CERI - the charming Medieval clifftop hamlet


From Bracciano, your driver will take you to the nearby Ceri, a fortified 13th-century medieval hamlet almost hidden on top of a tuffaceous cliff where time seems to have stood still.
The narrow lane flanked by tall medieval buildings and wide enough for just 1 vehicle to drive through at a time, will take you up through the village gate and its defensive walls to the main village square. The small square is surrounded by historic buildings and the 11th-century Sanctuary of the Madonna of Ceri, an extraordinary church that merits a visit.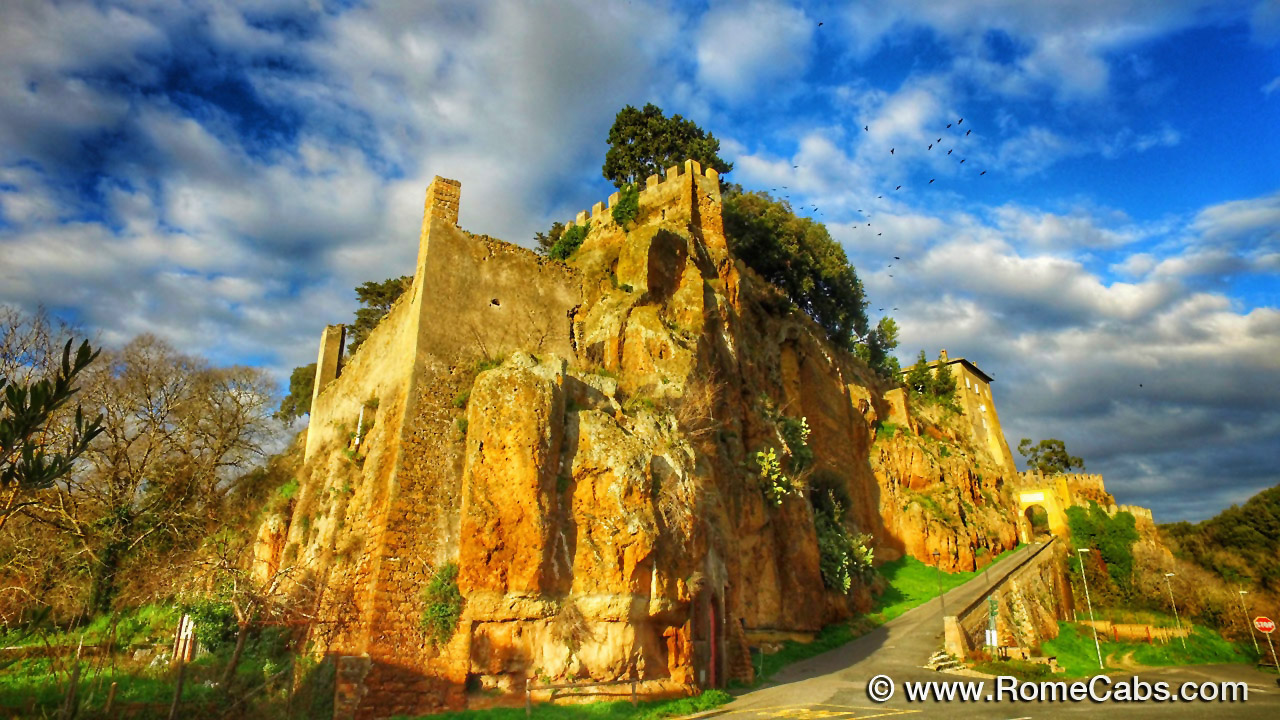 Built on top of an ancient sacred site where the pagan goddess Vesta was venerated by the ancient Etruscans and Romans, this church is well regarded for the amazing ancient cycle of frescoes depicting scenes from the Old Testament.
This Sanctuary dedicated to the Virgin Mary is also a very special place for locals in this region as Mary is well regarded for her intercession and for helping people who are experiencing difficulties. When their prayers are answered, they dedicate heart-shaped plaques with gratitudes that are hung on the wall in a tiny side chapel.
Ceri is also very popular for the delicious homemade style cuisine served at local family-owned restaurants where you will enjoy a delicious Italian lunch.
CERVETERI ETRUSCAN NECROPOLIS - explore ancient tombs of a long-gone civilization


Your Post Cruise Countryside Splendor tour continues to the ancient Etruscan city known as Cerveteri to explore the famous Banditaccia Necropolis - the largest ancient necropolis in the Mediterranean area and a UNESCO World Heritage Site.
Approximately 3,000 years ago, Cerveteri was a prominent city-state of the Etruscan League known as Cisra Caere, reaching the height of its power as a main trading center around 600 BC.

WATCH the VIDEO preview of the 10 Most Amazing Etruscan Tombs at Banditaccia Necropolis in Cerveteri:
In the 3rd century BC Cisra Caere was defeated during the Roman Empire expansion, and by 1st century BC it ceased to exist having been absorbed into the Roman state and culture.
Your adventure through Cerveteri's ancient necropolis will take you through the 25-acre archaeological site that contains around 1,000 tombs beginning with early 9th Century BC Villanovan rock-cut trenches containing urns, the later development of circular shaped mounds carved out of the living rock to resemble huts, and the more advanced and complex 3rd century BC city-like planning of tombs with small squares, neighborhoods, and roads for funerary processions.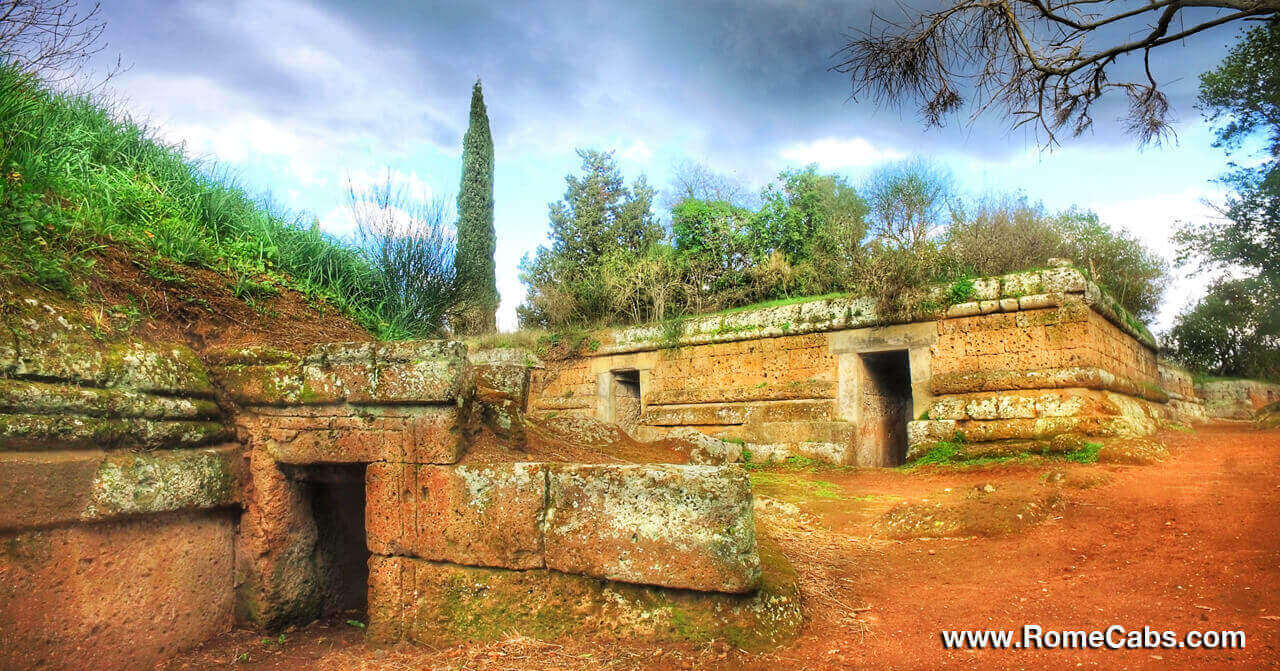 Considered the permanent homes of the deceased, many of the tombs are exceptionally significant because they are among the very few examples of Etruscan residential architecture that have survived since ancient times.
You will be surprised to see that the tombs include a corridor, central hall, various rooms, gabled roofs, stone carved furniture, and other decorative architectural details representing actual homes that tell a special story about these amazing ancient people.
One of the most famous tombs not to be missed is the Tomb of the Reliefs with remarkable bas reliefs, frescoes, and sculptures depicting tools and household items used by the ancient Etruscans.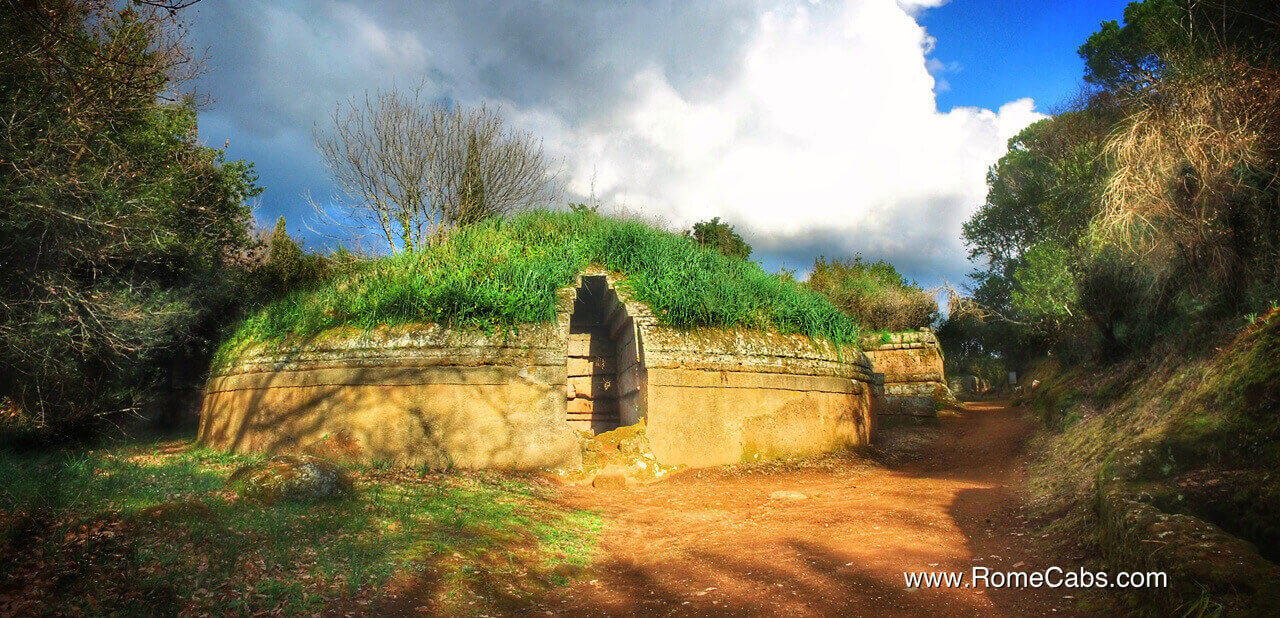 The treasures and sarcophagi that were once sealed inside these tombs have made their way to museums in Cerveteri, Rome, and the Vatican.
This concludes your Post Cruise Countryside Splendor journey through the magnificent countryside that gives you a glimpse of its rustic Middle Ages, elegant Renaissance era, and the ancient Etruscans who once thrived in this region. From here, you will enjoy a relaxing drive to your hotel in Rome by approximately 5 PM.


Thank you for booking our Post Cruise Countryside Splendor Tour and for choosing Stefano's RomeCabs for your Italy private excursions. We look forward to showing you beautiful places in Italy!
Important Information

PLEASE READ THE INFORMATION BELOW AND ACCEPT THE TERMS OF SERVICE AND PRIVACY POLICY BEFORE BOOKING.


TOURING ON A MONDAY or TUESDAY?
This Post Cruise Countryside Splendor Tour is NOT offered on Mondays or Tuesdays as Banditaccia Necropolis in Cerveteri is closed on these days.
PAYMENT OPTIONS
Payment for this Tour can be made in EUROS directly to your driver on the Date of Tour, or prepaid in advance via PayPal or Credit Card online upon request. (See Cancellation policy below)
CANCELLATION POLICY
We kindly ask that cancellations be made via E-mail at least 7 days prior to Date of Service.
Cancellations are accepted only via E-mail so your cancellation is on record. We do not accept cancellations by phone, text message, or 3rd parties.
** Cancelations for PREPAID SERVICES will be refunded the Reduced Net Rate we receive from your prepayment. Reduced Net Rate: actual service price minus PayPal/Credit Card fees retained by PayPal/Credit Card as they do not reimburse us the fees they retain from your payment.
ADMISSION TICKETS:


* Bracciano Castle - currently approximately 10 Euros per person. Tickets can be purchased upon arriving at the site.
* Please note that Bracciano Castle may unexpectedly close for private events or internal reasons. If it's closed upon your arrival, your driver can take you to explore alternative lakeside villages like Trevignano or Anguillara after your visit to the village of Bracciano.


* Cerveteri Banditaccia Etruscan Necropolis - currently approximately 10 Euros per person. Tickets can be purchased upon arriving at the site.
* Admission Ticket prices are subject to change without advance notice.
PRIVATE GUIDED TOUR OPTIONS


* PRIVATE TOUR OF BRACCIANO CASTLE:
Bracciano Castle offers private tours in English with advance reservations at 180 Euros including tickets. Please inform us in advance if you wish to reserve a private guide for your visit to the castle. Private Tours of Bracciano Castle require Non-Refundable prepayment as Bracciano Castle does not issue refunds for cancellations.


Otherwise, you will Self Tour inside the castle.
If you wish to Self Tour the Castle, please READ this: Odescalchi Castle in Bracciano: TOURING TIPS

* PRIVATE TOUR OF THE ETRUSCAN NECROPOLIS:
You can reserve a private licensed tour guide for an informative walking tour inside the necropolis. Please inquire within for more information and tour guide fees. Tour guides do not work for us.
Otherwise, without a licensed tour guide, you will SELF TOUR the castle and the necropolis on your own.
LUNCH IN CERI
Lunch will be enjoyed at a local restaurant in Ceri (there are only 2 family-owned restaurants in Ceri). Ceri is famous for local home-cooked cuisine at reasonable prices that draw Italians and visitors from all over the region. There are no sandwiches or sliced ​​pizza anywhere in the hamlet or its environs.
YOUR PRIVATE TOUR DRIVER
This tour includes an English-speaking Private Driver who is not a Licensed Tour Guide.
Italy's strict laws prohibit Drivers from guiding or accompanying guests away from the vehicle. Your driver will be obliged to remain with the vehicle while you visit sites on your own.
For your enjoyment of significant sites such as Bracciano Castle and Cerveteri Etruscan Necropolis, we recommend reserving private licensed Tour Guides for informative private guided tours.


LUGGAGE
Sedans priced for 1-2 passengers can accommodate up to 2 standard suitcases and up to 2 small carryons.
Minivans for up to 8 passengers can accommodate up to 6 suitcases and up to 6 carry-ons in TOTAL. If you anticipate bringing luggage in excess of what the standard 8-seater vans can accommodate, please inform us prior to booking this service so we can help ensure that everyone and their luggage will travel safely inside the vehicle.
DRIVER MEETING POINT AT CIVITAVECCHIA CRUISE PORT
For tours from Civitavecchia Port, your private driver will meet you on the Pier next to your Ship at your scheduled pick-up time holding a sign with the NAME in your reservation.

Please do NOT leave the ship area, and do NOT take a shuttle bus outside the port.

Look for the driver in the same area as ALL private drivers will be waiting for their clients.
TIPS FOR COUNTRYSIDE SPLENDOR TOUR


This countryside tour is created for connoisseur travelers with a keen interest in Italian culture, ancient history, nature, architecture, and Italian cuisine (slow food). This tour may not be suitable for travelers seeking tourist attractions, fast-paced activities, or fast food eateries.
Please wear comfortable clothing and walking shoes on this tour.
You will be walking on uneven terrain inside the necropolis and will be required to climb stairs inside the Odescalchi Castle in Bracciano in order to access upper levels.
Many tombs inside the Etruscan Necropolis require climbing stairs in order to access the interior of tombs.
This tour may NOT be suitable for some visitors with mobility issues. Guests who are unable to climb stairs or walk extensively can enjoy the lower levels of the Castle and see tombs in the necropolis that are closer to the entrance on more even terrain.
There are many opportunities to take photographs and videos on this tour, so be sure to bring your cameras with you!
During the hot and sunny months please use sunscreen, sunglasses, and a summer hat.
Lunch will be in Ceri at a local family-owned restaurant (your driver can offer suggestions). Ceri is renowned for delicious home-cooked cuisine at reasonable prices that draws Italians and visitors from all over the region. There are no sandwiches or sliced ​​pizza anywhere in this hamlet or its environs.
LEARN MORE: