description

Tuscany is one of the most charismatic and inspiring regions in Italy, welcoming visitors with idyllic landscapes, superb art, and world-famous Tuscan wines and cuisine created from the fruits of the fertile earth. We make day tours from Rome to Tuscany easy, exciting, and comfortable.
Our Valley of Paradise Tour of Tuscany from Rome was born from inspiration drawn from the most breathtaking and evocative places in Italy: Valley of Orcia (Val d'Orcia) located in the heart of southern Tuscany, and rightfully listed as a UNESCO World Cultural Landscape. In the midst of this picture-perfect Tuscan landscape, you have the opportunity to visit some of Tuscany's most superb towns and villages.
VALLEY OF PARADISE TUSCANY TOUR FROM ROME PRICE LIST


For up to 4 Persons from Rome Hotel: 500 EUROS
For up to 6 Persons from Rome Hotel: 550 EUROS
For up to 8 Persons from Rome Hotel: 600 EUROS


** You may also do a QUICK PRICE CHECK using the Price Check & Booking Form on the Right Side of this page. Once you receive the PRICE QUOTE based on the information you input, you may proceed to SUBMIT your Tour Request.
*** Dates on the Booking Form Calendar that are NOT Selectable, are NOT AVAILABLE.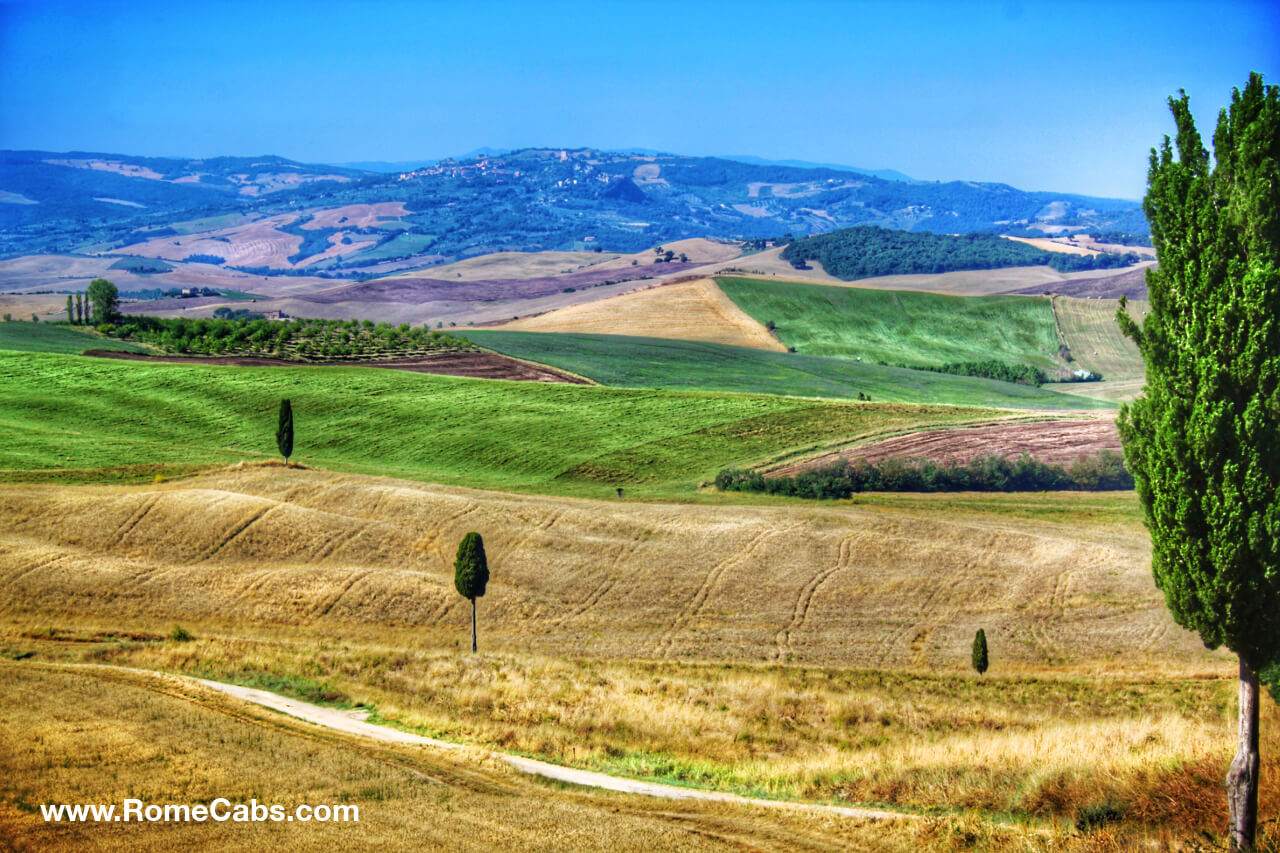 VALLEY OF ORCIA (VAL D'ORCIA)

The beguiling Valley of Orcia (Val d'Orcia in Italian) in southern Tuscany is an iconic landscape reworked since the Renaissance era to reflect the ideals of good governance and to create aesthetically pleasing vistas revered by painters and artists throughout the centuries from the Renaissance era to modern times.
Val d'Orcia is among the most photographed and filmed valleys in Tuscany, having also served as the scene of the "Elysian Fields" (an ancient pagan expression for Paradise) in the blockbuster film The Gladiator when the main character, Maximus, famously glided his hand through the ripe golden wheat field.
You too can view this idyll location on this tour (either close up for the adventurous and fit or admired from a hilltop town nearby). Once you see this mesmerizing valley of paradise for yourself you will agree with the sentiment.

Val d'Orcia is a natural landscape of gentle rolling hills and valleys that create a perfect alchemy of postcard-perfect panoramas, pristine medieval villages, characteristic cypress trees, and a collage of delicate hues that transform with the seasons giving this valley a different look throughout the year.
In the spring months, the valleys boast a vibrant velvety emerald green that turns golden in the summer months when the wheatfields ripen and the meadow grasses dry under the Tuscan sun.
In the late summer and early fall following harvest, the fields are tilled and the valleys turn a stunning burnt umber that lends the landscape a near lunar appearance punctuated by evergreen cypress trees and lush farmhouse oases. In the autumn months, the grapes are harvested and vineyards turn golden red.
In the winter the gentle slopes are cloaked in soft green blankets as it waits for warmer spring months to flourish once again. Val d'Orcia will captivate and amaze you with its changing appearance any time of the year!
On this private Tuscany tour from Rome or from Florence, you will have the opportunity to see and admire windy country roads lined with cypress trees, undulating soft hills punctuated by charismatic farmhouses, and charming chapels near and far. Savor the local flavors and visit splendid some of the Medieval towns that have graced this slice of paradise for centuries: Monticchiello, Pienza, and Montalcino.
MONTICCHIELLO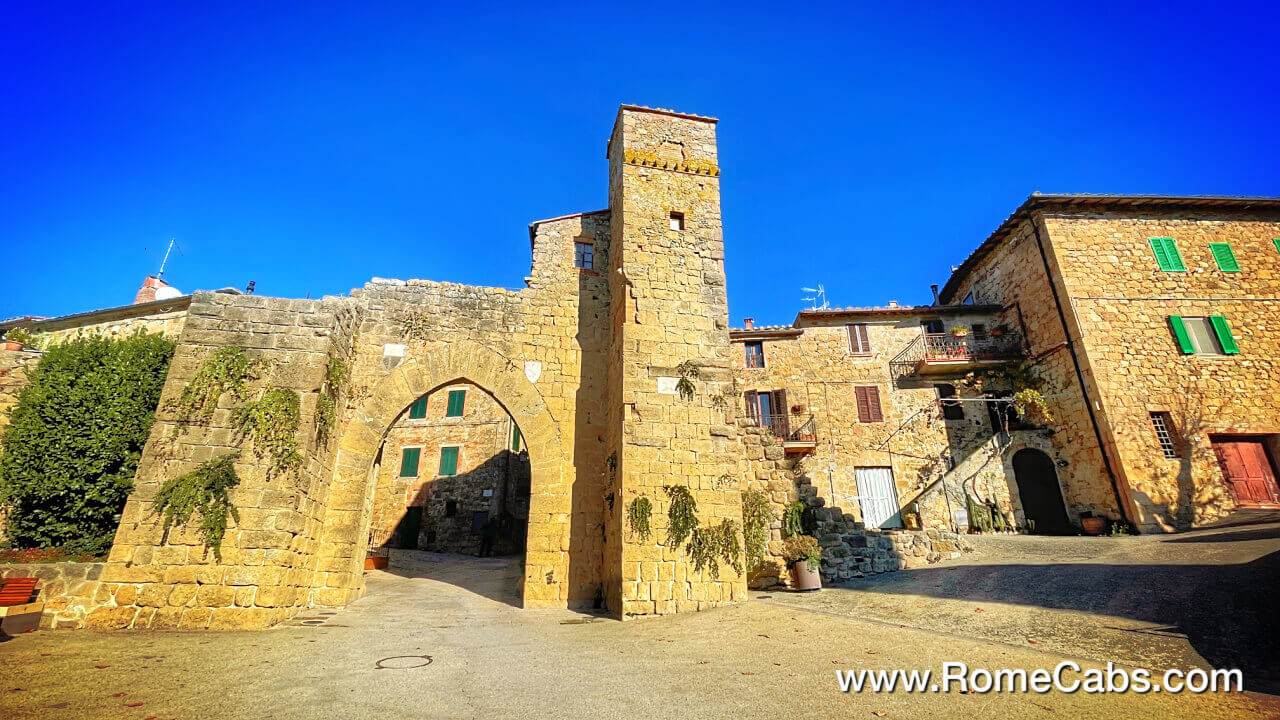 Along picturesque windy roads that offer opportunities to admire the splendor of Valley of Orcia, you will reach Monticchiello, an ancient fortified hamlet that rises atop a hill and is surrounded by photo-perfect scenery with a glimpse of Pienza majestically dominating the valley in the distance.
Monticchiello traces its mysterious origins to Roman times from when it acquired its ancient name Mons Cloelli; its current name first appears in a 10th-century document. Although from a distance Montichiello appears to be a small fortress crowning the hill, once you enter the quiet village through its main gate Porta Sant'Agata, you will discover how surprisingly airy the village is, as opposed to the usual narrow spaces and streets that define most medieval villages.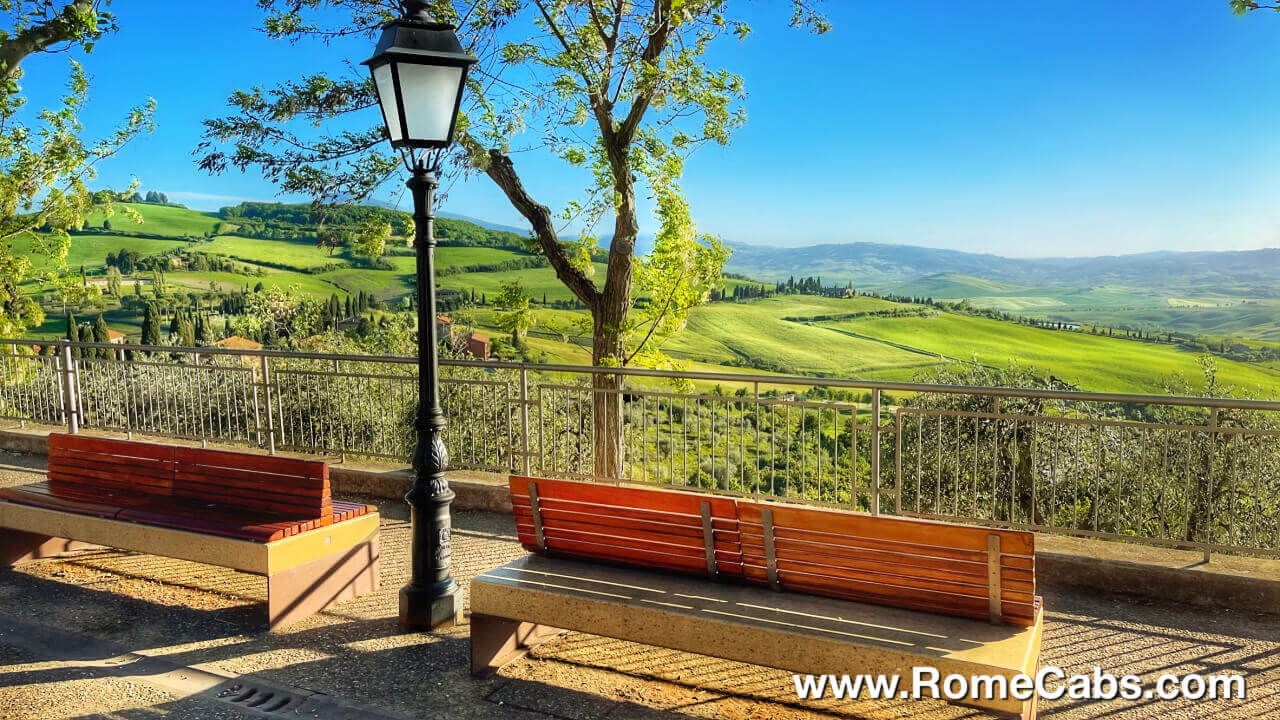 A brief visit is all that is required in this tiny sleepy hamlet, a well-hidden jewel in the heart of Tuscany peacefully nestled in a little corner in the valley of paradise.
Not to be missed hidden nearby is a perfect view of the famous and often elusive "windy road of Monticchiello" that graces postcards everywhere and is an iconic representation of Tuscany in films.
PIENZA


Pienza is another hilltop town with an advantageous view of the sprawling Valley of Orcia.
Initially, Pienza was a Medieval town known as Corsignano when local Enea Silvio Piccolomini became a leading humanist before being elected as Pope Pius II in 1458. As pope, Pius II planned to develop Corsignano as his summer court applying Renaissance Humanist concept of urban design and was instrumental in the town's revival and reconstruction transforming it into an Italian Renaissance utopia that inspired cities across Italy and Europe. Corsignano was then renamed Pienza in honor of its homegrown Pope Pius II. The historic center of Pienza is also declared a UNESCO World Heritage Site.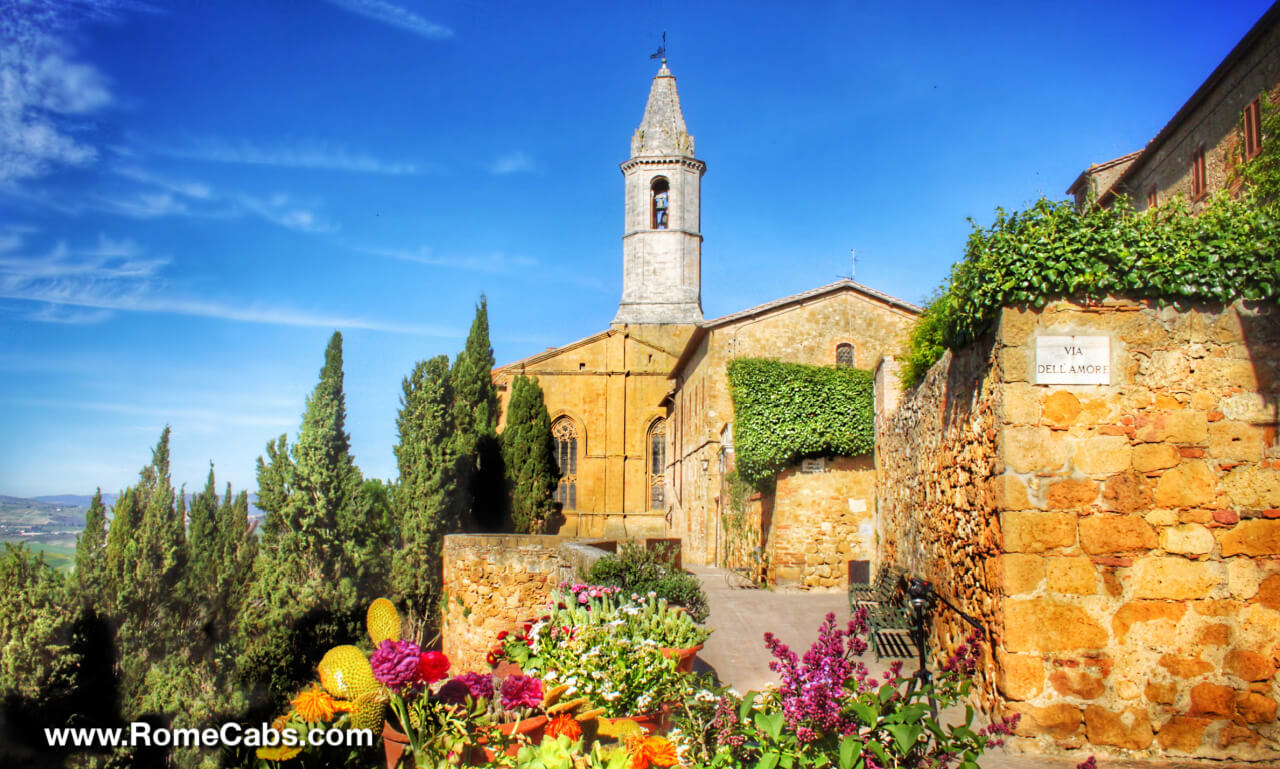 With beautiful Renaissance architecture, stunning views of Val d'Orcia from walled terraces, and charming lanes with names such as Via del Amore and Via del Bacio (Love Street and Kiss Street ), it's no wonder the tiny town of Pienza is one of the most enchanting and romantic towns in Tuscany. Enjoy free time to stroll through Pienza's pedestrian-friendly streets, and see for yourself why this cozy town is an ideal retreat from large bustling cities like Rome or Florence.
Another of Pienza's claims to fame is its famous Pecorino of Pienza, a delicious locally crafted cheese made from the milk of sheep that freely graze in the valley below. Famous worldwide as one of the best cheeses in Italy, you will have the opportunity to sample and purchase some of these delectable cheeses in many of the shops in Pienza.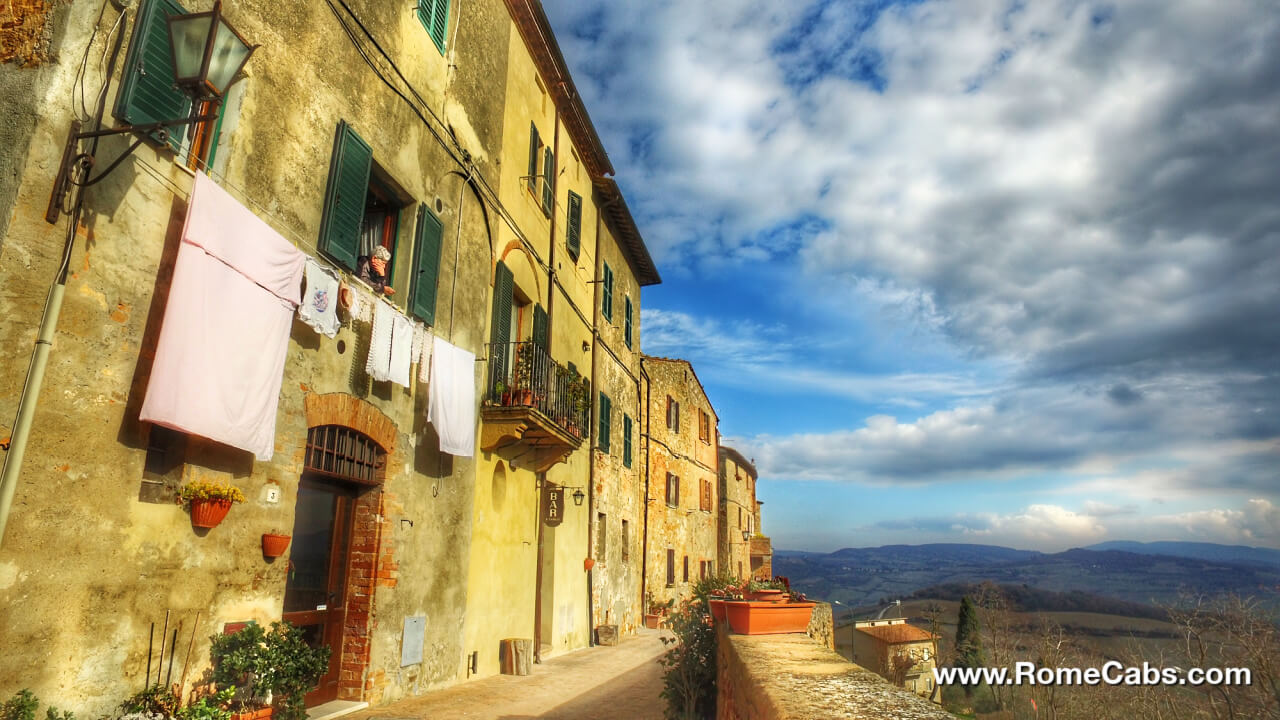 Here you will also have the opportunity to enjoy lunch at any of the local trattorias. Food in Tuscany is a local pride well embedded into local traditions, you cannot go wrong with any eatery in town (or in any town you will visit on this tour for that matter!)
Through the bucolic landscape of Tuscany, you will enjoy a relaxing drive past idyllic Medieval-style farmhouses, charming cypress trees, silvery green olive orchards, and patches of perfect vineyards until you reach Montalcino.
MONTALCINO


Montalcino is one of the most treasured hilltop towns in Tuscany that from its elevated position offers a splendid view of the valleys that stretch far into the horizons.
Its fascinating long history reaches as far back as the mysterious yet powerful pre-Roman civilization, the Etruscans, who ruled the region for centuries before being overtaken by the Romans. Montalcino's ancient name, Monte Ilcinus, draws from the oak trees that once covered the area's terrain. The first written documents referring to its modern name "Montalcino" appeared in the early 9th century.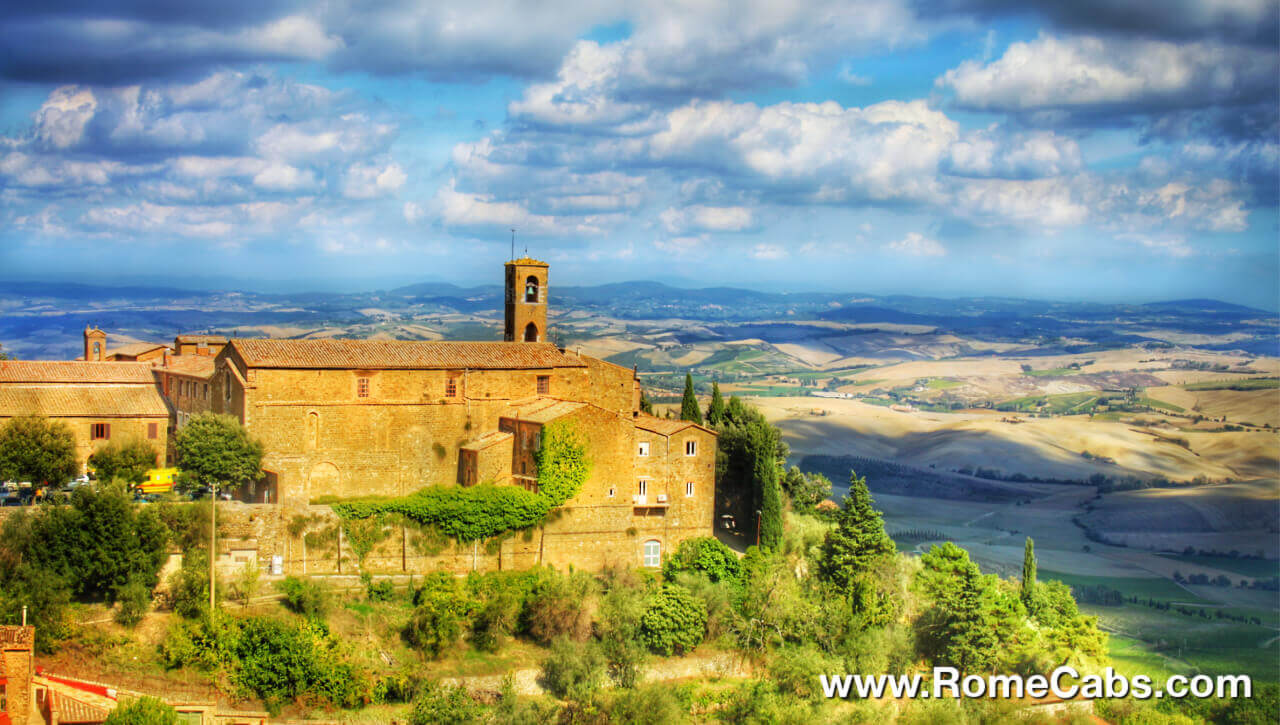 In the present time, Montalcino is famous for another well-known plant that grows within its region: the Brunello grapevine (also called the Sangiovese Grosso) that produces the distinguished local wine Brunello di Montalcino whose esteemed formula was created by Ferruccio Biondi Santi during the late 1800s. Brunello was also the first wine to be granted the coveted Italian DOCG status ( Denominazione di Origine Controllata e Garantita ).
Montalcino attracts visitors not only for its fine wine but also for its historic, artistic, and architectural treasures. The hilltop town is crowned by an imposing fortress that was built when Montalcino came under the influence of Siena during the 1300s.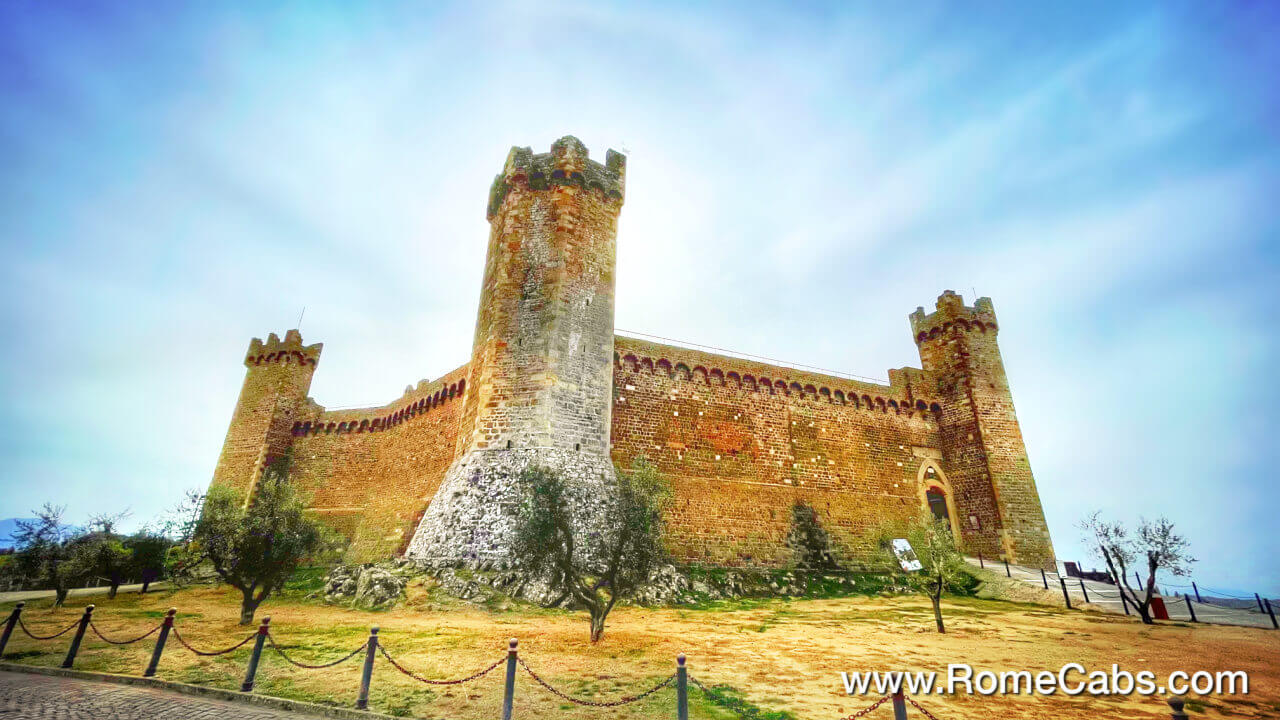 The characteristic streets are lined with shops and boutiques that sell local crafts and products, charming cafes, and wine shops (enoteche) where you have free time on your own to enjoy the opportunity to window shop, and sample or purchase some of the delicious Brunello di Montalcino.
Afterward, you will relax on another scenic drive through Tuscany on your way to your hotel in Rome or in Florence, committing to memory every delightful moment of your Tuscany tour through the Valley of Paradise.
Once you experience Val d'Orcia and its enchanting villages, you will remain so deeply impressed by the wonderous beauty of this region that you will soon realize you must return to Tuscany again!
Thank you for booking choosing Stefano's RomeCabs for your Tuscany Tours from Rome or Florence. We look forward to showing you beautiful places in Italy!
* If you will be booking the Valley of Paradise Tuscany Tour from Florence, the order of towns you visit will change.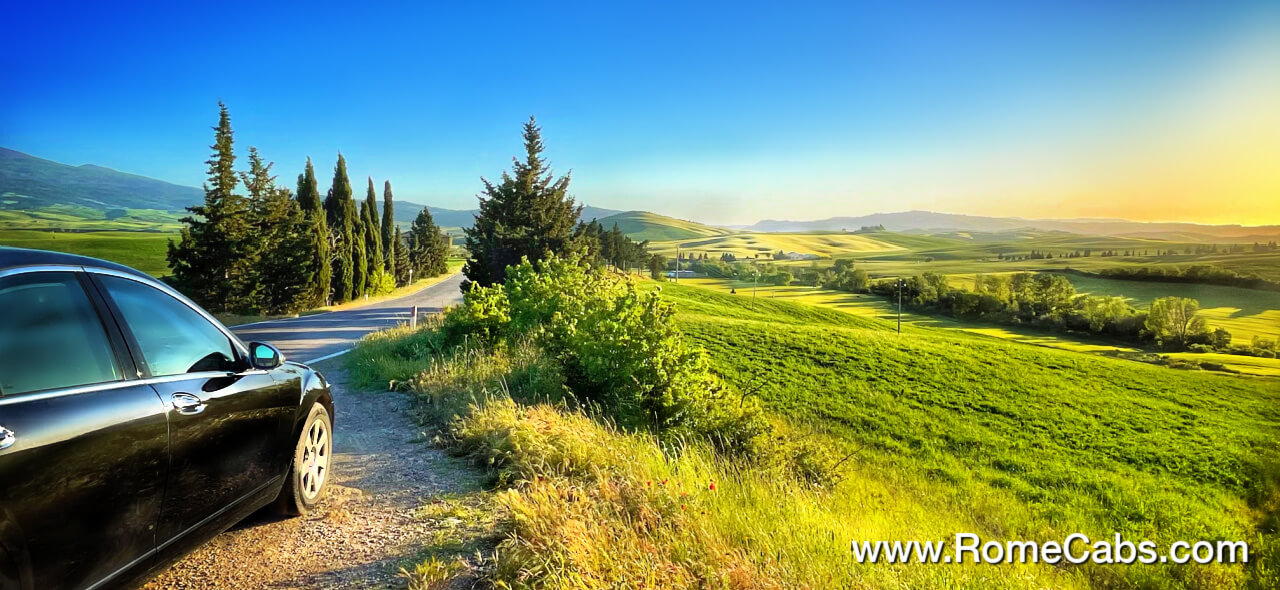 Thank you for booking our Valley of Paradise Tuscany Tour, and for choosing Stefano's RomeCabs for your Private Rome tours and Transfers.
Our guests who booked this Valley of Paradise Tuscany Tour by car also enjoyed the following popular tours and received MULTIPLE TOUR DISCOUNTS on their Day Tours from Rome or Shore Excursions from Italy's Cruise Ports. Contact us for current Special Offers on Multiple Day Tours or Italy Shore Excursions.

* COUNTRYSIDE SPLENDOR (one of the most popular Rome Countryside Tours)
* ROME IN A DAY WITH VATICAN GUIDE (explore the best of Rome tour, with a Vatican guided tour included)
* POMPEII, SORRENTO AND AMALFI COAST (experience the best of southern Italy's Amalfi Coast region)
Important Information
PLEASE READ THE INFORMATION BELOW AND ACCEPT THE TERMS OF SERVICE AND PRIVACY POLICY BEFORE BOOKING.



PAYMENT OPTIONS
Payment for this Valley of Paradise Tour can be made in EUROS directly to your driver on the Date of Tour, or prepaid in advance via PayPal or Credit Card online upon request. (See Cancellation policy below)
CANCELLATION POLICY
We kindly ask that cancellations be made via E-mail at least 7 days prior to Date of Service.
Cancellations are accepted only via E-mail so your cancellation is on record. We do not accept cancellations by phone, text message, or 3rd parties.
** Cancelations for PREPAID SERVICES will be refunded the Reduced Net Rate we receive from your prepayment. Reduced Net Rate: actual service price minus PayPal/Credit Card fees retained by PayPal/Credit Card as they do not reimburse us the fees they retain from your payment.
YOUR PRIVATE TOUR DRIVER
This Valley of Paradise Tuscany Tour by car provides an English-speaking Private Driver who is not a Licensed Tour Guide or sommelier.
Italy's laws prevent Drivers from acting as guides and accompanying guests away from the vehicle to sightsee. Only licensed tour guides are lawfully authorized to accompany guests to sightsee on foot. Drivers can provide basic touristic information while at the vehicle, but drivers are obliged to remain with the vehicle while guests sightsee on foot.
On this Tuscany tour, you will SELF TOUR on your own while you visit the towns.


MEETING POINT TO MEET YOUR DRIVER


At HOTEL / ACCOMMODATION:
For Tuscany tours from Rome, your private driver will meet you inside the lobby of your hotel or in areas permitted by your hotel.

For Apartments or B&Bs without a lobby, your driver will meet you outside the main entrance of your Pick Up Address.

* If your hotel or accommodation in Rome is on a street or in an area restricted to vehicle traffic, your driver will park as close as lawfully possible and meet you on foot at your Address, and accompany you to your parked vehicle.
HELPFUL TIPS for Tuscany Tours:
Wear comfortable and season-appropriate shoes and clothing.
Bring your cameras as you will discover so many picturesque places you will want to remember in your photos and videos
In the summer months wear sunblock and bring sunglasses for the time you will spend outdoors