description
This select Rome in A Day Tour with Vatican Guide is offered both as a Day Tour from Rome, and Shore Excursion from Civitavecchia.
Our carefully crafted Rome luxury tour offers you the opportunity to explore Rome's awe-inspiring ancient monuments, revered churches, splendid squares and the enthralling Vatican with your personal licensed Tour Guide and enjoy an informative private guided tour of the opulent Vatican Museums, and sacred Sistine Chapel and majestic St Peter's Basilica that is on everyone's "must see" list.
Experience the best of Rome as your English speaking Private Driver introduces you to Rome's captivating history, rich culture, delicious flavors, and hidden secrets that are waiting for you to enjoy. Journey through Rome in the comfort and safety of your private elegant Mercedes vehicle, and enjoy a higher level of personal attention and flexibility on our luxury private Rome tours by car.
* This tour follows the same itinerary as the original Rome in A Day Tour that is offered with only an English Speaking Driver (without Vatican Guide included).
ROME IN A DAY WITH VATICAN GUIDE PRICE LIST


For Tour from your Rome Hotel:
For up to 2 Persons from Rome Hotel: 530 EUROS
For up to 4 Persons from Rome Hotel: 550 EUROS
For up to 6 Persons from Rome Hotel: 580 EUROS
For up to 8 Persons from Rome Hotel: 630 EUROS


For Shore Excursion from Civitavecchia:
For up to 2 Persons from Civitavecchia Port: 670 EUROS
For up to 4 Persons from Civitavecchia Port: 720 EUROS
For up to 6 Persons from Civitavecchia Port: 790 EUROS
For up to 8 Persons from Civitavecchia Port: 900 EUROS
** You may also do a QUICK PRICE CHECK using the Price Check & Booking form on the Right Side of this page. Once you receive the PRICE QUOTE based on the information you input, you may proceed to SUBMIT your Tour Request.
*** Dates on the Booking Form Calendar that are NOT Selectable, are NOT AVAILABLE.

Enjoy a preview of the the sublime locations in our Rome in A Day with Vatican Guide Tour VIDEO:


GRAND MONUMENTS OF ANCIENT ROME

On this popular Rome in a Day Tour, you will have the opportunity to see from outside the Colosseum - Ancient Rome's magnificent amphitheater, a picturesque sweeping view of the Roman Forum from a strategic terrace on Capitoline Hill.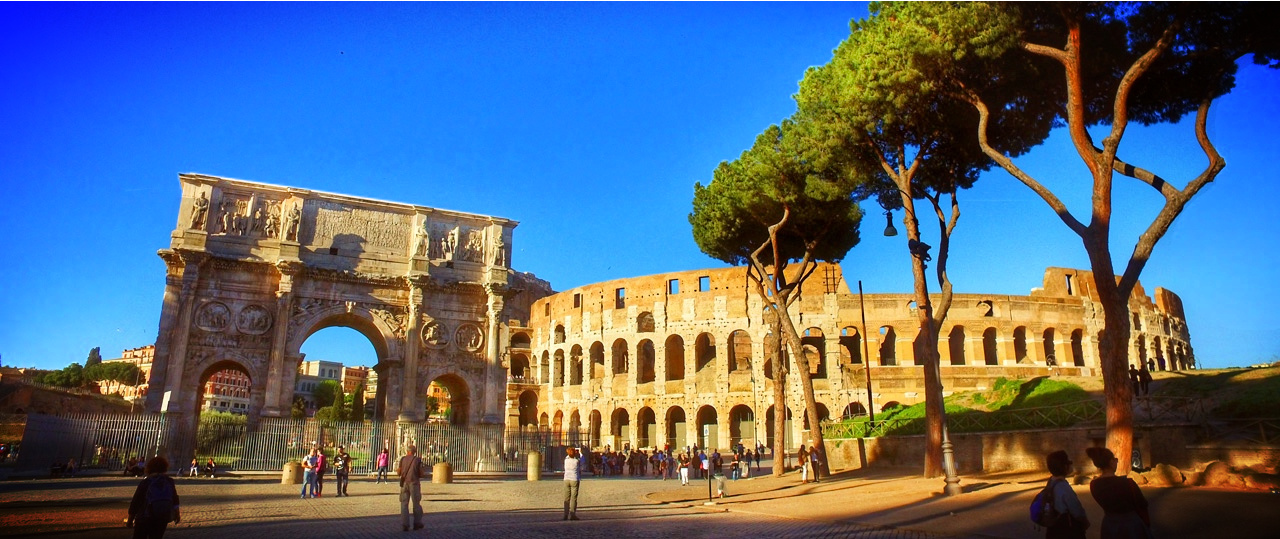 You will stop to see the remains of Circus Maximus, the largest chariot race arena in Ancient Rome with a stunning backdrop of Palatine Hill with massive ruins of once opulent imperial villas overlooking Circus Maximus.
Another Ancient Roman wonder that's not to be missed on any tour of Rome, is the imposing rotund Pantheon that was once a pagan temple dedicated to all gods and then converted into a Christian church in the middle ages.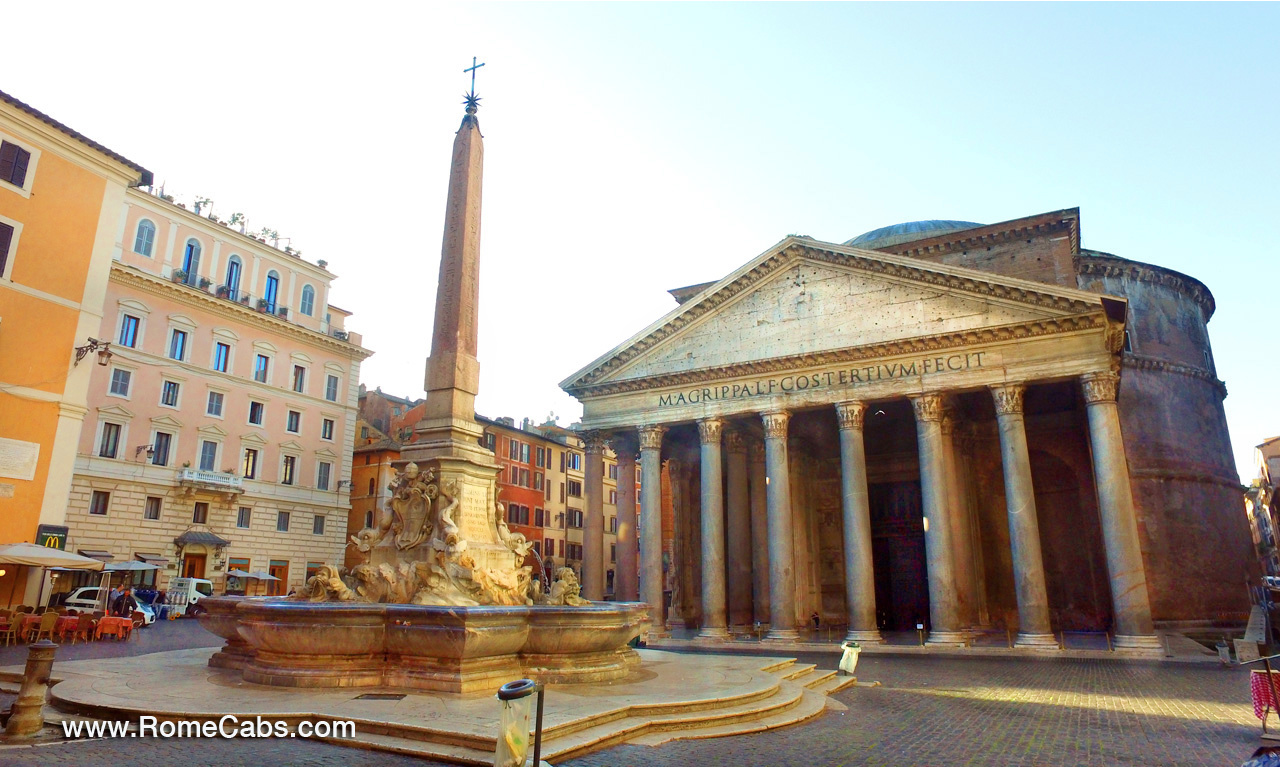 Inside, be sure to look up at the impressive giant coffered dome with a circular opening at the top (the oculus) that is the only source of natural light inside this ancient and beautifully preserved monument.
VISIT ROME'S FAMOUS SQUARES

Your Rome tour from Civitavecchia continues with a visit to Rome's most famous squares: Piazza Navona, The Spanish Steps and Trevi Fountain.
The Spanish Steps is one of the most recognized landmarks in Rome with its elegant stairway that unfurls to connects the Trinita dei Monti Church and obelisk on top with Pietro Bernini's Fountain of the Old Boat in the square below.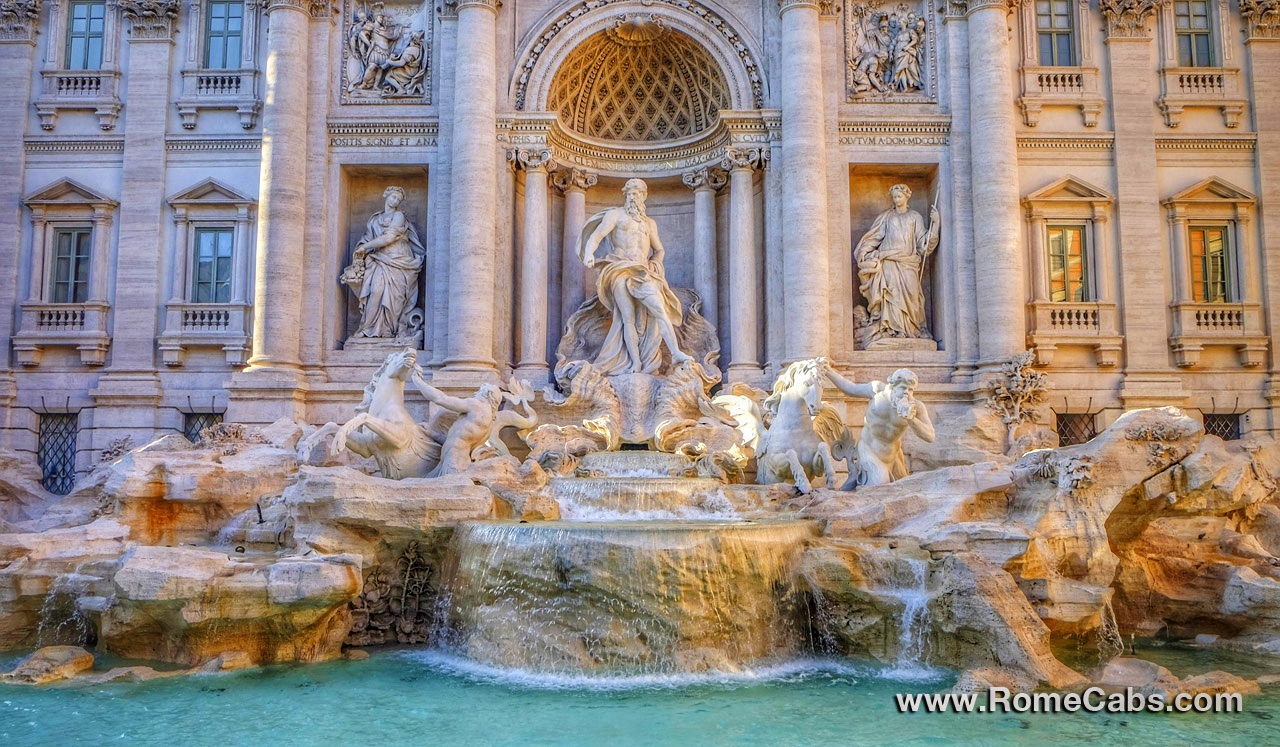 Not to be missed is the Trevi Fountain, world's most famous Baroque fountain frequently featured in notable and classic films. You will be delighted by the symphony of fountains gushing water from one of the ancient Roman aqueducts into the spacious pool of water adorned with dramatic travertine sculptures of Oceanus standing on his chariot pulled by two seahorses lead by two Tritons.
Be sure to follow tradition and toss a coin into this remarkable fountain to ensure future returns to the Eternal City. Tossing a coin in the Trevi Fountain is something everyone on Rome tours look forward to!
VATICAN TOUR WITH PRIVATE TOUR GUIDE


No tour of Rome is complete without a private Vatican Tour with a personal tour guide!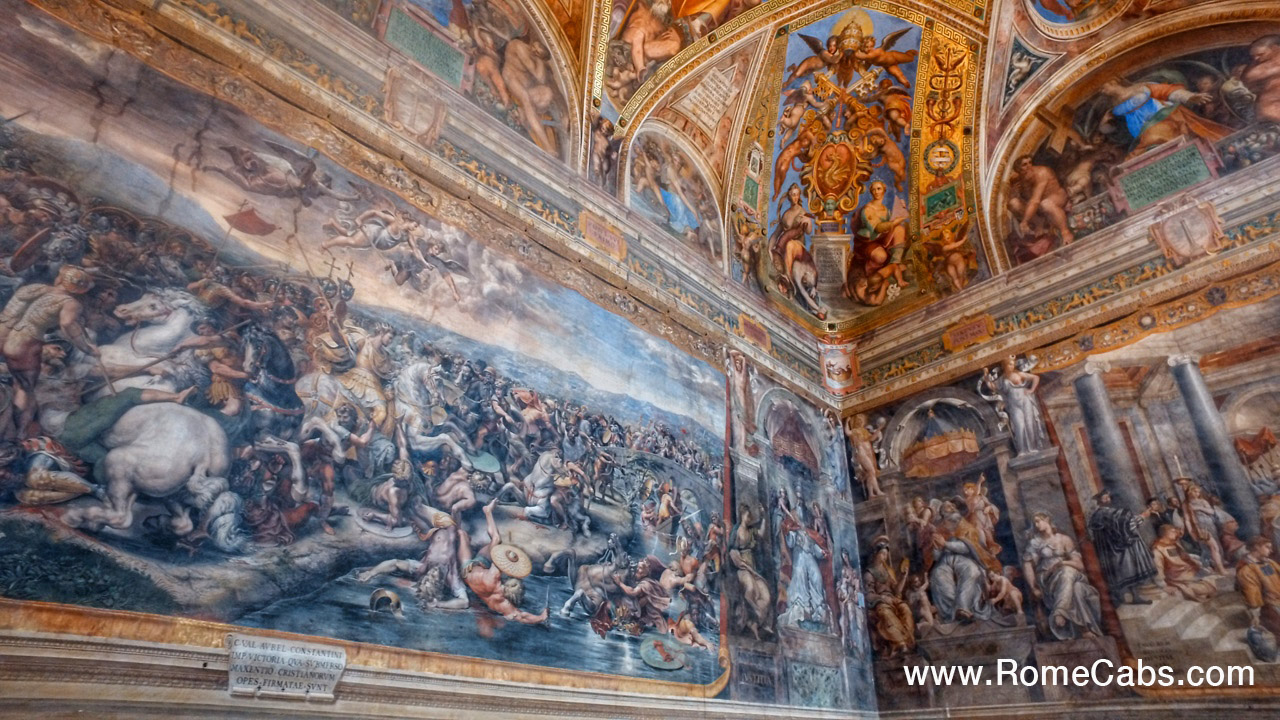 After a delicious lunch at a local restaurant or trattoria of your choice (your driver will be happy to offer you suggestions based on what our previous clients have enjoyed), you will be driven to the Vatican Museums where you will be met by your Licensed Tour Guide to begin your afternoon 2 Hour highlights tour of the Vatican Museums, Sistine Chapel and St Peter's Basilica.
As you private guide takes you through the labyrinth of opulent halls and galleries brimming with masterpieces from the Classical to more recent eras sharing their in depth knowledge of art and history, you will arrive face to face with Michelangelo's spellbinding masterpieces inside the sacred Sistine Chapel.
From there, your private guide will take you through a designated entrace for Guided Visitors only to quickly access St Peter's Basilica where your guided tour of the Vatican will continue inside the greatest church in Christendom.
Scroll down for Travel Tips visiting the Vatican and other interesting information from our Travel Blog.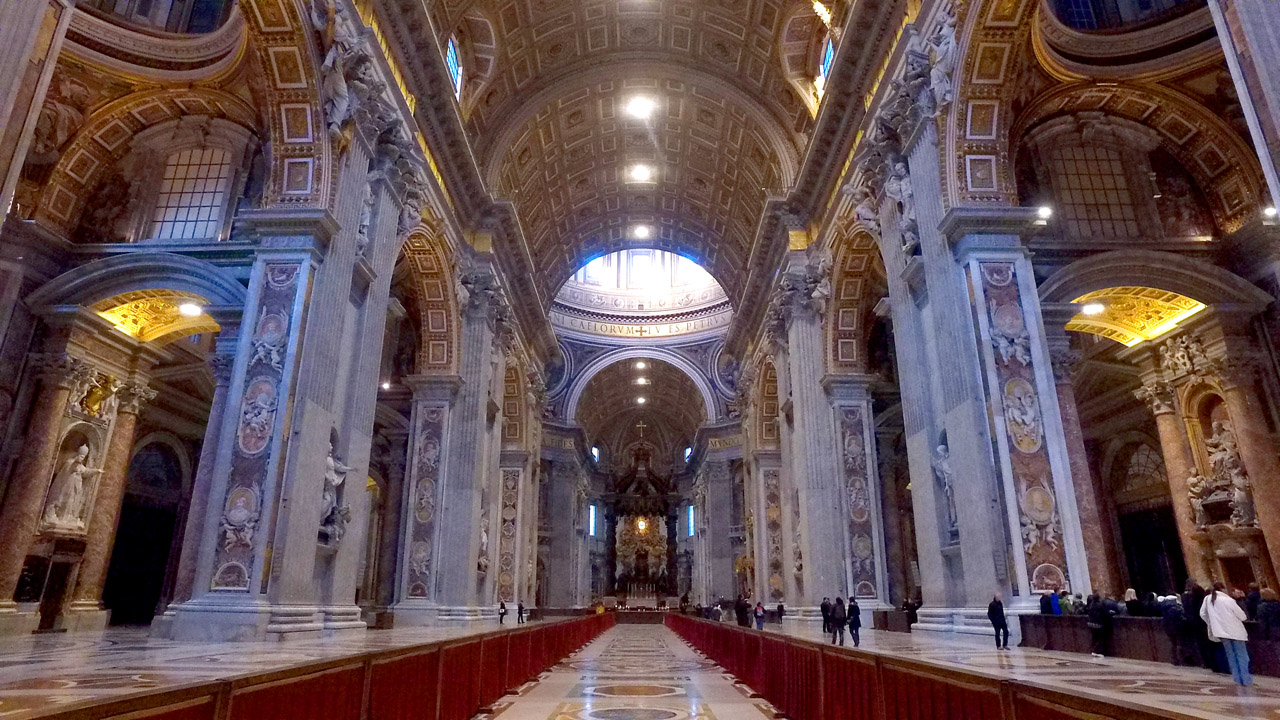 This marks the completion of your private Rome in A Day tour or shore excursion of Rome. From the Vatican, your driver will take you back to your hotel in Rome or Cruise Port in Civitavecchia.

Our guests who booked this Countryside Splendor Tour also enjoyed the following popular tours and received MULTIPLE TOUR DISCOUNTS on their Day Tours from Rome or Shore Excursions from Italy's Cruise Ports. Contact us for current Special Offers on Multiple Day Tours or Italy Shore Excursions.


Important Information

PLEASE READ THE INFORMATION BELOW AND ACCEPT THE TERMS OF SERVICE AND PRIVACY POLICY BEFORE BOOKING.


PAYMENT OPTIONS


Payment for our Rome in A Day with Vatican Guide Tour can be made in EUROS directly to your driver on the Date of Tour, or prepaid in advance via PayPal or Credit Card online when you confirm your Tour.
If you wish to PREPAY you may do so online when CONFIRMING your BOOKING by SELECTING your preferred option of payment.
CANCELLATION POLICY:
Cancellations for REFUND of this Rome in A Day with Vatican Guide Tour must be made at least 7 DAYS of Date of Service in writing via E-Mail and confirmed by our company on record. We do NOT accept cancellations by Phone, Text, or 3rd Parties such as hotel or ship concierge. Cancellations are accepted via Email by the person who booked and paid for the tour.
Cancellations made LESS than 7 Days of the Date of Service CANNOT BE REFUNDED (with the exception of a cruise ship itinerary change).
Please be sure to carry traveler's insurance to cover unforeseen trip expenses for which refunds are not possible.
When booking this tour, you agree and adhere to this Cancellation policy.
YOUR ROME IN A DAY TOUR DRIVER
Your personal English speaking Driver is NOT a licensed tour guide.
Your driver will be happy to offer basic / general touristic information about places you see and visit during your tour while inside the vehicle, but is obliged by law to remain with the vehicle while guests sightsee on foot away from the vehicle. Your driver will remain with the vehicle while you self tour the monuments and squares prior to your Vatican visit.
If you are pleased with the service you receive from your Driver, Gratuities of 10-15% are customary in Italy and greatly appreciated (* gratuities not mandatory).
ADMISSION TICKETS
Admission Tickets to Vatican Museums are currently 21 EUROS ** PER PERSON
** Admission ticket prices are subject to change up or down without notice.
Upon confirming the tour, you will be provided with LINKS and INSTRUCTIONS to purchase your Vatican Museum Tickets in advance online via Vatican website. You will be required to bring your Ticket VOUCHERS with you so they can be converted into actual tickets on site.
These tickets are NON-REFUNDABLE once purchased as the Vatican does NOT issue refunds on purchased tickets of any kind.


LICENSED TOUR GUIDE FOR VATICAN VISIT:
Our tour guide associates are independent professionally licensed tour guides reserved from My Rome Guides agency. These expert guides work extensively with tour operators on limited day tour schedules to ensure that you will enjoy the most important works of art and make the most of your 2 hours at the Vatican, and arrive to meet your driver on time at the completion of the tour.
We do NOT accept any responsibility or liability for style of tour that the professional Tour Guides conduct as part of their informative walking tours of the Vatican as they are NOT employed by our company. By booking this tour you accept this condition with no exception.

MEETING POINTS TO MEET YOUR DRIVER


At ROME HOTEL / ACCOMMODATION:
Your driver will meet you inside the lobby of your hotel or in areas permitted by hotels.

For Apartments or B&B's without a lobby, your driver will meet you outside the main entrance of your Pick Up Address.

* If your hotel or accommodation is on a street or in an area restricted to vehicle traffic, your driver will park as close as lawfully possible and meet you on foot at your Address, and accompany you to your parked vehicle.

MEETING POINT AT CIVITAVECCHIA CRUISE PORT
For shore excursions from Civitavechia, your driver will meet you on the Pier next to your Ship at your scheduled pick up time holding a sign with the NAME in your reservation.

Please do NOT leave the ship area, and do NOT take a shuttle bus outside the port.

Look for the driver in the same area as ALL private drivers will be waiting for their clients.

VISITS INSIDE THE COLOSSEUM (Optional upon special request)

This Rome in A Day tour as offered does NOT include a visit inside the Colosseum. The Colosseum is enjoyed viewed from the outside from Colosseum Square to allow for opportunities to enjoy MORE of Rome's must see locations at your leisure.
However, if you prefer to visit inside the Colosseum, you would be required to purchase your own Colosseum Tickets online. Please let us know this preference so we include it in your reservation and provide you with LINKS to purchase your Colosseum Tickets online.

IMPORTANT COLOSSEUM VISIT ADVISORY:


Colosseum Tickets require a specific Time Slot for visits.
Colosseum Tickets tend to frequently SELL OUT during peak travel season, even far in advance.
Colosseum Tickets are NON-Refundable once purchased
The Colosseum has security checkpoints for ALL visitors that may result in Potentially LONG SECURITY LINES and unpredictably LONG WAIT TIMES.
The Colosseum is extremely crowded, and for safety and security visitors are capped at 3,000. Unfortunately there have been occasions that even Ticket Holders with specific time slots had to wait longer than expected when the Colosseum reached its peak number of visitors.
Do not bring large bags, backpacks or sharp metal objects inside the Colosseum as large bags may not be permitted to enter the monument.
It's advisable to bring with you a bottle of water, sunscreen and hat in the summer as it can be quite hot and sunny inside the Colosseum.
ROME and ITALY TRAVEL TIPS FROM OUR BLOG: