description
Our Wine Tasting Tour to Umbria and Tuscany will take you to the very popular Orvieto in Umbria, and to the picturesque Montepulciano in the heart of Tuscany where you will have the opportunity to experience the unique and distinctive flavors of both regions.
Wine connoisseurs will delight in the opportunities to sample locally produced wines at various wine shops available in both towns. Orvieto is famous for its white dry wine, and Montepulciano for its red.
WINE TASTING TOUR TO UMBRIA AND TUSCANY PRICE LIST


For up to 4 persons from Rome Hotel 500 EUROS
For up to 6 persons from Rome Hotel 550 EUROS
For up to 8 persons from Rome Hotel 600 EUROS
** You may also do a QUICK PRICE CHECK using the Price Check & Booking form on the Right Side of this page. Once you receive the PRICE QUOTE based on the information you input, you may proceed to SUBMIT your Tour Request.
*** Dates on the Booking Form Calendar that are NOT Selectable, are NOT AVAILABLE.
ORVIETO in Umbria

Orvieto is one of Italy's most fascinating towns with historic buildings and walls majestically rising out of a steep tuffa butte overlooking bucolic hills and valleys.
If you can imagine, once upon a time Orvieto was named "Urbus Vetus" by the ancient Etruscans who once populated this once major center some 2,500 years ago before being conquered by the Romans. Vestiges of this once-great civilization still exist in museums and in the Etruscan Necropolis at the base of the cliff.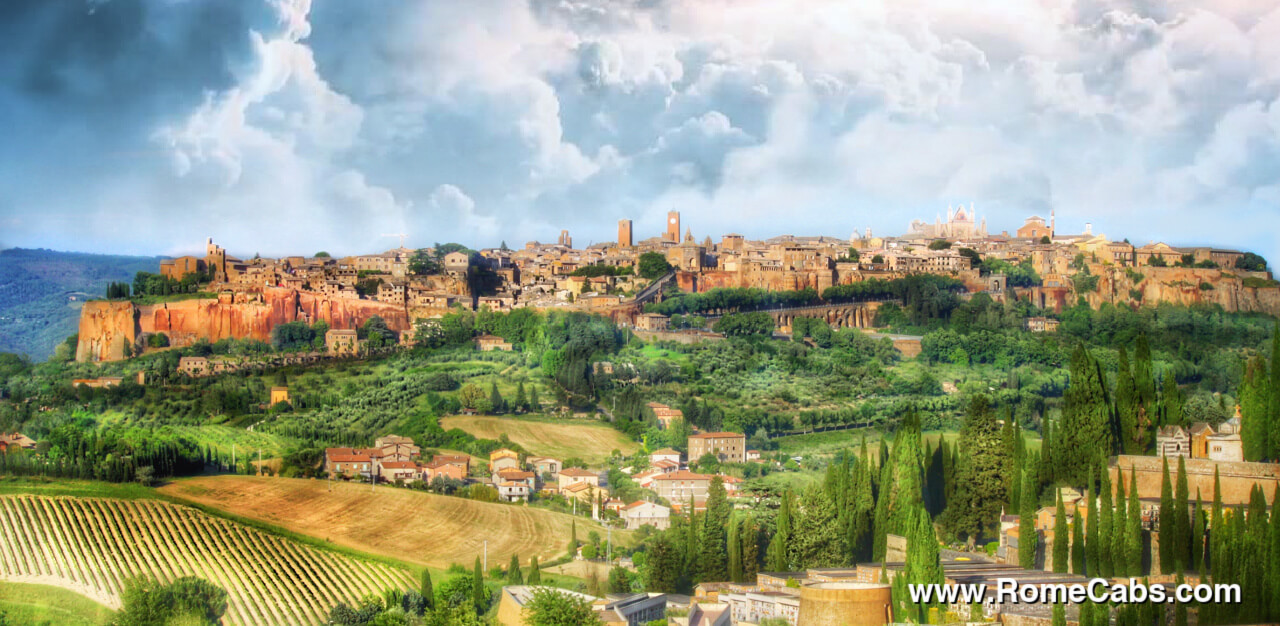 The Middle Ages have left their mark with remarkable architecture including the late 13th-century Cathedral of Orvieto that dominates Piazza del Duomo and the town's skyline. Its facade is a masterpiece of bas-reliefs, sculptures, and a golden mosaic frontage that glows whenever the sun smiles upon it.
The interior of the Cathedral is nothing short of a museum with richly frescoed chapels, as well as the Chapel of the Corporal that houses the reliquary with the corporal of the miracle of Bolsena.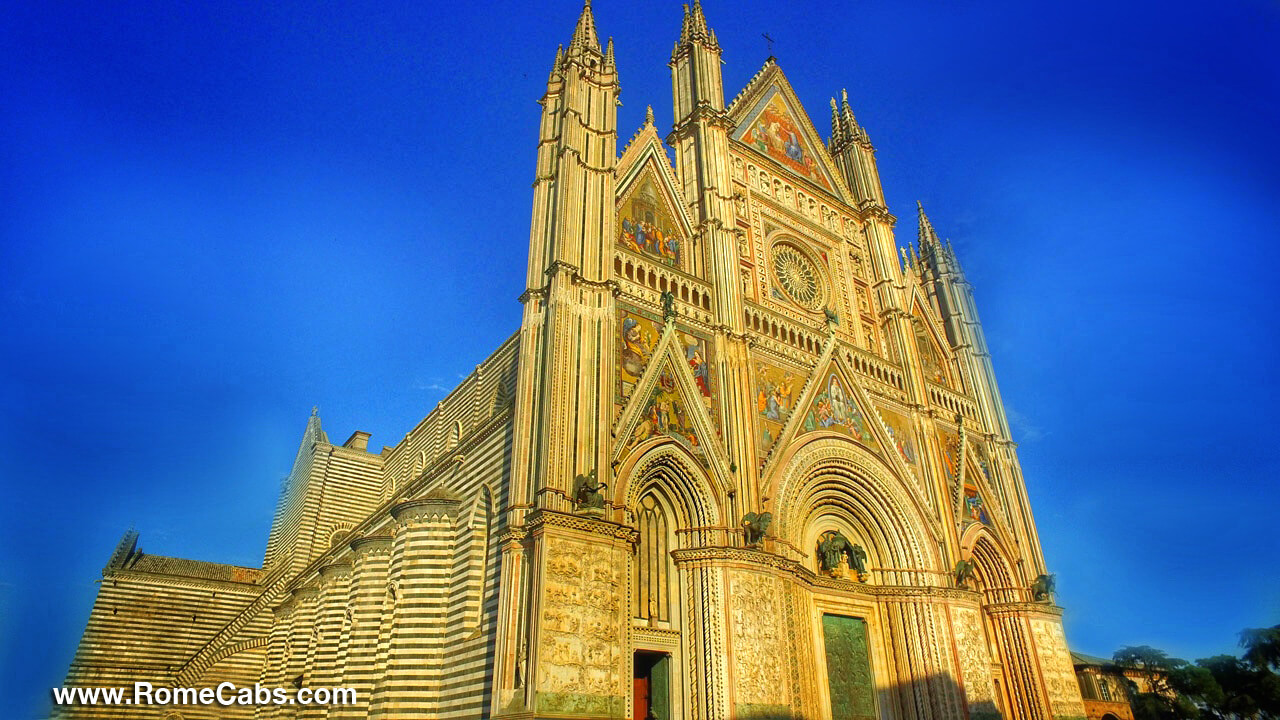 While in Orvieto, will also have some free time for shopping for hand-painted ceramics or other local artisan works of art, and enjoy a stroll along the spacious streets lined with a variety of shops, markets, wine shops (enoteche), and boutiques.


Orvieto is well regarded for its white wines made from a blend of primarily Grechetto and Trebbiano grapes. Wines produced in this region date back to the early Etruscan civilization, and they are available dry (secco), slightly sweet (abboccato), semi-sweet (amabile), and sweet (dolce). Thanks to the unique soil types of this region that range from limestone and tufa of volcanic origins, wines produced in Orvieto are among the best wines in Italy!




MONTEPULCIANO in Tuscany


Your journey continues into the Tuscany region to the town of Montepulciano, a majestic hilltop town brimming with interesting architecture, local charm, excellent wine, and breathtaking views of its surrounding valleys and soft rolling hills that are characteristic of Tuscany's legendary landscape.
Montepulciano was built on a ridge of Monte Poliziano in the province of Sienna in southern Tuscany. As with Orvieto, Montepulciano's history is quite ancient having once been an ancient Etruscan city named Nocera Alfaterna. During the Middle Ages, it was controlled by Florence, but in 1260 it was conquered by Sienna.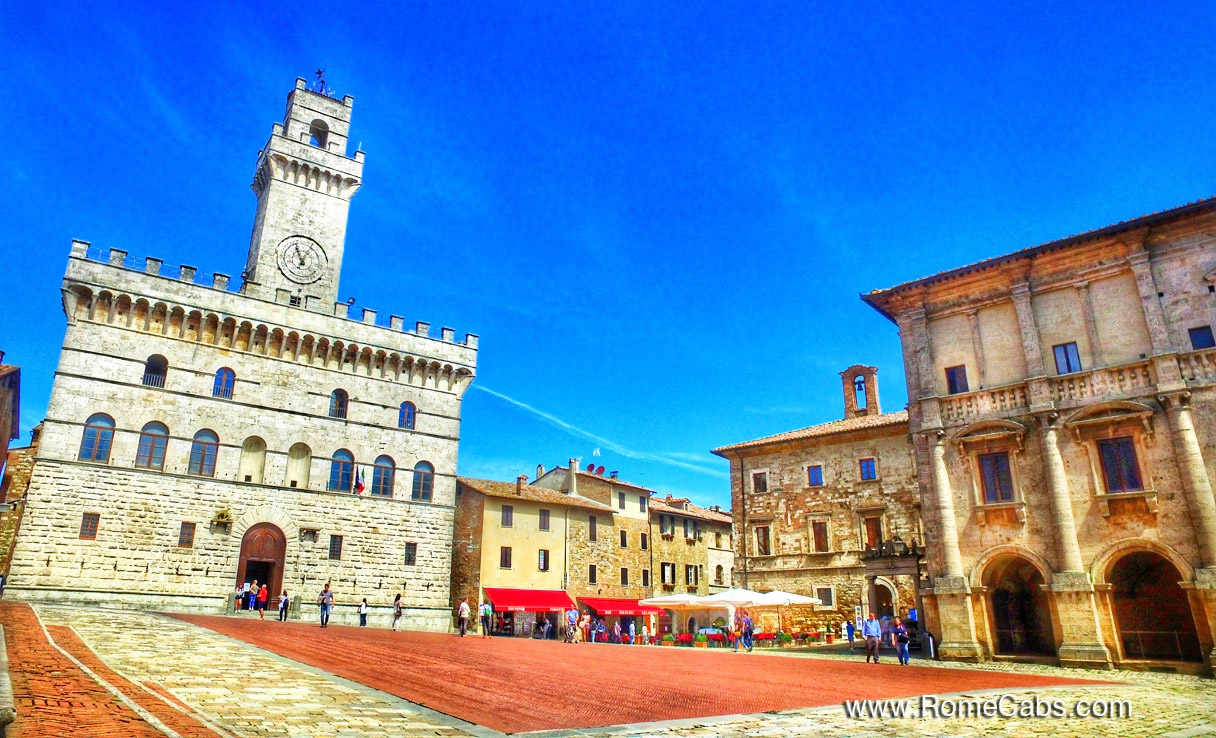 Tuscany region is world famous for its exceptional wines, but Montepulciano is indeed the "King of all Wines" according to the 17th-century poet Francesco Redi as described in his famous poem, "Bacchus in Tuscany".
The Noble Wine of Montepulciano (Vino Nobile di Montepulciano), is one of Tuscany's classic reds preferred by Italy's aristocracy and royalty since the 15th century and considered a noble wine for the table of nobles.
The Vino Nobile di Montepulciano has also been elevated to the prestigious DOCG status - Denominazione di Origine Controllata e Garantita, guaranteeing its exceptionally high standards and quality.
Montepulciano's most popular square is the spacious Piazza Grande, situated on top of the town surrounded by imposing palaces and the town's Cathedral. The outer city walls provide captivating views of Valley of Chiana immaculately cultivated with a patchwork of colorful fields surrounded by gentle hills.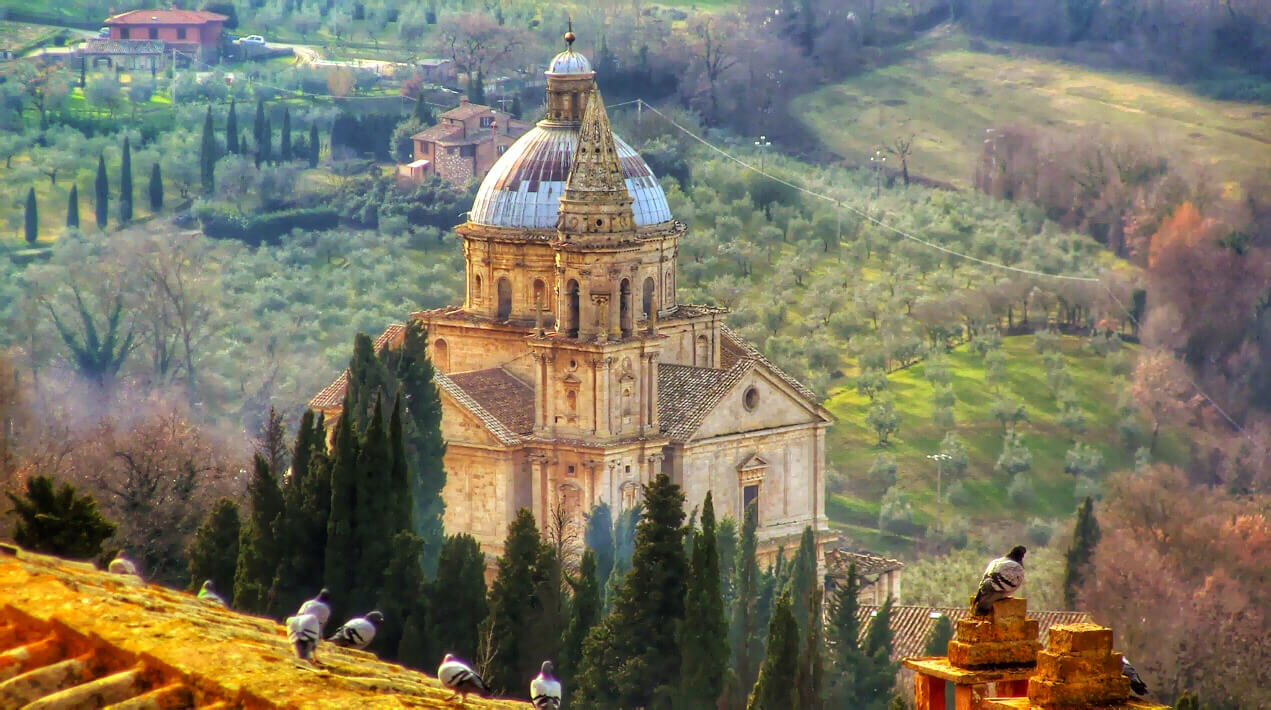 Wine tastings and visits to wine cellars are possible throughout Montepulciano inside wine shops owned by local producers that offer visitors an abundance of wine shops stocked with the best local reds and local foods that will delight your palate.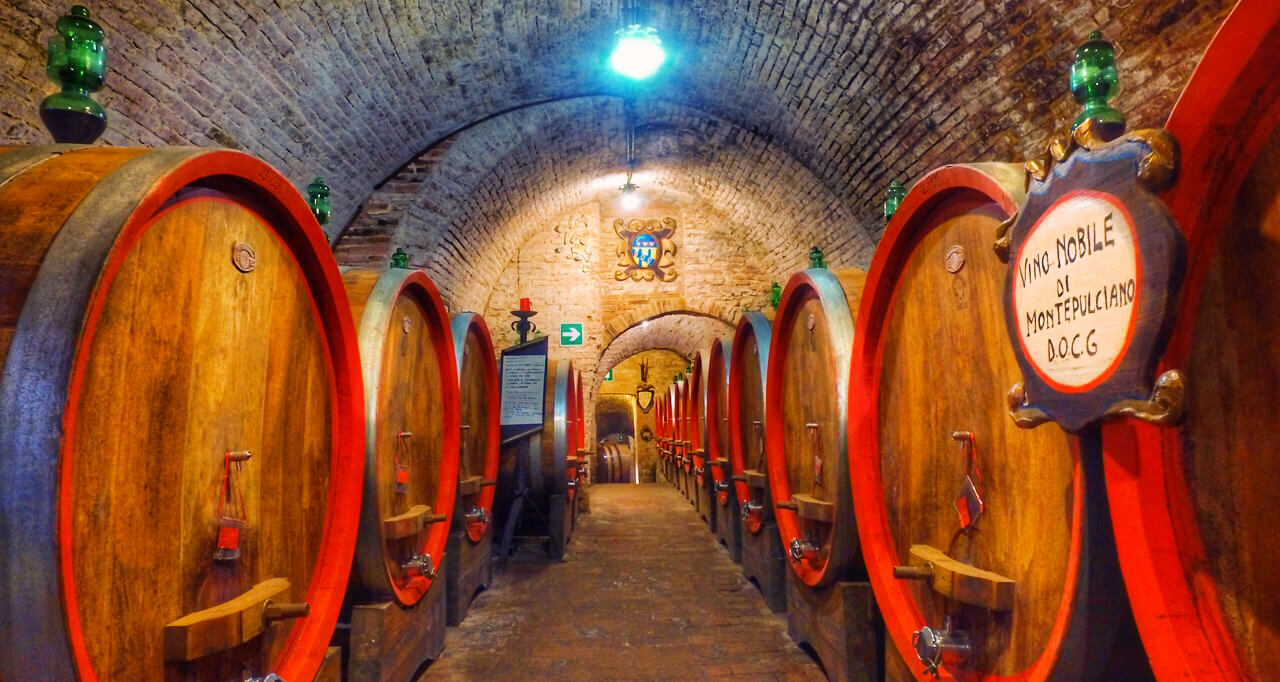 This relaxing Day Tour from Rome to the Jewels of Umbria and Tuscany provides you the unique opportunity to enjoy the best that these two remarkable Italian regions have to offer: unparalleled beauty, tranquility, historic architecture, fine wine, excellent food, and countryside charm.

From here you will enjoy a relaxing drive through the countryside and return to your hotel accommodation in Rome.
Thank you for booking our Wine Tasting Tour to Umbria and Tuscany from Rome, and for choosing Stefano's RomeCabs for your Private Tours in Italy. We look forward to showing you beautiful places in Italy!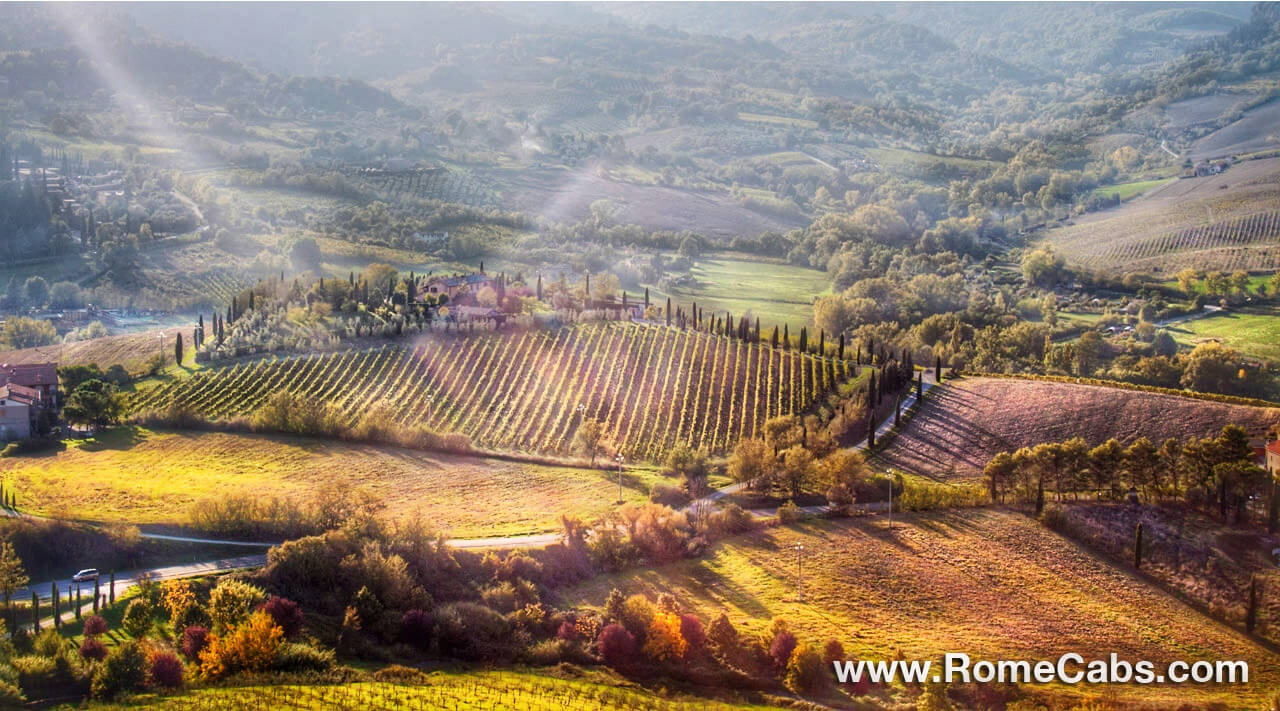 Important Information

PLEASE READ THE INFORMATION BELOW AND ACCEPT THE TERMS OF SERVICE AND PRIVACY POLICY BEFORE BOOKING.
PAYMENT OPTIONS
Payment for this Tour can be made in EUROS directly to your driver on the Date of Tour, or prepaid in advance via PayPal or Credit Card online upon request. (See Cancellation policy below)
CANCELLATION POLICY
We kindly ask that cancellations be made via E-mail at least 7 days prior to Date of Service.
Cancellations are accepted only via E-mail so your cancellation is on record. We do not accept cancellations by phone, text message, or 3rd parties.
** Cancelations for PREPAID SERVICES will be refunded the Reduced Net Rate we receive from your prepayment. Reduced Net Rate: actual service price minus PayPal/Credit Card fees retained by PayPal/Credit Card as they do not reimburse us the fees they retain from your payment.
* The Duomo of Orvieto charges nominal admission tickets to visit the frescoed chapels.
* Wine tasting fees at most wine shops vary from free to 5-15 Euros per person which is paid directly to the wine shop (enotecha).
* This Wine Tasting Tour to Umbria and Tuscany tour does NOT include visits to vineyards or wineries in the countryside. Wine tastings are possible only inside Orvieto and Montepulciano wine shops that are operated by local wine producers. This gives guests the maximum opportunity to explore the magnificent Orvieto and Montepulciano while wine tasting along the way (and also accommodating to children and guests who are non-wine drinkers and do not partake in wine tasting).
YOUR PRIVATE TOUR DRIVER
This Wine Tasting Tour to Umbria and Tuscany Tour provides an English-speaking Driver who is NOT a licensed tour guide or a sommelier.
Italian laws permit only licensed tour guides to accompany guests to sightsee on foot away from the vehicle.
In order to comply with Italian laws, drivers are obliged by law to remain with the vehicle while guests sightsee on foot. Drivers are happy to offer basic touristic information while at the vehicle, however you will SELF TOUR on your own when away from the vehicle.
Information about wines and wine productions can be provided by the wine experts at the wine shops.
PLEASE WINE TASTE RESPONSIBLY
For the enjoyment of your wine tours, please sample wine responsibly, do not drink alcoholic beverages or wine on an empty stomach. Excessive consumption of wine or alcoholic beverages may interfere with the enjoyment of your tour. Guests are solely responsible for their wine personal consumption and consequences thereafter.