Buon giorno and welcome to Stefano's RomeCabs Travel Blog.
For more than 15 years we've taken tens of thousands of travelers vacationing in Rome on fun filled day trips and excursions to the amazing Roman countryside and beyond.
The Roman countryside area extends from Rome and beyond into the Lazio region that is filled with charming areas unique in their own ways culturally, historically and architecturally.
In this blog we listed the 11 Must See countryside destinations from Rome that are also most frequently requested and booked by our clients.
11 Must See Italy Countryside Destinations
from Rome
1. Banditaccia Etruscan Necropolis in Cerveteri
WHO were the Etruscans?
Before there were Romans and the Roman Empire, there were Etruscans dominating central Italy known as Etruria.
The Etruscans were a highly advanced yet mysterious ancient civilization that ruled central Italy and dominated the sea from around 9th century BC to 3rd century BC when they were eventually conquered by the growing Roman Republic.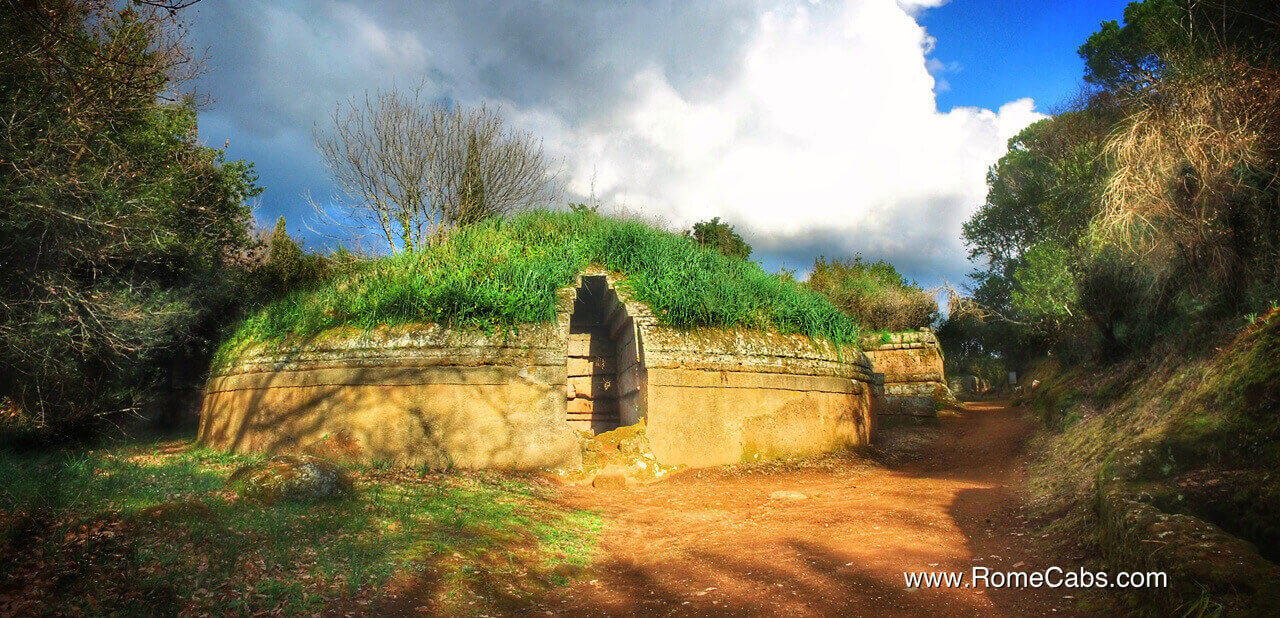 Rome was but a tiny village of misfits at the height of the Etruscan civilization that was among the most sophisticated civilizations of its time. The Etruscans were responsible for many advancements that are often credited to Romans, such as gladiatorial games, architectural arches, and sewage systems like Cloaca Maxima that drained the marshes to form the Roman Forum. As a small city state, Rome even had 7 Etruscan kings before the Romans overthrew the last Etruscan king and became a Republic.
Because the Etruscans usually built with terracotta, bricks and wood, their buildings have not survived the passage of time (other than small fragments here and there).
However, most of what we know about the Etruscans are from their cities of the dead: the Etruscan Necropoli.

Cerveteri, once a major powerful Etruscan city state, is known today for its vast necropolis that spans across the entire Etruscan civilization and covers about 1,000 acres with thousands of burial sites.
The area that has been preserved and open for visits at the Banditaccia Necropolis is just about 25 acres with about 400 burial sites, yet it's still enormous with hundreds of tombs of various sizes and shapes nestled in a park-like natural setting with tall umbrella pine trees characteristic of this region. About a dozen or more well preserved tombs are designated for visits as they are most architecturally significant and ornate.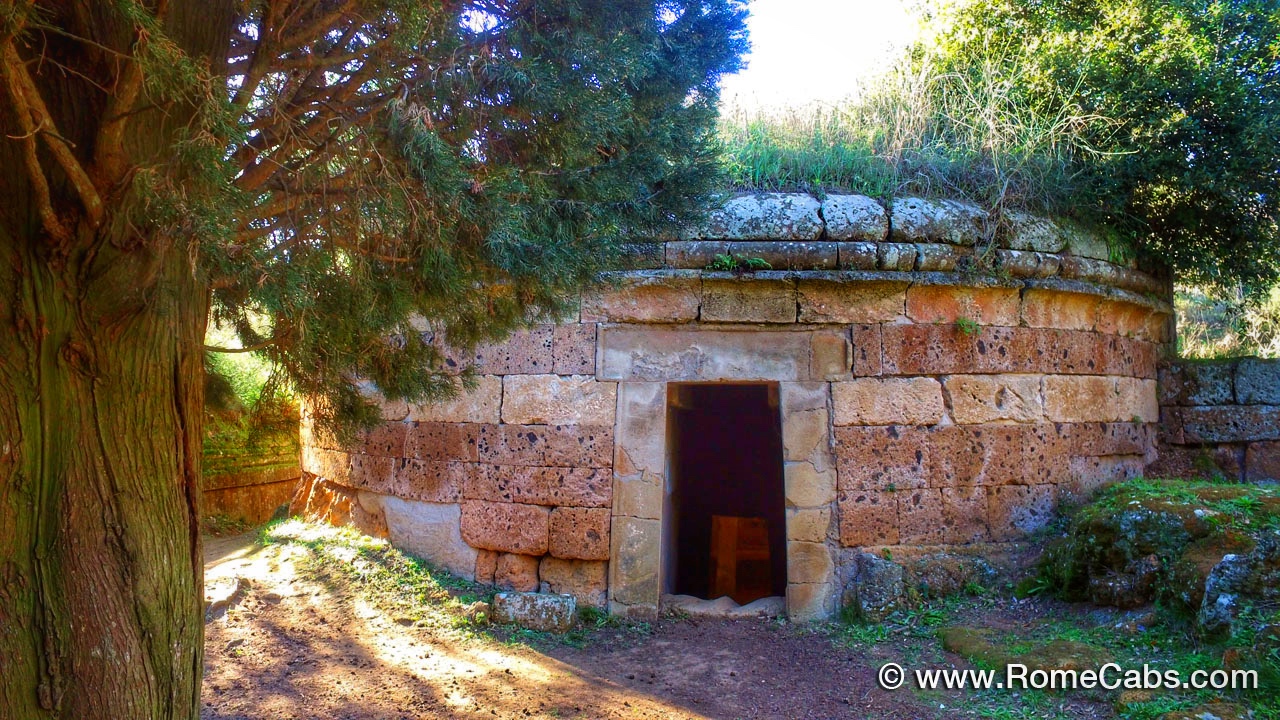 What's important to note as you explore the tombs that are actually carved into the living tuffa rock, is that they were built to resemble the homes of the deceased occupying the tomb. From carved funeral beds and chairs, to roof carved beams and gables resembling wood, columns and arches, you will have an idea of how the Etruscan homes may have once looked like when they were made of wood and other elements that have not survived.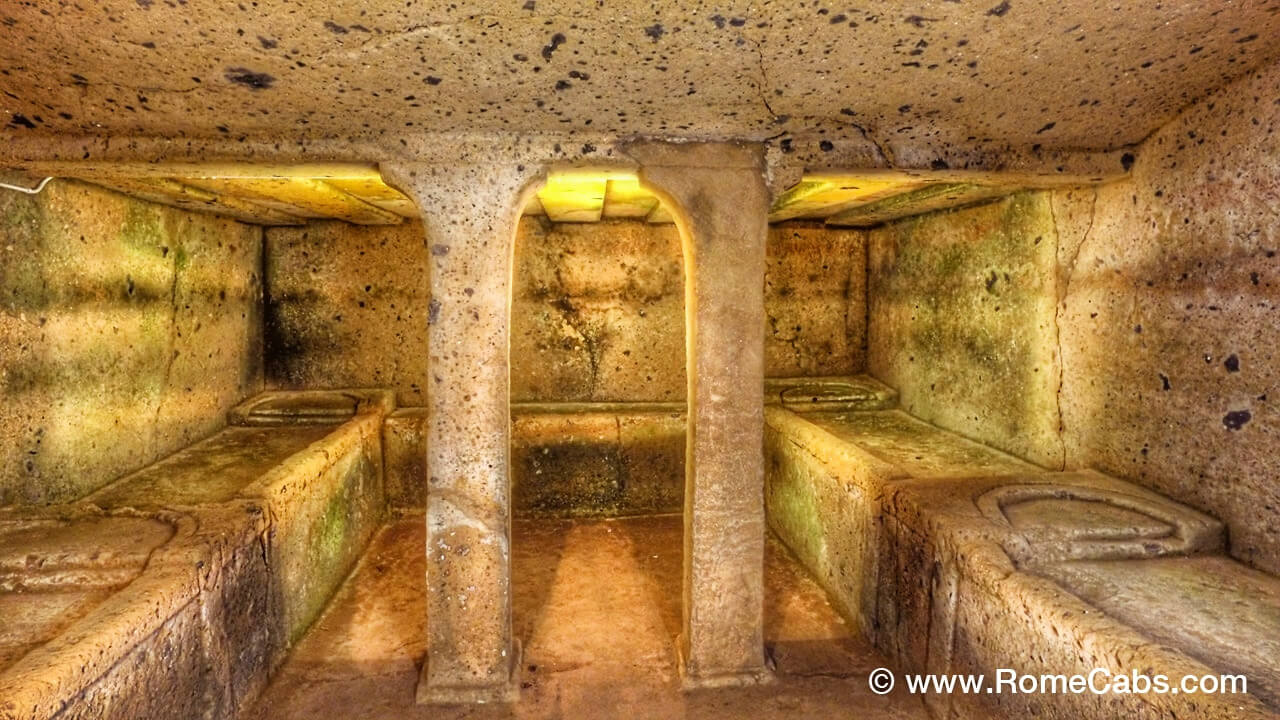 A visit to this necropolis is an adventurous fun for families, kids, and folks of all ages with good mobility as you'd be walking through an archaeological site on uneven terrain. While you will not be raiding any tombs, you might feel a bit like Indiana Jones!
* TOURS THAT OFFER THIS DESTINATION: The Banditaccia Necropolis in Cerveteri is part of our Countryside Splendor Tour, and also part of the Ostia Antica and Cerveteri Tour offered by our sister company Stefano Rome Tours.
2. Monterozzi Etruscan Necropolis in Tarquinia


Just outside the city of Tarquinia (another ancient Etruscan city states that carries the name of the famous Etruscan king Lucius Tarquinius Superbus) is another phenomenal Etruscan necropolis that is completely unlike the necropolis in Cerveteri.
The tombs inside the Monterozzi Necropolis are underground and they unique in the world!
What makes these 6th century BC tombs spectacular is that many of them are painted with the most incredibly vibrant detailed frescoes depicting the lives of the Etruscan people.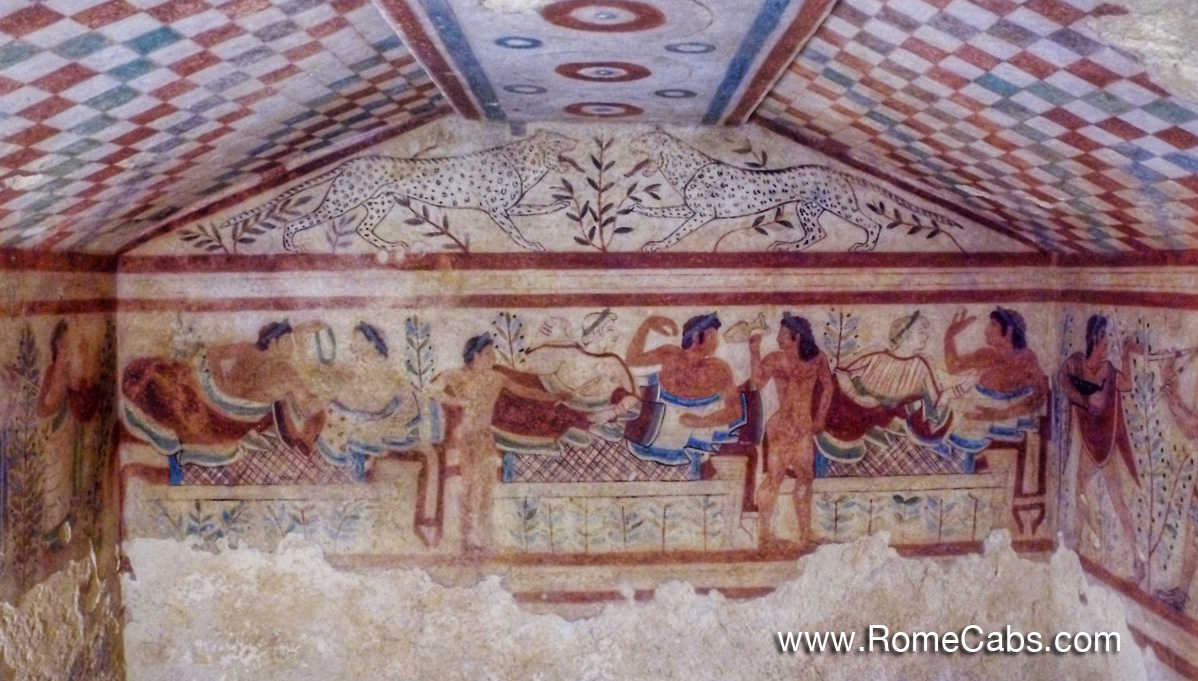 These enigmatic people are depicted feasting, dancing, hunting, playing sports, playing musical instruments, fishing, and more.
Some even have the most incredible pictorial depictions of demons of the underworld – it is believed that the paintings of their tombs took a dark turn towards the end of their civilization as their numerous powerful city states were systematically conquered by the ever growing Roman Republic.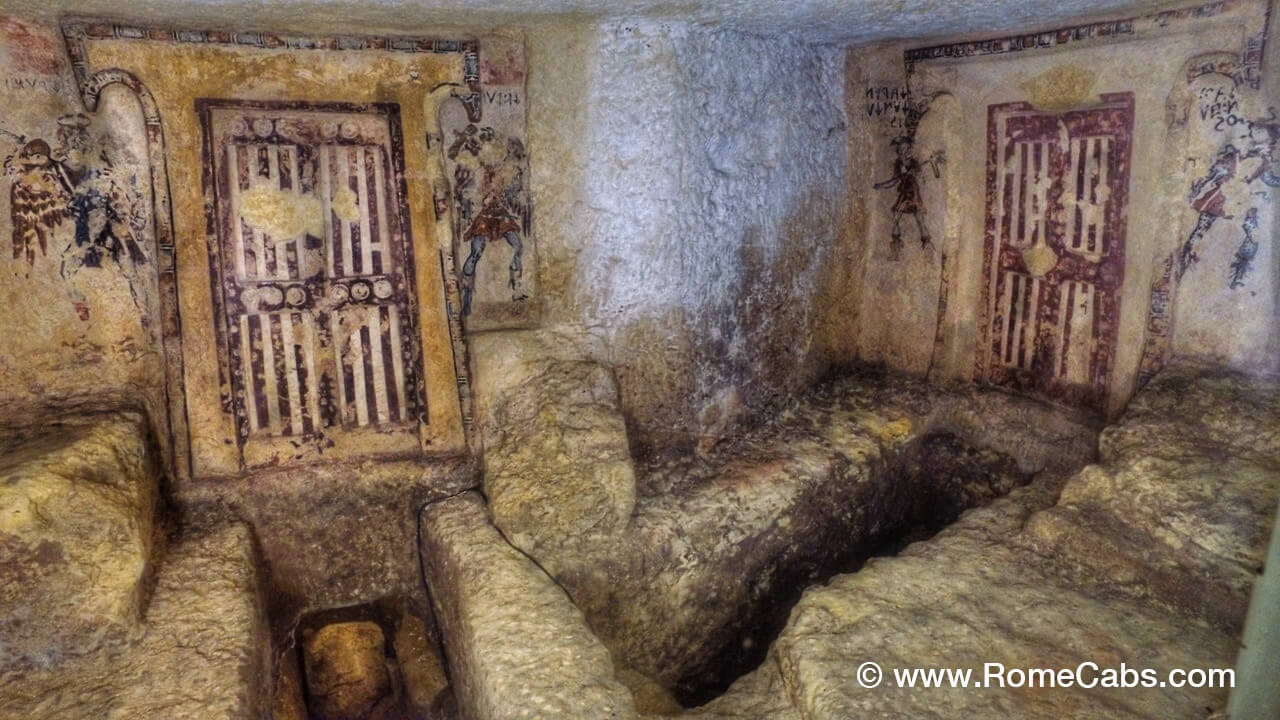 Scattered about a flat terrain, there are only about a dozen tombs open to the public at a time, and they often rotate.
To reach each tomb, you have to descend a flight of stairs until you arrive at the tomb door – a metal door with glass window for viewing. Due to the fragility of the frescoes, the tombs are sealed off and climate controlled so they can be preserved for as long as possible.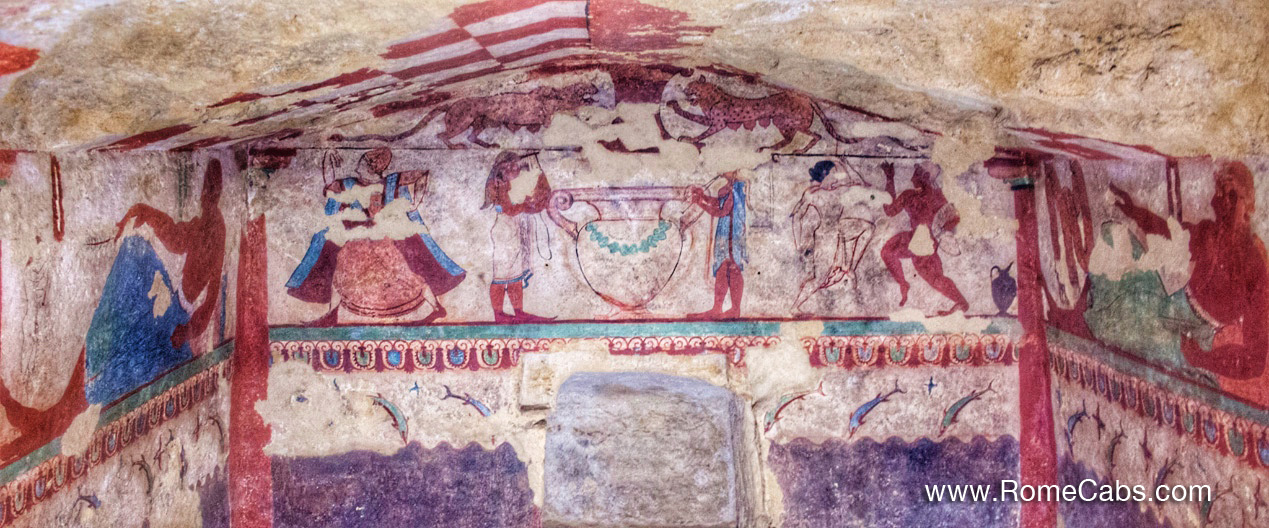 Be sure to also visit the Tarquinia National Museum that is dedicated to Etruscan artifacts discovered inside the tombs you've visited and more.
* TOURS THAT OFFER THIS DESTINATION: Monterozzi Etruscan Necropolis is part of the ETRUSCAN MYSTERY TOUR offered by Stefano Rome Tours.
3. Ostia Antica


If you want to know what an ancient Roman city was like, walk in the footsteps of Romans, and have a feel of ancient Roman life, head to Ostia Antica.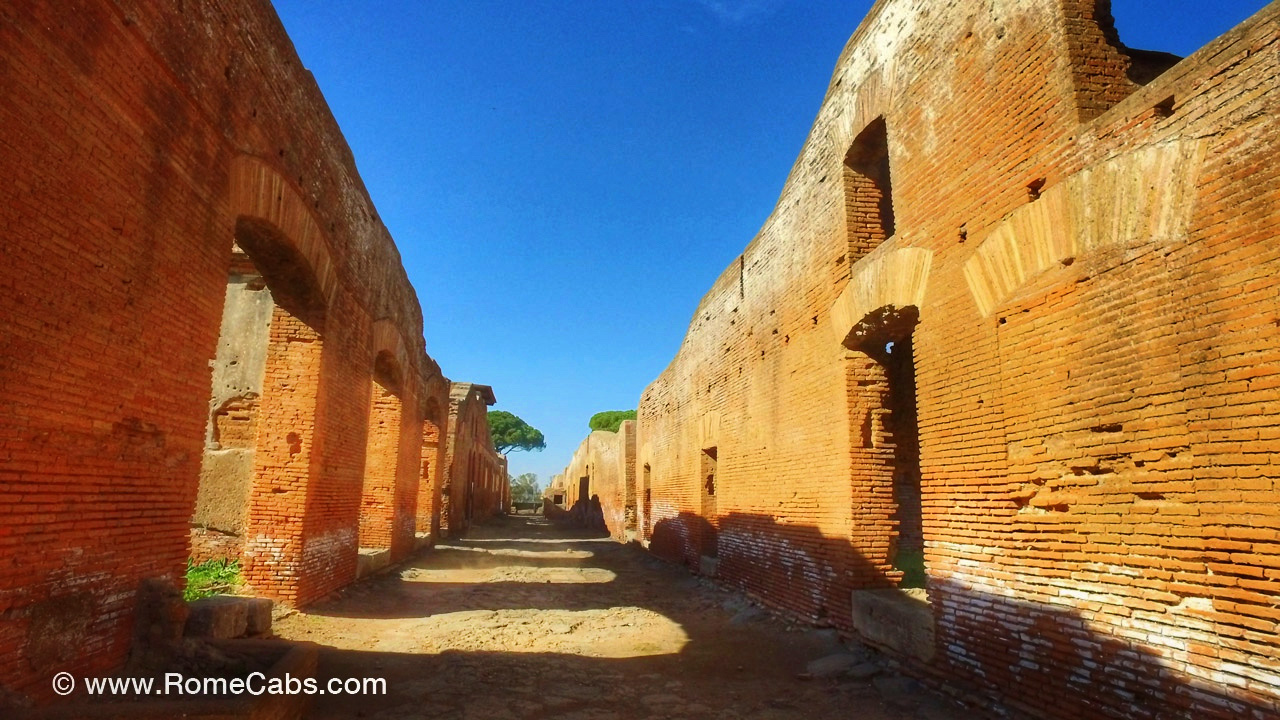 Unlike Pompeii which was a different city hours away from Rome, Ostia Antica was part of Rome itself.
Originally a harbor city close to the modern day city of Ostia (the name derived from the latin word for "mouth"), Ostia was Rome's seaport and it's still greatly preserved with multi level Roman apartment insulae, shops, baths, latrines, a theater still used today, a commercial center with mosaic floors, frescoes, and temples.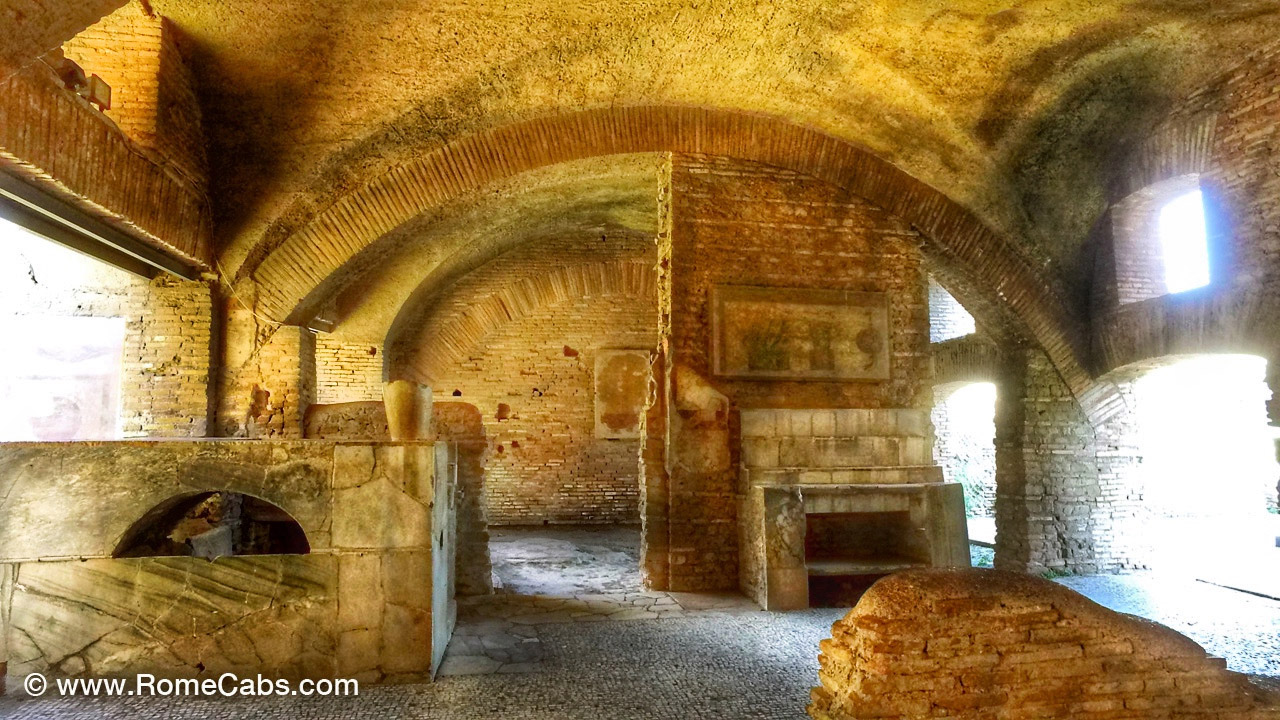 Unlike Pompeii that was preserved as result of being buried under tons of volcanic ash when Mount Vesuvius erupted in 79 AD, the ancient Ostia fell into gradual decline after the fall of the Roman Empire, and eventually abandoned by the 9th century by the few remaining inhabitants due to repeated invasions and sackings by Arab pirates. Further sacking occurred during the Baroque area by architects who stripped valuable marble from Ostia Antica, and explorers began to also help themselves to ancient statues and objects of value.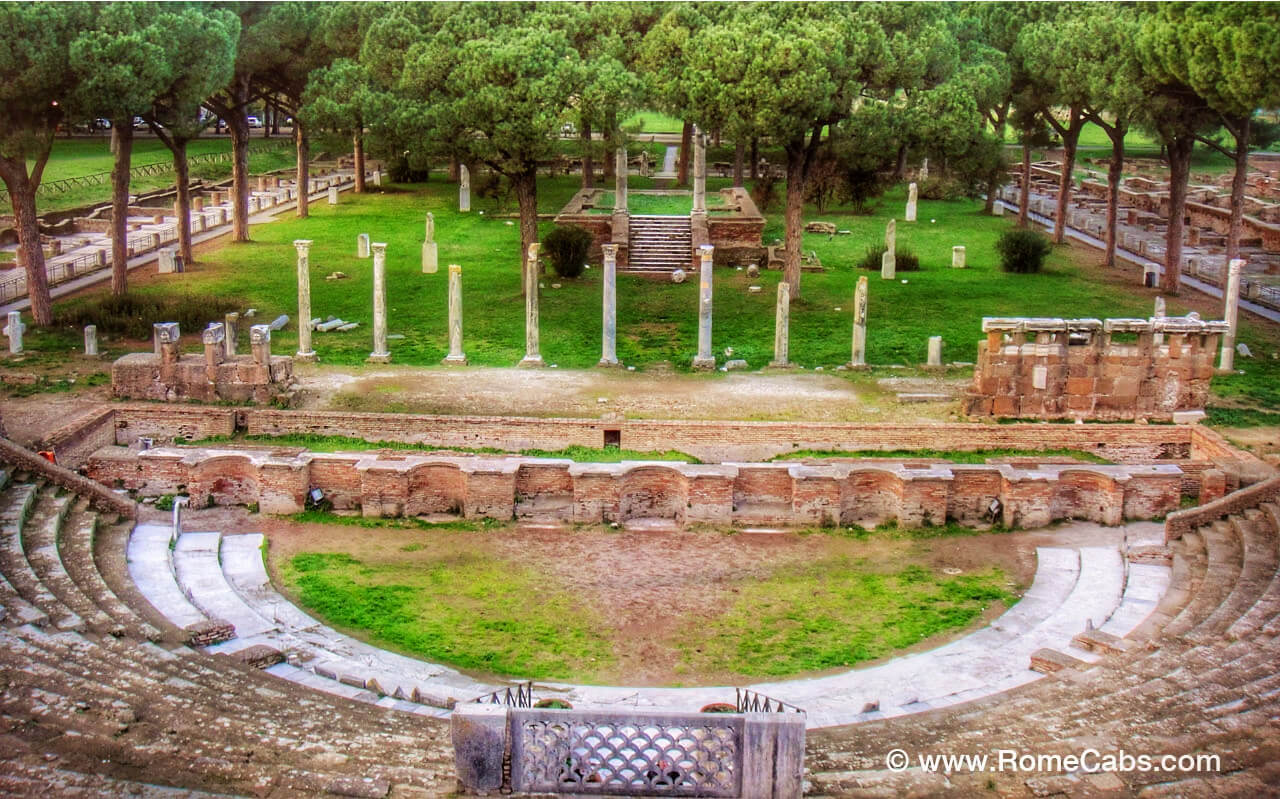 Ostia Antica was eventually excavated in early 20th century and opened to the public to visit.
You will especially like Ostia as it's much of of a park than Pompeii, with far fewer crowds (if any!), making for a more enjoyable experience exploring an ancient city.
* TOURS THAT OFFER THIS DESTINATION: Ostia Antica is part of the OSTIA ANTICA AND CERVETERI TOUR offered by our sister company Stefano Rome Tours.
4. Bracciano


Bracciano is a historic town about 1 hour from Rome that rests on the shore of Lake Bracciano and dominated by the imposing Orsini-Odescalchi Castle (also commonly referred to as Bracciano Castle).
Lake Bracciano attractions tens of thousands of visitors each year, especially in the summer due to its pristine water and beachy shoreline.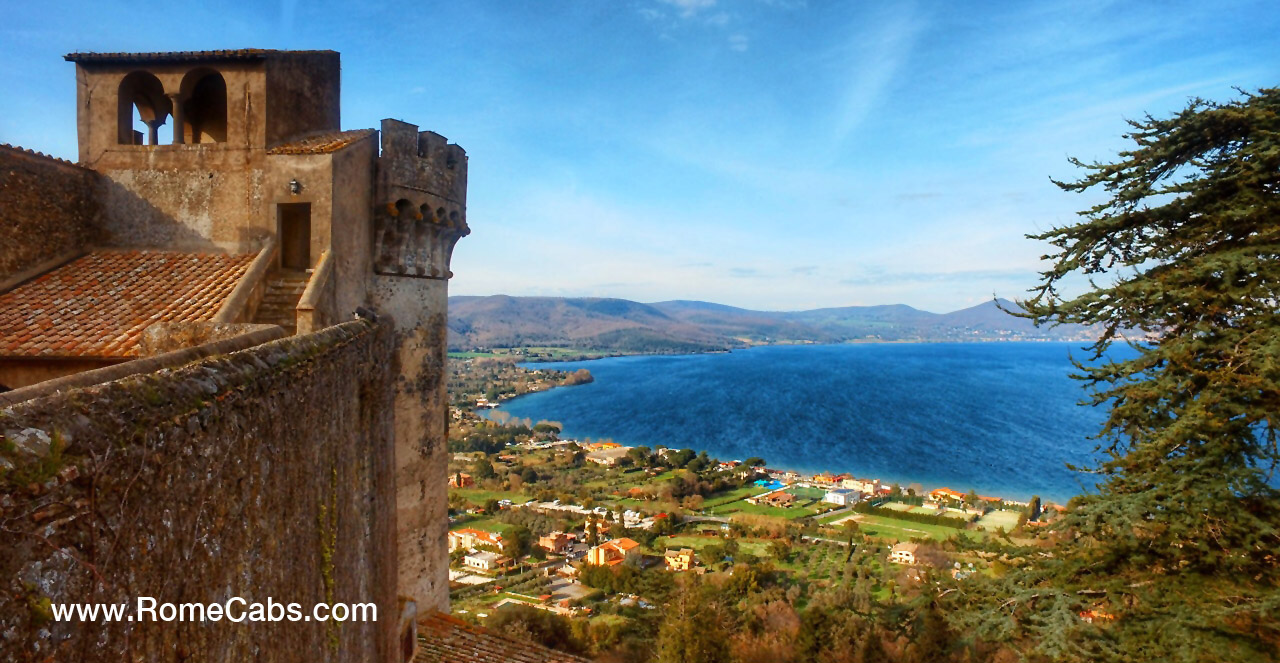 However, the biggest attraction in Bracciano is Bracciano Castle. Dating back to the Medieval era, the castle is a formidable example of a military residential castle, and one of the best preserved feudal castles in Europe. Fortunately, it's also one of the few privately owned castles open for visits and events (Tom Cruise and Katie Holmes were married here).
The Castle boasts two levels of luxurious staterooms once occupied by kings, queens, lords, ladies, popes and owned by some of Italy's most powerful families.
The rooms are opulently decorated with original furniture and paintings, as well as wall frescoes and ornate ceilings. The view from the ramparts on top of the castle's massive defensive walls will reward you with an breathtaking view of Lake Bracciano and the verdant Roman countryside that surrounds you.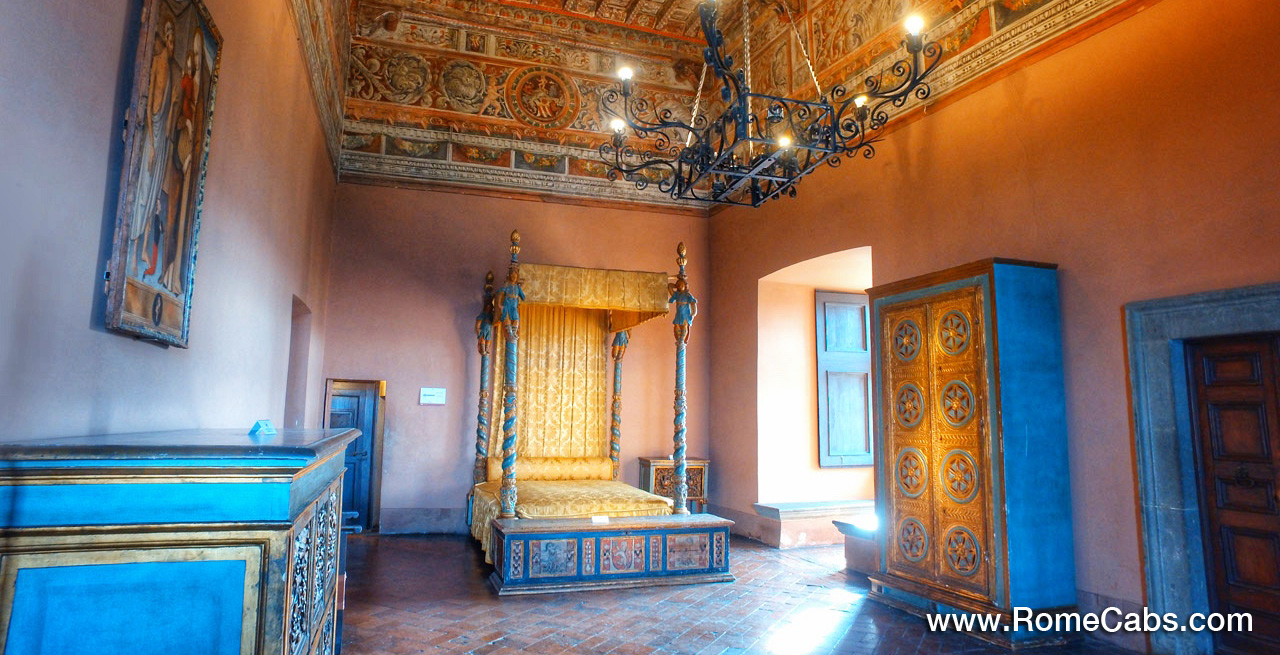 * TOURS THAT OFFER THIS DESTINATION: Bracciano and Bracciano Castle are part of our Countryside Splendor Day Tour from Rome and Shore Excursion from Civitavecchia, as well as our Pre Cruise Countryside Tour.
5. Tuscania


Tuscania is a remarkable ancient walled city that dates back to the Etruscan civilization that has grown and evolved through the Medieval and Renaissance eras that gives it the architectural charm we admire today.
A terrace garden behind a wall next to the Tower of Lavello will entice you to enter with a picture perfect view framed by the arched door gate that offers you a glimpse of what you expect to see once inside: a majestic valley topped by two massive Medieval churches on a soft hill, and ruins of ancient fortresses.
It was possibly this very view that inspired poets like D.H. Lawrence to write: "the most beautiful valley in all Italy, the Etruscan valley of Tuscania".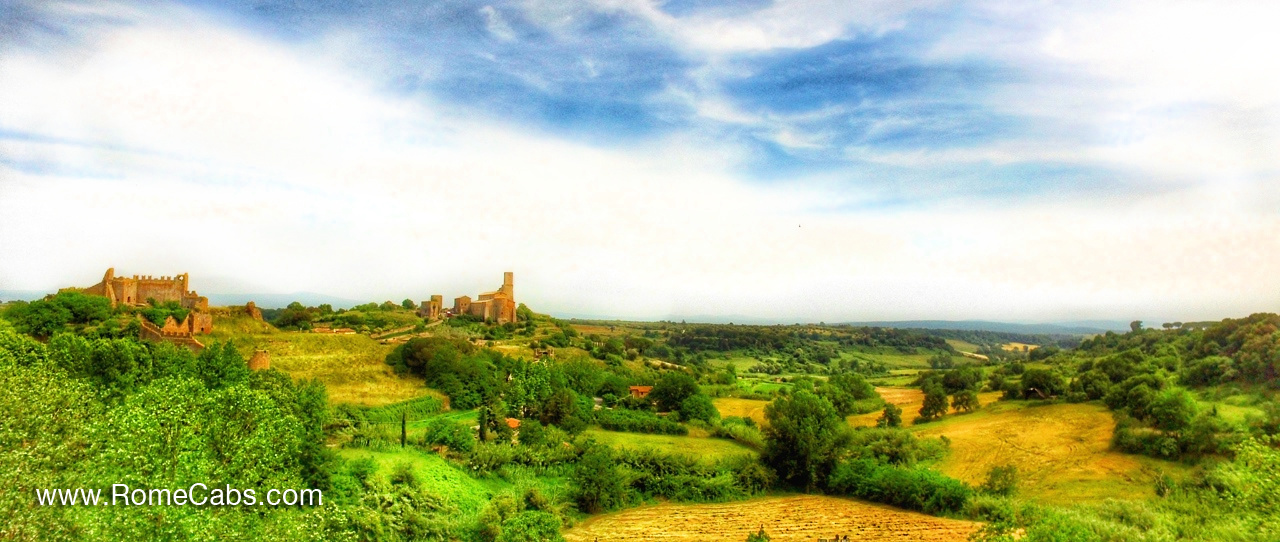 The 8th century churches that grace the hill of Tuscania is San Pietro (that rests on top of the acropolis of the ancient town) and Santa Maria Maggiore below.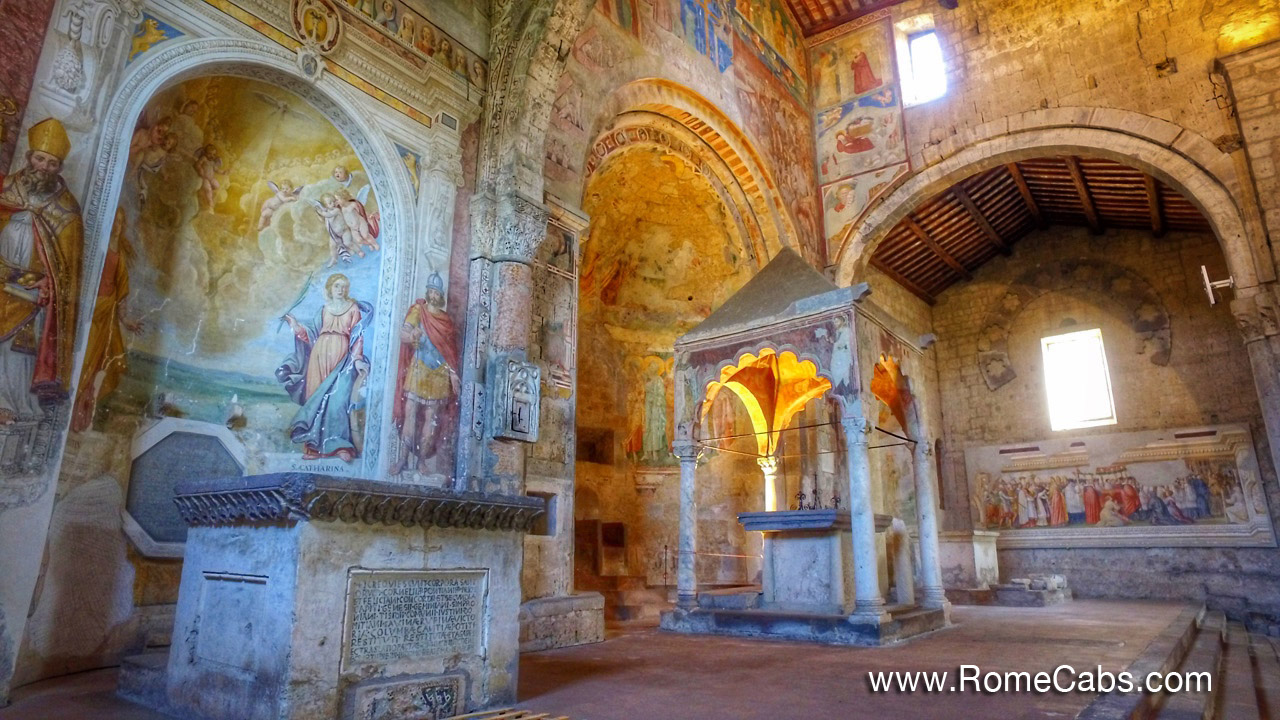 In this quiet local town with gorgeous historic architecture, medieval towers, delicious local food, and stunning views, you will not have to worry about throngs of tourists. In spite of its great beauty and history, it's still a hidden gem that waits to be discovered.
* TOURS THAT OFFER THIS DESTINATION: Tuscania is part of the ETRUSCAN MYSTERY TOUR offered by Stefano Rome Tours.
6. Tivoli


About 45 minutes from Rome is Tivoli, a city that boasts the world famous Hadrian's Villa (Villa Adriana) and Villa d'Este. For those who are fit to hike, there is also Villa Gregoriana that is a complex of wooded park with undulating uphill and downhill paths, waterfalls, grottos, and lush vegetation.
Tivoli was well regarded since the Roman times as a countryside retreat for the wealthy elites. So much so, that Emperor Hadrian built a vast imperial complex in Tivoli from where he could rule the Roman Empire.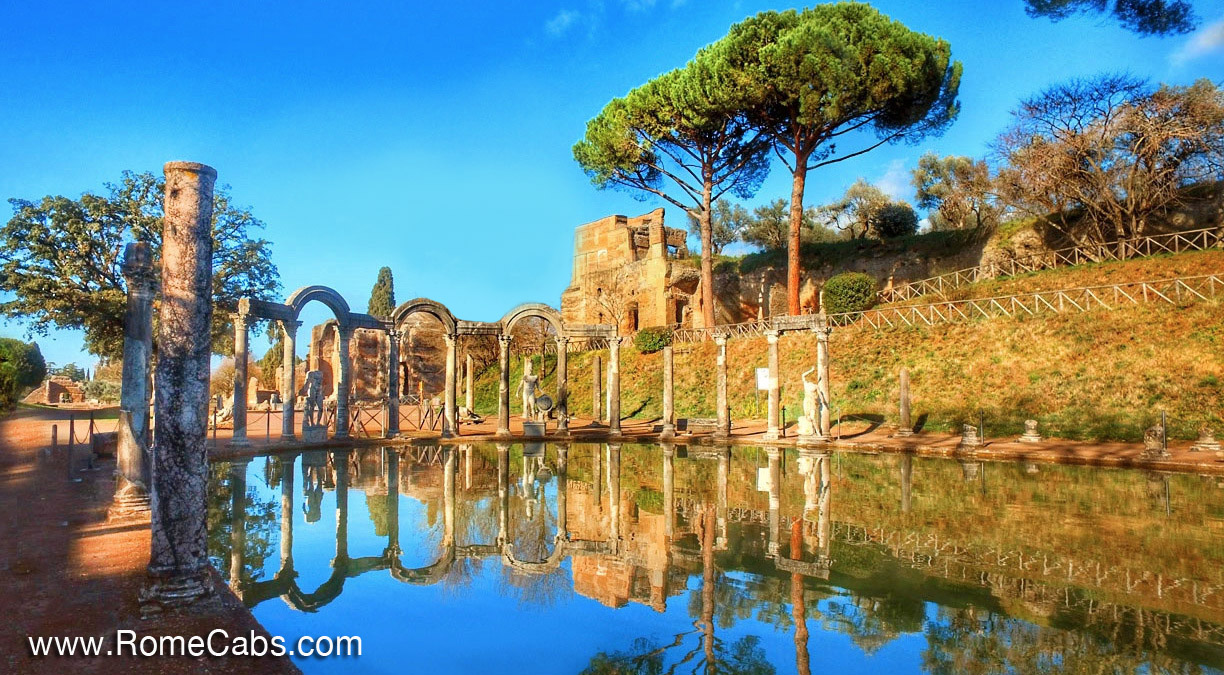 This vast residence fit for emperors was comprised of more than 30 buildings: the imperial palace, temples, theaters, libraries, baths, gardens, pools and more. Exploring the ruins of these massive ancient structures in Hadrian's Villa is truly an awe inspiring experience.
Nearby right in the town of Tivoli is Villa d'Este, named after the Cardinal Ippolito d'Este who commissioned this impressive Renaissance villa and gardens with countless delightful fountains hidden throughout elegantly manicured Italian style Renaissance gardens creating a symphony of relaxing sounds of water and nature. The gardens of Villa d'Este are ideal for romantic walks, quiet reflections, or simply embracing the beauty of nature coordinated with human ingenuity.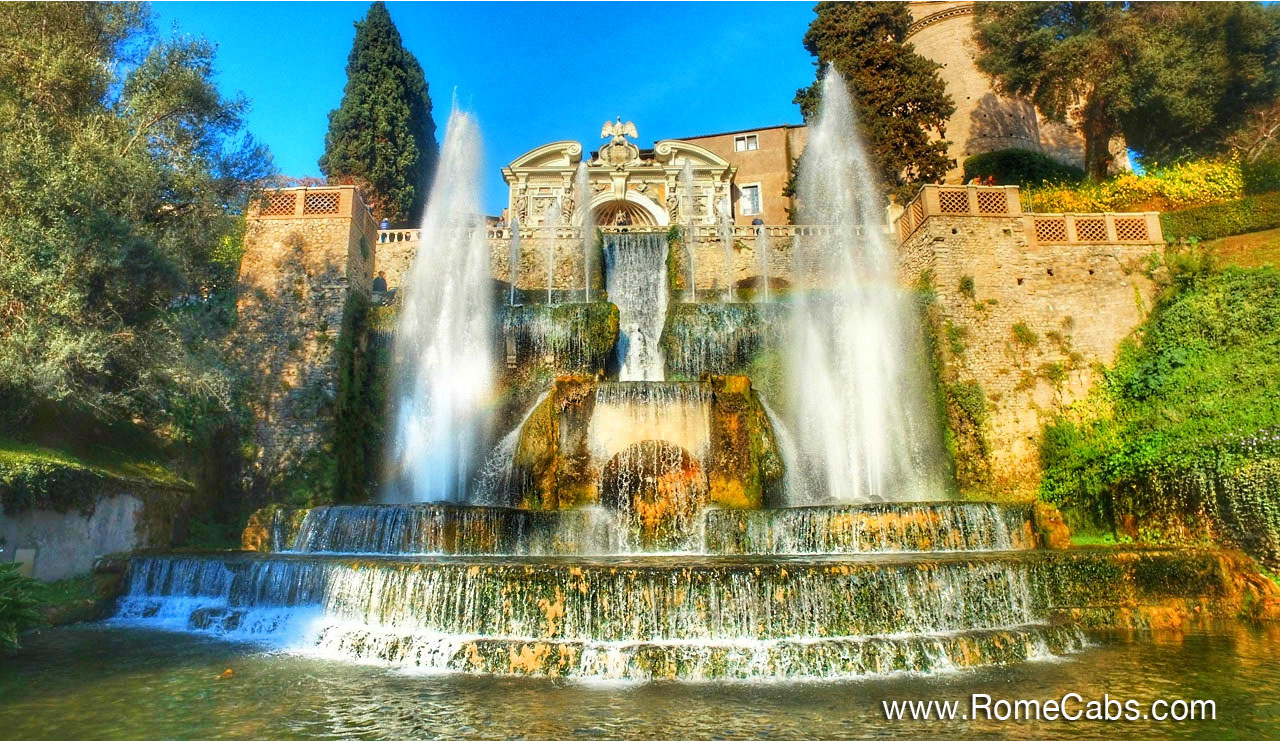 The villa itself with opulent rooms and luxurious wall frescoes and paintings should not be missed.
A visit to Tivoli's villas will take you on a fantastic journey to two dramatically different worlds and eras: the vast Ancient Roman imperial residence of Emperor Hadrian, and the magnificent Renaissance era villa and lush gardens of Cardinal D'Este.
* TOURS THAT OFFER THIS DESTINATION: Both Hadrian's Villa and Villa d'Este are part of our TIVOLI TOUR FROM ROME.
If you are on a Mediterranean cruise that concludes in Civitavecchia, you may enjoy a Post Cruise Tour from Civitavecchia to Tivoli with convenient pick up from your ship, and seamless drop off at your Rome hotel.
7. Sutri


A Medieval village resting on a picturesque tuffa cliff, Sutri has ancient roots dating back to the Etruscan civilization when it was known as Sutrium.
Its name derives from an ancient legend that says Sutri was founded by the pagan god Saturn – a name that the Etruscans pronounced "Sutrinas", adding credence to this otherwise curious legend.
Vestiges of its ancient past can be seen in the Roman period (approximately 2nd-1st century BC) elliptical amphitheater carved right into the Savorelli hill that could seat over 9,000 spectators, a rupestrian necropolis with numerous surviving Etruscan tombs carved into the vertical tuffa cliff like large niches, and a cave that was once pagan Mithraeum later converted into a church (Madonna del Parto).

* TOURS THAT OFFER THIS DESTINATION: Sutri is part of the VITERBO, SUTRI AND CALCATA TOUR offered by Stefano Rome Tours.
8. Calcata


Calcata is a tiny hilltop medieval village about 30 miles north of Rome that overlooks a steep river valley surrounded by forests and lush nature.
Abandoned in the 1930's when the village was condemned by the government following an earlier earthquake in fear the volcanic cliff upon which the village stands might collapse, by the 1960's the village began to be repopulated by hippies and artists who squatted the empty stone buildings seeking to escape the negative aspects of urban environment and embracing a more simple natural life.

Eventually the village was deemed safe and livable after geological surveys confirmed the solidity of the cliff, and many of the squatters purchased their homes and a small community of artists began to flourish with painters, sculptors, photographers, musicians, actors, designers, craftsmen, and clothing designers.
Calcata is so eclectic, that New York Times refers it as " the grooviest village in Italy, home to a wacky community of about 100 artists, bohemians, aging hippies and New Age types".
To visit the walled medieval village, you enter through a large double door entrance that takes up on a narrow uphill street flanked by tall stone building walls to the main square. From here you can venture around the village's narrow lanes where you will find tiny local artisan shops, galleries, health food cafes, pubs, cozy tea rooms and bakeries.
* TOURS THAT OFFER THIS DESTINATION: Calcata is part of the VITERBO, SUTRI AND CALCATA TOUR offered by Stefano Rome Tours.

9. Fumone


Fumone is a beautiful medieval village strategically built on top of a conical hill in the region of Ciociaria.
Historically, the town's vantage point gave it the important function of overseeing the territory in case of invasions and enemy attacks. Smoke signals were sent to warn neighboring populations of coming attacks. The name Fumone means "big smoke". A saying went: "When Fumone smokes, the region trembles".
Fumone is dominated by the Castle of Fumone – castle that considered by locals to be the haunt of ghostly presences due to its brutal history.
After Pope Celestine V abdicated his papal throne, he was imprisoned in this castle in 1295 by this successor Boniface VIII who feared Celestine may return to regain his papal position. Celestine V died while imprisoned in the castle, possibly from old age or even murdered. Upon visiting the castle, you can see the cell in which Celestine V was imprisoned.
In the late 17th century the castle became property of the Longhi marquises (who are still the current owners). The castle is also said to be haunted by a dark event that took place in the Longhi family in the 1800's. Legend has it jealous sisters murdered their young toddler brother to prevent him from inheriting everything as male heirs inherited everything, and it would have left the sisters with nothing. The grieving mother had the boy embalmed and kept him in a glass coffin which you can see upon visiting the castle.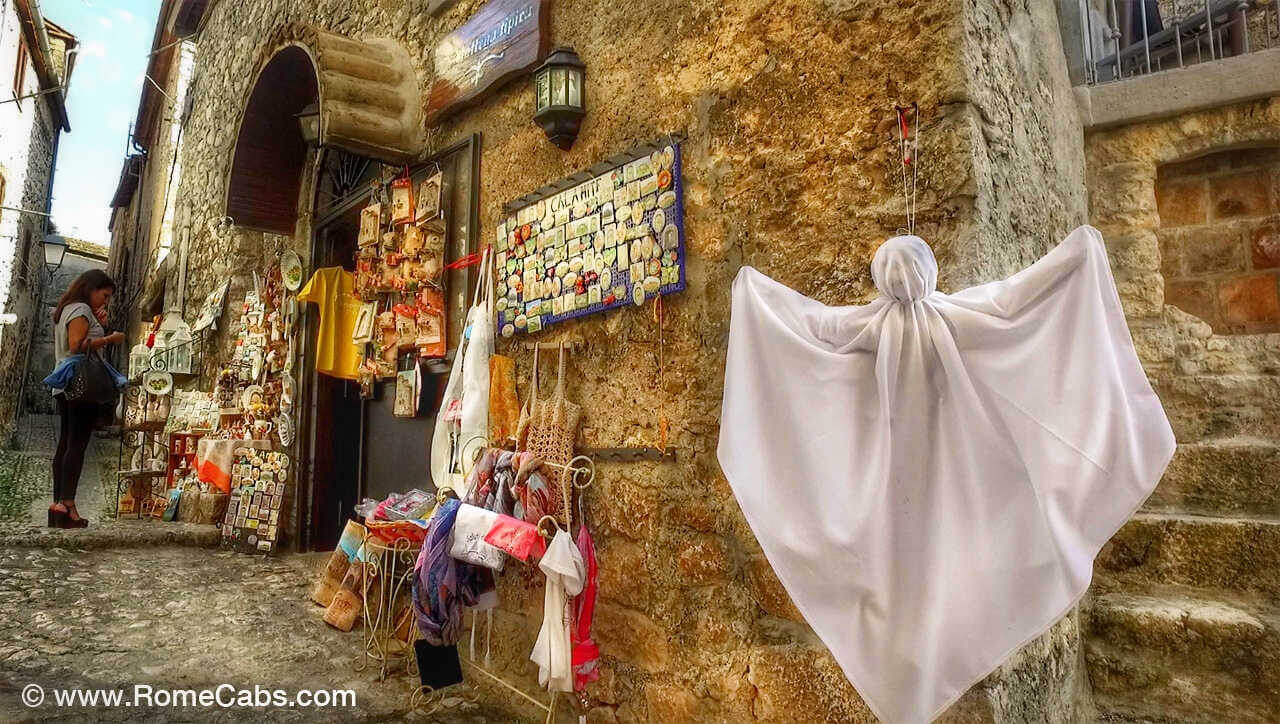 * TOURS THAT OFFER THIS DESTINATION: Fumone is part of the LEGENDS AND CASTLES TOUR offered by Stefano Rome Tours
10. Alatri


Alatri is another Medieval mountain town in the region of Ciociaria that has been in existence since 2nd millennium BC as an ancient Italic tribe of the Hernici and known as Aletrium. It allied with the Etruscans in the 500's BC and later conquered by the Romans in 306 BC.
Alatri is particularly famous for its incredible megalithic fortification walls constructed of large polygonal limestone perfectly jointed without use of cement or binding materials. Nicknamed Cyclopean Walls, it was believed that only super human Cyclop giants could have built the walls with such massive boulders.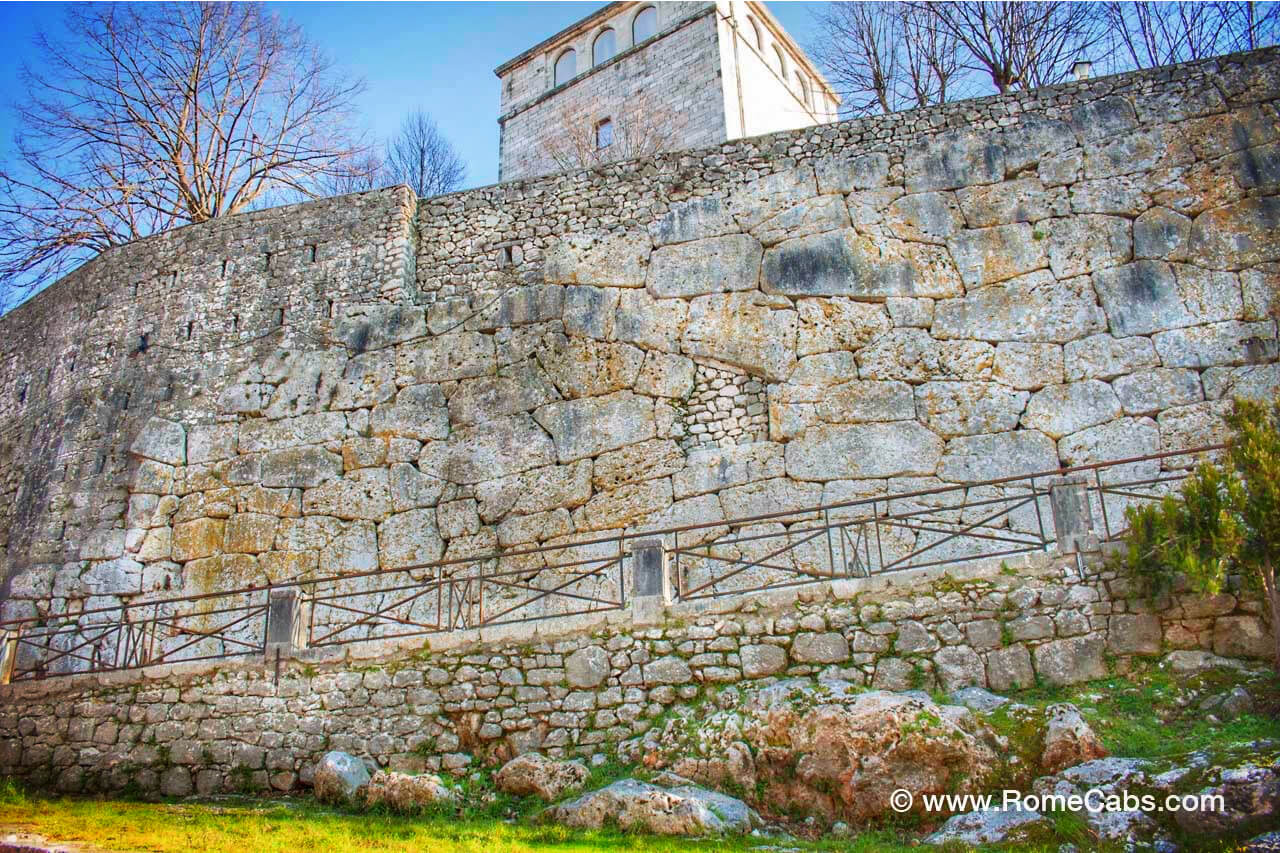 You can see these well preserved megalithic polygonal walls, as well as two access doors (Porta Maggiore and Porta Minore) on top of the town which used to be the acropolis. The current cathedral was built on top of pagan temples.
The ancient acropolis will also reward you with stunning views of the Ernici mountains into the far horizon and picturesque fertile valleys.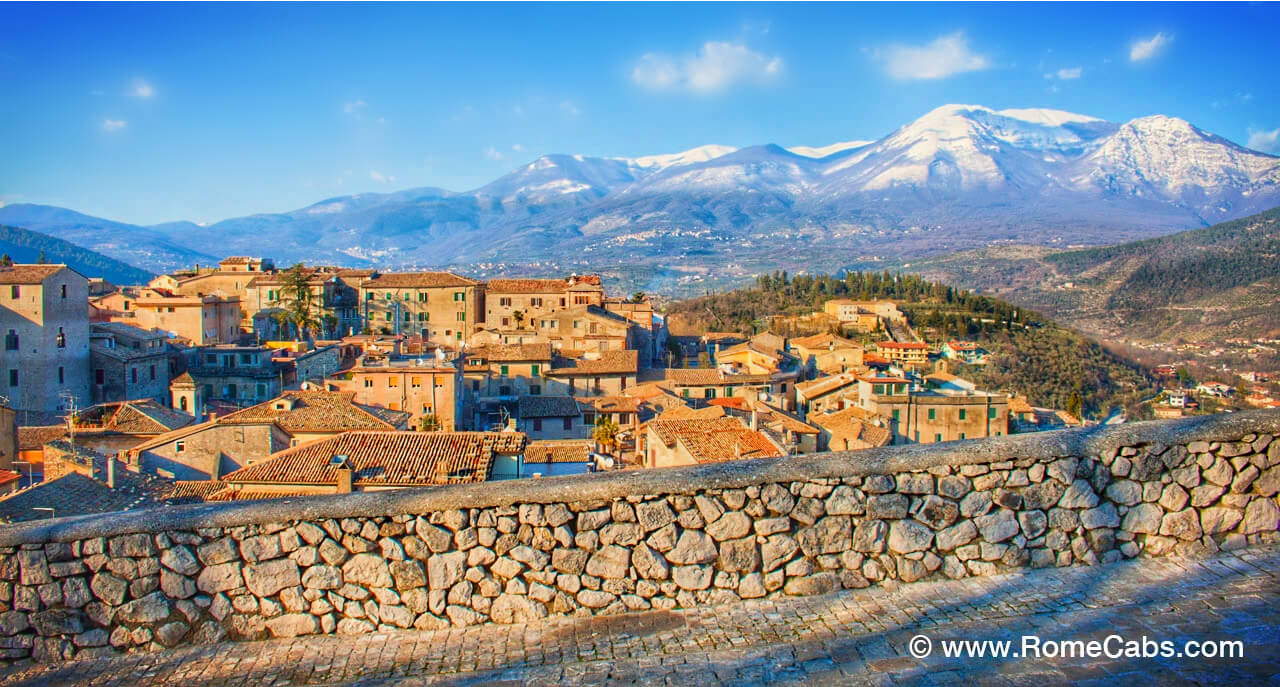 Alatri flourished during the Medieval period, and it's still a perfectly kept medieval village that will charm you with with its architecture and monuments.


* TOURS THAT OFFER THIS DESTINATION: Alatri is part of the LEGENDS AND CASTLES TOUR offered by Stefano Rome Tours
11. Bomarzo Monster Park / Parco dei Mostri


In the heart of the Sacred Wood near the town of Bomarzo is a most magnificent Manieristic park filled with fascinating yet many monstrous sculptures scattered amidst trees and shrubs allowing art and nature to intertwine, waiting to surprise you at each turn. Fitting, it's been named the Monster Park / Parco dei Mostri.
This shocking "villa of Wonders" was commissioned in the 16th century by Pier Francesco "Vicino" Orsini who was a great military leader and patron of the arts.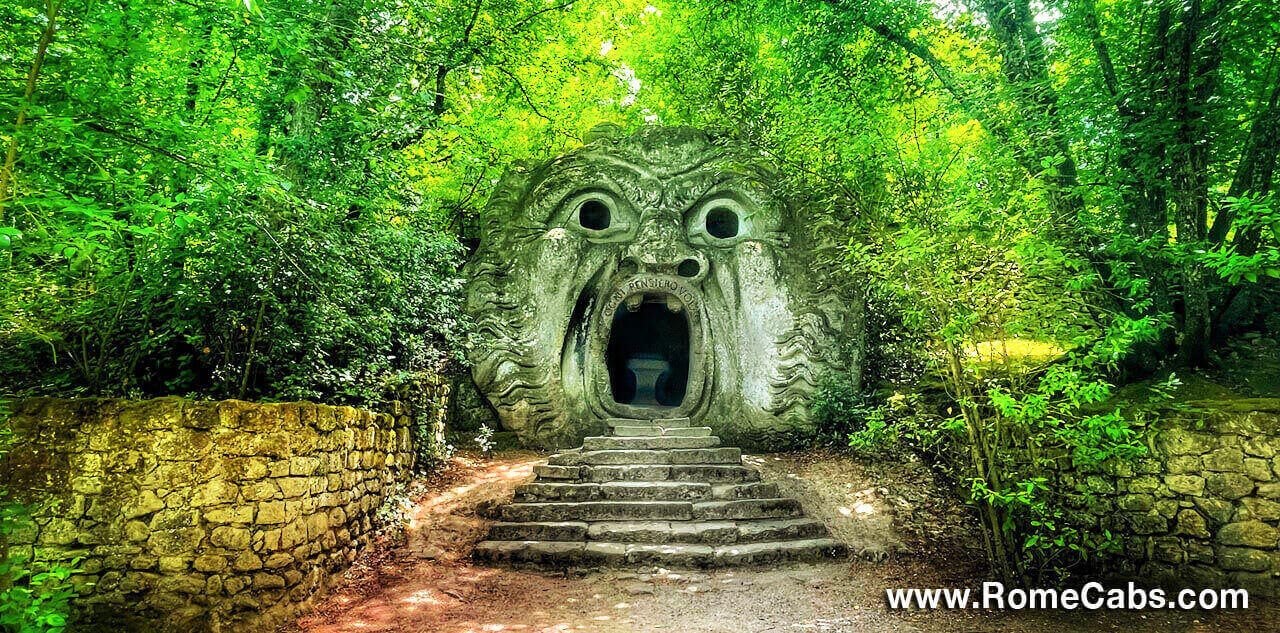 However, this creation was not intended to represent what is good and right in the world, but perhaps it was a product of his life's tragedies: a fierce general who fought in a terrible war that resulted in the death of his good friend and years held as war prisoner in Germany, and the untimely death of his beloved wife as soon as he returned home.
As you meander through this woodsy park filled with mythical stone creatures, you will discover a towering war elephant reminiscent of Hannibal, a large nightmarish fish-head, one giant tearing another giant in half, and an enormous monstrous head with its mouth wide open in a scream – large enough to enter and sit at the table inside the monster's head, true to the inscription: all reason departs.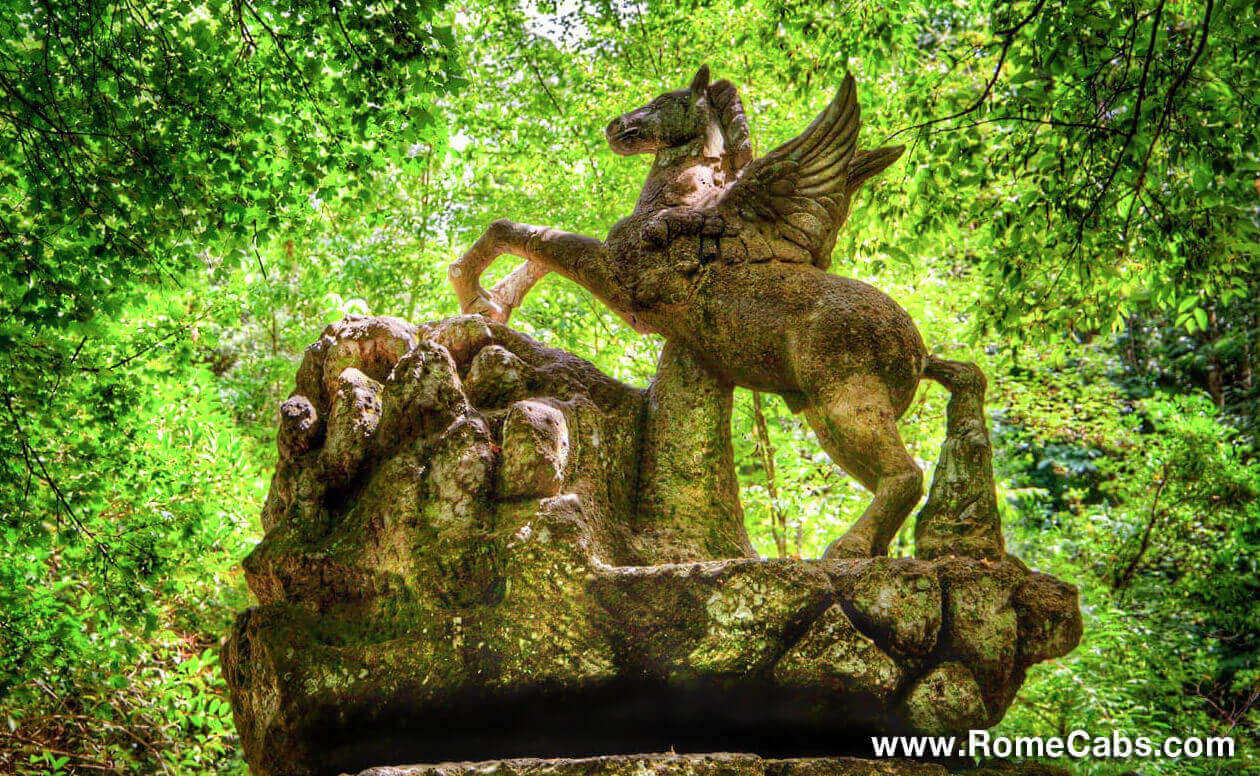 Quite unusual is the leaning house with the tilted floor that leaves you feeling a little off balance and perhaps a bit queasy – perhaps an ideal guest house for "unwanted" guests.
Surrealists like Salvador Dali loved the Monster Park and was greatly inspired by it, reigniting public interest in the park that was left abandoned for centuries since Orsini passed away.
* TOURS THAT OFFER THIS DESTINATION: Bomarzo Park is part of the MONSTERS AND MYTHS TOUR offered by Stefano Rome Tours.
We hope you enjoyed this journey to the 11 Must See Italy countryside destinations from Rome. If you wish to book any tours that include any of these wonderful places, please visit our website or our sister company Stefano Rome Tours for detailed tour information and itineraries.
Some of the destinations included are also possible on Shore Excursions from Civitavecchia.
Thank you very much and we look forward to showing you beautiful places in Italy!
The RomeCabs Team
RomeCabs Flicker Photo Gallery