description

Imagine strolling through towns and villages of bygone eras that inspired fables and legends of Medieval era kings, lords, ladies, and knights who dwelled in Medieval castles. Imagine stepping into a place that looks more like a movie set for King Arthur than a modern 21st-century city. You don't have to imagine it because Medieval castles and villages that have witnessed the passage of centuries around them are yours to explore on this Medieval Magic Rome countryside tour from Rome and Shore Excursion from Civitavecchia.

Our exclusive Medieval Magic tour was inspired by many of our enthusiastic clients who proclaimed they felt as if they were magically transported back to the Medieval era when they visited the sites on this tour.

Enjoy visits to the fascinating Medieval town of Tuscania that boasts majestic views of local landscapes, the charming clifftop hamlet of Ceri where time stood still, and the imposing lakeside Castello Orsini-Odescalchi (Bracciano Castle) in the historic town of Bracciano that are vestiges of the opulence, architecture, art and chivalric codes that served as an inspiration to poets and writers for centuries.
Whether your Medieval Magic Rome Countryside tour is a day tour from Rome or a shore excursion from Civitavecchia, your journey into the past begins with a drive that takes you through the rolling landscapes of the rustic Roman countryside to your first destination.



MEDIEVAL MAGIC ROME COUNTRYSIDE TOUR PRICE LIST



For Countryside Tours from Rome Hotel
For up to 4 Persons from Rome Hotel: 475 EUROS
For up to 6 Persons from Rome Hotel: 500 EUROS
For up to 8 Persons from Rome Hotel: 550 EUROS



For Shore Excursion from Civitavecchia:
For up to 4 Persons from Civitavecchia Port: 550 EUROS
For up to 6 Persons from Civitavecchia Port: 600 EUROS
For up to 8 Persons from Civitavecchia Port: 650 EUROS



* You may also do a QUICK PRICE CHECK using the Price Check & Booking Form on the Right Side of this page. Once you receive the PRICE QUOTE based on the information you input, you may proceed to SUBMIT your Tour Request.
*** Dates on the Booking Form Calendar that are NOT Selectable, are NOT AVAILABLE.

*** For cruisers who disembark at Civitavecchia at the conclusion of their cruise and wish to book a debarkation tour, we also offer a Post Cruise Medieval Magic Rome Countryside Tour with pick up at your cruise ship and drop off at your hotel in Rome.



TUSCANIA - the quintessential Medieval walled town

Tuscania is considered one of the oldest towns in Italy with a history tracing back to the Neolithic Age more than 3,000 years ago.

Tuscania was founded around the 7th century BC on a promontory of tuff rock. Legends tell us Tuscania may have been founded by Ascanius, the son of the Trojan hero Aeneas, where he discovered 12 puppies, thus giving the settlement the Etruscan name of Tus-Cana (similar to the Latin word of dog "canis"). Another legend has it Tuscania was founded by Tusco, the son of the demigod Hercules.
Thanks to its strategic position near the sea and along important trade routes, Tuscania grew and prospered during the long Etruscan civilization. Later, when the Etruscans were conquered by the expanding Romans, Tuscania became known as "Tuscana", the city of the Tusci, which was the name the Etruscans were given by the Romans. During the Middle Ages, Tuscania took on its characteristic medieval appearance with architectural developments that can still be admired and appreciated today. For centuries until 1911, this captivating medieval town was also known as Toscanella.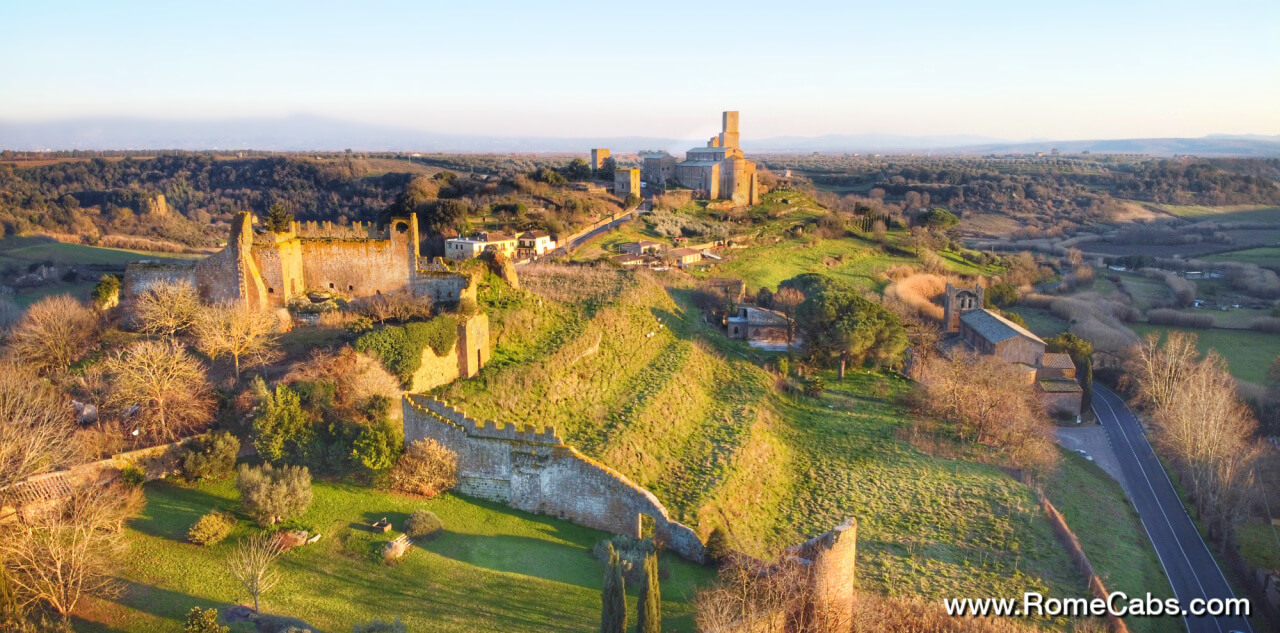 Cobbled alleys, historic buildings, charming atmosphere, and picturesque views that open to squares and fountains make this medieval town delightful to visit. Be sure to have your camera handy for the mesmerizing landscapes with imposing churches and evocative fortress ruins that can be admired from a belvedere. Upon visiting Tuscania in the early 1900s and seeing this view for himself, English novelist and poet D.H. Lawrence was inspired to write: "The Most beautiful view in all Italy: the Etruscan valley of Tuscania".
While in Tuscania, you have the opportunity to visit two historically and architecturally significant churches: the imposing 8th century AD Romanesque-Lombard style Basilica of San Pietro situated on the ancient Etruscan acropolis surrounded by impressive towers and a bishop's palace, and the resplendent 11-12th century Santa Maria Maggiore at the foot of the hill.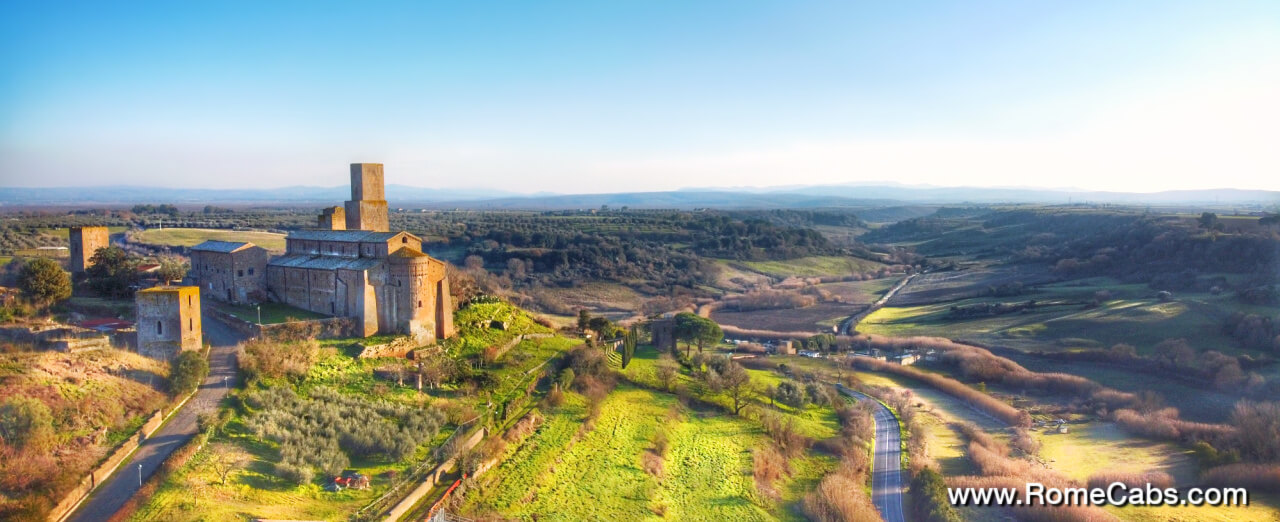 The ancient mysteries that surround Tuscania also extend to these Medieval era basilicas with facades beautifully adorned with intricately carved symbolic figures of both early Christianity and paganism. The basilicas are believed to have been built to orient towards the solstices: Saint Peter's Basilica orienting towards the summer solstice and Santa Maria Maggiore orienting towards the winter solstice.
NOTE: On Mondays, the Basilicas in Tuscania are Closed as are most museums in Italy. If you are touring on a Monday, you may view the Basilicas from the outside while enjoying more free time exploring the charming town of Tuscania.
CERI - the charming Medieval hamlet
Your relaxing drive continues through the rustic Roman countryside to Ceri. This charismatic medieval clifftop borgo (hamlet) is beautifully positioned on a natural tuff plateau between sprawling valleys offering a panoramic view of sublime landscapes interspersed with green forests, and cultivated fields dotted with farms. Though close to Rome and a popular weekend destination for Romans, Ceri is a world away surrounded by nature and steeped in medieval history.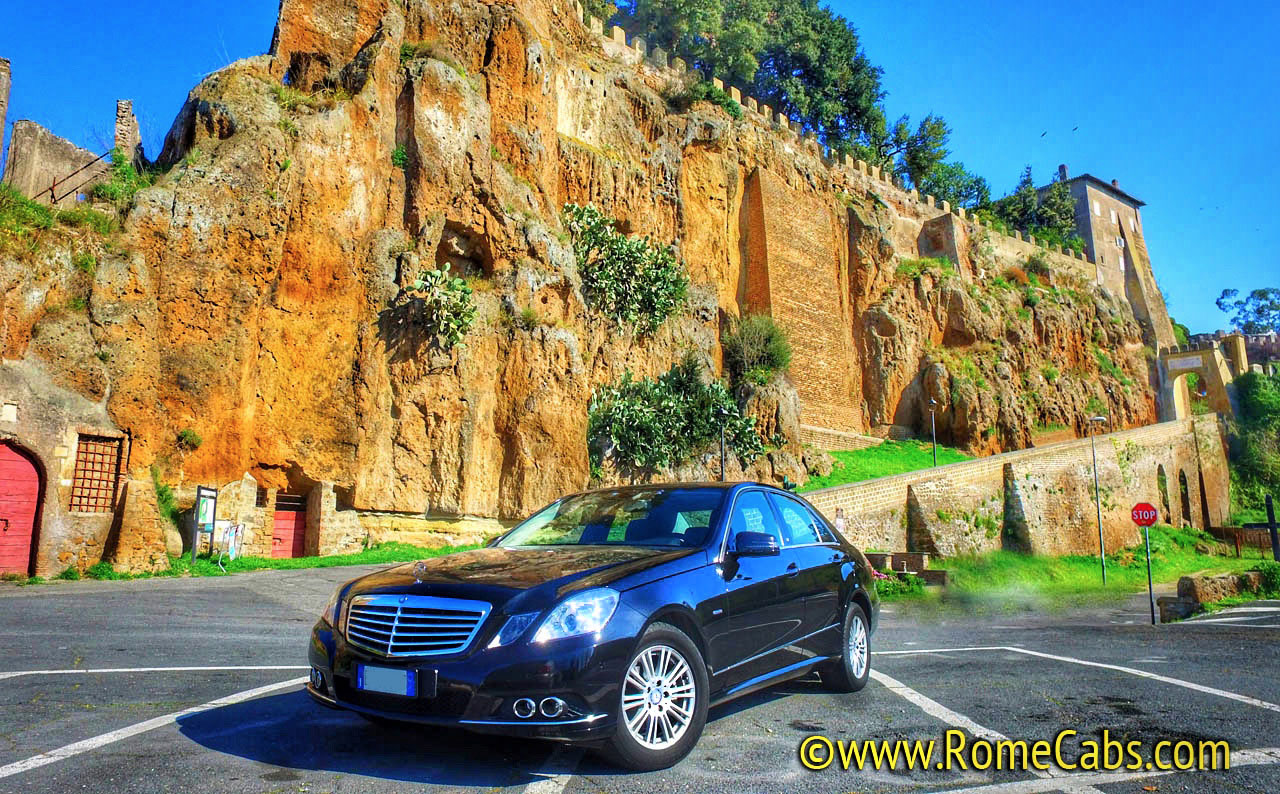 Ceri was founded in 1236 on the remains of an ancient 7th-century settlement when the inhabitants of the nearby Caere (modern-day Cerveteri) abandoned the latter to relocate on this tufaceous cliff whose difficult access offered them a strategically natural defense against invaders. Fortified crenelated walls also protect the village.

Etymologically, the word borgo (hamlet or village) indicates a small settlement built around a castle, usually dating back to medieval times. Ceri has the same genesis with a cluster of historic houses built around its castle. Known as Palazzo Torlonia, the castle was constructed at the end of the 15th century and owned by some of the most illustrious Roman families such as the Orsini, Odescalchi, Anguillara, and Torlonia.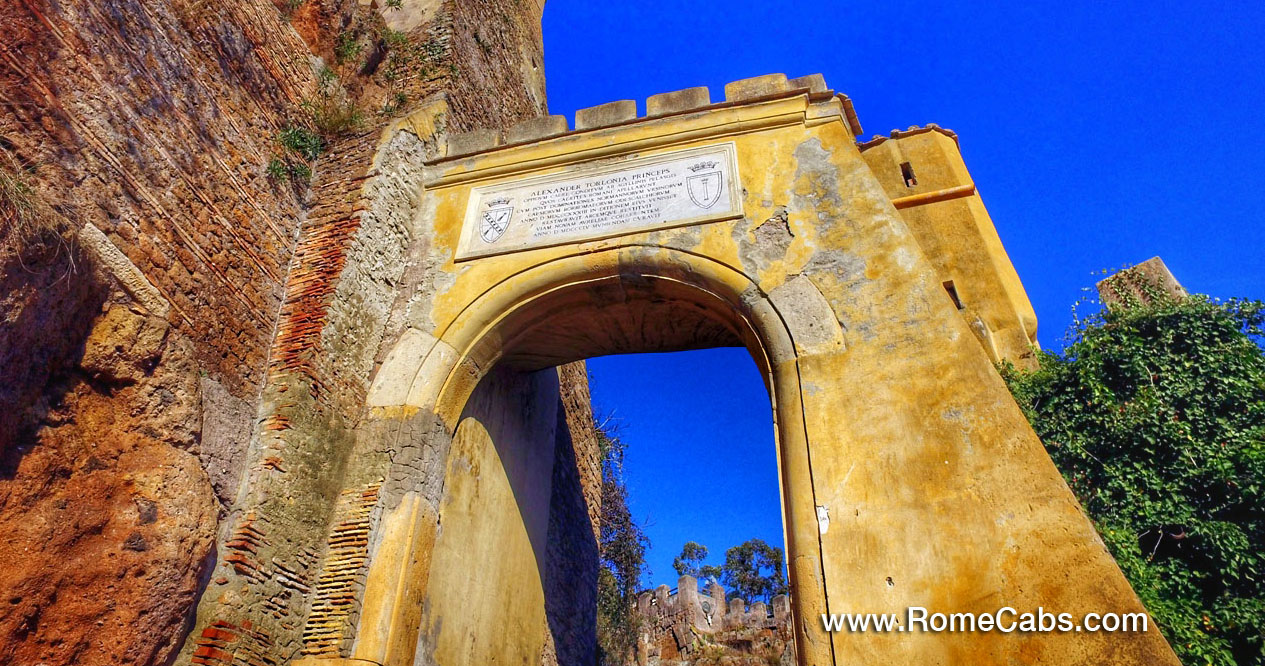 As soon as you arrive at the foothill of Ceri you will feel as though you are about to travel back in time. A single lane wide enough for just one vehicle to pass through at a time will take you from the ancient gate below to the village square on the top. The charming village square is surrounded by historic buildings of a thousand shades of earthy pink and ochre.
The most important building in the square is the 11th-century church dedicated to the Madonna of Ceri which boasts spectacularly vibrant medieval frescoes depicting scenes from the Old Testament.

Ceri is also popular for its delicious homemade-style cuisine served at local family-owned restaurants with panoramic views and terraces. Using secret recipes passed down from their Italian grandmothers, local dishes include fresh and in-season local products and delicious regional wines.
Along with free time for lunch, this tiny hamlet merits a stroll along its ancient alleys to its outer walls for a glimpse of its serene countryside landscapes. If you enjoy photography, you'll find Ceri one of the most charming medieval hamlets to photograph.
BRACCIANO CASTLE - the fabled medieval castle of Italy


Your journey through the Italian countryside continues to the fabled Lake Bracciano and its medieval town of Bracciano crowned by the imposing 15th-century castle Castello Orsini-Odescalchi (or Bracciano Castle for short).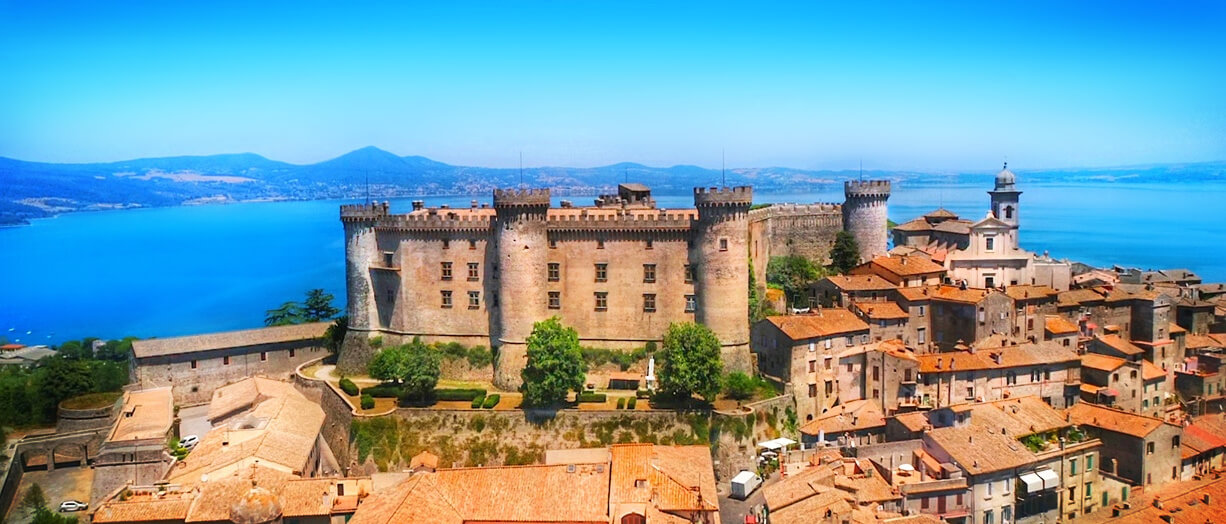 Originally a volcanic crater, the crystalline Lake Bracciano is one of the most pristine lakes in Italy renowned for its clarity and purity. Surrounded by forests and olive groves, the lake's scenic landscape is protected by a national reserve. This majestic lake with a glassy surface that mirrors its gorgeous surroundings is one of the most popular destinations for Italians and an ideal day trip from Rome.

Throughout Bracciano's historic center you'll discover places forgotten by time: romantic medieval streets, a warren of winding and sloping lanes, and glimpses of imposing castle towers peeking from behind rooftops of historic buildings. At every turn, you'll find yourself immersed in medieval history.

Overlooking Bracciano is the well-preserved medieval castle Castello Orsini-Odescalchi that was commissioned in 1470 by Napoleon Orsini, of the powerful Orsini family. Due to the castle's strategic geographical location, powerful families such as Colona and Borgia fought bitterly for its ownership. This never-ending sequence of war and political intrigue lasted until 1696 when it was eventually sold to the Odeschalchi family who still owns the castle today.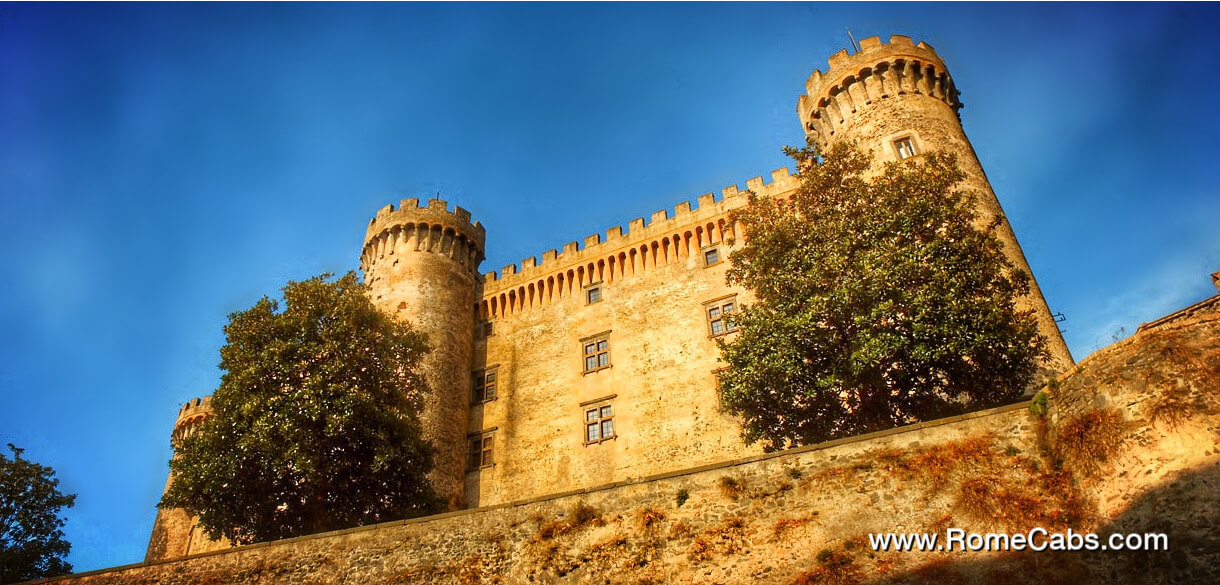 This majestic castle is a remarkable example of Renaissance military and civil architecture. Part opulent residential castle, part towering military fortress, Bracciano Castle is one of the largest and best-maintained castles in Italy. The castle is also a museum with over 20 lavishly adorned rooms, the large castle medieval kitchen, armory room, and central court. A medieval stone spiral staircase connects the ground floor of the castle to the upper floor.
You'll feel as if you've traveled back in time several centuries as you admire the lavishly decorated with original Renaissance-era furnishing, paintings, freezes, and frescoes created by some of Rome's most renowned artists of that period. Once upon a time, Italy's most illustrious figures such as kings, popes, lords, and ladies have slept and lived in this enchanting fairytale castle.
A walk along the ramparts of the castle walls will reward you with enthralling views of the volcanic crater Lake Bracciano surrounded by green forests and pretty countryside landscapes.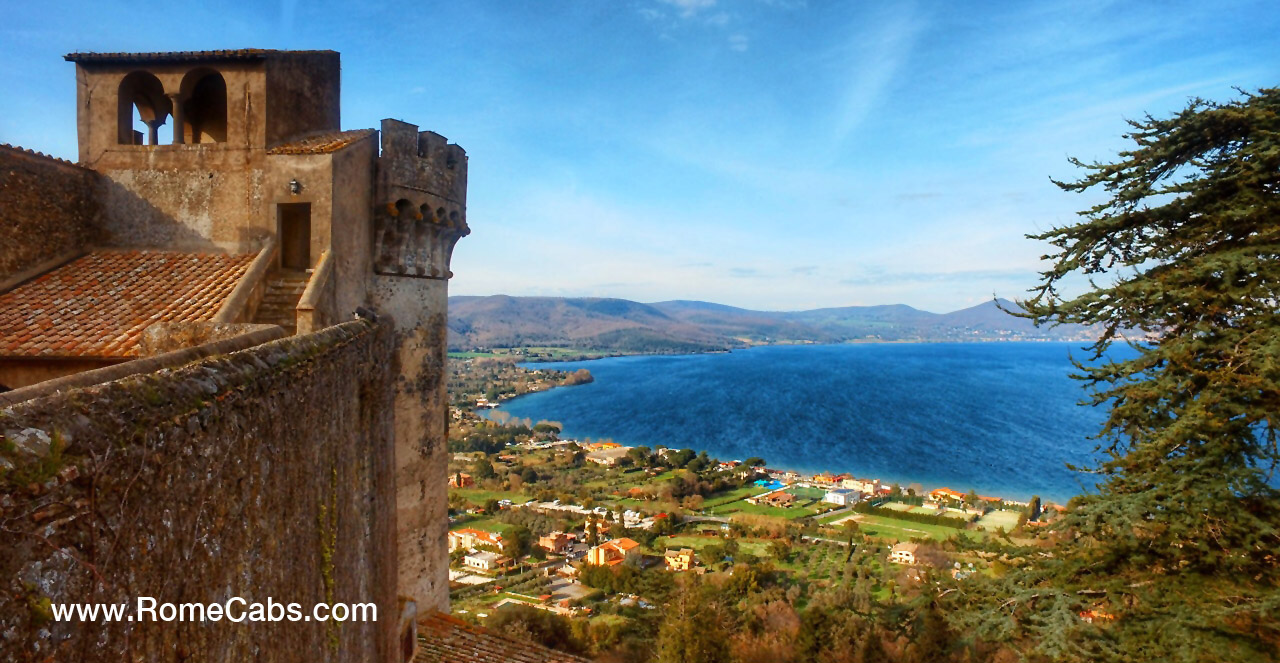 From here, you will enjoy a relaxing drive back to your cruise ship in Civitavecchia or your hotel in Rome, committing to memory each spellbinding moment you spent exploring the magic and wonders of Medieval Italy.

Thank you for booking our Medieval Magic Rome Countryside Tour and for choosing Stefano's RomeCabs for your day tours from Rome and shore excursions from Civitavecchia. We look forward to sharing with you the magic of Italy!

Our guests who booked this Medieval Magic Rome Countryside Tour also enjoyed the following popular tours:

VALLEY OF PARADISE Tuscany Tour
Important Information

PLEASE READ THE INFORMATION BELOW AND ACCEPT THE TERMS OF SERVICE AND PRIVACY POLICY BEFORE BOOKING.



PAYMENT OPTIONS
Payment can be made in EUROS directly to your driver on the Date of the Tour or prepaid in advance via PayPal or Credit Card.
If you wish to PREPAY via PayPal or Credit Card, you may do so online when CONFIRMING your BOOKING by SELECTING your preferred option of payment.
CANCELLATION POLICY
We kindly request that cancellations be made at least 7 days in advance of the Date of Service.
Cancellations must be made in writing via E-Mail and confirmed by our office as assurance. We do not accept cancellations by telephone, text message, or 3rd party.


** Cancelations for PREPAID SERVICES will be refunded the Net Rate we receive from your prepayment. Net Rate: actual service price minus PayPal/Credit Card fees retained by PayPal/Credit Card as they do not reimburse us the fees they retain from your payment.


* Bracciano Castle Admission Tickets:
Entry admission to Bracciano Odescalchi Castle is currently approximately 10 Euros per person. Tickets can be purchased upon arriving at the site. * Admission Ticket prices are subject to change with notice.
* Please note that Bracciano Castle may unexpectedly close for private events or internal reasons. If it's closed upon your arrival, your driver can take you to explore alternative lakeside villages like Trevignano or Anguillara after your visit to the village of Bracciano.
* Private Guided Tours of Bracciano Castle:
Odescalchi Castle offers private tours in English with advance reservations at 180 Euros including tickets. Please inform us in advance if you wish to reserve a private guide for your visit to the castle. Private Tours of Bracciano Castle require Non-Refundable prepayment as Bracciano Castle does not issue refunds for cancellations.
Otherwise, you will SELF TOUR the castle on your own.
If you wish to Self Tour the Castle, please READ: Odescalchi Castle in Bracciano: TOURING TIPS

Lunch in CERI
Lunchtime will be in Ceri, and lunch enjoyed at a local restaurant (your driver can offer suggestions). Ceri is famous for local home-cooked cuisine at reasonable prices that draw Italians and visitors from all over the region. There are no sandwiches or sliced ​​pizza anywhere in the hamlet or its environs. Ceri.


YOUR PRIVATE TOUR DRIVER
This chauffeur-driven tour includes an English-speaking Private Driver who is not a Licensed Tour Guide.
Italy's laws prohibit Drivers from guiding or accompanying guests Your driver will be obliged to remain with the vehicle while you visit sites. For this reason, we recommend private licensed tours, sites, and monuments if you require in-depth information.
MEETING POINTS TO MEET YOUR TOUR DRIVER


For Countryside Tours from Rome ROME HOTEL / ACCOMMODATION:
Your driver will meet you inside the lobby of your hotel or in areas permitted by hotels.

For Apartments or B&B's without a lobby, your driver will meet you outside the main entrance of your Pick Up Address.

* If your hotel or accommodation is on a street or in an area restricted to vehicle traffic, your driver will park as close as lawfully possible and meet you on foot at your Address, and accompany you to your parked vehicle.

For Shore Excursions from CIVITAVECCHIA CRUISE PORT
Your driver will meet you on the Pier next to your Ship at your scheduled pickup time holding a sign with the NAME in your reservation.

Please do NOT leave the ship area, and do NOT take a shuttle bus outside the port.

Look for the driver in the same area as ALL private drivers will be waiting for their clients.



TOUR SHARING from CIVITAVECCHIA


Interested in a shared Civitavecchia Shore Excursion?
SAVE MONEY on your Shore Excursions from Civitavecchia, Livorno, La Spezia, and Naples cruise ports and make new friends to enjoy your tours with by simply creating your own Private Tour Sharing Group. Find out HOW: TOUR SHARING INFORMATION
BRACCIANO CASTLE VISIT TIPS:
This tour will require quite a bit of walking and negotiating many steps to access the upper levels of Bracciano Castle. Guests with mobility issues may enjoy the ground level of the Castle, and access limited areas inside the necropolis in the vicinity of the entrance to minimize long walking distances.
For more historical information and visiting Odescalchi Castle please click to read: Odescalchi Castle in Bracciano: Tour Tips.


TIPS FOR MEDIEVAL MAGIC ROME COUNTRYSIDE TOUR:


This countryside tour is created for the experienced traveler and cruiser with a keen interest in culture, history, nature, architecture, and Italian cuisine (slow food). This tour may not be suitable for those seeking tourist attractions, fast-paced activities, or fast food eateries.
Please wear comfortable shoes and clothing on this tour.
There are many opportunities to take photographs and videos on this tour, so be sure to bring your cameras, and plenty of batteries and memory cards with you!
During the hot and sunny summer months please use sunscreen, sunglasses, and a summer hat.