description
Stefano's RomeCabs is pleased to offer a private tour to Umbria to explore the distinctive jewels of Umbria: Assisi and Orvieto tour from Rome.

Just north of Rome is the lovely region of Umbria, characterized by rugged mountains and forested hills, fertile valleys, and a rustic countryside sprinkled with historic towns, charming villages, fortresses of long ago, and rural farmhouses. Umbria encompasses art, nature, spirituality, exceptional cuisine, and enchanting medieval towns...and nowhere do these spectacular elements convene so beautifully than in Assisi and Orvieto that you will explore on this day tour from Rome.
ORVIETO AND ASSISI TOUR PRICE LIST


For up to 2 Persons from Rome Hotel: 530 EUROS
For up to 4 Persons from Rome Hotel: 580 EUROS
For up to 6 Persons from Rome Hotel: 600 EUROS
For up to 8 Persons from Rome Hotel: 650 EUROS


** You may also do a QUICK PRICE CHECK using the Price Check & Booking Form on the Right Side of this page. Once you receive the PRICE QUOTE based on the information you input, you may proceed to SUBMIT your Tour Request.
*** Dates on the Booking Form Calendar that are NOT Selectable, are NOT AVAILABLE.
Visit ASSISI, the birth city of Saint Francis
A relaxing drive through the countryside takes to Assisi, famously known as the birthplace of Saint Francis (San Francesco d'Assisi) and Saint Clare (Santa Chiara), the founders of the Franciscan religious order and the Poor Clares.

Situated on the slope of Mount Subiaco, and surrounded by a patchwork of green valleys, Assisi rewards its visitors with one of the most evocative panoramas in the region. In Assisi, you don't want to miss visiting the remarkable Basilicas of Saint Francis and Saint Clare.
Basilica of Saint Francis (San Francesco)
The early 13th-century Basilica of Saint Francis is one of the most unique and beautiful churches in Italy, and a remarkable example of the early Gothic style in Italy and an architectural assemblage that has considerably influenced the development of art and architecture in Italy.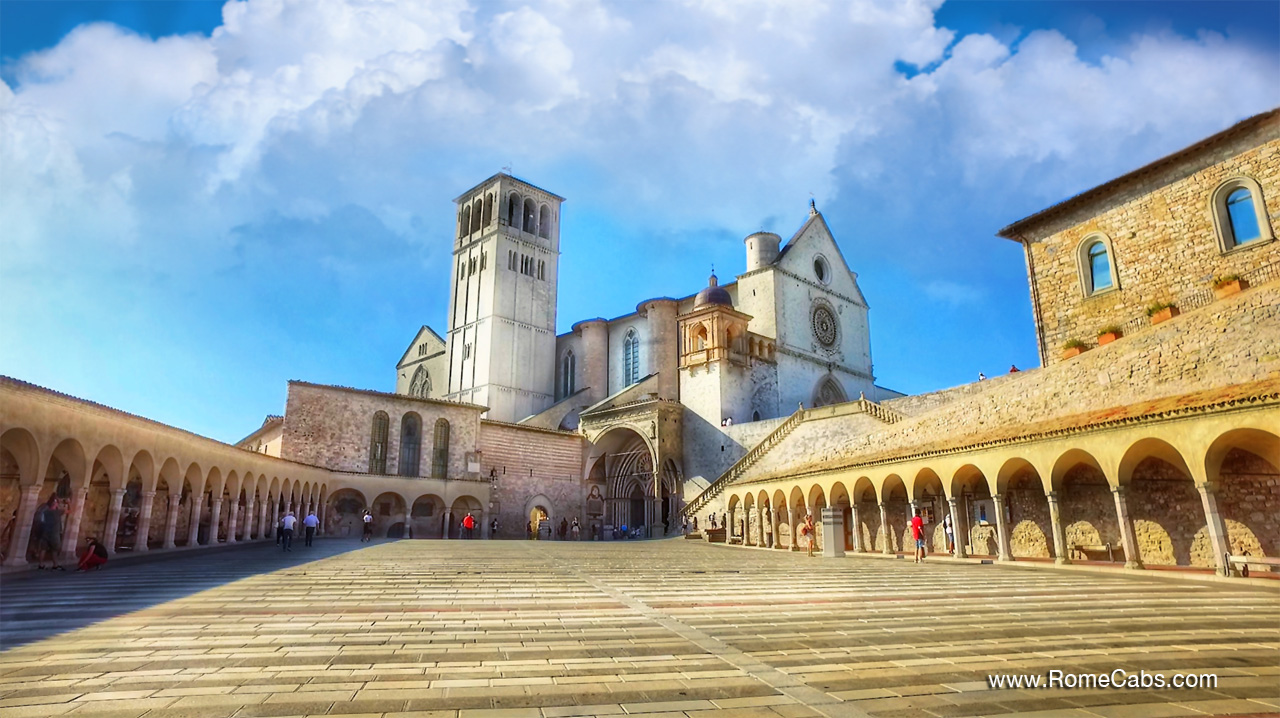 The basilica has two levels: the Lower Basilica and the Upper Basilica. Both churches are richly frescoed with masterpieces by renowned artists of the era such as Giotto, Cimabue, and Simone Martini grace the walls of the basilica's interior with spiritual messages of the Franciscan order that are recognized worldwide. Beneath the Lower Basilica is the crypt of Saint Francis which you may visit.

Along with Assisi itself, the Basilica of Saint Francis is a UNESCO World Heritage Site since the year 2000.
Basilica of Saint Claire (Santa Chiara)

The 13th-century Basilica of Saint Clare (Basilica di Santa Chiara) is dedicated to Saint Clare, the follower of Saint Francis and founder of the Order of Saint Clare. Alternating stripes of pink and white-colored stones and massive supporting arches define the elegantly simple church.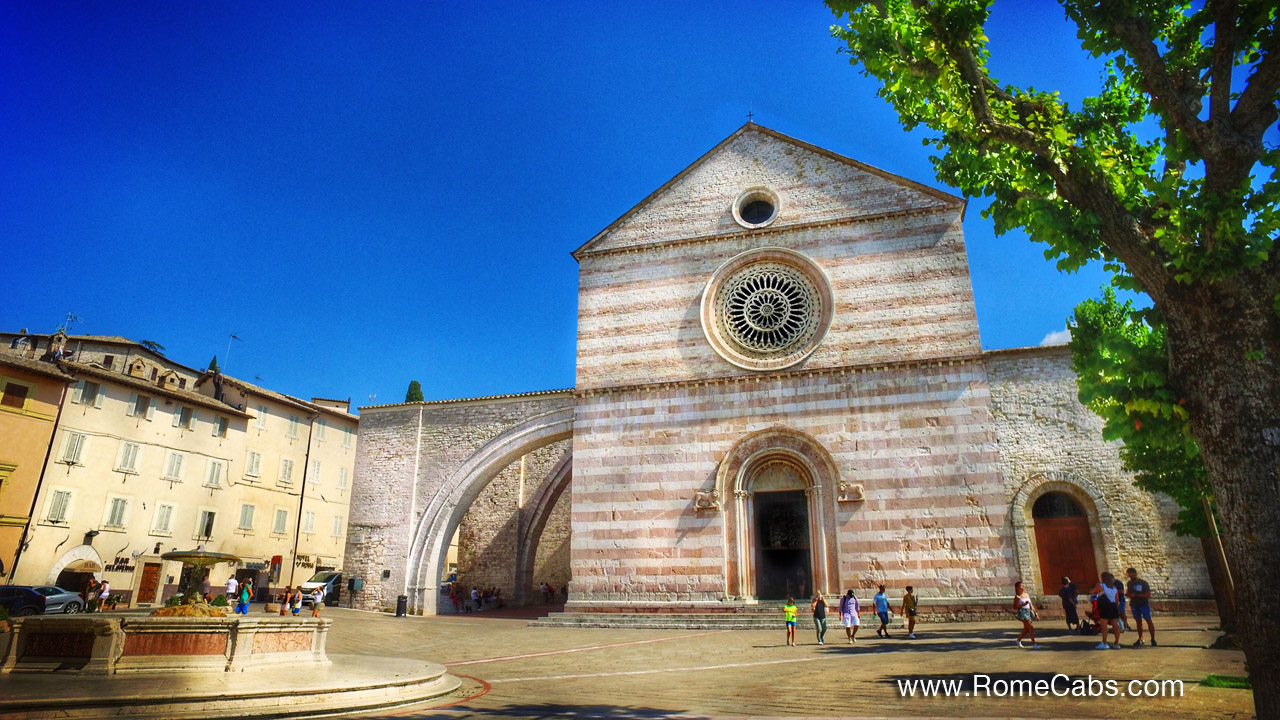 Beneath the basilica, you can visit the spacious crypt with the shrine where Saint Clare's body is on display in a glass coffin. Some Franciscan relics belonging to Saint Francis and Saint Clare are also on display at the end of the crypt. Inside the Oratorio del Crocifisso (The Oratory of the Crucifix) hangs the venerated 12th-century wooden crucifix believed to have spoken to young Francis and played a significant role in Francis' spiritual conversion. In front of the Basilica of Saint Clare is a spacious square with a side terrace that surprises visitors with a spectacular view of the Umbrian countryside and Assisi rooftops.
Visit Assisi's town square: Piazza del Comune

Assisi's most popular square is Piazza del Comune, surrounded by historic buildings, cafes, restaurants, and unique shops that sell local specialties and lovely souvenirs. Here you will enjoy free time for exploration, shopping, and lunch.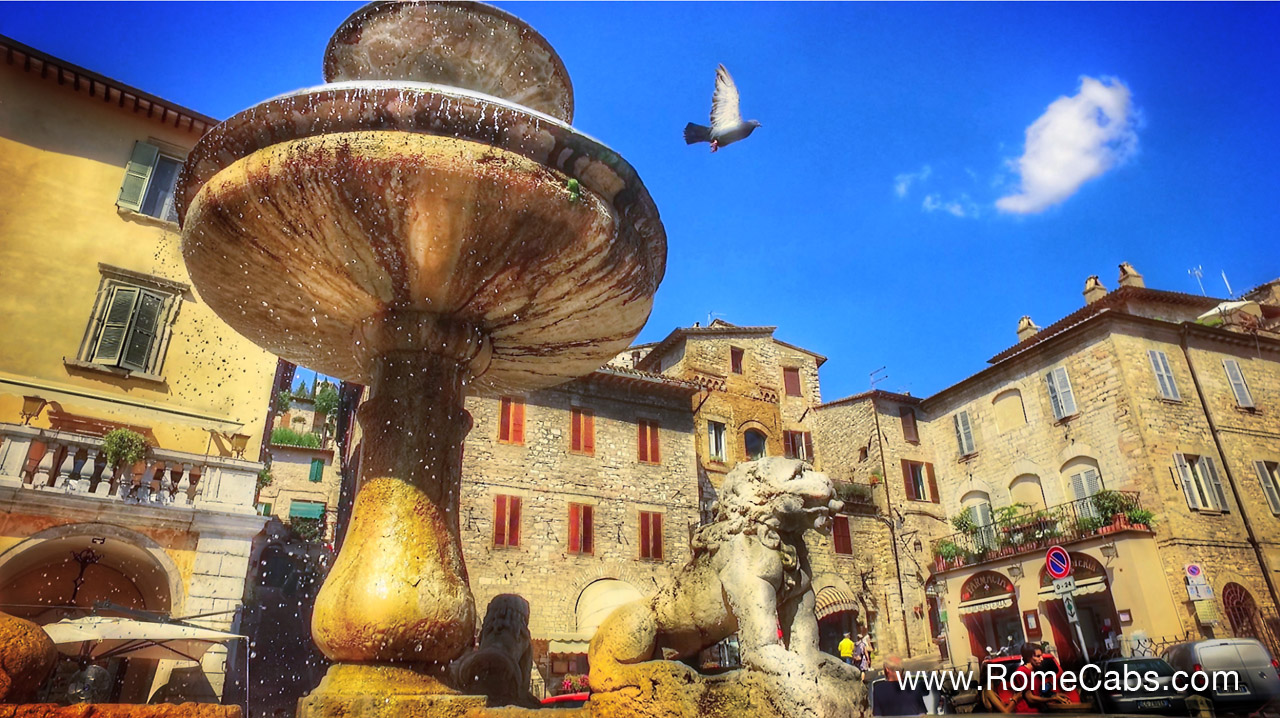 Piazza del Comune is quite unique as during ancient Roman times it was a Roman Forum. Vestiges of Ancient Rome have remained, and the most noticeable is the ancient pagan temple of goddess Minerva that has been converted into the church of Santa Maria Sopra Minerva. The renovated Baroque interior of pale blue and gold trimmings has given the small church the appearance of an opulent jewel box.
Here you will have the opportunity to enjoy lunch at one of the various local restaurants for some delicious Umbrian dishes. Umbrians take pride in their regional traditional cuisine passed down from many generations, and the food in Umbria is particularly delicious. Learn more about Saint Francis and Assisi BELOW.
From Assisi, you will enjoy a drive through the Umbrian countryside to your next destination, Orvieto.
Visit ORVIETO
Resting on a lofty natural pedestal of tufa rock, Orvieto overlooks a majestic Umbrian countryside of vineyards, olive orchards, cypress trees, and dense forests.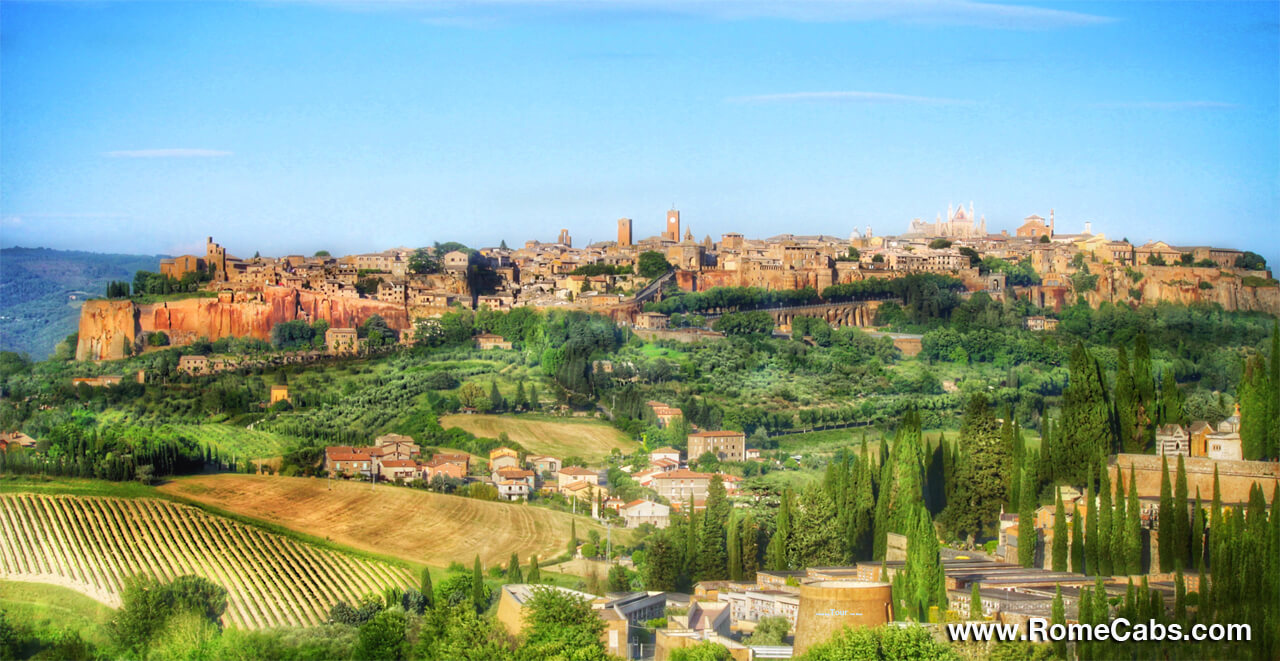 Orvieto is an ancient town, and vestiges of its 3,000-year history can be found in an underground world comprised of hundreds of caves, tunnels, galleries, and cisterns from the Etruscan era that is still used today as cellars, and at the foot of the cliff outside the town is the Etruscan necropolis with amazing tombs carved into the tufa rock.
Orvieto delights visitors with a charming well preserved medieval setting, with wide virtually traffic-free streets lined with local shops brimming with gorgeous hand-crafted and hand-painted ceramics, shops selling local products, cafes and restaurants, and specialty boutiques. Throughout Orvieto, you will also find wine shops (enoteche) that offer wine tastings and sell a variety of local wines.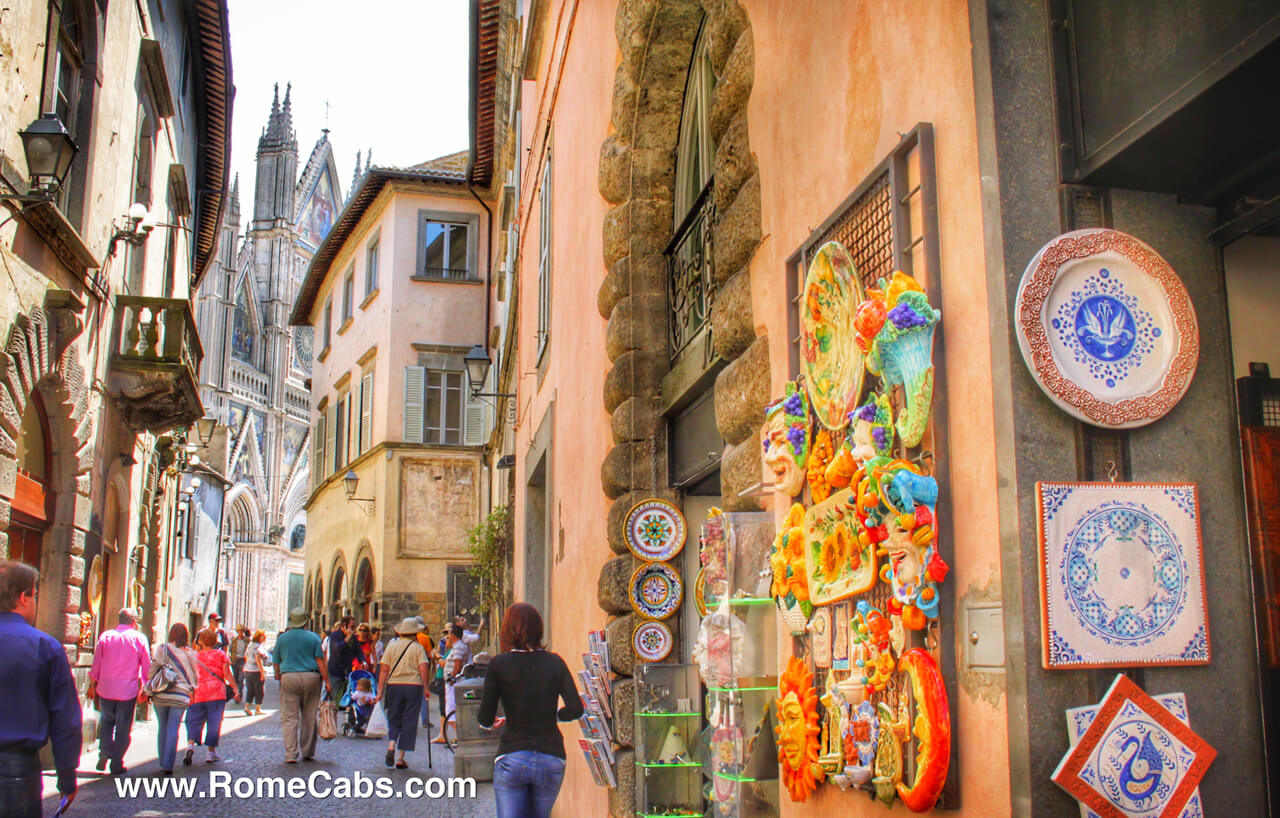 Not to be missed in Orvieto is the late 13th century Gothic Cathedral of Orvieto, dedicated to the Assumption of the Virgin. It took 30 years to plan and 300 years to reach the cathedral's current splendor. Its magnificent seven-story facade is bejeweled with mosaics that shimmer in the light, decorated with dark green and white marble strips and carvings, and adorned with niches that frame life-size sculpted figures.
Dramatic frescoes inside the cathedral have transformed it into a museum place containing a treasure trove of masterpieces by famous artists of that time including Luca Signorelli and Fra Angelico.
NOTE: Tickets are required to visit the beautiful chapels inside the Cathedral. Read more about Orvieto BELOW.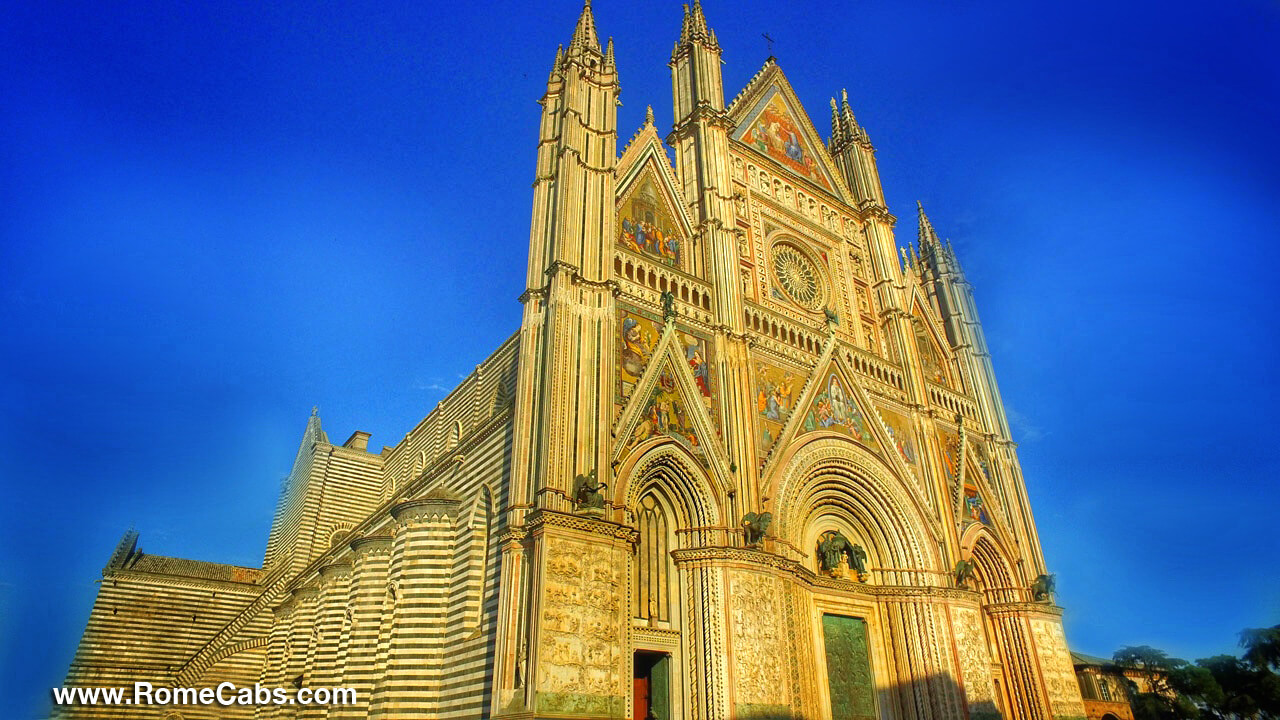 From Orvieto, you will enjoy a relaxing drive back to your accommodation in Rome. Thank you for booking our Jewels of Umbria: Assisi and Orvieto Tour from Rome, and for choosing Stefano's RomeCabs for your private Italy tours.

Important Information

PLEASE READ THE INFORMATION BELOW AND ACCEPT THE TERMS OF SERVICE AND PRIVACY POLICY BEFORE BOOKING.


PAYMENT OPTIONS
Payment for this Tour can be made in EUROS directly to your driver on the Date of Tour, or prepaid in advance via PayPal or Credit Card online upon request. (See Cancellation policy below)
CANCELLATION POLICY
We kindly ask that cancellations be made via E-mail at least 7 days prior to Date of Service.
Cancellations are accepted only via E-mail so your cancellation is on record. We do not accept cancellations by phone, text message, or 3rd parties.
** Cancelations for PREPAID SERVICES will be refunded the Reduced Net Rate we receive from your prepayment. Reduced Net Rate: actual service price minus PayPal/Credit Card fees retained by PayPal/Credit Card as they do not reimburse us the fees they retain from your payment.
YOUR PRIVATE TOUR DRIVER
This tour includes an English-speaking Private Driver who is not a licensed tour guide.
In order to be in compliance with Italian laws protecting the integrity of licensed tour guides, drivers are not lawfully permitted to accompany our guests into squares, churches, museums, or other sites. Your driver will be obliged to remain with the vehicle while you are sightseeing.
On this tour you will SELF TOUR the attractions you visit, unaccompanied by your private driver.
MEETING POINTS TO MEET YOUR TOUR DRIVER


Pick Up from Rome ROME HOTELS / ACCOMMODATION:
Your driver will meet you inside the lobby of your hotel or in areas permitted by hotels.

For Apartments or B&B's without a lobby, your driver will meet you outside the main entrance of your Pick Up Address.

* If your hotel or accommodation is on a street or in an area restricted to vehicle traffic, your driver will park as close as lawfully possible and meet you on foot at your Address, and accompany you to your parked vehicle.


ASSISI AND ORVIETO TOUR TIPS
Wear comfortable shoes as you will be walking quite a bit while exploring these beautiful towns.
Churches in Italy enforce modesty rules, so please have your shoulders and knees covered when entering religious venues. Ladies can use a shawl to cover their bare shoulders



Did you know these secrets of Assisi?

Hill of Hell - Hill of Paradise
Construction of the Basilica of Saint Francis started in 1228 following the canonization of Saint Francis on donated land on the edge of town that was known at that time as "Hill of Hell" (Colle d'Inferno) as it was the place where executions took place. The consecration of the basilica has defined the site as the Hill of Paradise.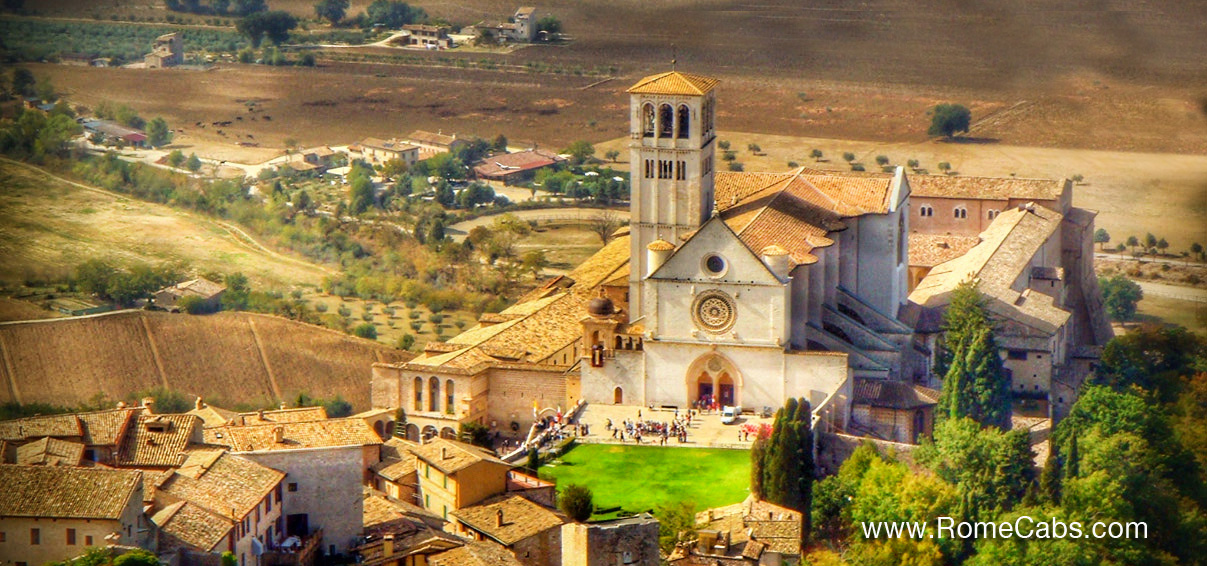 The Hidden Saints of Assisi
When Saint Francis died, he was temporarily buried inside the church of San Giorgio (it later became the Basilica of Saint Clare). His remains were ceremoniously transferred to the Lower Basilica on May 25, 1230, and concealed due to fear that the saint's remains may be stolen and dispersed by relic hunters. It wasn't until nearly 6 centuries later in 1818 when Saint Francis' remains were discovered beneath the basilica and a crypt was built for the faithful to gather and visit the burial tomb of the saint.

As with Saint Francis, when Saint Clare died her remains were also transferred from the chapel of San Giorgio and buried beneath the high altar of the new Basilica of Saint Clare that was built on the site of San Giorgio. After 600 years and a dedicated search for the saint's remains, they were rediscovered in 1850. The saint's remains were later placed in a crypt where the faithful can come and see the saint laid to rest in a glass coffin. A layer of wax covers and protects the saint's face.

Did you know this about Orvieto?

The Corporal of Bolsena
In Orvieto, you can't miss the stunning 4th-century Cathedral of Orvieto. The cathedral was built by the order of Pope Urban IV to provide a beautiful holy place for the Corporal of Bolsena.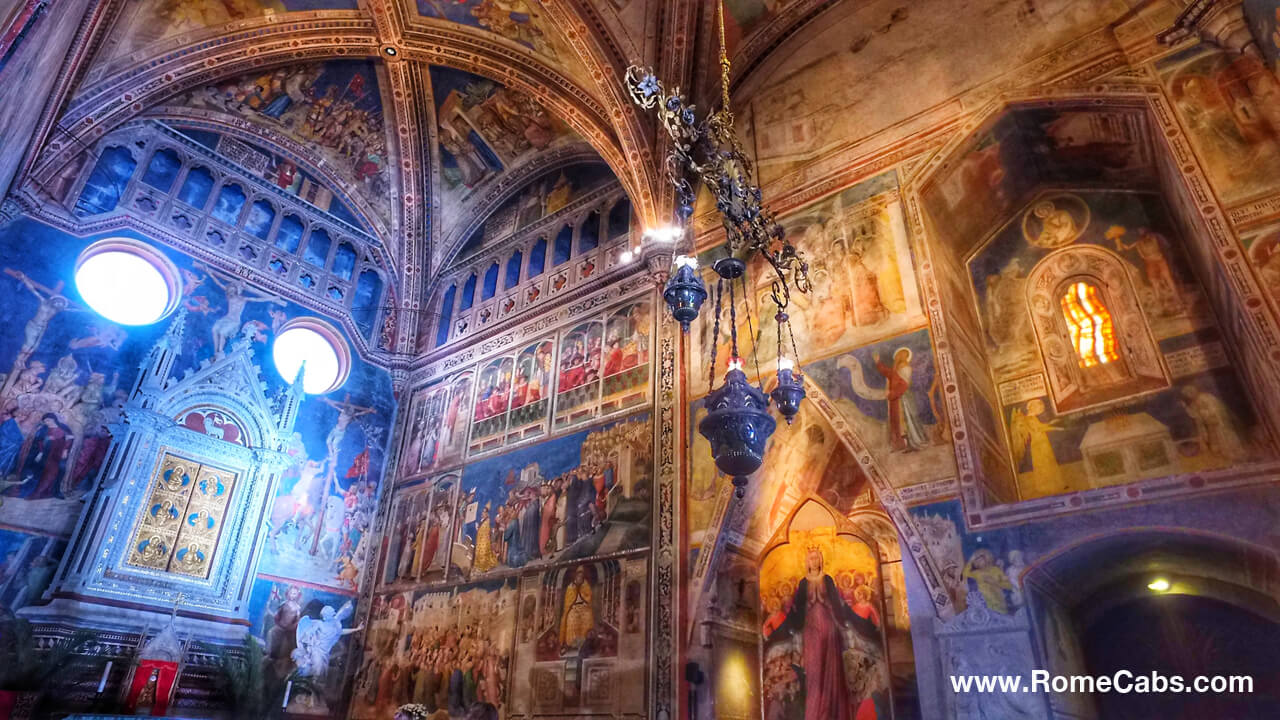 The Corporal of Bolsena was a miracle believed to have occurred in the town of Bolsena in 1263. The Corporal is the small cloth upon which the host and the chalice are placed during the Roman Catholic Eucharist. It is said that this particular Corporal had drops of blood on it, substantiating the Roman Catholic belief that the bread and wine used in the observation of the Eucharist become the literal body and blood of Christ. The Corporal is still preserved in a reliquary in the center of the cathedral and brought out for various religious observances.

Wine Tasting in Orvieto - Orvieto's legendary wines
Without a doubt, Orvieto produces the best wine in Umbria and accounts for 80% of the region's vineyards. You can visit local wine shops (enoteche) in Orvieto to sample and purchase preferred local wines.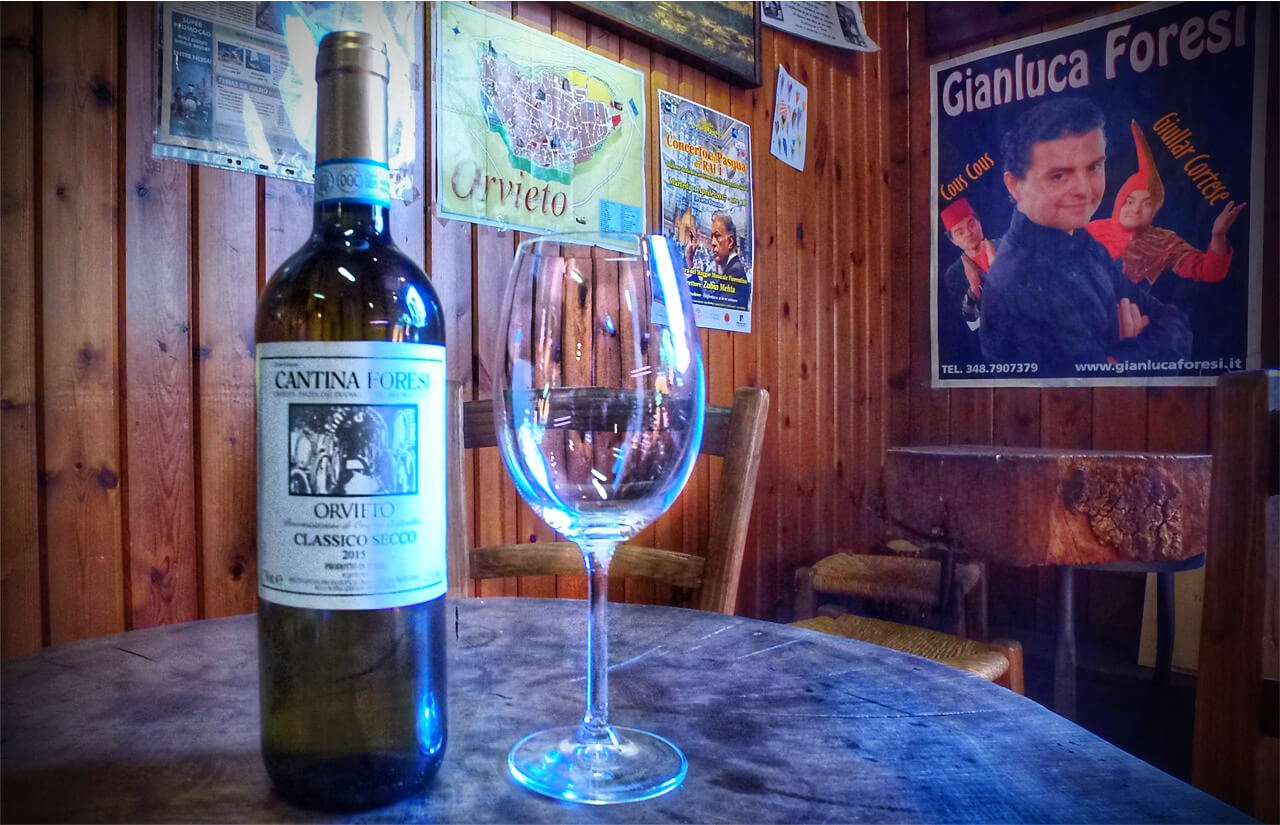 Orvieto is famous for its white Orvieto Classico wine made from a blend of primarily Grechetto and Trebbiano grapes grown in the region characterized by its volcanic, tufa, and limestone soil. Even viticulture is an ancient tradition in Orvieto. Early Etruscans introduced winemaking, and they carved out primitive "wine cellars" for their wine production. With every sip of Orvieto's wine, and with every bite of Orvieto's local specialties, you can taste the history that culminates in the flavors of Orvieto you will enjoy today. Guests who wish to spend more time in Orvieto can also dedicate a full day tour from Rome to Orvieto.