description
This Half Day Pre-Cruise Rome Countryside Tour and Civitavecchia Transfer combination offers our guests the unique option of spending the first half of their day enjoying the beautiful Roman countryside and then go straight to Civitavecchia Cruise Port to board your ship.
You and your luggage will travel together and remain safely inside the vehicle under the care of your English-speaking Driver while you sightsee so you have no worries but all the fun in the countryside!
This Pre Cruise Rome Countryside Tour is valid only for hotels in Rome, it is NOT valid from hotels in Fiumicino. Please contact us via email for price quotes from Fiumicino



PRE-CRUISE ROME COUNTRYSIDE TOUR PRICE LIST


For up to 4 Persons from Rome Hotel: 470 EUROS
For up to 6 Persons from Rome Hotel: 550 EUROS
For up to 8 Persons from Rome Hotel: 600 EUROS
* This Pre Cruise Tour is not valid from other cities or airports such as Fiumicino/Ciampino.
* You may also do a QUICK PRICE CHECK using the Price Check & Booking form on the Right Side of this page. Once you receive the PRICE QUOTE based on the information you input, you may proceed to SUBMIT your Tour Request.
** Dates on the Booking Form Calendar that are NOT Selectable, are NOT AVAILABLE.
*** If you will be staying at a hotel in Fiumicino, please send us an email for price quotes.


VISIT BRACCIANO AND BRACCIANO CASTLE


You will enjoy a leisurely drive through the Roman countryside to your first destination, the lovely Lake Bracciano and its famous Bracciano Castle (officially named the Odescalchi Castle).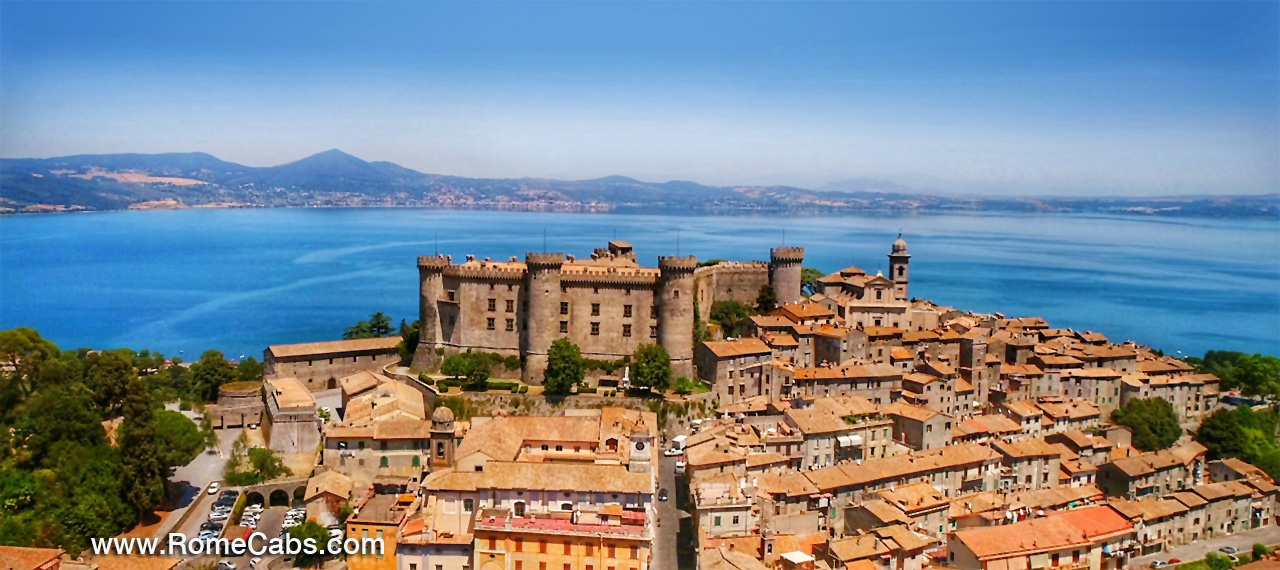 Lake Bracciano is actually a volcanic crater with among the most pristine water in all of Italy. Surrounded by beaches and charming medieval towns, Lake Bracciano is one of the most sought after getaway destinations for the locals seeking a respite from the bustle of big cities like Rome.
On the shore of the lake is the famous 15th century Odescalchi Castle was built by the powerful Orsini family as both a private residence and defense fortress. Eventually it was sold to the Odescalchi family 2 centuries later to which the castle still belongs to today.
Today the castle hosts important cultural events and high profile weddings, and can its premises can be visited.


Visit the Medieval hamlet of CERI


From here you will journey to the nearby medieval hamlet of Ceri, a charming 13th century fortified castle built on top of a tall rock formation.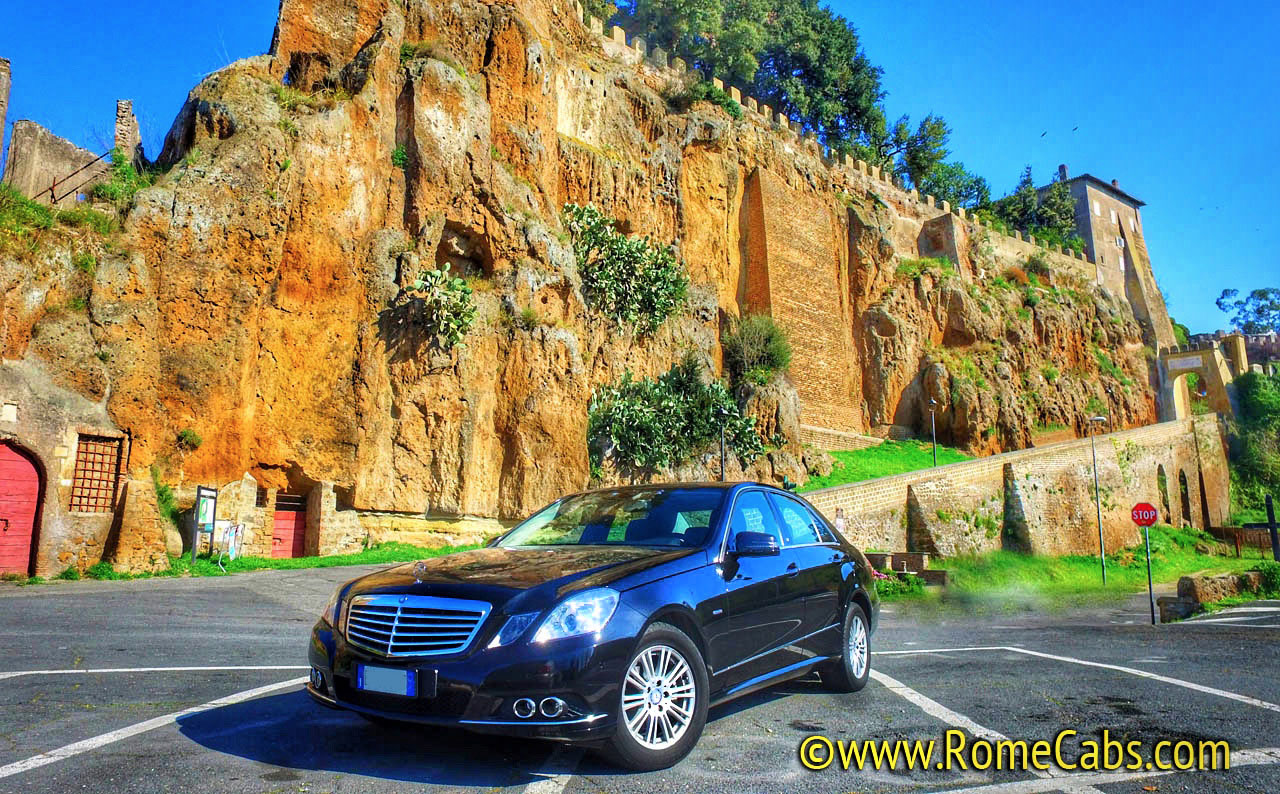 Inside the village is the Romanesque church of Madonna of Ceri that was built on top of an ancient site where Etruscans and Romans venerated the pagan goddess Vesta. Beautiful 12th century frescoes with scenes from Old Testaments grace the walls of the church.
In the midst of this charming village surrounded by aged medieval buildings of ochre and sienna colored exteriors are some of the best restaurants in the region that specialize in traditional cuisine prepared from fresh local ingredients and secret recipes passed down through generations.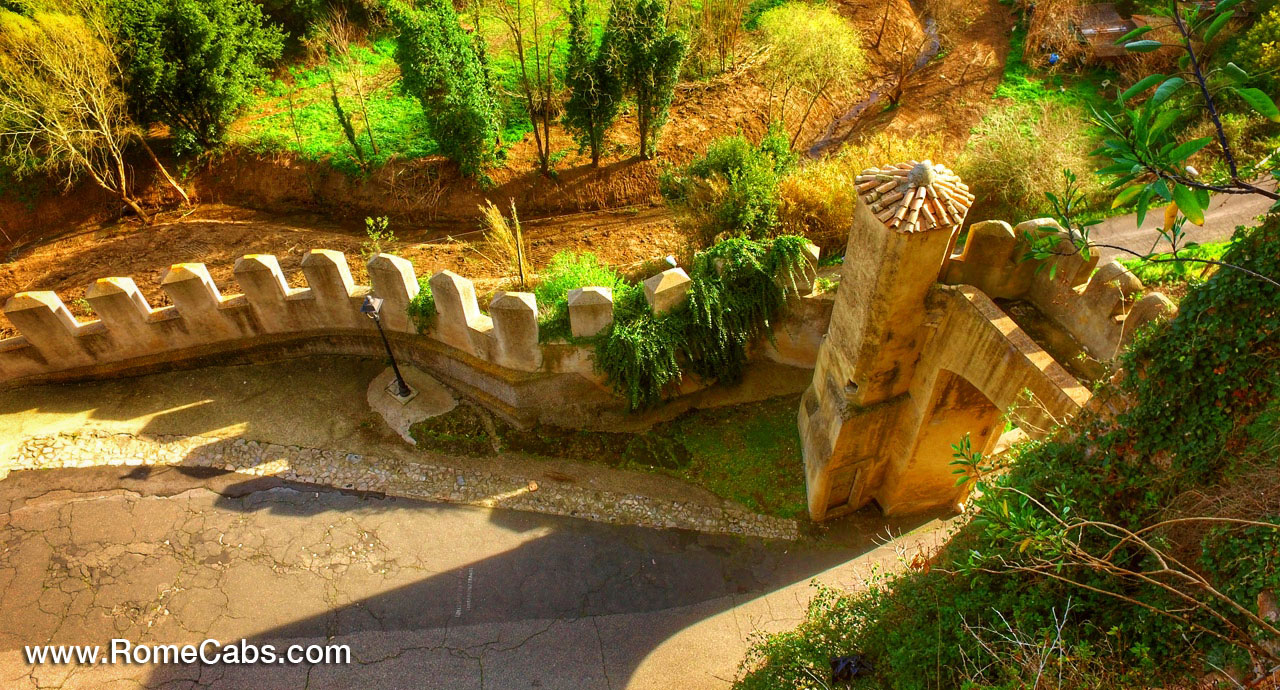 After your relaxing lunch and welcomed stroll in this tiny hamlet of Ceri, you will then travel to Civitavecchia where your private driver will take you to your ship inside the Cruise Port.
Thank you for booking our Pre-Cruise Rome Countryside Tour to Civitavecchia and for choosing Stefano's RomeCabs for your Italy Tours and Civitavecchia Transfers. We look forward to showing you the beautiful Italian countryside!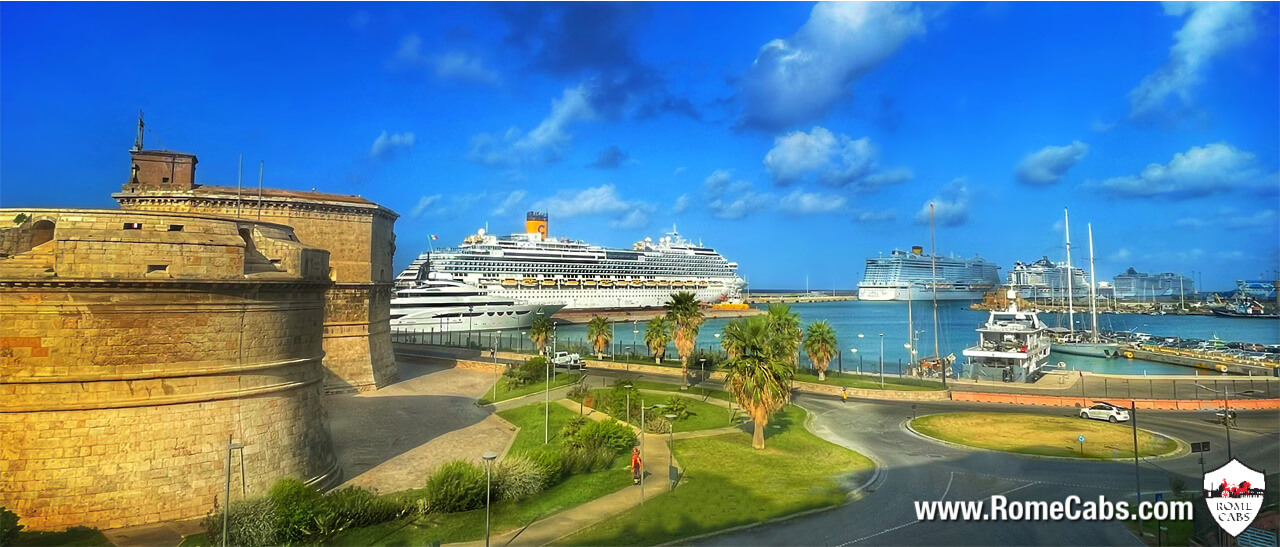 Important Information

PLEASE READ THE INFORMATION BELOW AND ACCEPT THE TERMS OF SERVICE AND PRIVACY POLICY BEFORE BOOKING.

PAYMENT OPTIONS
Payment for this Tour can be made in EUROS directly to your driver on the Date of Tour, or prepaid in advance via PayPal or Credit Card online upon request. (See Cancellation policy below)
CANCELLATION POLICY
We kindly ask that cancellations be made via E-mail at least 7 days prior to Date of Service.
Cancellations are accepted only via E-mail so your cancellation is on record. We do not accept cancellations by phone, text message, or 3rd parties.
** Cancelations for PREPAID SERVICES will be refunded the Reduced Net Rate we receive from your prepayment. Reduced Net Rate: actual service price minus PayPal/Credit Card fees retained by PayPal/Credit Card as they do not reimburse us the fees they retain from your payment.
VISIT BRACCIANO CASTLE (Orsini-Odescalchi Castle)
Entry tickets to Orsini-Odescalchi Bracciano Castle are currently approximately 10 Euros per person to be purchased on-site upon arrival (* Ticket prices are subject to change without notice).
* Please note that Bracciano Castle may unexpectedly close for private events or internal reasons. If it's closed upon your arrival, your driver can take you to explore alternative lakeside villages like Trevignano or Anguillara after your visit to the village of Bracciano.


PRIVATE TOURS OF BRACCIANO CASTLE:
Odescalchi Castle offers private tours in English with advance reservations at 180 Euros including tickets. Please inform us in advance if you wish to reserve a private guide for your visit to the castle. Private Tours of Bracciano Castle require Non-Refundable prepayment as Bracciano Castle does not issue refunds for cancellations.
Please inform us in advance if you wish to have a private guide so we can book one on your behalf. These private tours sell out quickly, be sure to book soon!
If you wish to Self Tour the Castle, please READ: Odescalchi Castle in Bracciano: TOURING TIPS



YOUR PRIVATE ROME COUNTRYSIDE TOUR DRIVER
This tour includes an English-speaking Private Driver who is not a Licensed Tour Guide.
Italian laws aimed at protecting licensed tour guides prohibit Drivers from acting as a guide and accompanying guests away from the vehicle to sightsee. Your driver will be obliged to remain with the vehicle while you SELF TOUR away from the vehicle.
If you are pleased with the service of your driver gratuity is customary (but not obligatory) in Italy.


LUGGAGE
Please include the TOTAL of your Checked-in Suitcases and Small Carryons in your reservation so you will be provided a suitable size vehicle.
Car type vehicles are priced for 1-3 passengers with sufficient luggage that can fit into a standard car trunk space. If traveling with EXTRA luggage and may require a minivan upgrade please inform us in advance.
Minivans for 4-8 passengers can accommodate up to 6 suitcases and up to 6 carry-ons. If you anticipate bringing EXTRA luggage please inform us prior to booking this service as you may require a 2nd vehicle.
** Before boarding your vehicle, please make absolutely sure ALL your luggage is loaded inside the vehicle and nothing has been left unloaded. It is the responsibility of the client to ensure ALL their luggage has been loaded inside the vehicle.
LUNCH is available only in Ceri
Please note that in Ceri there are only local restaurants, no panini or pizza places are available. Depending on what you order, the average is about 20 Euros per person for lunch at any restaurant you choose in Ceri - depending of course, what you wish to order from their menu. You must be in agreement to lunch in Ceri at the local restaurant of your choice in order to participate in this tour.


MEETING POINT at hotel / accommodation:
Your private driver will meet you inside the lobby of your hotel or in areas permitted by your hotel management.

For Apartments or B&B's without a lobby, your driver will meet you outside the main entrance of your Pick Up Address.


* DOOR TO DOOR SERVICE is possible if your accommodation address is not in a traffic or parking restricted area. In case you are staying in an area with traffic and/or parking restrictions, your driver will park as close as lawfully possible and meet you outside at your address for your pick up and accompany you to the parked vehicle, or accompany you to your hotel address from the parked vehicle for drop offs.