description
Maximize your sightseeing opportunities in Rome before your cruise departs from Civitavecchia with our popular Pre-Cruise Rome Tour.
Our Pre-Cruise Rome Tour and Transfer from Rome to Civitavecchia offers our guests the great option of spending the first half of their day enjoying Rome and then traveling to Civitavecchia to board their cruise ship. You and your luggage will travel together and remain safely inside the vehicle under the care of your Private Driver while you sightsee so you have no worries but all fun!
This Pre Cruise Rome Tour is valid only for hotels in Rome, it is NOT valid from hotels in Fiumicino. Please contact us via email for price quotes from Fiumicino
Pre-Cruise Rome Tour Price List:


For up to 4 Persons from Rome Hotel: 470 EUROS
For up to 6 Persons from Rome Hotel: 550 EUROS
For up to 8 Persons from Rome Hotel: 600 EUROS



* This Pre Cruise Tour is not valid from other cities or airports such as Fiumicino/Ciampino.
* You may also do a QUICK PRICE CHECK using the Price Check & Booking form on the Right Side of this page. Once you receive the PRICE QUOTE based on the information you input, you may proceed to SUBMIT your Tour Request.
** Dates on the Booking Form Calendar that are NOT Selectable, are NOT AVAILABLE.
*** If you are staying at a hotel in Fiumicino please send us an E-Mail for price quotes.
ROME'S TOP SQUARES: Coloseum, Square, Trevi Fountain, Spanish Steps, Piazza Navona


Your Pre-Cruise Rome Tour will begin with a stop at Colosseum Square where you will have the opportunity to view this imposing 1st century AD Ancient Roman amphitheater that at its peak entertained up to 50,000 spectators for 4 centuries with gladiatorial games, mock sea battles, beast hunts, public executions, and theatrical plays.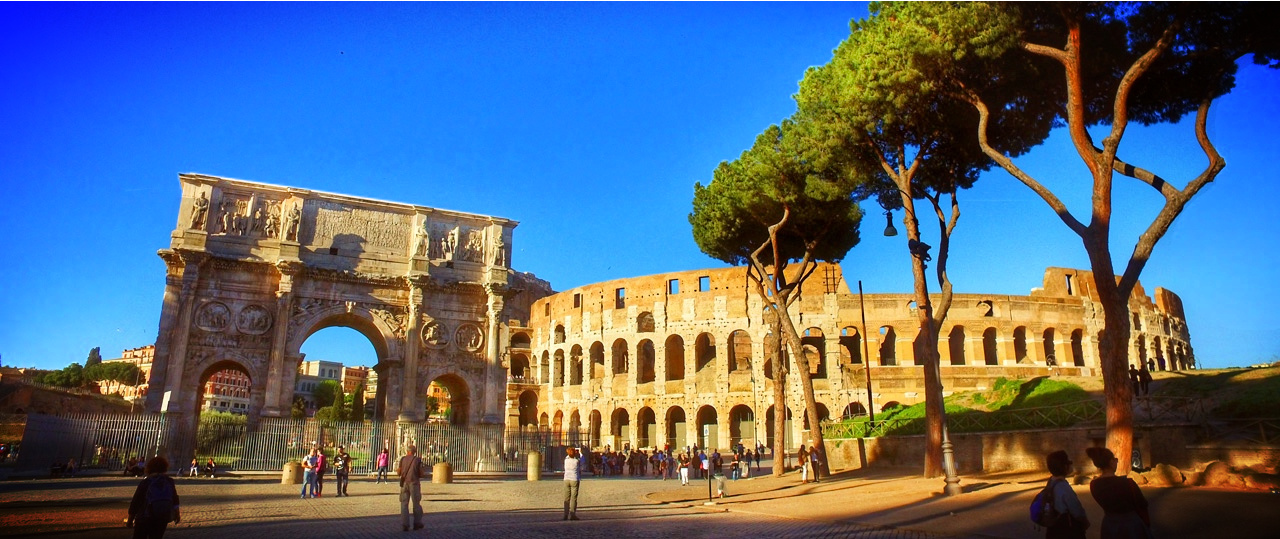 What remains today is an iconic symbol of Ancient Rome's engineering advancements that continues to inspire modern-day sports stadiums.
Be sure to take a stroll towards the Arch of Constantine and view the Colosseum from different angles for picture-perfect photos.
NOTE: This tour does NOT include a visit inside the Colosseum due to limited time in Rome and difficulty in obtaining specific time slot tickets as they sell out fast. You will have the opportunity to view the Colosseum from the outside.
Your Pre-Cruise Rome Tour continues with a visit to 3 of Rome's most fascinating squares that are among the most visited and recognized in films: Trevi Fountain, the Spanish Steps, and Piazza Navona.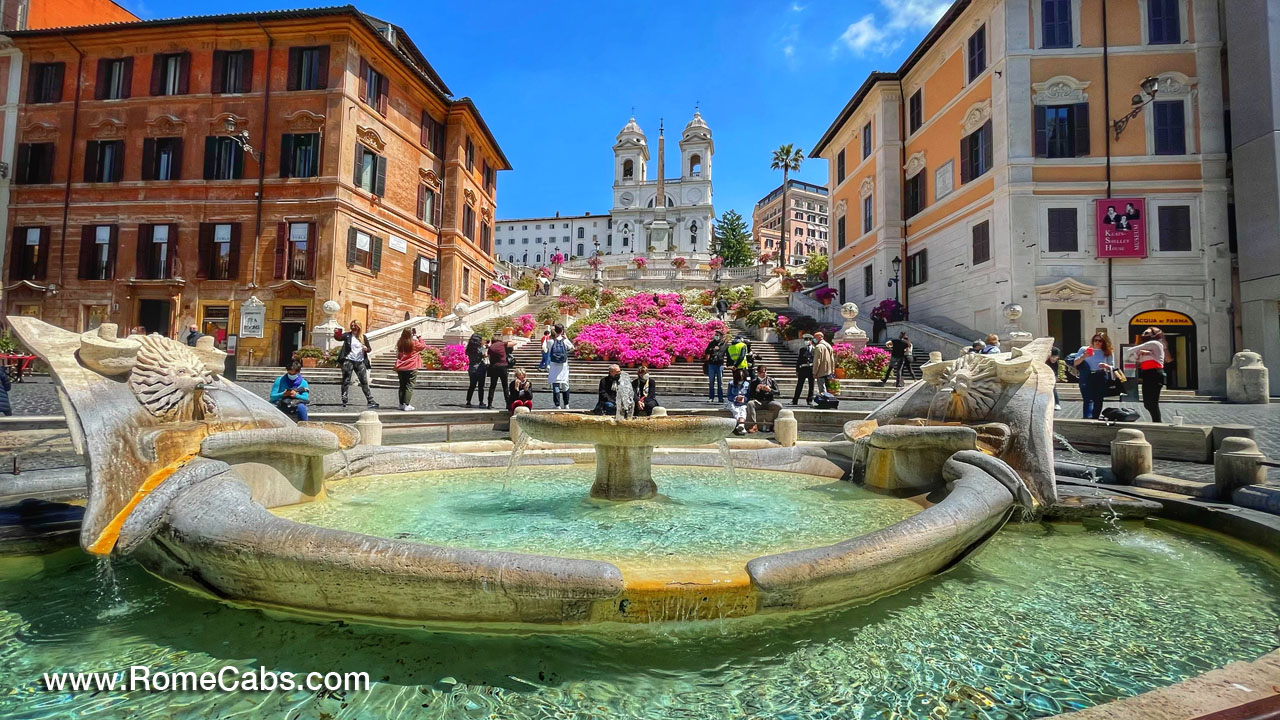 The Trevi Fountain is the most famous fountain in Rome, with thousands of hopeful visitors tossing a coin to ensure a return to Rome. The fountain has been featured in popular classic films such as La Dolce Vita and 3 Coins in A Fountain and is one of the most recognizable sites in Rome.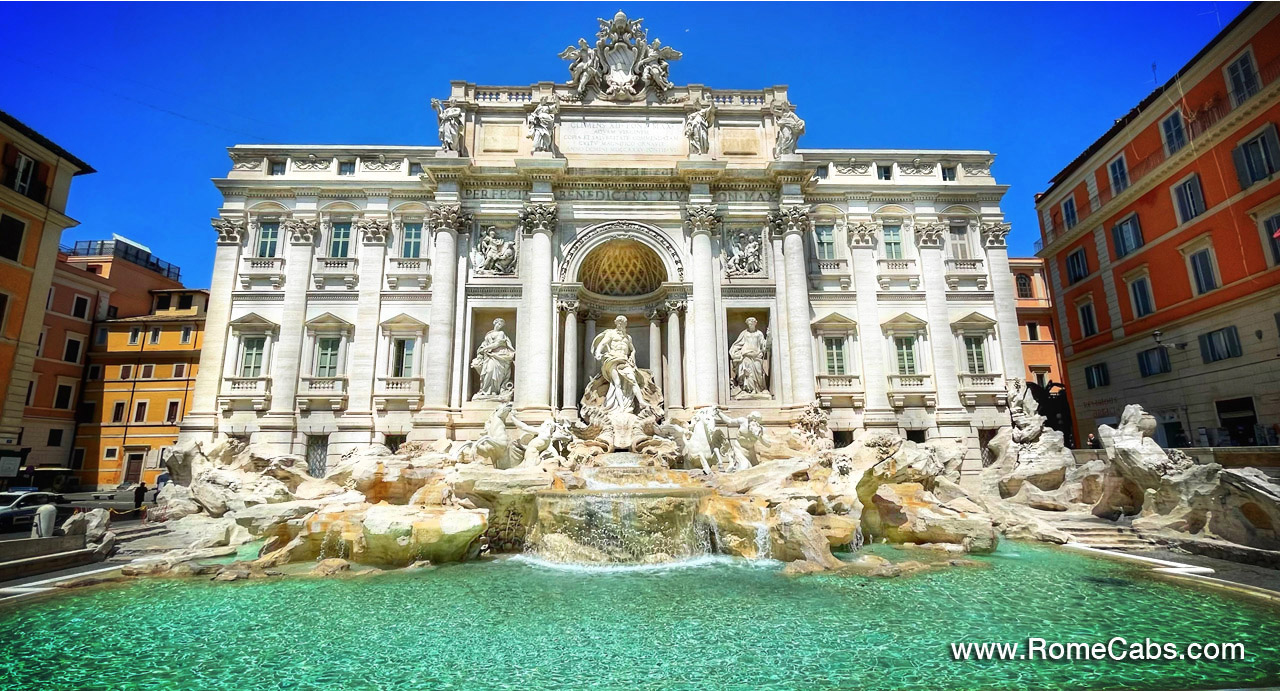 The Spanish Steps feature the elegant 18th-century winding broad stairway that connects the square below to the French church of Trinita dei Monti above with the tall obelisk in front of it. Below is the square, you can admire the lovely "Fontana della Barcaccio" or "The Fountain of the Old Boat", created by Pietro Bernini, the father of Gian Lorenzo Bernini.
During the hot summer months, you will see a gathering of people around the fountain, many filling their water bottles with the fresh water that flows through it.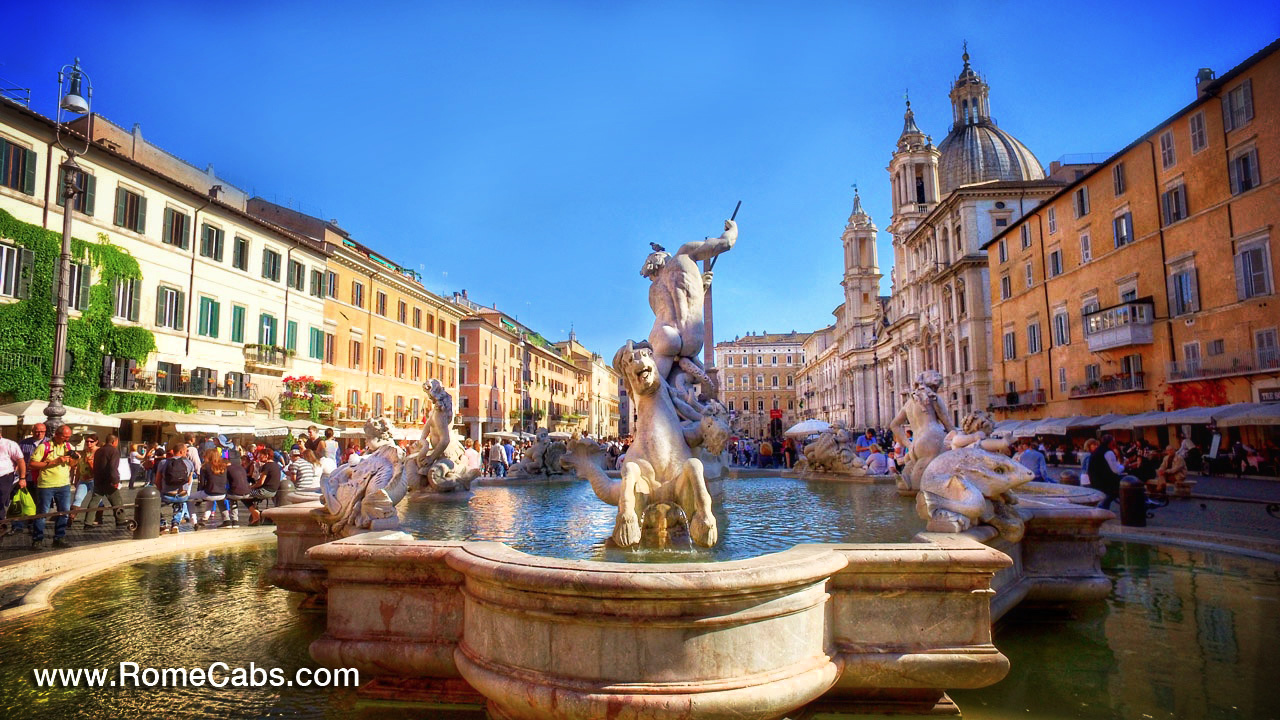 The lively Piazza Navona takes its oblong shape from the outline of the ruins of the ancient Roman Stadium of Emperor Domitian up which the square and its surrounding buildings are standing. The square is dominated by the intriguing Fountain of the Four Rivers by famous sculptor Lorenzo Bernini, topped by a tall obelisk.
PIAZZA DELLA ROTONDA


Step into the vibrant atmosphere of Piazza della Rotonda, where the energy of the crowd electrifies the air.
As you stroll through this enchanting square, let the elegant facades of pastel-colored historical palazzi that embrace the square transport you back in time, evoking the rich history and architectural beauty of Rome. With their soft hues and intricate details, these palazzi create a picturesque backdrop, enhancing the charm and allure of Piazza della Rotonda.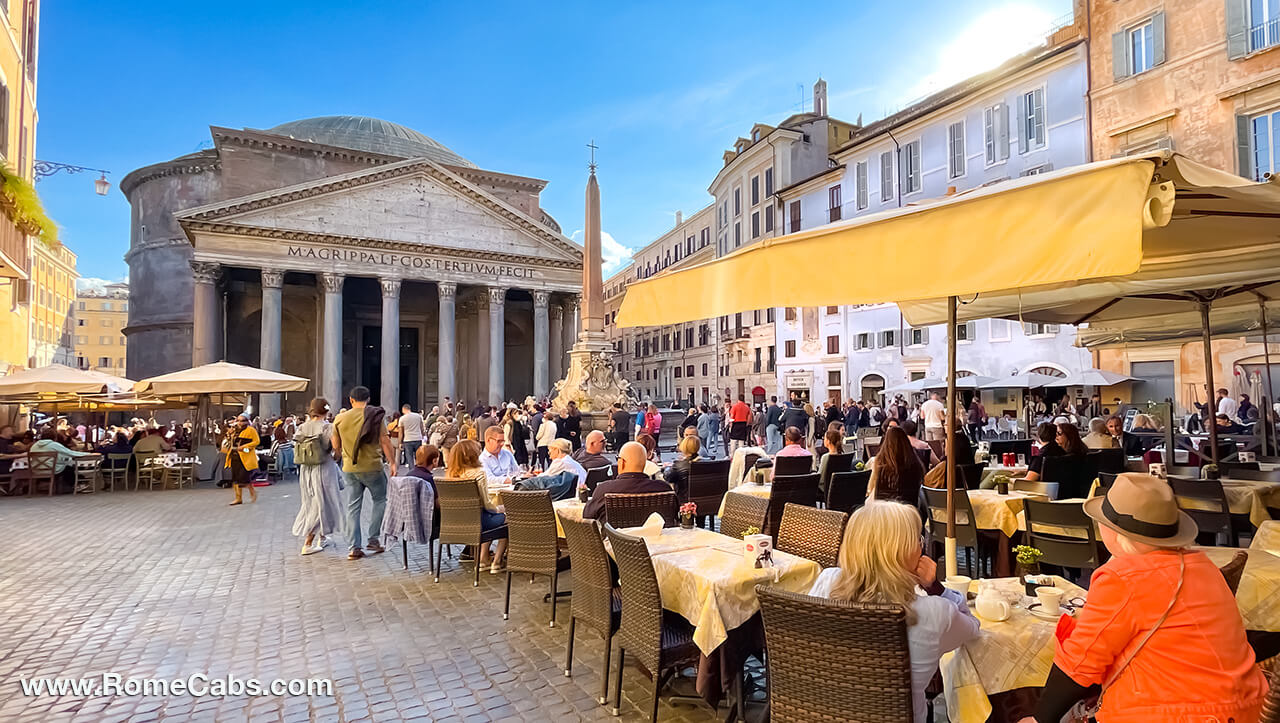 The enchanting Fontana del Pantheon graces the center of the square. Under the guidance of Pope Clement XI, the fountain underwent its final transformation in 1711 and proudly graces a majestic pedestal. Its centerpiece, a striking Egyptian obelisk, once part of a magnificent pair from the Temple of Ra in Heliopolis, commands attention. Its twin counterpart can be discovered in the peaceful Piazza della Minerva, nestled behind the Pantheon.
Take a moment to marvel at the exterior grandeur of the awe-inspiring Pantheon, a colossal monument that dominates the square. Meander through the square and around the Pantheon, immersing yourself in the architectural beauty and indulging in delightful experiences that await: historical palazzi, charming shops, and the finest gelato in Rome from a nearby gelateria.
NOTE: A visit inside the Pantheon is NOT included in the tour due to excessively long entry lines, even for visitors who have pre-booked tickets which are extremely difficult to obtain.
JANICULUM HILL


What better way to say "Arrivederci Roma" than to treat yourself to a splendid panorama of the Eternal City from the terrace square of Janiculum Hill. Beautifully sprawled before you lies centuries of history unfolding from church domes to rooftops to monuments ancient and new peering above the buildings around them.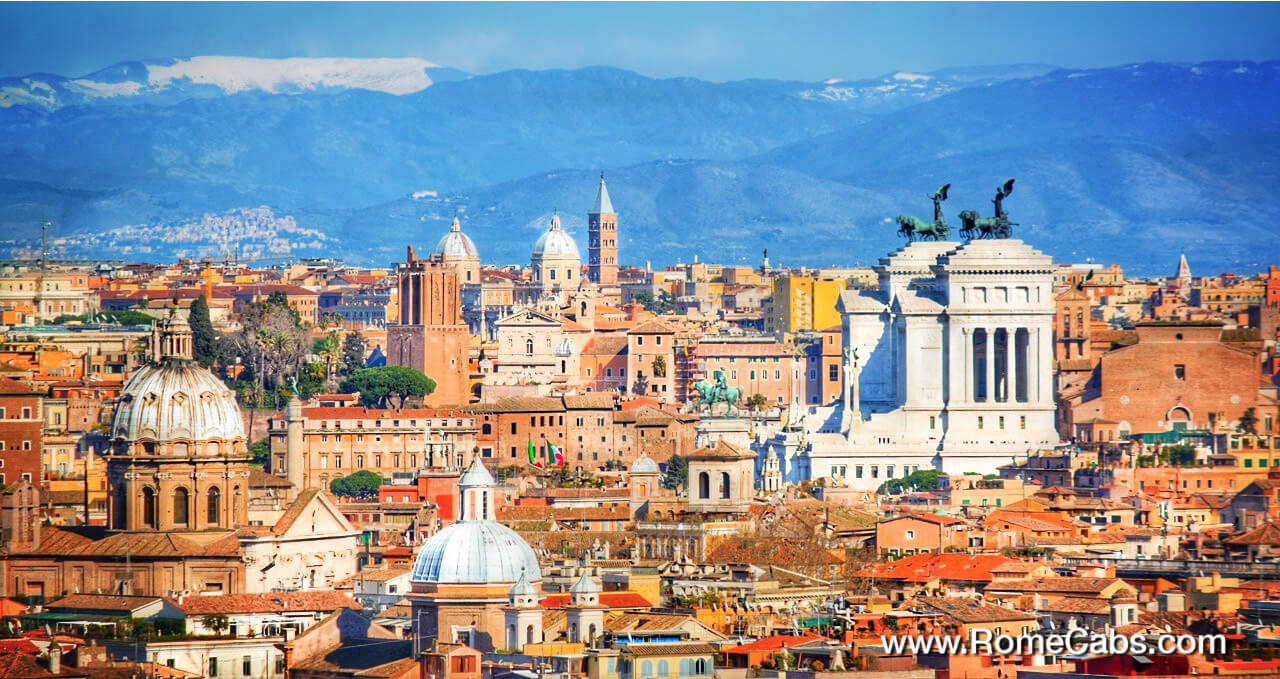 This marks the end of your Pre-Cruise Rome Tour. From here you will depart for Civitavecchia with your Private Driver relaxed to begin your cruise voyage!
Thank you for booking our Pre-Cruise Rome Tour with Transfer to Civitavecchia Cruise Port, and for choosing Stefano's RomeCabs for your Italy Transfers, Private Driver Services, Italy limo tours, and Private Shore Excursions. We look forward to showing you beautiful places in Italy!
Important Information

PLEASE READ THE INFORMATION BELOW AND ACCEPT THE TERMS OF SERVICE AND PRIVACY POLICY BEFORE BOOKING.
PAYMENT OPTIONS
Payment for this Tour can be made in EUROS directly to your driver on the Date of Tour, or prepaid in advance via PayPal or Credit Card online upon request. (See Cancellation policy below)
CANCELLATION POLICY
We kindly ask that cancellations be made via E-mail at least 7 days prior to Date of Service.
Cancellations are accepted only via E-mail so your cancellation is on record. We do not accept cancellations by phone, text message, or 3rd parties.
** Cancelations for PREPAID SERVICES will be refunded the Reduced Net Rate we receive from your prepayment. Reduced Net Rate: actual service price minus PayPal/Credit Card fees retained by PayPal/Credit Card as they do not reimburse us the fees they retain from your payment.

YOUR ROME TOUR PRIVATE DRIVER
Your Private Tour Driver is NOT a licensed tour guide, therefore cannot accompany you away from the vehicle.
Italy has strict laws and regulations in place to protect licensed tour guides, this it makes it unlawful for Tour Drivers to act as tour guides and/or accompany guests away from the vehicle to sightsee. Your private driver will be obliged to remain with the vehicle while you SELF TOUR away from the vehicle.
For your safety inside the moving vehicle, please do not distract the driver while s/he is driving, especially during traffic conditions.
MEETING POINTS TO MEET YOUR DRIVER


For Rome starting from ROME HOTEL / ACCOMMODATION:
Your private driver will meet you inside the lobby of your hotel or in areas permitted by hotels.

For Apartments or B&Bs without a lobby, your driver will meet you outside the main entrance of your Pick Up Address.

* If your hotel or accommodation is on a street or in an area restricted to vehicle traffic, your private driver will park as close as lawfully possible and meet you on foot at your Address, and accompany you to your parked vehicle.


LUGGAGE
Car-type vehicles priced for up to 2 persons can accommodate up to 2 standard check-in cases, and up to 2 small carryons in TOTAL. Please advise if you will be bringing extra luggage as you may require a vehicle size upgrade.
Deluxe Minivans can accommodate up to approximately 6 suitcases and 6 carry-ons in TOTAL. If you anticipate bringing luggage in excess of what the standard 8-seater vans can accommodate, please inform us prior to booking this service