description

Extend the excitement of your cruise adventure with our Tivoli Villas Post-Cruise Tour from Civitavecchia to explore captivating Hadrian's Villa and Villa d'Este, followed by a convenient drop-off at your Rome hotel.
Your Tivoli Villas Post Cruise Tour begins with your 8:00 AM pick-up on the pier, right next to your cruise ship. After you board your deluxe vehicle driven by your personal RomeCabs English-speaking driver, you will traverse through the bucolic Italian countryside toward the charming town of Tivoli.
Here, you'll have the chance to explore two awe-inspiring World Heritage Sites that promise to transport you through time.
TIVOLI VILLAS Post Cruise Tour from Civitavecchia:


For up to 4 persons from Civitavecchia: 550 EUROS
For up to 6 persons from Civitavecchia: 600 EUROS
For up to 8 persons from Civitavecchia: 700 EUROS


* Dates on the Booking Form Calendar that are NOT Selectable, are NOT AVAILABLE.
* This tour is NOT offered as a Shore Excursion from Civitavecchia with a return to your ship. If your drop-off is in Fiumicino or other locations outside of Rome, contact us for a price quote.
* On Mondays, Villa d'Este opens at 2:00 PM
WATCH: Enjoy a preview of Villa d'Este and Hadrian's Villa on our Tivoli Villas and Gardens Tour VIDEO:


Hadrian's Villa - The Epic Legacy of an Ancient Emperor


Your journey through time begins with a visit to the legendary Hadrian's Villa (Villa Adriana), a place that defies the sands of time and tantalizingly hints at its original grandeur. Picture yourself stepping into the shoes of the great Roman Emperor Hadrian, who, with boundless imagination, designed this sprawling estate to mirror the awe-inspiring monuments and landscapes he encountered during his extensive travels across the Roman Empire.
This colossal complex, once a testament to opulence, boasts over 30 remarkable buildings. These include the imperial palace, where Hadrian made decisions that shaped the fate of an empire, and lavish baths that witnessed the indulgence of emperors.
The awe-inspiring theaters, where the drama of ancient life unfolded, and the majestic temples, where gods and mortals converged, still echo with the voices of the past. Resplendent libraries whispered secrets to the curious, sparkling pools offered serene reflections, and meticulously landscaped gardens held the beauty of a bygone era.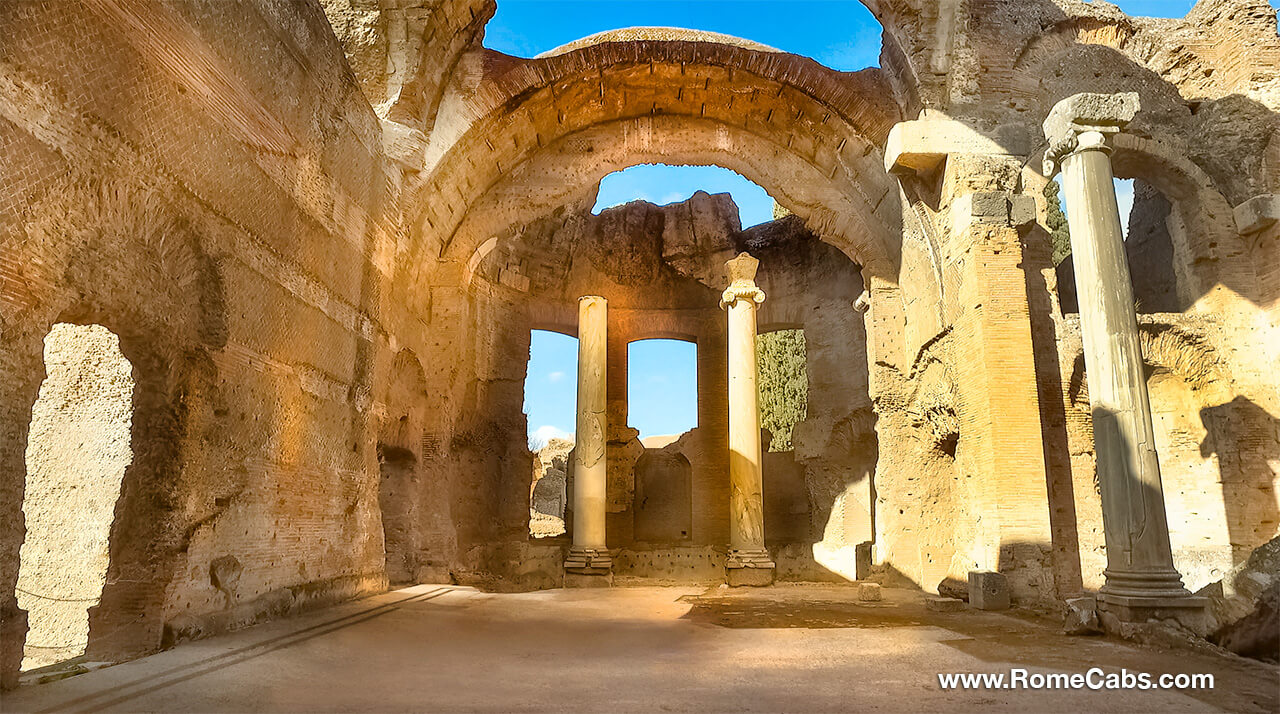 Hadrian's Villa was so meticulously self-sufficient that it's believed the Emperor conducted the affairs of the entire Roman Empire from this very residence. Here, history was made, alliances forged, and the destiny of nations charted.
As you step onto this sprawling site, the sheer spaciousness of Hadrian's Villa will take your breath away. Your journey into antiquity will reveal the architectural prowess of its time. From a distance, the site's grandeur is awe-inspiring, but up close, as you wander amidst the captivating ruins of this imperial retreat, the secrets and stories of the past come to life.
Explore the graceful contours of the beguiling Canopus, an extraordinary pool lined with columns, arches, and statues that emulated the famed Egyptian city. Admire the ruins of the Grande Thermae and Terme di Heliocaminus, where Roman baths offered rejuvenation and relaxation.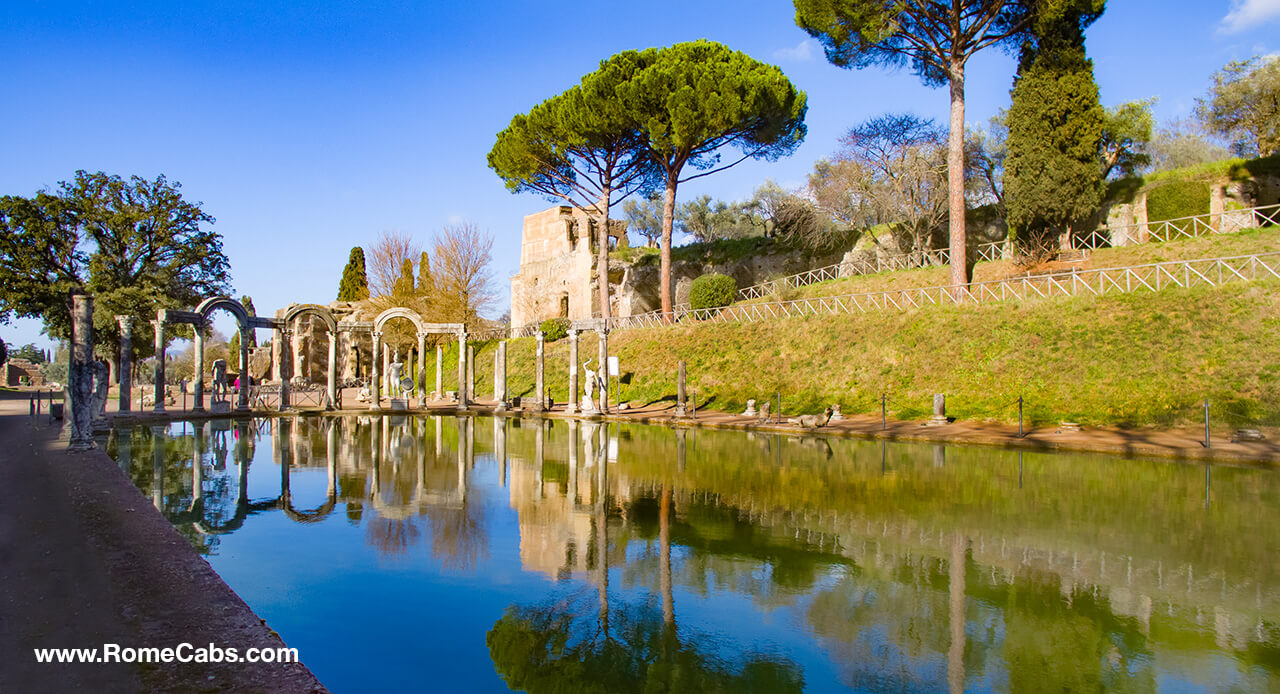 Marvel at the Maritime Theater, a nautical-themed sanctuary that features a ring-shaped pool with a central island. Delve into the fascinating remnants of the Three Exedras, the Nymphaeum, and the Casino, each holding its own fascinating mysteries.
Your journey through Hadrian's Villa promises not only a glimpse into the past but an immersive experience of a world where emperors walked, history was forged, and the echoes of an empire still resonate.
Following your exploration through Hadrian's Villa, delight in a leisurely lunch at a local restaurant in Tivoli. If you wish, you can also enjoy a stroll through this picturesque town enhancing your experience with its charm and ambiance. After lunch, your Tivoli Villas Post Cruise Tour continues to Villa d'Este.
On Mondays, Villa d'Este opens at 2:00 PM
Villa d'Este - Where Renaissance Grandeur Meets Natural Beauty
Your Tivoli Villas Post Cruise Tour continues to the resplendent Villa d'Este, a Renaissance masterpiece commissioned by Cardinal Ippolito D'Este. This elegant villa, a living testament to the lavishness and refined sensibilities of the Renaissance era, is an architectural marvel.
Its façade, adorned with intricate frescoes and adorned with elegant details, offers a tantalizing glimpse into the opulence that awaits within.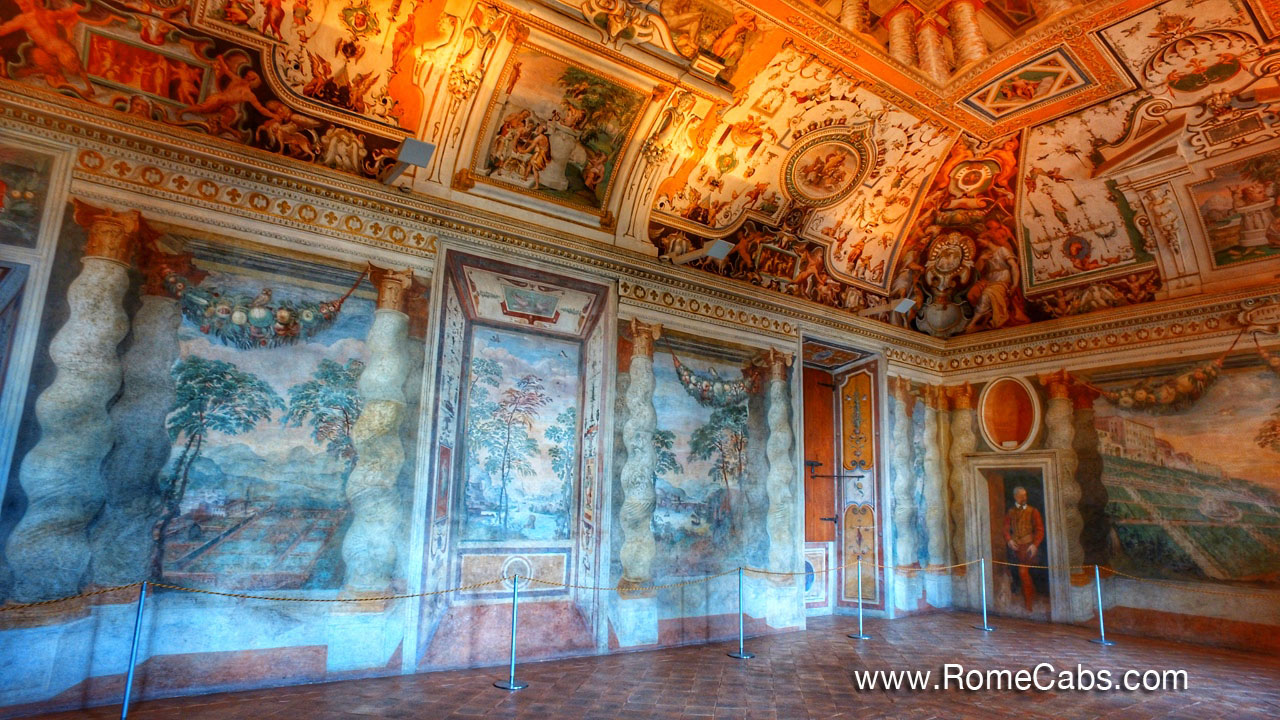 The Villa's grandeur extends far beyond its architectural beauty. So, don't forget to pause at the large terrace "Vialone" that lies between the villa and the gardens, providing a panoramic view of the meticulously manicured gardens and the picturesque countryside beyond.
As you step into the magnificent Italian-style gardens, you'll find yourself immersed in a veritable wonderland. Here, countless fountains grace the landscape, each a unique masterpiece in its own right. The Fontana dell'Ovato, with its egg-shaped basin, evokes a sense of whimsy and elegance, while the Fontana della Rometta mesmerizes with its depiction of Rome as a small boat amidst turbulent waters, symbolizing the city's resilience through the ages.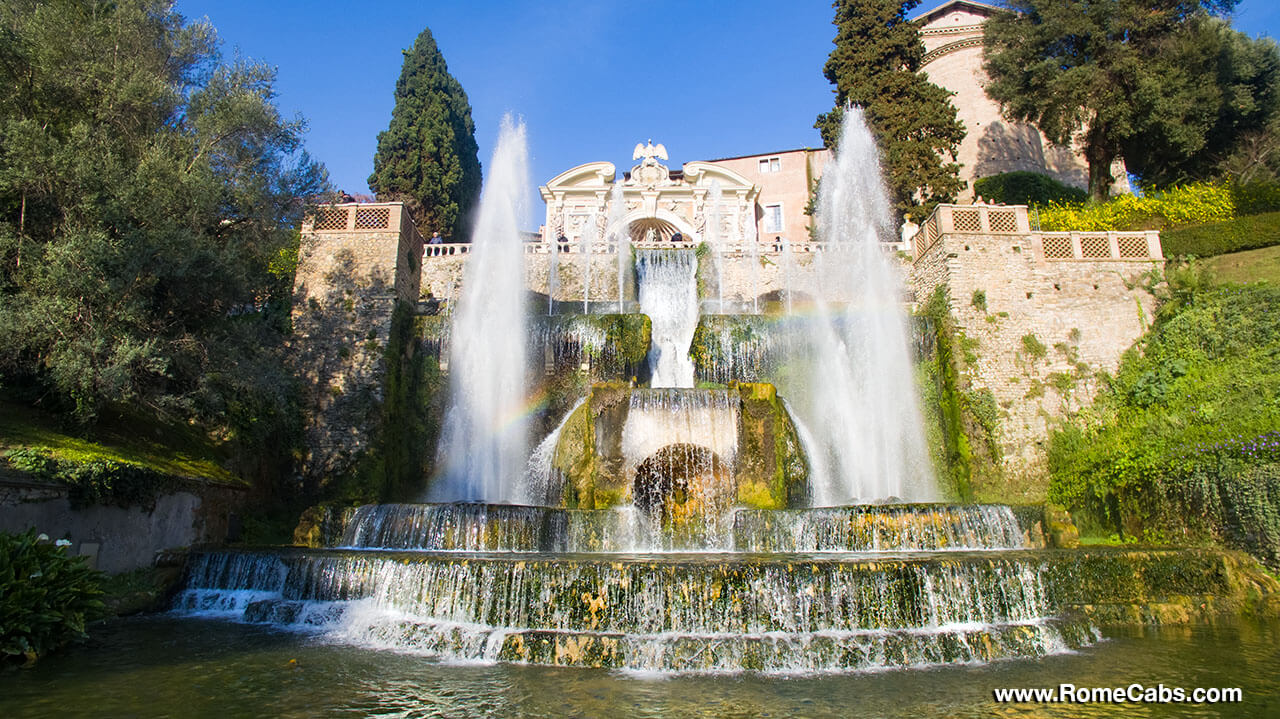 A symphony of intricately carved stone, dappled shade from centuries-old trees, and the melodious flow of water sourced directly from the Aniene River combine to create an enchanting and tranquil haven. Strolling through this immaculate setting, you'll discover treasures like the Grotta di Diana, a charming naturalistic cave with its own cascading waterfall. The Hundred Fountains, a true masterpiece of hydraulic engineering, graces the garden's lower terrace, captivating visitors with its synchronized water ballet.
Wandering further, you'll encounter the Fountain of Neptune below the Fountain of the Organ, where the mighty god of the sea presides over a scene of aquatic revelry.
These gardens, adorned with countless fountains, each a unique masterpiece in its own right, come together to create an oasis of tranquility and aesthetic splendor. With every step, you'll find yourself enveloped in an experience that resonates with profound peace, boundless inspiration, and unbridled awe. The journey through this immaculate setting is nothing short of transformative, a glimpse into the very soul of the Renaissance.
From here, you will join your driver for a relaxing journey towards Rome where your Tivoli Villas post-cruise tour will conclude with your convenient drop off at your hotel or accommodation in Rome.
Thank you for booking our Tivoli Villas Post Cruise Tour from Civitavecchia and for choosing Stefano's RomeCabs for your private tours in Italy!
Important Information
PLEASE READ THE INFORMATION BELOW AND ACCEPT THE TERMS OF SERVICE AND PRIVACY POLICY BEFORE BOOKING.


PAYMENT OPTIONS
Payment for this Tivoli Post Cruise Tour can be made in EUROS directly to your driver on the Date of Tour, or prepaid in advance via PayPal or Credit Card online upon request. (See Cancellation policy below)
CANCELLATION POLICY
We kindly ask that cancellations be made via E-mail at least 7 days prior to Date of Service.
Cancellations are accepted only via E-mail so your cancellation is on record. We do not accept cancellations by phone, text message, or 3rd parties.
** Cancelations for PREPAID SERVICES will be refunded the Reduced Net Rate we receive from your prepayment. Reduced Net Rate: actual service price minus PayPal/Credit Card fees retained by PayPal/Credit Card as they do not reimburse us the fees they retain from your payment.


LUGGAGE
Car-type vehicles priced for up to 2 persons can accommodate up to 2 standard check-in cases, and up to 2 small carryons in TOTAL. Please advise if you will be bringing extra luggage as you may require a vehicle size upgrade.
Deluxe Minivans can accommodate up to approximately 6 suitcases and 6 carry-ons in TOTAL. If you anticipate bringing luggage in excess of what the standard 8-seater vans can accommodate, please inform us prior to booking this service.
MEETING POINT FOR POST-CRUISE TOURS FROM CIVITAVECCHIA
Your driver will meet you on the Pier next to your Ship at your scheduled pick-up time holding a sign with the NAME in your reservation.

Please do NOT leave the ship area, and do NOT take a shuttle bus outside the port.

Look for the driver in the same area as ALL private drivers who will be waiting for their clients.
TIVOLI VILLAS ADMISSION TICKETS
Hadrian's Villa: currently 10 Euros per person
Villa d'Este: currently 10 Euros per person. On Mondays, Villa d'Este opens at 2:00 PM

* Admission Ticket prices are subject to change without notice.


YOUR PRIVATE TOUR DRIVER
This post-cruise tour to Tivoli provides an English-speaking private driver who is not a Licensed Tour Guide
In order to comply with Italy laws that prohibit unlicensed guides from accompanying visitors to sightsee on foot, your driver is obliged to remain with the vehicle while you sightsee and visit Hadrian's Villa and Villa d'Este. You will SELF TOUR inside the Villas in Tivoli.
ADDITIONAL TOUR GUIDE OPTION:
Tour Guide for Private 2-HOUR tour of Hadrian's Villa can be arranged upon request. Please contact us for the Tour Guide Fee and to reserve a private guide for this visit.


HELPFUL TIPS for visiting the Tivoli Villas:


Please wear comfortable shoes and clothing.
Hadrian's Villa is an archaeological site with dirt and uneven terrain
Hadrian's Villa and Villa d'Este may not be suitable for guests with mobility concerns due to uneven terrain and stairs required to explore these locations
Villa d'Este gardens are situated on a terraced slope below that includes steps and passages at an incline. The gardens, as well as the villa, include steps and flights of stairs when exploring the estate. This location may not be suitable for wheelchair users.
During the summer months, we recommend you wear sunscreen, sunglasses, and summer hats.
There are plenty of opportunities to take photographs, so be sure to have plenty of batteries and film in your cameras!