Buongiorno and welcome to Stefano's RomeCabs, Rome's leading company for private luxury tours in Italy. Since the early 2000s when our company was established, we've been striving to provide the best wine tours in Italy from Rome.

The top destinations for wine-tasting tours from Rome are Tuscany and Umbria for their geographical proximity to Rome and for being among the most prestigious wine regions in Italy, famous for their excellent wines, wine tours, and sightseeing.

All our wine tours from Rome are private just for you and your party in your private deluxe vehicle and your personal English-speaking driver at your service. Private tours offer the most flexibility, comfort, privacy, personalized attention from your driver, and the possibility to tour at your own pace without having to keep up with a group.

We included the current best wine tours in Italy from Rome, however, save this page as we will be adding NEW exciting wine tours from Rome to Tuscany and Umbria to inform and inspire you as your make your travel plans to Italy!
BEST WINE TOURS IN ITALY FROM ROME
* Orvieto Wine Tasting Tour from Rome *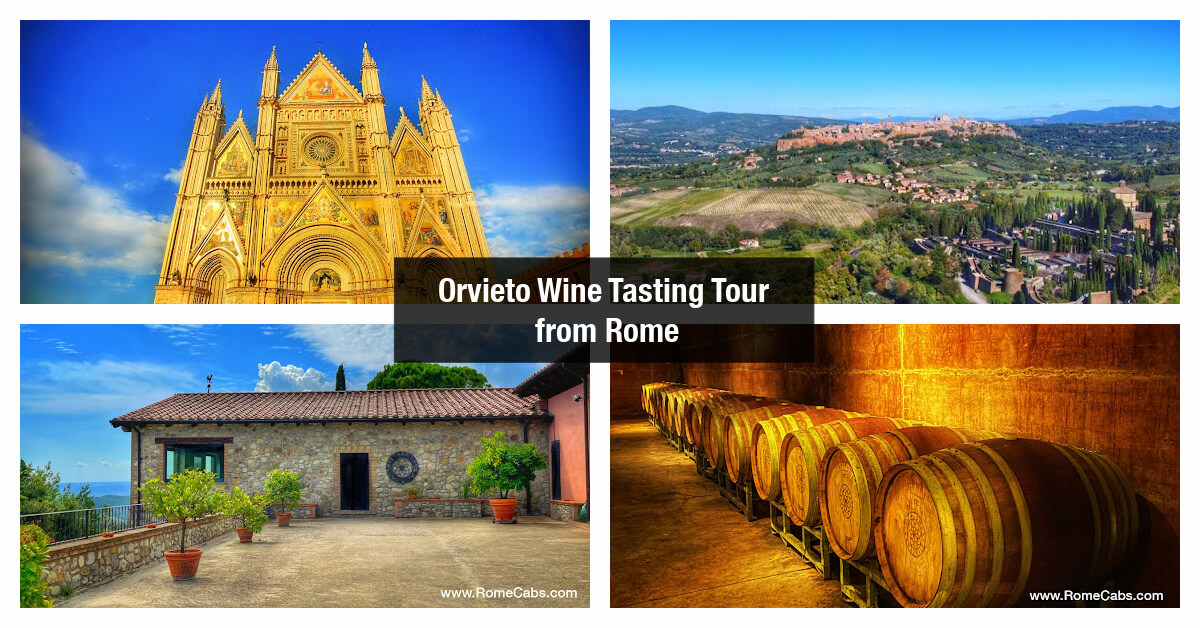 See the gorgeous rustic landscape of Umbria
Visit an organic wine estate tucked away in the Umbrian hills
Savor local wines that are traditional to Umbria and relish a quiet and serene experience at the wine estate.
Visit the resplendent Orvieto, the quintessential medieval clifftop town that boasts gorgeous architecture, pedestrian-friendly streets lined with boutiques, restaurants, wine shops, and cantine for additional wine-tasting opportunities


This exciting wine tour from Rome to Umbria takes you on a journey through the verdant Umbrian landscape to an esteemed wine estate situated on the crest of a hill and surrounded by majestic Umbrian and Tuscan landscapes. During your visit to this certified organic winery, you will learn about the traditional process of winemaking and savor a selection of local wines accompanied by locally sourced charcuterie.

Following your relaxing winery tour and wine tasting, you will venture to Orvieto for lunch and sightseeing. Dramatically situated on the summit of large volcanic tufa rock, Orvieto is a sight to behold. An ancient town since the Etruscan times, Orvieto overlooks the captivating Umbrian countryside comprised of vineyards, olive orchards, cypress trees, and dense forests.

During your visit to Orvieto, relish a tasty lunch of local specialties of the Umbrian region at a local restaurant of your choice. After lunch, appreciate free time on your own to explore the town with a stroll along wide pedestrian-friendly streets lined with lovely shops that brim with beautiful hand-crafted and hand-painted ceramics, gastronomic boutiques, cafes, and wine shops (enoteche) for additional wine-tasting and wine purchasing opportunities.
Cruising to Rome via Civitavecchia Cruise Port?
We also offer an Orvieto Wine Tasting Shore Excursion from Civitavecchia for wine-loving cruisers who are docking at the port of Rome for the day. If you are cruising the Mediterranean and docking in Italy for the day, we make wine tours from Civitavecchia possible!
Nectar of the Gods Tuscany Wine Tour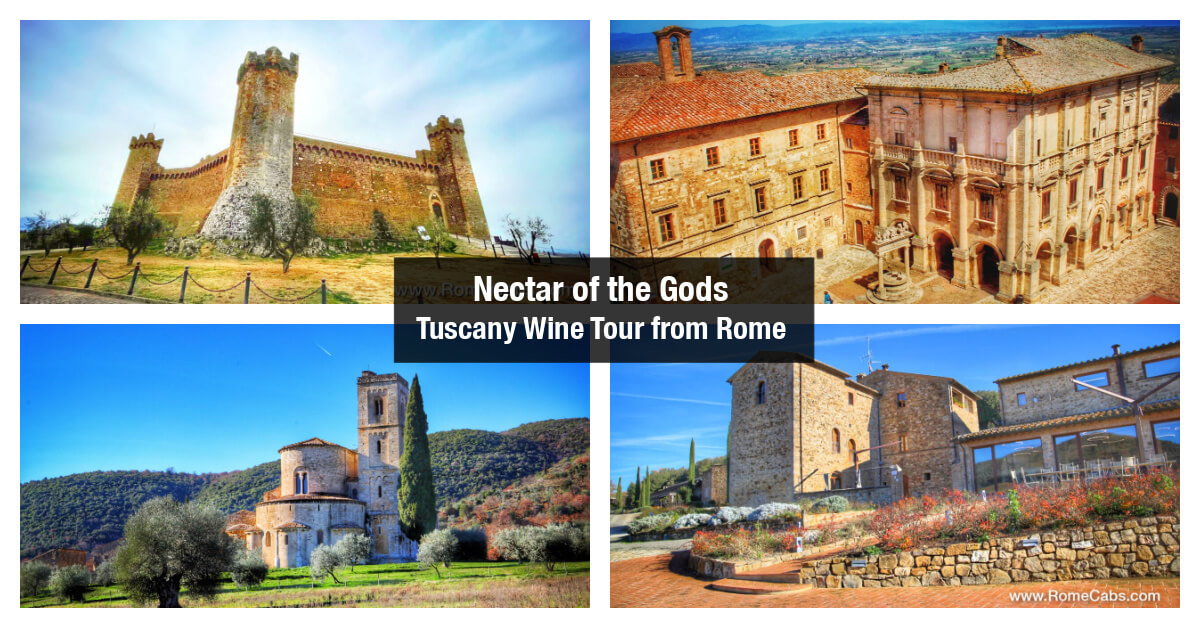 Enjoy an extended day trip in Tuscany with visits to two of Tuscany's most captivating towns renowned for their exquisite wines
Discover the famous Tuscan reds perfect for discerning wine enthusiasts: Vino Nobile di Montepulciano and Brunello di Montalcino
Explore Montepulciano's historic beauty and architecture and discover why it reigns "King of All Wines" with opportunities to sample wines at local wine shops (enoteche), some of which have wine cellars that can be visited.
Visit Montalcino with opportunities to sample the famous Brunello at local wine shops.
Exalt in the sacred simplicity of the historic Abbey of Sant'Antimo
Relish a relaxing visit to a Tuscan wine estate with wine tasting and a tour of the wine cellar.
Spend a glorious extended day trip into the heart of Tuscany and savor the nectar of the Gods: Vino Nobile di Montepulciano and Brunello di Montalcino, with visits to the respective town, an evocative Abbey, and a winery near Montalcino.

Discover why Montepulciano with its noble wine is considered the "King of All Wines" with a visit to this remarkable medieval hilltop town surrounded by the splendid Val di Chiana landscape and fertile vineyards. During your visit in Montepulciano, be sure to stop at various wine shops in town that are operated by local wineries for opportunities to sample local wines and delicacies.

Montalcino is another prized hilltop town in the heart of Tuscany, surrounded by the stunning Val d'Orcia landscape, and a patchwork of vineyards that produce grapes for the exquisite Brunello di Montalcino wine. A stroll through town will reveal inviting shops and wine shops for opportunities to sample and purchase Brunello wines. Not to miss is the imposing 14th-century fortress that crowns the town.

Not far from Montalcino is the mystical 9th-century medieval Sant'Antimo Abbey which merits a brief visit to experience the sacred solitude it offers. Your Tuscany wine tour from Rome will culminate with an afternoon visit to a nearby wine estate where you will enjoy 1.5 hours learning about local viticulture and traditions of winemaking, luxuriate in wine tasting, and bask in the beauty of this idyllic Tuscan countryside.



Brunello di Montalcino Tuscany Wine Tour
This tour is all about Brunello di Montalcino, loved by refined wine enthusiasts
Explore the historical town of Montalcino with opportunities to sample the local Brunello at various wine shops
Appreciate the sacred silence of the historical Abbey of Sant'Antimo
Visit a local Tuscan wine estate for a relaxing wine tasting and a wine cellar tour


Similar to Nectar of the Gods, the Brunello di Montalcino Tuscany Wine Tour from Rome focuses only on Montalcino its local Brunello wine.
This full-day Tuscany tour from Rome begins with a wine tour and wine tasting at a wine estate near Montalcino, followed by a brief visit to the nearby Abbey of Sant'Antimo, and continues with free time for lunch and exploration in Montalcino.


Wine Tasting Tour to Umbria and Tuscany from Rome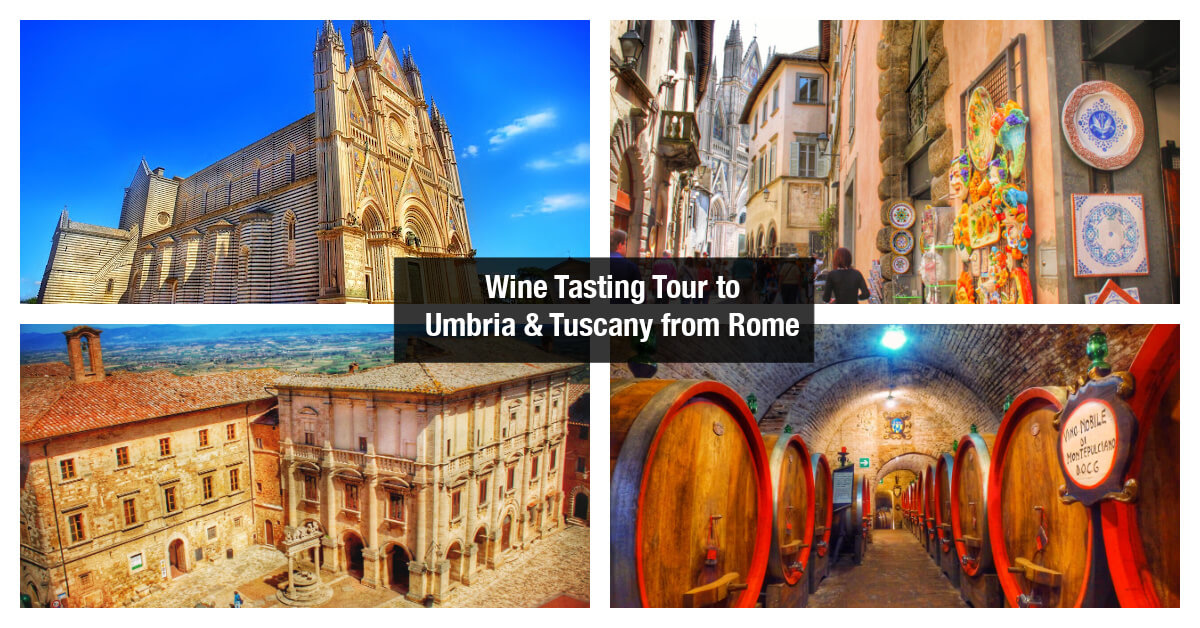 Perfect day tour from Rome for travelers with an appreciation for fine Italian wines from different regions
This tour pairs sightseeing with wine tasting for the best of both worlds
Delight in Orvieto's classic white wines and tasty local Umbrian specialties in town
While exploring the Tuscan hilltop town of Montepulciano, also discover the local Vino Nobile of Montepulciano.
Sample local wines at various wine shops that welcome tastings of their locally produced wines and gastronomic specialties
Ideal Day Tour in Italy for families and friends traveling together when not everyone wishes to partake in wine tasting


Tuscany has long held a reputation for producing some of the best wines in Italy.

Umbria is best known for its Orvieto DOC, responsible for about 80% of the region's vineyards. Umbria primarily produces white wines, specifically Trebbiano and Grechetto, and also produces some red wines such as Sagrantino and Sangiovese.
Many of our guests travel to Italy with friends and family, and they sometimes have different tastes. For example, some may prefer Umbria's white wines, some may prefer Tuscany's reds, and some haven't yet settled on their favorite and wish to sample both. Some are wine connoisseurs and wish to experience the various wines of Tuscany and Umbria, and others don't drink wine at all.
This tour is suitable for everyone as those who are interested in wine tasting in Orvieto and Montepulciano can sample the local wines at various wine shops throughout the towns. Those who do not wish to partake in wine tasting can enjoy exploring the majestic historical towns.

Most wine shops are owned and operated by the wineries themselves, offering visitors wonderful opportunities to sample and purchase a variety of wines produced by top local winemakers. As each winery strives to add its own special touch and unique grape blends to its wines, sampling different types of wine produced by different wineries introduces you to a wider variety of wines than if you visited one winery alone. This tour offers the perfect opportunity to discover your own favorite Tuscan red or Umbrian white.


ALSO READ: Not sure what to wear on a Wine Tour in Italy? Find out: What to Wear to a Wine Tasting in Italy?



Tuscany Castles and Wine Tour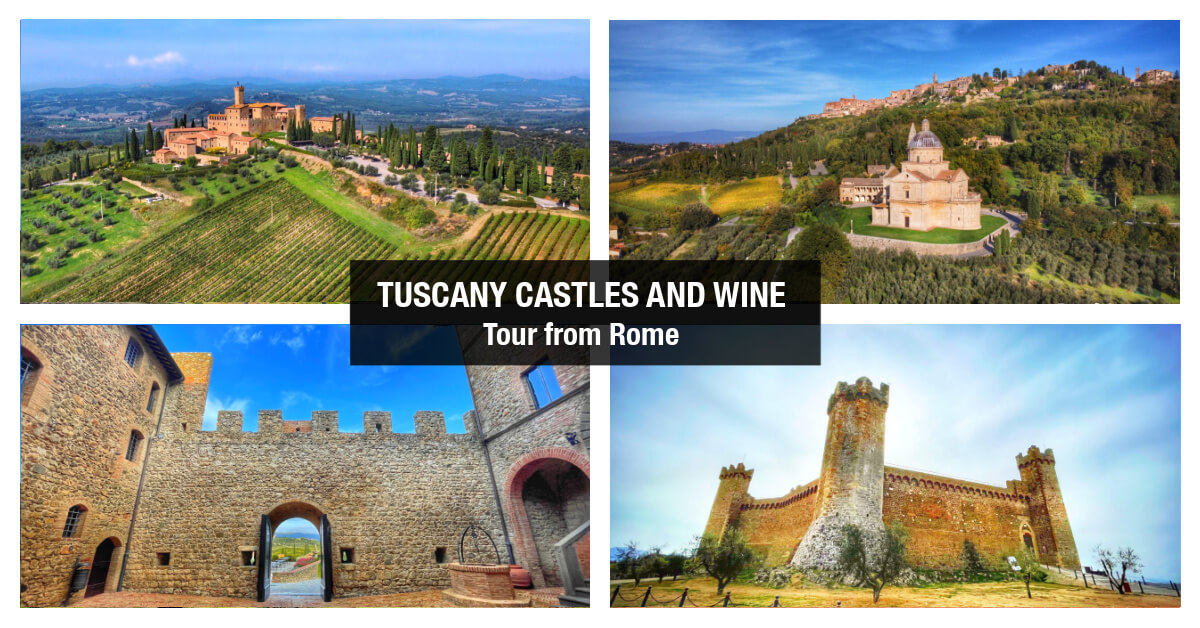 This tour is perfect for travelers who wish to experience the magic of Tuscany's landscapes and castles
Discover Montepulciano with ample opportunities for tasting its Vino Nobile di Montepulciano
Explore Montalcino famous for its imposing medieval fortress and Brunello di Montalcino wine
Sample local wines at various in-town wine shops that welcome tastings of their locally produced wines and gastronomic specialties
Visit the elegant Wine Shop at the enchanting Castello Banfi and sample its local wines and spirits at the Wine Bar
Delight in scenic drives through Tuscany's wine country with splendid landscapes and endless vineyards
Relaxing tour without fixed winery visits for optimal flexibility and convenience
Ideal Day Tour for families and friends traveling together when not everyone wishes to partake in wine tasting


Our exclusive Tuscany Castles and Wine Tour from Rome also pairs wine tasting with sightseeing for the best of both worlds!

What makes this Tuscany wine tour unique is that instead of vising a winery in Tuscany, you will spend time at a truly enchanting castle. Stroll through the castle grounds and sample its wide selection of wines and spirits at its inviting elegant Wine Bar. Just choose what you wish to sample from its wine-tasting price list for the perfect wine-tasting experience.

Your wine-tasting enjoyment is not limited to only Castello Banfi. Wine Tasting in Montalcino and in Montepulciano is possible throughout the towns at their various wine shops that offer wine tastings either for free or at a fixed price. On our Tuscany wine tours, we combine wine tasting with sightseeing for an optimal experience that can be shared also with travel companions who cannot or wish to not partake in wine tasting. It's truly a wonderful wine tour in Tuscany for everyone!

ALSO READ:


Now that we've covered our current best wine tours in Italy from Rome, we invite you to visit our Italy private tours and select your preferred wine tour from Rome for your next Italy vacation.

As we will increase our offerings of wine-tasting tours from Rome, be sure to save this page and visit again for new and exciting wine tours in Italy!


Thank you for choosing Stefano's RomeCabs for your Tuscany tours from Rome or Florence. We look forward to showing you beautiful places in Italy!


* Find us online also on: