Buongiorno and welcome to Stefano's RomeCabs, Rome's top tour company for private Tours of Tuscany from Rome and Tuscany shore excursions from Livorno and La Spezia. If you are looking for the best Tuscany tours from Rome, you've come to the right place! For more than 18 years we've been providing private tours in Italy, Italy long-distance Transfers, Sightseeing Transfers in Tuscany, and private shore excursions to Tuscany.

Of all of Italy's amazing regions, Tuscany seems to stand out the most. Tuscany has a way of evoking images of timeless landscapes, quintessential medieval towns, architectural wonders, windy country roads, endless rows of vineyards in Chianti, delicious local cuisines, and delectable wines. The tranquil Tuscan atmosphere replenishes your soul, inspires your mind, and fills your heart.

It's no wonder that Tuscany is one of the most sought-after destinations in Italy for extended sojourns. While there might not be enough time on your vacation to devote a few days to Tuscany, it's quite possible to enjoy Tuscany in just one day. Many travelers and cruisers visit this captivating region for a day on Private Tuscany tours from Rome and on private Shore Excursions from La Spezia or Livorno.

In this article, we will share with you the 10 best trips and tours of Tuscany from Rome that you can enjoy on your next visit to Italy.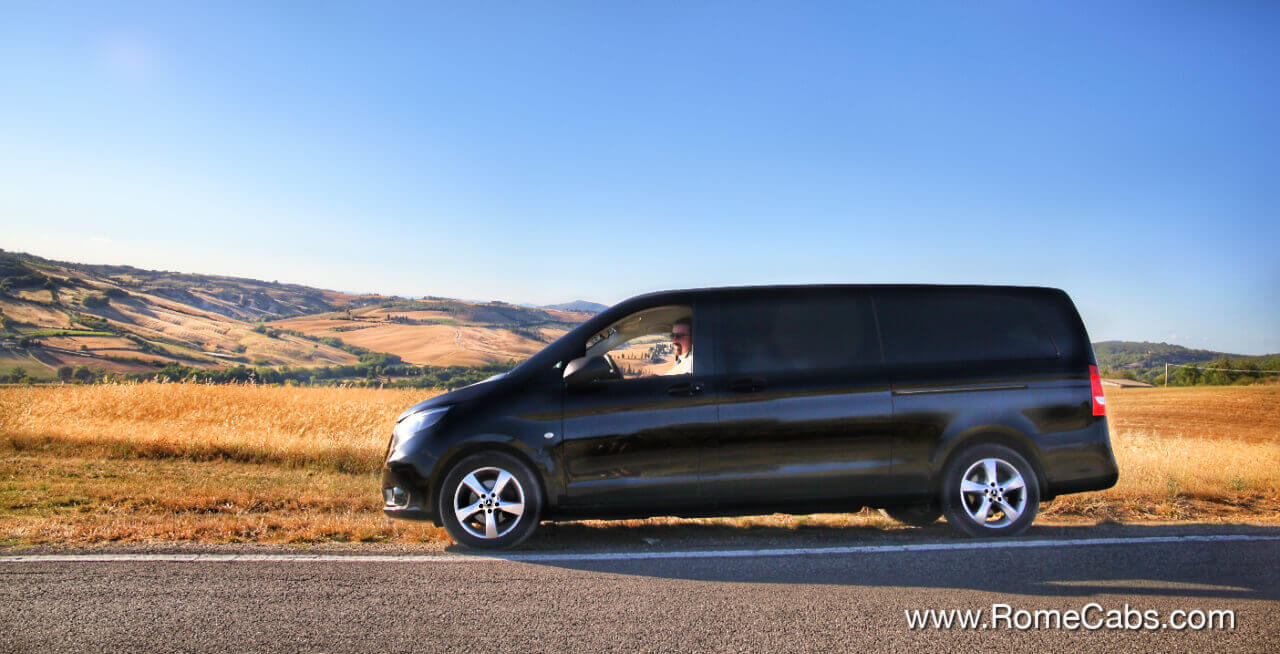 10 BEST TRIPS AND TOURS OF TUSCANY FROM ROME
1. FLORENCE

One of Tuscany's top cities of the arts, Florence brims with architectural masterpieces and statues that render it an outdoor museum. It's no wonder so many travelers enjoy day tours to Florence from Rome.





Florence is the capital of Tuscany and is considered the cradle of the Renaissance. But Florence has a much longer history, founded in 59 BC by Roman Emperor Julius Caesar who named it Florentia. He used this area as a large military camp for the Roman army due to the Arno River and the fertile valley.
After being controlled by the Longobards and Germanic people during the middle ages, by the 13th century, Florence became a separate city-state that prospered in textile and wool trade supported by the Florentine banking system that lead it to great power and prestige during the Renaissance era.
Thanks to the powerful banking Medici dynasty that ruled Florence for 3 centuries, Florence grew into an intellectual and cultural center of Europe where art and enlightenment flourished was 'reborn' and paved the way to the glorious Renaissance Era that produced some of the world's greatest luminaries such as Michelangelo, Dante, Botticelli, Donatello, and Leonardo da Vinci.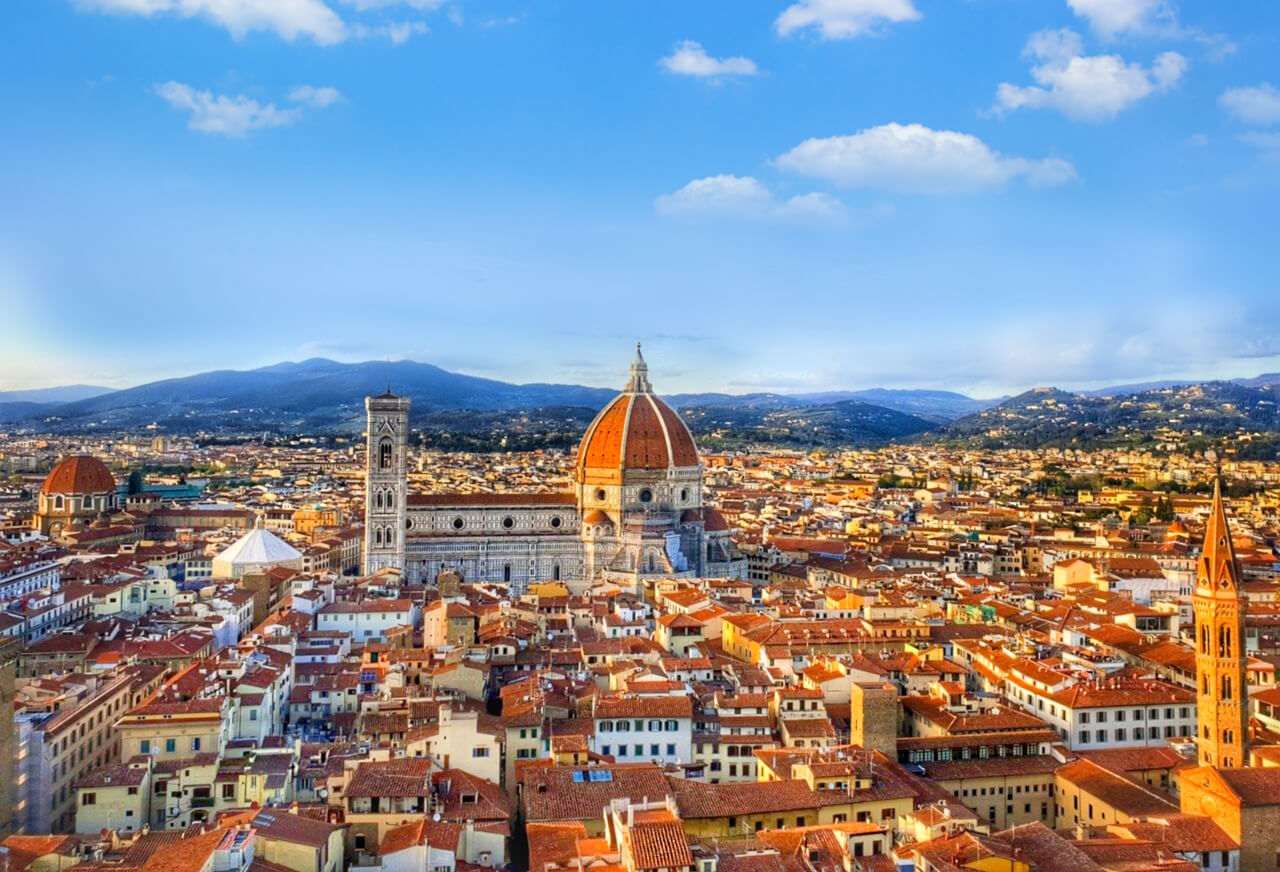 Florence's historic center may be small, but it's such an enormous treasure trove to behold that it has been recognized as a UNESCO World Heritage site.

After many centuries, Florence still retains its Renaissance grandeur present in its distinctive architecture, magnificent statues, and masterpiece paintings that are housed in prestigious museums such as the Uffizi and Accademia galleries. Studded with remarkable priceless statues throughout its historical center, Florence is considered an outdoor museum.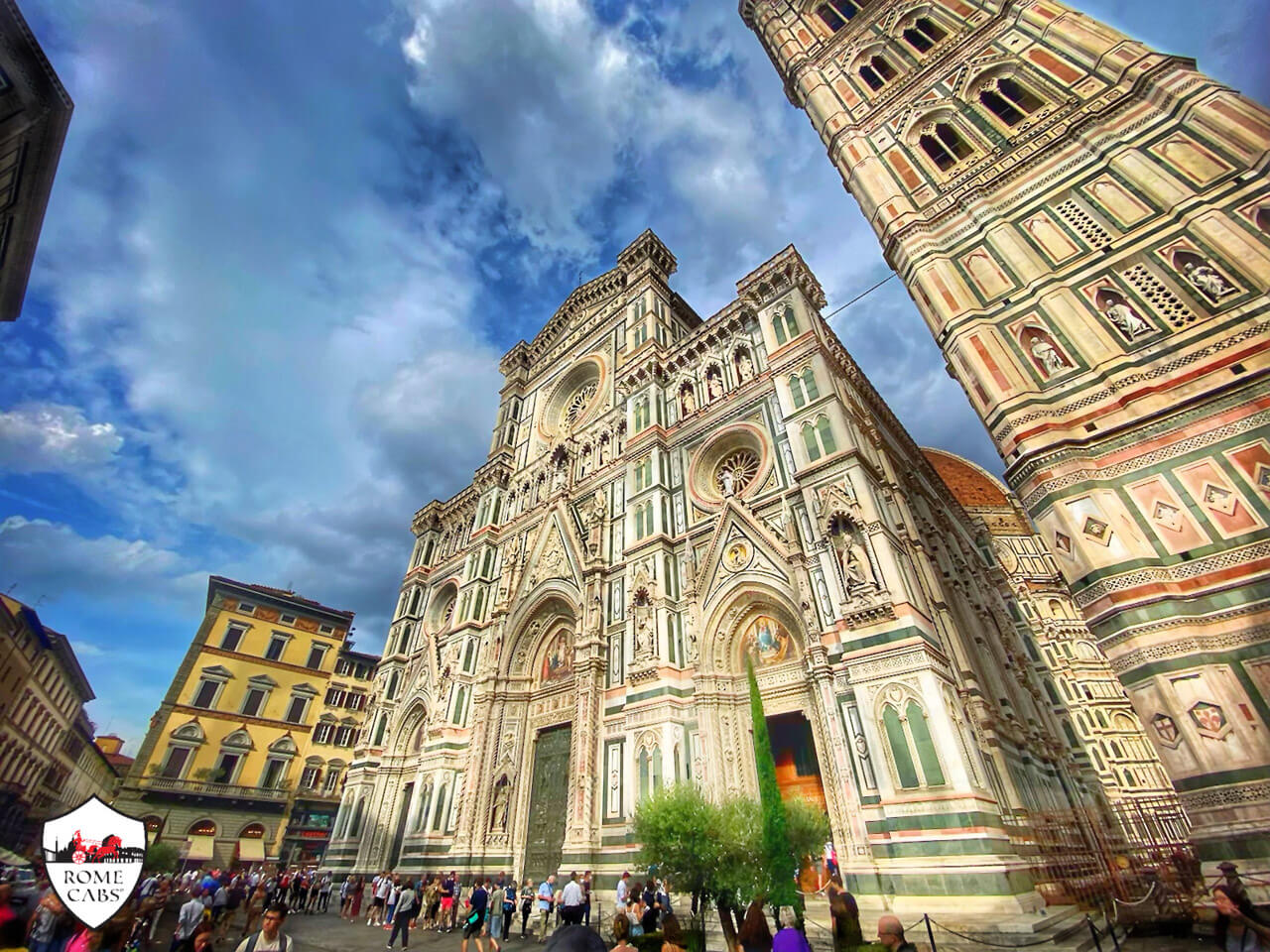 A stroll through Florence's historic center will take you to Piazza del Duomo that is dominated by a trio of architectural beauties: The Duomo of Florence (Santa Maria del Fiore), its adjacent Giotto Bell Tower (Campanile), and the Baptistery of Saint John best known for its bronze "Gate of Paradise" doors by Lorenzo Ghiberti.

Not far, you will discover Piazza della Signoria overlooked by Palazzo Vecchio with the replica of Michelangelo's David at its entrance, and the elegantly arched and statue-filled Loggia dei Lanzi. Just around the corner adjacent to Palazzo Vecchio is Uffizi Gallery, Florence's most famous art museum and one of Italy's most important museums to visit. On the opposite end of the Uffizi is the Arno River traversed by Ponte Vecchio - possibly the most famous bridge in Italy! This medieval stone closed-spandrel arch bridge is lined with goldsmiths and charming jewelry shops is one of the most iconic monuments in Florence.



Florence is a top Tuscany destination for Tuscany Tours from Rome, and for cruisers, Florence shore excursions from Livorno and La Spezia. Cruisers also can enjoy private shore excursions to Pisa and Florence from Livorno and La Spezia.

Day tours from Rome to Florence are also possible to make the most of your day comfortably, as well as day trips by train from Rome.
2. CORTONA

Cortona is another popular choice for a Tuscany tour from Rome for travelers who wish to a day "Under the Tuscan Sun".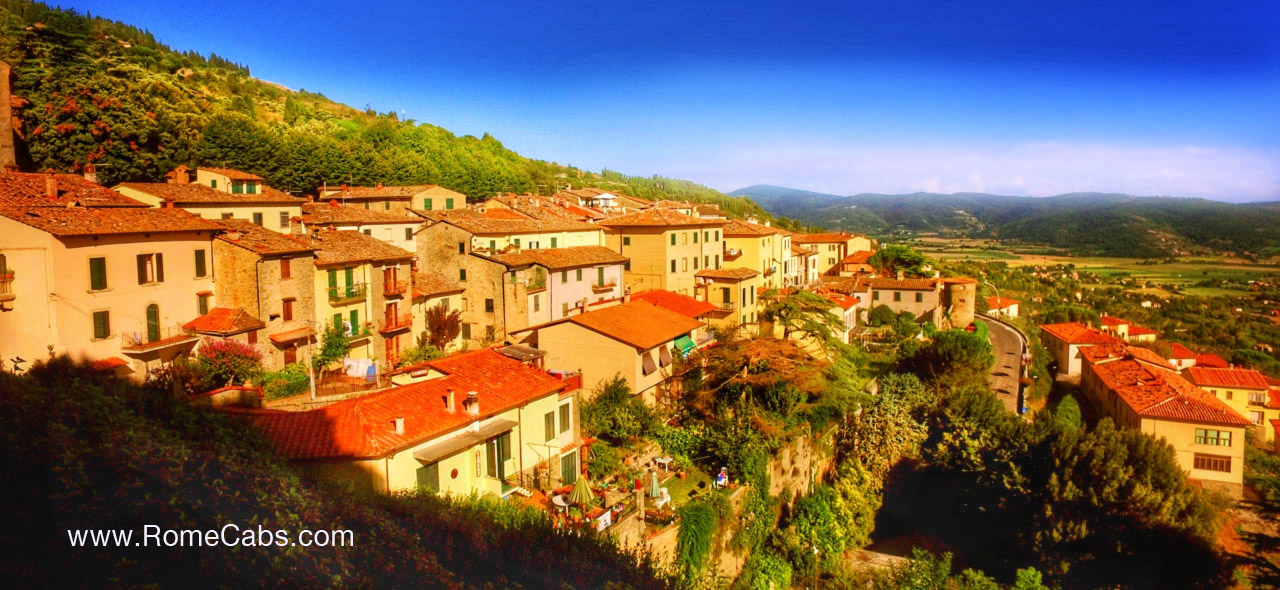 This magnificent hilltop town that overlooks the stunning Valdichiana (Chiana Valley) dates back to the ancient times of the Etruscans and Romans. In the ancient times of the Etruscans, Cortona was known as "Curtun", according to a 3rd-century BC bronze votive inscription discovered in the midst of the town.

Today, Cortona still retains its characteristic Medieval architecture consisting of large palazzos and cobbled streets. On one particular delightful alley, Via Janelli, you can still see original 14th-century medieval buildings where the upper floor characteristically protrudes outwards about a meter from the facade.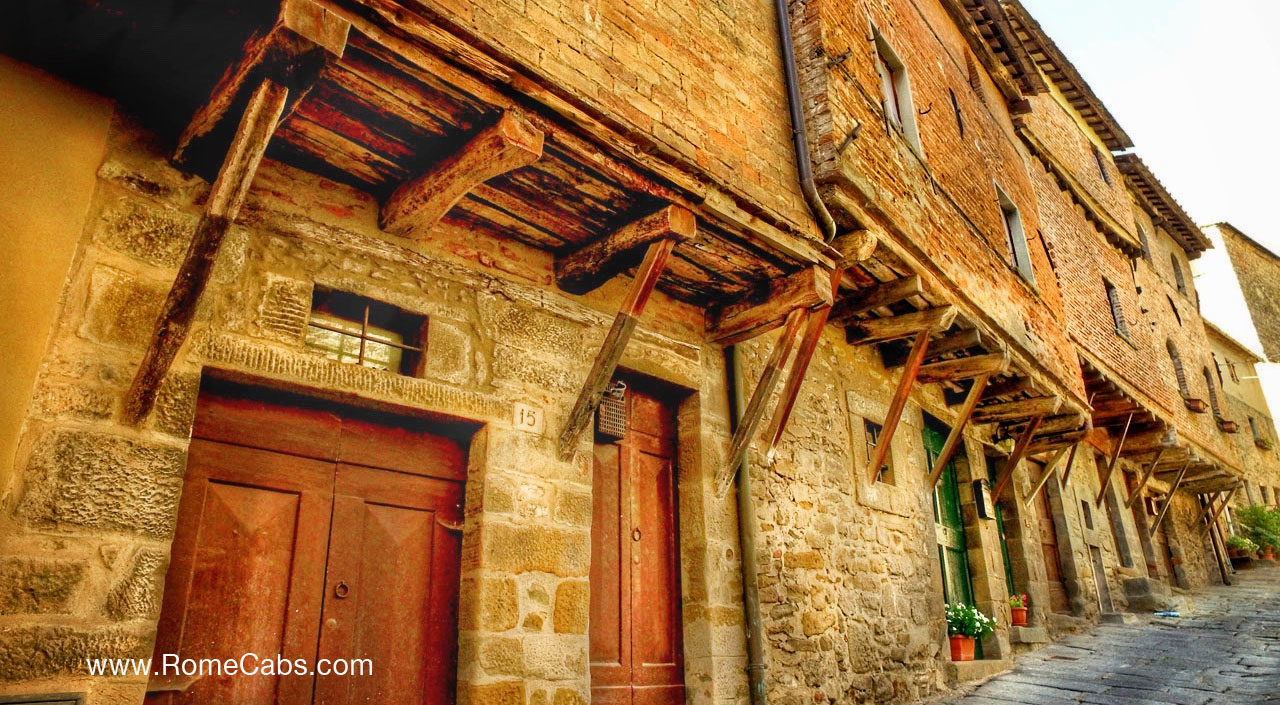 The facades of such medieval houses were made of stones for the height of the ground floor, but the upper floors were made of brick with wooden shelves and beams supporting the protruding upper floor. As you admire these medieval houses you can't help but be mentally transported back in time to the wonders of the middle ages.

Along the main streets that lead to Piazza della Repubblica and Piazza Luca Signorelli, you'll find various artisan shops that offer many types of locally handcrafted items and gastronomical products. Wines produced in this area such as Syrah and Chianina are enjoyed at wine shops and cafes.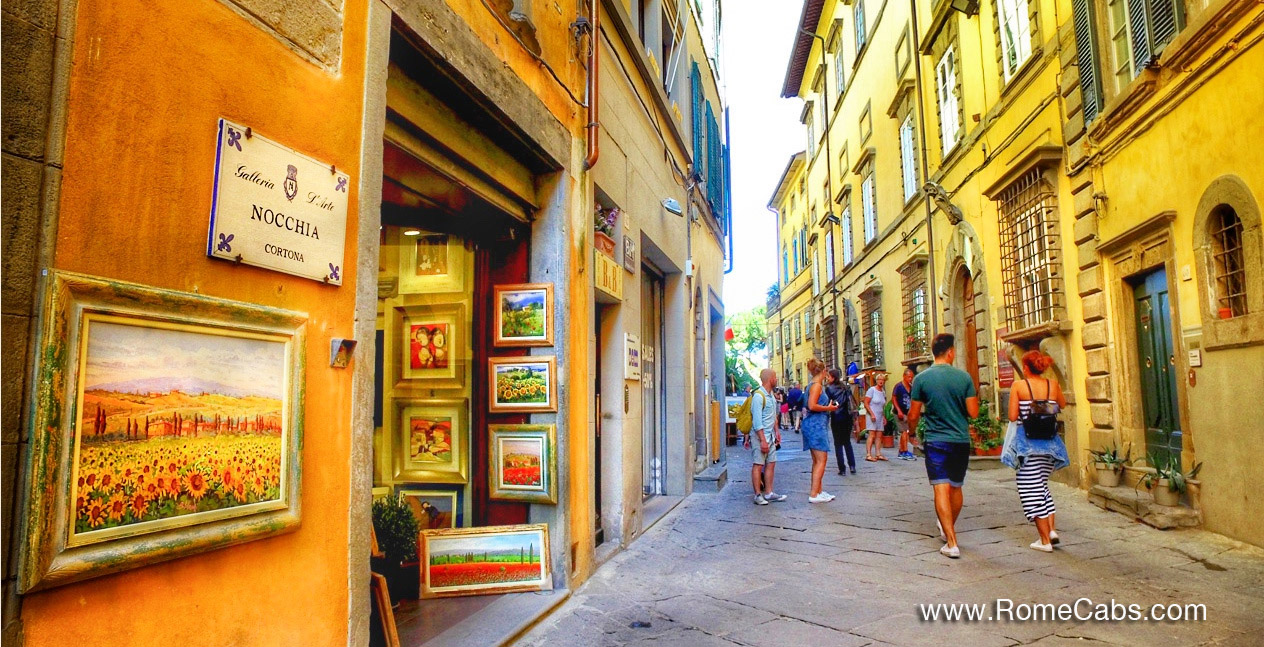 Restaurants and classic trattorias that serve delicious traditional Tuscan cuisine can be found throughout the town. One particular traditional dish to try is Bistecca Fiorentina. This is a high-quality steak made from the local bovine bred in Valdichiana known as Chianina. Chianina cattle are gigantic compared to average cattle, and their origins date back to ancient times.

History buffs would enjoy visiting the Diocesan Museum and the MAEC (the Etruscan Academy Museum of Cortona) that house treasure troves of Medieval and Renaissance masterpieces and ancient artifacts. At the high point of Cortona is the beautiful Santa Margherita Sanctuary, the patron saint of the city.

Cortona can easily be visited on a private tour from Rome to Tuscany. To make the most of your day trip to Tuscany from Rome, we pair Cortona and Arezzo for an unforgettable day in Tuscany.
3. AREZZO

Founded in the 9th century BC as an Etruscan city named "Aritim" (Arreitum in Latin during the Roman times), Arezzo is one of Tuscany's more elegant cities and one of the most ancient cities in Italy (even older than the ancient Alexandria in Egypt).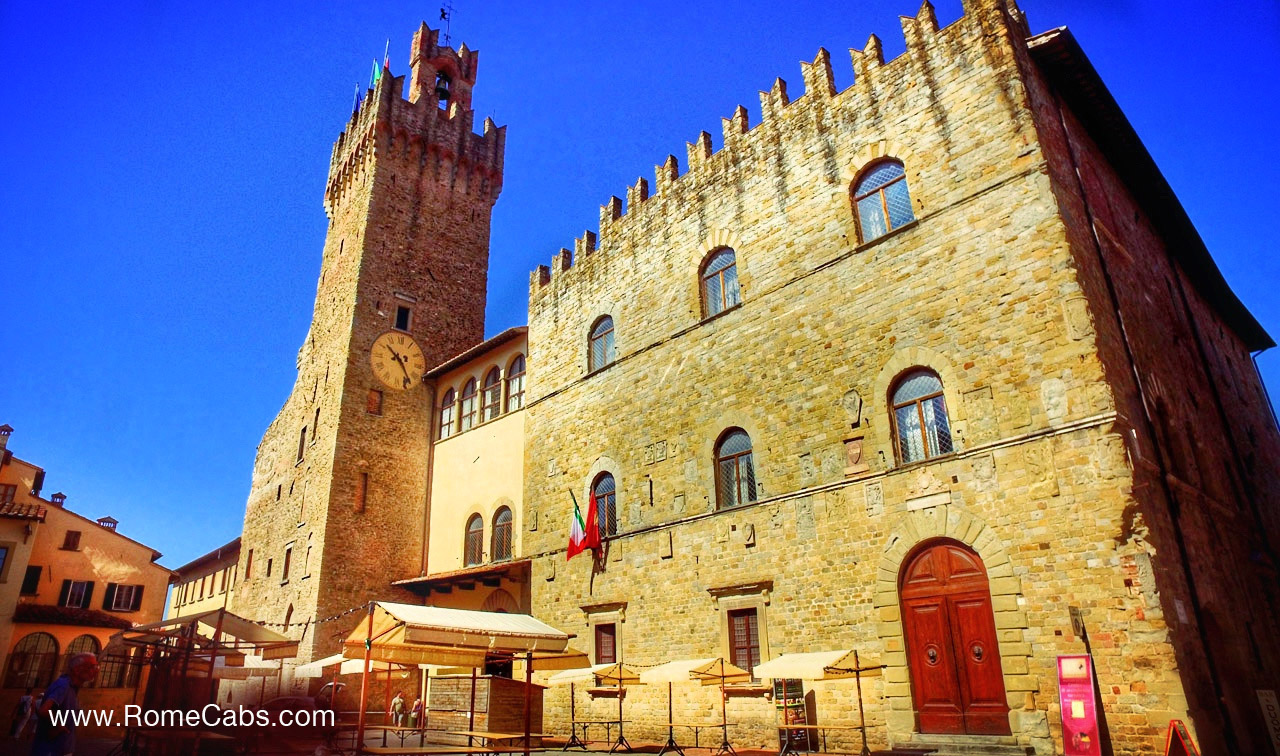 In fact, important settlements were discovered near Arezzo that dates back to the Mesolithic and Neolithic periods. This Tuscan city with an ancient soul also grew into a city of great prestige during Roman times due to its valued agriculture, wine production, and manufacturing of pottery and metalworks.

Today Arezzo is a graceful Tuscan city that maintained its traditions, architecture, and beauty. One of the focus points of Arezzo is the gorgeous tilted trapezial-shaped Piazza Grande surrounded by an eclectic variety of medieval towers and buildings from different historical periods. During Medieval times, the square was used for the town market, and during the Renaissance, it served as the center of Arezzo's civic life.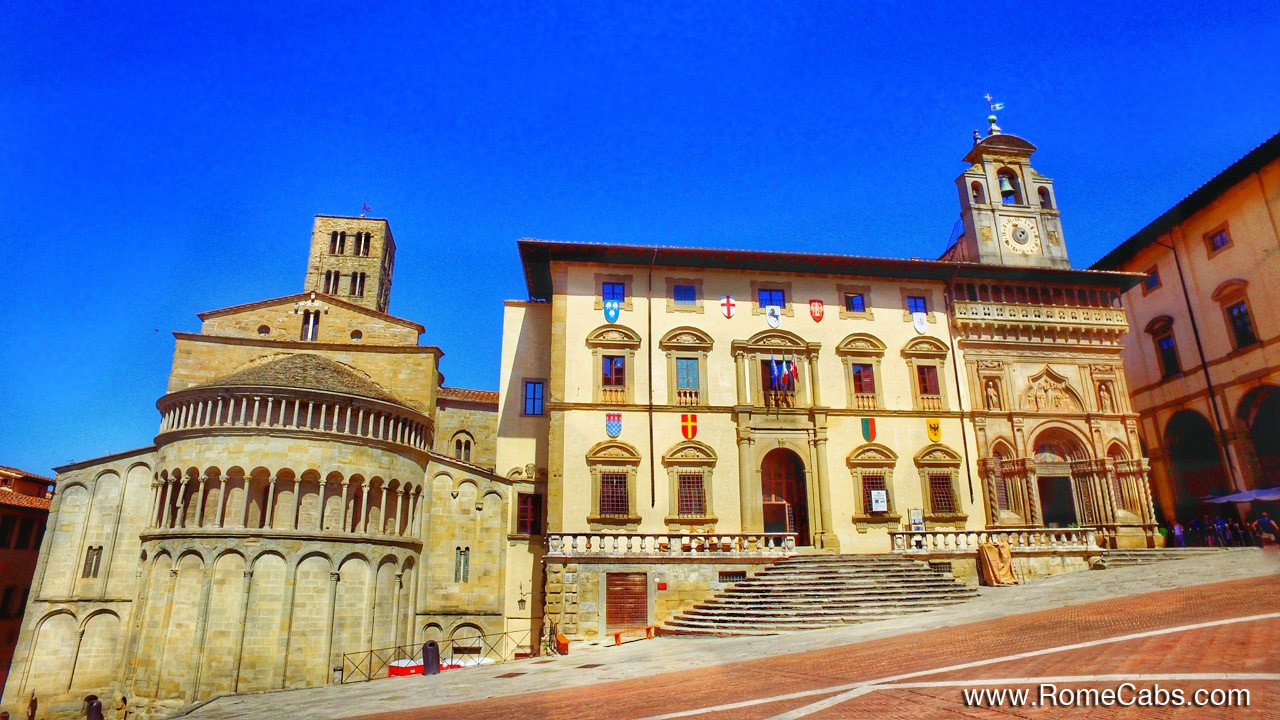 Its current appearance dates to the late 16th century when the resplendent Palazzo delle Logge with its elegant colonnade was built from the designs of Giorgio Vasari. This graceful loggia invites you to have a seat at an outdoor table of any of the restaurants and cafes, relax, enjoy a meal or a coffee, and gaze at the square encircled by magnificent buildings and towers adorned with coats of arms that evoke an authentic medieval atmosphere. Throughout the year the square hosts a variety of historical events from jousting tournaments to Medieval and Renaissance festivals that fill it with magic.





Not to be missed on top of the town is the magnificent Cathedral of Santi Donato e Pietro that was built on the site of a pre-existing Palaeo-Christian church. Another surprising jewel hidden behind an unfinished and coarse face is the 13th-century church of Saint Francis which is also an interesting museum to visit.
As mentioned above, you can enjoy visiting Arezzo and Cortona together on a fun-filled private Tuscany tour from Rome.


4. MONTEPULCIANO


Montepulciano is a magnificent hilltop town in southern Tuscany with roots dating back to the ancient Etruscan civilization. Situated on the ridge of Monte Poliziano (from where the town derived its name) with sloped streets, Montepulciano overlooks the enchanting Val di Chiana (Valley of Chiana).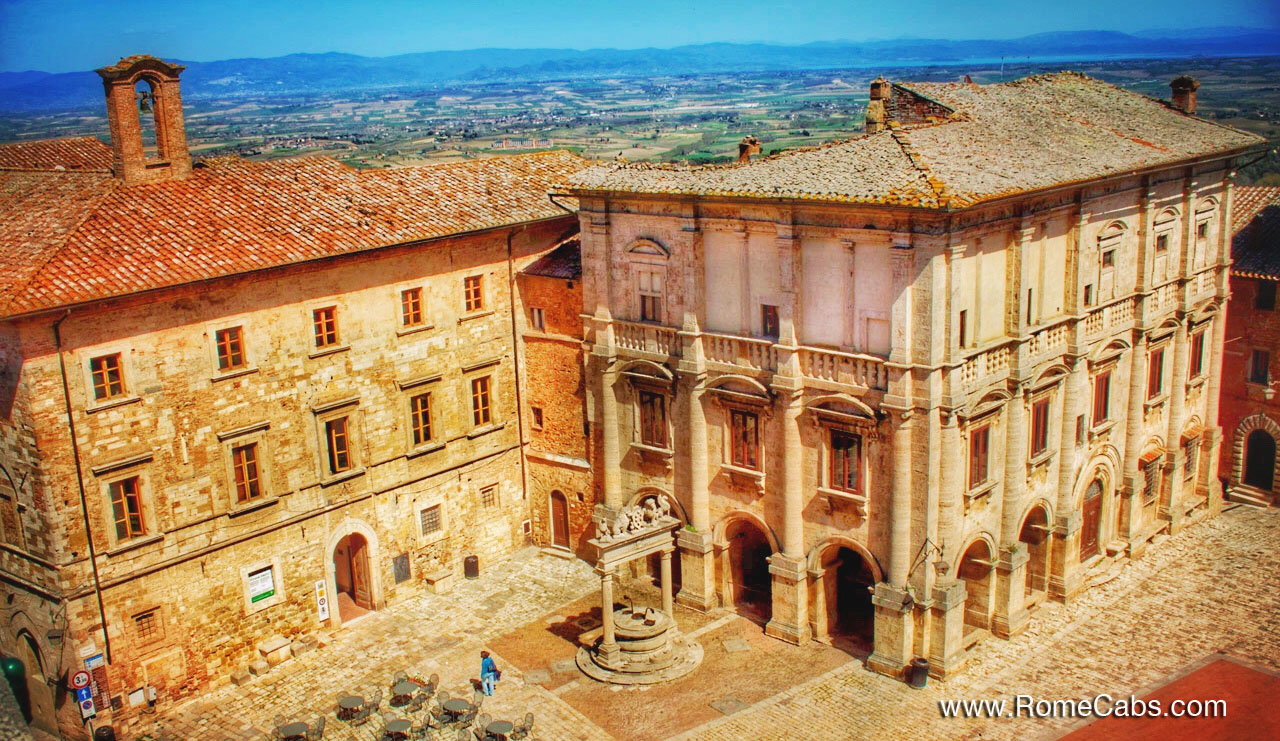 Pedestrian-friendly medieval streets lined with imposing palazzos will lead you to many of Montepulciano's treasures: unique local artisan shops, delightful gastronomic boutiques, and enoteche with wine cellars with ample opportunities to sample local wines for which Montepulciano is famous.
The exceptional local red wine inspired the famous 17th-century Italian poet and physician Francesco Redi to bestow upon Montepulciano the title of "King of all Wines" in his poem, "Bacchus in Tuscany".
The Vino Nobile di Montepulciano ( Noble Wine of Montepulciano ) is a classic red preferred by royalty and aristocracy since Lorenzo de Medici in the 15th century.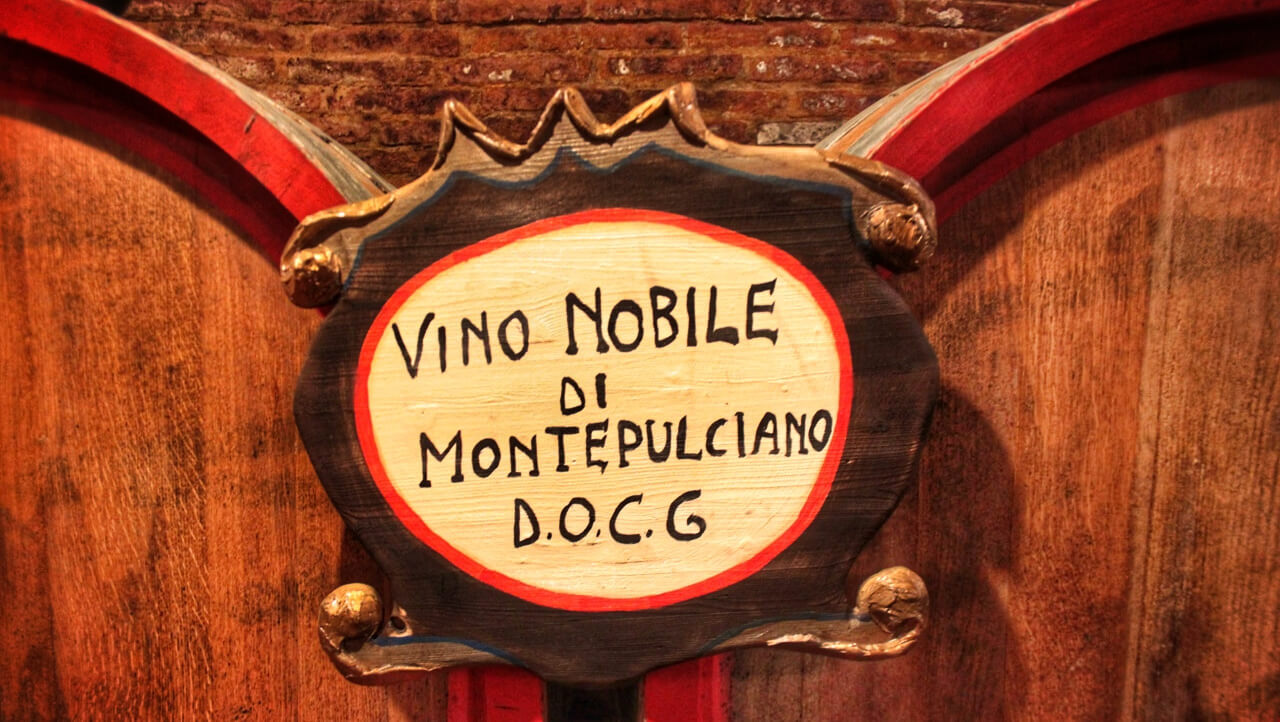 Upon the highest point of the town is the spacious yet cozy Piazza Grande, the center of the civic and social life of Montepulciano. The relaxing atmosphere invites you for a respite at a local outdoor cafe and admire the important palazzi that encircle the square.
Built by the city's most powerful and influential families of the Medieval and Renaissance era, the buildings that comprise this square include Palazzo Communale that is reminiscent of Florence's Palazzo Vecchio, the elegant Palazzo Contucci del Monte that is still owned by the same family who is a prominent local wine producer of Vino Nobile di Montepulciano, and the sublime travertine clad Renaissance-era Nobili-Tarugi Palace and Palazzo del Capitano del Popolo. Not to be missed is the gorgeous well finely decorated with griffins and lions. Opposite these magnificent palaces is the unassuming Cathedral of Montepulciano.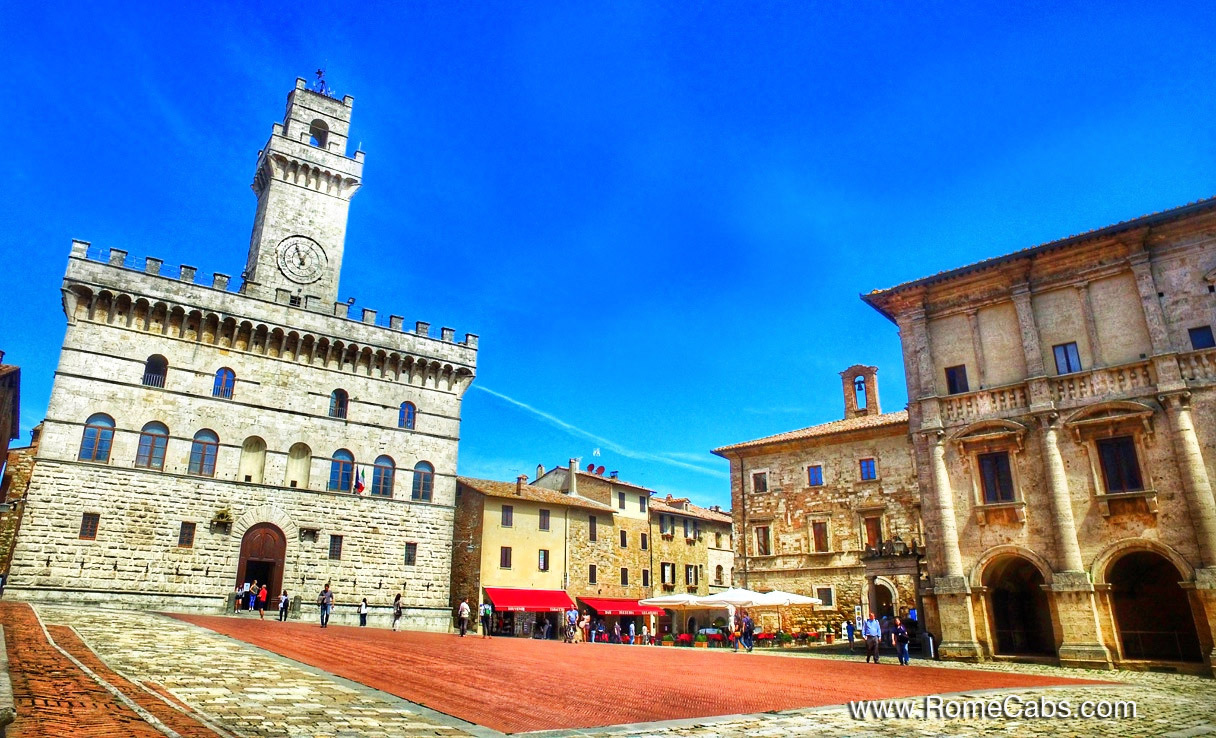 Be sure to stroll to the perimeters of Montepulciano to view the idyllic Tuscan landscapes of Valdichiana.
You have the opportunity to visit Montepulciano along with other top Tuscany destinations on this popular Tuscany day tour from Rome:
5. PIENZA

Named after the homeborn Pope Pius II, Pienza's historic center is a UNESCO World Heritage Site. Not surprisingly, it is located in one of Tuscany's most spellbinding valleys, Val d'Orcia, which is also a UNESCO World Cultural Landscape.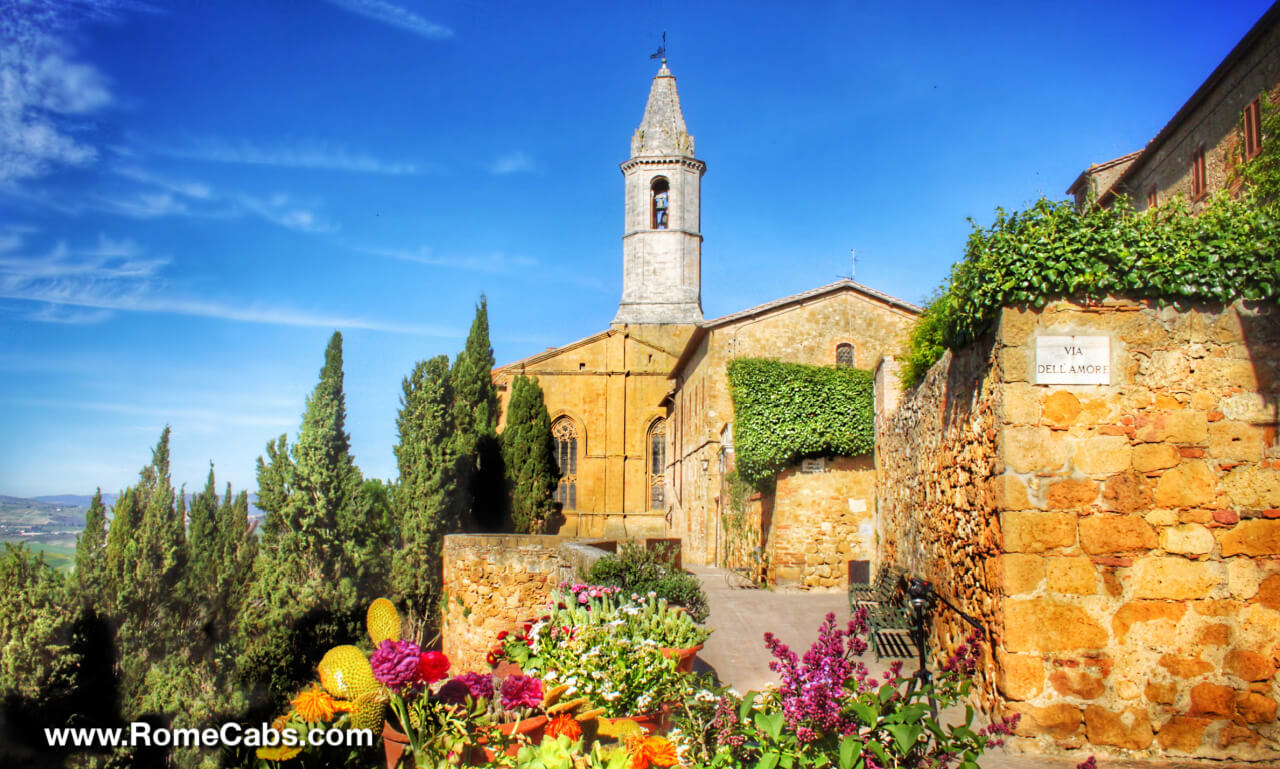 Initially, Pienza was a Medieval town named Corsignano when local Enea Silvio Piccolomini was elected as Pope Pius II in 1458. As pope, the humanist Pius II planned to develop Corsignano as his summer court applying the Renaissance Humanist concept of urban design that was favored during that period.
The pope was instrumental in the town's revival and transformation into an Italian Renaissance utopia that served as an inspiration across Italy and Europe. Corsignano was then renamed Pienza in honor of Pope Pius II.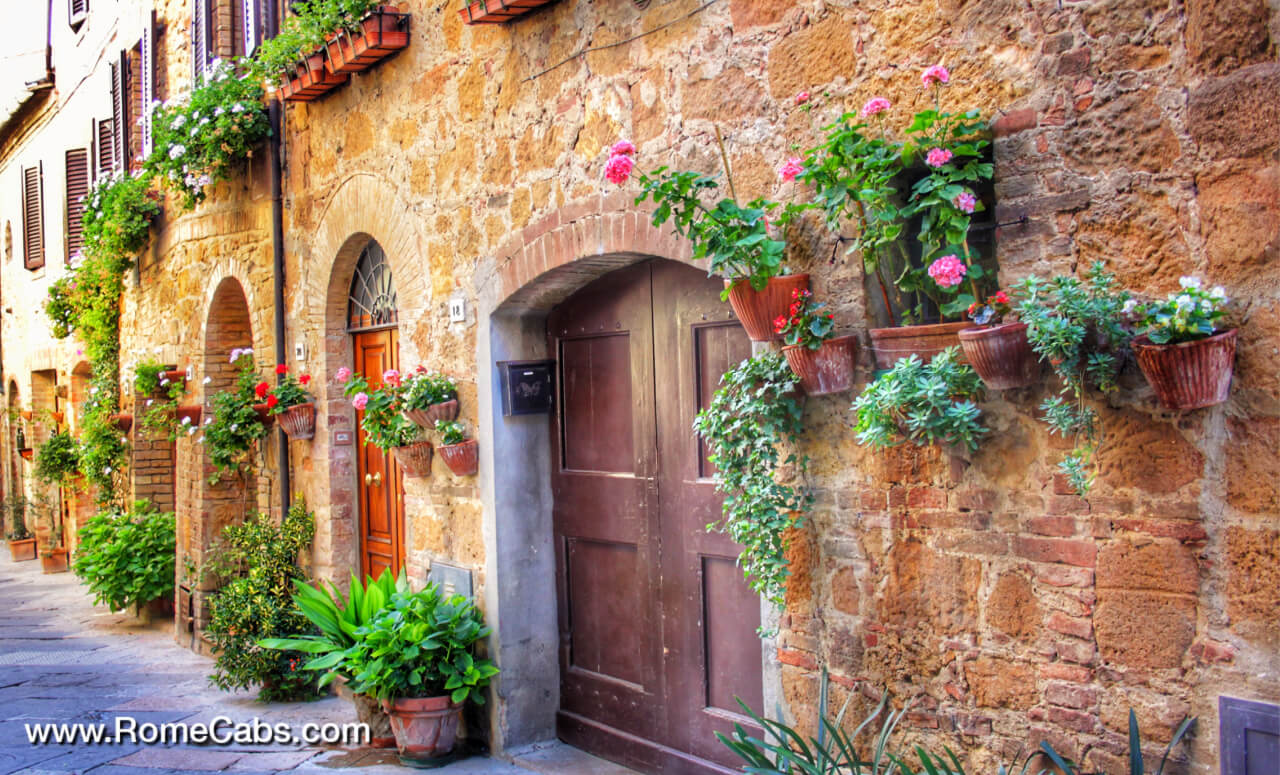 Idyllic Renaissance and some older Medieval alleys lined with shops, boutiques, cafes, and restaurants add to the enchantment of this small town and make it a perfect town for a stroll.

Adding to the town's utopian charm are the narrow lanes that lead to a panoramic terrace atop the city walls bearing romantic names likes Via dell' Amore (Street of Love), and Via dell Baccio (Street of the Kiss).
If Pienza alone will not enthrall you, the views from the outer city walls surely will. The timeless landscapes of Val d'Orcia that surround Pienza have inspired poets and artists for centuries, and in more recent times also filmmakers. From Pienza, you can view the enchanting valley selected to represent the Elysian Fields in the blockbuster film The Gladiator.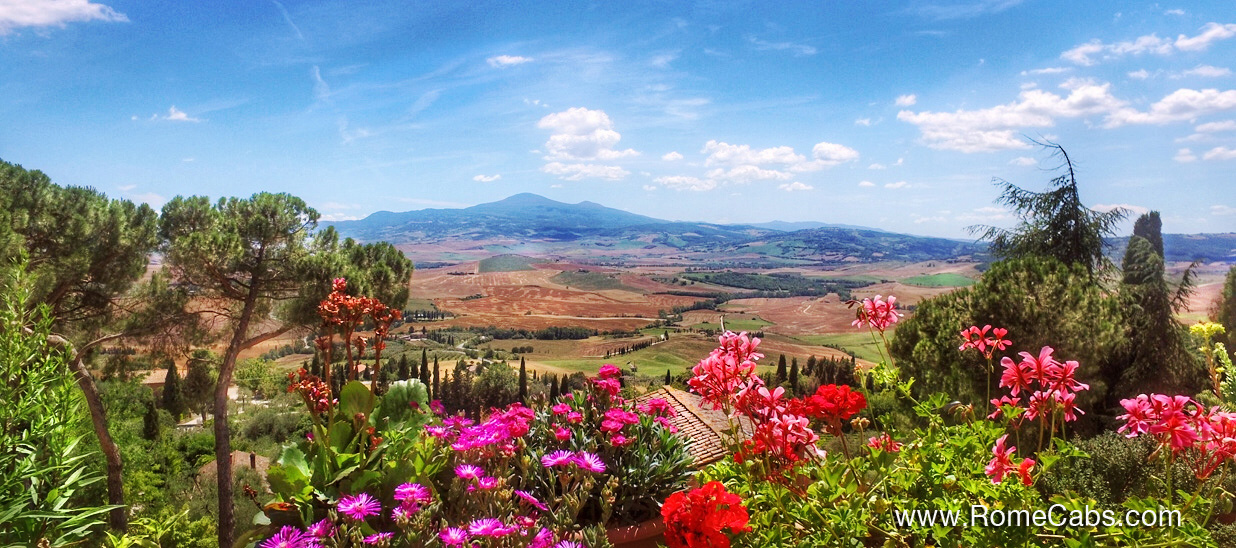 Travelers with a discerning palate for gastronomic delights will celebrate Pienza's other claim to fame: pecorino di Pienza. Exalted as one of the finest pecorino cheese in Italy, pecorino di Pienza is made from the milk of sheep that graze organically upon the lush pastoral grasslands of the surrounding valleys.
Entice your taste buds with tasty pecorino fresco (soft fresh cheese) or pecorino stagionato (aged pecorino mixed with different delicate flavors) and discover distinct traditional flavors offered at various local gastronomic boutiques throughout the town.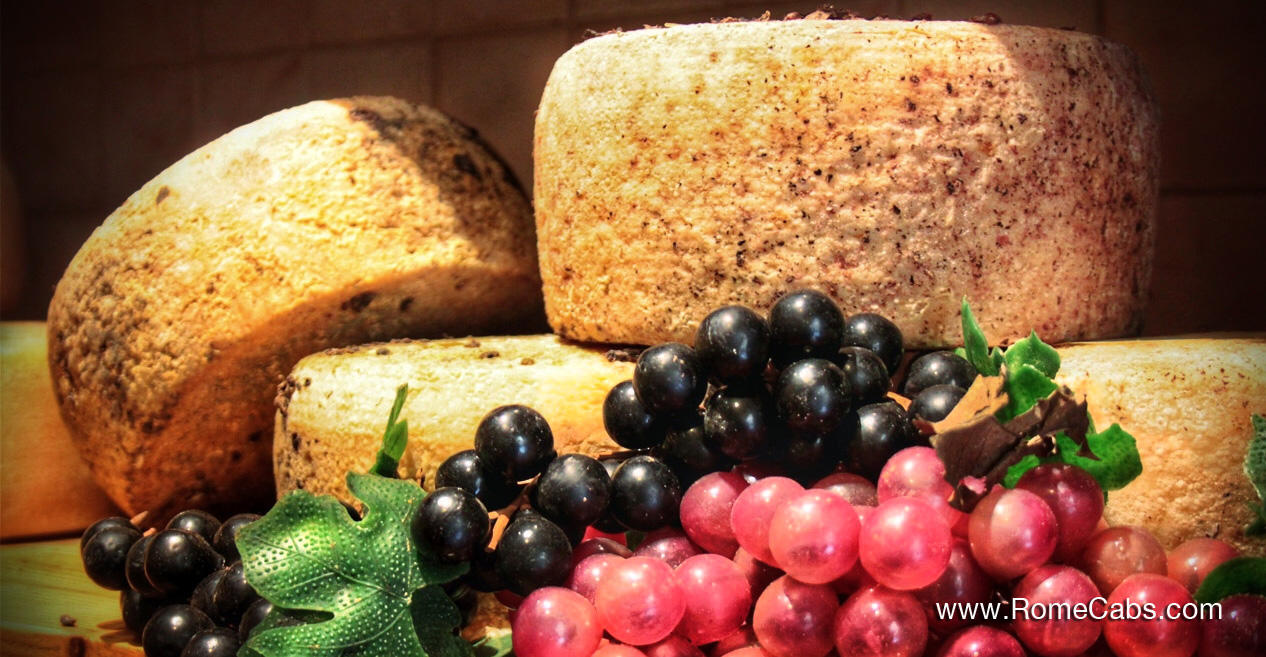 Pienza should definitely be on your list for one of the best trips and tours of Tuscany from Rome.



6. MONTICCHIELLO


Along picturesque windy roads surrounded by the resplendent Val d'Orcia is the village of Monticchiello. Previously an ancient fortified hamlet, Montichiello rises atop a gentle hill surrounded by picturesque scenery that makes it ideal for a brief stop on many tours of Tuscany from Rome.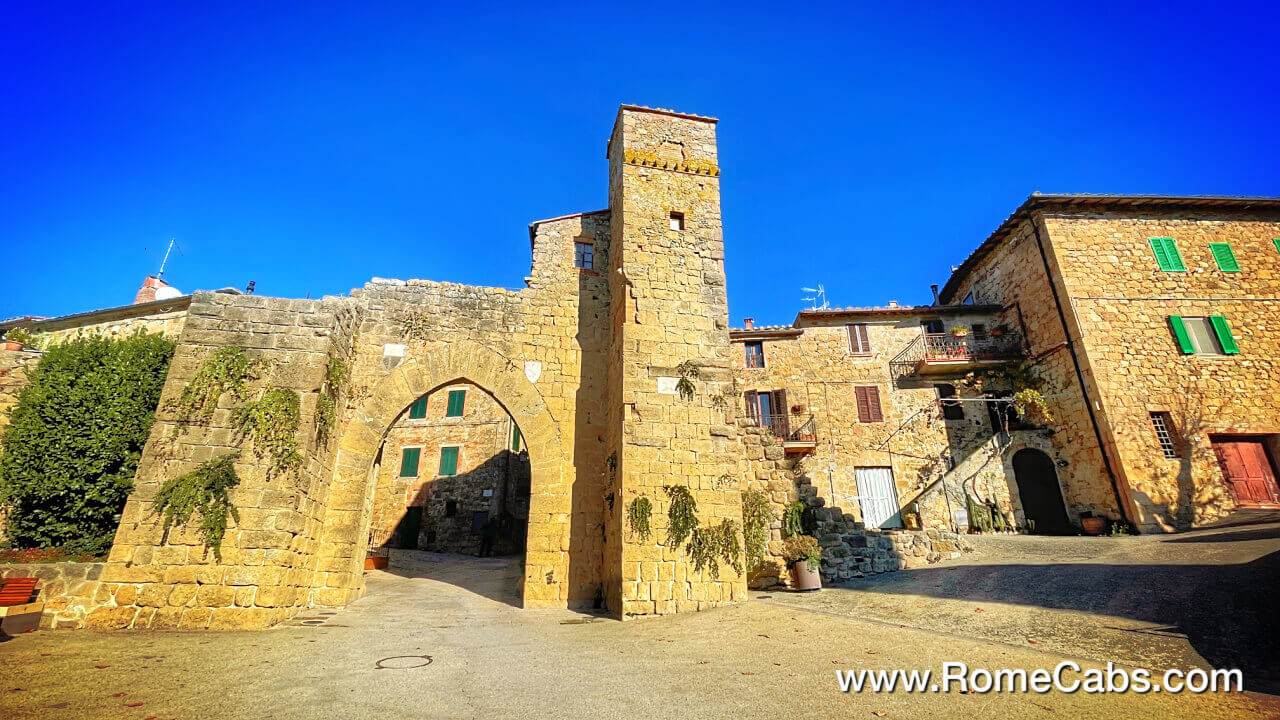 Like most towns in Tuscany, Montichiello is ancient. While its current name first appeared in a 10th-century document, Montichiello traces its mysterious origins to Roman times from where it acquired its ancient name Mons Cloelli.
Once you enter this quiet village through its main gate Porta Sant'Agata, you will be charmed by the harmonious and spacious integration of earthy-toned medieval-era architecture. The village itself is airy and spacious, unlike the usual narrow spaces and streets that define most medieval villages.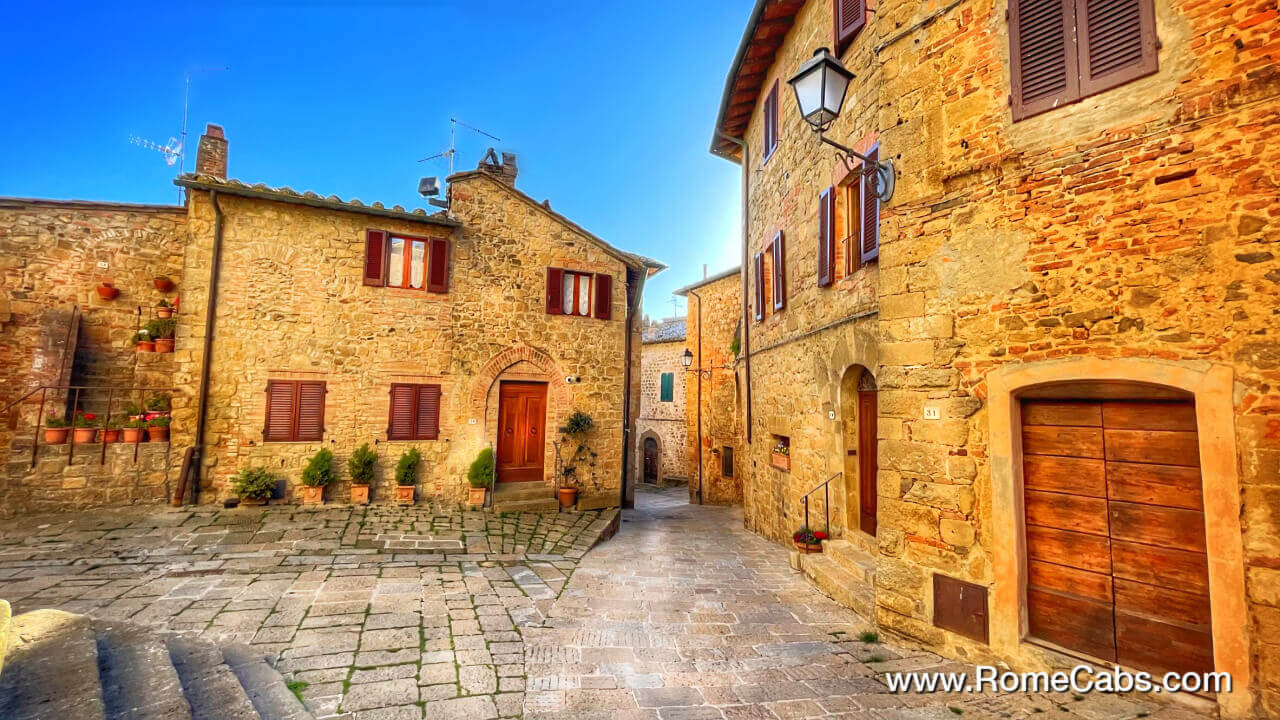 Don't miss the opportunity to have a seat on a lovely bench on the Terrace of Valley of Orcia (Terrazza della Val d'Orcia) for a front-row view of the picture-perfect landscape before you. Montichiello offers mesmerizing panoramic views of the valley and Pienza on the far horizon.
Its architectural charms paired with its breathtaking views makes Monticchiello a romantic village that will enchant you and beckon your return.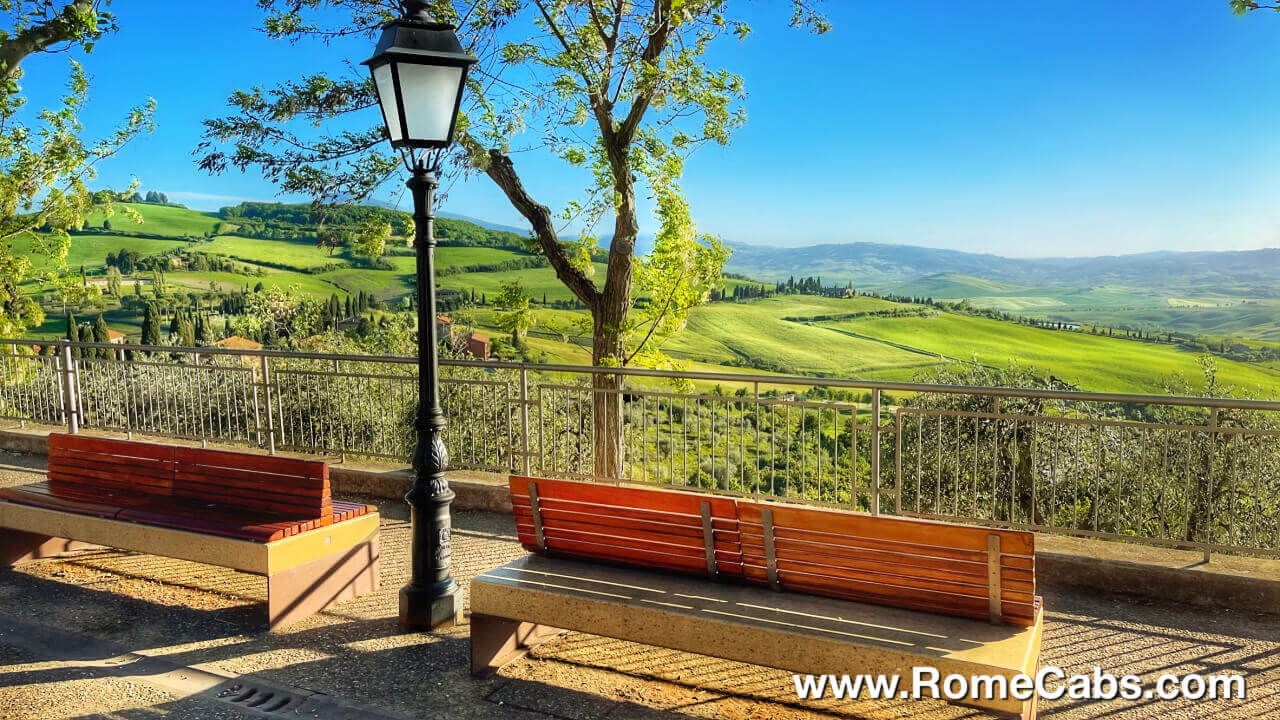 Not to be missed while visiting Montichiello is the famous and often elusive "windy road of Monticchiello" that graces postcards everywhere and has been an iconic representation of Tuscany in films.
You too can enjoy a visit to this charming hamlet on the VALLEY OF PARADISE Tour from Rome to Tuscany.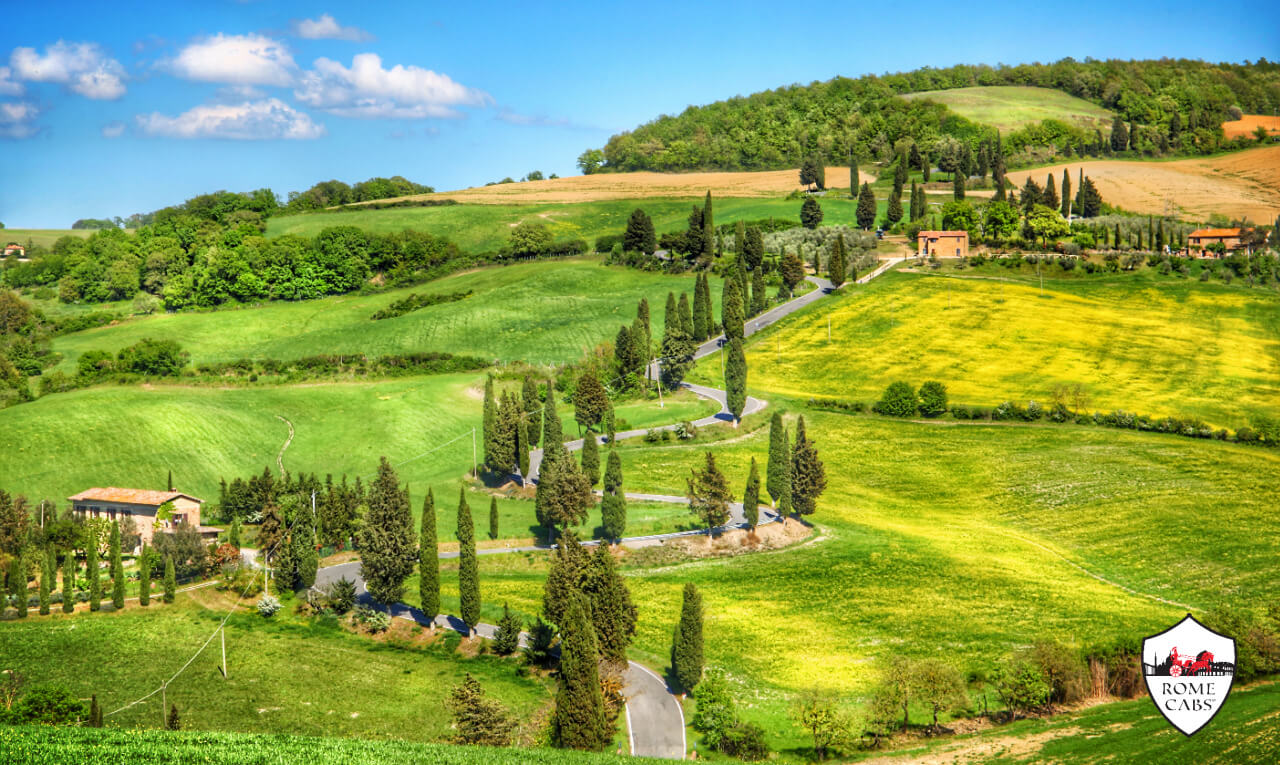 7. MONTALCINO


Montalcino is one of the most treasured hilltop towns in Tuscany revered for its architecture, splendid views, and delicious local wines. No wonder Montalcino is one of the top destinations on Tuscany Wine Tours from Rome.
Montalcino is a popular destination for Tuscany wine tours from Rome: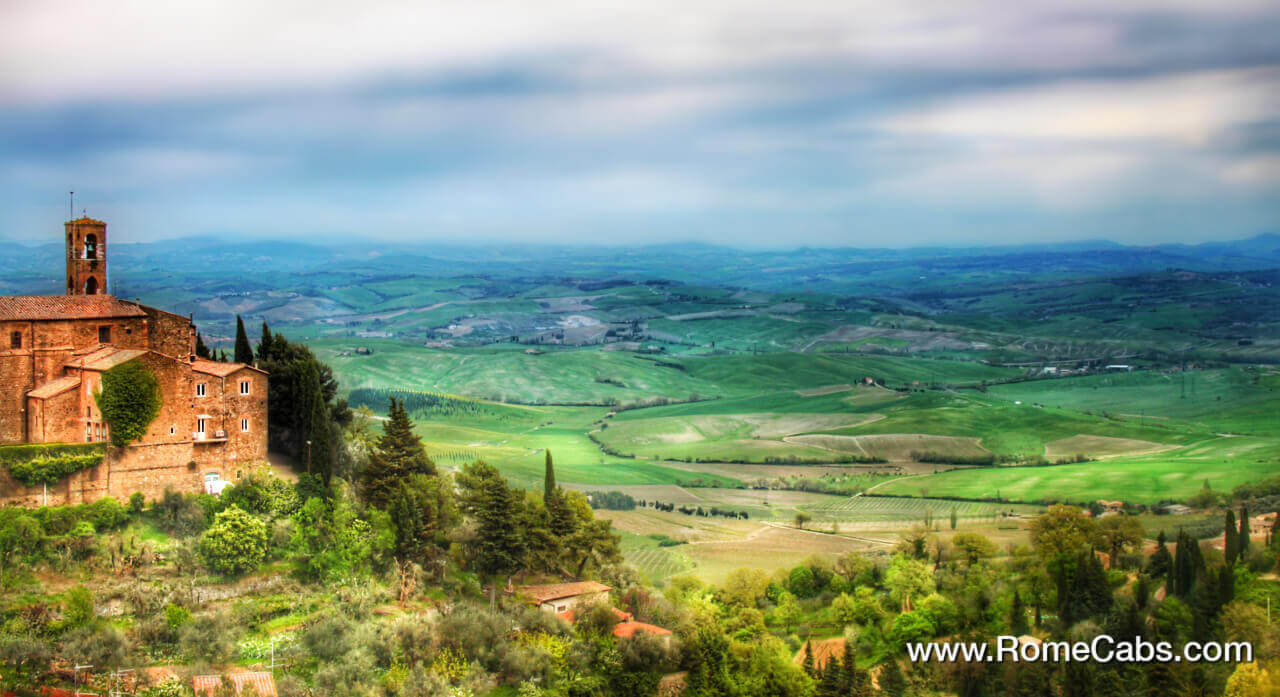 Montalcino's fascinating long history also extends as far back as to the mysterious yet powerful Etruscans. This ancient civilization sure knew how to select the most beautiful region of the Italian peninsula to settle on! Montalcino's ancient name, Monte Ilcinus, draws from the oak trees that once covered this area. References to its modern name "Montalcino" first appeared in written documents in the early 9th century.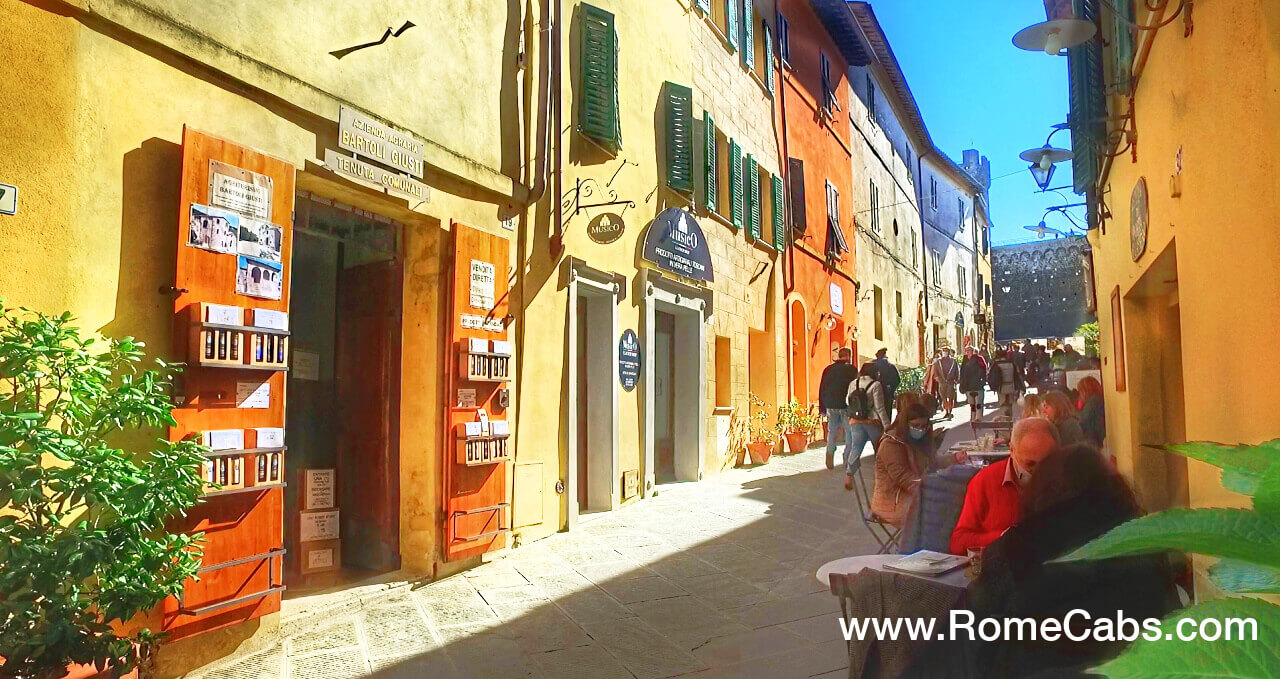 In the present time, Montalcino is world-famous for another well-known plant that grows abundantly within its region: the Brunello grapevine (also called the Sangiovese Grosso).
This local grape produces the distinguished local wine Brunello di Montalcino whose esteemed formula was created in the late 1800s by Ferruccio Biondi Santi. Brunello was also the first wine to be granted the coveted Italian DOCG status ( Denominazione di Origine Controllata e Garantita ).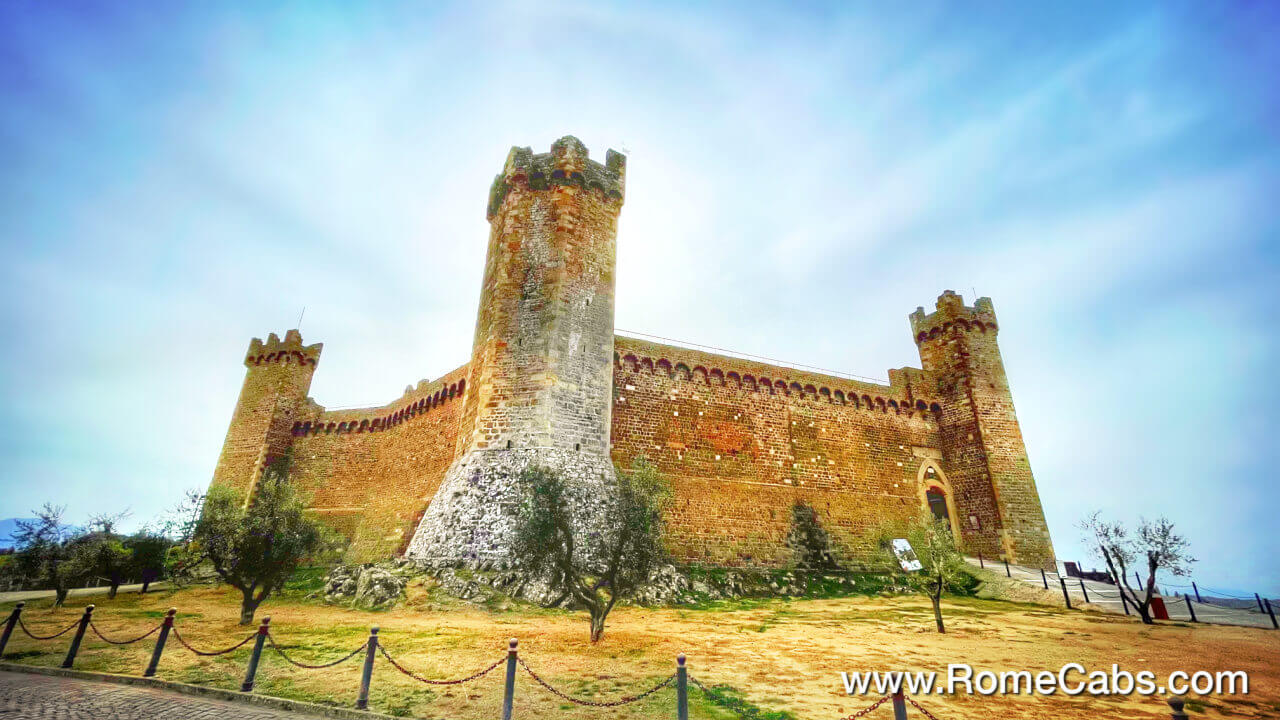 Visitors flock to Montalcino not only for its fine wine but also for its historic, artistic, and architectural treasures. The hilltop town is crowned by an imposing fortress that was built when Montalcino came under the influence of Siena during the 1300s. The town's elevated position rewards visitors with a splendid view of the Val d'Orcia valley that stretches far into the horizon.
8. PITIGLIANO
Private Tuscany tours from Rome to Pitigliano can be paired with Sovana, for exciting tours from Rome or from Civitavecchia:
Not surprisingly, Pitigliano is also an ancient town. Settled on a promontory with medieval volcanic stone buildings with terracotta roofs one on top of the other, Pitigliano appears to have organically grown out of the rocky cliff it stands on. Towering over steep verdant valleys, Pitigliano is a sight to behold as you drive on the bridge across the ravine into the town.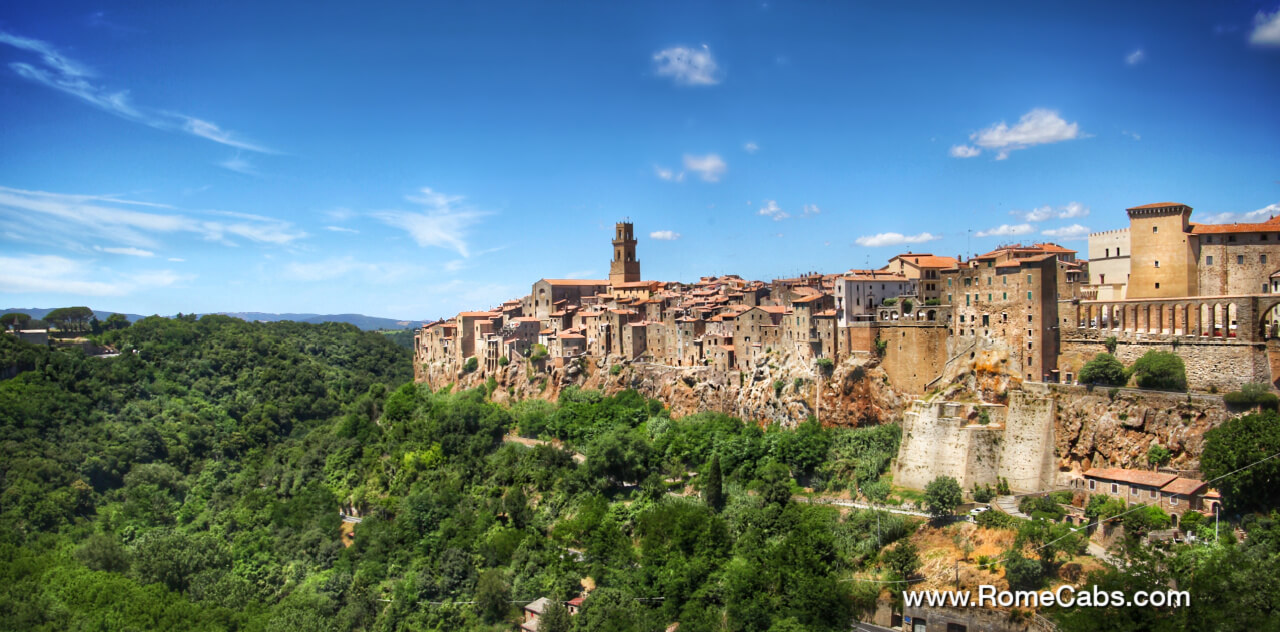 Pitigliano's extensive heritage is a source of pride for the locals. Vestiges of its prehistoric founding are evident in the tombs and caves along its city wall and at the nearby Etruscan necropolis of Poggio Buco and the Vie Cave (a network of deep rock-cut passages that connected Etruscan settlements and necropolis in this region).
Remnants of early Roman colonization are apparent in its early name, Petilia Gens (or according to legend, it merged the names of two Romans who founded the city: Petilio and Celiano). During the Middle Ages, Pitigliano was ruled by the Aldobrandeschi family, and the Renaissance era lent its splendor under the governance of the noble Orsini family and the powerful Medici dynasty.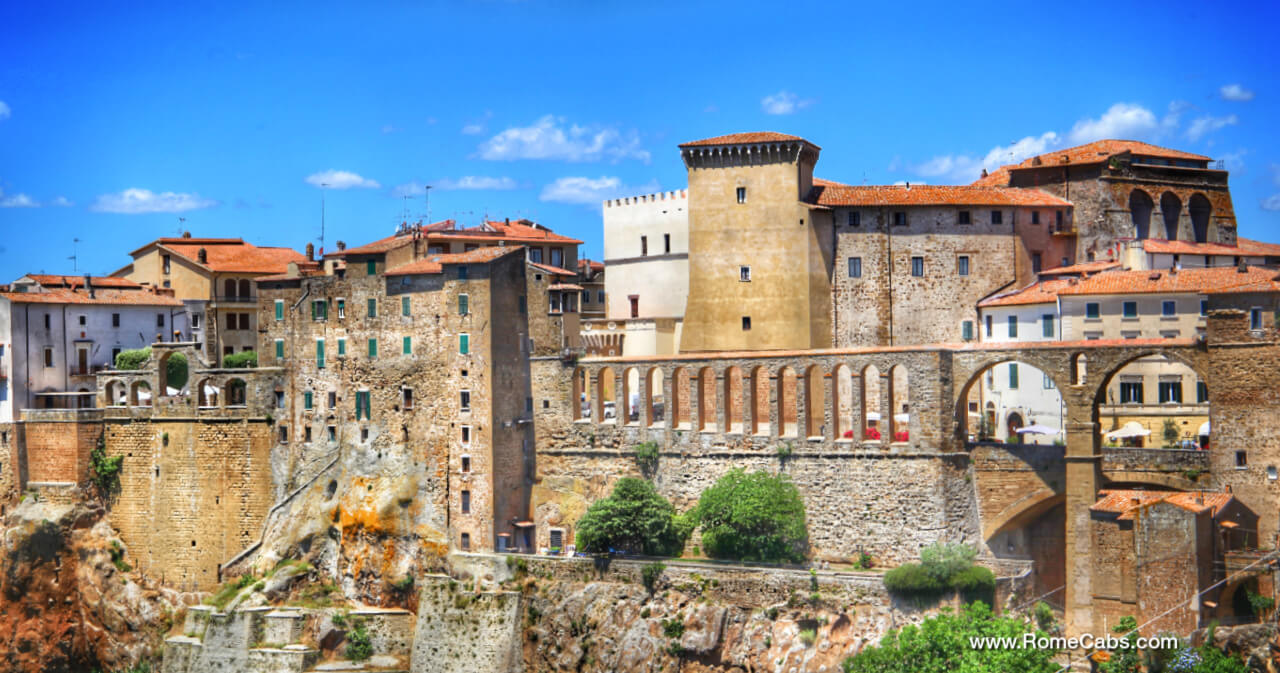 Centuries of being under the control of these rulers are evident by the impressive architecture they left behind. The Orsini fortress was built to defend the town, and along with Palazzo Orsini, they are now museums. The Medici Aqueduct which was used to transport water into the center of town has become the symbol of Pitigliano.

The centuries-old medieval houses, inviting squares, and narrow winding lanes built wide enough for the passage of carts plunge you back into the medieval era of the lords, dukes, and counts that ruled this town and walked along these same ancient streets.



Pitigliano is also known as Little Jerusalem (Piccola Gerusalemme) after the large Jewish population that settled here during the 15th century primarily made up of people escaping persecution in Rome during the Counter-reformation. The Jews of Pitigliano transformed one of the caves into a Passover matzoh bakery, the "forno delle azzime". With the help of their Christian neighbors, they also escaped Nazi captures.

Pitigliano has a Jewish ghetto on Via Zuccarelli that includes a restored 16th-century Synagogue open to the public for worship and visits.

In the Jewish Ghetto, you will also find a traditional local sweet in the shape of a baton named "Sfratto di Pitigliano", or the "Eviction of Pitigliano" made from a delicious combination of walnuts, honey, nutmeg, orange peel, and anise inside a tube of a crisp doughy shell.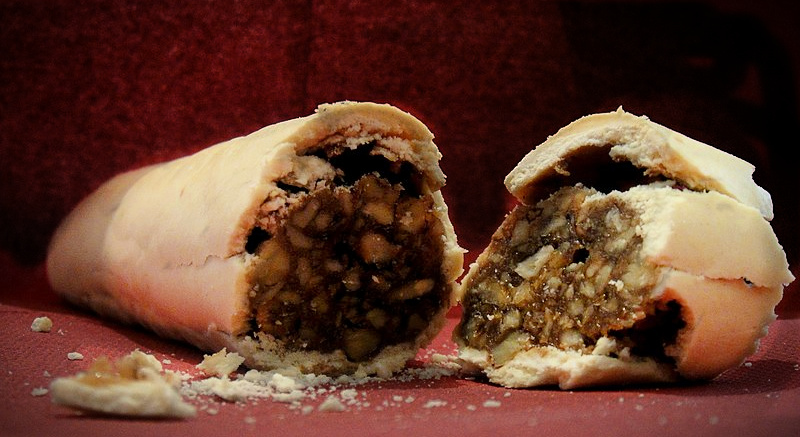 The unusual name and shape of this tasty yet symbolic treat come from the centuries-old tradition that Cosimo II de Medici, the Grand Duke of Tuscany, enacted an edict forcing the Jews of Sovana, Sorano, and Pitigliano to leave their homes and move into the ghetto of Pitigliano.
A century later, the Jews of Pitigliano created this sweet and intensely flavored delicacy to commemorate the eviction that messengers announced with knocks on their doors with sticks.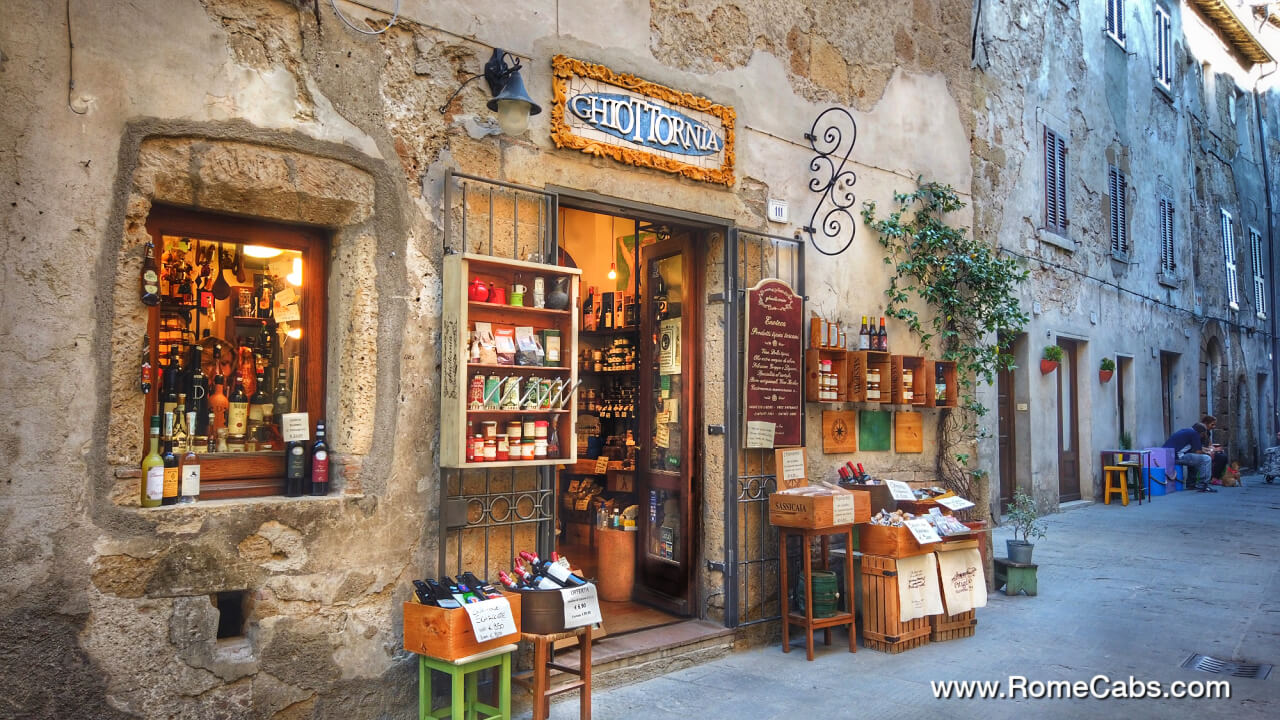 In Pitigliano, you will find a variety of unique shops that sell jewelry, ceramics, delicatessens, olive oil, and wine. The wine of the region has few rivals. The local vineyards fertilized by rich volcanic minerals produce the distinguished white DOC wines. The ancient rock-carved caves and tombs dug into the tuff rock of Pitigliano have been transformed into wine cellars for aging and preservation. The local cold-pressed olive oil also maintains its prestigious standard.


9. SOVANA

The tiny village of Sovana was originally built over an ancient Etruscan settlement and later it became a Roman "municipium". After the fall of the Roman Empire, Sovana became one of the first towns in the Tuscan region to embrace Christianity. By the 11th century, Sovana produced a great reformer Pope by the name of Gregory VII before the village became plagued by malaria and fell into abandonment.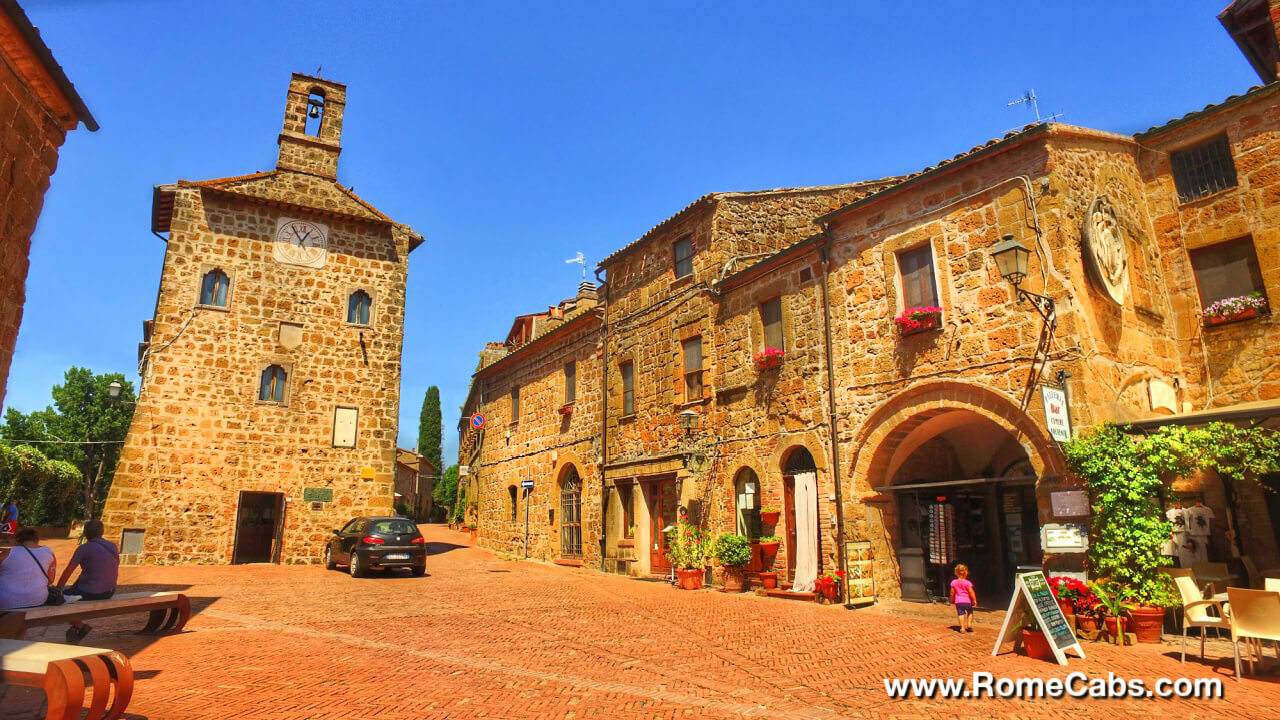 This pause in settlement may have contributed to Sovana retaining its authentic Medieval architecture without restyling during the Baroque era as it happened in many towns in the area.

On a leisurely stroll along the village's pedestrian-friendly streets lined with earth-toned medieval buildings brimming with that special Tuscan charm, you will come across charming outdoor cafes, family-owned restaurants serving scrumptious Tuscan dishes, and inviting artisan boutiques.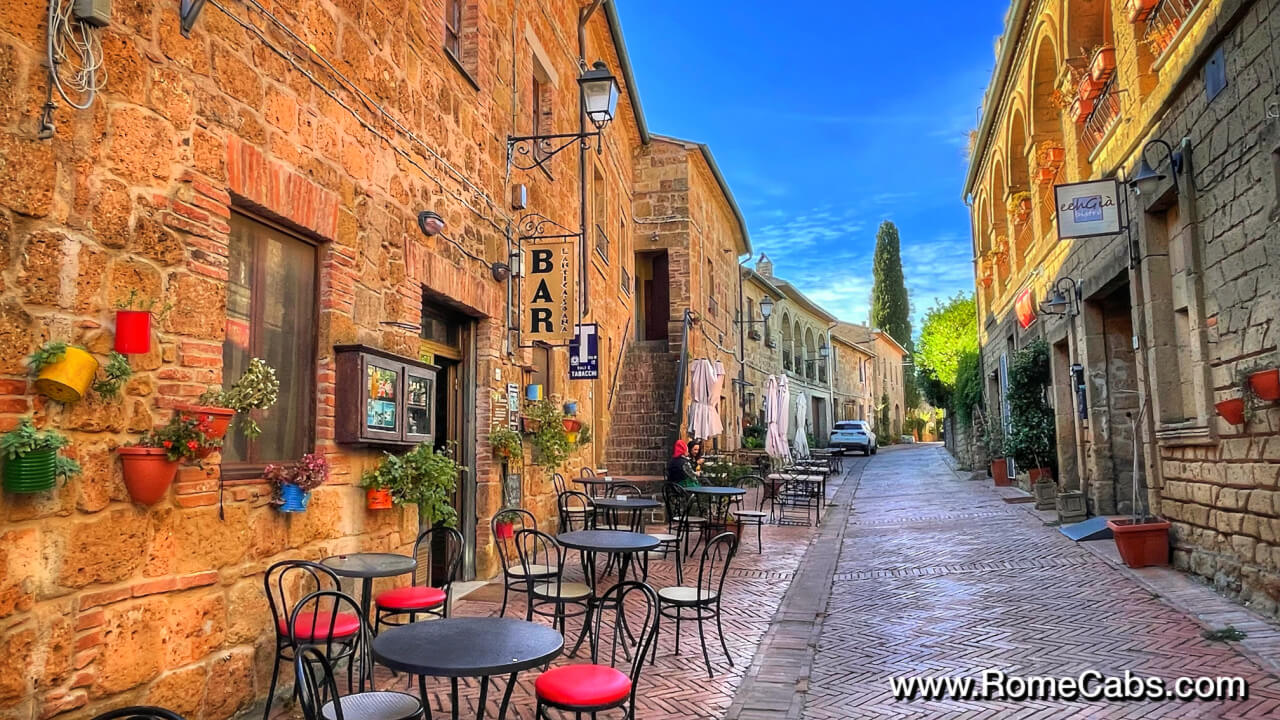 In the village main square, Piazza del Pretorio is the unassuming Romanesque-Gothic church of Santa Maria Maggiore that is one of the oldest churches in Tuscany. Step inside and admire this prized treasure with an unusual 9th century stone ciborium (vaulted canopy above the altar).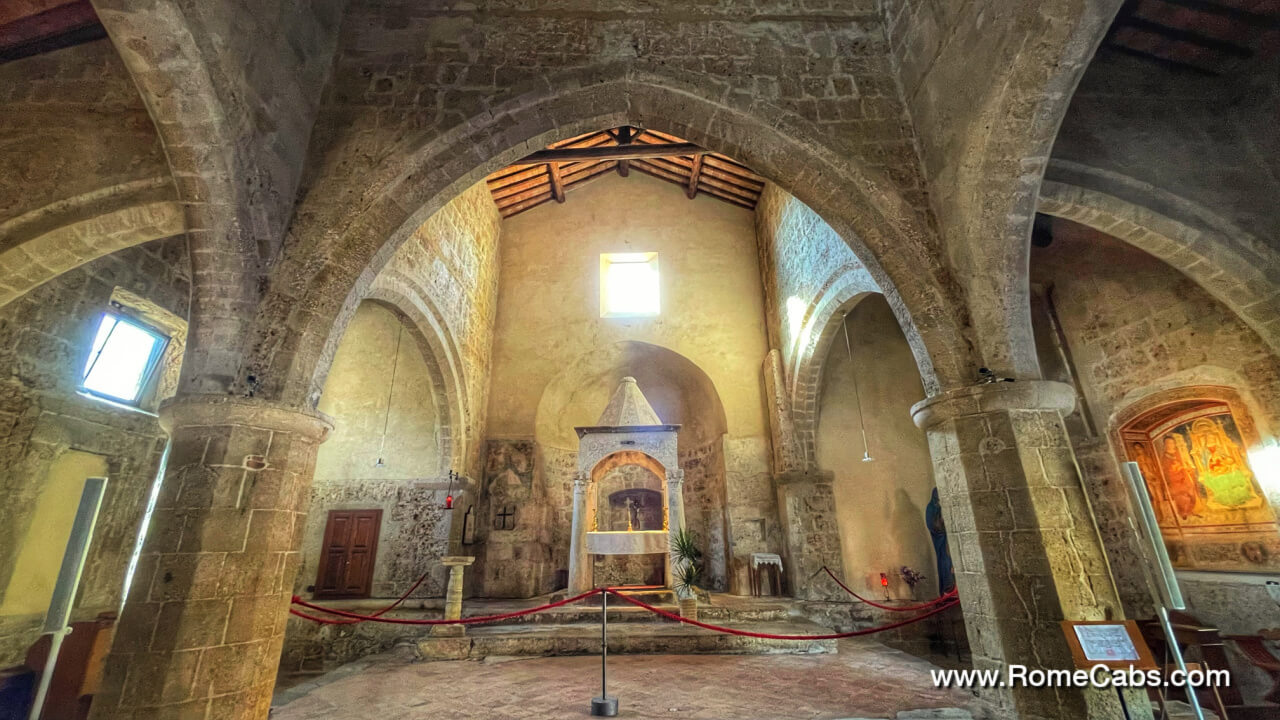 On the opposite side of the village is the imposing 9th-century Romanesque-Gothic style Duomo of Sovana (Cathedral of Saints Peter and Paul) with an underground crypt. Constructed almost entirely in tuff rock, the simple yet elegant interior with paleochristian-inspired artifacts offers mystical tranquility for a most welcome respite in one's busy travels to rest their body and recharge their spirit.


10. GREVE IN CHIANTI

Named after the River Greve that runs through it, Greve in Chianti is considered the gateway into Chianti. For this reason, many travelers either stay in Greve and explore the surrounding Chianti region, or book Chianti Tours from Rome that include a visit to Greve in Chianti.

As with all previous Tuscan towns and villages, Greve in Chianti's history is also vast, stretching all the way to the ancient Etruscans and later the Romans.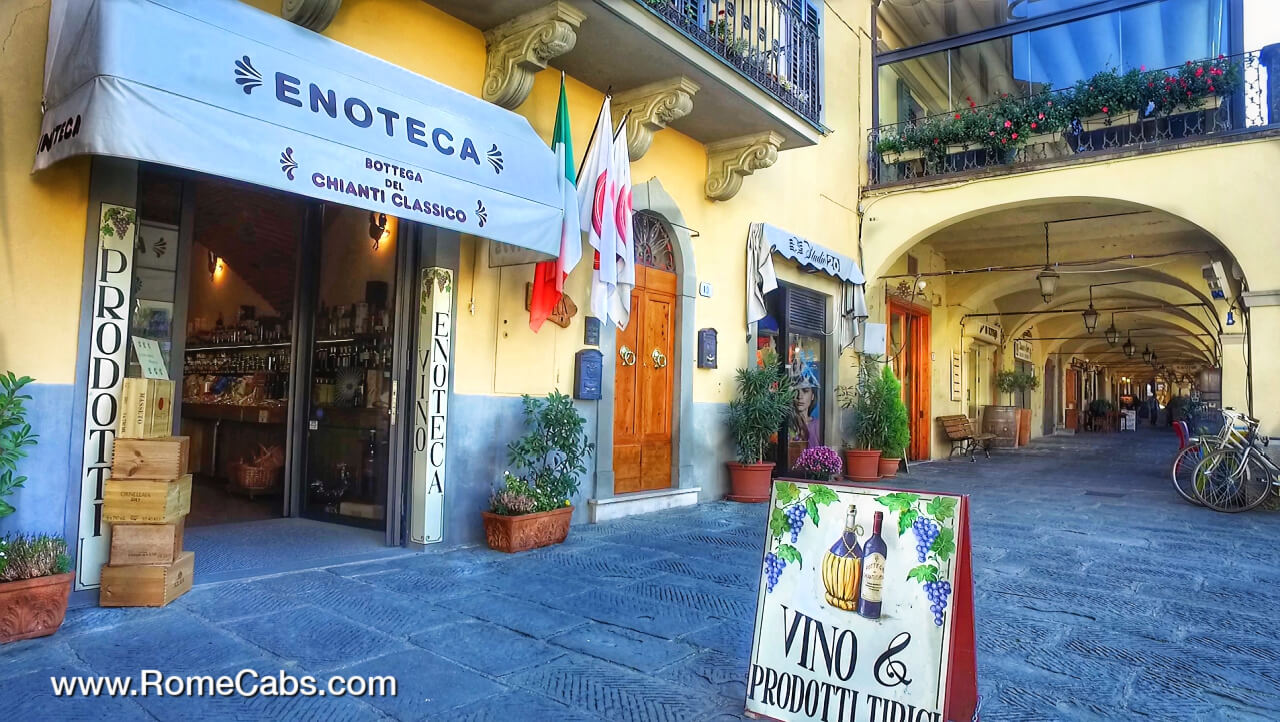 The town's main square, Piazza Matteotti, has a unique triangular shape lined with a medley of medieval buildings enhanced by a loggia with arched porticos that shield local shops, bakeries, boutiques, local artisan shops, butchers, workshops, wine shops, and cafes.
At the farthest end of the square stands the 11th-century Church of Santa Croce that has been rebuilt throughout the centuries until it was bestowed a neo-classical facade.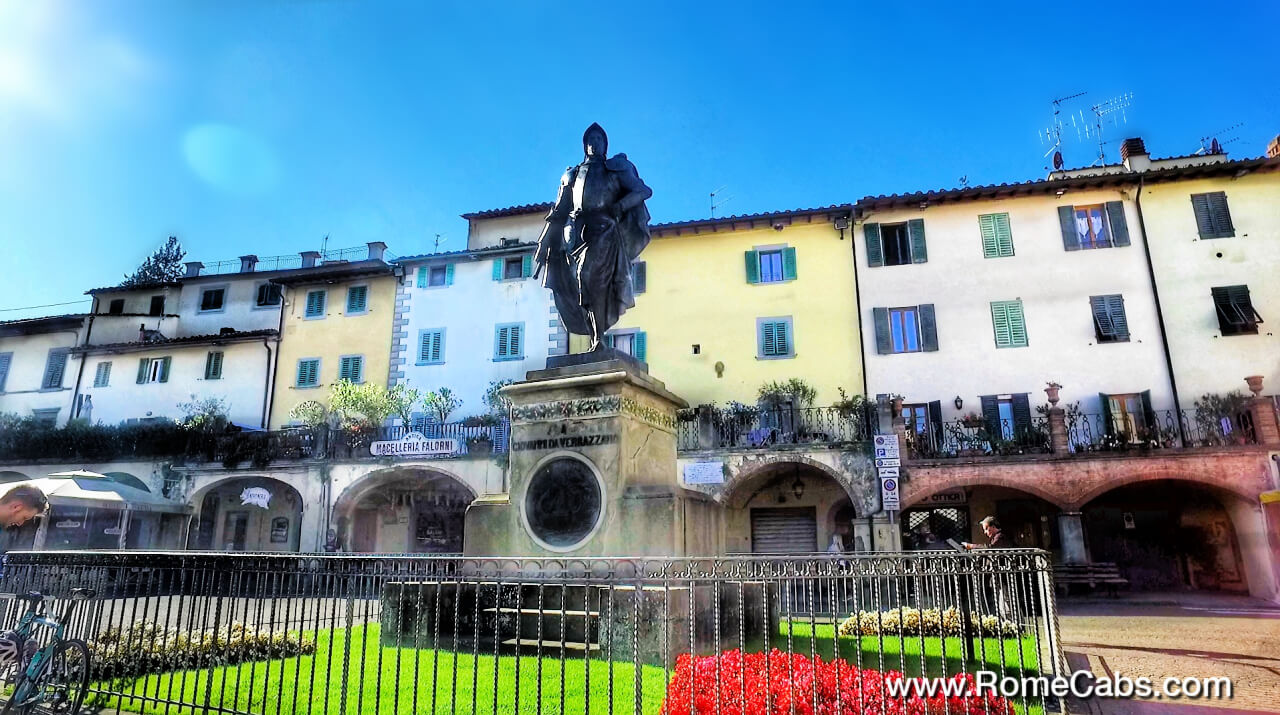 In the center of the square, tall and proud is a bronze statue dedicated to the locally born Italian explorer Giovanni da Verrazzano who navigated to North America in the early 1500s and explored the coast between the Carolinas up to the New York Harbor.
In this square, you will also find the famous Antica Macellaria Falorni, one of Italy's oldest and most famous Tuscan butcher shops established in this location in 1729.
Chianti region is not only renowned for its revered wine, but also for its meat - among the most unique to the region is the Cinta Senese pig that produces ham of superior quality and flavor.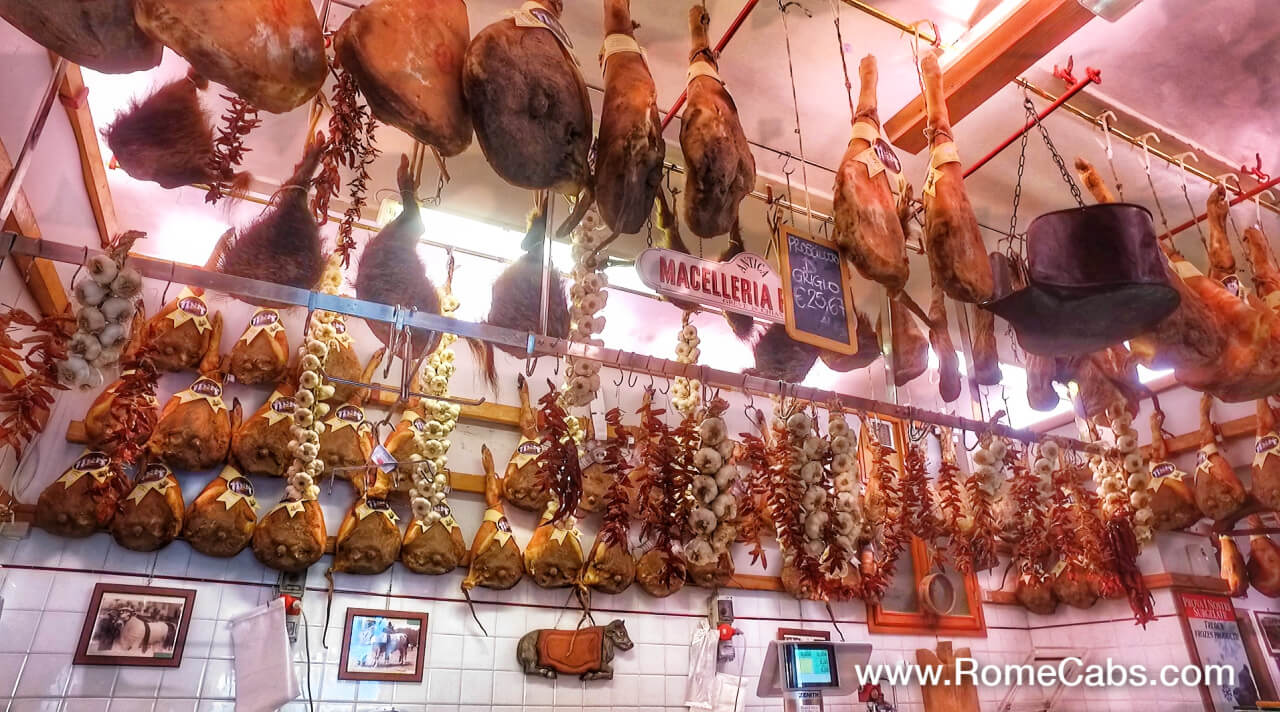 A visit to the Antica Macellaria Falorni is not complete without a visit to the cheese cellar below. Wheels of mouthwatering cheese varieties are on display to tempt your palate. For those wishing to sample some of the delicious products, the macellaria sells "snack size" packages of its various hams, salami, meats, and cheese. All the products are local and prepared according to traditions and recipes generations old.
In Greve in Chianti, you can also enjoy wine tasting the local elixir, Chianti wine, at a variety of wine shops including the Antica Macellaria Falorni. In the vicinity of Greve are noteworthy wineries for winery tours and wine tastings. Be sure to visit Castello Verrazzano, Vignamaggio and Vicchiomaggio wineries for an unforgettable Chianti experience.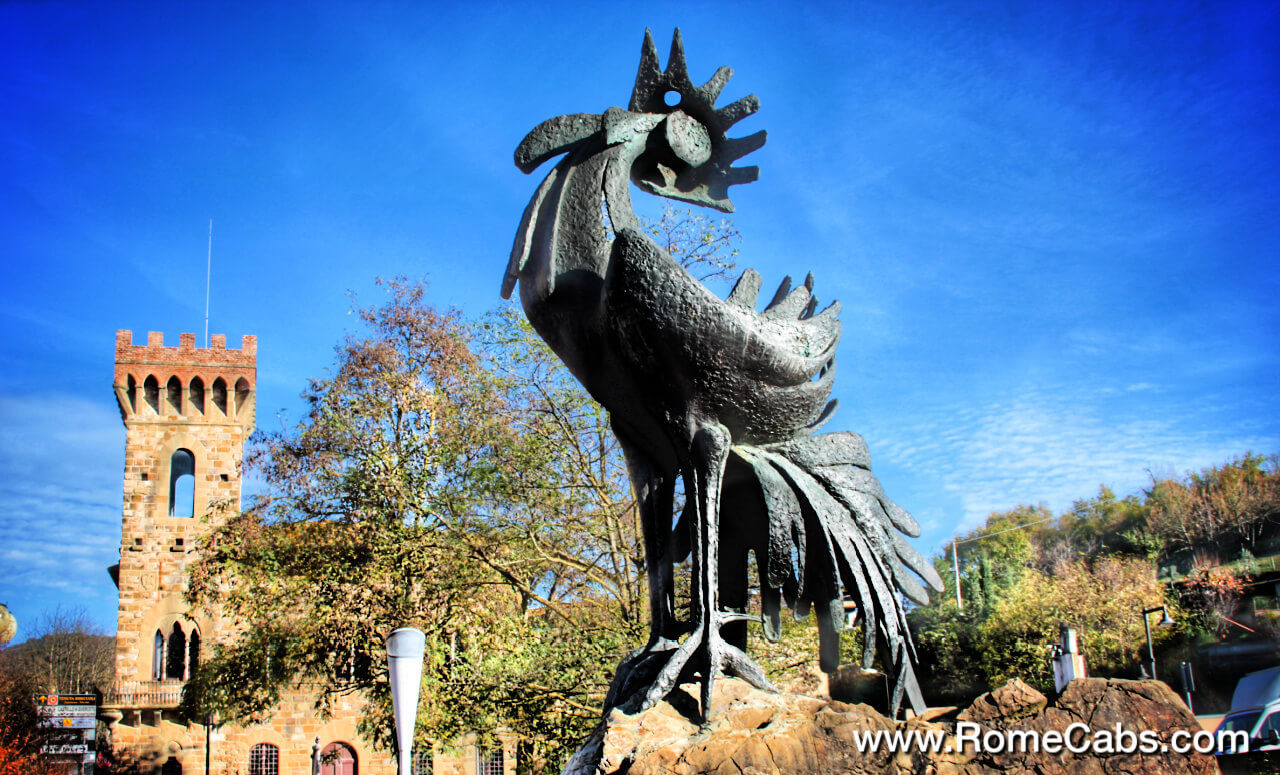 Greve in Chianti is a popular stop on Chianti Tours from Florence and Chianti Tours from Rome with our sister company Stefano Rome Tours. You may enjoy the following Tuscany Tours to Chianti that include Greve in Chianti:


Thank you for reading our 10 Best Trips and Tours of Tuscany from Rome travel blog. For more Tuscany Tours from Rome, Shore Excursions from Livorno to Tuscany, as well as La Spezia shore excursions to Tuscany, we invite you to visit our website and browse through our private Italy tours and Italy private excursions.


Find us online also on: