description
Wine lovers love our Brunello di Montalcino Tuscany Wine Tour from Rome as it combines sightseeing opportunities with a winery tour and wine tasting in Tuscany's idyll countryside. Indulge in a sampling of wines and deepen your knowledge of winemaking during a wine cellar tour at a well-established Tuscan winery, treasure a visit to the mystical Abbey of Sant'Antimo, and enjoy sightseeing (and additional wine tasting at your leisure) in the celebrated Tuscan town of Montalcino.
BRUNELLO DI MONTALCINO TUSCANY WINE TOUR PRICE LIST


Minimum 2 persons from Rome Hotel 500 EUROS
For up to 4 persons from Rome Hotel 550 EUROS
For up to 6 persons from Rome Hotel 600 EUROS
For up to 8 persons from Rome Hotel 650 EUROS
* Prices do NOT include Winery Fees (approximately 35 Euros Per Person)
** You may also do a QUICK PRICE CHECK using the Price Check & Booking Form on the Right Side of this page. Once you receive the PRICE QUOTE based on the information you input, you may proceed to SUBMIT your Tour Request.
*** Dates on the Booking Form Calendar that are NOT Selectable, are NOT AVAILABLE.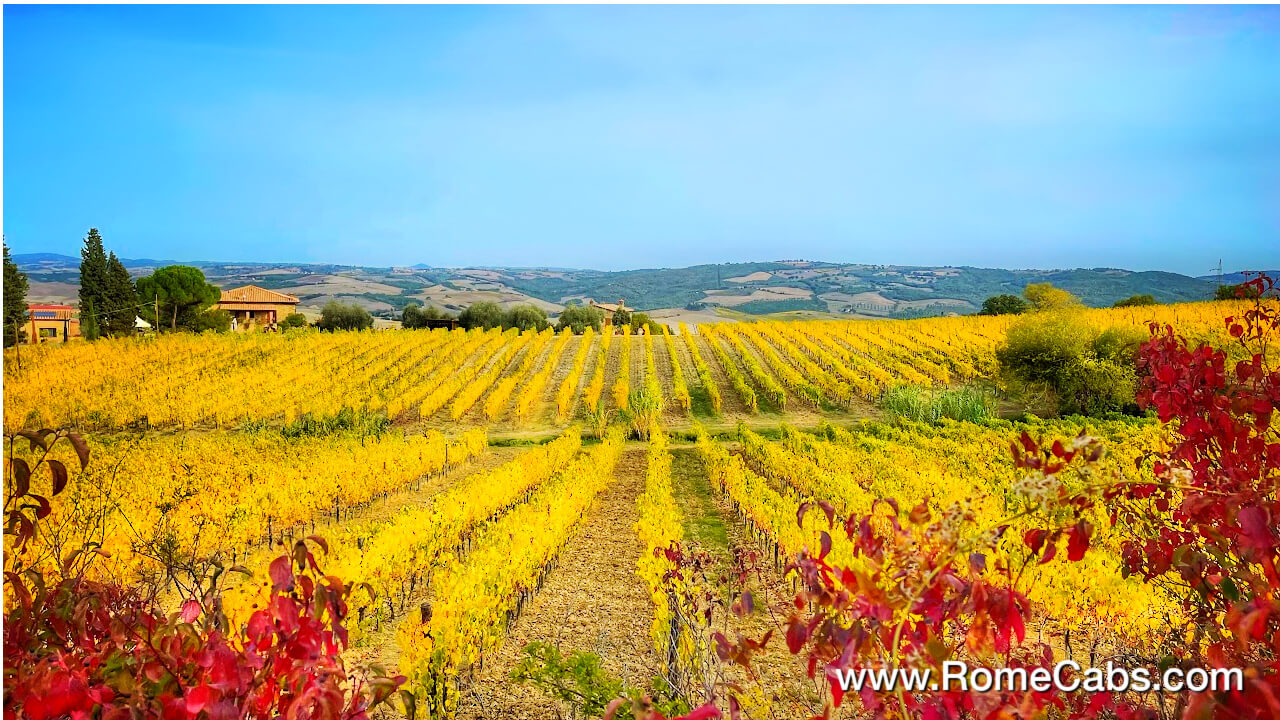 Tuscany Winery visit with Wine Tasting

Begin your Tuscany wine tour from Rome with a visit to a well-established Tuscan winery nestled in the picturesque countryside surrounded by nature and vineyards. Here you have the opportunity to enjoy a tour of the cellars and learn about local viticulture and traditions of winemaking from growing and harvesting to aging and bottling.
Luxuriate in a wine-tasting experience inside the wine-tasting room or on the terrace, and savor locally produced varieties of Brunello di Montalcino, Poggio Torto, and Rosso di Montalcino along with a tasty platter of locally produced selection of cheese and cold cuts.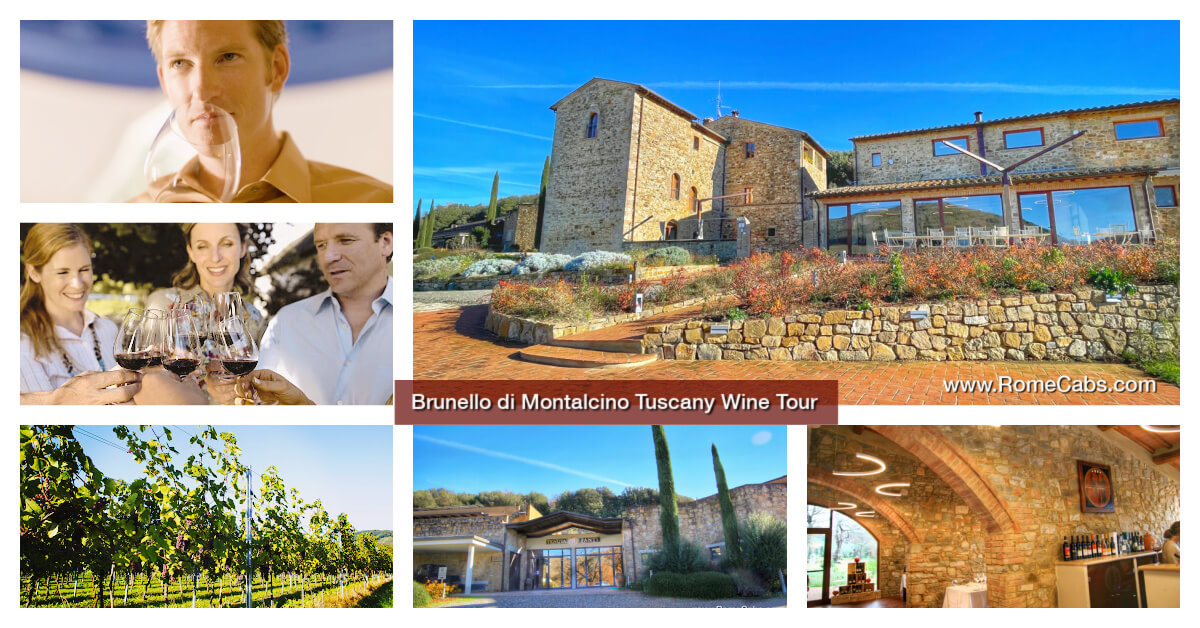 The winery fee will be approximately 35 Euros Per Person, and it's NOT included in our Tour Price in order to allow flexibility for guests who are not of drinking age or who prefer not to partake in wine tasting and tour. Guests who do not partake in wine tastings can enjoy relaxing at the serene winery and bask in the tranquil Tuscan countryside atmosphere. The winery visit will last approximately 1.5 hours. Winery visits must be booked in advance and are subject to availability.

Visit the captivating SANT'ANTIMO ABBEY

Following your winery experience, your personal driver will take you for a brief stop at the nearby Sant'Antimo Abbey which stands majestically in perfect solitude among olive groves and pastoral fields situated below the medieval hamlet of Castelnuovo dell'Abate.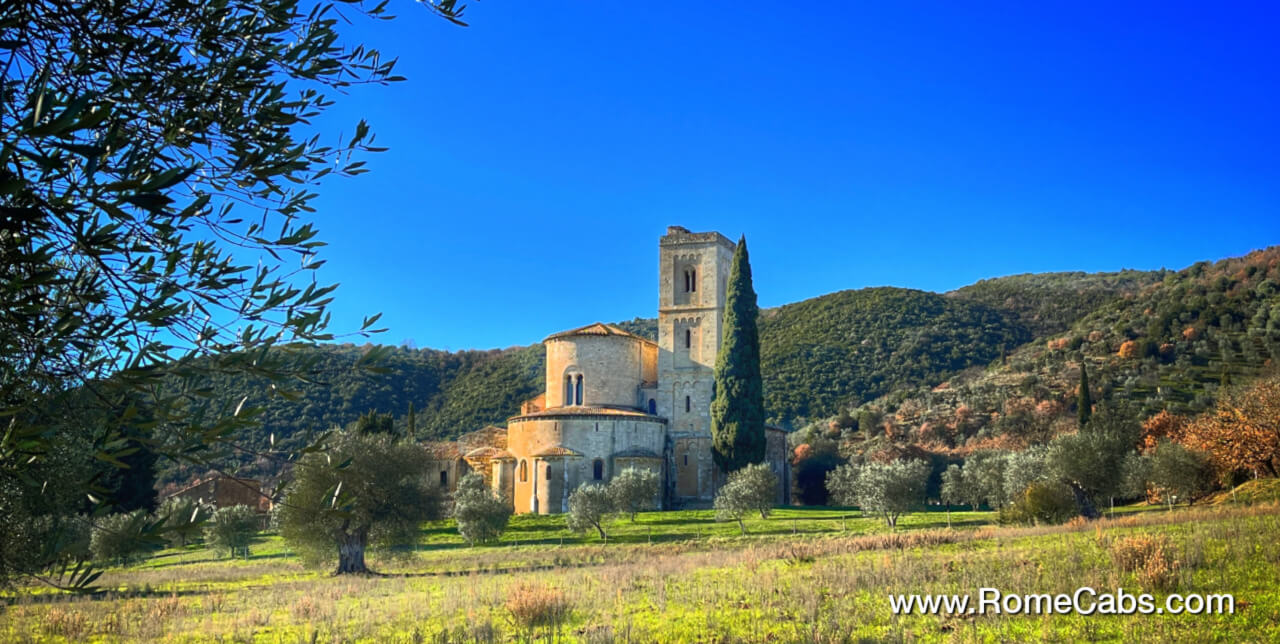 The original abbey dates back to the 8th-9th century AD with accounts of Charlemagne founding the monastery, however, the current Romanesque style abbey was built in the 12th century with the original Carolingian chapel still visible.

Regarded as a masterpiece of medieval architecture, this simple yet solemn and mystical abbey will transport you back to the middle ages and its austere monastic life of bygone eras. Today, the abbey of Sant'Antimo is home to a small community of diocesan priests and laypeople with established ministries whose daily services reflect the Benedictine monastic spirituality.

If you find the monastic pharmacy open on your visit, you may also stop in this charming apothecary to purchase food products made from recipes of centuries-old monastic herbal traditions, and body care products crafted with the natural essence of medicinal herbs and oils.
Visit Montalcino
Your Tuscany wine tour continues to Montalcino, a prized hilltop town in Tuscany that boasts splendid views of the surrounding Valley of Orcia (Val d'Orcia) and the birthplace of the award-winning and much sought after, Brunello di Montalcino wine.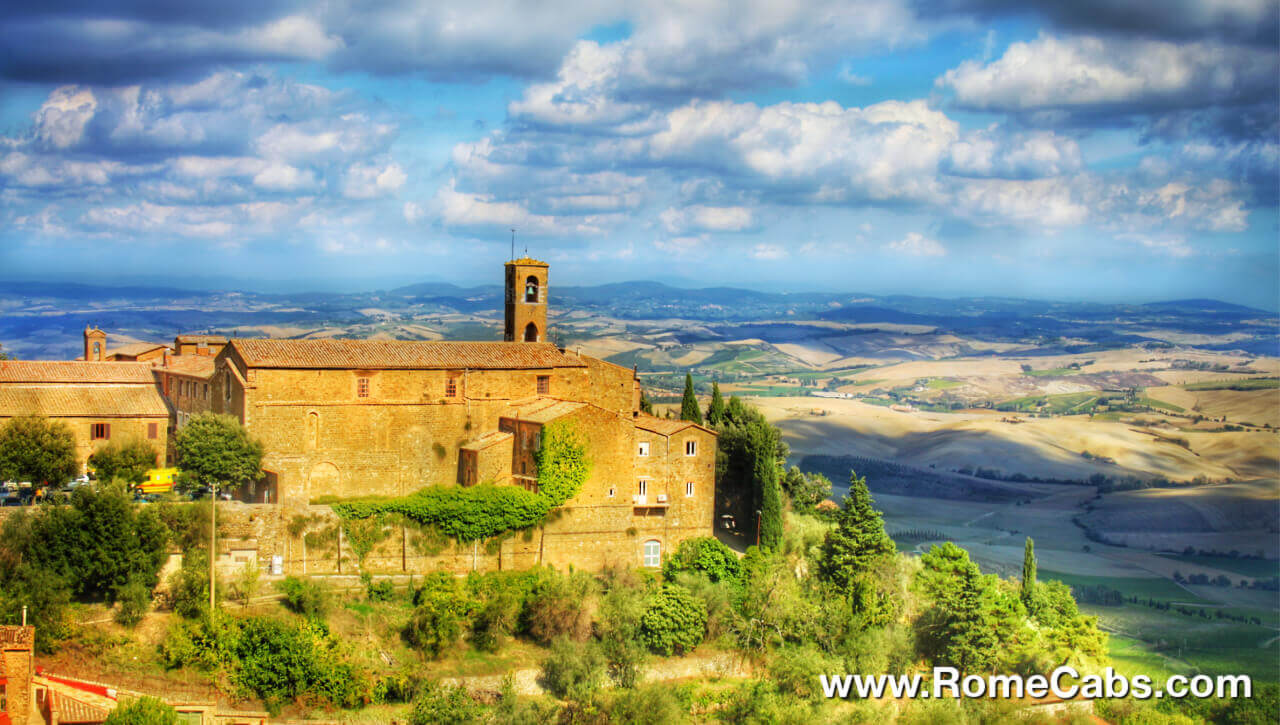 Montalcino's extensive history extends back to the beguiling Etruscans who ruled this region for centuries before being overtaken by the Romans. Montalcino's ancient name, Monte Ilcinus, draws from the oak trees that once covered the terrain of this area. The first written documents that refer to its modern name of "Montalcino" appeared in the early 9th century.
Today, Montalcino is mostly recognized for a different plant that grows within its region: the Sangiovese grapevine (also called the Brunello grapevine) which produces the prestigious local wine Brunello di Montalcino.
To learn more about the history of Brunello di Montalcino and how it's made along with Wine Tasting Tips, scroll down past the Important Information below.
Montalcino is a favorite on Tuscany Tours not only for its distinguished wine but also for the town's historic, artistic, and architectural treasures. Montalcino is crowned by an imposing 14th-century fortress that was built on top of previous fortifications and served as the last bastion of resistance of the Sienese Republic against Medici's conquests and expansion.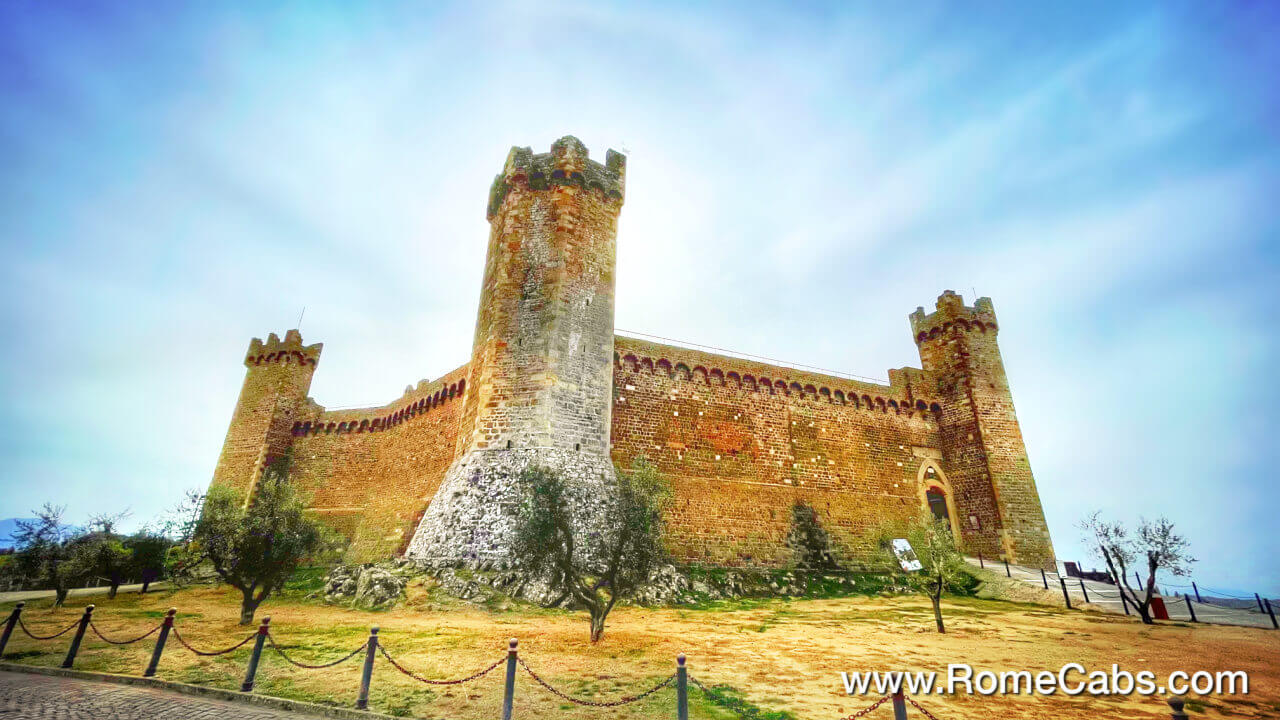 The characteristic streets are lined with shops and boutiques that sell local crafts and products, charming cafes, and wine shops (enoteche) for more opportunities for wine tasting or to purchase some of the delicious Brunello di Montalcino. You will also enjoy free time on your own to enjoy a relaxing lunch, window shop, and stroll through the town taking in the lovely Tuscan atmosphere.
At approximately 3 PM you will join your driver for a leisurely drive through Tuscany's resplendent landscape back to your hotel in Rome where you will be conveniently delivered to your hotel by your private driver at approximately 6 PM.


Our guests who enjoyed this Tuscany wine tour from Rome also booked the following day tours from Rome:
Important Information

PLEASE READ THE INFORMATION BELOW AND ACCEPT THE TERMS OF SERVICE AND PRIVACY POLICY BEFORE BOOKING.
PAYMENT OPTIONS
Payment for this Tour can be made in EUROS directly to your driver on the Date of Tour, or prepaid in advance via PayPal or Credit Card online upon request. (See Cancellation policy below)
CANCELLATION POLICY
We kindly ask that cancellations be made via E-mail at least 7 days prior to Date of Service.
Cancellations are accepted only via E-mail so your cancellation is on record. We do not accept cancellations by phone, text message, or 3rd parties.
** Cancelations for PREPAID SERVICES will be refunded the Reduced Net Rate we receive from your prepayment. Reduced Net Rate: actual service price minus PayPal/Credit Card fees retained by PayPal/Credit Card as they do not reimburse us the fees they retain from your payment.


** This tour is offered AS IS without modifications to the existing itinerary, towns, or winery. If you wish to make changes to the existing wine tour please send us an email and we can assist with a customized tour to suit your preferences.


WINERY TOURS, FEES, AND INFORMATION:
** Winery fees are approximately 35 EUROS Per Person payable to the Winery.
Winery Fee includes Winery Cellar Tour, Wine Tasting, and locally produced tasty cheese & cold cuts platter to accompany wine tasting before the lunch meal.
Advance reservations are required for winery tours and are subject to availability. Your winery visit will begin at approximately 10:30 AM and will last approximately 1.5 hours. The winery visit time is booked in accordance with the winery's fixed visit schedule.
Winery visits must be booked in advance and are subject to availability.

YOUR PRIVATE TOUR DRIVER
This Wine Tasting Tour to Umbria and Tuscany Tour provides an English-speaking Driver who is NOT a licensed tour guide or a sommelier.
Italian laws permit only licensed tour guides to accompany guests to sightsee on foot away from the vehicle.
In order to comply with Italian laws, drivers are obliged by law to remain with the vehicle while guests sightsee on foot. Drivers are happy to offer basic touristic information while at the vehicle, however you will SELF TOUR on your own when away from the vehicle.
Information about wines and wine production can be provided by the wine experts at the wine shops.


Interesting information about Brunello di Montalcino



How is Brunello di Montalcino made?

Brunello wine is a fairly "new invention" crafted by Clemente Santi in mid-19th century when he set out to diversify local wine production using barrels and meticulous selections for making wine suitable for aging. His experiments yielded a rich deep reddish-brown hue "bruno" colored wine that was named Brunello.
Brunello di Montalcino was formed in the 1860s when this select red wine received coveted awards for its distinctiveness and inclination towards longevity that set it apart from other Sangiovese grape wines. The success of this esteemed wine is credited to Clemente's grandson Ferruccio Biondi Santi who later expanded on the previous invention to create the formula for Brunello made purely from the Sangiovese Grosso grape.
According to production disciplinary, Brunello di Montalcino must age a minimum of 2 years (24 months) in cask, and longer for reserve wines. Brunello di Montalcino is characterized by a strong robust structure and was also the first wine to be granted the coveted Italian DOCG status ( Denominazione di Origine Controllata e Garantita ).

How to Taste Wine / 5 Wine Tasting Tips:


SEE - See the color, depth, and intensity of the wine in your glass. The color also indicates the types of grapes used or if the wine was aged in wood.
SWIRL: Swirling aerates the wine and allows oxygen to "open it up" revealing its complexities
SNIFF/ SMELL - It's essential to sniff the wine before tasting it as a wine's quality can be judged by its aroma.
SIP - Take a larger than normal sip and hold it in your mouth for 3-5 seconds to taste the characteristics of the wine's flavor: sweetness, bitterness, fruitiness, alcohol...
SAVOR - The taste doesn't just end once you swallow the wine. The finish is the duration of time the essence of the wine lingers and stays with you. A long finish is ideal, especially when the overall taste of the wine leaves you craving another sip.



On Wine Tasting Tours, please taste wine Responsibly

Our wish is for all our clients to enjoy our Tuscany wine tours. Please keep in mind that in Italy only guests who are of the legal drinking age of 18 can participate in wine tastings. Guests who are not of legal drinking age or do not wish to partake in wine tastings can still enjoy sightseeing and a leisurely visit to the winery.

For your enjoyment of this Tuscany wine tasting tour, please wine taste responsibly and never on an empty stomach. Evaluate your personal tolerance of wine consumption and refrain from overindulging as it will interfere with your enjoyment of your tour. RomeCabs does not accept responsibility for guests' personal wine tasting decisions should they be excessive and interfere with their tour enjoyment. Guests who overindulge and wish to return back to their hotel sooner will not be reimbursed for shortening their tour duration.