Buongiorno and welcome to Stefano's RomeCabs, Rome's leading companies for private luxury tours. Italy is renowned for its legendary food and wine, and wine aficionados flock to wineries for wine tours to experience the fruit of the vine.

Since the early 2000s, we have taken thousands of happy travelers on exciting wine-tasting tours from Rome to Tuscany and Umbria combining the best of both worlds: wine-tasting and sightseeing.

We pair our wine-tasting tours from Rome with visits to notable towns for additional sightseeing enjoyment that enhances our guests' tour experience. We also offer wine-tasting shore excursions from Civitavecchia for wine-loving cruisers. Therefore, this article incorporates tips that are also helpful for sightseeing trips along with wine tasting on our tours.

Whether you wish to relish the flavors of Umbria on our wine-tasting tour from Rome to Orvieto in Umbria, or discover the noble wines of Tuscany on our wine tours from Rome to Montepulciano and Montalcino, our tips will prepare you for any type of wine tour in Italy that we offer.
Top 10 What to Wear to a Wine Tasting in Italy
Italians know how to look elegant in any circumstance, and at wine-tasting venues, it's no exception as wine tasting is considered a classy activity. When it comes to wine tasting in Italy, it's possible to be elegant yet comfortable, and ready for any activity surrounding your wine-tasting tour in Italy.

From our experience providing wine tours in Italy, we wish to offer some insight and practical tips for what to wear to a wine tasting in Italy (and a few items NOT to wear).



1. Wear Comfortable shoes on wine-tasting tours

On a wine-tasting tour in Italy, you will be walking on a variety of surfaces: uneven natural terrain found at many wineries and wine estates, as well as paved and cobblestoned surfaces common in most towns. You might even have to descend multiple stairs if visiting a winery venue with an underground wine cellar tour.
If wine tasting in Montepulciano at wine shops operated by local wineries, you will also enjoy sightseeing through this remarkable town, and comfortable shoes are a must!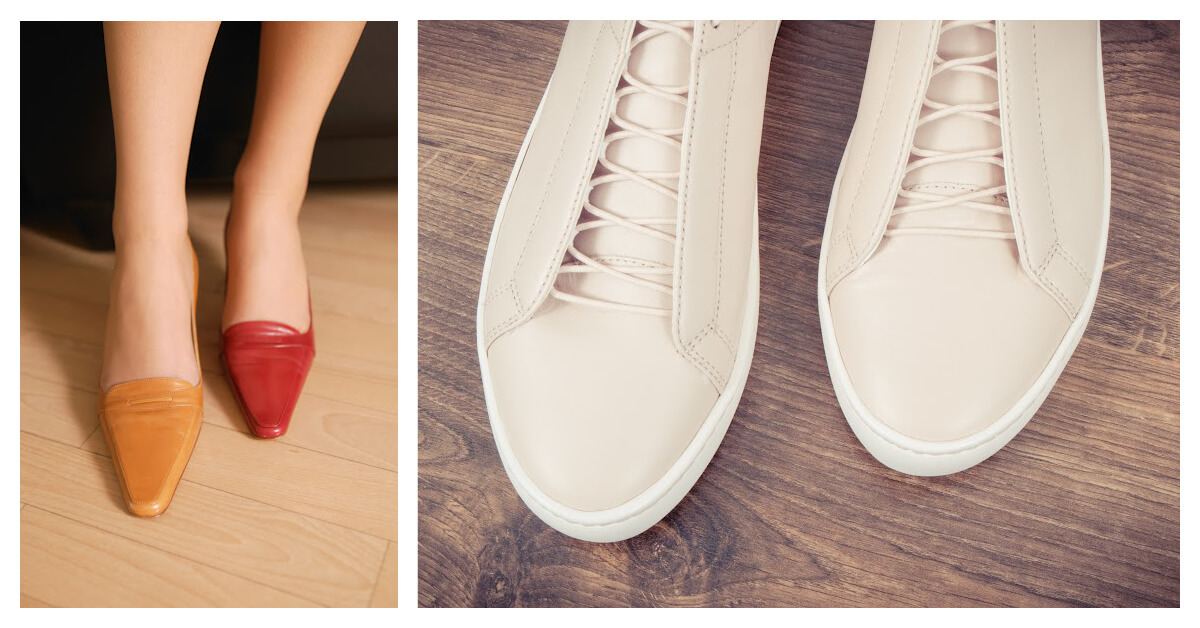 For women, comfortable closed-toe walking shoes, and flats that protect the feet are strongly recommended. Sandals are fine, as long as they are comfortable and offer support.

For men, stylish sneakers, loafers, boat shoes or, comfortable sandals that offer support are recommended.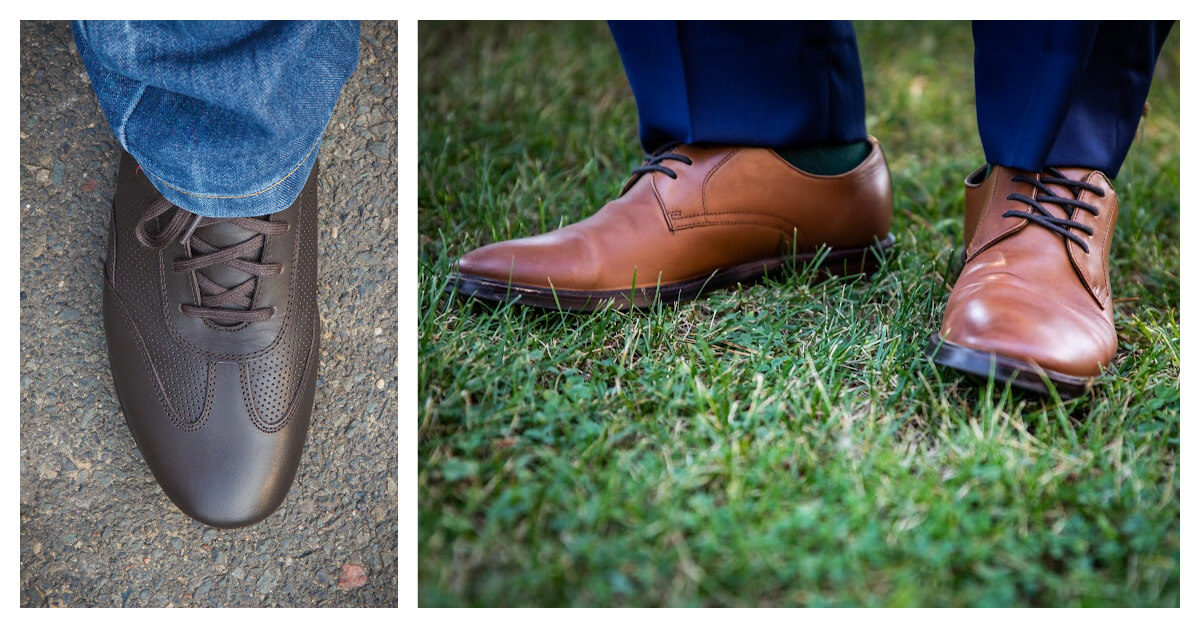 Scroll down for what footwear NOT to wear to a wine tasting in Italy.
2. Wear Comfortable yet Stylish clothes

Going to a winery is not a fashion show, you don't have to be a fashionista packing your super fancy attire, but you should also not visit wineries dressed as when you are touring the Colosseum or Pompeii.

Plan on wearing comfortable yet stylish clothing that's not high maintenance but a bit more dressy than casual as wine tasting and winery visits are still considered classy activities - like going to an elegant restaurant or Sunday brunch.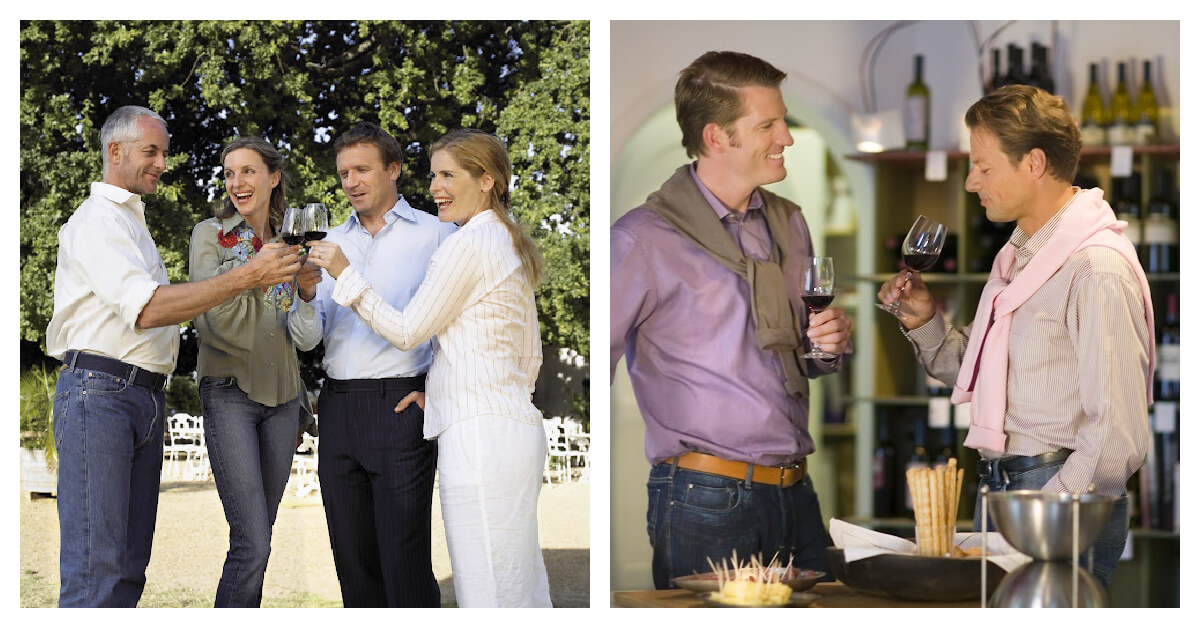 Recommended clothing for women to a wine tasting during the warm months include sundresses, blouses, slacks, nice sweaters, stylish jeans, a light scarf, and light jackets.
During the colder months, consider bringing heavier sweaters, jackets, and scarves.

Recommended clothing for men to a wine tasting during warm months: golf shirts, polo shirts, short-sleeved or long-sleeved shirts, khaki pants, nice jeans, sports jackets, and dressy shorts.
During the colder months, heavier shirts, sweaters, or jackets should be considered. Imagine what you would wear going on a golf course, not what you would wear at a baseball game.
3. Dress in layers on wine tours

Dressing in layers it's generally recommended with traveling to Italy during the spring and fall months as temperatures fluctuate. The same is true when it comes to wine-tasting tours in Italy.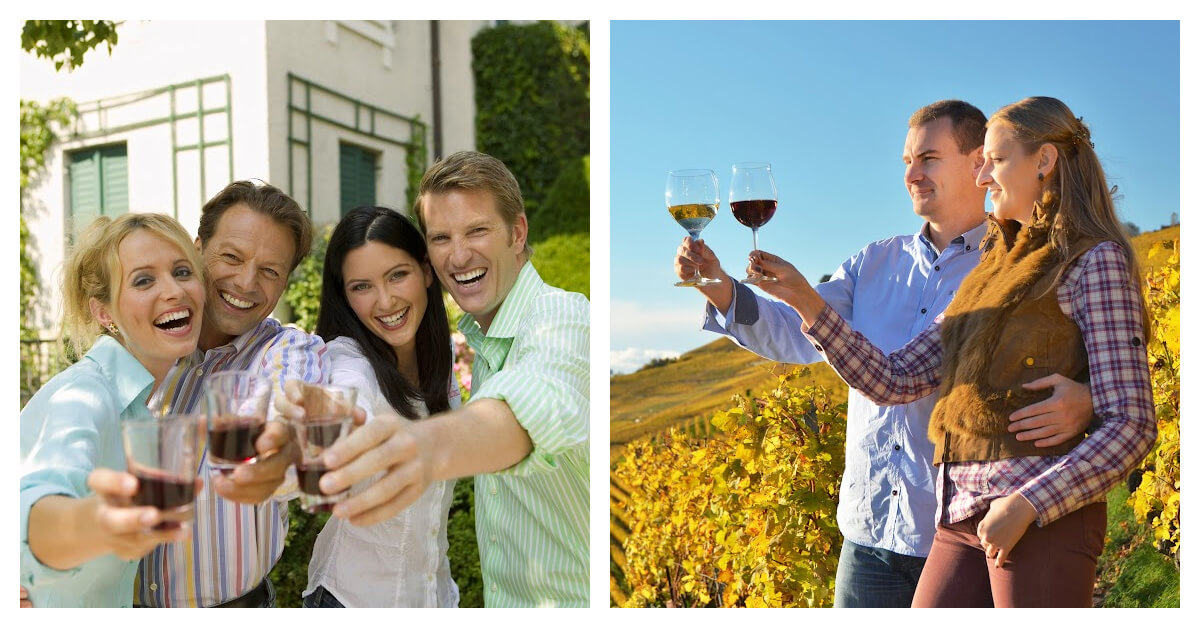 The countryside tends to be cooler than big cities like Rome - especially in the mornings.
The temperature inside wine cellars is also cooler, and if you spend some extra time in the cellar on a tour or wine tasting, you might appreciate that extra layer of clothing that would make you feel comfortable in cooler temperatures.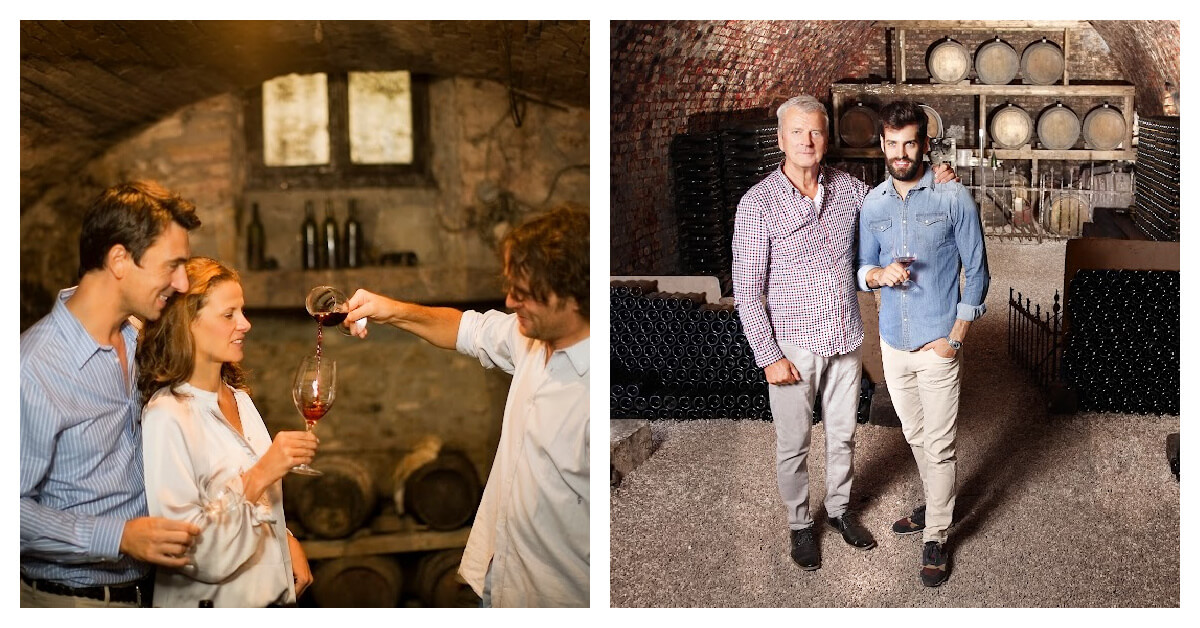 Scroll down for some tips on what's NOT recommended to wear to a wine tasting.
4. Wear colored clothing in case of wine spills

White is a beautiful and elegant color to wear, but not if you spill red wine on your white shirt, dress, or pants.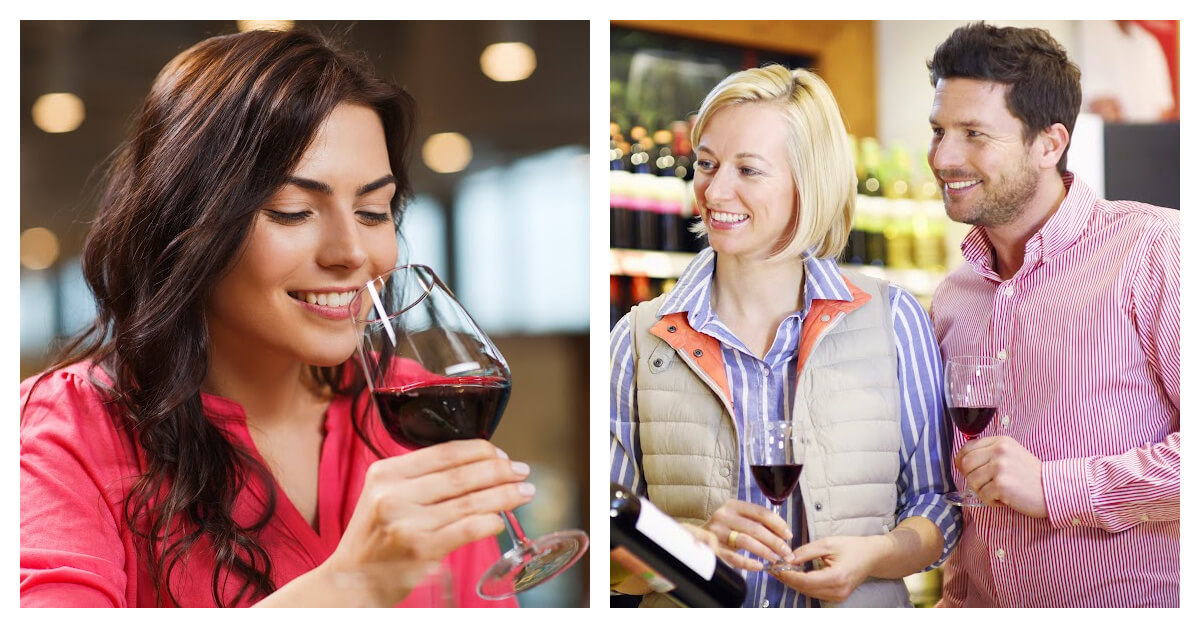 If you are worried about spilling wine on your shirt, wear colors that are similar to wine colors, or vibrant and bold colors and prints that help camouflage any wine spills. Wearing bring happy colors and prints also adds joy to your wine tours.




5. Keep your hands free while wine tasting

There are many beautiful handbags and shoulder bags that add style to your outfit. However, when wine tasting you might prefer to keep your hands free to hold your glass of wine.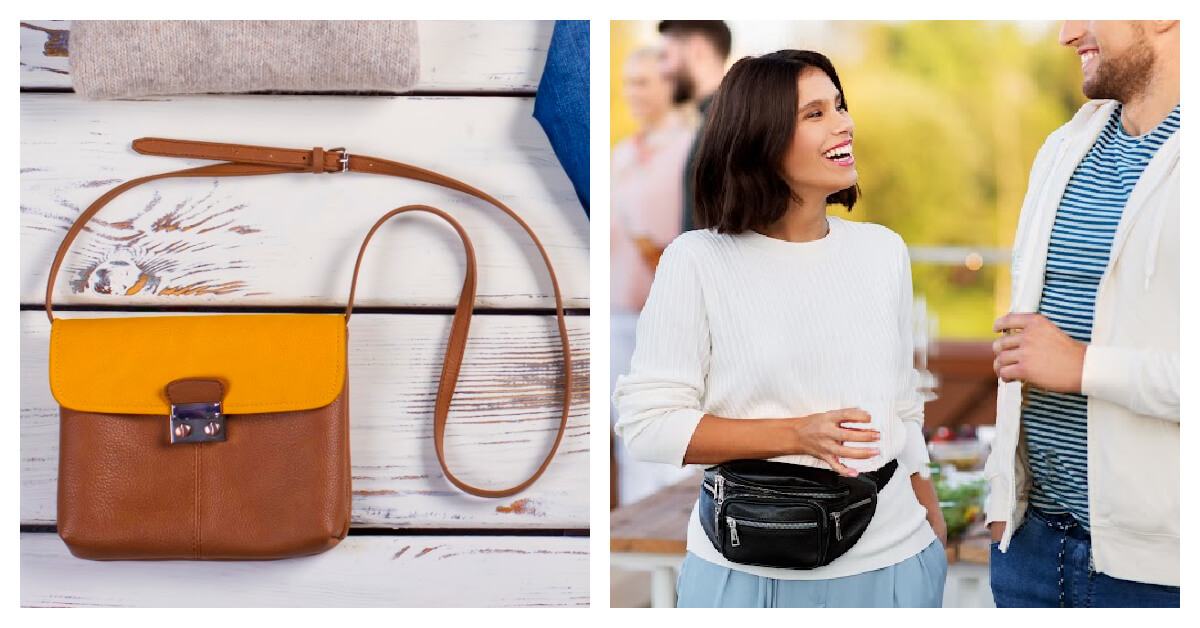 This way, you will enjoy the winery experience without the inconveniences of holding a hand purse or worrying about forgetting your purse behind (which has happened!).

The solution? Bring a light and chic cross-body purse or a stylish fanny pack so your hands will always be free and your mind focused on the wonderful experience you are enjoying instead of your purse.


6. Wear smudge-free lipstick on a wine-tasting tour
Red lips and wine sips sound nicer than it often looks.

Lipstick helps create a well-put-together elegant look, however, if you are wine tasting at a winery, the last thing you want is lipstick smudges on your wine glass, or your lipstick smearing off and having to continuously touch it up.

When wine tasting, plan to wear either smudge-free lipstick, chapstick, or a clear gloss.
7. Wear sunblock on wine-tasting tours in Italy


On our wine tours from Rome, you will spend quite a bit of time outdoors.
Whether sightseeing in historical towns, strolling through the winery and vineyards or wine tasting outdoors, be sure to wear sunblock to protect your face and skin from the sun's damaging rays and sunburns.
8. Wear Sunglasses on wine tours in Italy

On our wine-tasting tours, you will enjoy views of the vineyards and the Tuscan countryside, as well as visit various towns.

Wearing proper sunglasses will help you see better without being blinded by the sun's brightness and glare (especially polarized lenses) and prevents damage to your eyes from sun exposure.
Wearing sunglasses also helps you not have to squint on bright sunny days - especially if you take photos and you don't want to be photographed squinting.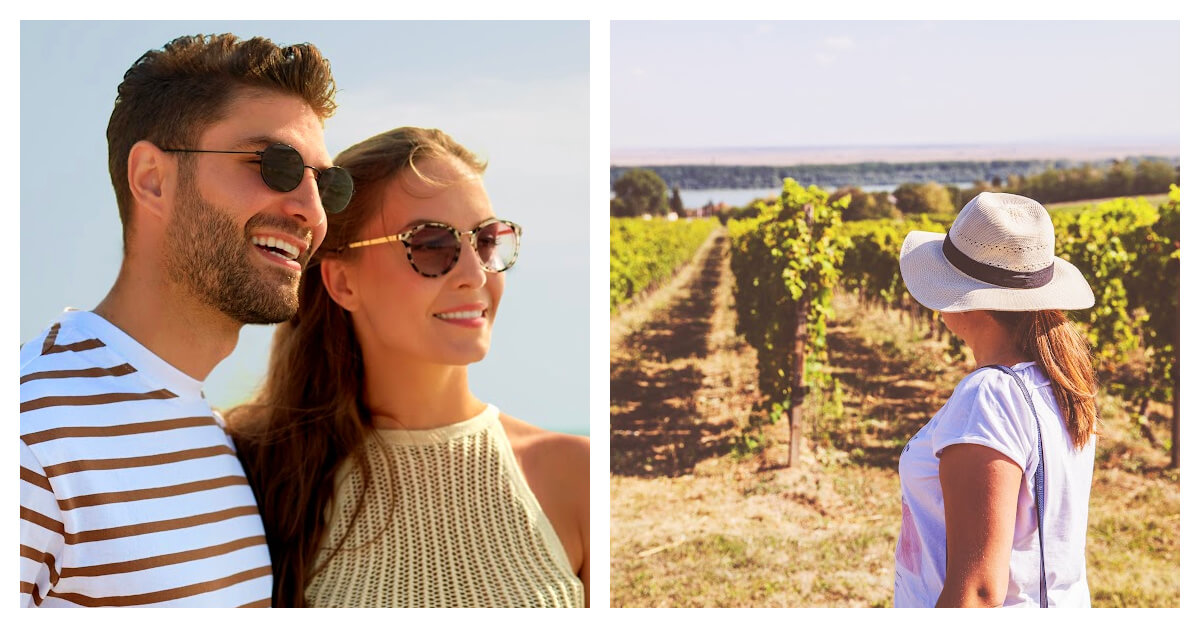 9. Wear sun hats on wine-tasting tours

Wearing stylish hats can complete a look, and offer sun protection.

If you will be visiting Italy in the summer, keep in mind that the summer sun can be quite strong. Wearing light-colored sun hats (whether derby, bucket, straw hats, or fedora) will help keep your head cool, protect your hair from sun damage, and shade your face from the strong rays of the sun if you are not wearing sunglasses (such as when taking photos).

Wearing a stylish hat is also ideal if you are having a bad hair day, don't have time to style your hair, or are not in the mood to fuss with your hair.|


10. Wear a smile on your wine tours in Italy

Last and not least, wear a smile on your fun-tastic wine-tasting tours in Italy, and raise a glass to your unforgettable sojourn to the idyllic Italian countryside.
Now... you will share with you what NOT to wear to a wine tasting in Italy.


What NOT to Wear to a Wine Tasting in Italy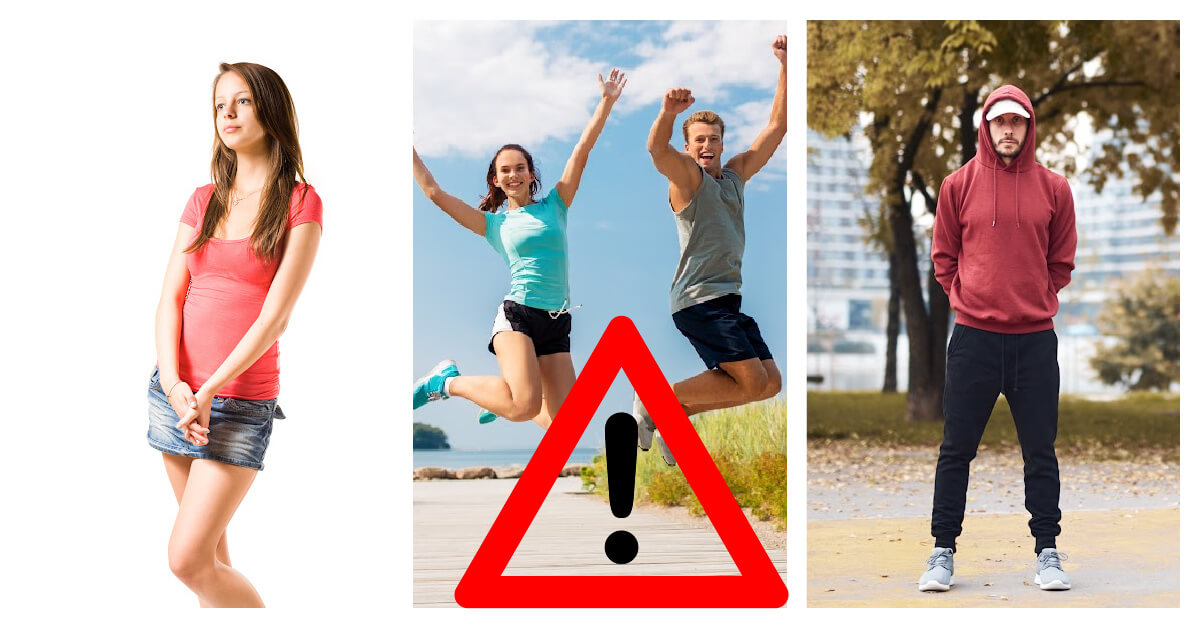 What is NOT recommended for WOMEN to wear to wine tastings
NOT recommended for women to wear to a wine tasting are miniskirts, leggings, cut-off jean shorts, tourist safari attire, baseball hats, athletic clothing, activewear or athleisure outfits (such as yoga pants, sweatshirts, etc..).

Footwear that is NOT recommended for women on wine tours in Italy is high heels, platforms, wedge shoes, flip flops, and athletic footwear.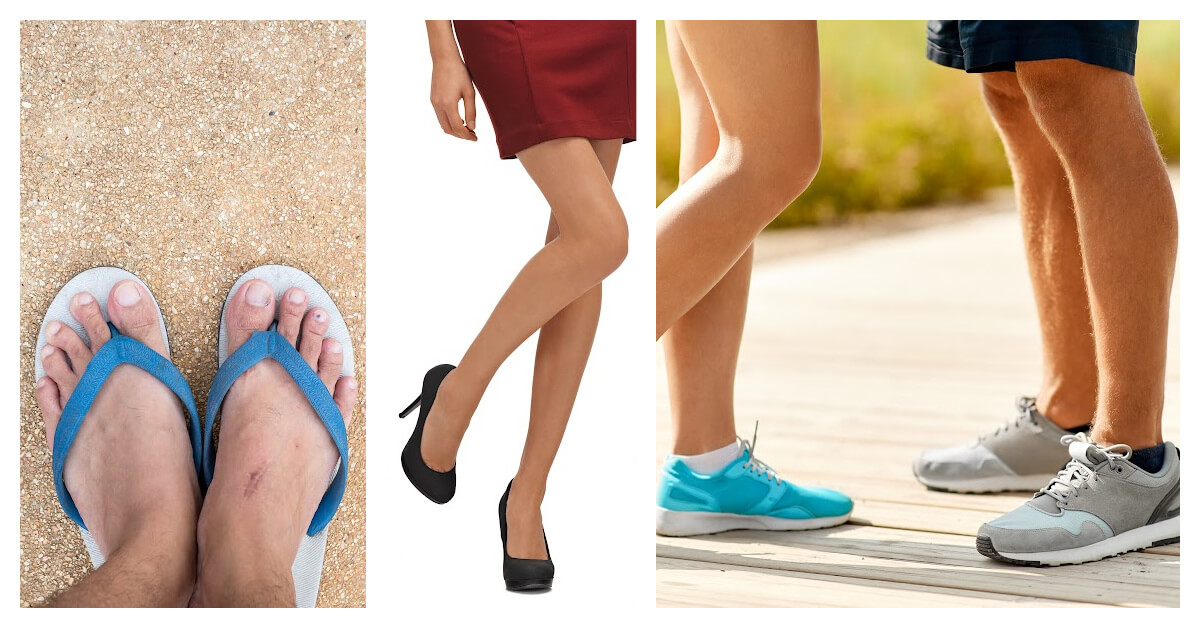 Lipstick that smears easily not only stains your wine glass but can also require frequent touchups. While wine tasting, your focus should be on the red nectar of the vine, not on red lipstick smudges.

Wine tasting is best enjoyed in a calm and serene environment, without distractions that take away your focus on the wines you are savoring. Consider leaving behind loud clanky accessories such as bangles or metal bracelets that make intrusive noise whenever you move your hand. Loud accessories can create distractions for you and for others' wine-tasting experience.
What is NOT recommended for MEN to wear to a wine tasting:
NOT recommended for men to wear on wine-tasting tours in Italy are athleisure or activewear apparel, athletic clothes, logo shirts, torn shirts, baseball hats, cut-off jean shorts, tourist safari attire, and white clothes worried about spilling wine.

Footwear NOT recommended for men on wine tours in Italy is flip flops or fancy dress shoes.
Avoid wearing strong fragrances to a wine tasting


On wine-tasting tours in Italy, it's recommended to avoid strong perfumes, colognes, aftershaves, or scented body lotions as they can interfere with the fragrance of the wine and of the wine cellars. On wine tours, allow the fragrance of the wines to tantalize your nose, not perfumes.

Now that we've covered the basics of what to wear to a wine tasting in Italy (and also what NOT to wear), all you have to do is book your preferred wine-tasting tour from Rome and enjoy the unique flavors of Italy!
Thank you for choosing Stefano's RomeCabs for your private tours in Italy. We look forward to meeting you and to showing you beautiful places on our tours.
ADDITIONAL HELPFUL ITALY TRAVEL TIPS FROM OUR BLOGS:
* Find us online also on: