Buongiorno and welcome to Stefano's RomeCabs, Rome's leading company for private tours in Italy. Wine tasting in Tuscany is one of the most wonderful experiences travelers enjoy in Italy because it delights all your senses.

Wine tours to Tuscany with RomeCabs are not just about sampling wine all day long. Just doing that all day can get pretty boring, no? Visiting wine estates can become repetitive with wineries and vineyards laid out similarly. One needs some meaningful intermissions between sipping the local nectar.
That's why our Tuscany wine tasting tours from Rome are a well-rounded combination of wine tasting, sightseeing, savoring local dishes, and taking in the glorious Tuscan atmosphere for an unforgettable wholesome Italian experience. So the question is: what to see and do on a Tuscany wine tour from Rome? Plenty!
What to see and do on a Tuscany Wine Tour
Sightseeing while on Tuscany wine tours

There's more to Tuscany wine-tasting tours than just sipping wine. When in Tuscany, you'd be missing out if you didn't also enjoy some sightseeing.

There are remarkable historic towns and villages famous for their local wines such as Montepulciano and Montalcino, and villages like Greve in Chianti and Montefiorealle that are located in the heart of Tuscany's wine country and merit a visit. Make the most of your day in Tuscany by combining wine tasting with sightseeing for a memorable experience.
Explore Wine Shops in Tuscany

A benefit of visiting such towns and villages is you will find plenty of local wine shops (enoteche) for wine tasting opportunities. Some wine shops even have authentic wine cellars such as Ercolano and Palazzo Cantucci in Montepulciano.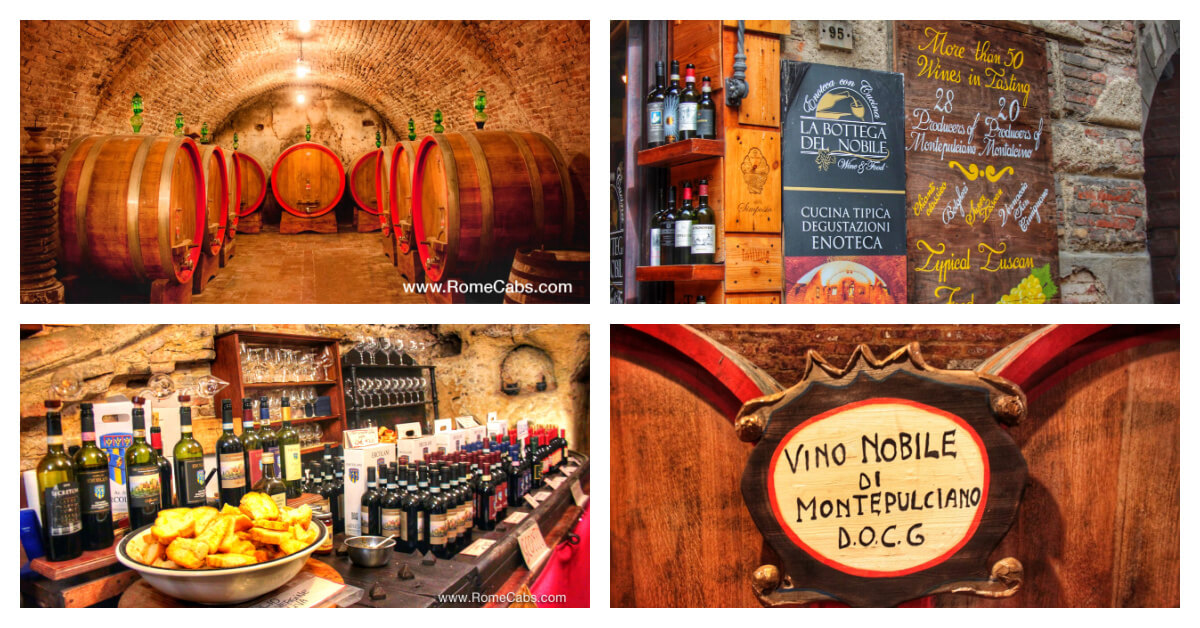 The wonderful opportunity to enjoy wine tasting in towns means you can visit a variety of wine shops, and sample and purchase different wines, and unlike many wineries that close during the winter months, wine shops stay open year-round.

While visiting wine shops in towns, don't miss the opportunity to also sample local delicacies that can also be purchased along with local virgin olive oils and other tasty local products that you can enjoy while on vacation or take back home with you.


Our Tuscany Wine Tours are also fun for EVERYONE!
Sometimes our guests travel with family members or companions who either don't drink wine or are not yet of legal age. That's why our wine tours to Montepulciano and Montalcino are such a success, even non-drinkers can enjoy visiting these Tuscany tours and sightseeing without participating in wine tasting. Surprisingly, also winery visits are a delight without partaking in wine.
Wineries in Tuscany are often situated in some of the most beautiful regions in Tuscany, surrounded by a serene atmosphere and gorgeous landscapes that reveal the soul of Tuscany for all to delight in.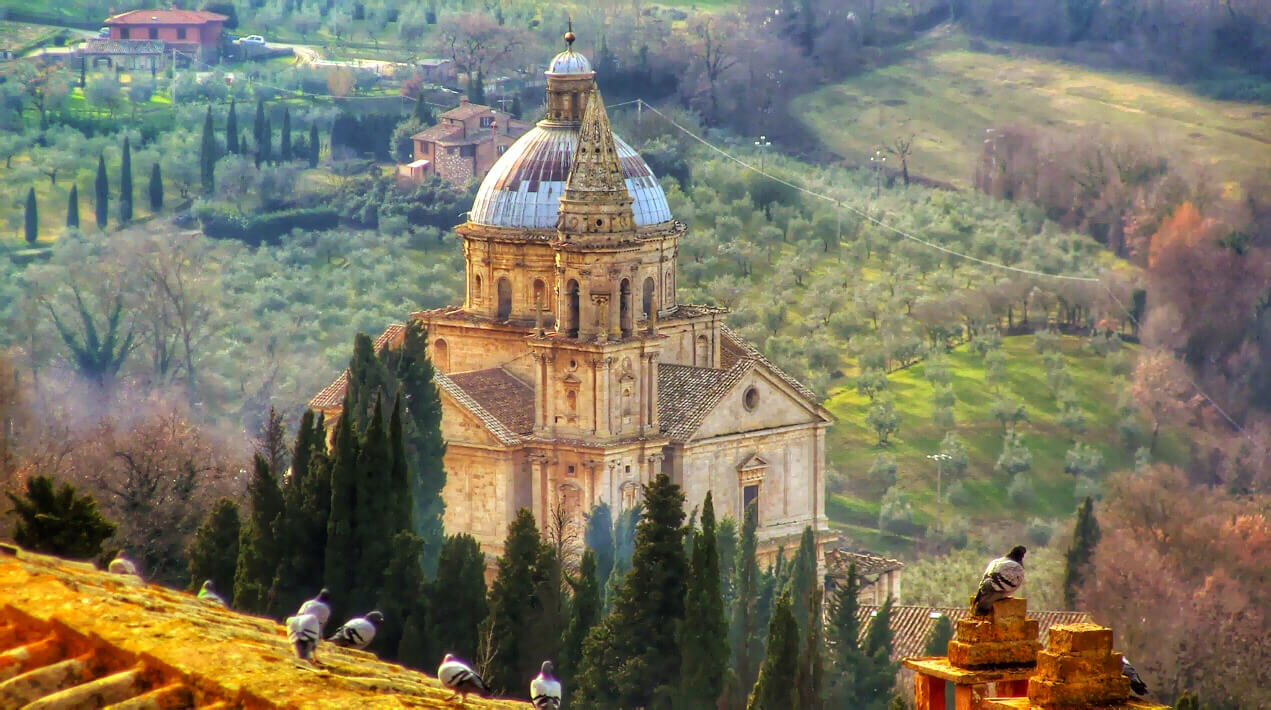 Visit wineries in Tuscany


There are many wine estates throughout Tuscany, and many welcome guests on tours of their wineries, sample their wines in their wine-tasting halls and even prepare gourmet lunches.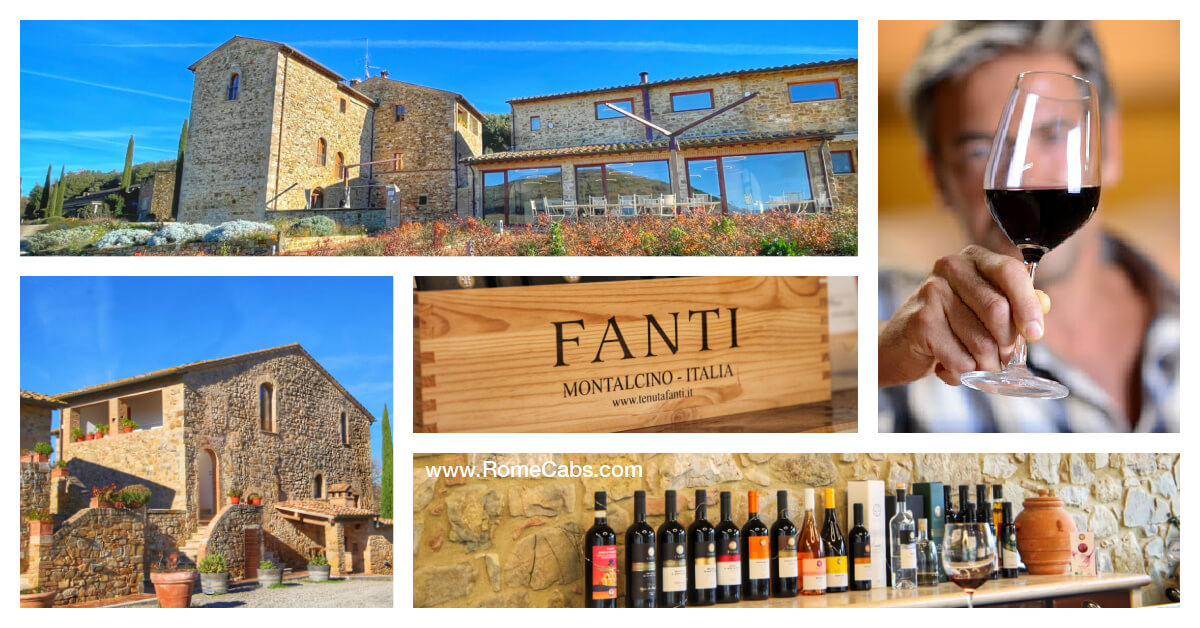 Winery tours require advance reservations and are offered at a fee, which is a wonderful opportunity to learn more about the art of winemaking and visit the wine cellars.

Some of the wonderful wineries in Tuscany and Chianti region are Tenuta Fanti in Montalcino, Banfi, or Vignamaggio, Vicchiomaggio, and Castello Brolio in Chianti.
Sample local wines in Tuscany

Whether you are drinking Vino Nobile di Montepulciano, Brunello di Montalcino, or Chianti Sangiovese is always the dominant grape.


Vino Nobile di Montepulciano


Vino Nobile di Montepulciano and Vino Rosso have a minimum 70% Sangiovese. The other permitted grapes in these wines are Canaiolo (up to 20%), Colorin, and Mammolo. The addition of other grape varieties makes the Montalcino wines a little softer and more approachable when they're young than the wines of Montalcino.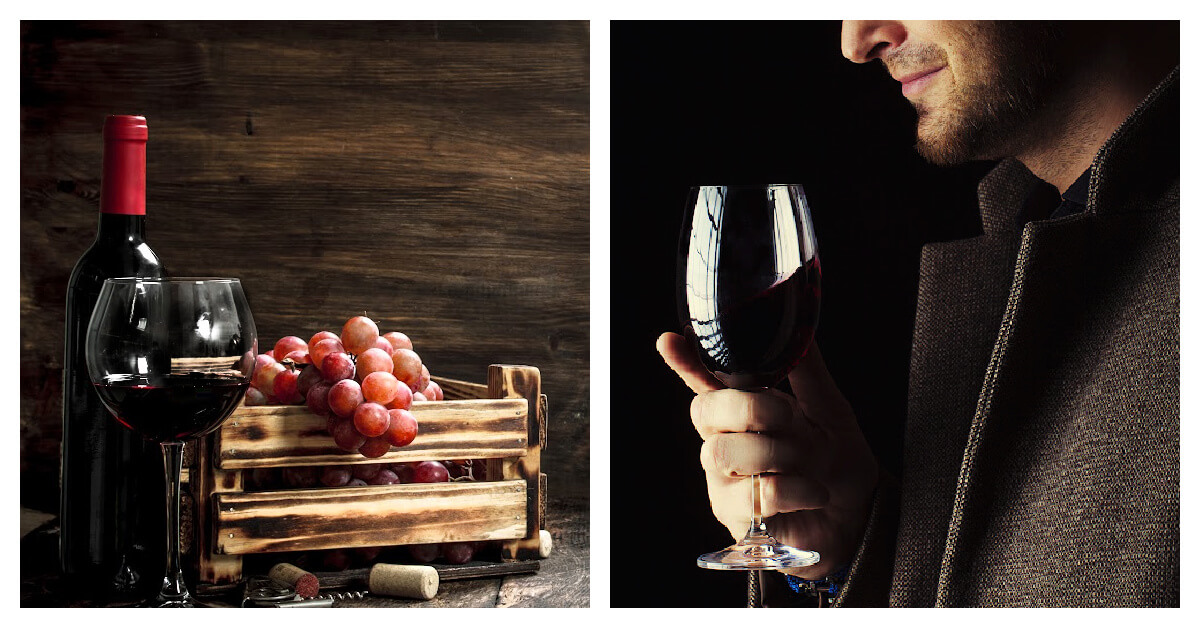 For the most part, Montepulciano wines a drier and medium-bodied with soft tannins, high acidity, and fruity flavors such as wild cherry, blackberry, boysenberry, and plum.

You may also detect notes of dried tobacco, oregano, or thyme with the taste varying from one bottle to the next. Oak-aged Montepulciano wine has more pronounced fruit flavors and tannins, as well as notes of clove, chocolate, and other peppery spices.


The wine-growing region of Montalcino covers 24,000 hectares and permits ideal sun exposure which ripens the grapes perfectly for its Brunello wine which is particularly suited to long periods of aging with a superior flavor and fragrance. Only approximately 4,000 hectares (15%) are cultivated with vineyards which include over 200 wine producers.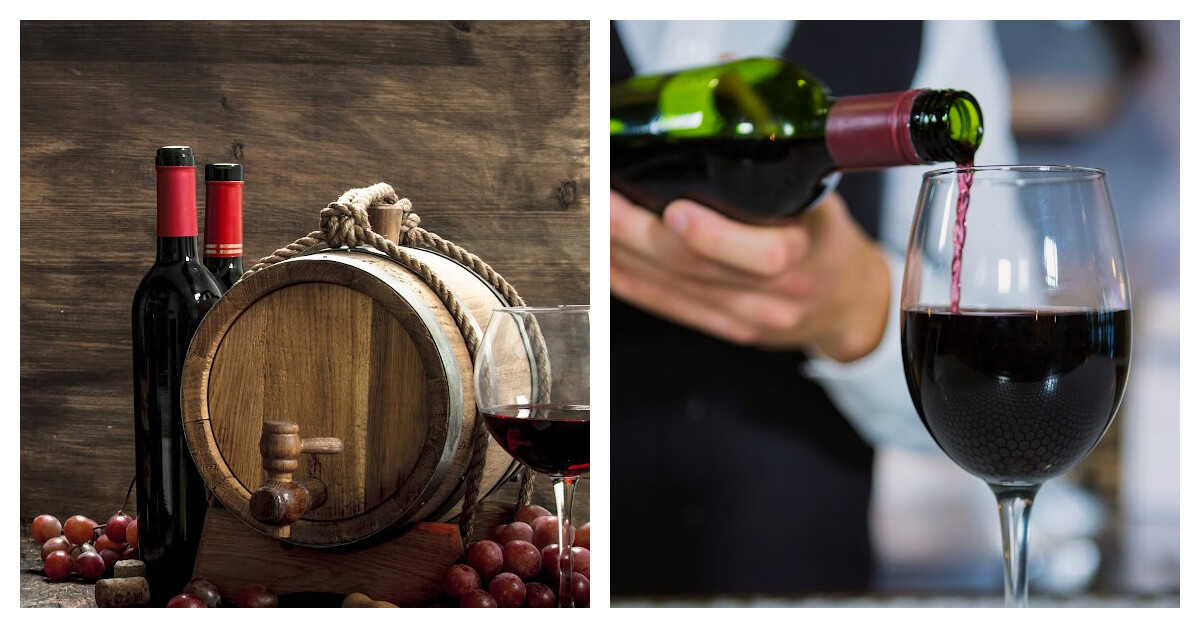 Brunello wine requires 100% Sangiovese grape and is made in the southern part of Tuscany which is warmer and its soil contains limestone which lends the Sangiovese grape extra ripeness. The tannins are grippier, indicating that the wine is normally required to age more before drinking.

Traditionally, Brunello wines spend up to three years in oak casks and then up to a year in bottles before being released. Riserva wines must be aged five years at the winery, with that time split between in oak and bottle before being released.
Brunello di Montalcino wine is a more expensive full-bodied wine with notes of licorice, wild berry, anise, and leather. Extended aging allows the harsh tannins of Brunello wines to develop, while its acidity pairs well with food.


In the Chianti region of Tuscany, there is a significant difference in soil which explains why wines produced in this region are referred to as Chianti. Other regions also make the most prestigious Chianti Classico where the soil is called Galestro, which is a mixture of shale and clay, producing wines with greater acidity and more finesse.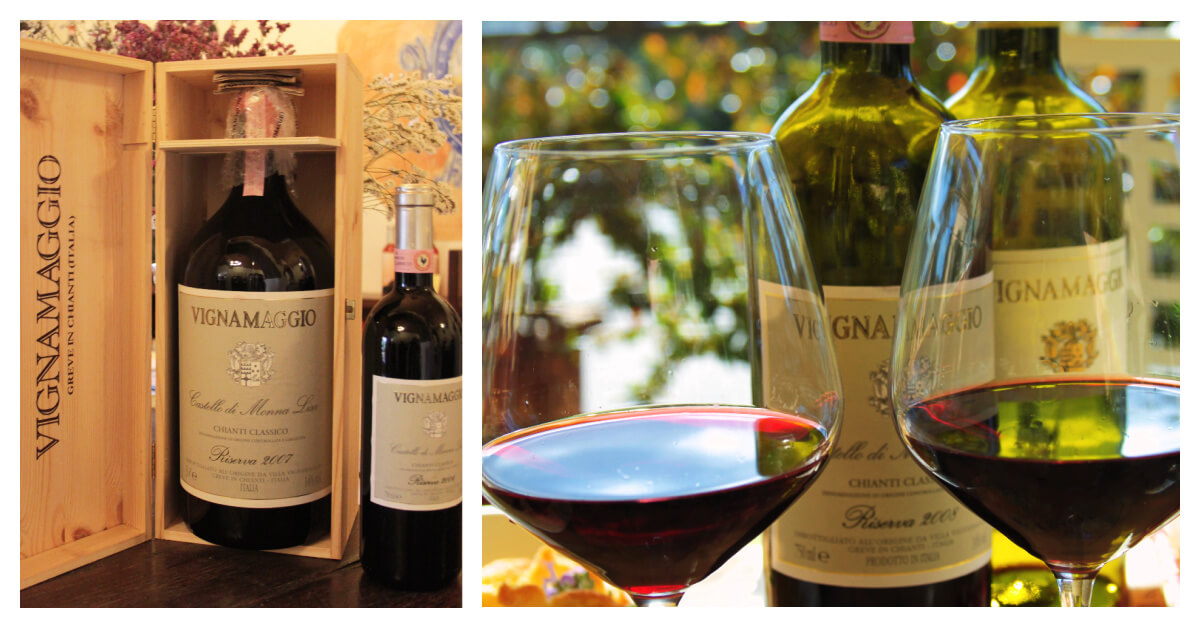 Chianti wine is relatively young, rarely aged more than a year of oak. Chianti wine is produced primarily with Sangiovese grapes giving it a medium-bodied, highly acidic, and deeply savory with a flora scent of cherry and earth. This ruby-red wine features a high level of tannin contributing to its dry flavor. It's no wonder Chianti wine tours from Rome are so popular.

Our sister company Stefano Rome Tours offers a variety of Chianti Wine Tours from Rome and Florence. Guests staying in Florence can enjoy Chianti wine tours from Florence as well.
Purchase wine to enjoy in Italy and have more shipped home!

Whether you wish to enjoy some of the Tuscan nectar of the gods on your Italian vacation or bring some bottles with your home, you have ample opportunities to purchase wine on our Tuscany wine tours.
Both wine shops and wineries offer to ship your bottles of wine internationally to your home for a hassle-free way to enjoy your Tuscany wines post-trip and recall your wonderful memories in Tuscany. While at it, also add a tin of local virgin olive oil to your purchase and celebrate the distinctive flavors of Italy at home.
Ask your sommelier questions about wine

Don't know how to pair your Chianti, Brunello, or Monteulticano reds?

Whether you are wine tasting at an in-town enoteche (wine shop) or a winery, be sure to save your pairing questions for your sommelier for authentic dinners perfectly paired with your preferred wines.

Any questions you may have about wines, wine-making, or wine paring save them for the wine experts while you enjoy sampling the local varieties.
Enjoy a Winery Tour with Wine Tasting and Lunch


Some wineries even offer a full winery experience that includes a winery tour with wine tastings and either local appetizers or chef-prepared lunch accompanied by the winery's phenomenal wines.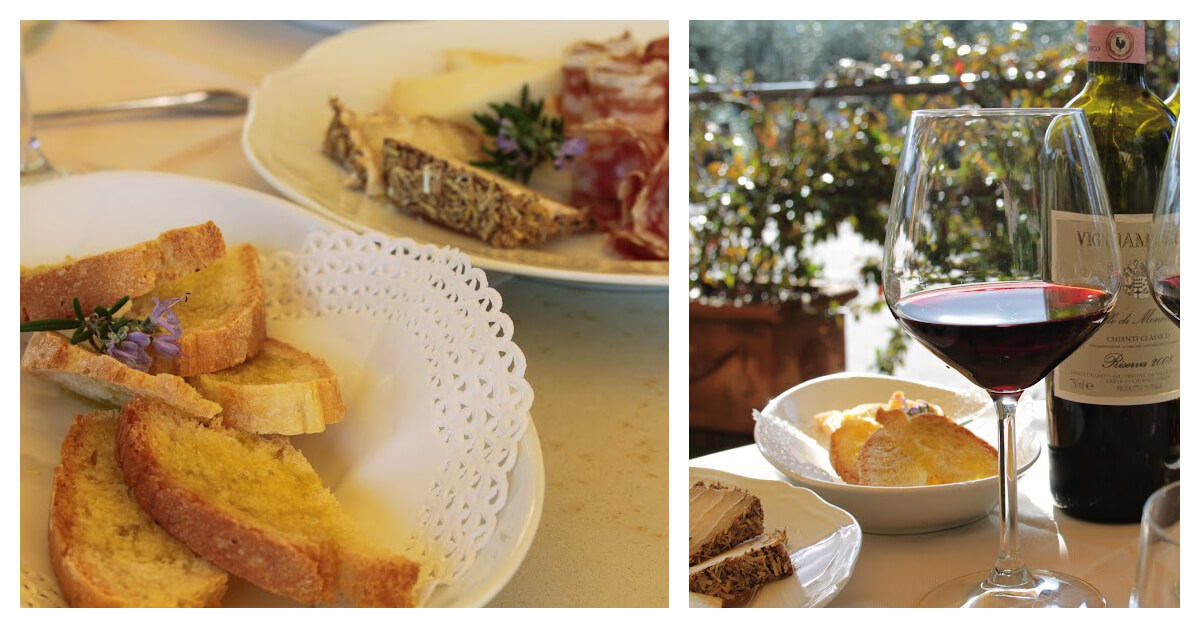 You may even opt to sample a plate of select Tuscan cold cuts and cheeses, along with some crusty artisan bread drizzled with local extra-viri olive oil with your wine tasting.

Wineries such as Tenuta Fanti near Montalcino and Vignamaggio in Chianti offer such experiences that you can enjoy on our Tuscany wine tours from Rome.



Visit or See the Vineyards in Tuscany

While in Tuscany, especially near Montalcino and in Chianti, you will have ample opportunities to see and visit vineyards.



When you visit a winery, you will not be able to miss the gorgeous vines that produce the local wines you are about to enjoy.

Even without a winery visit, you can still admire the perfect rows of vines that adorn the gentle hills and valleys of Tuscany. In the late spring and summer, the grapevines are green and abundant, while in the fall the leaves turn gorgeous shades of gold and rust ushering in the autumn season which is also when grapes are harvested (vendemmia).
Smell the Roses - at the end of vine rows

Did you know that the rose bushes planted in vineyards had a specific purpose other than aesthetics? Traditionally, rose bushes were planted as an early warning sign as both roses and grapevines are prone to a commonly widespread fungus known as powdery mildew. If this fungus is detected on the roses, the vines would need to be immediately treated to prevent the grapes from being destroyed.

Nowadays most vineyards use modern methods to monitor the soil and the health of the vines, therefore the traditional purpose for roses is no longer needed. So why are roses still grown in vineyards? In addition to looking pretty, roses provide nourishment for bees and a habitat for insects that are beneficial to vineyards. Pests find roses tastier than the vines, and thus roses also attract damaging insects away from the grapes.
Cherish a scenic drive through Tuscany on our wine tours

Enjoy the scenic drive through Tuscany's celebrated Val d'Orcia, Val di Chiana, and Chianti regions. Our Tuscany wine tours from Rome or Florence take you through some of Tuscany's most beautiful landscaped to be admired.
What is included in a Tuscany wine tour from Rome or Florence?

All our Italy tours are private, which means the tour will be reserved only for you and your party. All our Tuscany wine tours include your own private luxurious vehicle, a personal English-speaking Driver at your service, all applicable taxes, highway tolls, and road expenses required to provide the service. Meals, winery fees, and gratuities are not included in our prices.
Winery fees are not included in our prices in order to keep the tours flexible, customizable, and inclusive of all members of your party who may not wish to participate in wine tastings or winery tours. Therefore all winery fees (winery tours, meals, wine tastings) are extra and are paid separately and directly to the winery.

Now you know what to see and do on a Tuscany wine tour from Rome or Florence, and have an idea of what to expect when you select a wine tour in Tuscany.
We invite you to visit our website and browse our collection of Tuscany Tours from Rome or contact us via email for a customized Tuscany Wine Tour from Rome, or Tuscany Wine Tours from Florence.

Thank you for choosing Stefano's RomeCabs for your Tuscany tours from Rome or Florence. We look forward to showing you beautiful places in Italy!


* Find us online also on: