Buongiorno and welcome to Stefano's RomeCabs, Rome's leading tour company for private tours in Italy. Tuscany is one of Italy's highly regarded wine-producing regions where endless vineyards grow on Tuscany's gentle hills and valleys thriving in the Mediterranean climate. For 20 years we've taken thousands of guests on private wine tours from Rome to Tuscany helping our guests create unforgettable memories they cherish for life.

With southern Tuscany's wine region surrounding Montepulciano and Montalcino being between 2-3 hours' driving distance from Italy's capital, day trips to Tuscany from Rome are a fantastic way to savor some of Italy's finest wines at their source without having to worry about transportation logistics or hotel stays in Tuscany. Simply set aside a free day in Rome dedicated to a wine-tasting tour to Tuscany.

Because there is so much to see and do on a Tuscany wine tour, our Tuscany wine tours from Rome pair wine tasting with sightseeing enchanting historic hill towns surrounded by timeless landscapes that make Tuscany a popular destination for day trips from Rome. Imagine strolling through Montepulciano and Montalcino, seeing ancient wine cellars, sampling locally produced wines at esteemed wine estates, savoring the local flavors, and reveling in scenic drives through Tuscany's wine country.

All our Tuscany tours from Rome are private offering you the freedom to select your preferred tour date, sightsee at your own pace, and tour in the privacy of your own deluxe vehicle with your personal driver's attention focused solely on you. Our private Tuscany tours are ideal for couples, families, friends traveling together, travelers in Italy for a brief stay, and discerning travelers who do not wish to tour in crowded buses or follow groups.

Our wine tours from Rome are also perfect for guests traveling with friends and family members who cannot or do not wish to partake in wine tastings but wish to enjoy sightseeing in beautiful locations in Tuscany. After all, discovering Tuscany's timeless landscapes and villages is an unmissable part of the experience of a wine tour in Tuscany. Wine tasting and winery fees are not included in tour fees to allow flexibility for guests who will not participate in wine tastings.


Here are the best wine tours from Rome to Tuscany.
Celebrate the timeless art of winemaking and traditions from our ancestors on this wine-tasting day trip from Rome with visits to Montepulciano and Montalcino, two of Tuscany's most significant Medieval hill towns renowned for their captivating beauty and local wines.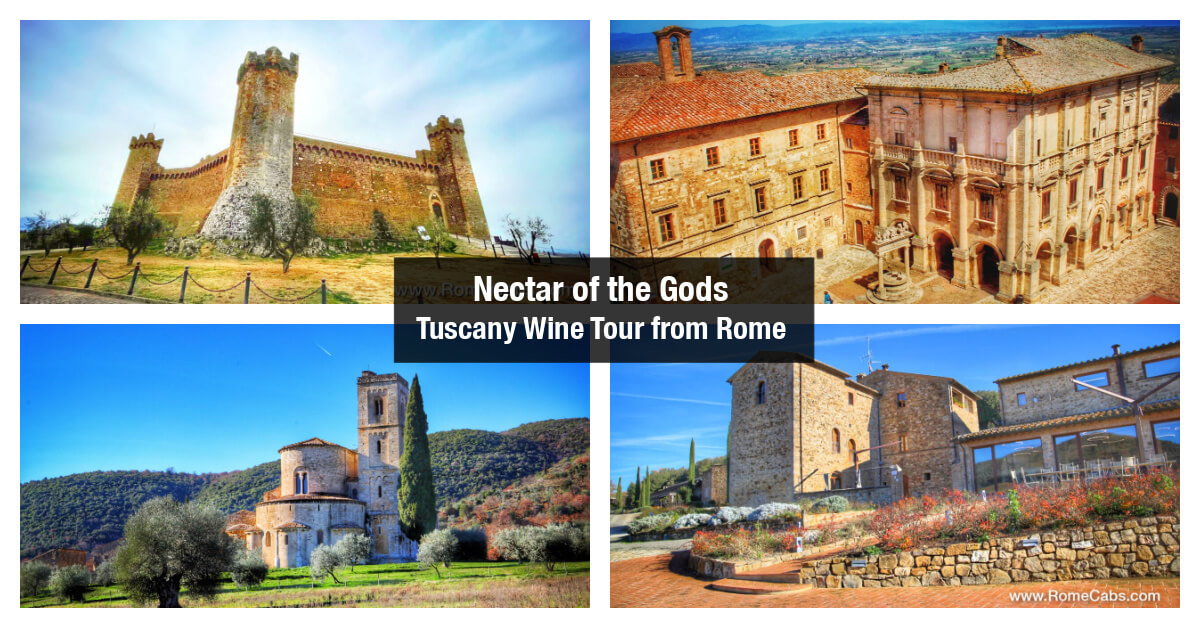 Montepulciano was crowned "King of all Wines" by 17th-century poet Francesco Redi as described in his famous poem, "Bacchus in Tuscany". Vino Nobile di Montepulciano (the Noble Wine of Montepulciano), is one of Tuscany's most ancient wines documented as far back as 789 AD. This classic red has been preferred by Italy's aristocracy and royalty since the 15th century and continues to reign supreme among Italy's top wines.
Learn more about the history and characteristics of Vino Nobile di Montepulciano.
Montepulciano itself is a fascinating hilltop town surrounded by the picturesque Valley of Chiana (Val di Chiana), and filled with magnificent architecture, local charm, and of course excellent wine that can be sampled at local wine shops throughout the town.
Montalcino is another gorgeous hilltop town, world-famous for the prestigious local wine Brunello di Montalcino produced from Sangiovese grapes (also called the Brunello grapevine). Wine tastings are possible throughout the town's wine shops, including an enoteca (wine shop) inside the imposing 14th-century fortress.

On this Tuscany wine tour, you will also have the opportunity to stop at the revered Sant'Antimo Abbey, home to Olivetan Benedictine monks and regarded as a masterpiece of medieval architecture. Upon entering the abbey you will appreciate its solemn and mystical atmosphere that will transport you back to the Middle Ages and its former austere monastic life.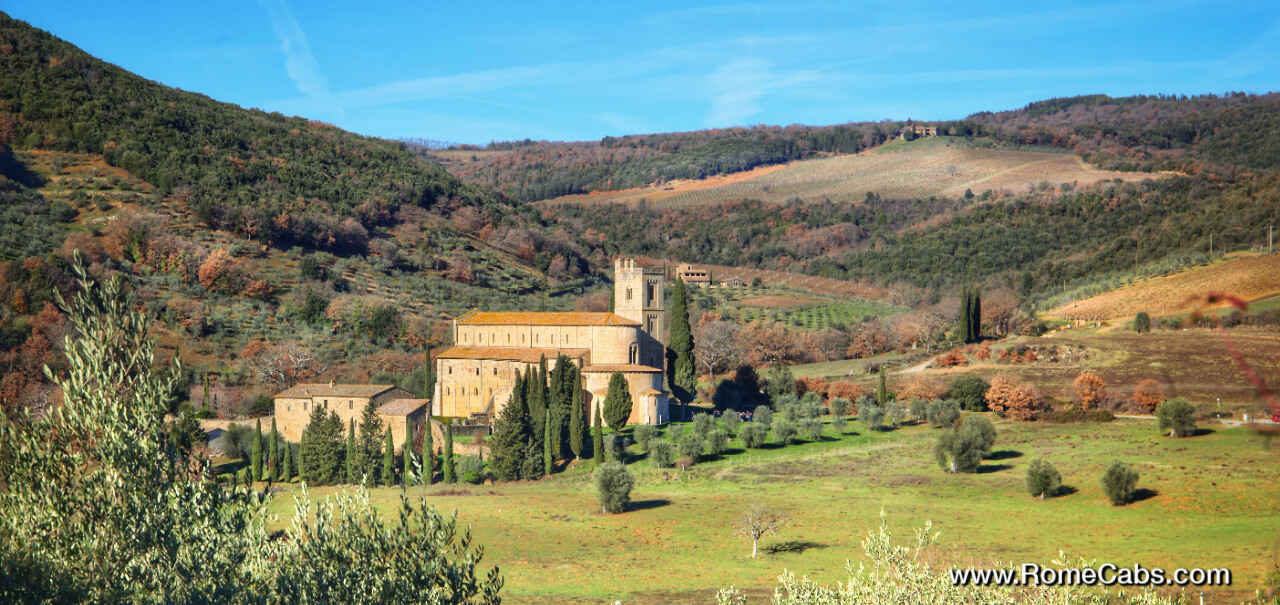 Be sure to also visit the abbey's monastic apothecary (pharmacy) filled products made according to the recipes of the centuries-old monastic tradition, jams, biscuits, herbal teas, artisan beers, liquors, and natural body care products made with natural medicinal herbs and essences.
Our Nectar of the Gods Tuscany Wine Tour is capped with a visit to a nearby esteemed wine estate surrounded by vineyards and olive groves. Relish the opportunity to sample its wines and learn about the time-honored traditions and culture of winemaking while enjoying the tranquil ambiance of this charming slice of paradise. Raise a glass of the local nectar and toast your unforgettable day in Tuscany!
If you love Tuscany and Brunello di Montalcino you will love our Brunello di Montalcino Tuscany Wine Tour from Rome as it combines sightseeing opportunities in and around Montalcino with a winery tour and wine tasting in Tuscany's idyll countryside.



Indulge in a sampling of wines and deepen your knowledge of winemaking during your visit to a well-established Tuscan winery in the lush wine country near Montalcino. Treasure a visit to the mystical Abbey of Sant'Antimo, followed by a visit to Montalcino where you will enjoy free time on your own for a tasty Tuscan lunch at a local restaurant in town, sightseeing, and additional wine tastings at local wine shops throughout the town.
Most wineries require advance reservations for wine tastings at specific time slots that have to be booked pending availability. Our Tuscany Castles and Wine Tour in Tuscany is ideal for travelers who prefer to enjoy more flexible wine tours in Tuscany without being beholden to fixed schedules, wish to experience more of Tuscany, are not particularly interested in touring a winery, or are touring on days when the wineries are booked.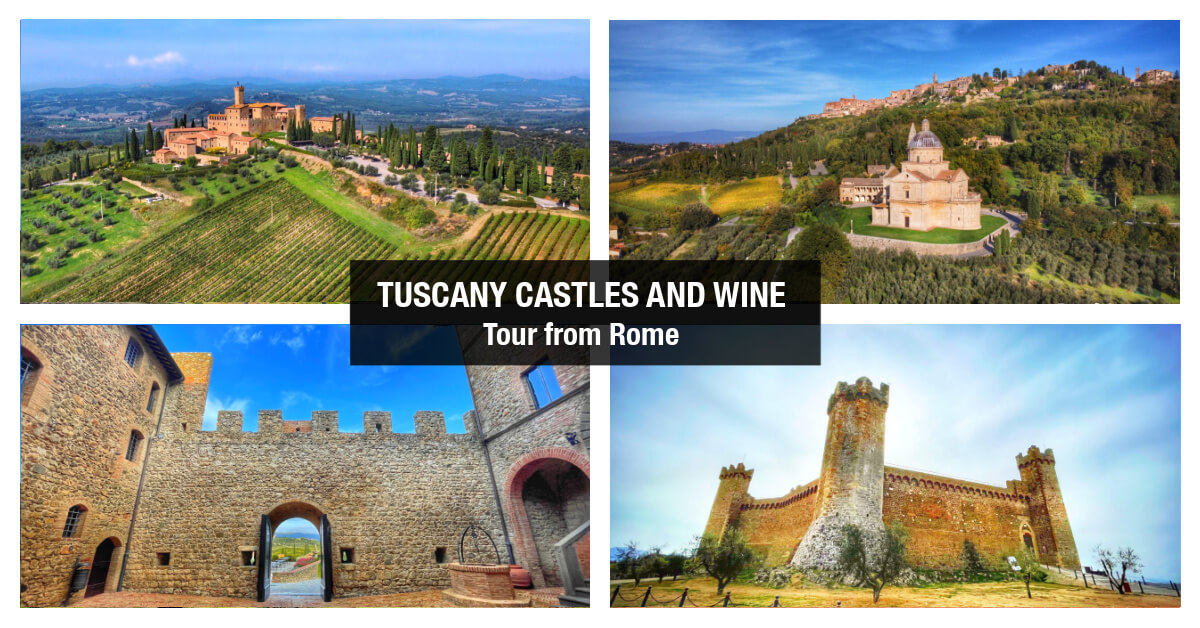 This Tuscany tour from Rome takes you on an unforgettable Tuscany day trip to Montepulciano and Montalcino with ample free time on your own for sightseeing, lunch, and tasting locally produced wines available at local wine shops in the towns.

Enjoy a scenic drive through the heart of Tuscany's Brunello wine country to the enchanting Castello Banfi wine estate where you will have the opportunity to sample a selection of its exquisite wines at the elegant Enoteca (wine shop).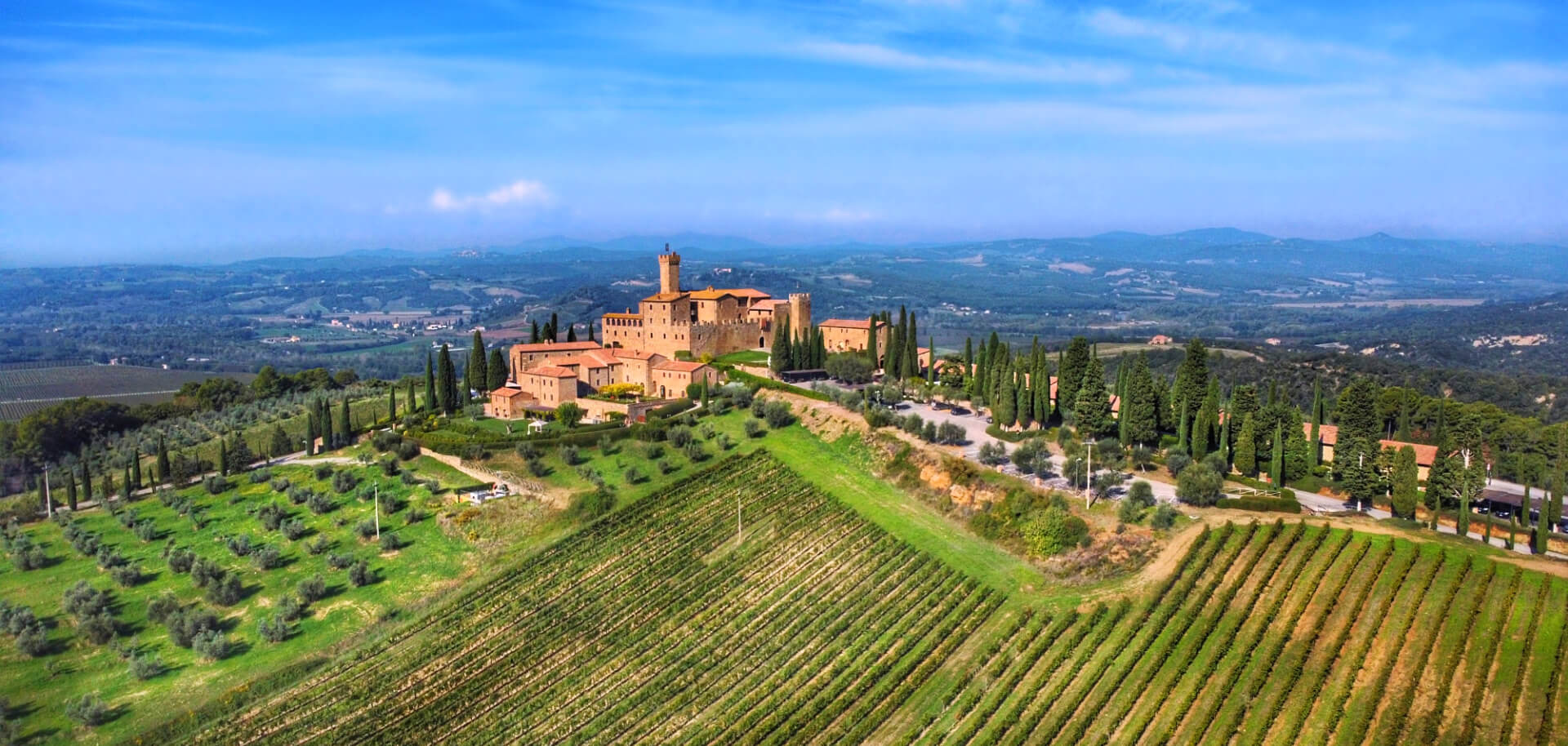 Perfectly located amidst 7,000 acres of idyllic vineyards and olive groves, the historic stone castle Castello Banfi produces some of the region's most renowned wines. The Enoteca adjacent to the castle vaunts the refined atmosphere of a classic Tuscan wine shop where guests can sample elegant estate wines, spirits, and extra virgin olive oil at the wine bar. A variety of local artisan food and crafts are also available for purchase at the shop.

There's no better way to finish your day in Tuscany than relaxing at Castello Banfi sipping on the local elixir in the shadow of a fairytale castle, surrounded by magical landscapes.
If you can't decide between Tuscany and Umbria, we have the perfect tour for you!

Our popular Wine Tasting Tour to Umbria and Tuscany will take you to the charismatic hilltown of Orvieto in Umbria, and to Montepulciano in the heart of Tuscany where you will have the opportunity to experience the distinctive flavors and beauty of both regions.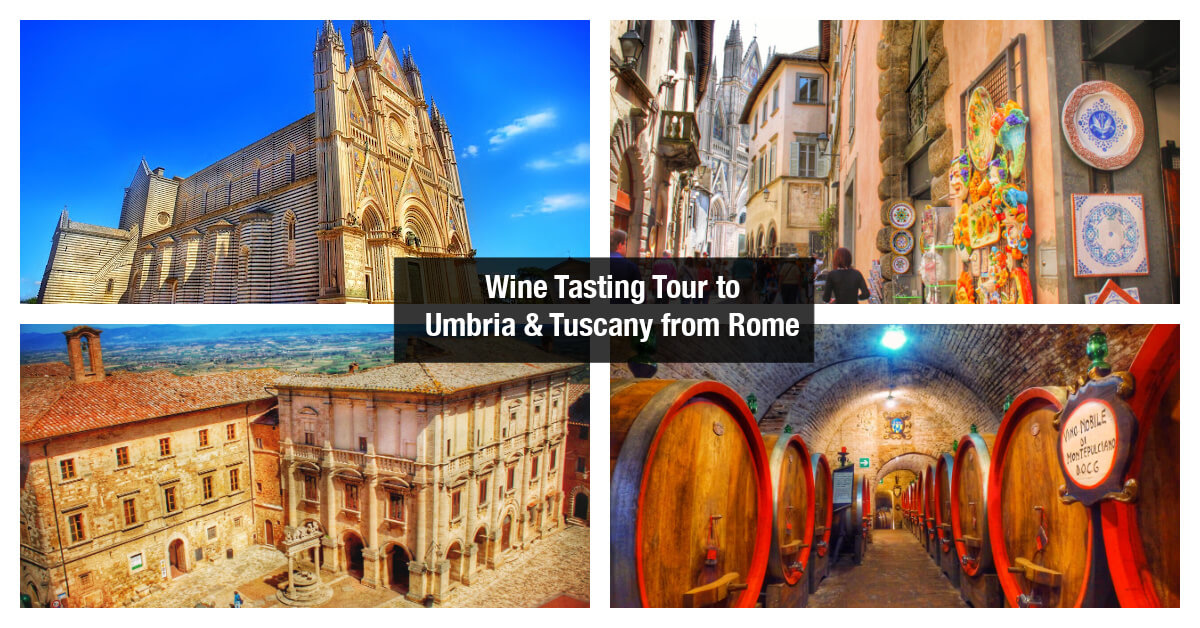 Wine connoisseurs will delight in the opportunities to sample locally produced wines at various wine shops available in both towns. Orvieto is famous for its dry white wine, and Montepulciano for its red.
Thanks to the unique soil types of Italy's Umbrian region that range from limestone and tufa of volcanic origins, wines produced in Orvieto are among the best wines in Italy!
Orvieto is world-famous for its white wines made from a blend of primarily Grechetto and Trebbiano grapes with a history of winemaking since the early Etruscan civilization. Local wines are available as dry (secco), slightly sweet (abboccato), semi-sweet (amabile), and sweet (dolce). Discover the unique wine flavors that make Umbria a popular destination for Umbria wine tours from Rome. Cruisers can also enjoy an Orvieto wine tour from Civitavecchia.
While in Orvieto, appreciate free time on your own for shopping for hand-painted ceramics or other local artisan works of art, and enjoy a stroll along the spacious streets lined with a variety of shops, markets, wine shops (enoteche), and boutiques. Don't miss the remarkable Cathedral of Orvieto whose dazzling facade shimmers in sunlight.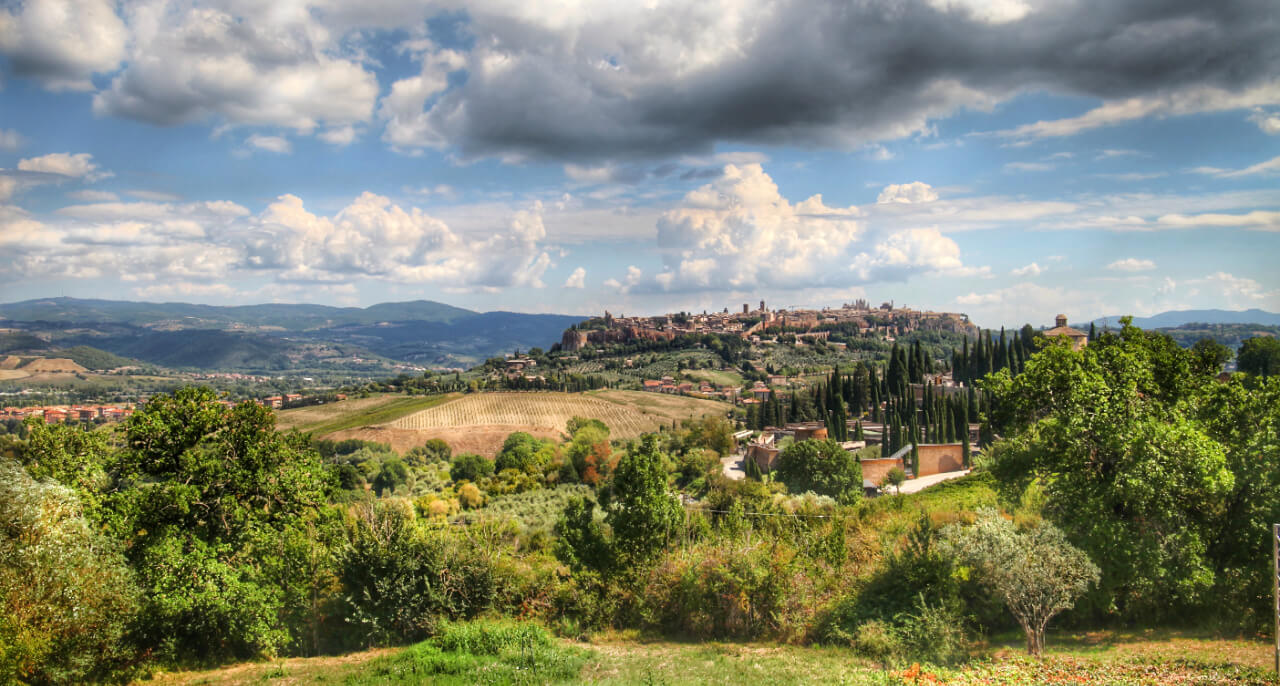 In Montepulciano, wine tastings and visits to wine cellars are possible throughout the town at various wine shops owned by local producers that offer visitors an abundance of wine shops stocked with the best local reds and local foods that will delight your palate.
Some of the best Montepulciano wineries for wine tasting have their own wine shops and wine cellars right in town for optimal convenience to enjoy both wine tasting and sightseeing. Wineries such as Ercolani boast historical underground wine cellars where wine ages to perfection inside large wooden barrels. Guests can visit the underground cellars and relish sampling wines and local products.

To allow ample time for sightseeing in Orvieto and Montepulciano, and to accommodate guests traveling with family members and friends who cannot partake in wine tastings, this tour does not include visits to wineries outside the towns.


We hope this list of the best wine tours from Rome to Tuscany will inspire you and help you with your travel plans for your next trip to Italy. We invite you to browse through our collection of Tuscany Tours from Rome, and Wine Tours from Rome for more information about our private tours.

Thank you for visiting our travel blog and for choosing Stefano's RomeCabs for your private tours from Rome. We look forward to showing you beautiful places in Italy!


ALSO READ:
* Find us online also on: