description

Celebrate the timeless art of winemaking and traditions from our ancestors on our Tuscany wine tasting tour from Rome with visits to Montepulciano and Montalcino, two of Tuscany's most remarkable Medieval towns that for centuries have achieved preeminent status for their local wines.
Delight in a visit to the revered Sant'Antimo Abbey that is home to Olivetan Benedictine monks. Visit an esteemed local winery for wine tastings and opportunities to learn more about the traditions and culture of winemaking. The exceptional locations in this extended Nectar of the Gods Tuscany Wine Tour from Rome offer sightseeing opportunities and enjoyment for guests who are not partaking in wine tastings.
NECTAR OF THE GODS TUSCANY WINE TOUR PRICE LIST


Minimum 2 persons from Rome Hotel 590 EUROS
For up to 4 persons from Rome Hotel 650 EUROS
For up to 6 persons from Rome Hotel 700 EUROS
For up to 8 persons from Rome Hotel 750 EUROS

* Prices do NOT include Winery Fees (approximately 25 Euros Per Person)
** This tour is offered AS IS without modifications to towns or wineries.
** You may also do a QUICK PRICE CHECK using the Price Check & Booking Form on the Right Side of this page. Once you receive the PRICE QUOTE based on the information you input, you may proceed to SUBMIT your Tour Request.
*** Dates on the Booking Form Calendar that are NOT Selectable, are NOT AVAILABLE.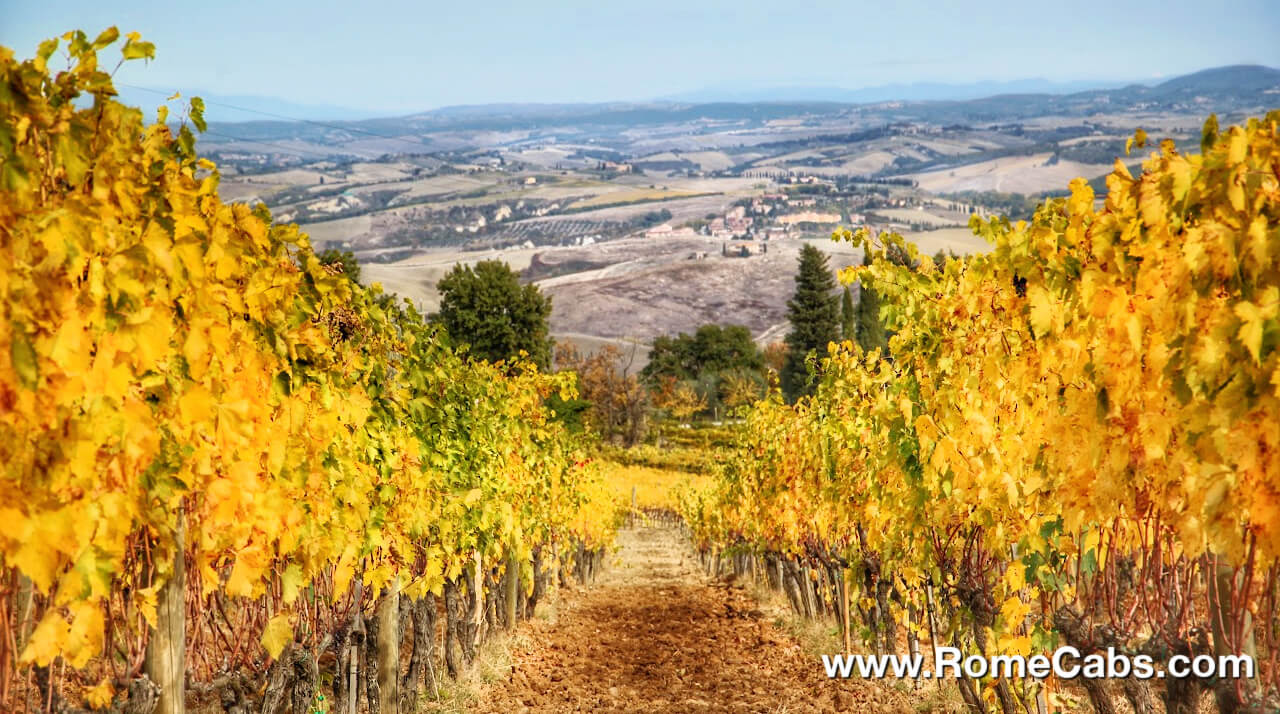 Since ancient times wine has held a special and even sacred status from being named nectar of the gods by ancient Greeks, to being designated in worshiping of certain gods by ancient Egyptians and being part of liturgical ritual practices since biblical times. The role and traditions of wine evolved into a convivial cultural symbol enjoyed in our modern world and associated with history, gastronomy, and tradition.

On this extended Tuscany Wine Tour from Rome, you will also discover the distinctive flavors of various wines produced in Montepulciano and Montalcino made from the local Sangiovese grape which is a red Italian wine grape variety that derives its name from the Latin sanguis Jovis, "the blood of Jupiter" (further evidence you will be enjoying the Nectar of the Gods).
MONTEPULCIANO - "the King of All Wines"
Your journey through the bucolic landscapes of Tuscany takes you to Montepulciano, a fascinating hilltop town filled with magnificent architecture, local charm, excellent wine, and awe-inspiring views of its surrounding valleys and soft rolling hills that are characteristic of Valley of Chiana (Val di Chiana).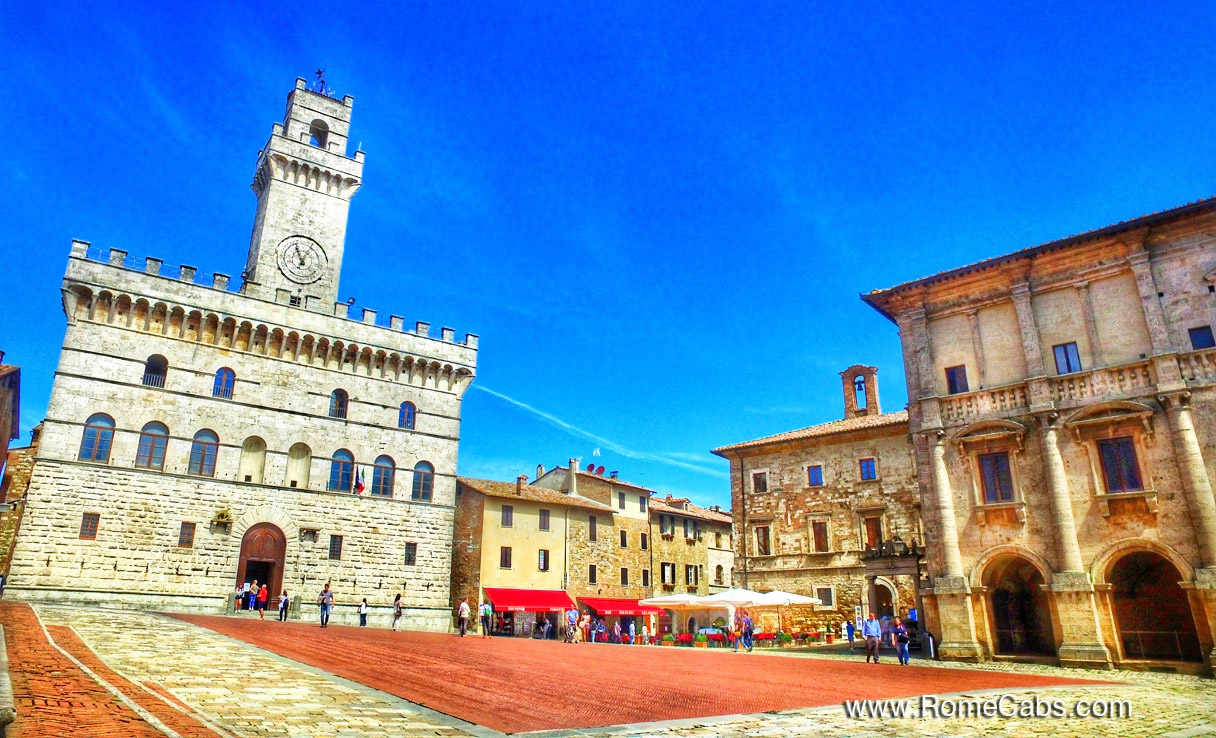 Montepulciano's history is quite ancient having once been an Etruscan city named Nocera Alfaterna. During the Medieval era, Montepulciano was controlled by Florence and Sienna.
Tuscany region is world-famous for its exceptional wines, but Montepulciano is indeed the "King of all Wines" as described in his famous poem, "Bacchus in Tuscany" by 17th-century poet Francesco Redi.
The Noble Wine of Montepulciano (Vino Nobile di Montepulciano), is one of Tuscany's most ancient wines documented as far back as 789 AD. This classic red was preferred by Italy's aristocracy and royalty since the 15th century. Pope Paul III's wine advisor, Sante Lancerio, defined Montelcino's wine as "very perfect and suit to the taste of gentlemen", and was considered a sophisticated wine for the table of nobles.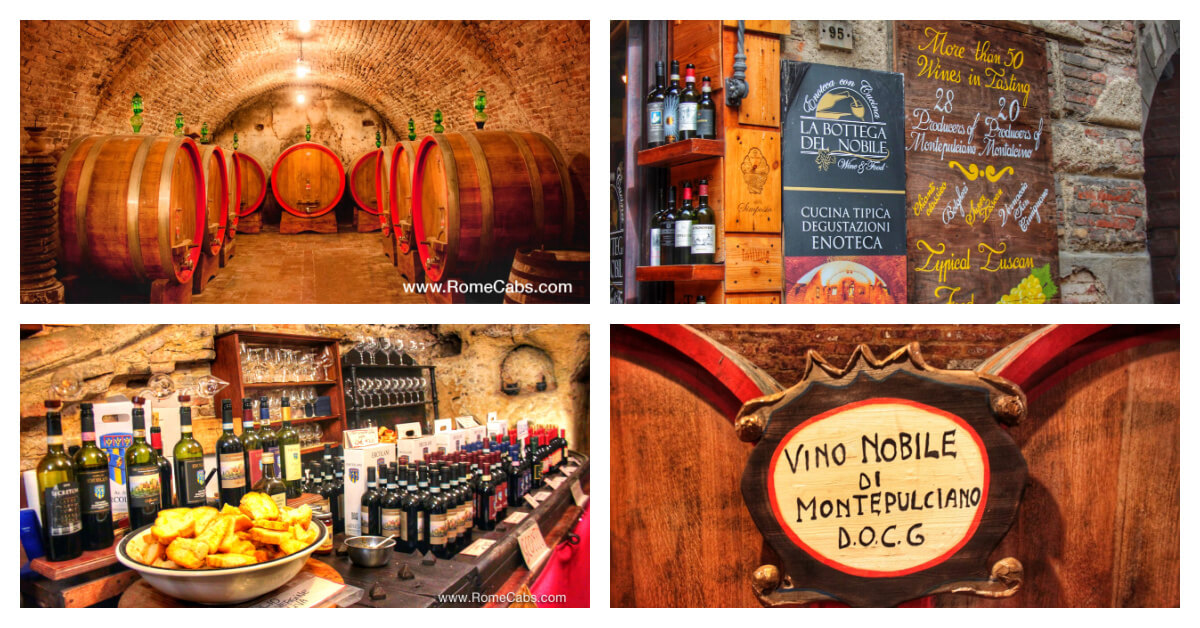 The ruby-red wine earned its title of "Noble" (Nobile in Italian) in 1787, a title that still holds strongly to its glory and history
Wine tastings and visits to wine cellars are possible throughout Montepulciano's wine shops (enoteche) owned by local producers. This enhances visitors' opportunities to sample and purchase a variety of local wines and regional food products while sightseeing in this remarkable historical town.
Scroll down to read below: How is Vino Nobile di MONTEPULCIANO made plus Wine Tasting Tips

MONTALCINO - home of Burnello di Montalcino
Montalcino is another prized hilltop town in Tuscany that boasts splendid views of the surrounding Valley of Orcia (Val d'Orcia) from its lofty height. While in Montalcino, you will enjoy free time on your own for lunch and to visit local wine shops for additional wine tastings and purchases.
Montalcino's extensive history also reaches back to the enigmatic Etruscans who ruled this region for centuries before being overtaken by the Romans. Montalcino's ancient name, Monte Ilcinus, draws from the oak trees that once covered the terrain of this area. The first written documents that refer to its modern name of "Montalcino" appeared in the early 9th century.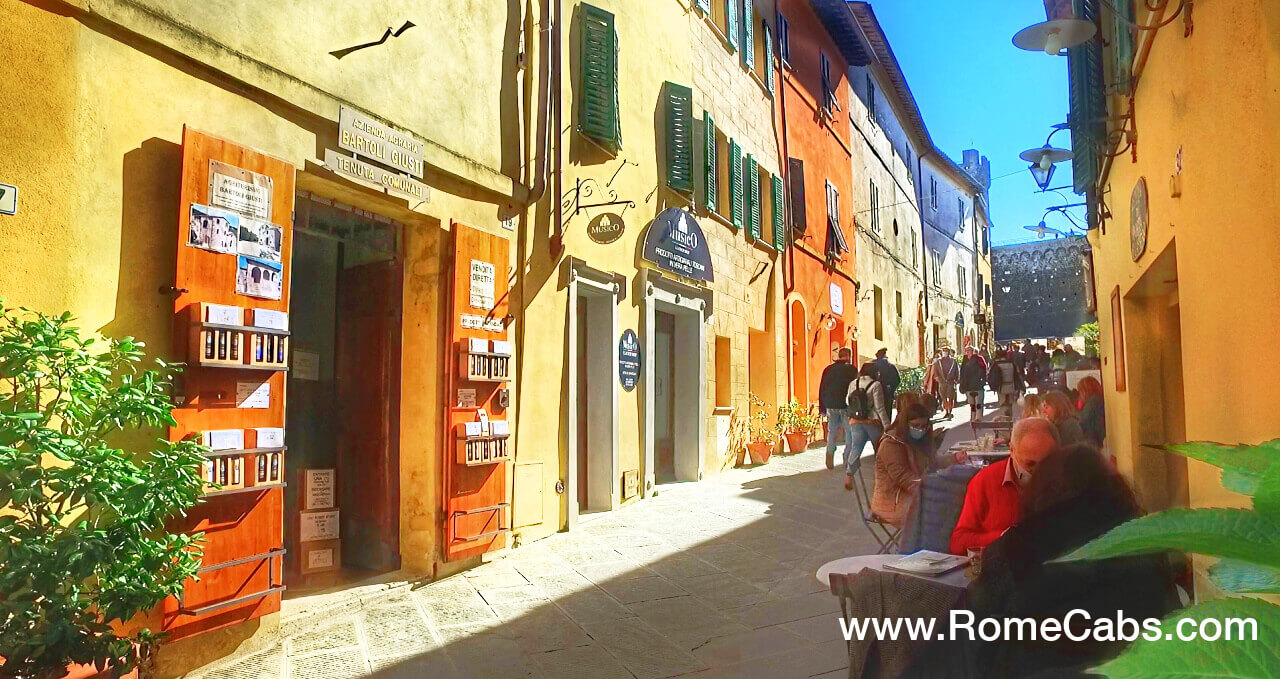 Today Montalcino is world-famous for another well-known plant that grows within its region: the Sangiovese grapevine (also called the Brunello grapevine) which produces the prestigious local wine Brunello di Montalcino. Scroll below for more information on the history of Brunello do Montalcino and how it's made.
Montalcino is a favorite on Tuscany tours not only for its esteemed wine but also for its historic, artistic, and architectural treasures. The hilltop town is crowned by an imposing 14th-century fortress that was built over earlier fortifications and served as the last bastion of resistance of the Sienese Republic against Medici's expansion and conquests.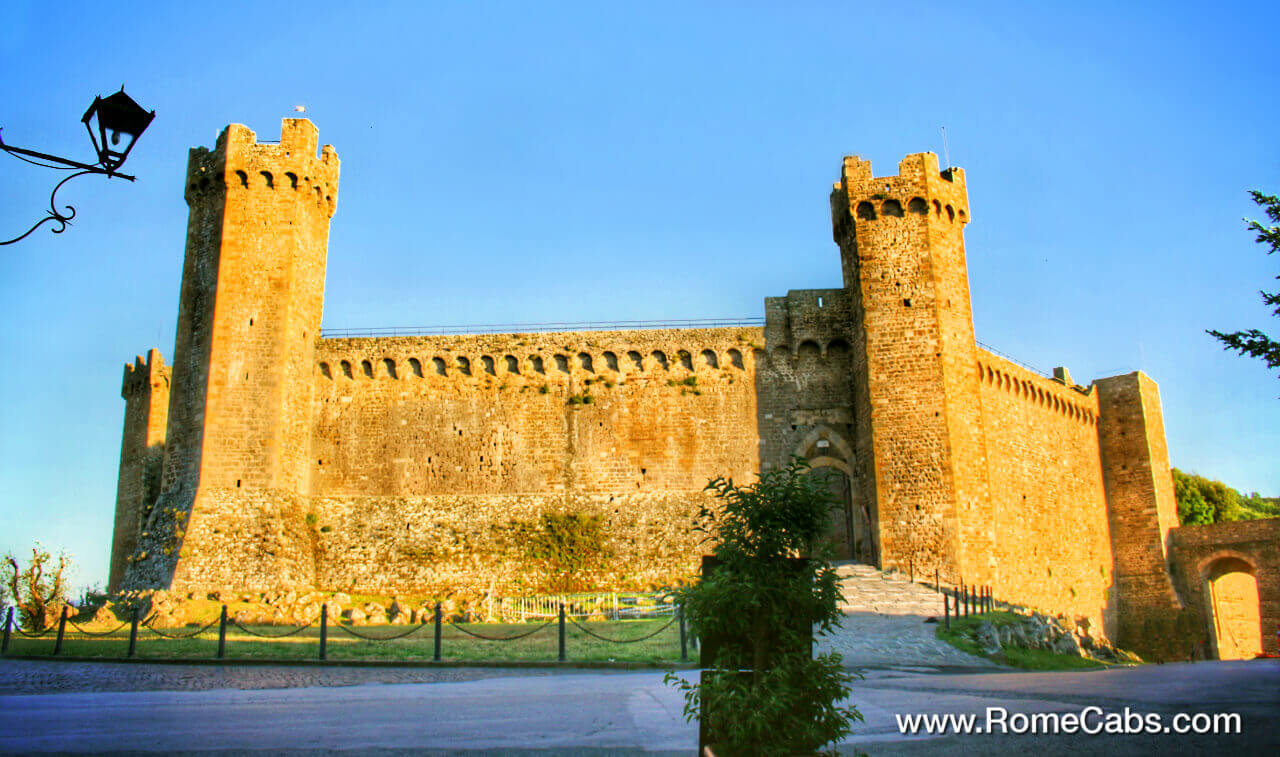 The characteristic streets are lined with shops and boutiques that sell local crafts and products, charming cafes, and wine shops (enoteche) where you have free time on your own to enjoy the opportunity to window shop, and sample or purchase some of the delicious Brunello di Montalcino.
Scroll down and read: The History of BRUNELLO DI MONTALCINO and how it's made
SANT'ANTIMO ABBEY - visit the mystical abbey

After lunch in Montalcino, you will enjoy a relaxing drive along a winding country road surrounded by vineyards, verdant hills, and isolated farmhouses until you will arrive at Sant'Antimo Abbey for a brief visit.
Standing majestically in perfect solitude among olive groves and pastoral fields, this historical abbey is perfectly situated below the medieval hamlet of Castelnuovo dell'Abate.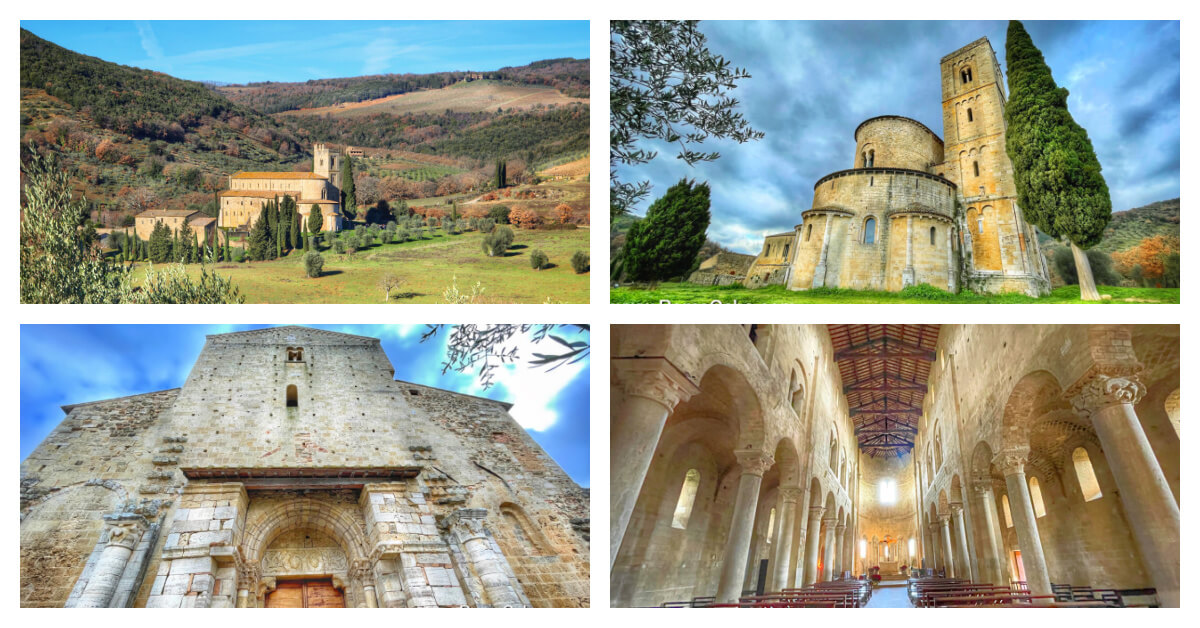 Although the original abbey dates back to the 8th-9th century AD with accounts of Charlemagne founding the monastery (see below the Legend of Sant' Antimo), the current Romanesque style abbey was constructed in the 12th century with the original Carolingian chapel still visible.

Regarded as a masterpiece of medieval architecture, when you enter the abbey its solemn and mystical atmosphere will take you back to the middle ages and its austere monastic life. A quiet silence circulates among the unembellished walls of travertine and alabaster. Today, Sant'Antimo is the home of a small community of diocesan priests and laypeople with established ministries whose daily services are based on the Benedictine monastic spirituality.
Scroll down and read: LEGEND of SANT' ANTIMO ABBEY
WINERY WINE TASTING

Complete your day in Tuscany with a 3:00 PM visit to a local winery near Sant'Antimo Abbey. You may book in advance a winery tour and learn more about local viticulture and the local traditions of winemaking. Your winery visit will last approximately 1.5 hours.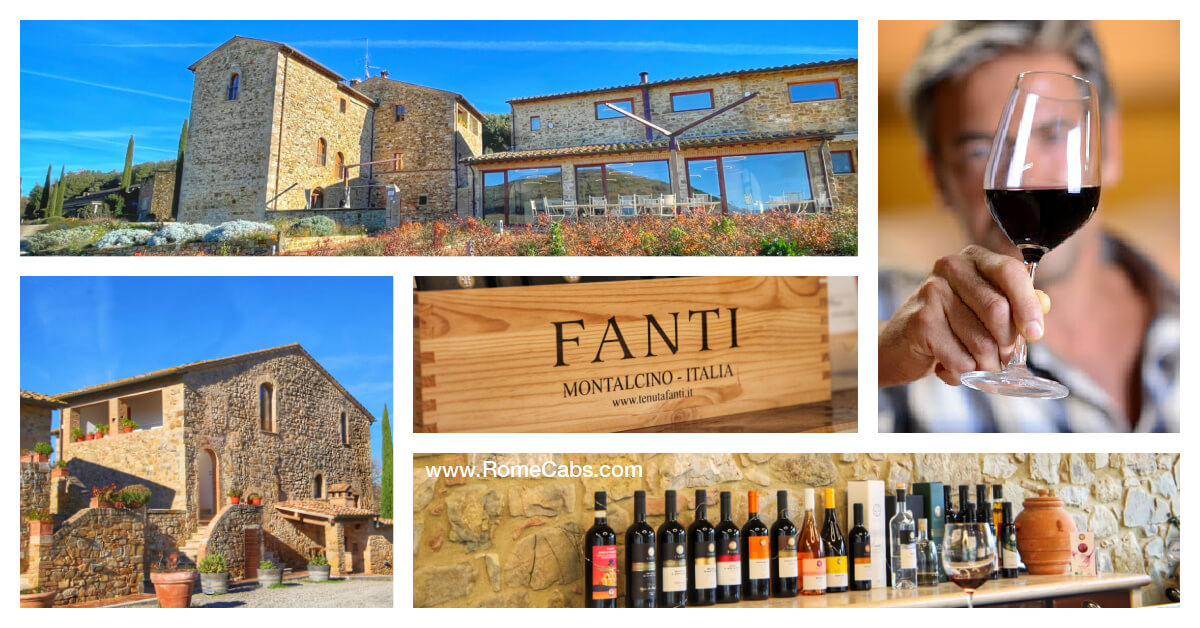 You may also take this time to simply luxuriate in wine tastings inside the wine tasting room or on the terrace raising a glass to your unforgettable sojourn to this idyllic Tuscan countryside. To offer our guests maximum flexibility in case some members of your party are not able to participate in wine tasting, winery fees are NOT included in our tour fee.


** ADDITIONAL WINERY FEES are approximately 25 Euros Per Person which also includes a tour of the winery. See BELOW for more information.


Our guests who enjoyed this Tuscany wine tour from Rome also boked the following:


Important Information

PLEASE READ THE INFORMATION BELOW AND ACCEPT THE TERMS OF SERVICE AND PRIVACY POLICY BEFORE BOOKING.

PAYMENT OPTIONS
Payment for this Tour can be made in EUROS directly to your driver on the Date of Tour, or prepaid in advance via PayPal or Credit Card online upon request. (See Cancellation policy below)
CANCELLATION POLICY
We kindly ask that cancellations be made via E-mail at least 7 days prior to Date of Service.
Cancellations are accepted only via E-mail so your cancellation is on record. We do not accept cancellations by phone, text message, or 3rd parties.
** Cancelations for PREPAID SERVICES will be refunded the Reduced Net Rate we receive from your prepayment. Reduced Net Rate: actual service price minus PayPal/Credit Card fees retained by PayPal/Credit Card as they do not reimburse us the fees they retain from your payment.


** This tour is offered AS IS without modifications to the existing itinerary, towns, or winery. If you wish to make changes to the existing wine tour please send us an email and we can assist with a customized tour to suit your preferences.


WINE TASTING IN TUSCANY: Price, information:
** Winery fees are approximately 25 EUROS Per Person payable directly to the Winery. We don't include the winery fee in our tour fee in order to offer our guests flexibility in case some members of your party don't wish or are unable to participate in wine tasting.
Advance reservations are required for winery tours and are subject to availability. Your winery visit will begin at approximately 3:00 PM and will last approximately 1.5 hours. The winery visit time is booked in accordance with the winery's fixed visit schedule and is subject to availability.
The winery Fee includes a wine tasting of locally produced wines and a tour of the winery upon request.
YOUR PRIVATE TOUR DRIVER
This Wine Tasting Tour to Umbria and Tuscany Tour provides an English-speaking Driver who is NOT a licensed tour guide or a sommelier.
Italian laws permit only licensed tour guides to accompany guests to sightsee on foot away from the vehicle.
In order to comply with Italian laws, drivers are obliged by law to remain with the vehicle while guests sightsee on foot. Drivers are happy to offer basic touristic information while at the vehicle, however you will SELF TOUR on your own when away from the vehicle.
Information about wines and wine production can be provided by the wine experts at the wine shops.


Not sure what to wear on a wine-tasting tour in Italy? Find out on our Travel Blog.


5 WINE TASTING TIPS:


SEE - See the color, depth, and intensity of the wine in your glass. The color also indicates the types of grapes used or if the wine was aged in wood.
SWIRL: Swirling aerates the wine and allows oxygen to "open it up" revealing its complexities
SNIFF/ SMELL - It's essential to sniff the wine before tasting it as a wine's quality can be judged by its aroma.
SIP - Take a larger than normal sip and hold it in your mouth for 3-5 seconds to taste the characteristics of the wine's flavor: sweetness, bitterness, fruitiness, alcohol…
SAVOR - The taste doesn't just stop once you swallow the wine. The finish is the duration of time the essence of the wine lingers and stays with you. A long finish is ideal, especially when the overall taste of the wine leaves you craving another sip.



PLEASE WINE TASTE RESPONSIBLY
We wish for all our clients to enjoy our Tuscany wine tours. Only guests who are of legal drinking age in Italy can participate in wine tastings. Guests who are not of legal drinking age or do not wish to participate in wine tastings can enjoy sightseeing and a leisurely visit to the winery.
For your enjoyment of this tour, we urge you to please wine taste responsibly and never on an empty stomach. Please evaluate your personal tolerance of wine consumption and refrain from overindulging as it will interfere with your enjoyment of this tour.
RomeCabs does not accept responsibility for guests' personal wine tasting decisions should they be excessive and interfere with their tour enjoyment. Guests who overindulge and wish to return back to their hotel sooner will not be reimbursed for shortening their tour.
TUSCANY WINE TOUR - INTERESTING WINE INFORMATION
NECTAR OF THE GODS - a brief history of wine

In classical Greek mythology, wine was named the nectar of the gods with the Greek pagan god Dionisos (known as Bacchus in Roman mythology) credited with discovering the vine and inventing wine. In ancient Egypt, wine consumption was reserved for pharaohs, nobles, or priests, and its use was designated to religious rituals and worship of certain gods. Ritual wine was part of Jewish practice since Biblical times, and in the Christian religion bread and wine are symbolically converted into the body and blood of Christ during the ritual of Communion.

Ancient Greek historian Thucydides is quoted as having stated that "the peoples of the Mediterranean began to emerge from barbarism when they learned to cultivate the olive and the vine".
While grape consumption and winemaking date back to ancient times approximately 7000 BC, nearly 5,000 years passed without any written records about viniculture ever found. Historians believe that Phoenicians extended their knowledge of winemaking to Greece and Italy, while Romans had an immense impact on the development of viticulture and innovative winemaking methods. Virtually all major wine-producing regions of Western Europe today were established during the Roman Imperial era when wine was an integral part of Roman life.

In the middle ages, European monks such as the Benedictines and Cistercians maintained the tradition of winemaking considering that wine was also necessary for Catholic mass. During the emergence of the Renaissance era wine became appreciated as a more sophisticated alternative to beer and winemaking began to diversify.

The golden age of wine thanks to improved production techniques of the 17th and 18th centuries resulted in the emergence of finer qualities of wine, and the creation of glass wine bottles with corks and corkscrews. The past 150 years have seen winemaking revolutionized as an art and science due to newly invented technologies that help ensure a consistent supply of quality wines. Harvesting machines allowed wine producers to increase the size of their vineyards and efficient harvesting, refrigeration granted access to temperature controls of the fermentation process, and production of high-quality wines in hot climates

Wine has been made in Italy for at least 4,000 years, and today's wineries benefit from both inherited and learned experiences that stretch from the ancient to the industrial eras. Combining ancestral knowledge with cutting-edge technologies made Italy a leader in winemaking (19% of global wine production) and Italian wines one of the highest qualities in the world.
How is Vino Nobile di MONTEPULCIANO made
Montepulciano's reds are generally made from a minimum of 70% Sangiovese and other varieties such as up to 20% Canaiolo and a small amount of other local varieties such as Colorino and Mammolo. The addition of these other grape varieties renders Montepulciano's reds a little softer when young than Montalcino's reds. Many producers also choose to make their top Nobile from 100% Sangiovese grape. The aging of Vino Nobile of Montepulciano is a minimum of 2 years (3 years for riserva), of which 12 months are in oak barrels. The long aging period gives the wine balance and roundness.
Vino Nobile di Montepulciano has also been exalted to the prestigious DOCG status - Denominazione di Origine Controllata e Garantita, guaranteeing its exceptionally high-quality standard.

Learn more about the history and characteristics of Vino Nobile of Montepulciano wine.
The History of BRUNELLO DI MONTALCINO and how it's made
Brunello wine is a fairly new "invention" brought forth in the mid-1800s when Clemente Santi set out to diversify local wine production at this Il Greppo Tuscan estate using barrels and careful selections for making wine suitable for aging. His experiments yielded a rich deep reddish-brown hue "bruno" colored wine that was christened Brunello.
The birth of Brunello di Montalcino was in the 1860s when this select red wine received awards for its distinctiveness and inclination towards longevity set it apart from other Sangiovese grape wines. The success of this delectable wine is credited to Clemente's grandson Ferruccio Biondi Santi who, in the late 19th century, built on the previous invention and created the formula for Brunello made purely from the Sangiovese Grosso grape.
According to production disciplinary, Brunello di Montalcino must age a minimum of 2 years (24 months) in cask, and longer for reserve wines. Brunello di Montalcino is characterized by a strong robust structure and was also the first wine to be granted the coveted Italian DOCG status ( Denominazione di Origine Controllata e Garantita ).
LEGEND of SANT' ANTIMO ABBEY
Sant'Antimo is an ancient abbey founded, according to legend, by Emperor Charlemagne in 791 AD when he and his army stopped here on their way back from Rome afflicted by a pestilence. Legend tells us an angel appeared to Charlemagne advising him of a cure in form of an infusion made with a local herb. The cure helped restore their health, and in gratitude, the king built a church here in 781 AD in honor of this miracle.
The existence of the Abbey was recorded in the year 814 when Charlemagne's successor, Louis the Pious, issued a diploma that bestowed upon the abbey goods and privileges, and also appears in a document of Emperor Henry III in 1051.

Today the special recipe of Sant'Antimo is made with this same herb whose origins are intertwined with the legend of the foundation of the abbey: the essence of the Carlina.
As true nature lovers, the monks also produce honey, jams, candies, liquors, artisan beer, medicinal herbs, herbal teas, and body care products using recipes from centuries-old monastic herbal tradition and exclusive recipes of the Abbey.