Buongiorno and welcome to Stefano's RomeCabs, Rome's leading company for private luxury tours. We've taken thousands of excited travelers to Tuscany on our Pienza and Montepulciano private tour from Rome since the early 2000s. Montepulciano is also featured in many of our Tuscany wine tours from Rome for good reason: for centuries, Montepulciano has been hailed as "King of All Wines" for producing world-class wines, particularly Vino Nobile di Montepulciano.

In 1980, Vino Nobile of Montepulciano became the first wine in Italy to be bestowed with the D.O.C.G. label (Controlled and Guaranteed Designation of Origin), which classified it amongst the most eminent wines in Italy and in the world.

What makes our Tuscany tours from Rome to Montepulciano so popular is the unique opportunity to enjoy wine tasting in Montepulciano as well as visit this remarkable town at your own pace with appreciated flexibility.

Many of the best Montepulciano wineries operate wine shops right in town for optimal convenience for travelers who wish to experience a wider variety of wines conveniently and effortlessly, without missing out on much-anticipated sightseeing adventures.

Visiting different wineries outside of the historical town of Montepulciano just to sample their wines can take up all day with lots of driving in between. Since most wineries only offer wine tastings with advance reservations at specific time slots that often overlap. Many of the top wineries are frequently booked up weeks and even months in advance, so you may not even have the chance to actually visit the wineries, let alone sample their wines.

Not having to leave Montepulciano to sample different wineries' wines means you have a greater variety of wines to choose from, more time to explore the town, and travel companions or family members who cannot or do not wish to partake in wine tasting will cherish their time visiting Montepulciano. Our "best of both worlds" Tuscany tours to Montepulciano are appreciated by both wine enthusiasts and Italy lovers alike.
Most of the wineries that made our list also have historic wine cellars (some of them are underground) where their wines are aged to perfection in large barrels. Best of all, these ancient wine cellars are also open to visitors.



The Best Montepulciano Wineries

Ercolani Winery

Located at the bottom of Montepulciano, Ercolani Winery is a must-visit because it feels like a winery-slash-gourmet shop with an amazing underground cellar filled with wine-aging barrels. Wine tasting is virtually free as are samplings of local treats.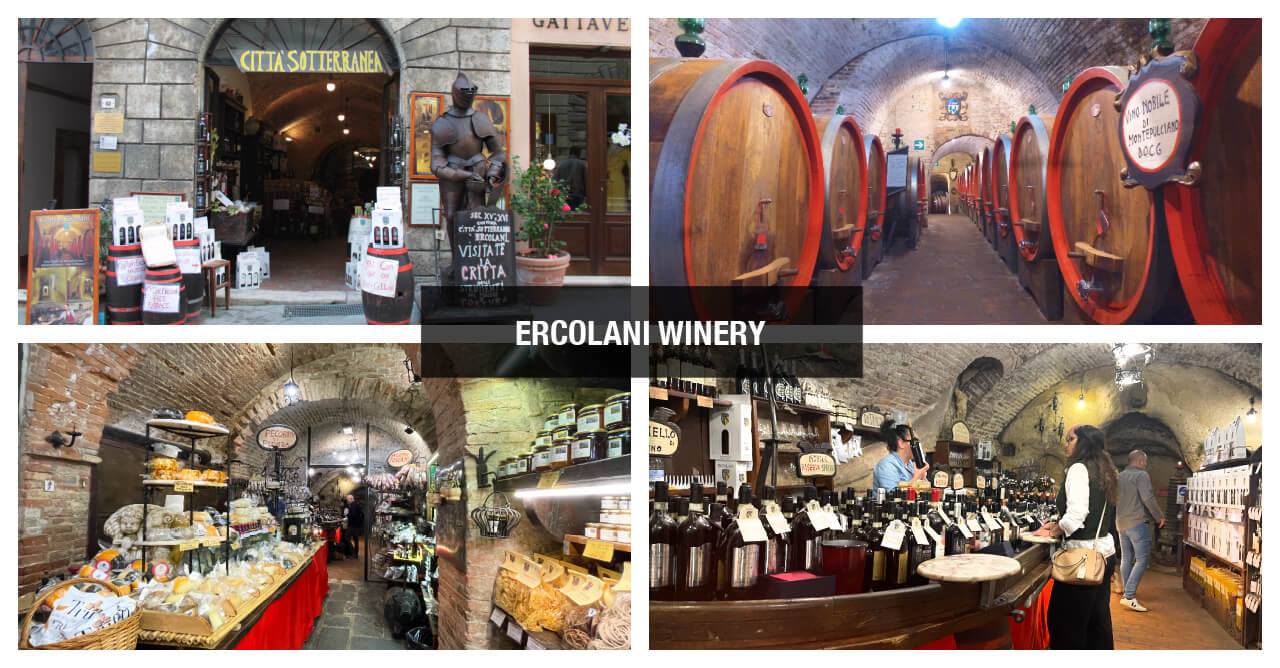 Tantalize your tastebuds by sampling Vino Nobile di Montepulciano D.O.C.G, Vin Santo D.O.C, Rosso di Montepulciano and more. Your non-wine-drinking companions will relish the local delicacies Ercolani sells ranging from various pecorino cheese, spreads, and olive oils, jams, honey, sauces, biscuits, and different kinds of pasta - an extravaganza for your palate that you can enjoy while on vacation or take home with you.

Customers are welcome to visit the aging wine cellar beneath the historical palazzo that's an ancient underground city. After you descend the medieval stone stairs, you will find yourself in a 15th-century Gothic-Renaissance expanse with vaulted ceilings, arched entrances, evocative passages, hidden crypts, tunnels, and a small museum of that exhibits ancient and vintage viticulture tools. Large oak barrels line up against the walls completing the aging process of the noble wines of Montepulciano.

In the well-stocked shop, you will be greeted by free tastings of specialties on display. A tasting room in the back allows visitors the opportunity to sample local wines, grappas, and vinsanti DOC before purchasing. Feel free to shop for those perfect bottles of wine, olive oil, and delicacies to enjoy during your vacation in Italy, or to bring home as treasured gifts to loved ones back home. Ercolani not only will help bring your purchases to your car to ease your sightseeing in Montepulciano, but they also ship worldwide to your home.


Free guided tours of the cellar and wine tastings can also be booked through Ercolani in advance at certain times.


For a fee and advance reservations, you can reserve a more exclusive experience of private cellar tours and wine tastings in ancient hidden rooms.


ADDRESS: Via di Gracciano nel Corso, 80 - 82, 53045 Montepulciano SI, Italy
OPENING HOURS: 8:00 AM - 10:00 PM every day except Christmas
CANTINA DE'RICCI
Located just down the road from Piazza Grande on top of Montepulciano on via Ricci is a grand Renaissance palace known as Palazzo Ricci, named after Ricci family whose notable relative, Cardinal Giovanni Ricci, commissioned the palazzo in 1534. The palace was built on top of previous medieval structures.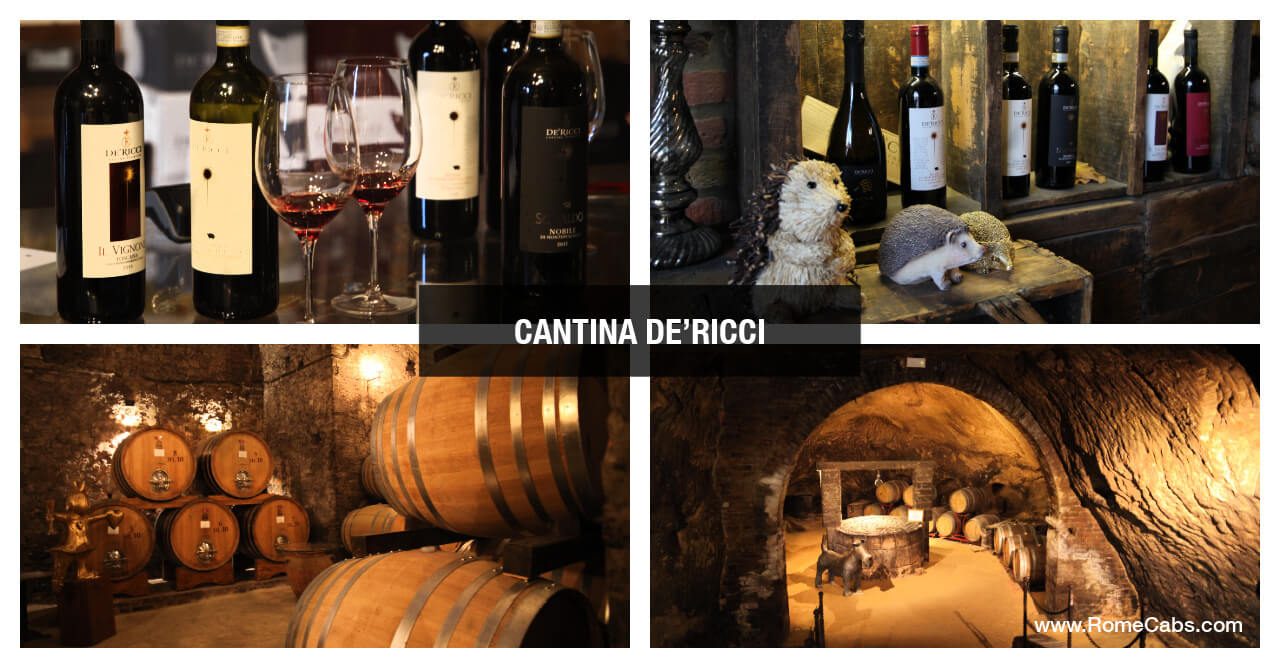 Today, Palazzo Ricci houses Cantina de'Ricci, an impressive historical cantina operated by winemaker Enrico Trabalzini. What makes Cantina de'Ricci so impressive is its magnificent underground wine cellar with immensely tall vaulted arches reminiscent of a cathedral - a cathedral of wine, if you may.

The underground structure is divided into three large spaces where rows of large Slavonian oak barrels, tonneaux, and barrique barrels of French wood age the ruby red noble wines of Montepulciano. Pathways and tunnels carved into the tuffa rock create an evocative atmosphere that will simply inspire awe.

The symbol on the de'Ricci coat of arms is a hedgehog (riccio in Italian). It is said that in the 12th century, Riccio de'Ricci was quite accomplished at predicting the weather. To avoid dangerous accusations of sorcery, he reported observing how hedgehogs gazed at the sun which helped him forecast the weather.
It seems that the prognosticating hedgehogs in Europe preceded the weather lore of "groundhog day" by centuries. Thus, his nickname "Riccio" stuck, and it was passed down to his descendants as de'Ricci with the hedgehog staring at the sun as the symbol on the family's coat of arms.
You may book your own wine cellar tour and wine tasting at Cantina de' Ricci. They offer organized cellar tour and wine tastings with advance reservations at the following time slots: 11:00 AM, 12.30 PM, 3:00 PM, and at 4:30 PM.


At the time of this writing, the cantina offers the following wine-tasting opportunities:
Guided tour of the historical cellar and tasting of 3 wines with bruschetta and their extra virgin olive oil along with some Tuscan cheese and salami at 15 EUROS Per Person.


Guided tour of the historical cellar and tasting of 6 wines with bruschetta and their extra virgin olive oil along with some Tuscan cheese and salami at 20 EUROS Per Person.


For minors and participants with do not wish to partake in wine tasting, the fee is 10 EUROS Per Person.

Be sure to contact the cantina directly via phone or email for up-to-date prices, information, and to book your visit.
ADDRESS: Via Ricci, 11, 53045 Montepulciano SI, Italy
OPENING HOURS: 10:30 AM - 7 PM




PALAZZO CONTUCCI
The elegant Palazzo Contucci is located on top of Montepulciano overlooking Piazza Grande. While much more subdued than Ercolani without the fanfare, Contucci winery boasts over 1,000 years of history of winemaking when the Contucci family were cultivating grapes and making wines since the Renaissance era.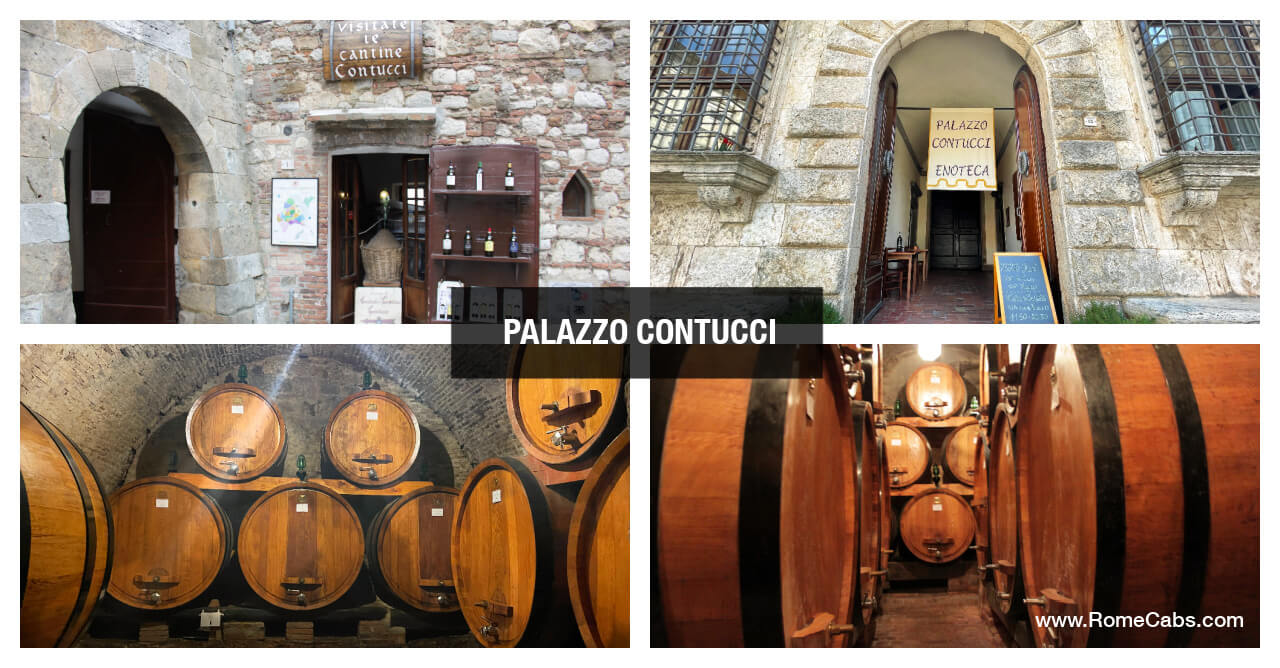 You can sense the prestige in the air and the pride of this winery which was one of the "founding fathers" of Vino Nobile of Montepulciano - "a noble wine destined for the table of nobles", as documented in 1773.
The Contucci family has resided in Montepulciano for over 1,000 years, and they own and run the winery. Contucci's ancient cellars in the town center are a must-see for visitors.
The fine historic cellars spread across a warren of passages that host large oak barrels for aging all the wines produced by the estate. In addition to producing about 100,000 bottles annually, the estate also produces Extra Virgin Olive Oil.
Visitors with the intention to purchase wine can sample some of the estate's wines for free in the wine tasting room.


Visitors without the intention to buy wine can visit the cantina and purchase wine by the glass along with a platter of local specialties enjoyed at a table overlooking the square.

ADDRESS: Via del Teatro, 1, 53045 Montepulciano SI, Italy
OPENING HOURS: 11:00 AM to 6:30 PM
ENOLITECA VINO NOBILE MONTEPULCIANO
While not a winery, Enoliteca is a wine consortium of more than 100 labels of the appellation.
The consortium officially opened in 2016 in the ancient Fortezza Medicea of Montepulciano to mark the 50th anniversary of the DOC appellation (Denominazione di Origine Controllata). The consortium promotes and protects the appellation in Italy and abroad with regard to all producers of the Vino Nobile DOCG to safeguard the product from counterfeiting and protect the interests of consumers as well as the producers.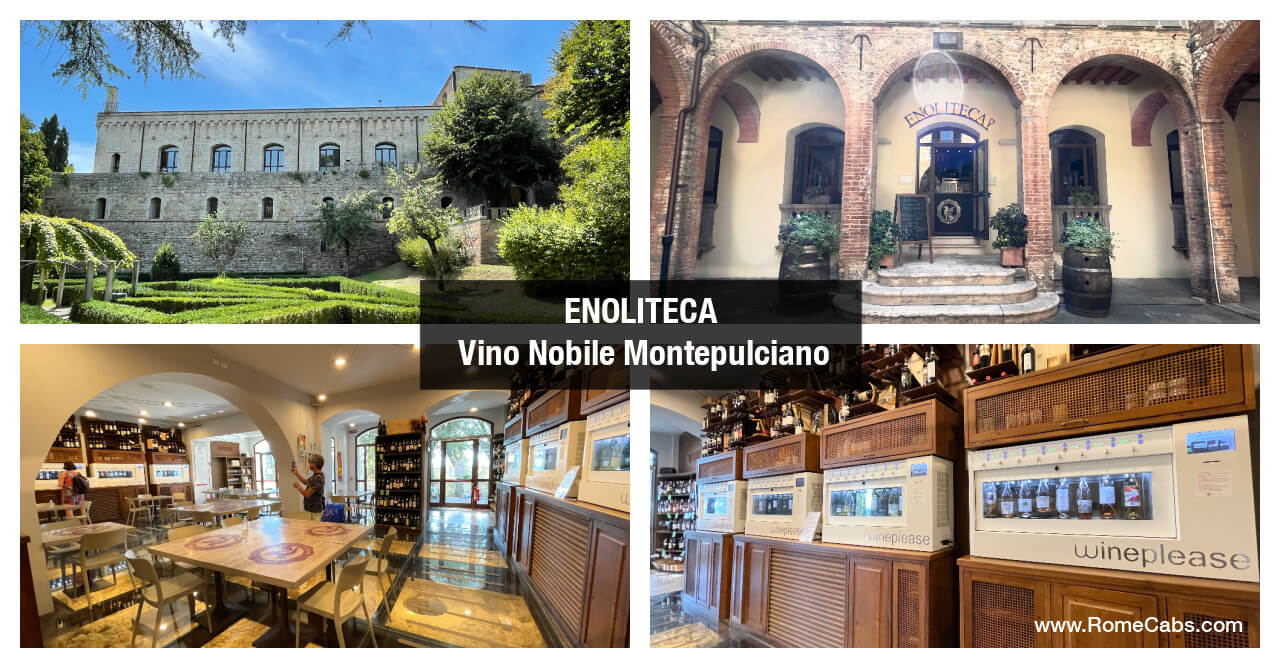 The Enoliteca Consorzio Vino Nobile inside the imposing fortress is the perfect wine-tasting venue for the independent wine aficionado with individual preferences and who enjoys the DIY approach without being rushed or obligated to buy. At Enoliteca wine tasting is entirely self-serve from sophisticated wine dispensers designed to be used with rechargeable cards to keep track of your pours.

For guests who wish to familiarize themselves with any of the more than 100 different bottles of wine, the tastings are available as "a taste" or "a glass". In addition, the establishment also offers a selection of local products, a coffee bar, and expert staff to assist if needed.

The first thing you will probably notice when entering the Enoliteca (apart from the walls adorned with wines and wine dispensers) is the glass floor that enables visitors to admire the subterranean archaeological findings which contained artifacts dating back to the Etruscan and Roman eras reminding you of Montepulciano's ancient heritage.

The Enoliteca also overlooks the cloister of the fortress and opens up to a beautiful internal garden with a panoramic view of the Temple of San Biagio, and the valleys of Val di Chiana and Val d'Orcia. Steeped in history, art, and enthralling landscapes, this is one of the best and most unique ways to become acquainted with the esteemed Vino Nobile di Montepulciano.


ADDRESS: Via S. Donato 21 / Fortezza di Montepulciano / 53045 Montepulciano
OPENING HOURS: 11 AM - 9 PM


CANTINA CHIACCHIERA

We included this small wine-tasting venue, Cantina Chiacchiera, for its quirky charm and simplicity. Chiacchiera is a newly founded small family-owned winery that operates a quaint wine shop in town. Its quirky name adds to its charm. Chiacchiera translates to "chat".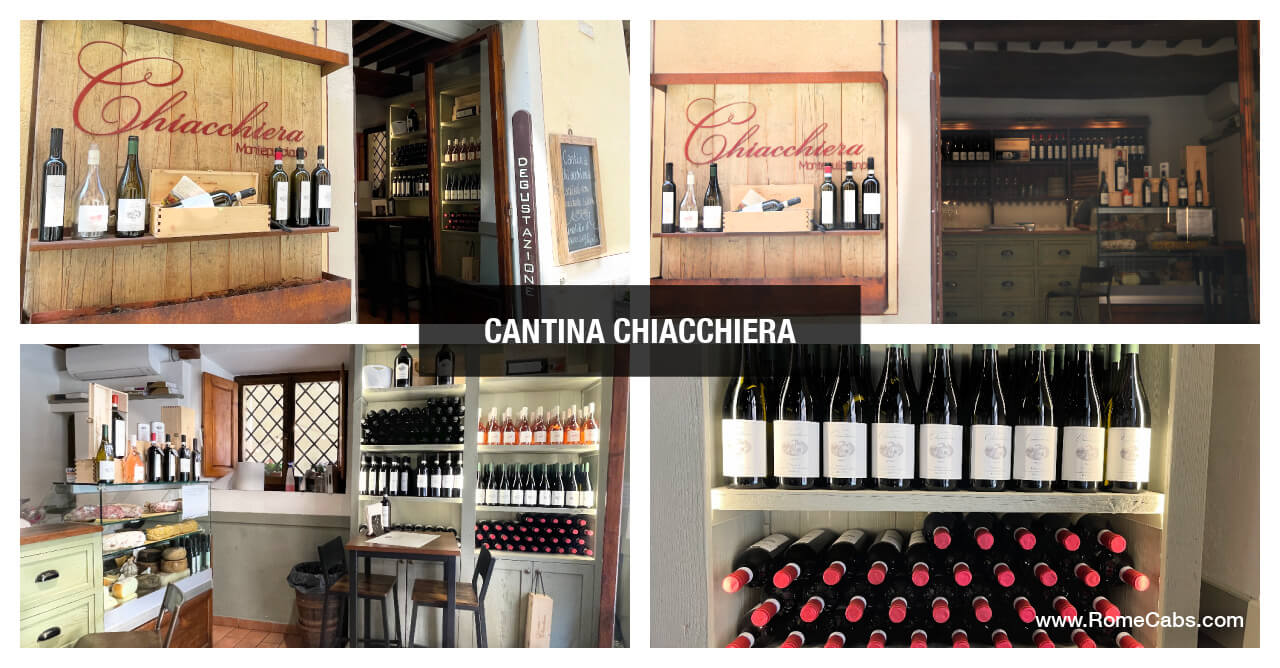 The name "Chiacchiera" was given by elder Mario as a nickname because his guests were enchanted by his conversation, just as a good wine should enchant those who drink it.

While the winery itself is in the locality of Cervognano in the hills of Montepulciano, their wine shop is centrally located in Montepulciano making their wines easily accessible to many. The charming cafe-style retro-decorated wine-tasting pit stop beckons visitors to take a break from their sightseeing. Grab a sidewalk table, sample their wines, relish a plate of locally sourced specialties and watch the world go by. You may even enjoy a chiacchiera with fellow travelers over a good glass of wine.

For a nominal fee, you may sample the winery's Toscana Rosso, Rosso di Montepulciano DOCG, Vino Nobile di Montepulciano DOCG, Vino Nobile di Montepulciano Riserva, Toscana Bianco (white wine from Trebbiano Toscano, Malvasia, Grechetto grapes. Wine-tasting prices are written with chalk on a blackboard.

ADDRESS: Via di Voltaia Nel Corso, 50, 53045 Montepulciano SI, Italy
OPENING HOURS: 11.00 am to 8:00pm
ALSO READ from our Italy Travel Blogs:

Please be sure to revisit this blog as more wine-tasting venues make our Best Montepulciano Wineries list.
We also invite you to visit our website and browse through our ever-growing collection of Private Wine Tasting Tours from Rome.
Thank you for choosing Stefano's RomeCabs for your Italy private tours and excursions. We look forward to showing you beautiful places in Italy!
* Find us online also on: