duration:8 hours

Payment method:Cash, Paypal, Credit card

starting time:8:30 AM
highlights
Fun-filled wine-tasting shore excursion from Civitavecchia to Umbria
You will travel comfortably in your private deluxe vehicle
Visit a certified organic winery estate in the Umbrian hills
Winery visit takes place between 10:30 AM to 12:00 PM
Savor traditional wine tasting and learn about winemaking techniques
Enjoy free time on your own for lunch and sightseeing in Orvieto
Our Wine Tours from Civitavecchia are private just for you and your party for optimal tour enjoyment, comfort
We make wine-tasting shore excursions from Civitavecchia easy with Pier-side pick-up and drop-off
This tour does NOT include a Tour Guide, you will Self Tour in Orvieto when away from the vehicle
* Winery fees are NOT included in our tour price (* See below)
** This tour is offered AS IS without modifications to towns or wineries.
** This Tour has a 7-DAY CANCELATION Policy for Refund
*** Please read ALL the information on the tour page before booking to ensure this tour meets your expectations. If you have any unanswered questions let us know. Tour Requests are confirmed based on availability.
itinerary
Winery visit in Umbra
Lunch and sightseeing in Orvieto
included
Private deluxe vehicle
English speaking driver
All VAT and Italy taxes
Highway Tolls
Parking fees
not included
Lunch
Winery Fees (* 35 Euros Per Person for standard wine tasting)
Admission Tickets if you visit sites that require them
Gratuities (*if pleased with the service received from your driver)
description

On our Orvieto with Wine Tasting tour from Civitavecchia, you will visit an esteemed family-owned certified organic winery estate nestled in the Umbrian hills where you will savor elegant locally produced wines. Then, you will venture to Orvieto where you will enjoy free time on your own for lunch and sightseeing.
This is an idyllic wine-tasting shore excursion from Civitavecchia for both wine lovers and cruisers who wish to experience rarely-seen Italy and savor the flavors of Umbria.
ORVIETO WINE TASTING TOUR FROM CIVITAVECCHIA Price List


Minimum 2 Persons from Civitavecchia Port: 590 EUROS
For up to 4 Persons from Civitavecchia Port: 650 EUROS
For up to 6 Persons from Civitavecchia Port: 690 EUROS
For up to 8 Persons from Civitavecchia Port: 750 EUROS


* Prices do NOT include Winery Fees (approximately 40 Euros Per Person)
** You may also do a QUICK PRICE CHECK using the Price Check & Booking Form on the Right Side of this page. Once you receive the PRICE QUOTE based on the information you input, you may proceed to SUBMIT your Tour Request.
*** Dates on the Booking Form Calendar that are NOT Selectable, are NOT AVAILABLE.


** If you are disembarking at Civitavecchia at the end of your cruise and wish to book a debarkation tour instead of a shore excursion, please book our Post Cruise Orvieto Wine Tasting Tour from Civitavecchia with pick up at your cruise ship and drop off at your hotel in Rome.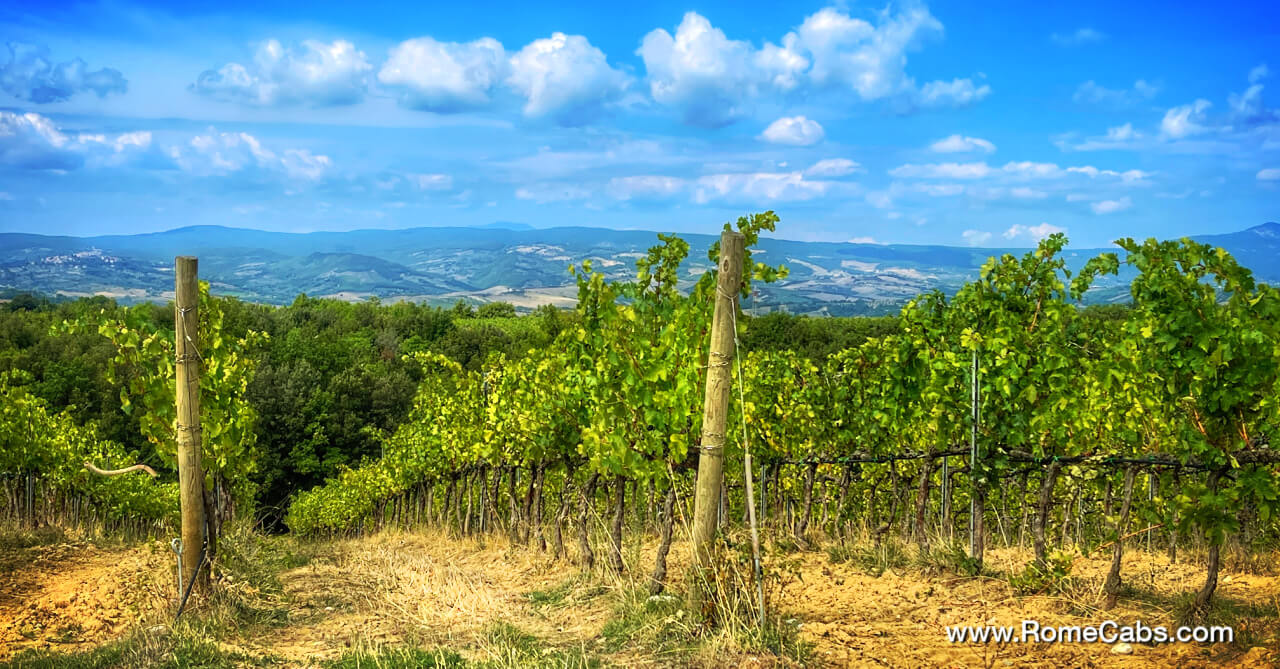 Your personal English-speaking RomeCabs Driver will pick you up on the Pier next to your ship in Civitavecchia at 8:30 AM. Your wine tasting tour from Civitavecchia begins with a relaxing drive from the cruise port traversing the beautiful countryside.
Your wine-tasting shore excursion from Civitavecchia begins with a relaxing drive from the cruise port traversing the beautiful countryside. As you make your way to the winery estate, you will travel along scenic windy country roads that weave through undulating Umbrian hills with slopes adorned with rows of vineyards and olive orchards.
Umbria Winery visit with Wine Tasting

This region of Umbria is well regarded for its fine wines since ancient times that is defined by its sandy clay soil, limestone, marine fossils, and seashells from the prehistoric Pliocene era when millions of years ago this land was submerged under the sea. This unique terroir lends the wines their vibrant taste, complexity, and structure.

The history of wine in this region of Italy is closely tied to the highly advanced ancient Etruscans: the highly advanced pre-Roman civilization that thrived in this region from the 8th century BCE to the 3rd-2nd centuries BCE. These enigmatic Etruscans introduced winemaking and grape cultivation, carving out primitive "wine cellars" into the tuffaceous rock for their wine production which grew into a flourishing trade. This ancient tradition is witnessed in the estate by the nearby ancient caves and vine graftings, both part of the Etruscan viticulture history.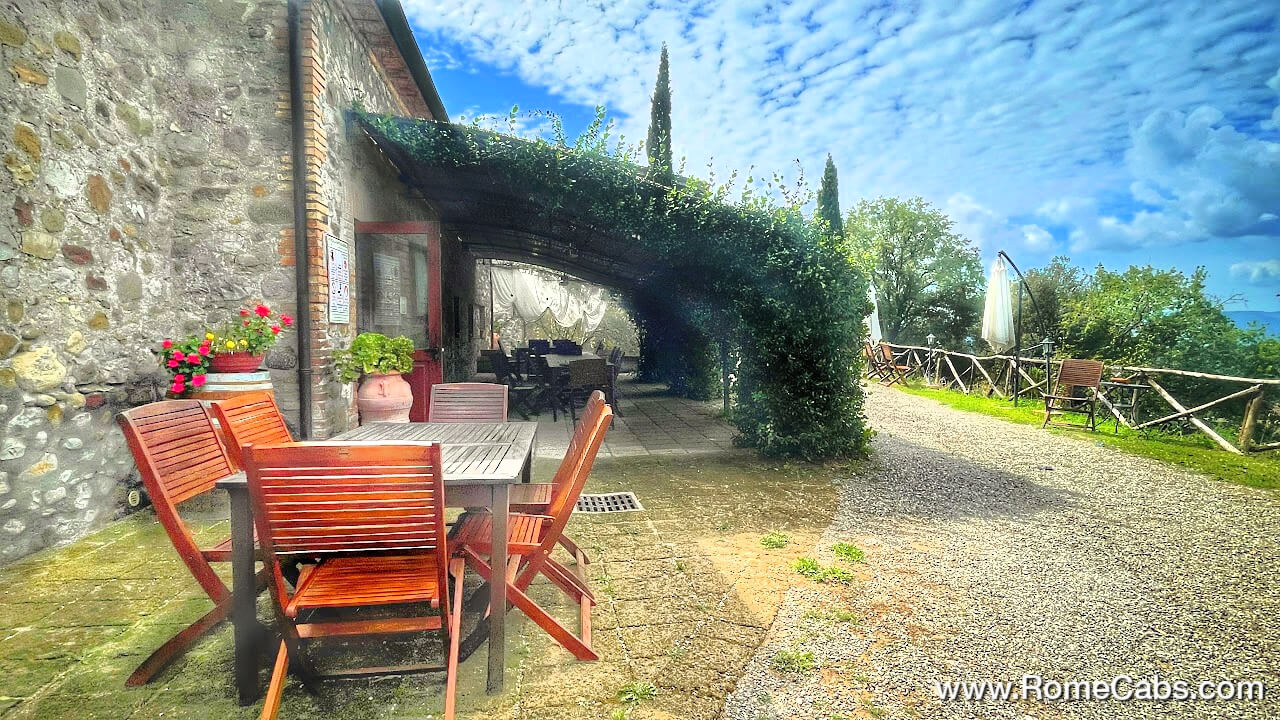 Your countryside journey will take you to a tranquil hilltop winery estate surrounded by enthralling Umbrian and Tuscan landscapes. This remarkable winery is an ideal oasis far away from civilization and very close to nature.

Delight in a joyful 1.5-hour journey through the history of this certified organic winery as you learn from the family of winemakers the traditional process of winemaking and savor a selection of 3 locally produced wines paired with bruschetta, locally sourced charcuterie, cheese, and organic extra virgin olive oil.

With every sip of wine, you can taste the history that culminates in the flavors of the authentic local wines celebrated today. Raise a glass to your unforgettable sojourn to this winery perfectly set in the idyllic Umbrian hills.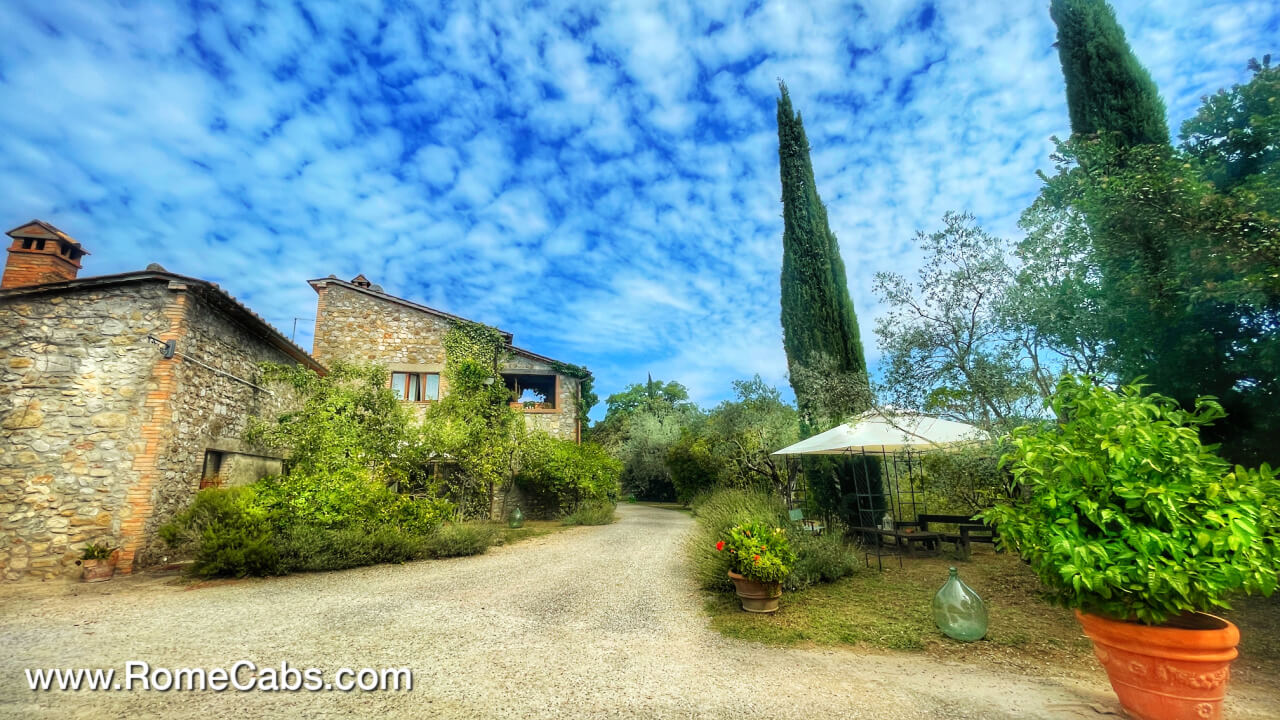 At the conclusion of your winery visit, you will once again join your driver for a 30-minute drive along scenic windy country roads to Orvieto where you will appreciate free time for lunch and sightseeing.
Winery fees are NOT included in our Tour Fee in order to offer flexibility for members of your party who are not able to partake in wine tasting. Wine Tasting and Winery Tour Fee is 40 EUROS Per Person. Winery visits must be booked in advance and are subject to availability. See BELOW for more information.
Explore the ancient city of ORVIETO


Settled on the plateau of a tall volcanic tufa rock, Orvieto overlooks an enchanting panorama of the lush Umbrian countryside comprised of a patchwork of vineyards, olive orchards, and dense forests. Orvieto is also an ancient town of Etruscan origins, delighting visitors with its delightful and well-preserved medieval setting.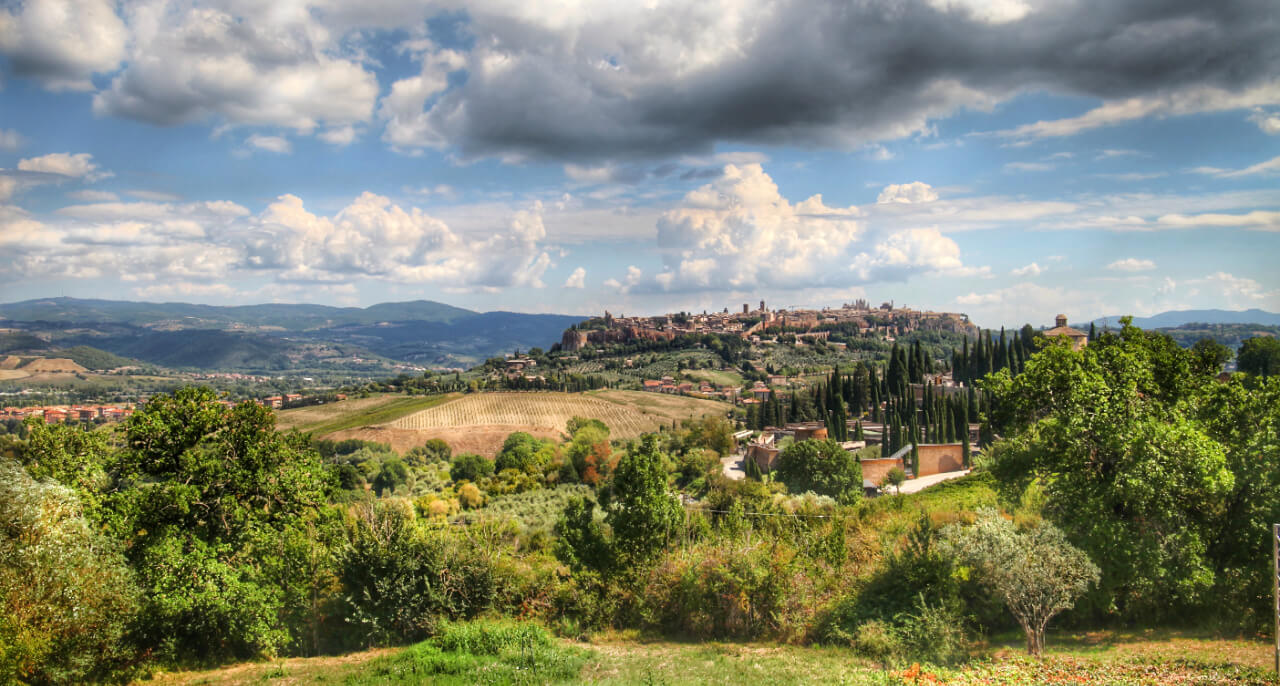 While in Orvieto, you will relish free time lunching on tasty Umbrian specialties at a local restaurant of your choice and delight in a stroll along wide pedestrian-friendly streets lined with inviting shops brimming with beautiful hand-crafted and hand-painted ceramics as well as gastronomic boutiques and cafes. Throughout the town, you will also discover local wine shops (enoteche ) for additional wine tasting opportunities and purchasing other local wines.

The late 13th-century Gothic Cathedral of Assumption of the Virgin (Cattedrale di Santa Maria Assunta ) should not be missed on any visit to Orvieto. It took 30 years to plan and 300 years to achieve the cathedral's current magnificence. The cathedral's splendent seven-story facade is bejeweled with mosaics that shimmer in the afternoon sunlight. Fine decorations with dark green and white marble strips and carvings, niches that frame life-size sculpted figures, and fine architectural details will entrance you.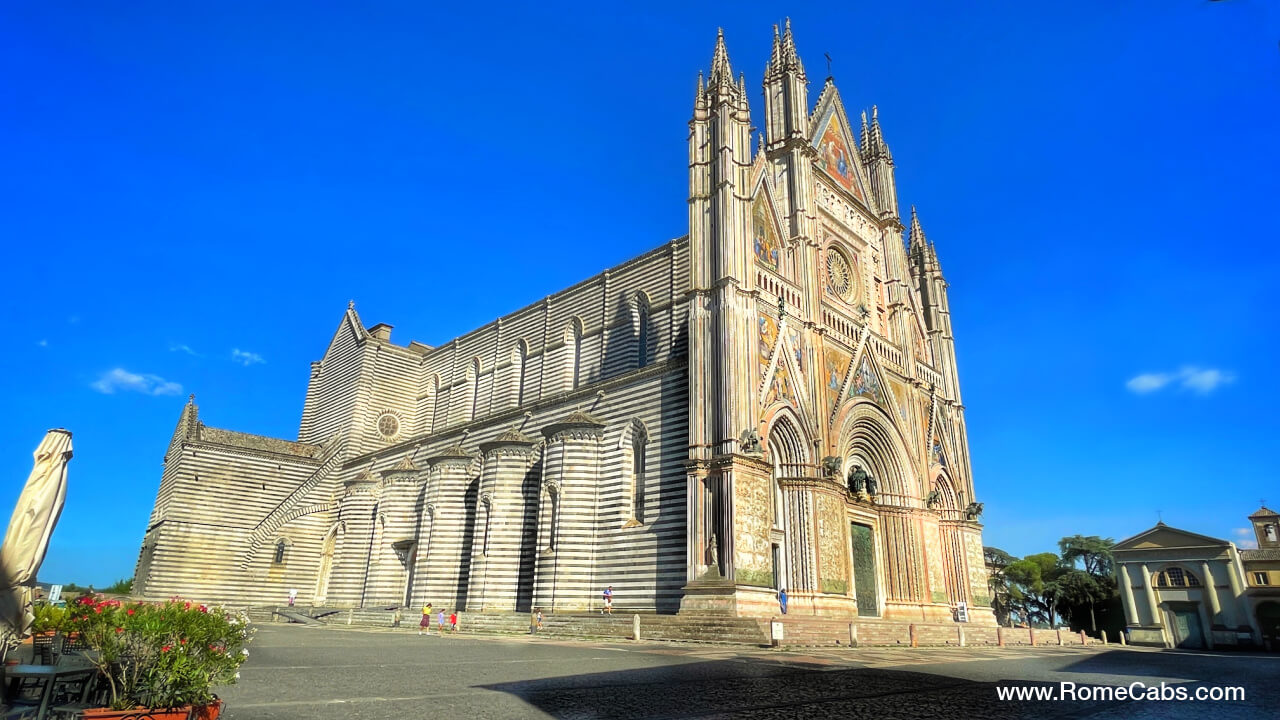 After a delicious lunch and sightseeing in Orvieto, at approximately 3:15 PM you will once again meet your personal driver ready to depart for the Port of Civitavecchia aiming to arrive back at your ship at approximately 5:00 PM. You will enjoy a relaxing drive reminiscing the exquisite sights and delicious flavors you enjoyed on your exceptional wine-tasting shore excursion to Umbria.
Important Information

PLEASE READ THE INFORMATION BELOW AND ACCEPT THE TERMS OF SERVICE AND PRIVACY POLICY BEFORE BOOKING.
PAYMENT OPTIONS for this Orvieto Wine Tasting Shore Excursion
Payment for this Orvieto wine-tasting tour from Civitavecchia can be made in EUROS directly to your driver on the Date of the Tour or prepaid in advance via PayPal or Credit Card upon request (see cancellation policy below).
Winery/wine tasting fees are paid directly to the winery and are NOT included in our Tour Fee.
If you wish to PREPAY for our tour fee you may do so online when CONFIRMING your BOOKING by SELECTING your preferred option of payment.
CANCELLATION POLICY of this Orvieto Wine Tasting Tour
All Cancellations must be made in writing to us via E-Mail and confirmed by our office at least 7 days in advance. Cancellations are not accepted by phone, text message, or 3rd party.

** Cancelations for PREPAID SERVICES will be the Reduced Net Rate we receive from your prepayment. Reduced Net Rate: actual service price minus PayPal/Credit Card fees retained by PayPal/Credit Card as they do not reimburse us the fees they retain from your payment.


** This tour is offered AS IS without modifications to the existing itinerary, towns, or winery. If you wish to make changes to the existing wine tour please send us an email and we can assist with a customized tour to suit your preferences.
WINE TASTING IN UMBRIA: Prices, information:


This winery visit includes moderate walking/standing. You may find uneven natural surfaces. The winery visit is reserved in accordance with the winery's fixed wine-tasting tour schedule which is between approximately 10:30 AM to 12:00 PM. This time frame also allows you sufficient time in Orvieto for lunch and sightseeing prior to returning to your ship. Winery visits must be booked in advance and are subject to availability.
Winery visit and wine tasting fees: approximately 40 Euros Per Person payable directly to the winery.
Winery fees are NOT included in our tour fee in order to offer flexibility and accommodate guests who cannot partake in wine tasting. Winery fees are subject to change without notice.

Casual, weather-appropriate clothing and comfortable walking footwear is recommended. Participants must be of legal drinking age (18 years) to partake in wine tasting.
Wondering what to wear to a wine tasting in Italy? Visit our travel blog for insider tips.

MEETING POINT for Shore Excursions from CIVITAVECCHIA
Your driver will meet you on the Pier next to your Ship at your scheduled pickup time holding a sign with the NAME in your reservation. Look for the driver in the same area as ALL private drivers will be waiting for their clients.

Please do NOT leave the ship area, and do NOT take a shuttle bus outside the port.



YOUR PRIVATE TOUR DRIVER

This Wine Tasting shore excursion to Umbria provides an English-speaking Driver who is NOT a licensed tour guide or a sommelier.
Italian laws permit only licensed tour guides to accompany guests to sightsee on foot away from the vehicle.
In order to comply with Italian laws, drivers are obliged by law to remain with the vehicle while guests sightsee on foot. Drivers are happy to offer basic touristic information while at the vehicle, however you will SELF TOUR on your own when away from the vehicle.
The wine experts can provide information about wines and wine production at the winery and at wine shops.

How to Taste Wine / 5 Wine Tasting Tips:


SEE - See the color, depth, and intensity of the wine in your glass. The color also indicates the types of grapes used or if the wine was aged in wood.
SWIRL: Swirling aerates the wine and allows oxygen to "open it up" revealing its complexities
SNIFF/ SMELL - It's essential to sniff the wine before tasting it as a wine's quality can be judged by its aroma.
SIP - Take a larger than-normal sip and hold it in your mouth for 3-5 seconds to taste the characteristics of the wine's flavor: sweetness, bitterness, fruitiness, alcohol...
SAVOR - The taste doesn't just end once you swallow the wine. The finish is the duration of time the essence of the wine lingers and stays with you. A long finish is ideal, especially when the overall taste of the wine leaves you craving another sip.



PLEASE WINE TASTE RESPONSIBLY

We wish for all our guests to enjoy our Orvieto wine tours, however, only guests who are of legal drinking age in Italy can participate in wine tastings. Guests who are not of legal drinking age or are unable to participate in wine tastings can enjoy sightseeing and a leisurely visit to the winery.
For your enjoyment of this wine-tasting tour, we urge you to please wine taste responsibly and never on an empty stomach. Please evaluate your personal tolerance of wine consumption and refrain from overindulging as it will interfere with your enjoyment of this shore excursion.
RomeCabs does not accept responsibility for guests' personal wine-tasting decisions should they be excessive and interfere with their tour enjoyment. Guests who overindulge and wish to return back to their ship sooner will not be reimbursed for shortening their tour.