Buongiorno and welcome to Stefano's RomeCabs, Rome's top-rating tour company for private Tuscany tours from Rome and private transfers from Rome to Tuscany top destinations.

Having provided day trips from Rome to Tuscany for almost 20 years, we believe that Tuscany is wonderful to visit any time of the year. However, we are pleased to offer some recommendations for the best time to visit Tuscany either on a vacation in Tuscany or on day trips from Rome to Tuscany.

What are the criteria for judging the best time of the year to visit Tuscany?
Weather: Avoiding cold and wet months with short daylight, as well as grueling hot months


Seasonal Landscape changes: Tuscany's landscapes change with the seasons and they can look dramatically different in the winter, spring, summer, and fall.


Tourism season: peak tourism season means higher prices for travel and accommodation and more crowds, and the risk of finding many hotels, admission tickets, and tours being sold out during the peak travel season in Italy.



What is the peak tourist season in Tuscany?


The peak tourist season in Tuscany is between June and August.

Peak tourist season is between June and August. June and July are popular summer travel months when children who are off from school and families can take vacations together. August is also busy with Italians and Europeans as August is traditionally the "summer vacation month" for many Europeans.
Summers tend to be quite hot, with temperatures often in the upper 80s and 90s. Towns and attraction venues are quite crowded in the summer.
What is off-season in Tuscany?


The off-season in Tuscany is between November and March.

From November to March, you can expect shorter days, and chilly, wet weather. Nights can be quite cold. Until about January, the landscapes are still earth-toned from the tilled soil.
After January grasses start to sprout blanketing the landscapes with a thin green veil. If you don't mind the cold wet weather and short days, you can take advantage of the lower travel prices and fewest tourists during the off-season months of November to March.

When is the best time of the year to visit Tuscany?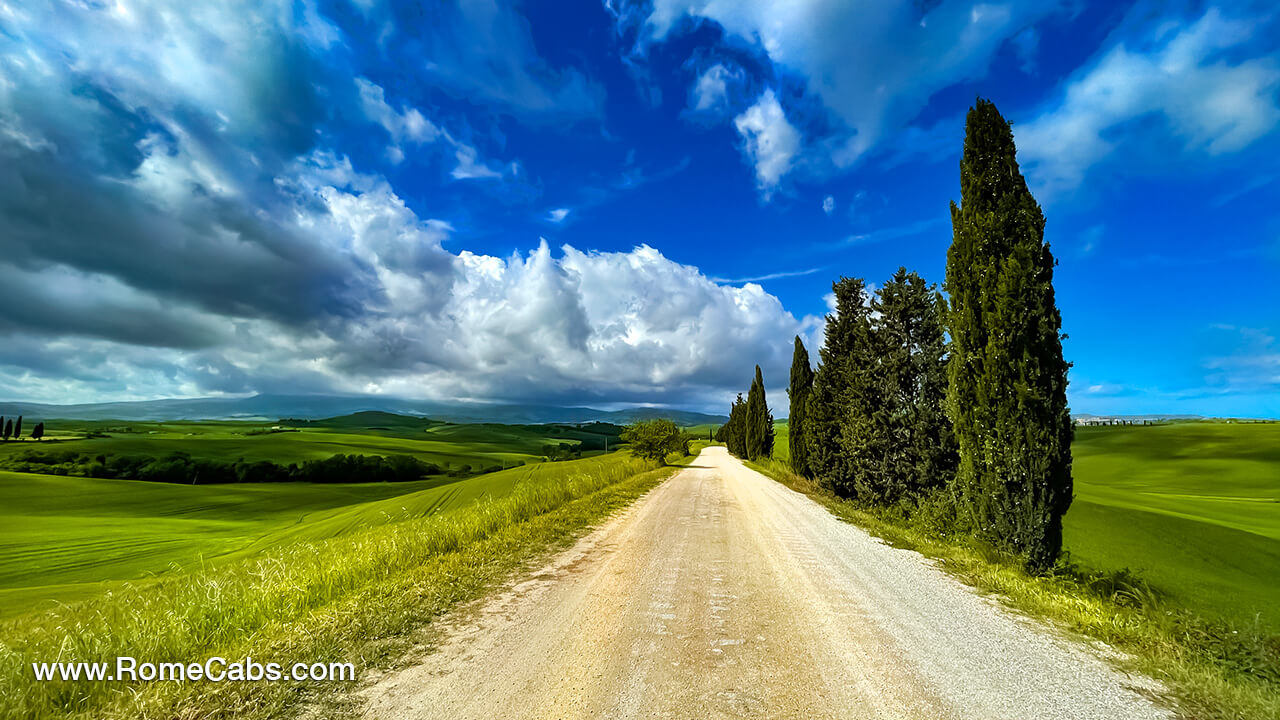 So, what is the best time of the year to visit Tuscany then?
The consensus is that the best time of the year to visit Tuscany is in the spring (April - May), June, and in the fall (September - October).
For summer travelers, we also added June as the best summer month to visit Tuscany for its own unique reasons which we discuss below.


Visiting Tuscany in the Spring

The spring months of April and May are among the best time of the year to visit Tuscany. Spring offers cool temperatures, fewer tourists, and gorgeous spring landscapes.

While April and May see their share of rainy days, they are also accompanied by longer daylight hours, warmer temperatures, flowers blooming in the meadows, and vibrantly green landscapes that give the impression of an emerald crushed velvet blanket covering Tuscany's undulating hills and valleys.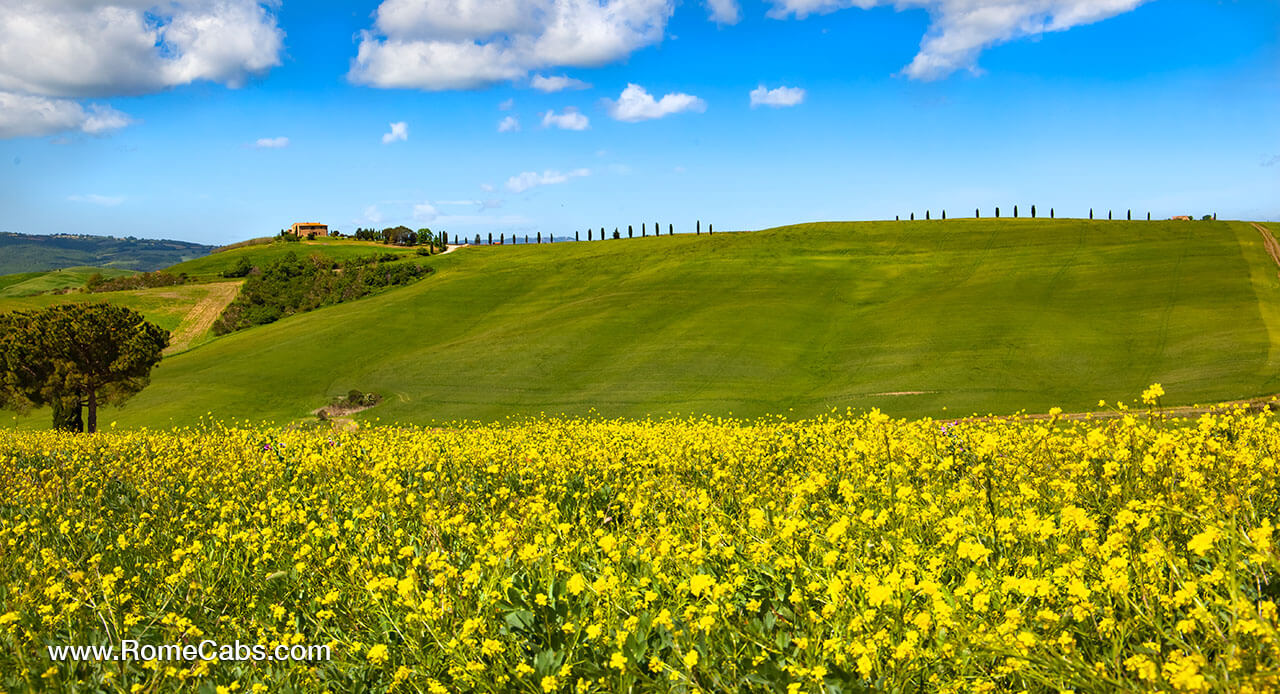 With fewer tourists traveling to Italy in April and May, it means the most popular towns and attractions in Tuscany would be less crowded with tourists.
Visiting Tuscany in June (summer)


We feel obliged to include June because it coincides with many folks' summer vacation, summer temperatures are not yet at their highest, and Tuscany is absolutely stunning in June with fields and fields of golden wheat and dry grasses that seem like a sea of gold has replaced the emerald green of spring.
Sunflowers, where cultivated, add a special charm to Tuscany's already beautiful landscapes.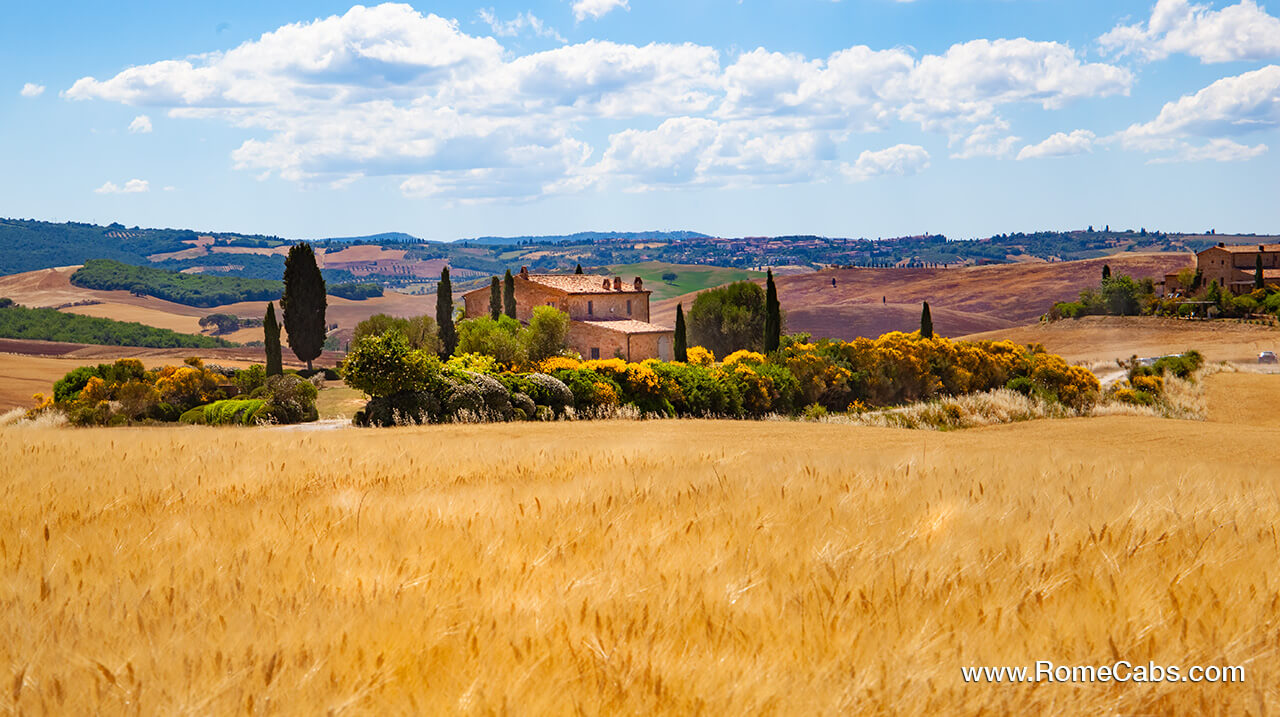 Wheat and grains get harvested from mid to late June, but if your trip to Italy happens to take place early to mid-June you can revel in Tuscany's golden splendor before it gets harvested and the soil tilled.

If you can only vacation in the summer, June would be the best summer month to visit Italy.
Best Tuscany Tours in Spring and Summer:


If you are searching for some of the best Tuscany day trips from Rome, here are some ideas.
Visiting Tuscany in the Fall

Visiting Italy in September and October has its benefits: cooler weather, sunny days, fewer tourists, and grape harvest season for winemaking is in full swing.

The weather is once again more favorable without the summer heat with temperatures ranging from 60°F to 80°F (15 - 26°C), making it more enjoyable to spend time outdoors.

With kids returning to school and family summer vacations ending, you can expect fewer tourists in Italy than in the summer months.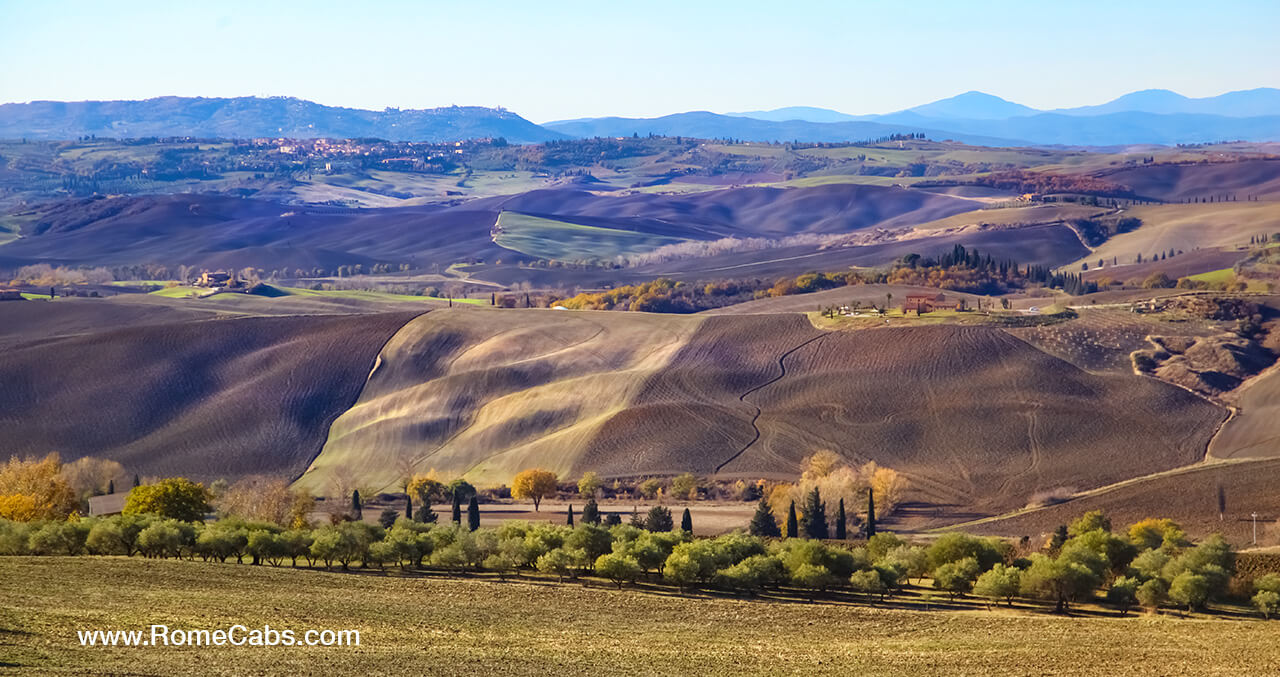 The landscapes of Tuscany in the fall are not green or golden like in the spring and summer, but earth-toned. The fields that were green with sprouting wheat and grasses in the spring and later turned golden in June are tilled, and seeds are sown in the autumn giving the landscapes the appearance of a brown-hued desert which is quite dramatic in itself.

While the pastoral fields of Tuscany are brown, the vineyards are breathtaking with leaves turning into a colorful kaleidoscope of yellows, oranges, and reds. Late August to September sees a flurry of activity with grape harvesting season (Vendemmia) where grapes are primarily hand-picked and taken to the wineries to begin their winemaking process. Wine-tasting tours to wineries are exciting in the fall months.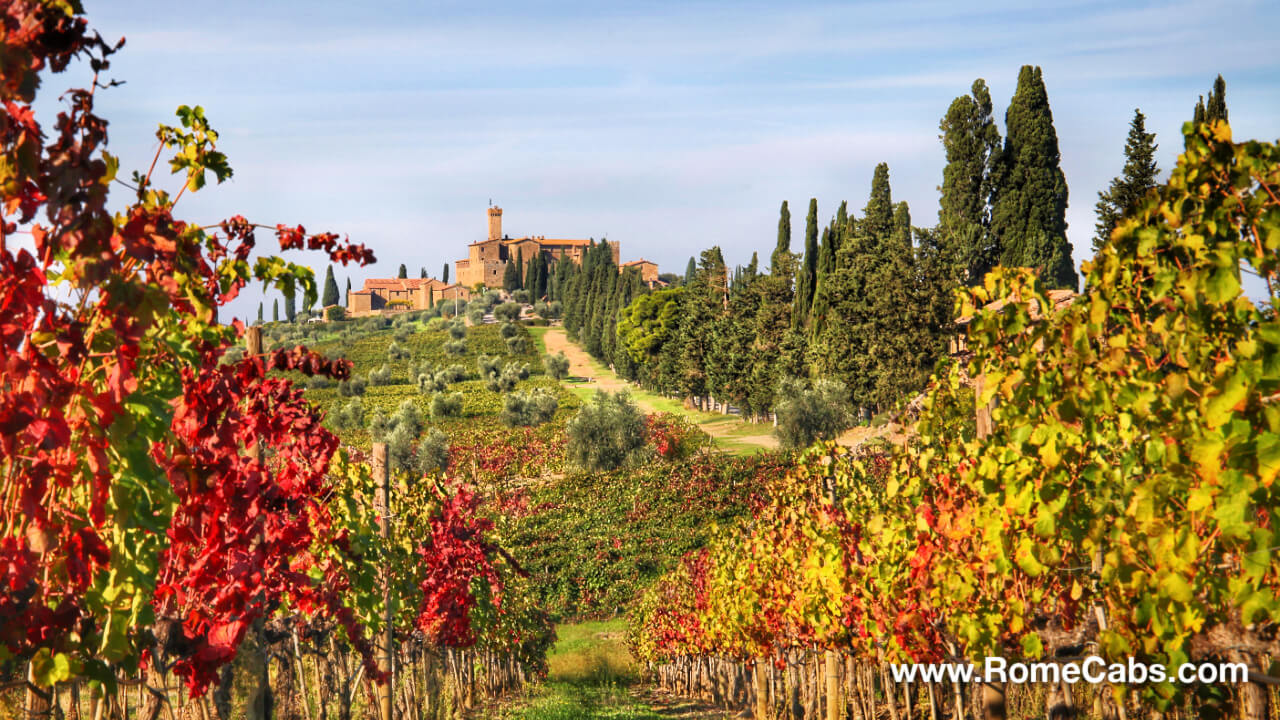 Best Tuscany Tours in the Fall:

Wine lovers will love Tuscany in the fall! There's so much to see and do on a Tuscany wine tour.

Although all our Tuscany tours are perfect in the fall, September and October are ideal months for Tuscany Wine Tours and we offer a variety to choose from!

Our most popular Tuscany Wine Tour from Rome is Nectar of the Gods with visits to Montepulciano (famous for Vino Nobile di Montepulciano wine), Montalcino (famous for Brunello di Montalcino wine), the beautiful Sant'Antimo Abbey, and visit to a wine estate for wine tasting the local wines locally produced.

If you love Brunello di Montalcino, you can't miss our Brunello di Montalcino Wine Tour from Rome to Montalcino, Sant'Antimo Abbey, and a winery visit for wine tasting.

Travelers who wish to combine Wine Tasting and sightseeing in Tuscany can book our Tuscany, Castles, and Wine Tour from Rome to Montepulciano, Montalcino, and Castello Banfi for an elegant wine-tasting experience at the castle's refined wine shop. Located in the heart of Tuscany's wine country, Castello Banfi is truly out of the pages of a fairytale!


ALSO READ: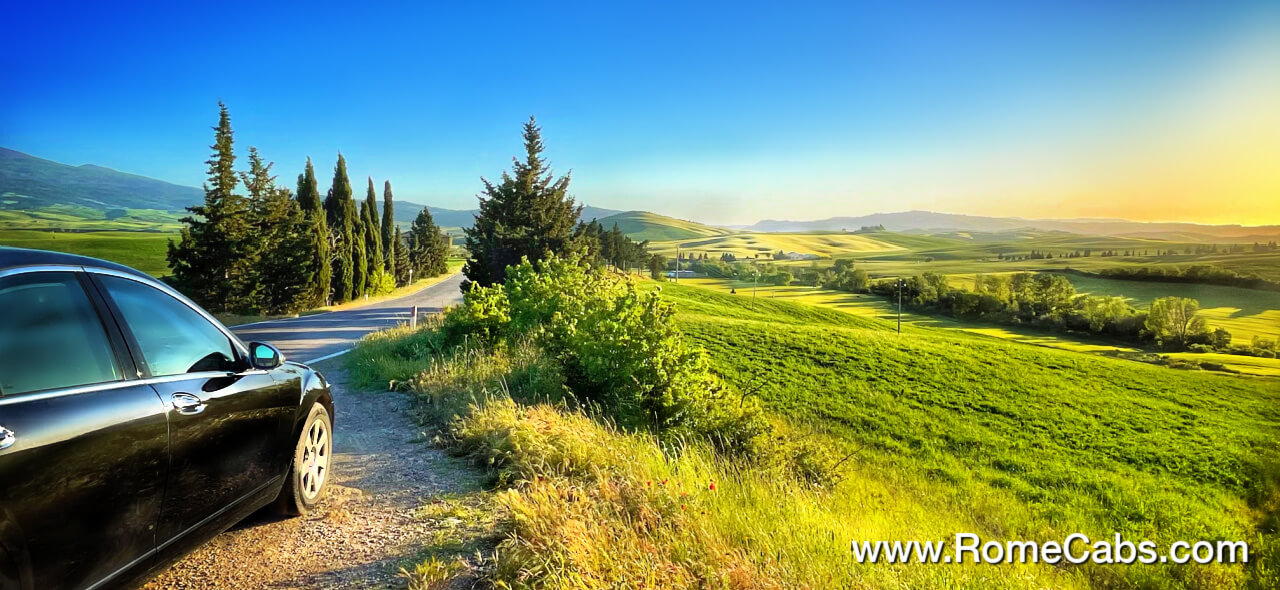 We hope this travel blog helps you with planning your next trip to Italy and choosing the best time of the year to visit Tuscany.

We invite you to visit our website for our collection of private Tours in Italy. If you have any questions about booking your day trip from Rome to Tuscany, send us an email! We will be delighted to assist with your travel plans.

Thank you for visiting our Italy blog and for choosing Stefano's RomeCabs for your private tours in Italy! We look forward to showing you beautiful places.


* Find us online also on: