Buongiorno and welcome to Stefano's RomeCabs, Rome's leading company for private Tuscany Tours from Rome and Shore Excursions from Tuscany's top cruise ports. We have toured travelers from Rome to Tuscany for more than 18 years and we have come to appreciate the quintessential Tuscan towns and villages that brim with charm and beauty.

Tuscany towns and villages possess their own unique charms, authentic flavors, picturesque views of the idyllic landscapes that surround them. Many would consider some of the towns quite romantic in their quaint charm.
If you are planning a romantic vacation to Italy that includes a trip to Tuscany, you will fall in love with these charismatic villages. Some of them are included in our Tuscany tours from Rome, but they all can be enjoyed on day trips from Rome, or on an extended stay in Tuscany.

In this travel article, we will show you (at least through words, photos, and videos) five romantic villages in Tuscany that you can visit from Rome.
5 Romantic villages in Tuscany you can visit from Rome
1. PIENZA


Overlooking the breathtaking Val d'Orcia (Valley of Orcia), the hilltop town of Pienza was the birthplace of Pope Pius II in 1405 known as Corsignano. With the expertise of architect Bernardo Rosselino and humanist Leon Battisti, Pope Pius transformed his once modest village into a 15th century Renaissance "utopian city" that we can admire when we visit Pienza today.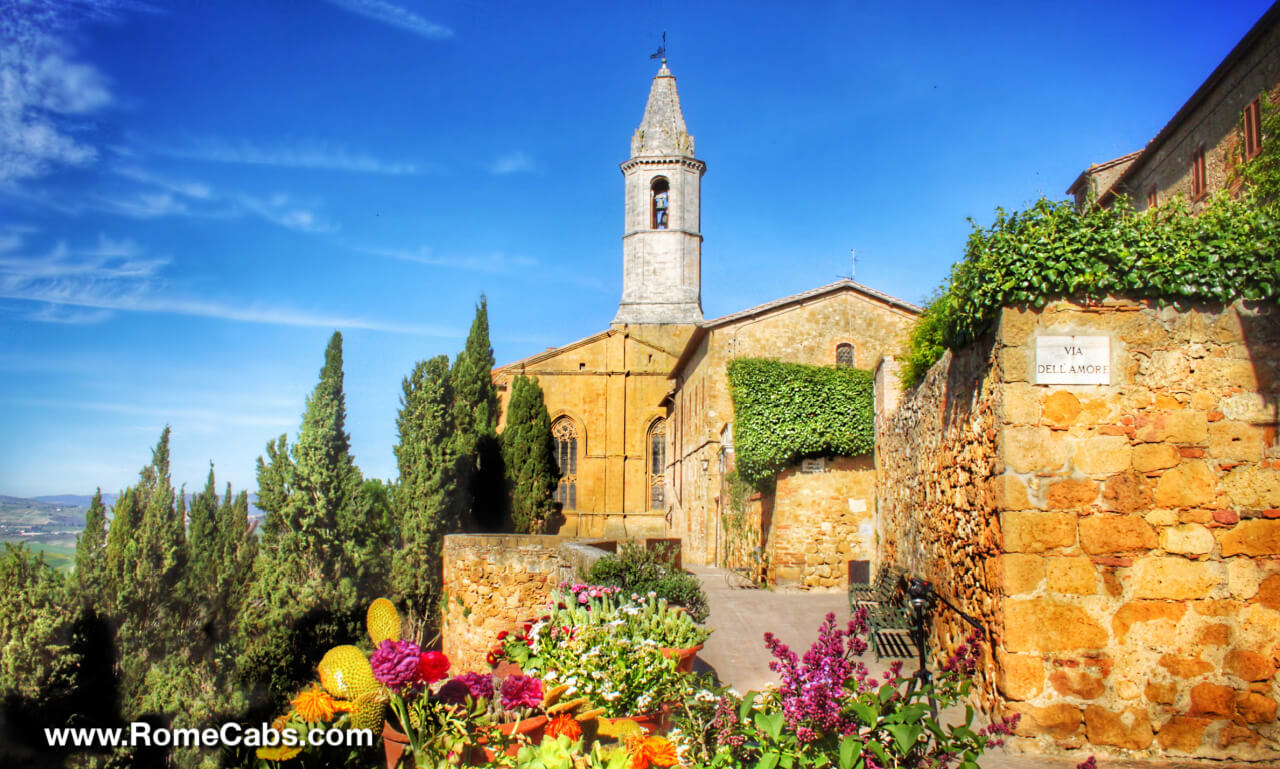 Due to its distinctive characteristics, Pienza's historic center was recognized as a World Heritage Site in 1996 (along with the Val d'Orcia that you can admire from the perimeter of the city wall).

As the historic center of Pienza is relatively small in size, it makes it very easy to explore it in a short time. Piazza Pio II is the town's main square dominated by numerous buildings on all sides including the Cathedral of the Assunta with its beautiful octagonal bell tower.

Across from the cathedral is the mid 15th century Palazzo Communale with a large impressive loggia. On the side of the square is Palazzo Piccolomini Museum with a gorgeous hanging garden that surprises the visitors with a breathtaking panorama of the surrounding Val d'Orcia.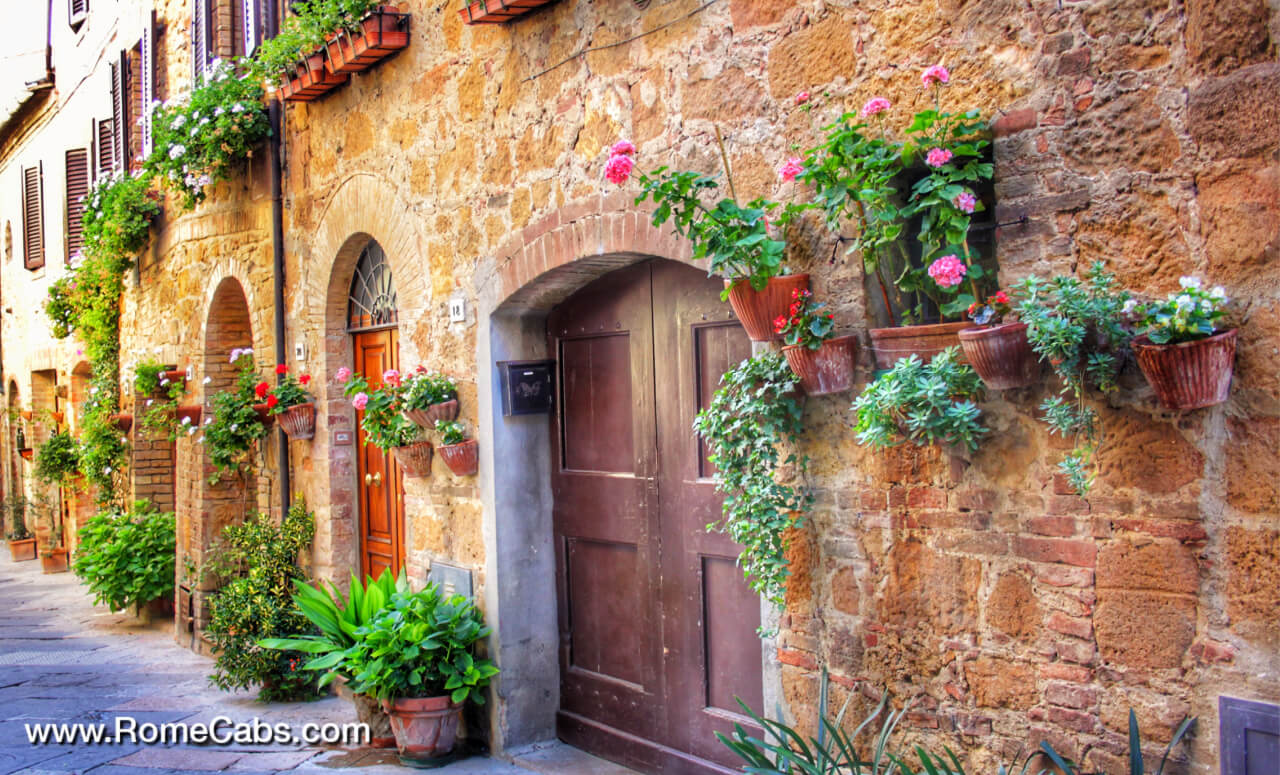 Strolls through the town will reward you with charming architecture, inviting shops and boutiques, excellent restaurants, cafes, and more! Don't miss the narrow lanes that lead you to the outer city walls overlooking Val d'Orcia with charming names like Via dell'Amore (Love street) and Via del Bacio (Kiss street) that inspire romance.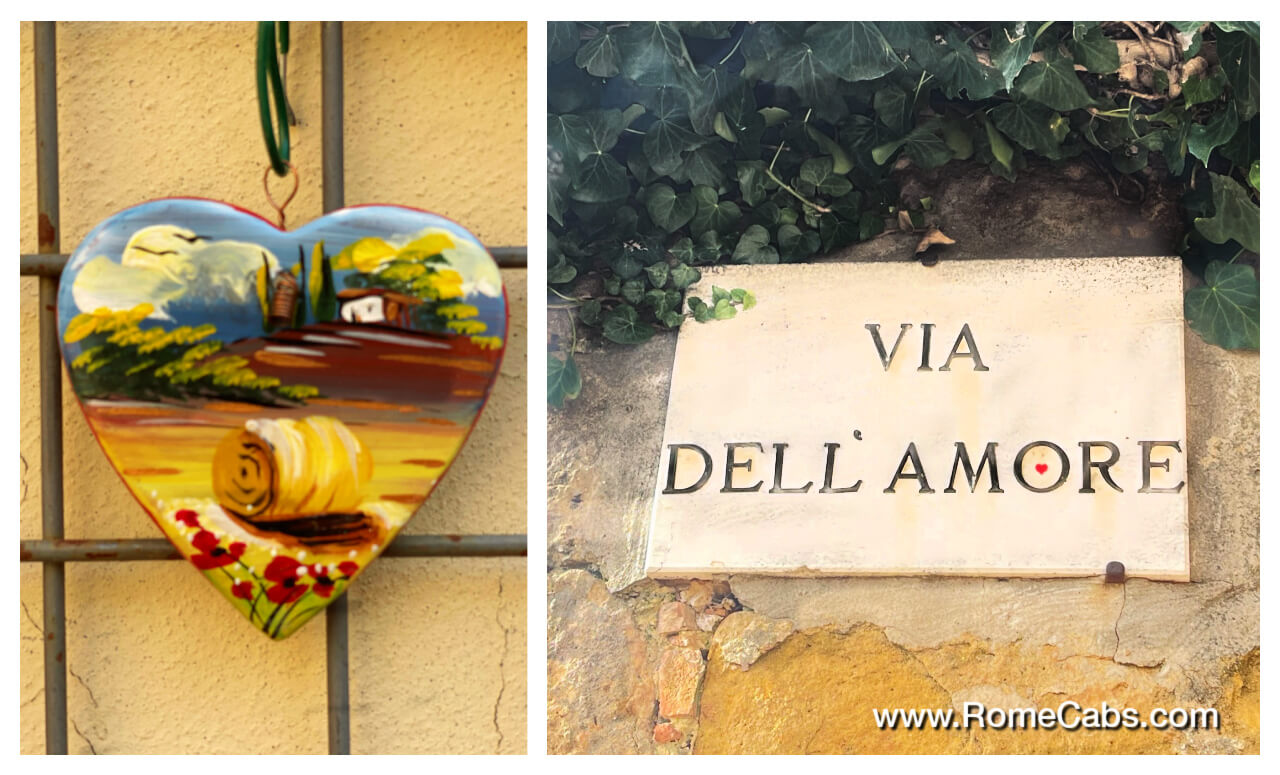 If Pienza alone will not enthrall you, the views from the outer city walls surely capture your heart. The timeless landscapes of Val d'Orcia that surround Pienza have inspired poets and artists for centuries, and in more recent times also filmmakers.
From Pienza, you can view the glorious valley that was chosen to represent the Elysian Fields in the blockbuster film The Gladiator. On our Tuscany tours that include a visit to Pienza (see below), we can show you where this field of paradise is located, and even take you there for an epic photo (if you don't mind the short hike downhill to reach it).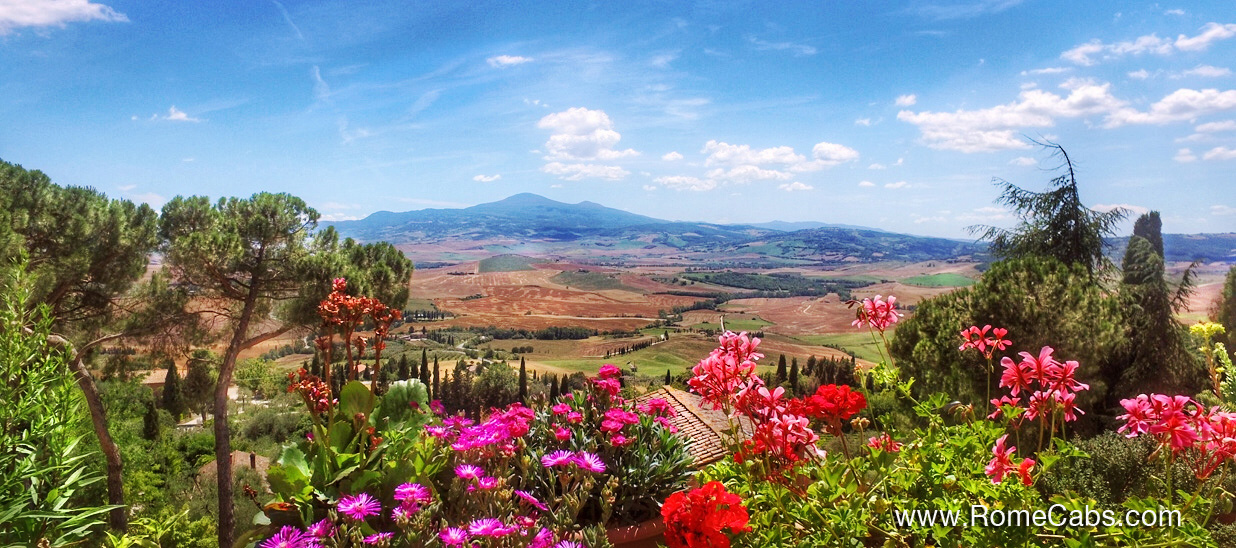 Foodies will be delighted to know that Pienza is also renowned for its delicious local cheese "pecorino di Pienza". Made with ewe's milk from local sheep that graze upon the nearby lush pastoral grasslands lends a distinct flavor that has made the pecorino of Pienza famous worldwide. Visit the numerous shops that sell soft and buttery fresh pecorino (pecorino fresco) and various aged cheeses (pecorino stagionato) mixed with various subtle flavors that will surely please discerning palates.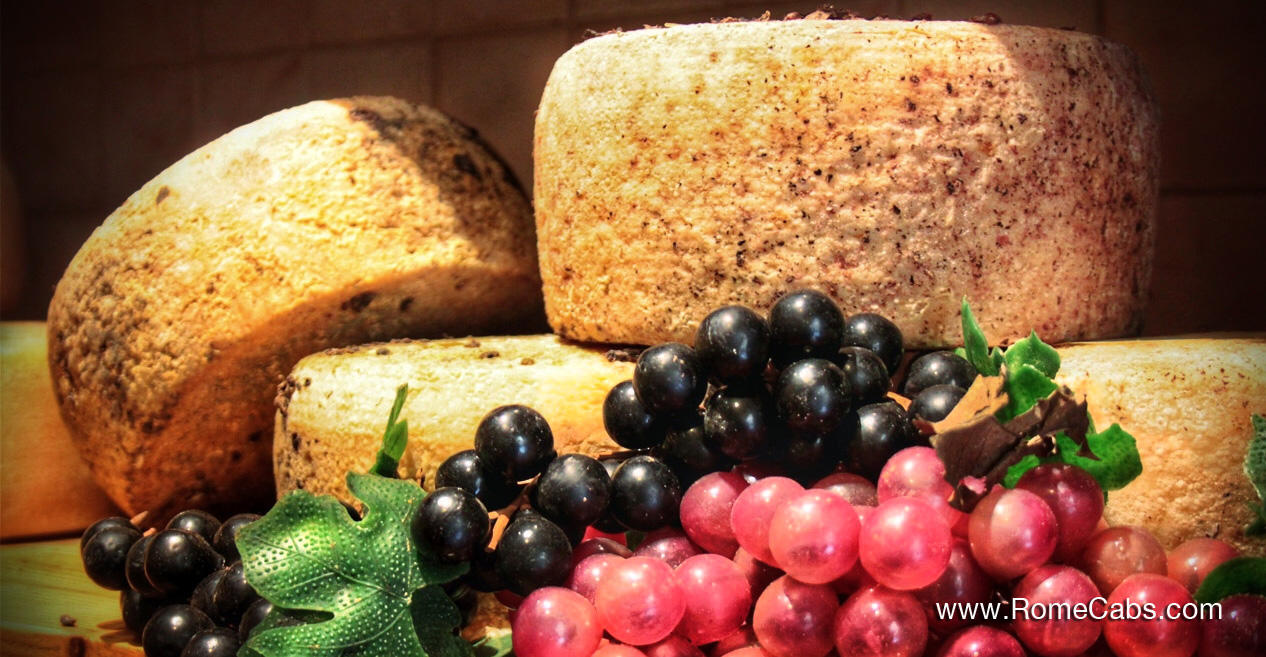 Pienza has always been a favorite on our Tuscany tours from Rome, we are sure you will love it as well.

What else you can see near Pienza:


Montepulciano, Montalcino, Montichiello, Bagno Vignoni

Tuscany Tours to Pienza:
2. MONTICCHIELLO


Not far from Pienza in the heart of Valley of Orcia (Val d'Orcia) lies the historic village of Monticchiello boasting medieval fortresses, sturdy defensive walls, and towers that serve as powerful reminders of the village's tempestuous past yet recalls distant times that fairytales are made of.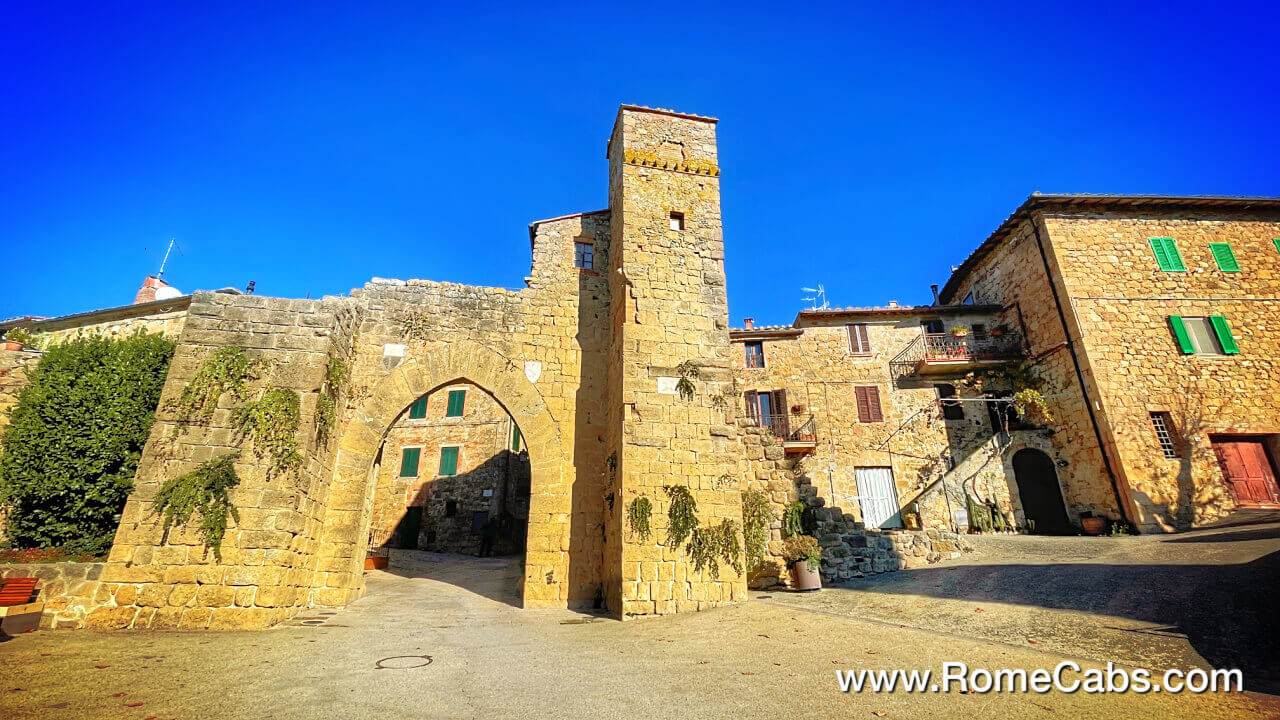 Known as the Terrace of Valley of Orcia (Terrazza della Val d'Orcia), Monticchiello offers mesmerizing panoramic views of the valley and Pienza in the distance. In fact, there is a terrace with benches where you too may take a front-row seat and admire this picture-perfect view before you.
If you gaze to the right, you will see Pienza in the distance on top of a glorious gentle hill looking over the expanse of this enchanting valley.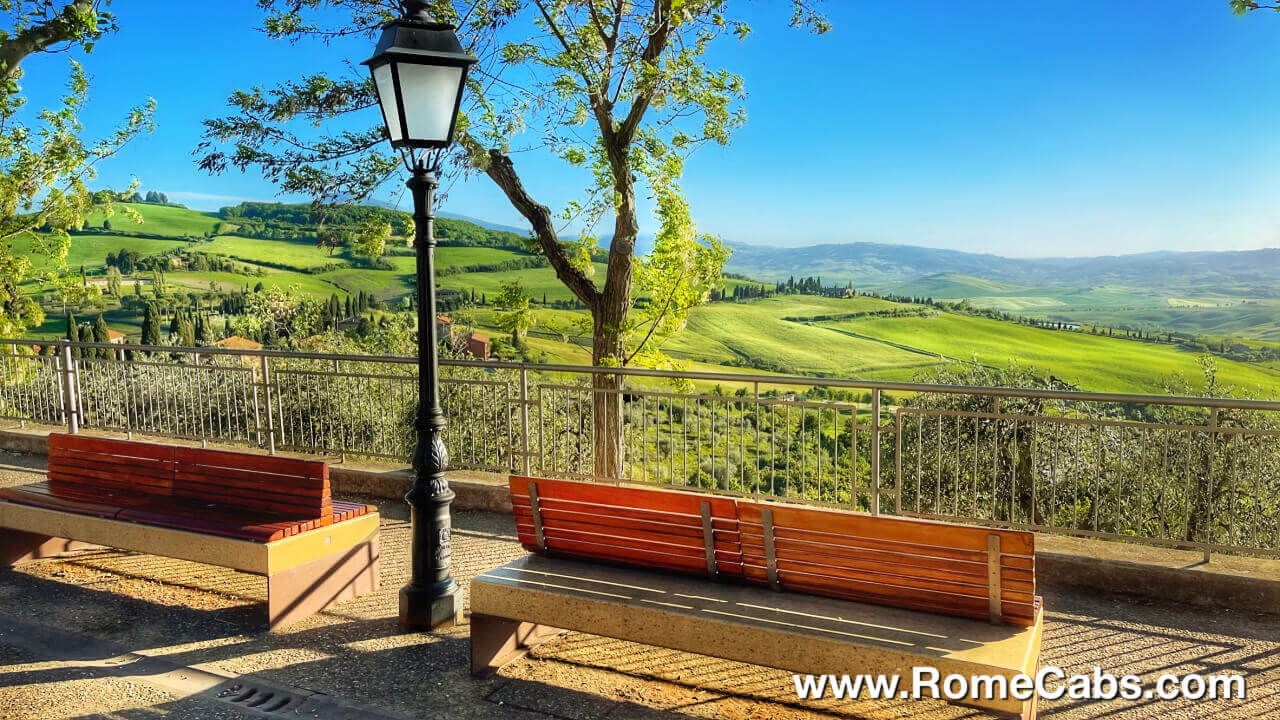 The harmonious integration of earthy-toned medieval-era architecture paired with its breathtaking views makes Monticchiello a romantic village that will enchant you and beckon your return.

Not to be missed near Montichiello is the idyllic windy road lined with exclamatory cypress trees that have made their way on many postcards. We can take you there on our Valley of Paradise tour and on our Enchanting Tuscany tour as the postcard view is off the main road and so easy to miss.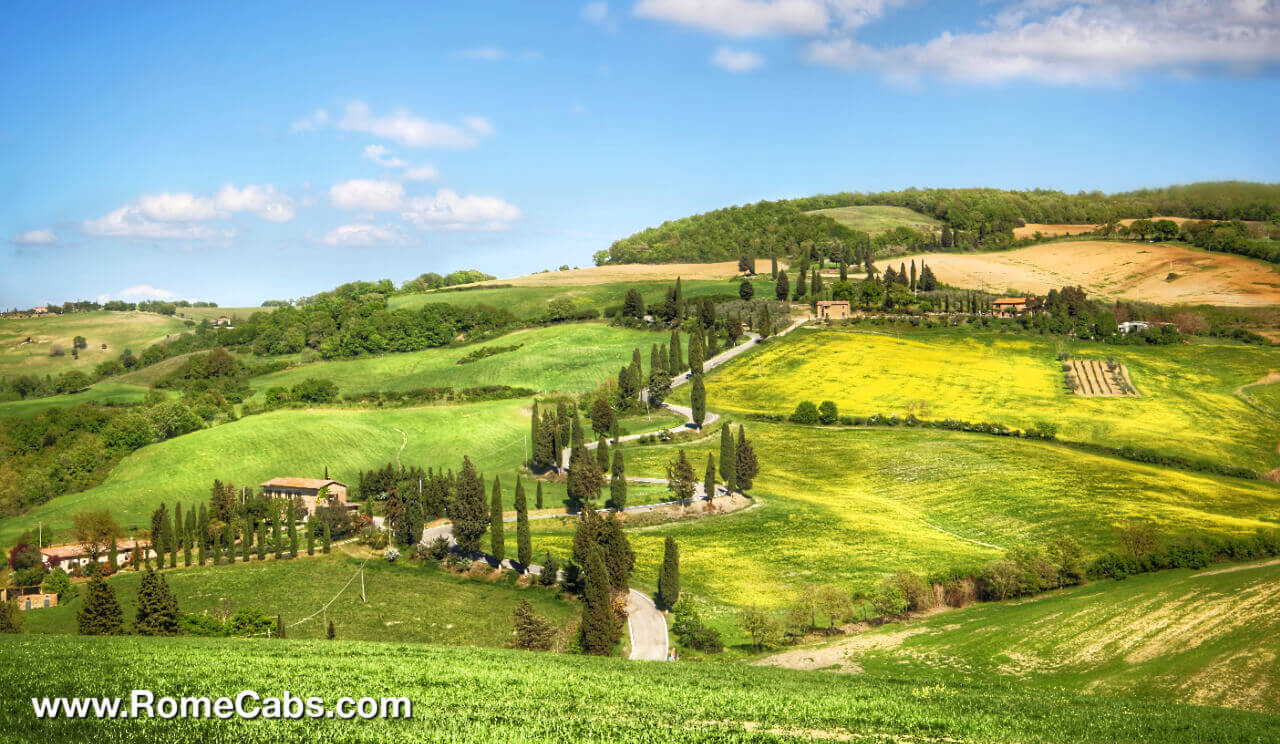 What else to see near Montichiello:
Montepulciano, Montalcino, Pienza, Bagno Vignoni,

Tuscany Tours to Montichiello:
VALLEY OF PARADISE Tuscany Tour from Rome

ENCHANTING TUSCANY TOUR from Rome
3. MONTEFIORALLE

Nestled in the rolling hills of the Chianti region and enclosed within original 14th-century octagonal defensive walls is the tranquil 11th-century Medieval village of Montefioralle - considered one of the most beautiful villages in Italy with only about 60 residents.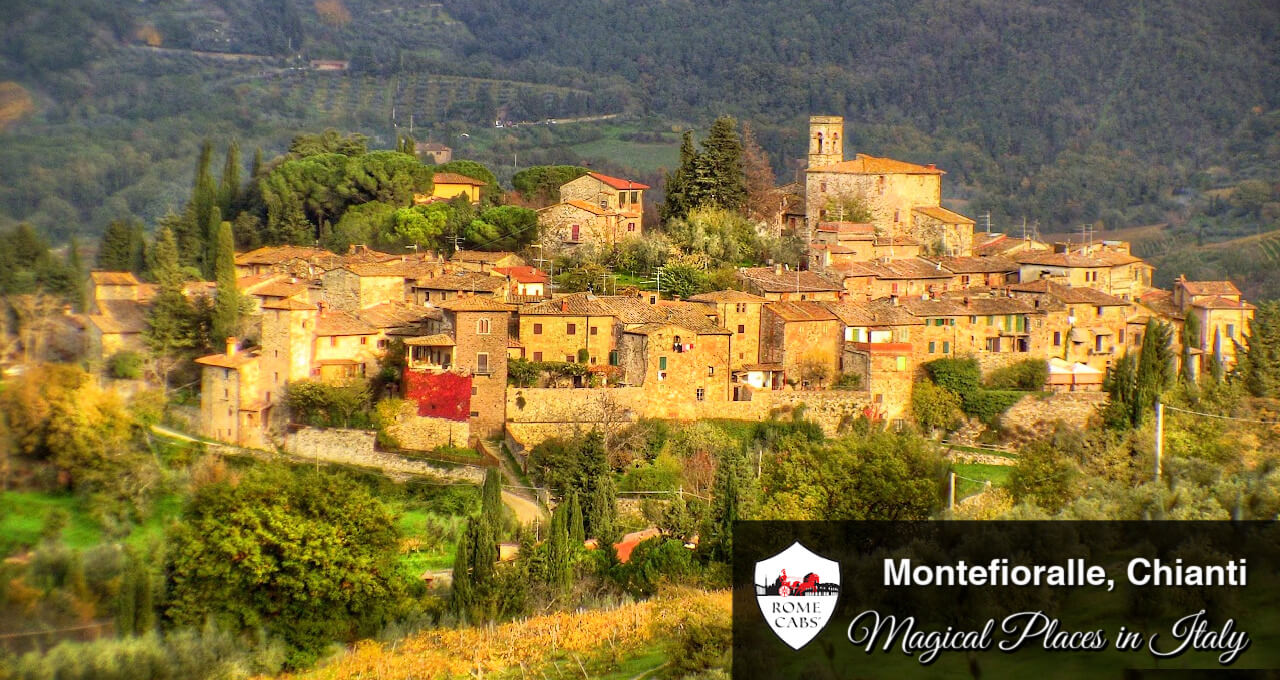 Among famous historical figures who owned property or resided in Montefioralle are the Ricasoli and Vespucci families - with the renowned explorer Amerigo Vespucci who is credited to have discovered New York in 1501 and lending his name to America. You can spot the doorway said to have been the birthplace of Amerigo by the family symbol: wasp (Vespa).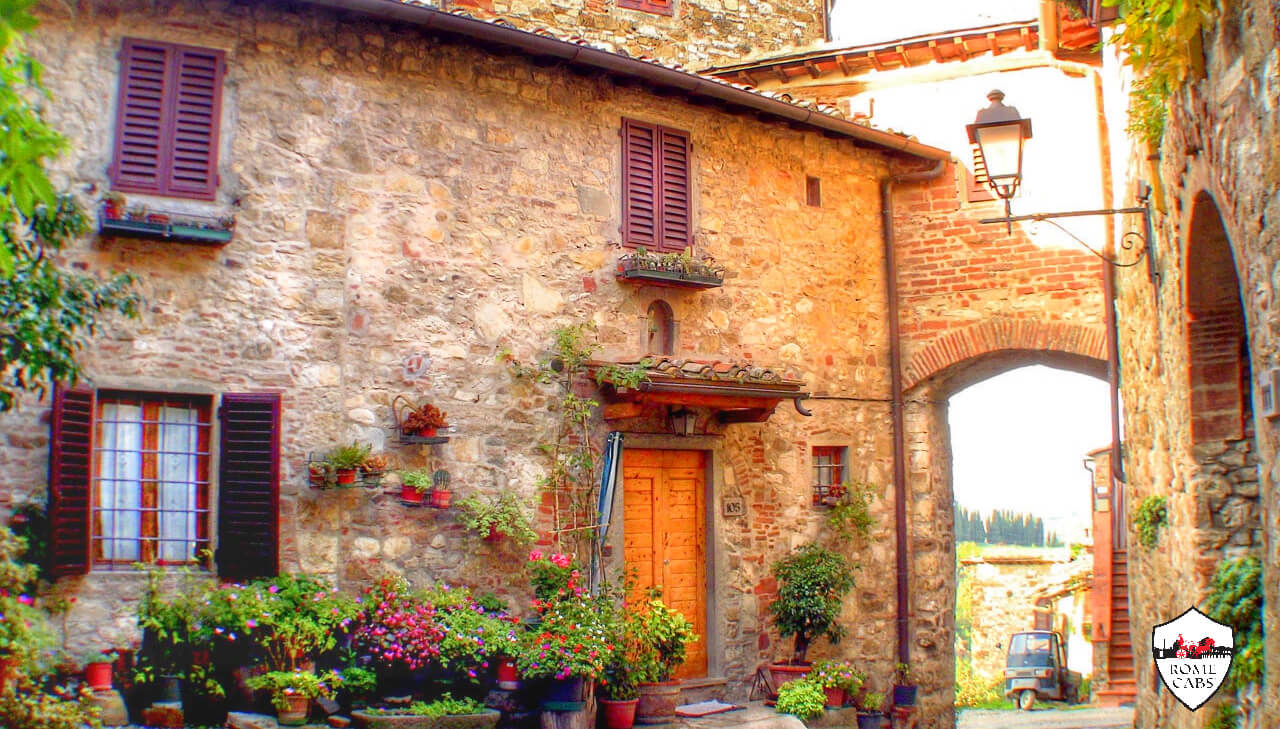 Lose yourself on a romantic stroll along its paved pedestrianized streets and alleys flanked with beautiful historic stone houses without getting lost in this lovely village. Be sure to pause and savor a glass of Chianti at any of the local wine shops, and raise your glass to an unforgettable journey to this precious jewel in the heart of Tuscany's Chianti.

What else to see near Montefioralle:
Greve in Chianti, Panzano, Radda in Chianti, Gaiole in Chianti, Volpaia,
Visit Viagnamaggio Villa and Winery, Vicchomaggio Vill and Winery

Chianti Tours to Motefioralle
Montefioralle is part of the Classic Chianti Tour from our sister company Stefano Rome Tours, along with Greve in Chianti and Vignamaggio Villa and Winery.
4. MONTERIGGIONI

Founded as a castle by the Republic of Siena in the 13th century to serve as a defensive post against its rival Florence, Monteriggioni stands on a soft hill surrounded by vineyards and olive groves. Circular defensive walls boasted 14 rectangular towers and 2 gates: Romea Gate which faces Rome, and Florentine Gate which faces Florence.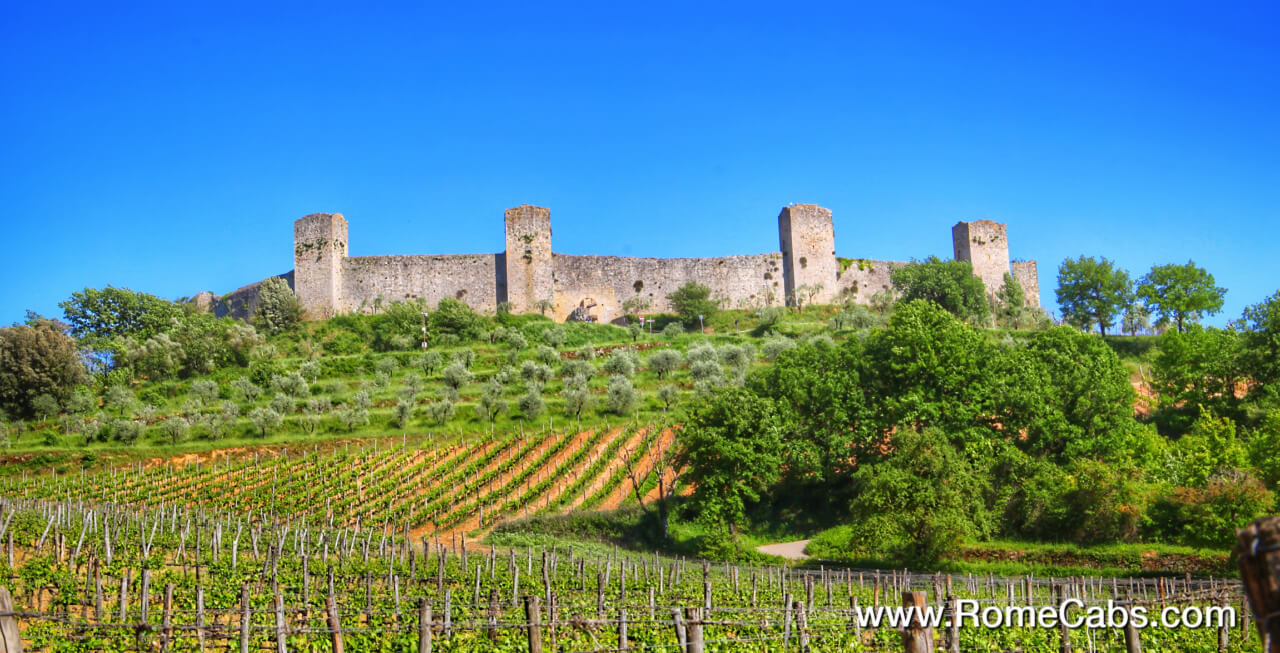 The towers must have been an impressive sight as they inspired poet Dante Alighieri who compared them to the giants of hell in his famous Divine Comedy: "[…] Because as on its circular parapets / Montereggione crowns itself with towers, / E'en thus the margin which surrounds the well / With one half of their bodies turreted / The horrible giants […] Inf., XXXI, 40-44)

After centuries of resisting countless sieges and attacks, by the 16th century, its military function was no longer significant once it was annexed to Florence. The towers were also lowered in size.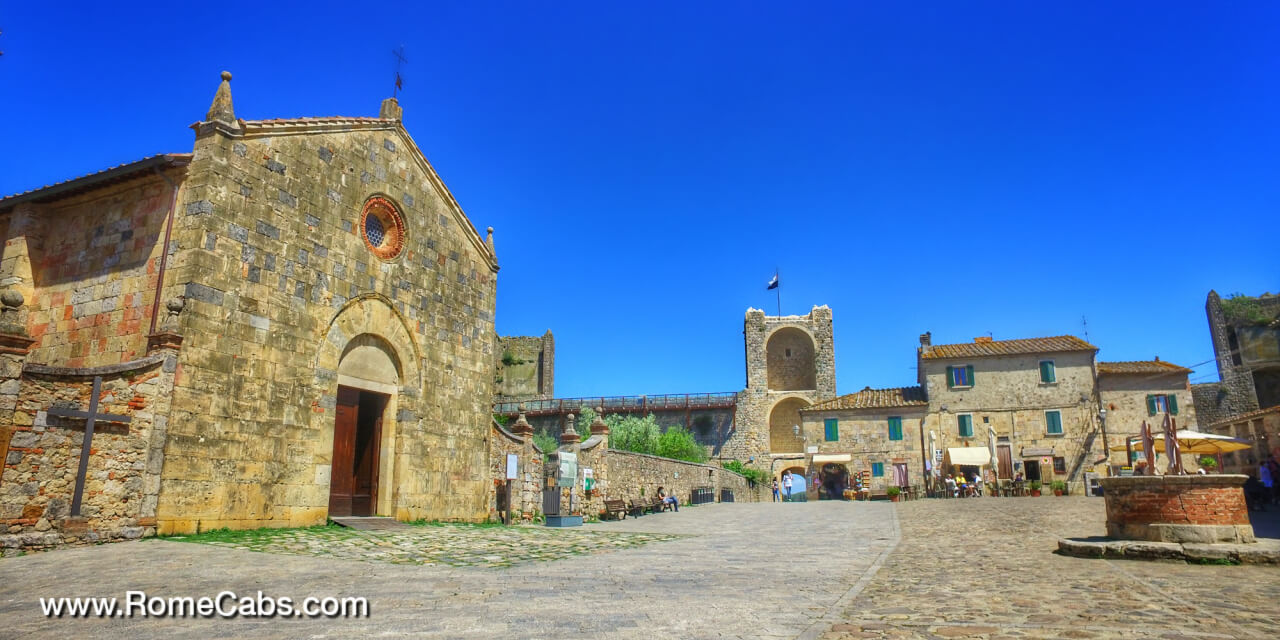 Today Monteriggioni is a province of Siena. Although now important Tuscan cities and top cities to visit, Florence and Siena were historic rivals whose feuds lasted centuries during the tumultuous Medieval era.
Monteriggioni still retains its authentic Medieval borgo (hamlet) atmosphere with historic stone buildings and ringed by its original defensive walls and towers. It's another ideal village for a romantic stroll along its history-steeped lanes.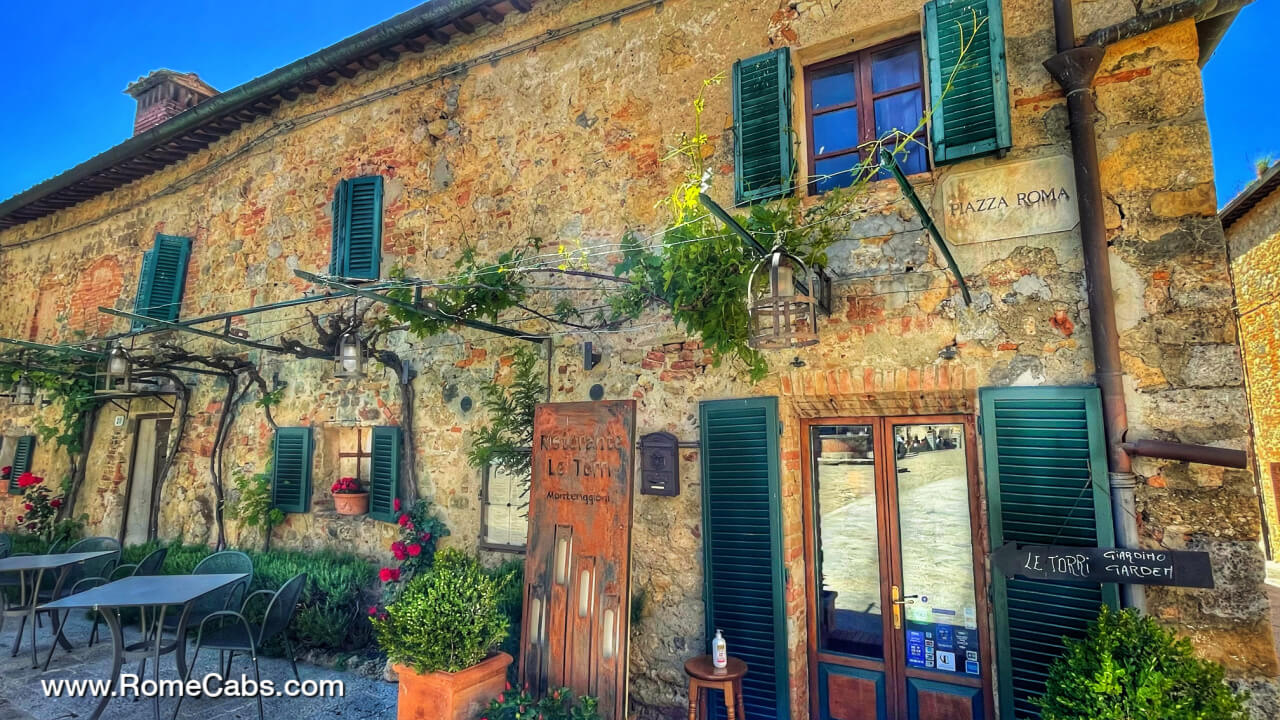 When visiting Monteriggioni, a walk along the top of the castle walls is not to be missed. Along the footsteps of Medieval soldiers who once upon a time guarded the castle, you can enjoy a panoramic stroll admiring the resplendent Tuscan countryside from all sides of the circular outer wall (*visiting hours and admission fees apply).
FUN-TASTIC TRAVEL TIP:
Visiting Monteriggioni in the summer? Every July the hamlet transforms itself into its prior Medieval splendor as it hosts the Medieval Festival of Monteriggioni, one of the most popular and fun-filled medieval festivals in Tuscany.
Dressed in authentic medieval costumes, Monterigionni recreates a fun-filled castle life atmosphere with medieval craftsmen, musicians, live performers, knights, duels, jesters, theater, food, and more! Relive bygone eras of lords, ladies, and knights for a fairytale romantic fun-tastic experience.


What to see near Monteriggioni:


Siena, San Gimignano, Voltera


While it's possible to visit Monteriggioni on Tuscany tours from Rome, our sister company Stefano Rome Tours offers a tour from Florence that includes Monteriggioni along with Siena and San Gimignano.



5. SOVANA


Sovana is an authentic medieval village in southern Tuscany is small in size but huge in charm. A quick stroll would complete your visit to this tiny hamlet.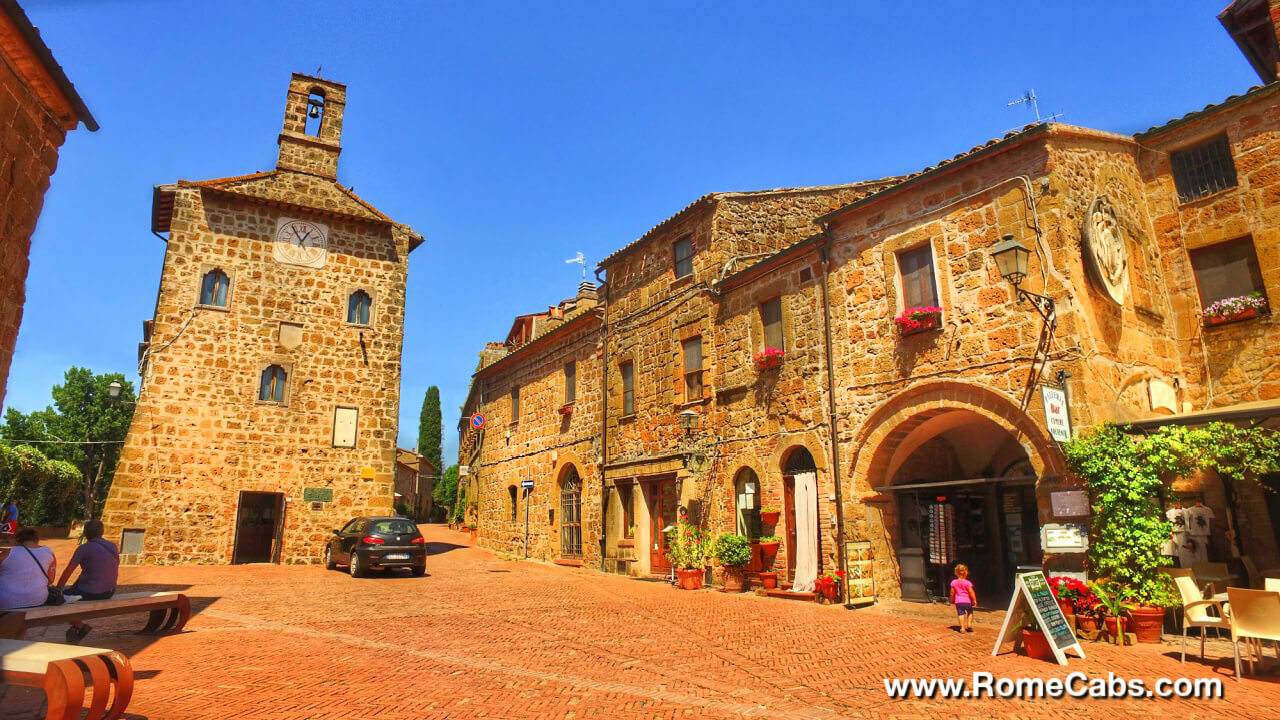 Built over an ancient Etruscan settlement, it then became a Roman "municipium", followed by becoming one of the first towns in the Tuscan region to embrace Christianity, produced a great reformer Pope by the name of Gregory VII in the 11th century, and then fell into abandonment plagued by malaria. This pause in settlement may have contributed to Sovana retaining its authentic Medieval architecture without restyling during the Baroque era seen in many towns in the area.
A leisurely stroll along pedestrian-friendly streets lined with earth-toned medieval buildings brimming with that special Tuscan charm, quaint outdoor cafes to share a leisurely drink, family-owned restaurants serving scrumptious Tuscan dishes, and inviting artisan boutiques are not all that this tiny hamlet has to offer.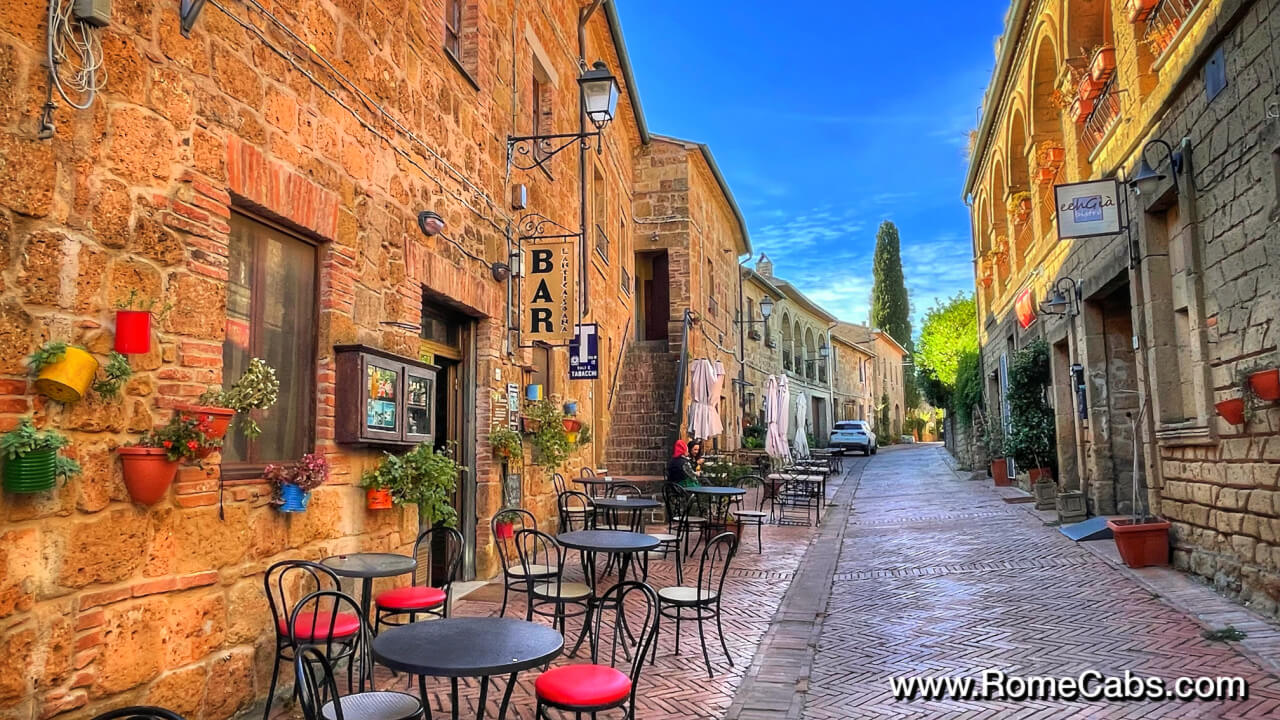 In the main square, Piazza del Pretorio is the unassuming Romanesque-Gothic church of Santa Maria Maggiore, one of the oldest intact churches in Tuscany with an unusual 9th century stone ciborium (vaulted canopy above the altar).
On the opposite side of the village is the imposing 9th-century Duomo of Sovana (Cathedral of Saints Peter and Paul) constructed almost entirely in tuff rock in the Romanesque-Gothic style with an underground crypt. The simple yet elegant interior with paleochristian-inspired artifacts offers mystical tranquility for a most welcome respite in one's busy travels to rest their body and recharge their spirit.


What else to see near Sovana:
Pitigliano, Sorano


Tours to Sovana:
ADDITIONAL ITALY TRAVEL BLOGS:


Thank you for reading our 5 Romantic villages in Tuscany you can visit from Rome travel blog and for choosing Stefano's RomeCabs for your Tuscany Tours from Rome. If we can help you plan your romantic Tuscany getaway with day trips from Rome contact us for information and assistance or browse through our website for tours and inspiration.

We look forward to showing you beautiful places in Italy!
Find us online also on: