description
Enjoy the unique experience of vising Tuscany from Civitavecchia exploring the unique region of Maremma, the rustic area of Tuscany that vaunts wide open spaces, gentle hills, fertile valleys, Italy's traditional cowboys (butteri), delicious food, excellent wines, and enchanting medieval towns.
Maremma sees fewer tourists than the rest of Tuscany, making it an ideal serene getaway from crowded tourist destinations. Since this region of southern Tuscany touches the border of Lazio, it offers the rare possibility to tour Tuscany on a shore excursion from Civitavecchia.

Your Stefano's RomeCabs professional driver will pick you up on the Pier next to your cruise ship in Civitavecchia and take you on a leisurely drive through the rustic countryside into Tuscany towards Sovana and Pitigliano, medieval hilltop towns abundant in history, beauty, and charm.
PITIGLIANO AND SOVANA FROM CIVITAVECCHIA Prices:


For up to 4 Persons from Rome Hotel: 650 EUROS
For up to 6 Persons from Rome Hotel: 700 EUROS
For up to 8 Persons from Rome Hotel: 800 EUROS
** You may also do a QUICK PRICE CHECK using the Price Check & Booking Form on the Right Side of this page. Once you receive the PRICE QUOTE based on the information you input, you may proceed to SUBMIT your Tour Request.
*** Dates on the Booking Form Calendar that are NOT Selectable, are NOT AVAILABLE.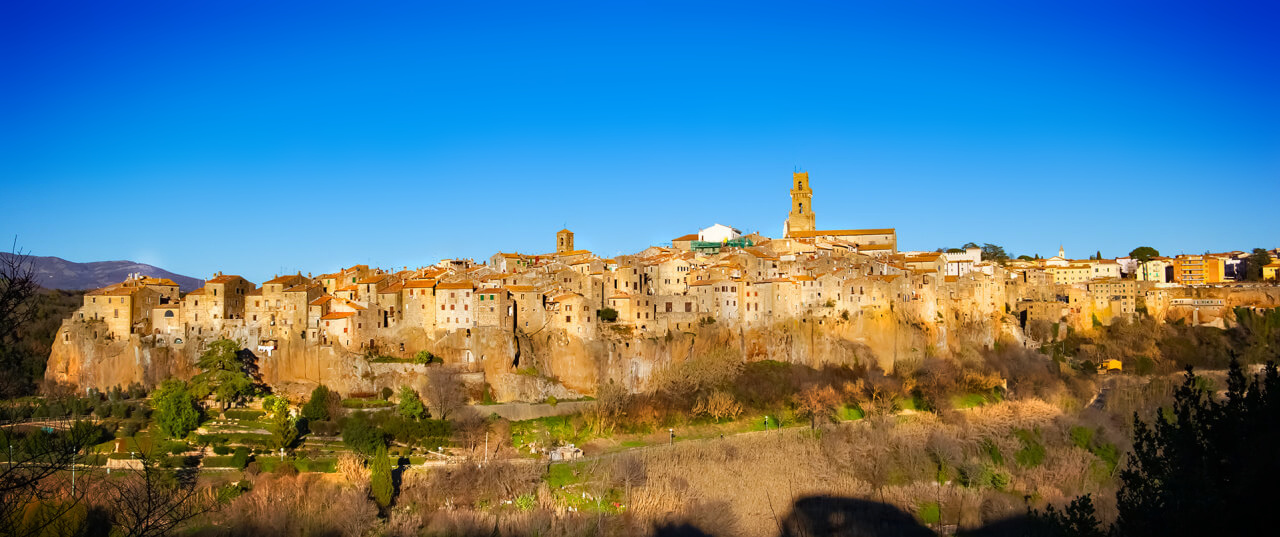 PITIGLIANO - Echnanted Hilltop Marvel


Pitigliano is a spellbinding ancient town dramatically located on a promontory and comprised of irregular tuffaceous stone buildings stacked one on top of one another giving the appearance of rising from a rocky cliff. Dominating the steep valleys grooved by three rivers, Pitigliano is truly a sight to behold.

Pitigliano's extensive heritage is a source of pride for the locals. Remains of its prehistoric establishment are evident in the tombs and caves along its city wall. The town's current name evolved from its Ancient Roman name, Petilia Gens, derived from the names of the settlement's alleged founders: Petilio and Celiano.

The centuries-old medieval stone houses, attractive small squares, and narrow pedestrian-friendly winding lanes wide enough for the passage of carts will carry you back into the fascinating medieval era of powerful lords, dukes, and counts who ruled this town and walked along these same streets.

During your ample free time on your own to explore Pitigliano, you will find unique and inviting shops that sell jewelry, ceramics, delicatessens, olive oil, wine, and the local treat: Sfratto di Pitigliano. The wine of the region has few rivals, which you may enjoy a glass with your lunch of Tuscan specialties at an inviting local ristorante.

Discover the ancient Jewish ghetto on Via Zuccarelli and see why Pitigliano is referred to as "Little Jerusalem". During your free time exploring the town, you may visit the Jewish Ghetto and its synagogue that was built in 1598. See centuries-old underground rooms carved from tuffa rock that served as an ancient wine cellar, an Azzime Bakery, and other aspects of the everyday life of Pitigliano's Jewish community from the 15th century.
Admission tickets to visit "La Piccola Gerusalemme" / Little Jerusalem cost approximately 5 Euros per person. The site is closed on Saturdays, Jewish holidays, and Christmas Day.
Following your visit and lunch in Pitigliano, you will join your driver for a short drive to your next destination: Sovana.
SOVANA - Where Time Stands Still


Sovana is a delightful boutique tuffaceous village comprised of butterscotch medieval stone buildings and terracotta brick pavement laid out in the traditional herringbone pattern.
Sovana's charming Piazza del Pretorio is considered among Italy's top 100 most beautiful squares boasting the 8th-century church of Santa Maria, the picturesque Palazzetto dell'Archivio, the Loggia del Capitano, and Palazzo del Pretorio.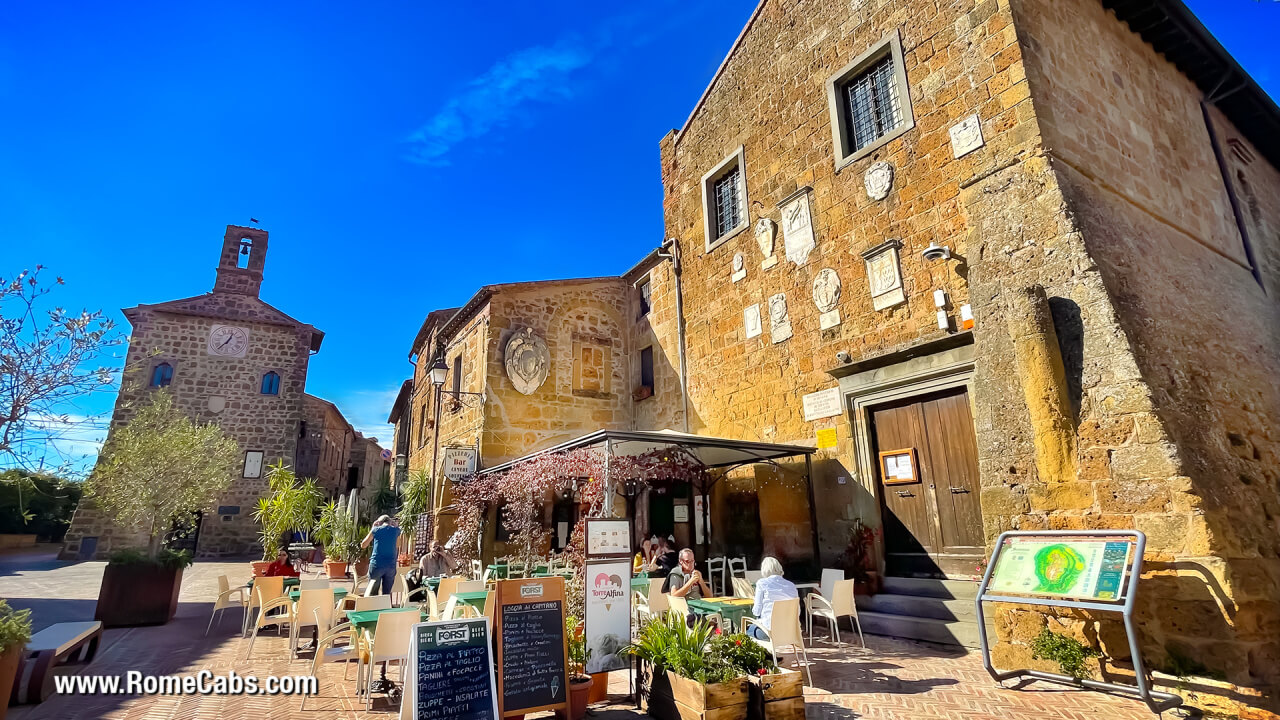 On one farthest end of Sovana, you will discover the 11th-century Romanesque and Gothic Cathedral of St Peter, well regarded for its sculptural decoration and architecturally harmonious interior. The cathedral's intricate marble doorway is adorned with mysteriously symbolic motifs associated with medieval spiritualism.
On the other farthest end of the village, you will see the ruins of the Aldobrandesca Fortress which was part of the village's defense walls.

Following your visit to this charming village, you will once again join your driver at approximately 3:00 PM for a relaxing drive through the Tuscan countryside back to your cruise ship in Civitavecchia, with an estimated arrival at approximately 5:00 PM.

Thank you for booking our Pitigliano and Sovana Tuscany excursion from Civitavecchia and for choosing Stefano's RomeCabs for your Italy private excursions. We look forward to seeing you in Italy soon!
Important Information

PLEASE READ THE INFORMATION BELOW AND ACCEPT THE TERMS OF SERVICE AND PRIVACY POLICY BEFORE BOOKING.


PAYMENT OPTIONS
Payment for this Pitigliano and Sovana Tuscany excursion from Civitavecchia can be made in EUROS directly to your driver on the Date of Tour, or prepaid in advance via PayPal or Credit Card online upon request.

CANCELLATION POLICY
Cancellations can be made at least 7 days in advance (and a REDUCED NET RATE Refund for prepaid services) so we can recuperate the loss and your reserved driver does not lose work for that day.
Cancellations must be made via E-Mail and confirmed by our office. We do not accept cancellations by telephone, text message, or 3rd party.
** Cancelations for PREPAID SERVICES will be refunded the REDUCED Net Rate we receive from your prepayment. Net Rate: actual service price minus PayPal/Credit Card fees retained by PayPal/Credit Card as they do not reimburse us the fees they retain from your payment.
YOUR PITIGLIANO AND SOVANA TOUR DRIVER
This Pitigliano and Sovana Shore Excursion from Civitavecchia provides an English-speaking Private Driver who is not a Licensed Tour Guide.
Italy's laws prevent Drivers from acting as guides and accompanying guests away from the vehicle to sightsee. Only licensed tour guides are lawfully authorized to accompany guests to sightsee on foot. Drivers can provide basic touristic information while at the vehicle, but drivers are obliged to remain with the vehicle while guests sightsee on foot.
On this tour, you will SELF-TOUR on your own while you visit the towns.


MEETING POINT AT CIVITAVECCHIA CRUISE PORT
For Shore Excursions from Civitavecchia, your private driver will meet you on the Pier next to your Ship at your scheduled pick-up time holding a sign with the NAME in your reservation.
Please do NOT leave the ship area, and do NOT take a shuttle bus outside the port.
Look for the driver in the same area as ALL private drivers will be waiting for their clients.
ADMISSION TICKETS to Places of Interest in Pitigliano and Sovana:


Admission tickets to visit "La Piccola Gerusalemme" / Little Jerusalem: 5 EUROS per person.
The site is closed on Saturdays, Jewish holidays, and Christmas Day.

Museum of Orsini Palace in Pitigliano: 5 EUROS Per Person
Cathedral of St. Peter in Sovana - 2.50 EURO Per Person
(Or, Combo Ticket at 6 EUROS Per Person for both Orsini Palace in Pitigliano and St Peter in Sovana)
*** 1 TICKET for 2 ENTRANCES: 6 EUROS Per Person (Ask at the reception of the Orsini Palace Museum)
Museum of Orsini Palace (Pitigliano)
Cathedral of Saint Peter (Sovana)

St Peter Cathedral in Sovana: Opening hours in the afternoon are 14:30 - 19:00
In January & February, the Cathedral is open only on Saturday and Sunday

** TICKET PRICES ARE SUBJECT TO CHANGE WITHOUT NOTICE AND CAN NOT BE GUARANTEED