Italy is renowned for having breathtaking landscapes and enchanting villages that dreams are made of. And we'd like to show you some of the most Magical Places in central Italy that are easily accessible from Rome or Florence.
CLICK to WATCH the short Video: "MAGICAL PLACES IN ITALY"
CIVITA DI BAGNOREGIO (The Dying City)
Civita di Bagnoregio a small ancient village that has rested for thousands of years on a precipitous hill... an island surrounded by impressive badlands.
Due to its dramatic natural scenery and extreme isolation, Civita di Bagnoregio is one of the most picturesque sites in Italy widely featured in postcards.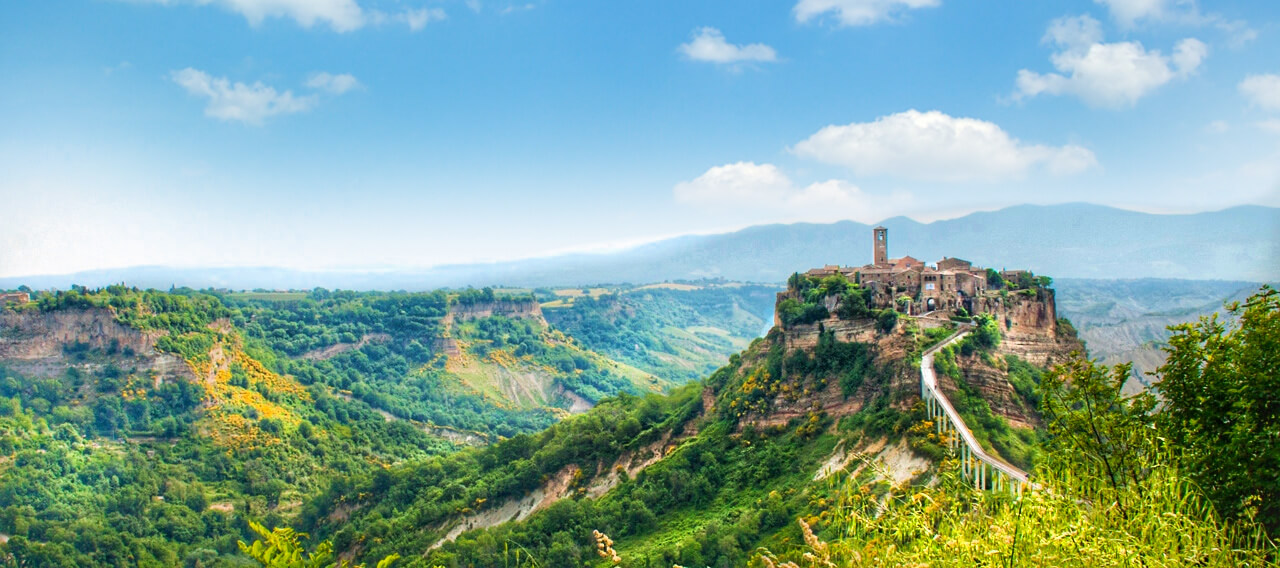 Civita di Bagnoregio was founded by the Etruscans on a hill of 'tuff'. Tuff (from the Italian "tufo") is a type of rock consisting of consolidated volcanic ash ejected from vents during a volcanic eruption.
Civita di Bagnoregio a is a traffic-free community accessible only by a long steep footbridge suspended in the air that connects the village with the mainland. Perhaps as a result of its complete isolation from the real world and limited accessibility, only about 20 residents live here year around. Imagine living in a village of about 20 people! The peak tourism season and pleasant weather (spring to fall) bring more people who have second homes in Civita di Bagnoregio or business that benefit from tourism.
Originally, Civita di Bagnoregio was not detached from the bigger nearby town of Bagnoregio, (hence the name, Civita of Bagnoregio - the little town of Bagnoregio) but due to excessive erosion of the softer volcanic rock upon which was built, the saddle that connected the two towns crumbled, and now the footbridge connects it to the mainland.
The erosion has continued slowly for the past 2,500 years since the ancient Etruscan settled here, and for this reason the fairytale village of Civita di Bagnoregio is also called the Dying City. Continuous reinforcement of the foundation and anchoring unstable section help preserve this iconic place that has been here since ancient times.
There are several delightful shops, cafes, restaurants and some of the architecture spans several thousand years.
The residents are devoted stewards of this previous fairytale village, meticulously caring for it and preserving its delicate beauty.
Private Day Tours from Rome and Shore Excursions from Civitavecchia to ORVIETO and CIVITA DI BAGNOREGIO are offered on Stefano Rome Tours.
BRACCIANO (with the lakeside Castle)
Bracciano is a small lakeside town about 20 miles northwest of Rome and a popular destination for city dwelling Italians in search for a countryside escape on summer weekends.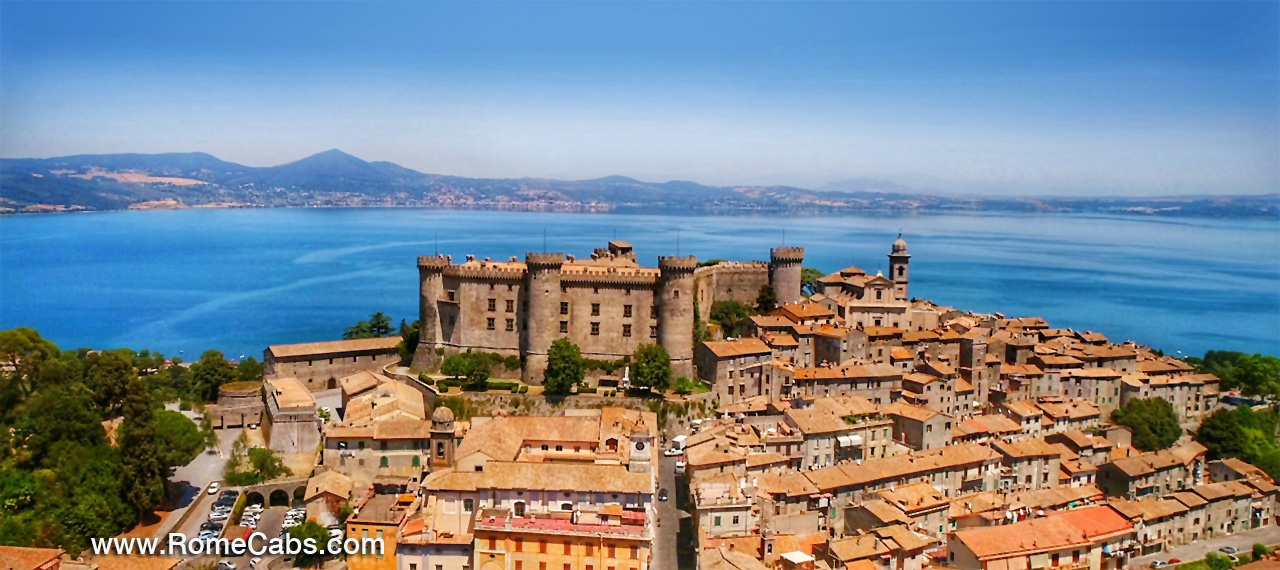 Bracciano is well known for its pristine volcanic Lake Bracciano (the 8th largest lake in Italy), for its imposing medieval castle Castello Orsini-Odescalchi (commonly known as the Bracciano Castle).
Considered one of the largest and best maintained castles in Italy, the 15th century Bracciano Castle is a combination of a military fortress and civilian residence of medieval and Renaissance era feudal lords and papal families.
Today Bracciano Castle is a museum open to visitors to meander through its premises and luxurious rooms where kings, lords and Popes have lived in. Original wall paintings and frescoes, medieval weaponry, luxurious medieval and Renaissance furniture, books and manuscripts transports you to distant times of distinguished Ladies, Lords, Knights and Popes who continue to fascinate us in films and documentaries about their famous and infamous lives.
A stroll through the historic Bracciano and narrow alleys lined with buildings built a millennia ago is a treat in itself.
Excellent restaurants overlooking the magnificent castle, cafes that serve sought after desserts, and shopping opportunities with occasional antique markets make this a great day trip.


Bracciano, as well as Bracciano Castle, are part of our COUNTRYSIDE SPLENDOR TOUR and "CASTLES and LAKES" Day Tour from Rome and Shore Excursion from Civitavecchia by our sister company Stefano Rome tours.


ANGUILLARA (for a romantic stroll along the promenade)
Nestled on a small promontory on the coast of Bracciano Lake is the quaint medieval town of Anguillara Sabazia (known just as Anguillara by the locals).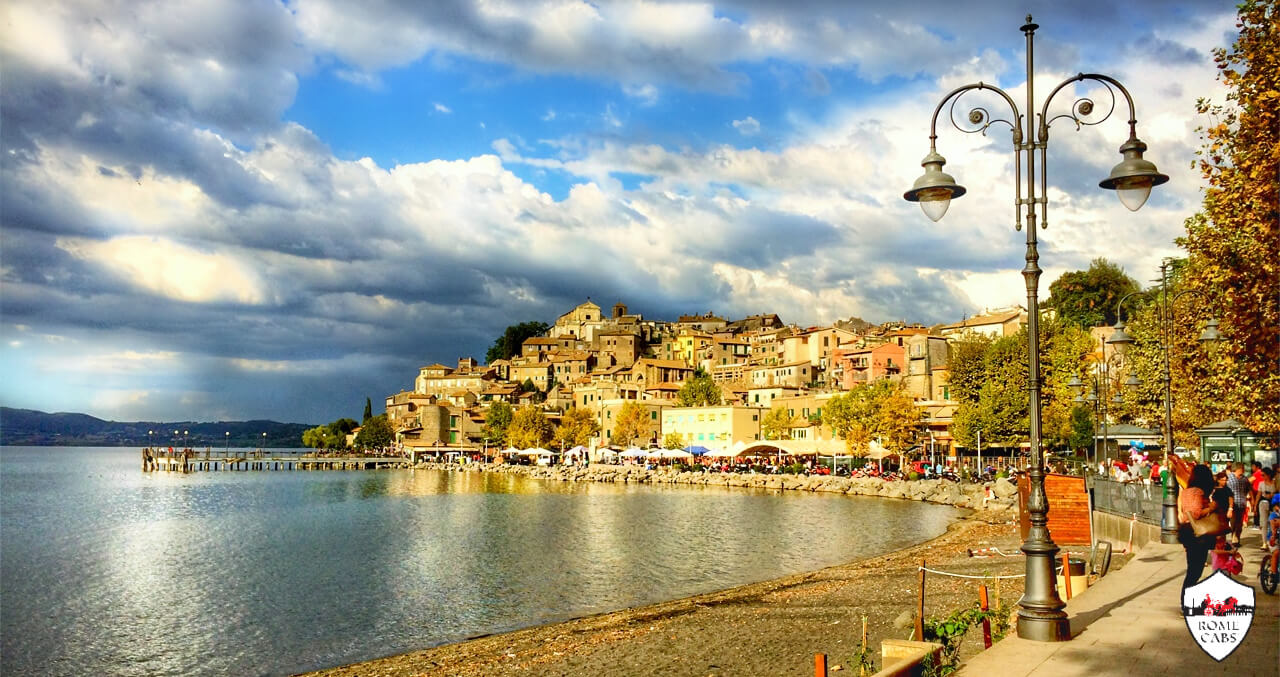 What makes Anguillara so charming and romantic is the long promenade along the narrow lake beach that draws in locals from all over the region to either enjoy swimming in the pristine lake, relax on the beach, or stroll along the promenade.
With the visually stunning backdrop of Anguillara reflecting in the still lake like a mirror, it is no wonder this corner of Bracciano Lake attracts so many visitors eager to revel in the natural beauty and historic charm that surrounds them.
On many Sundays during the summer the village bursts with activity due to the large market where vendors sell everything from clothes, antiques, jewelry, foodstuff, toys, accessories, leather goods, and more.


If you book our "COUNTRYSIDE SPLENDOR TOUR" or the "CASTLES AND LAKES" Day Tour and Shore Excursion with Stefano Rome Tours, you can request to visit this beautiful side of Lake Bracciano and see Anguillara.
CALCATA (The Grooviest Village in Italy)
About 50 miles north of Rome, hidden among thick forests and surrounded by deep ravines is an extraordinary hilltop village small in size but with a high concentration of artists and cultural uniqueness.
Calcata is a vestige of Italy's distant medieval past that has been revived from near extinction and opened itself to embrace visitors who wish to experience the hidden energies and the uniqueness of this fun little village.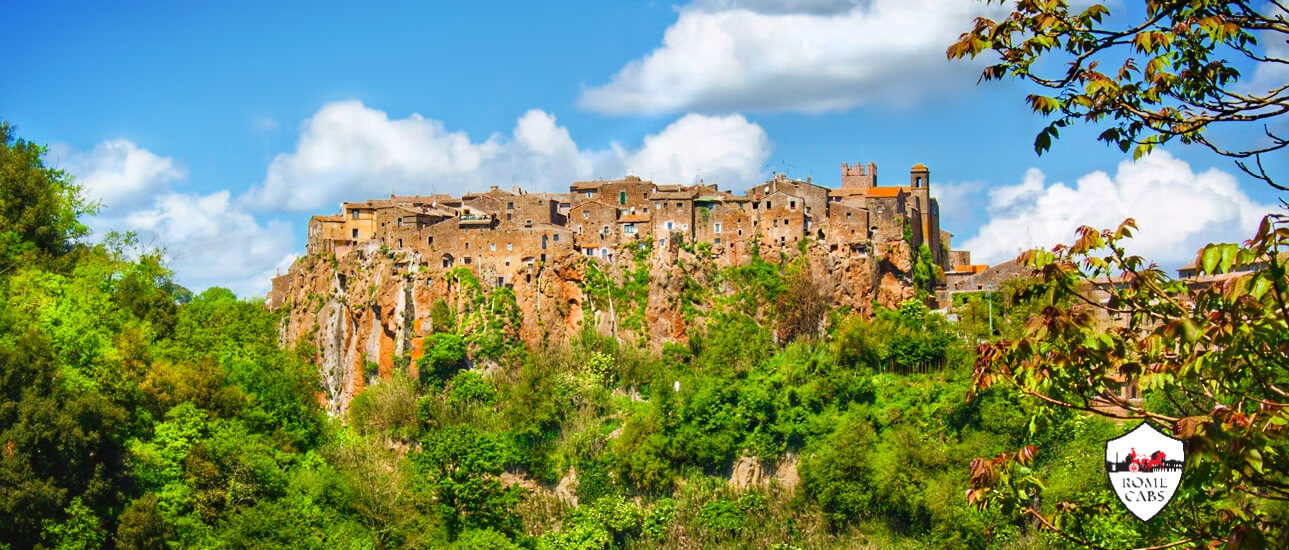 In the 1930's Calcata was deemed unsafe and was condemned by the government in fear that the volcanic cliff upon which this village was built would crumble (similarly to Civita di Bagnoregio). Its residents left and resettled in the nearby Calcata Nuova (New Calcata).
Not only the village did not crumble or perish but instead experienced a remarkable revival! In the 1906's Calcata became a meeting place for artists and creative people seeking refuge from the negativity of urban environment. Eventually geological studies determined the village is indeed stable, and the government reversed its condemnation order. Many of these people eventually purchased homes here and restored it into an eclectic artistic community that is still vibrant today!
New York Times referred to Calcata as the "Grooviest village in Italy, home to about 100 artists, bohemians, aging hippies and New Age types".
Restaurants (including vegan as well as local specialties) cafes, art galleries, bakeries, and shops of all kinds make this ancient village a popular destinations for Italians. And it really is the grooviest village in Italy!


Calcata is part of the "VITERBO, CALCATA and SUTRI" Day tour from Rome offered by Stefano Rome Tours.
ALATRI (The Cyclopean Walls)
Located south of Rome in the traditional region of Ciociaria (still inside the region of Lazio) surrounded by a green landscape and distant mountain ridges lies the historic hilltop town of Alatri – particularly famous for its megalithic acropolis and cyclopean walls.
Primarily a medieval town, Alatri was first settled about 2,000 years ago by the ancient Etruscans who named it "Aletrium".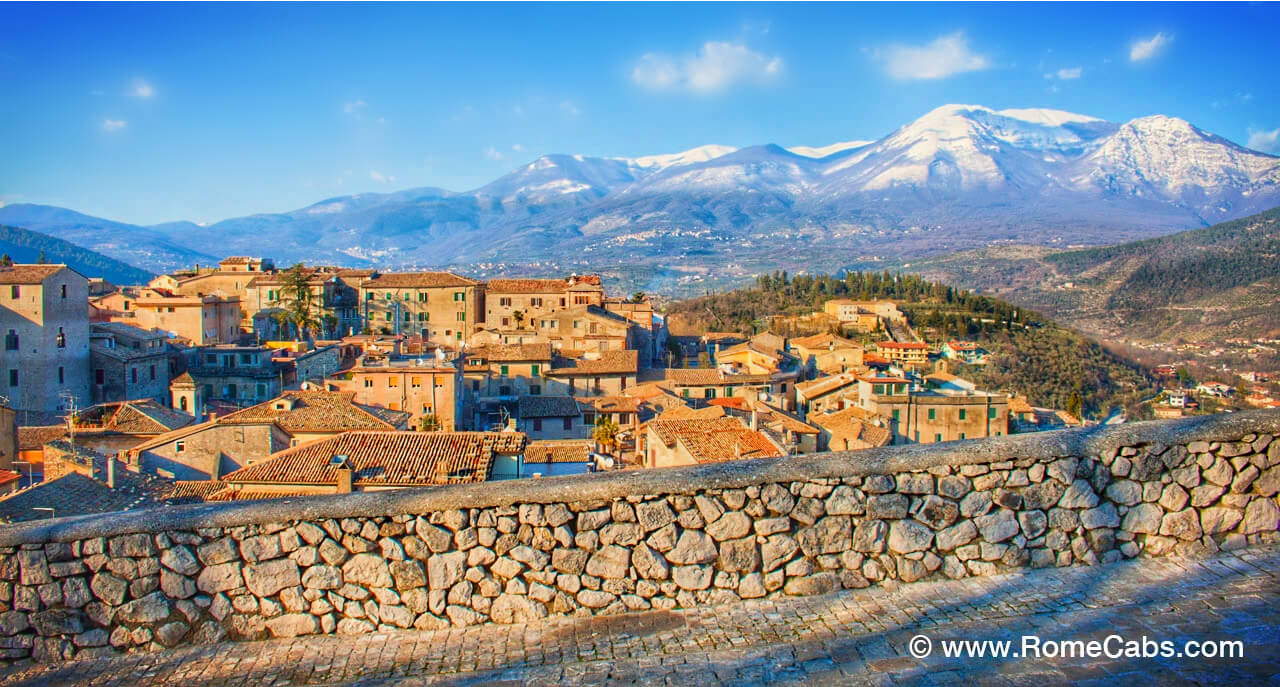 Eventually it was conquered by the Romans and after the Roman Empire fell it experienced centuries of deterioration and wartime destruction until it was revived in the 12th century and became a stronghold for Popes when they fled Rome during chaotic times.
The most spectacular area of Alatri is the ruins of its ancient acropolis. The word "acropolis" derives from the Greek words Akro (high) and Polis (city).
Its tall megalithic walls that surround the citadel are made of irregularly shaped polygonal boulders that fit perfectly tight without any mortar or binder. You can't even slip a thin piece of paper between the stones where they meet. You can see many segments of the walls still very well intact after millennia.
Because each large boulder can weigh up to 30 tons, legends have told they were built by the mythic Cyclops…. but most likely by the ancient Latin people or early Romans. Without any written records passed through history and the inability to date the boulders in attempt to gauge the age of the walls, their original builders continue to be a mystery.
And while you are on top of Alatri's ancient acropolis pondering its historic and legendary origins, don't miss the opportunity to view the breathtaking countryside panorama and the rooftop view of Alatri below from the edge of the ancient citadel.

Alatri is part of LEGENDS and CASTLES Day Tour from Rome with Stefano Rome Tours that also take you to Anagni (the city of the Popes) and Fumone (the hamlet with the haunted castle).
NEMI (strawberry lovers delight!)
About 20 miles southeast of Rome in the Alban hills is the charming little town of Nemi. Perched up on a volcanic ridge, it overlooks Lake Nemi, the small volcanic crater lake.
It's name Nemi derives from the Latin word "nemus" – holy wood. In the ancient times this area was one of the most famous Roman cults and temples worshiping the pagan goddess Diana Nemorensis (Diana of the Wood). The lake was referred to by poets as Speculum Dianae – Diana's Mirror.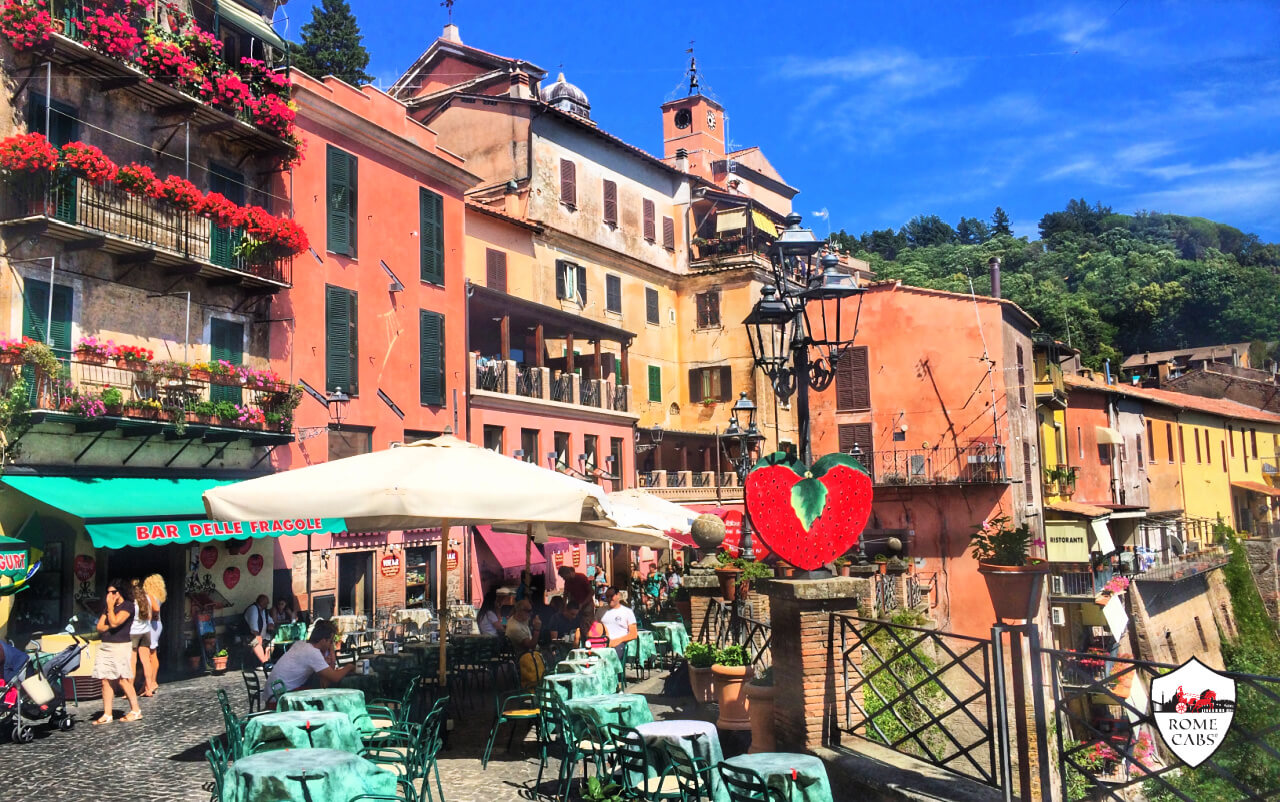 Roman Emperor Caligula enjoyed spending time in this quaint corner of his empire – and possibly also due to the sanctuary of Diana, built a fleet of several luxurious barges that floated on the lake. One ship was a shrine dedicated to the cult of Diana, and another served as the imperial pleasure boat.
After Caligula was overthrown, his ships were sunk into the lake. Although they were discovered in the 16th centuries, it wasn't until early 1930's under the direction of Benito Mussolini that the lake was partially drained and the ships excavated.
A museum was built nearby to house these ancient ships. Unfortunately a great fire destroyed the museum and the ancient ships during World War II. The surviving metal remnants as well as replicas of the ships are displayed in the Museo Nazionale Romano (inside the Palazzo Massimo in Rome near Termini Station).
A tastier claim to Nemi's fame is the production of some of the tastiest wild strawberries you've ever eaten! Nemi's strawberries are grown on the side of the volcanic crater near the lake, which creates the ideal atmosphere for these delightful berries to thrive. All throughout the village you will find numerous cafes, bakeries and specialty shops selling delightful strawberry tarts, strawberry liquors, jams in charming little jars, colorful strawberry candies, and more.
Restaurants serve delicious local cuisine and many even have breathtaking lakeside views! Weekends are usually packed with local Italians who are enchanted by Nemi's unique charm and flavors.
LE CRETE SENESI (Tuscany's most dramatic landscape)


Just south of Siena in the countryside of Tuscany is one of Italy's most fascinating regions called Le Crete Senesi (The Clays of Siena), remarkably unique for its undulating knolls, soft rolling hills and lunar landscape, a sea of land dotted with medieval farmhouses and hamlets, and crossed by windy country roads lined with characteristic cypress trees. It's a rare sight envied by many of Italy's beautiful territories.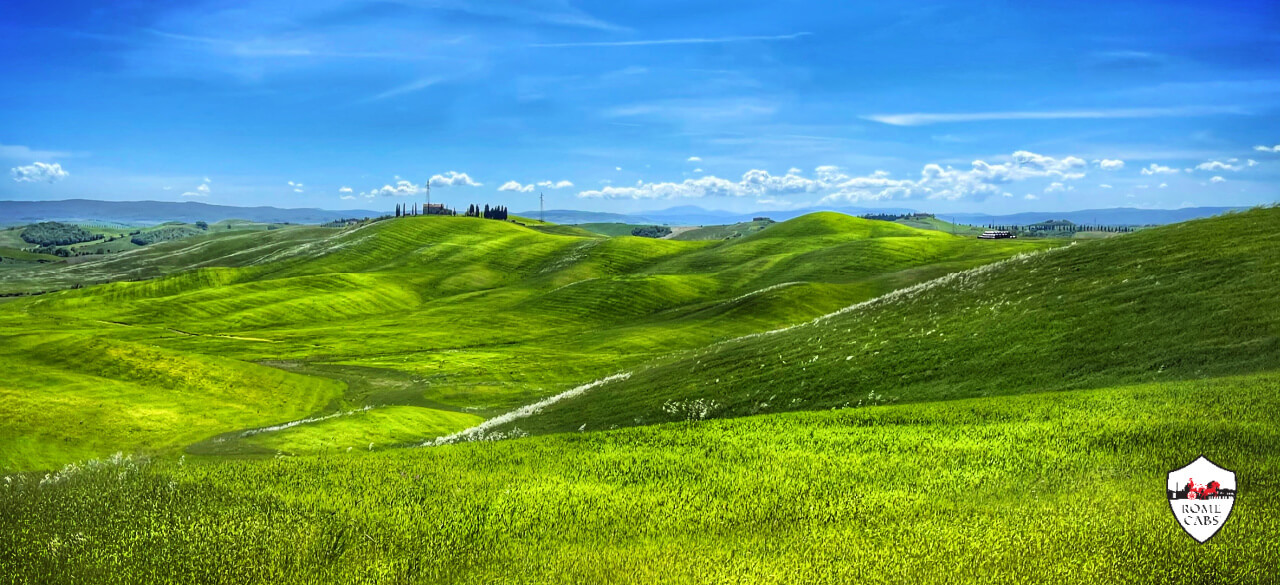 Composed of clay known as mattaione, are sediments of the Pilocense sea that once covered this area about 3-4 million years ago. The landscape changes with the seasons: from winter's green patchwork of shimmering crushed velvet, to summer's gentle golden wheat, and fall's post harvest desert-like lunar scape.
VALLEY OF ORCIA (the most Picture Perfect Valley in Italy)



Valley of Orcia (or Val d'Orcia) is one of the most famous and well recognized regions of Tuscany for its aesthetically pleasing landscape frequently featured in postcards, photo books, advertising, films and paintings since the Renaissance era.
When one things if the Tuscan countryside landscape, Valley of Orcia is what comes to mind.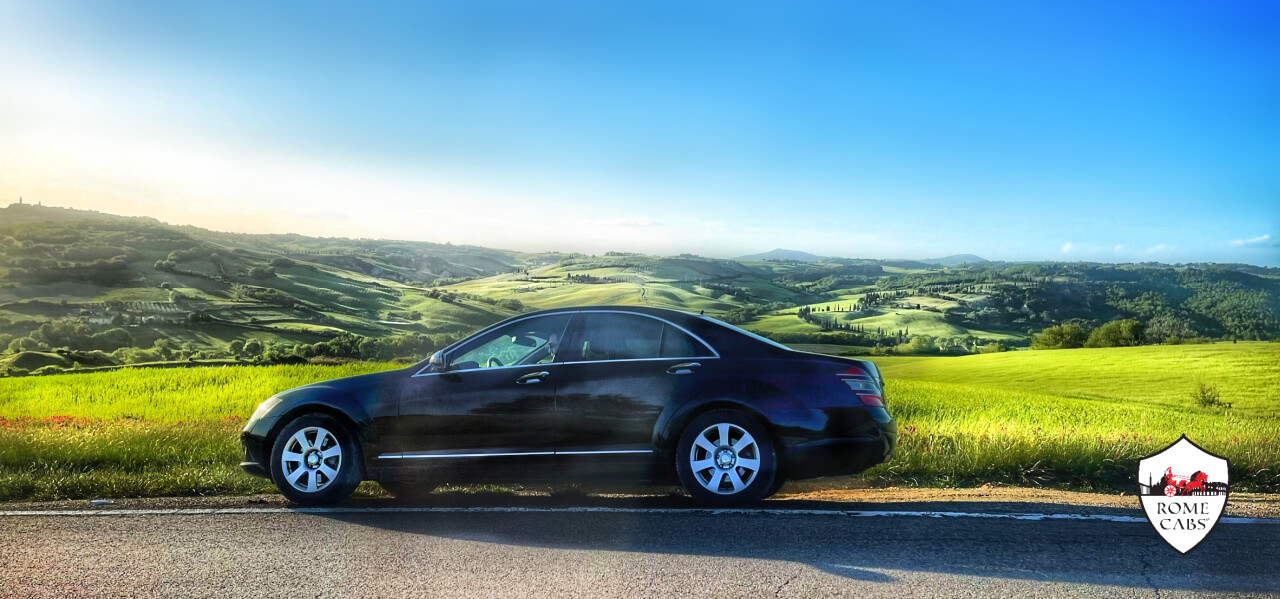 The gentle hills and carefully cultivated valleys are peppered with medieval villages and ancient farm houses, cypress trees, vineyards, wheat fields, and sheep grazing on the lush grasses and herbs.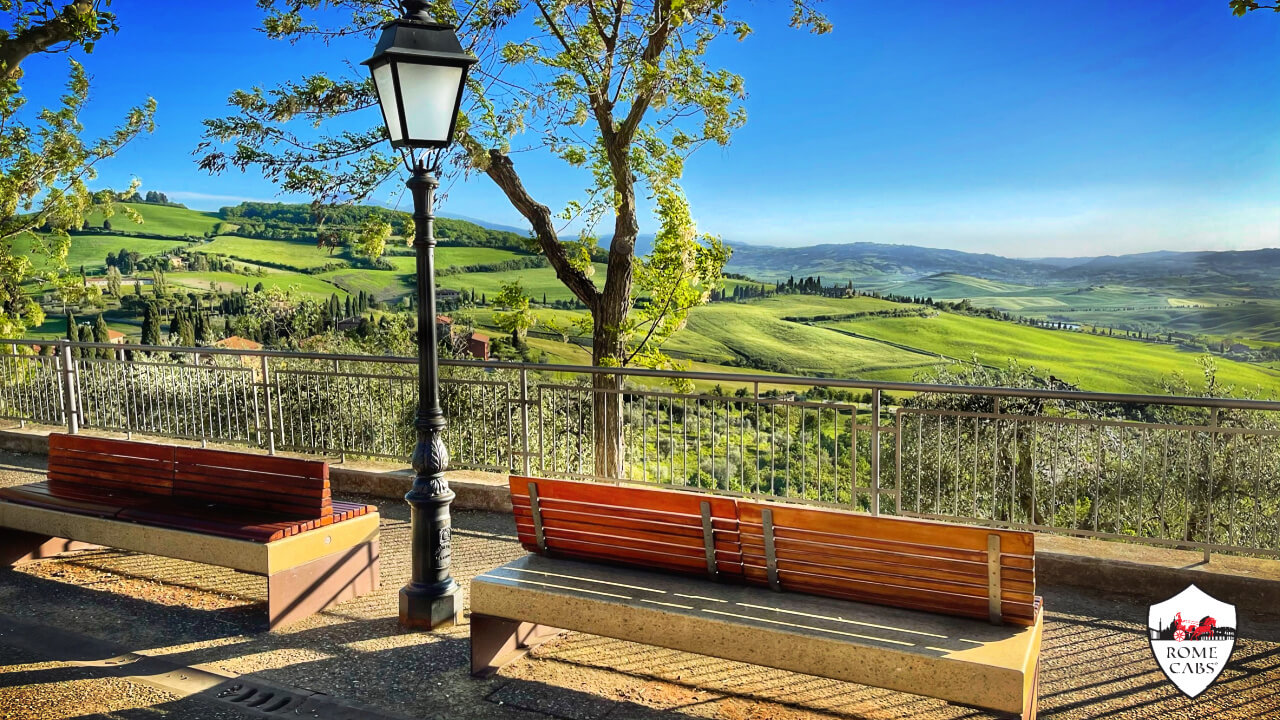 Valley of Orcia is not just divinely blessed with its grand beauty, its landscape has been painstakingly redesigned during the Renaissance era to reflect the ideals of "good governance".
Scenery from this inspiring region has graced many paintings by Renaissance masters. For these reasons Valley of Orcia is a UNESCO World Heritage Site.
Some of these iconic landscapes in Valley of Orcia are the Circle of the Cypress Trees, the Windy Road near Montichiello, and the dreamy panorama from Castiglione d'Orcia.
As with the Crete Senesi, the Valley of Orcia changes with the seasons offering us never ending majestic views.


PIENZA (The Renaissance Utopia)
Overlooking the Valley of Orcia, the tiny hilltop village Pienza is considered the "touchstone of Renaissance urbanism" and a UNESCO World Heritage Site.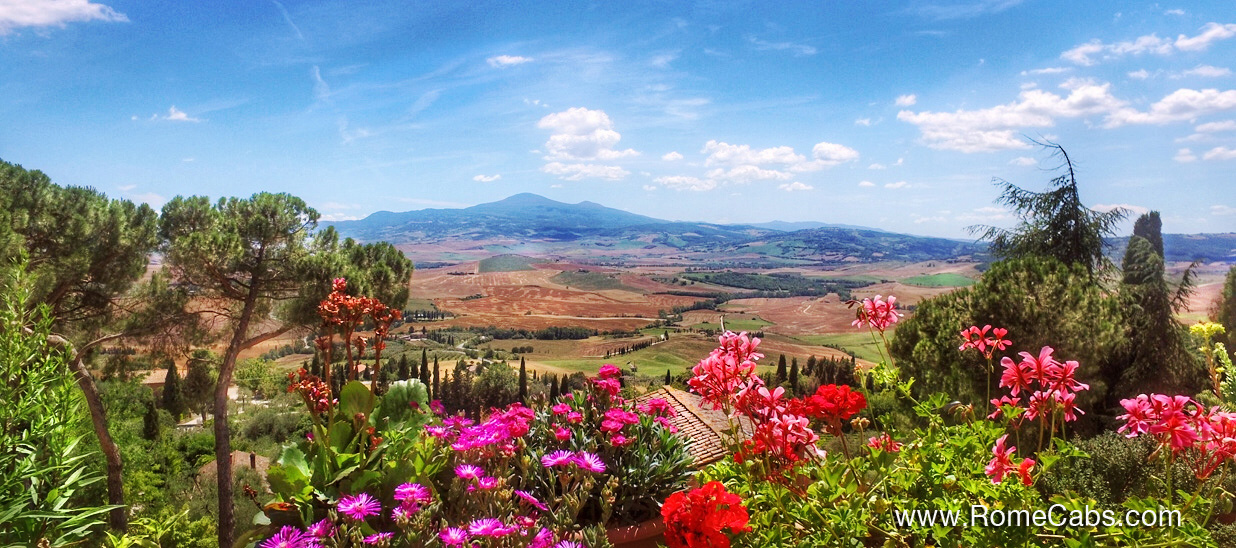 The town was named after Pope Pius II who was born in what used to be called Corisgnano, and was responsible for applying humanistic urban planning concepts to rebuilt section of the town rendering it a Renaissance Utopia that inspired other towns and cities in Italy and then Europe.
Spacious traffic-free charming streets and alleys with romantic names such as "Via del Amore" (street of Love), "Via del Baccio" (Street of the Kiss), and "Via della Fortuna", Fortune Street, large imposing palaces and cathedral, and terraces overlooking breathtaking panoramas makes Pienza a truly ideal city of the Renaissance.
Not to be missed is the famous Pecorino di Pienza, the delicious local cheese made from sheep's milk renowned worldwide for the variety of flavors. The sought after flavors of the cheese are by no means due to generations of regional farmers who have for centuries mastered and perfected their cheese making craft and the exquisite milk produced by local sheep that happily graze naturally on the grasses and herbs of the Valley of Orcia.

Pienza is part of PIENZA and MONTEPULCIANO Day Tour from Rome with Stefano Rome Tours
MONTICHIELLO (a tiny jewel in a sea of of hills and valleys)
Just 20 minutes from Pienza is the enchanting l fortified hamlet of Montichiello.
The name Montichiello derives from its legendary Roman origins and its original Latin name "Mons Cloelii".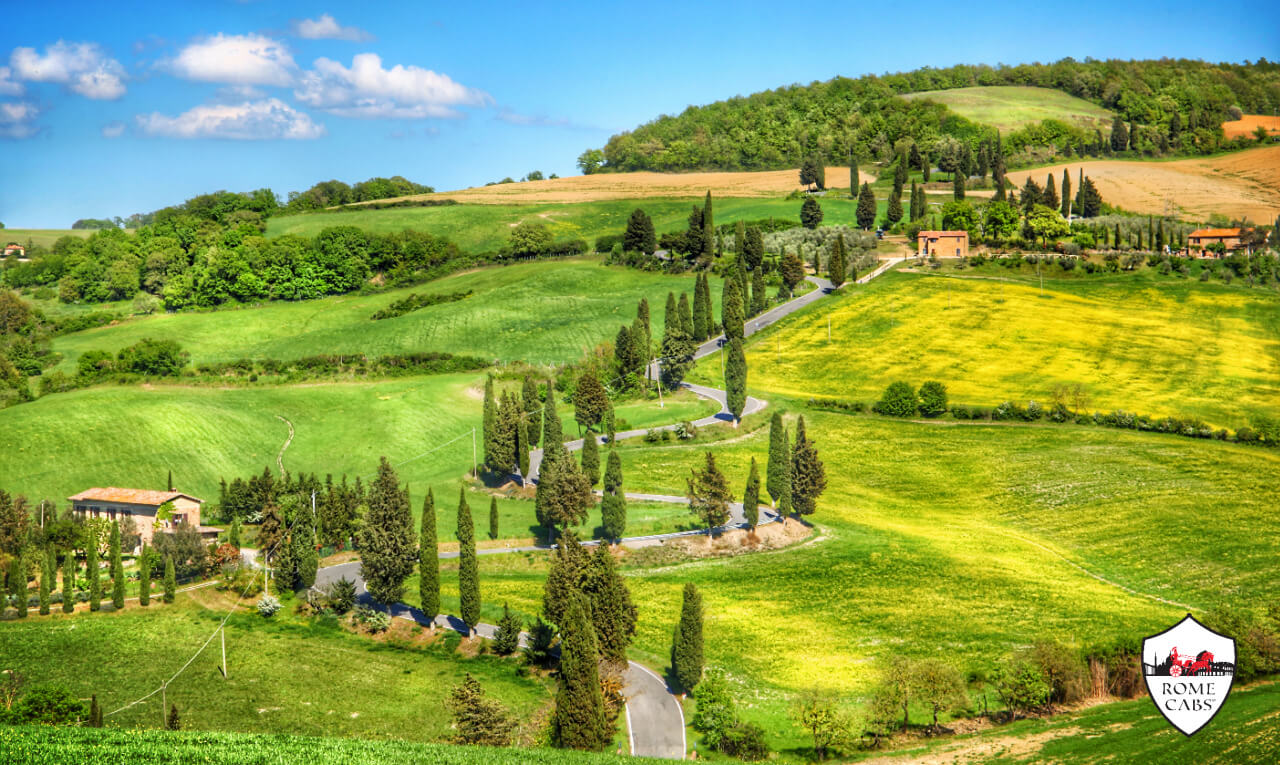 Surrounded by ancient city walls that are still intact, the small yet spacious village of Montichiello is a delight to stroll through its quiet paved streets. Vases with flowers adorn window sills of the ancient Medieval buildings that are beautifully preserved by the proud locals who take excellent care of their tiny oasis in a sea of undulating hills and patchworks of valleys.
A lovely terrace with benches offer you a front row seat to a panoramic theater of awe inspiring natural beauty that unfolds before you.
Just nearby is the famous iconic serpentine road lined with cypress trees.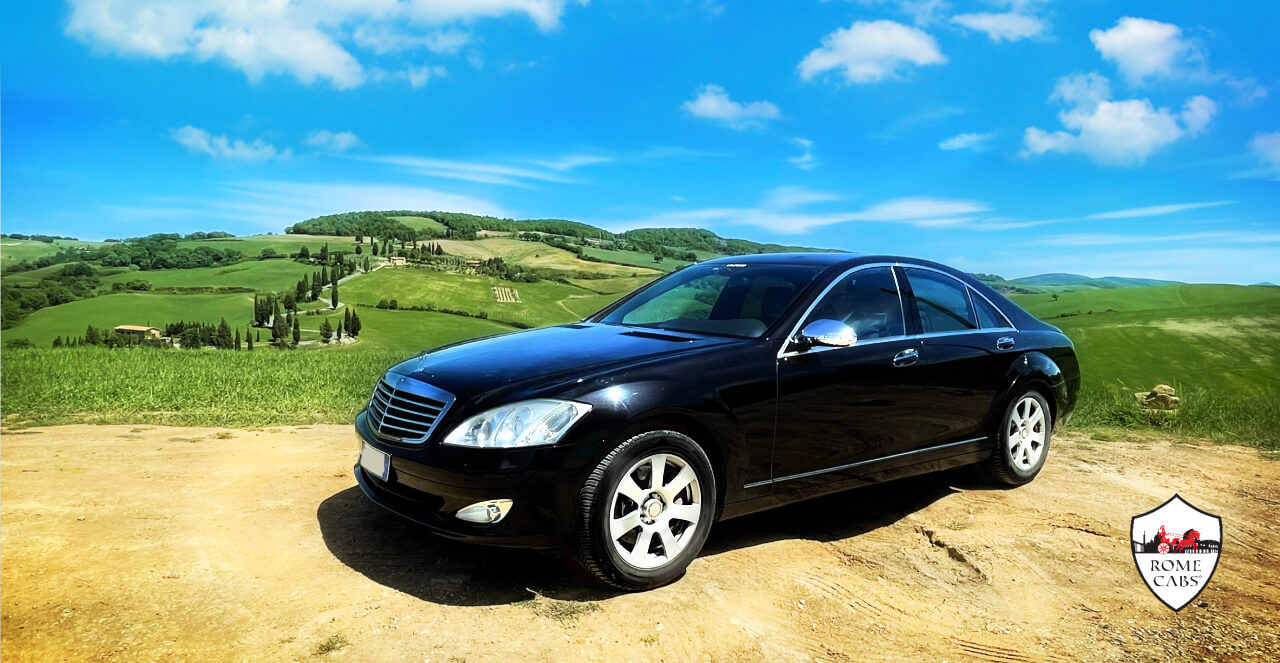 BANGO VIGNONI (the main square is a pool of thermal water)
Although it's one of the lesser known Tuscan towns in terms of tourism, has been a sought after place since it was discovered by the ancient Etruscans (the pre Roman civilization that once occupied this region) for its therapeutic thermal springs that flow from volcanic soil below.
In fact, the delightful hamlet of Bagno Vignoni is most recognized by the large rectangular pool of thermal water that makes up its entire square!
Photographs of its stone historic buildings mirrored in the still (and sometimes misty) pool water below have graced postcards and photo books featuring Italy's unique and enchanting places.
Following in the footsteps of the ancient Etruscans, then the Romans, and after them the Medieval Era's famous historical figures such as Saint Catherine of Siena and Lorenzo de Medici, people from all over the world continue to seek the healing waters of Bagno Vignoni that continue to spring from the ground.
Many luxurious spas in Bagno Vignoni ensure a relaxing holiday. Of course it's not a surprise to sometimes see tourists on brief day visits steeping their tired feet in the steaming rivulets that wind their way like veins on the ground surface.
VIGNAMAGGIO VILLA and Italian Garden
Chianti is the captivating Wine Region of Tuscany characterized by rows upon rows of vineyards blanketing lush hills and valleys, interrupted by silvery green olive orchards, dense forests, medieval villages, castles, villas, and wineries. Windy country roads fringed by dense nature are a striking difference from Valley of Orcia's straight roads and spacious areas.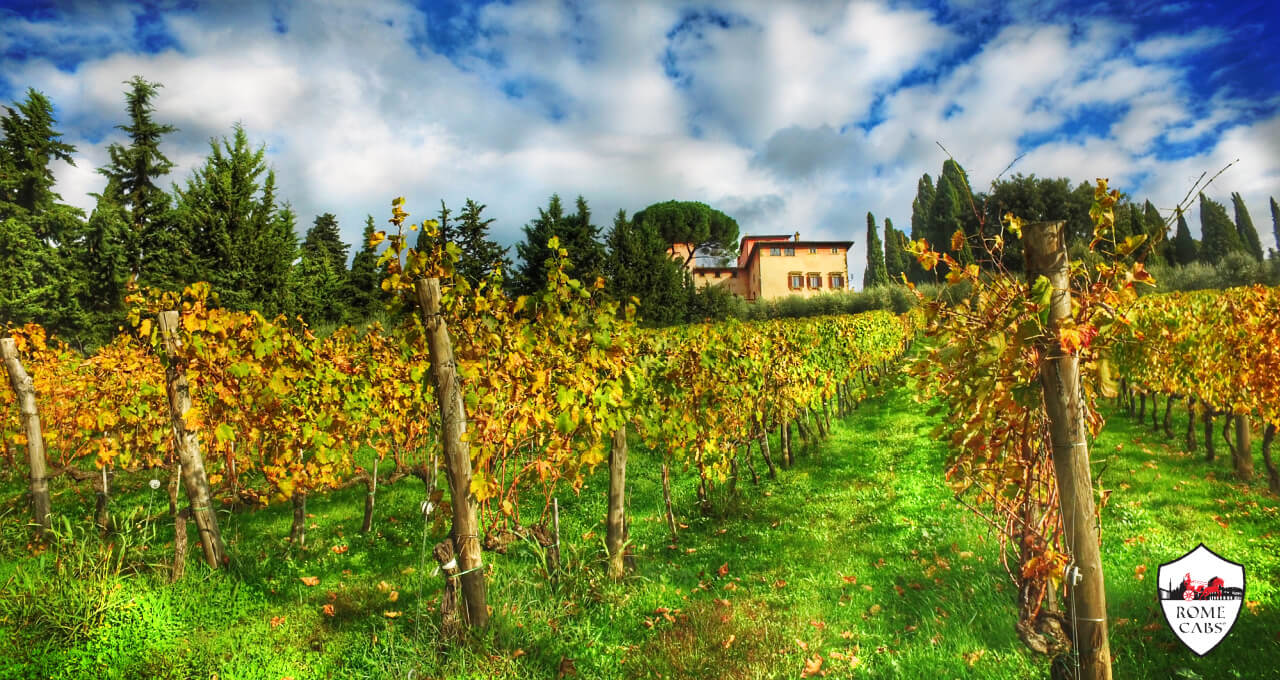 In the midst of patchworks of vineyards, olive groves, and forests is one of Tuscany's most remarkable Renaissance villa and winery: Vignamaggio.
It is said that Vignamaggio was first historically documented in early 15th century as a winery belonging to the noble Tuscan family named Gherardini - the same family that Mona Lisa was born into about 50 years after her family sold Vignamaggio to the Gherardi family on 1421.
The first part of Vignamaggio still stands and it's located in the interior part of the current villa that has been expanded between the 15-16th centuries. It's 700 year old wine cellar has been in continuous use since the 1400's.
Its adjoining Italian Garden is characterized by a broad avenue with topiaries, roses, manicured hedges and cypress trees. The Dog and Lion statues at the edge of the terrace guide you to the special spot to admire the enchanting landscape that is simply a slice of Tuscan paradise.
In 1992 the internationally acclaimed movie "Much Ado About Nothing", the adaptation of Shakespeare's comedic play starring Keanu Reeves, Emma Thompson, Denzel Washington and Michael Keaton was filmed in Vignamaggio.
Vignamaggio, as well as Montefioralle hamlet below are part of ENCHANTING CHIANTI tour from Rome and Shore Excursion from Livorno cruise port with Stefano Rome Tours.
MONTEFIORALLE (Chianti's Most Enchanting Hamlet)
Not far from Vignamaggio in the heart of Chianti you will discover a tiny hilltop Medieval hamlet named Montefioralle.
One of the oldest villages in Chianti with its first settlement documented in 1085, Montefioralle was one of the largest military and administrative centers in the area and it still enclosed within its original fortified walls. Its original name was "Monte Ficalle", possibly due to the fig trees that once grew here.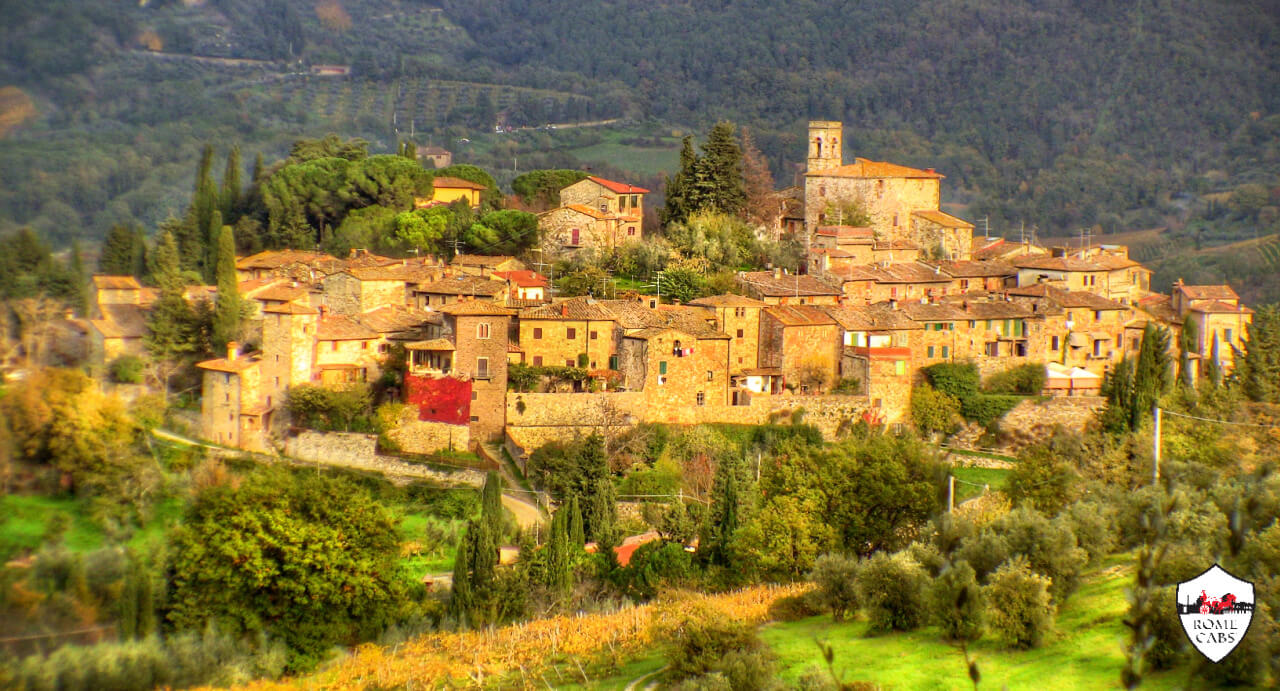 The beautifully preserved village with attractive stone houses and stone alleys devoid of mass tourism and traffic gives the impression that time stood still and you've stepped back in time centuries ago when Italy's illustrious figures like the great painter and inventor Leonardo da Vinci, and the Italian explorer Amerigo Vespucci onced lived here.
The house of the Vespucci family can still be found by looking for the carved letter V and a wasp (wasp is "vespa" in Italian, a pun on the name Vespucci). The enchanting panorama of vineyards, olive orchards and woods that surrounds Montefioralle may have also inspired the great master Leonardo da Vinci, and who knows – it may be reflected in one of his masterpieces!

Montefioralle, as well as Vignamaggio Villa and Greve in Chianti are part of ENCHANTING CHIANTI tour from Rome and Shore Excursion from Livorno cruise port.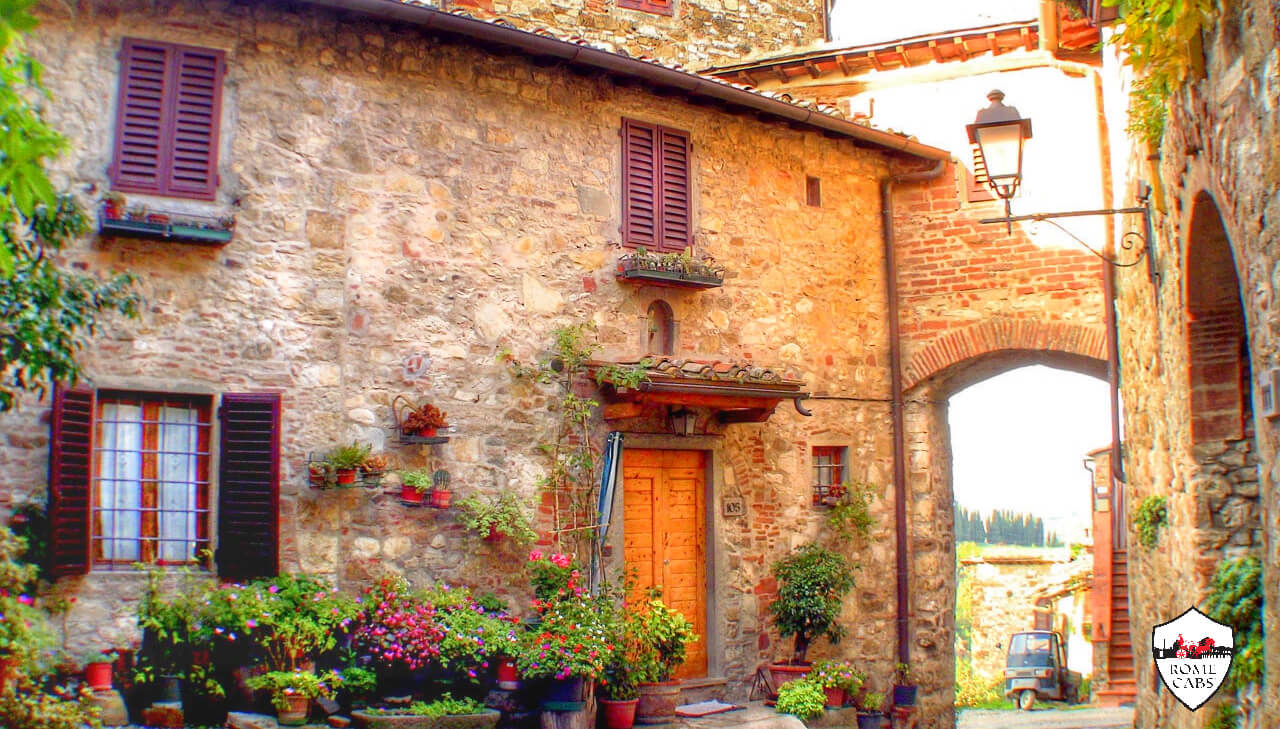 To experience these magical places in Italy, please visit our website our sister company Stefano Rome tours.
If any of the places are not part of our tours on our website, just send us an email and we will be happy to assist you with a customized tour. All the necessary contact information is available on the websites above.
Thank you very much for stopping by and reading our travel blog.
We look forward to welcome you to Italy soon!
The RomeCabs Team
ADDITIONAL HELPFUL TRAVEL BLOGS: