description
Florence and Pisa Shore Excursion from Livorno is the most popular Shore Excursion from Livorno that takes you to the resplendent Tuscany to visit Pisa and Florence in the comfort of your own private driving vehicle.


Please CONTACT US via Email for availability and booking information



PISA AND FLORENCE SHORE EXCURSION PRICE LIST


For up to 4 Persons from Livorno Cruise Port: 800 EUROS
For up to 6 Persons from Livorno Cruise Port: 880 EUROS
For up to 8 Persons from Livorno Cruise Port: 980 EUROS
PISA


Following a pleasant drive through the Tuscan countryside, you will arrive at your first destination, Pisa.
Pisa is more than just one of Italy's most famous cities of the "Leaning Tower of Pisa" and a top tourist destination, it's also rich in history, architecture, and culture. Its history goes back that ancient Romans referred to Pisa as "ancient". The legendary king of Pylos after the fall of Troy.
One of Italy's four maritime republics, Pisa grew into a dominating commercial center and a formidable rival of Genoa and Venice. That Pisan-Romanesque architectural boom flourished and a millennium later still inspire awe in locals and visitors alike.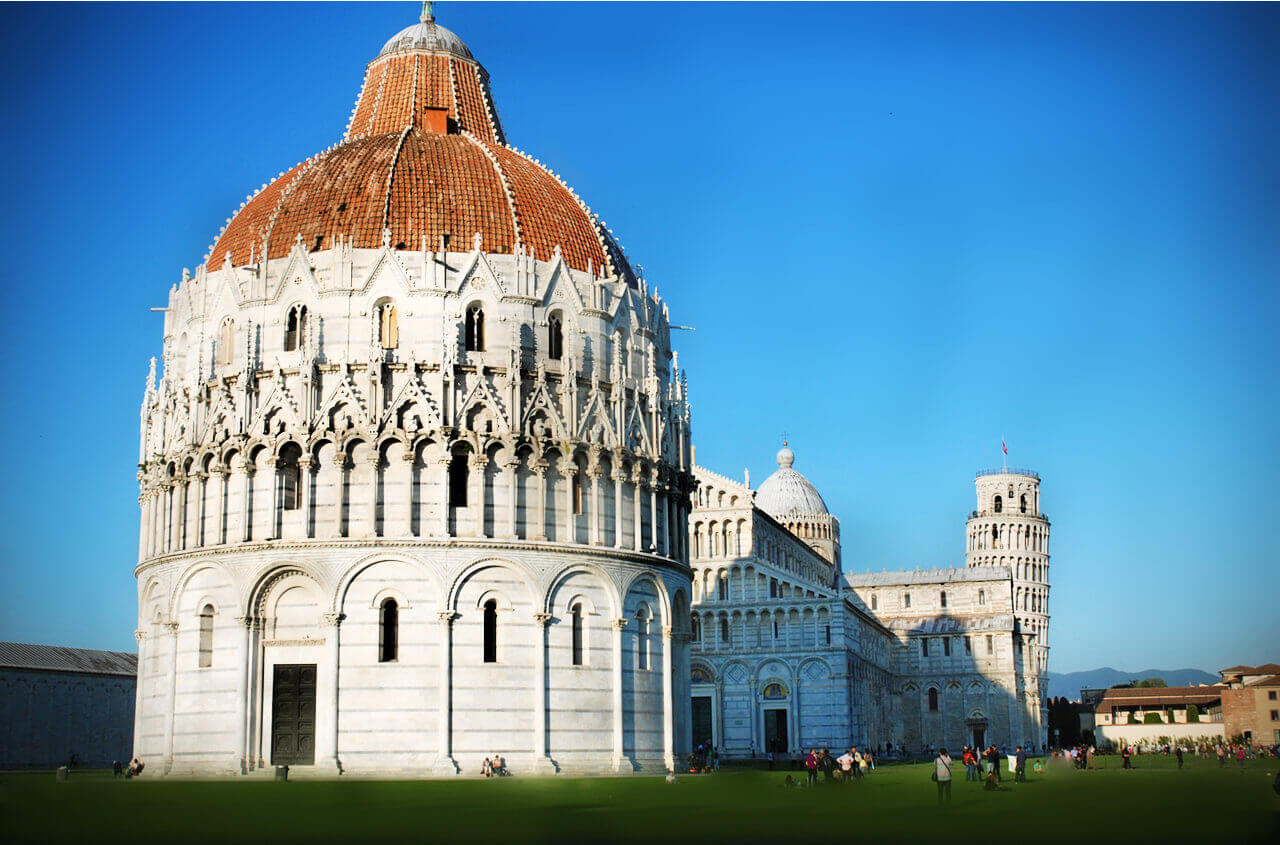 In the early 1400s, Pisa was conquered by Florence and fell under the influence of the Medici family who invigorated with artistic, literary, and scientific ventures. His reputation as a university scholar was reestablished during that time with a certain Pisa-born scientist who taught there: Galileo Galilei.
Your first stop in Psa will be Piazza dei Miracoli ( Square of Miracles ). This breathtaking square still continues to rival Pisa's ancient nemesis, Venice. The square boasts its most significant architectural monuments, a testament to its past wealth and power: the iconic "Leaning Tower", the tilting bell tower next to the Cathedral, the Baptistery, and Camposanto ( Holy Field monumental cemetery). It was also declared a UNESCO Heritage Site in 1987.
The 11th-century Pisan-Romanesque style Duomo (cathedral) adorned with a facade of green and white bands of marble served as an inspiration for cathedrals throughout Tuscany. The stunningly overwhelming 12th-century Baptistery dedicated to St John the Baptist is the largest baptistery in Italy! Behind the Duomo is the 12the century bell tower (or campanile in Italian) that became an international symbol.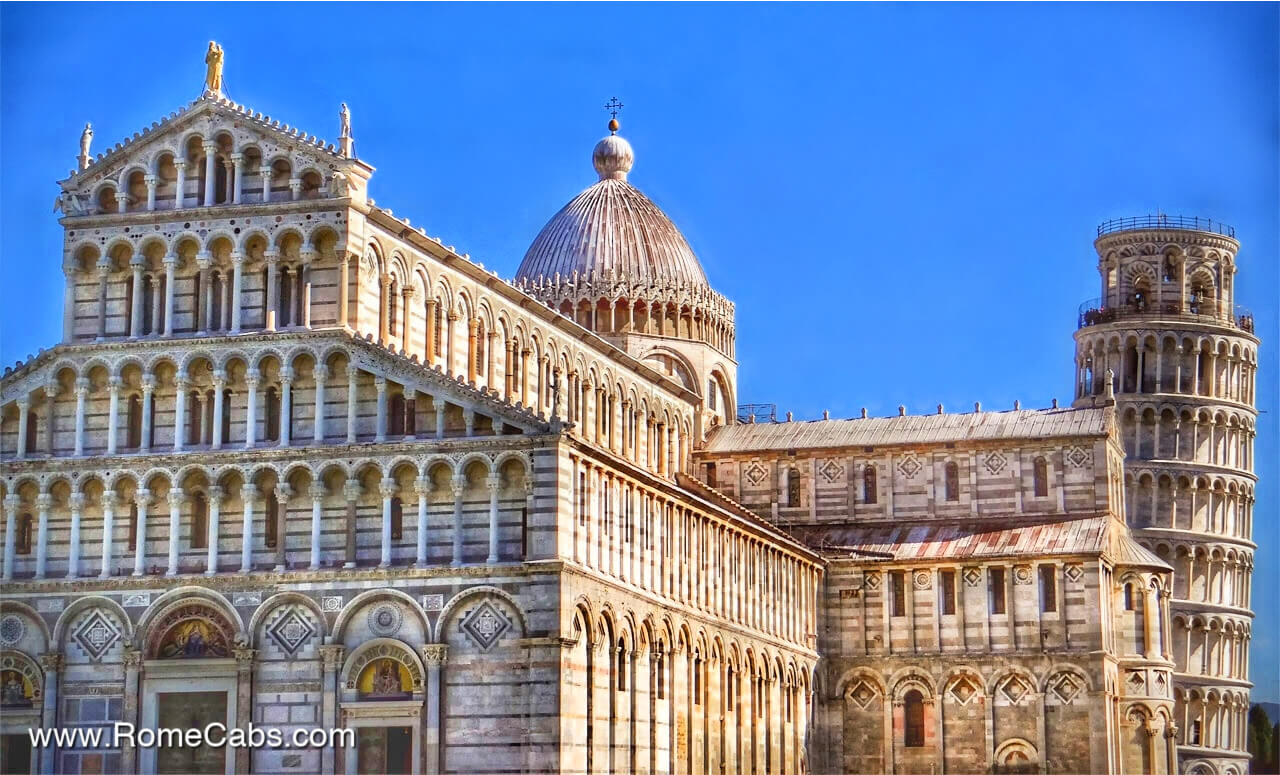 The tower stands at 183 feet tall, and it was designed to be furnished with seven bells cast to a musical scale. Better known for its nickname, The Leaning Tower of Pisa, leans 3.99 degrees (or nearly 13 feet) horizontally.
Here you'll also see the most popular photo-op: standing "just so" with your arm extended in front of you propping up the leaning tower. Have fun being creative with your own photos in front of the tower!
The tour continues with a pleasant drive through breathtaking valleys, soft rolling hills dotted with Tuscany's signature cypress trees and ancient villas, to the Renaissance city of Florence.



FLORENCE


Italy's cradle of Renaissance is also Tuscany's treasure trove of the world's most priceless works of art. The historical, cultural, artistic, and scientific impact of Florence is overwhelming, and its heritage unparalleled.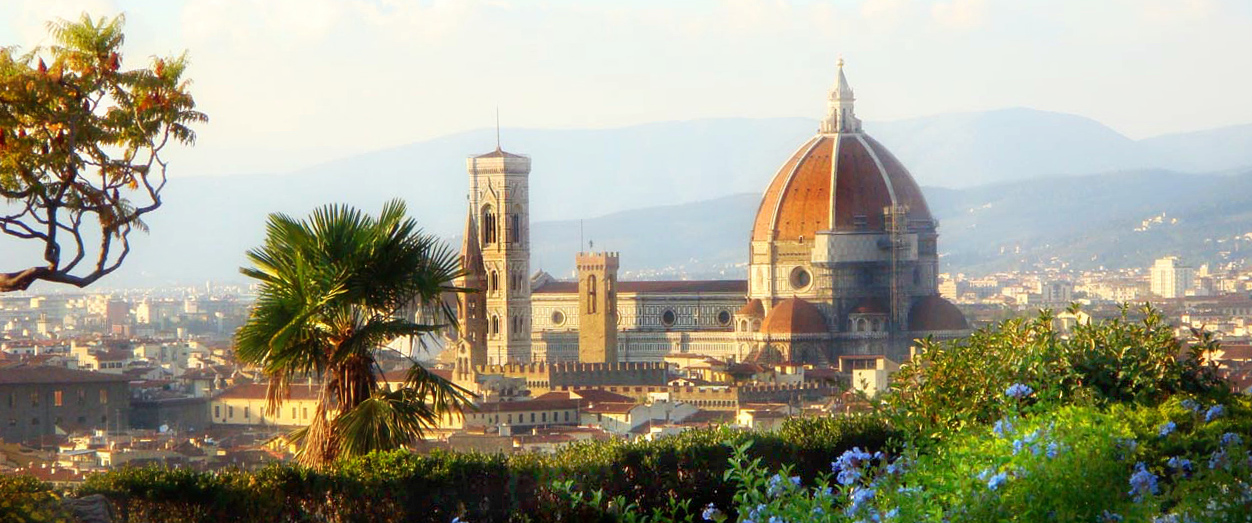 There is a very special spot where you'll have a splendid panoramic view of Florence....Piazzale Michelangelo. Here you get a picturesque view of Ponte Vecchio across the Arno River, the famous dome of the Duomo and Giotto's Bell Tower, and the famous skyline of Florence that outlines its distinctive architecture.
A short drive into the historic center will bring you to the Basilica of Santa Croce, where you'll have the opportunity to see the impressive funerary monuments of some of Florence's most illustrious: Michelangelo, Galileo Galilei, Lorenzo Ghiberti, and Niccolo Machiavelli. Important artworks featured inside the basilica were created by great masters such as Giotto, Cimabue, Donatello, and Giorgio Vasari among many others.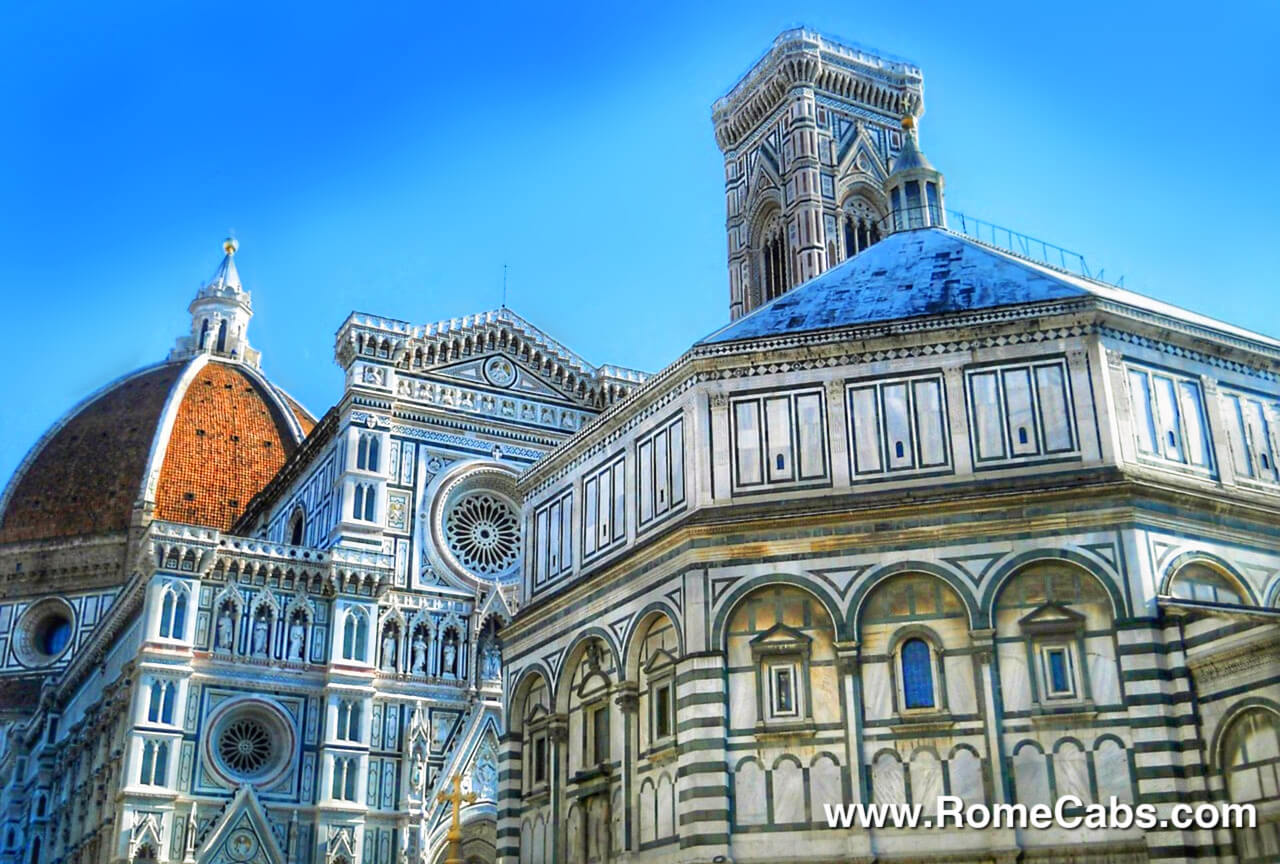 You will visit Piazza del Duomo where you have the opportunity to admire Florence's dramatic Cathedral, Giotto's Bell Tower, and the Baptistry - whose exteriors are decorated with polychrome horizontal strips of stunning green, white and pink marble.
The cathedral (also called Basilica of Saint Mary of the Flower) is one of Italy's largest churches, and until the modern age, its impressive dome was the largest in the world...as it stands, it's still the largest brick dome to have ever been constructed. The trio is part of the UNESCO World Heritage Site.
Nearby is the famous Old Bridge: Ponte Vecchio. With jewel box gold shops, breathtaking views of the Arno River flanked by aged ochre and sienna buildings, Ponte Vecchio is quite a picturesque setting.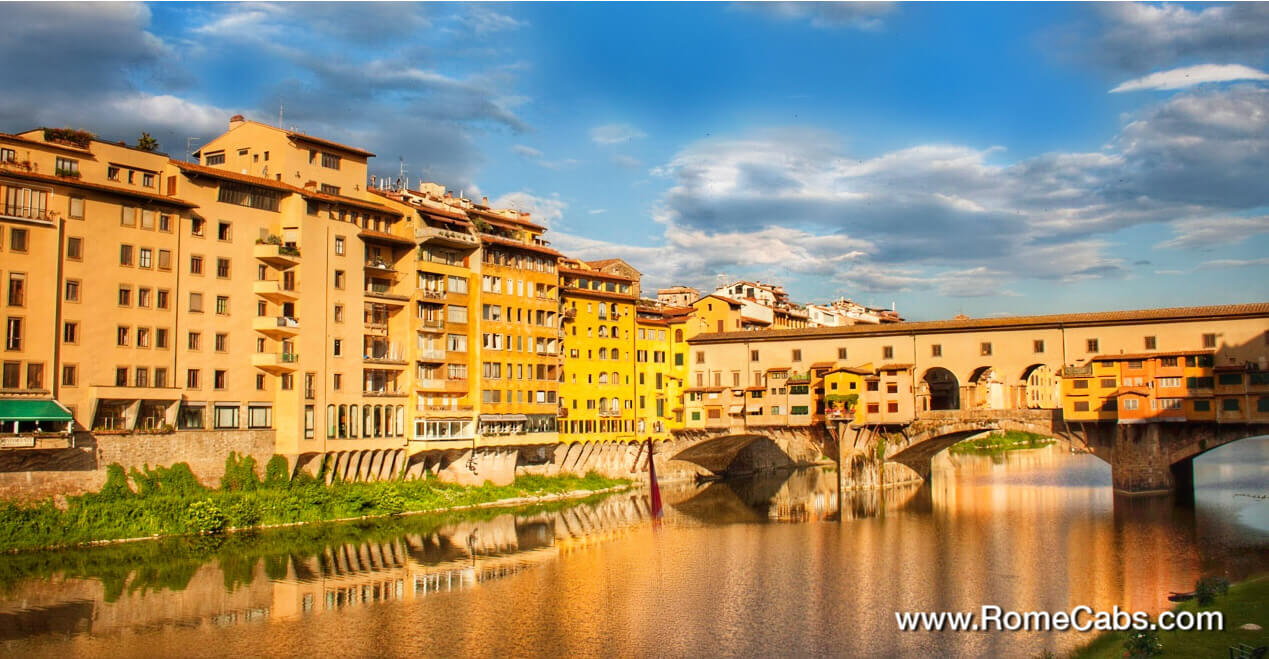 Piazza della Signoria features Palazzo Vecchio and the world-renown replica of Michelangelo's David statue.
Here you will enjoy a Tuscan lunch at one of the many different restaurants in the piazza so you can enjoy the open-air museum that surrounds you.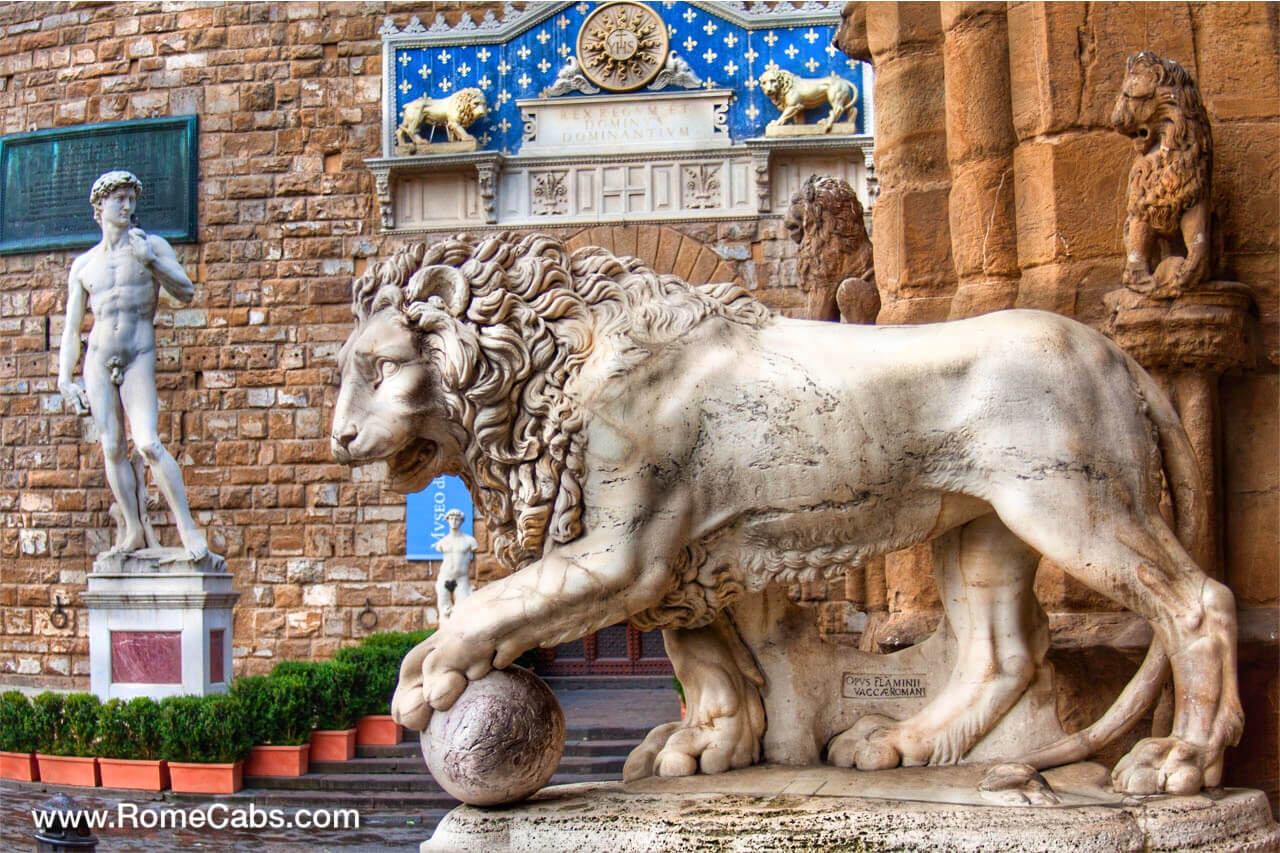 On this tour, you can enjoy a visit to the Accademia Museum where you will have the opportunity to admire Michelangelo's real statue of David, along with many other exquisite works of art by renowned Italian masters.
From here you will join your Driver for a relaxing drive back to your cruise ship.
Thank you for booking our Pisa and Florence Shore Excursion from Livorno and for choosing Stefano's RomeCabs for your Italy Private Excursions. We look forward to showing you Italy!
Important Information

PLEASE READ THE INFORMATION BELOW AND ACCEPT THE TERMS OF SERVICE AND PRIVACY POLICY BEFORE BOOKING.


* The itinerary of this Pisa and Florence Shore Excursion and Price List are created only for shore excursions That start / end at the Port of Livorno.
* If your cruise ship docks in La Spezia, please book the Pisa and Florence Shore Excursion from La Spezia.
PAYMENT OPTIONS
Payment for this Tour can be made in EUROS directly to your driver on the Date of Tour, or prepaid in advance via PayPal or Credit Card online upon request. (See Cancellation policy below)
CANCELLATION POLICY
We kindly ask that cancellations be made via E-mail at least 7 days prior to Date of Service.
Cancellations are accepted only via E-mail so your cancellation is on record. We do not accept cancellations by phone, text message, or 3rd parties.
** Cancelations for PREPAID SERVICES will be refunded the Reduced Net Rate we receive from your prepayment. Reduced Net Rate: actual service price minus PayPal/Credit Card fees retained by PayPal/Credit Card as they do not reimburse us the fees they retain from your payment.
FLORENCE MUSEUMS / ADMISSION TICKETS


ADMISSION TICKETS to visit the Santa Croce is approximately 5 euros per person to be paid upon arrival.
* Please be aware that both Academia Museum and Uffizi Gallery are closed on Mondays, and on national holidays: January 1, May 1, and December 25.
Also, It is NOT possible to visit Museums on the 1st Sunday of Every Month as this is " free museum day" in Italy with NO advance tickets available and long wait lines to enter the museums.
On these dates, your museum visit will be substituted with other sites in Florence that best suit your interests and desires.
* Please book either Academia Gallery or Uffizi Gallery no-line admission tickets in advance for the 11:30 AM time slot. Not reserving your museum in advance or waiting in line. Please book your tickets here and bring your vouchers with you on the day of the tour: FLORENCE MUSEUM TICKETS


It is NOT possible to visit both museums on a shore excursion.
Academia Gallery takes about 1 hour to visit.
Uffizi Gallery takes about 2 hours to visit.
To have more time enjoying Florence, most of our clients book the Accademia Gallery.


YOUR PRIVATE TOUR DRIVER


Tour Drivers are NOT licensed tour guides.
According to Italian laws, Tour Drivers can not act as tour guides and accompany guests inside churches, museums, monuments, or sights to sightsee. Your private driver will be obliged to remain with the vehicle at all times while you SELF TOUR away from the vehicle.

We can make arrangements for a LICENSED TOUR GUIDE you as a courtesy service to our clients. Please contact us for tour guides fees and how to reserve a guide. Licensed Tour Guides are paid at the end of their tour services in Euro funds.



MEETING POINT AT LIVORNO CRUISE PORT


Your private driver will meet you on the Pier next to your Ship at your scheduled pick-up time holding a sign with the NAME in your reservation.

Please do NOT leave the ship area, and do NOT take a shuttle bus outside the port.


TOUR SHARING
Save a lot on this Pisa and Florence Shore Excursion by sharing your tour with fellow cruisers for up to 8 guests for a minivan! It's easy: just place an ad on Cruise Critic's roll call and invite others to join you. Share the fun and the expense. FIND OUT HOW: TOUR SHARING
PISA AND FLORENCE TOUR TIPS:


Please wear comfortable shoes as many streets are made from cobblestones.
Always mind your personal belongings while in public places and busy squares.