description
Enjoy an unforgettable day in the heart of Tuscany with RomeCabs on your shore excursion to Pisa and Florence Shore Excursion from La Spezia Cruise Port. From Pisa's famous Leaning Tower, to Florence's iconic David statue, we combined two of Tuscany's top destinations into one exquisite private shore excursion.

Please CONTACT US via Email for availability and booking information



Pisa and Florence from La Spezia Tour Price List


For up to 4 Persons from LA SPEZIA Cruise Port: 880 EUROS
For up to 6 Persons from LA SPEZIA Cruise Port: 980 EUROS
For up to 8 Persons from LA SPEZIA Cruise Port: 1,100 EUROS



Preview many of the remarkable locations on our Pisa and Florence from La Spezia Tour VIDEO:


PISA


From La Spezia Cruise Port you will enjoy a drive through Tuscany's legendary countryside to your first destination, Pisa.
Pisa is more than just one of Italy's most iconic cities well recognized for its "Leaning Tower of Pisa", it's also a proud city rich in history, architecture and culture. Pisa's history is so extensive that ancient Romans referred to Pisa as "ancient". According to one popular legend, Pisa was founded by the mythical king of Pylos after the fall of Troy.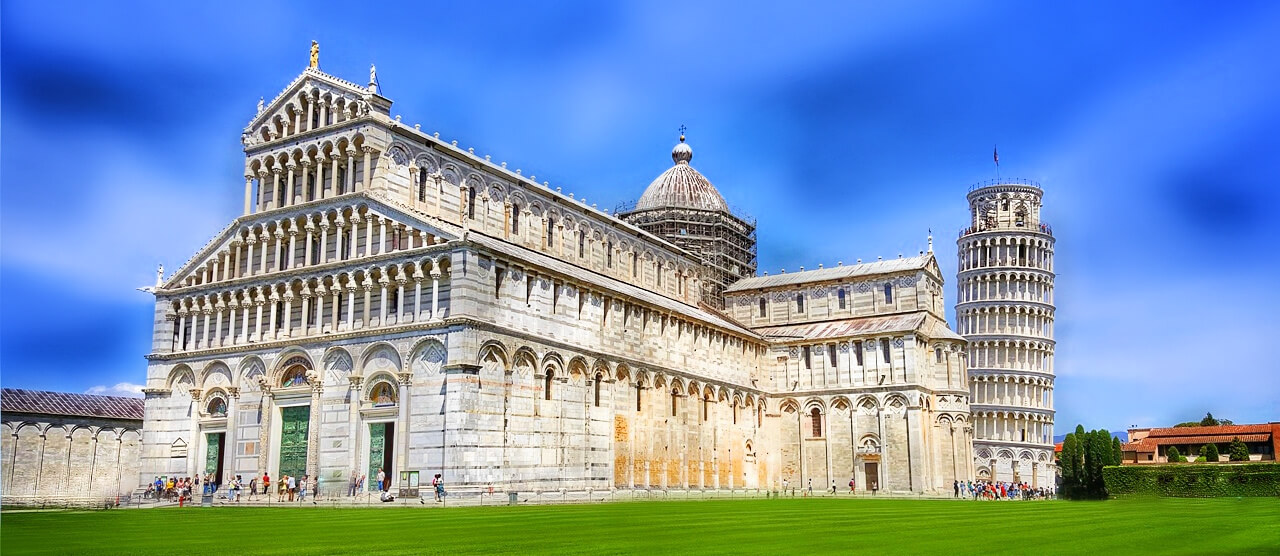 In Pisa you will visit Piazza dei Miracoli (Square of Miracles). This awe inspiring square possesses the city's most significant architectural monuments, witness to its past wealth and power: Pisa's imposing Cathedral, its iconic "Leaning Tower", the Baptistery and Camposanto (Holy Field monumental cemetery). Recognized as one of the leading centers for medieval art Piazza dei Miracoli is also a UNESCO Heritage Site.
FLORENCE


Your shore excursion from La Spezia journey continues to Florence, the capital of Tuscany.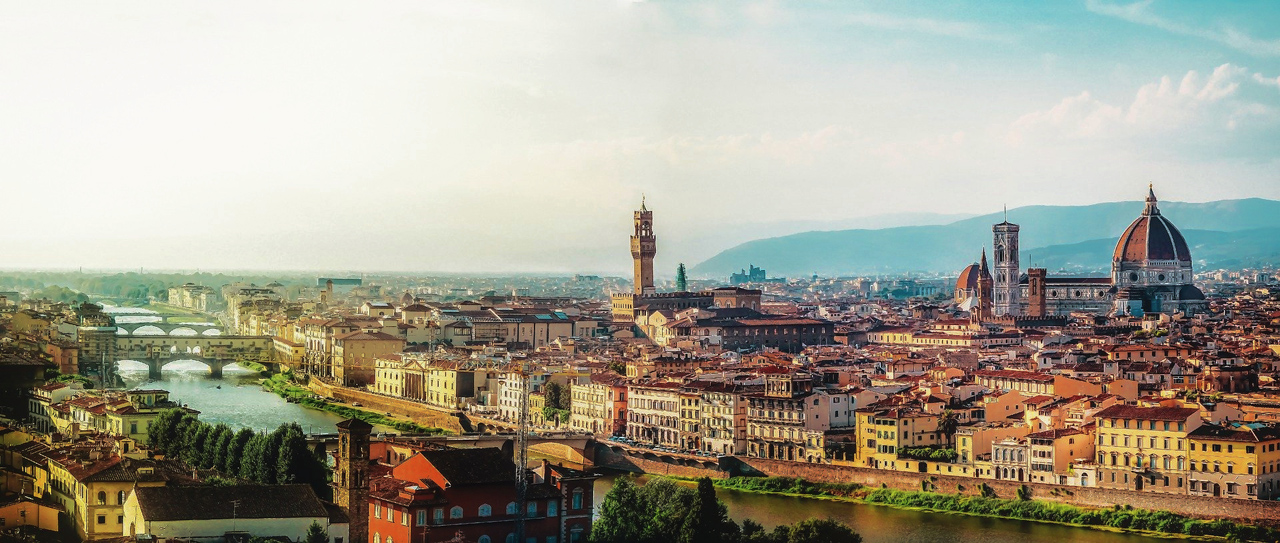 Also known as the cradle of Renaissance, Florence is a treasure trove of the most priceless works of art ever created. The historical, cultural, artistic, and scientific impact of Florence upon the world is unparalleled. During your visit in Florence you will have the opportunity to see and visit some of the the city's finest monuments, squares, churches, and museums.

BASILICA OF SANTA CROCE
A short drive through the historic center will take you to the Basilica of Santa Croce - also regarded as the Temple of the Italian Glories as it houses the impressive funerary tombs of some of Florence's most illustrious figures including Michelangelo, Galileo Galilei, Lorenzo Ghiberti and Niccolo Machiavelli. Significant frescoes inside the basilica were created by many of the great masters such as Giotto, Cimabue, Donatello, and Giorgio Vasari among many others.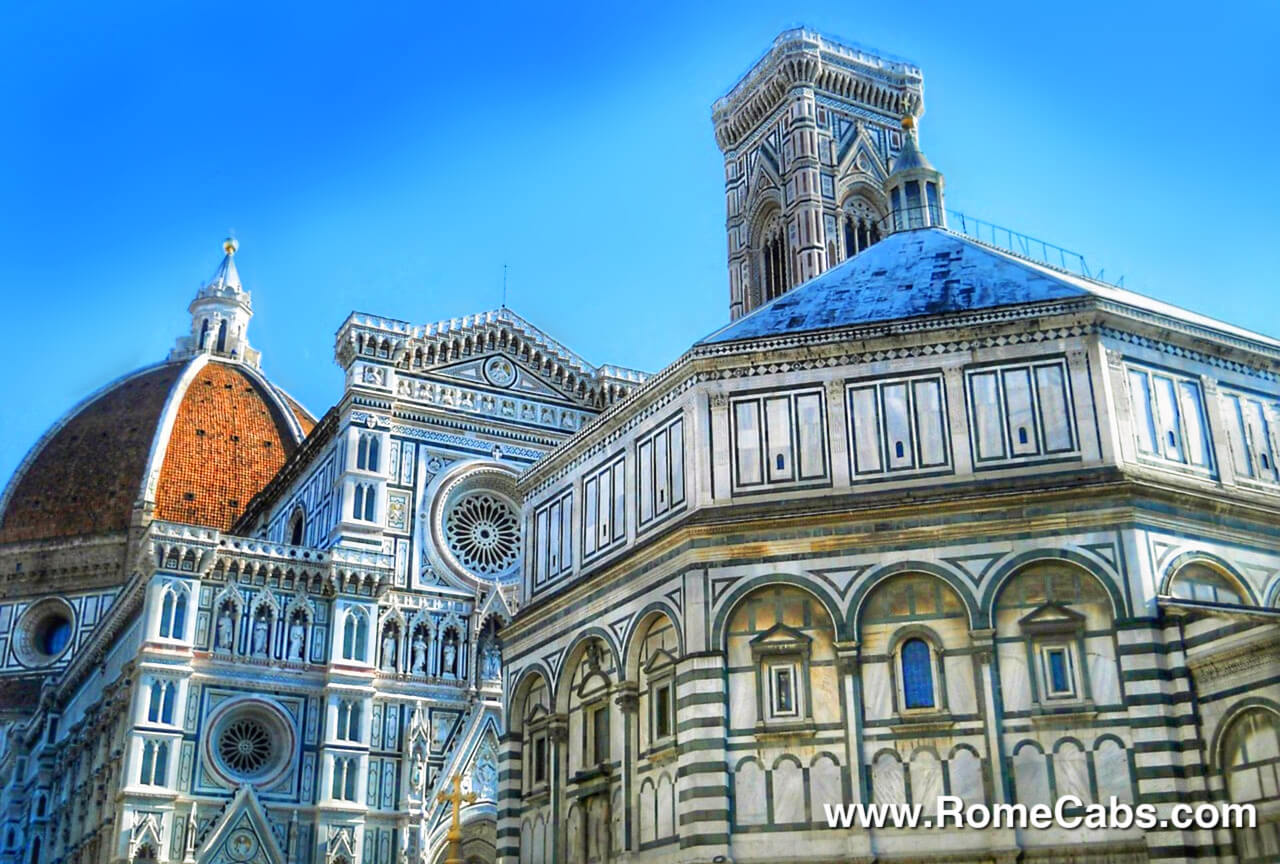 PIAZZA DEL DUOMO
Piazza del Duomo is the most famous square in Florence boasting three religious monuments with exteriors beautifully decorated with polychrome horizontal strips of stunning green, white and pink marble: Florence's Duomo (Santa Maria del Fiore Cathedral), Giotto's Bell Tower, and the Baptistery of Saint John.
The cathedral is one of Italy's largest churches crowned with the largest brick dome ever constructed. The square with its three religious monuments is a UNESCO World Heritage Site.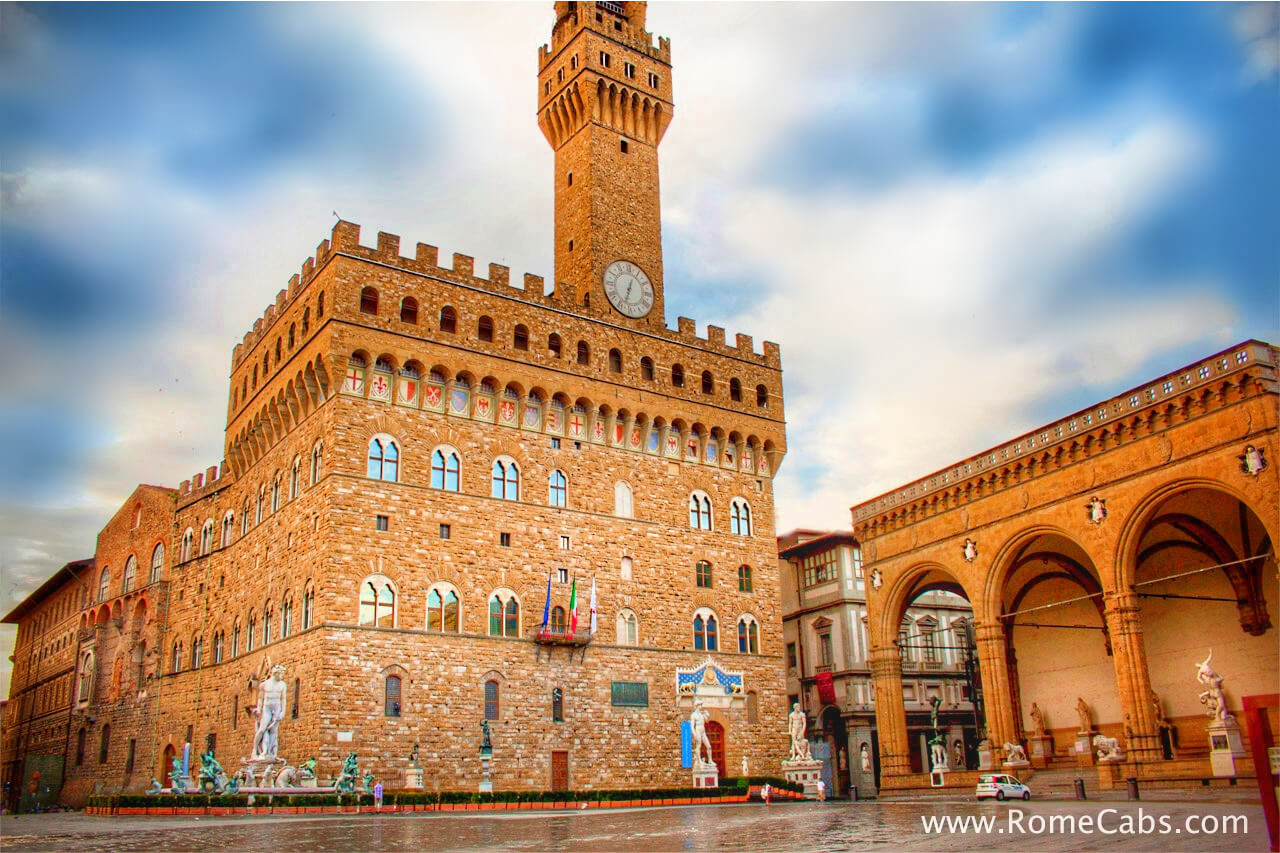 PIAZZA DELLA SIGNORIA
Piazza della Signoria is a lively square brimming with impressive sculptures making it an ideal place to enjoy a lovely lunch at any of the restaurants. In the warm months outdoor seating offers a delightful experience.
Overlooking the square is the imposing Palazzo Vecchio with a replica of Michelangelo's David statue standing at the entrance.
The arched Loggia dei Lanzi is a open sculpture gallery featuring remarkable classical and Renaissance sculptures. Considering all the magnificent sculptures that can be admired in this square, it's no wonder it's considered an open air museum!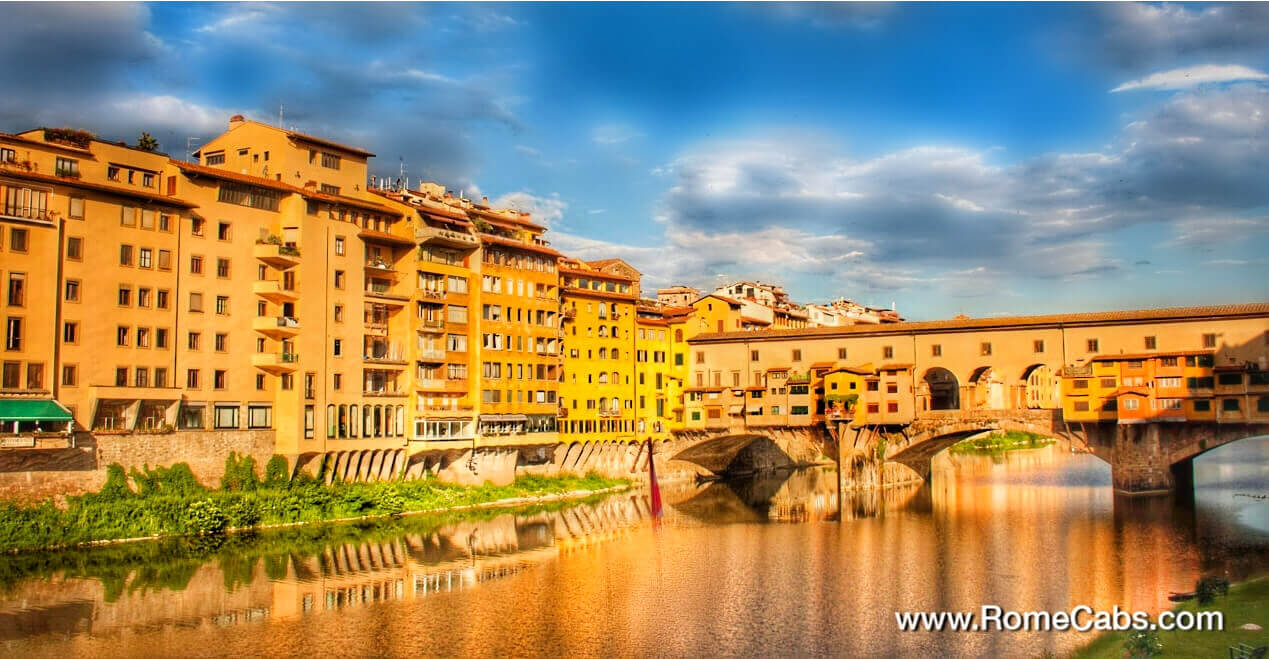 PONTE VECCHIO
Nearby is the famous Ponte Vecchio (Old Bridge). With its unique jewelbox gold shops built right on the bridge itself and breathtaking views of the Arno River flanked by aged ochre colored buildings, Ponte Vecchio is one of the most picturesque settings in Florence.

ACCADEMIA GALLERY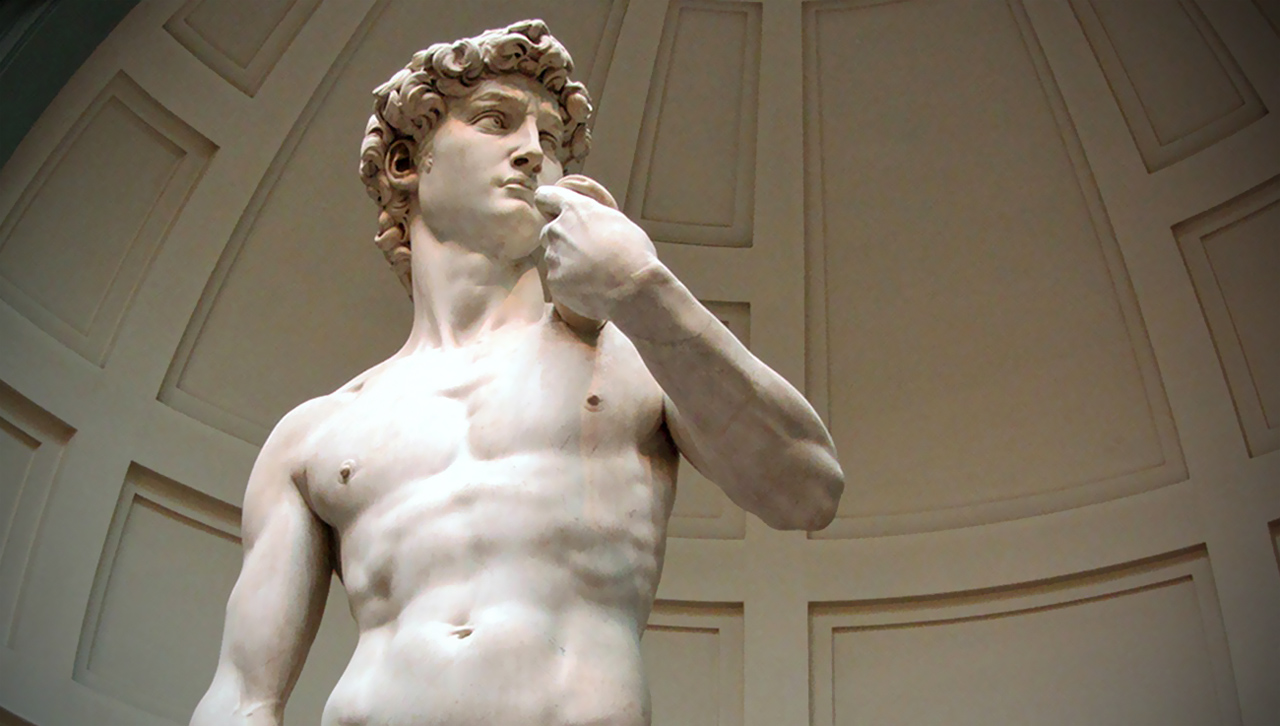 Accademia Gallery of Florence is most famous for housing the original David sculpture by Michelangelo since 1873, and it's one of the principal art museums of Florence featuring other masterpieces by Michelangelo, and Renaissance era paintings by the great artists of the era such as Sandro Botticelli, Domenico Ghiarlando, and more.
Thank you for booking our Pisa and Florence from La Spezia Shore Excursion and for choosing Stefano's RomeCabs for your Italy Private Excursions. We look forward to welcoming you to Italy!
Important Information

PLEASE READ THE INFORMATION BELOW AND ACCEPT THE TERMS OF SERVICE AND PRIVACY POLICY BEFORE BOOKING.


La Spezia Port is farther away from Pisa and Florence than Livorno. As a result of the greater distance that takes up more time from your overall available tour time, in order to be able to achieve this shore excursion from La Spezia Port, the time you have available to visit Pisa and Florence would be LESS than from Livorno.
* If your cruise ship docks in Livorno, please book the Pisa and Florence from Livorno Shore Escursion.
PAYMENT OPTIONS:
Payment for this Pisa and Florence from la Spezia Shore Excursion can be made in EUROS directly to your driver on the Date of Tour, or prepaid in advance via PayPal or Credit Card online when you confirm your Tour.
If you wish to PREPAY you may do so online when CONFIRMING your BOOKING by SELECTING your preferred option of payment.
CANCELLATION POLICY:
We kindly ask for any cancellations at least 7 days prior to Date of Service.
Cancellations must be made by email and confirmed by us in order for your cancellation to be on record. We do NOT accept cancellations by phone, text message or 3rd party.
** Cancelations for PREPAID SERVICES will be refunded the Net Rate we receive from your prepayment. Net Rate: actual service price minus PayPal/Credit Card fees retained by PayPal/Credit Card as they do not reimburse us the fees they retain from your payment.
FLORENCE MUSEUMS / ADMISSION TICKETS
* Please be aware that Academia Gallery (and all museums) are closed on Mondays, and on national holidays: January 1 , May 1 and December 25.
Also It is NOT possible to visit Museums on 1st Sunday of Every Month as this is " free museum day" in Italy with NO advance tickets available and long wait lines to enter the museums.
On these dates your museum visit will be substituted with other sites in Florence that best suit your interests and desires.
* Please book Academia Gallery for the 11:30 AM time slot. Not reserving your museum in advance or waiting in line. Please book your tickets here and bring your vouchers with you on the day of the tour:

ADMISSION TICKETS to visit the Santa Croce is approximately 5 euros per person to be paid upon arrival.

YOUR PRIVATE TOUR DRIVER
Tour Drivers are NOT licensed tour guides.
According to Italian laws, Tour Drivers can not act as tour guides and accompanying guests inside churches, museums, monuments or sights to sightsee. Your driver will be obliged to remain with the vehicle at all times while you SELF TOUR away from the vehicle.


We can make arrangements for a LICENSED TOUR GUIDE you as a courtesy service to our clients. Pleads contact us for tour guides fees and how to reserve a guide. Licensed Tour Guides are paid at the end of their tour services in Euro funds.



DRIVER MEETING POINT FROM PORT OF LA SPEZIA
Due to limited space and security measures, vehicles are NOT permitted to enter the port of La Spezia. Cruisers are required to take a shuttle bus from their ship to exit the port. Your driver will meet you at the Bus Stop holding a sign with the name in your reservation.
Pisa and Florence from La Spezia Shore Excursion TOUR SHARING
Save a lot on this Pisa and Florence from la Spezia Shore Excursion by sharing your tour with fellow cruiser for up to 8 guests for mini van! It's easy: just place an ad on Cruise Critic's roll call and invite others to join you. Share the fun and the expense.
FIND OUT HOW: TOUR SHARING


PISA AND FLORENCE SHORE EXCURSION TRAVEL TIPS