description
Enjoy a day in the heart of Tuscany to explore the Best of Florence, the cradle of Renaissance that brought to the world some of history's giants such as Michelangelo, Dante, Brunelleschi, Donatello, Machiavelli, and Cimabue....and Florences' impressive architecture and immense collection of priceless works of art in museums and squares affirms its great historical and cultural impact it had on the world.
BEST OF FLORENCE TOUR PRICE LIST


Florence Day tour from Rome:
For up to 4 Persons from Rome Hotel: 680 EUROS
For up to 6 Persons from Rome Hotel: 740 EUROS
For up to 8 Persons from Rome Hotel: 780 EUROS


Florence Shore Excurison from Livorno:
For up to 4 Persons from Livorno Port: 800 EUROS
For up to 6 Persons from Livorno Port: 880 EUROS
For up to 8 Persons from Livorno Port: 980 EUROS
* You may also do a QUICK PRICE CHECK using the Price Check & Booking form on the Right Side of this page. Once you receive the PRICE QUOTE based on the information you input, you may proceed to SUBMIT your Tour Request.
** Dates on the Booking Form Calendar that are NOT Selectable, are NOT AVAILABLE.
*** Is your Cruise Ship docking in La Spezia? We also offer this Best of Florence Shore Excursion from La Spezia Cruise Port.

Enjoy a visual journey of our Best of Florence Day Tour from Rome, Shore Excursion from Livorno TOUR VIDEO:
This Best of Florence tour offers you the opportunity to spend a day exploring the best of Florence, one of the greatest Renaissance cities that produced some of the world's greatest philosophers, scientists and artists, and is a treasure trove of artistic masterpieces that affirm Florence's historical and cultural impact of the Renaissance era.
After a relaxing drive through the Italian countryside into the historic center, you will have the opportunity to visit Florence's most famous squares and museums and experience the glories that transformed Florence into an outdoor museum.
Not to be missed on your visit to Florence are the following world famous sites:


PIAZZALE MICHELANGELO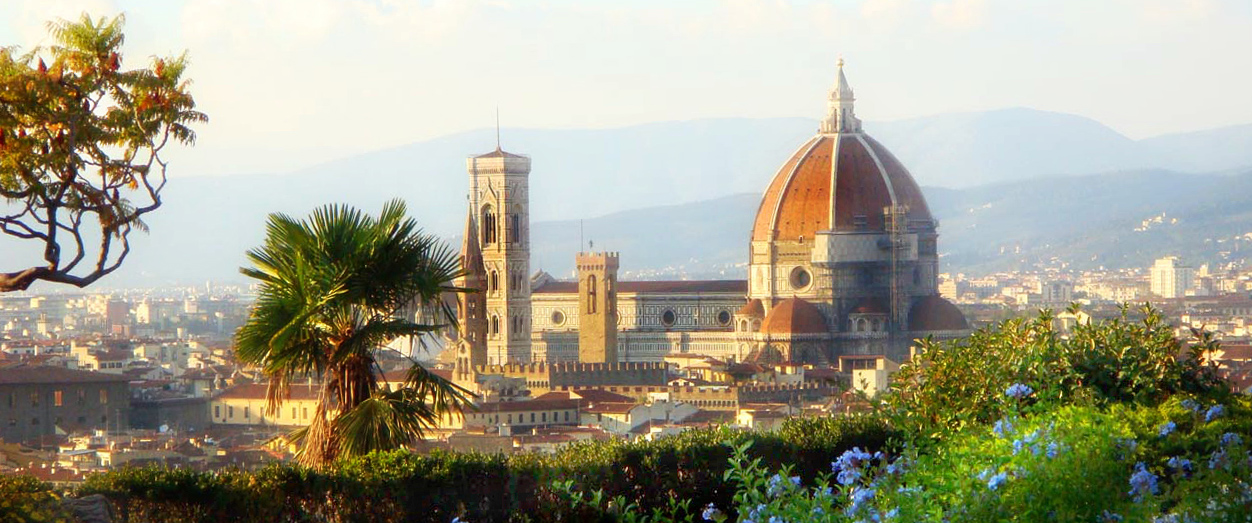 Not to be missed for a breathtaking overview of Florence is a stop in Piazzale Michelangelo. You will be amazed at the beauty of the Florence skyline dotted with church domes and terracotta rooftops.


PIAZZA DEL DUOMO


Piazza del Duomo is one of the most visited squares made up of three imposing polychromatic religious moments: Basilica di Santa Maria del Fiore (also known as the Duomo), the octagonal Baptistry of Saint John, and the striking Giotto's Bell Tower.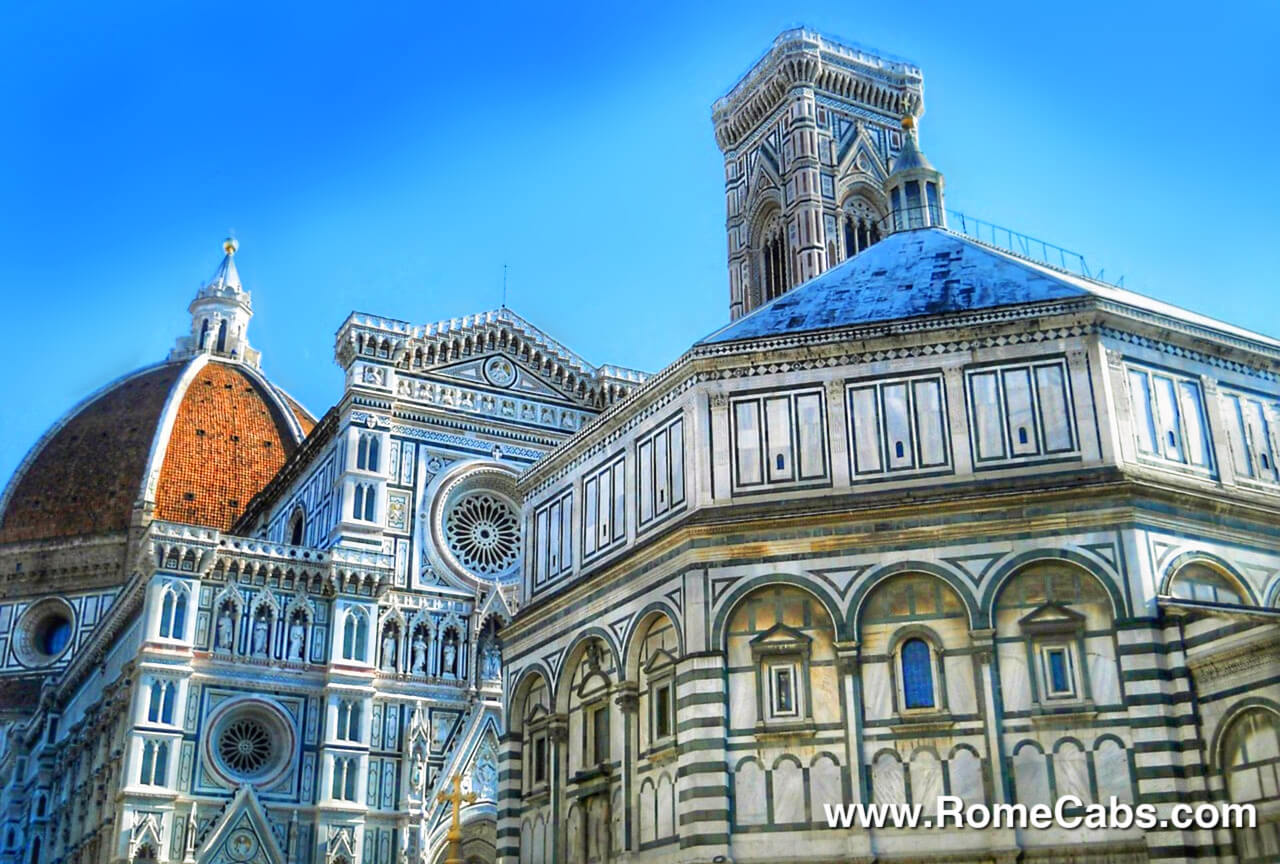 The large dome that crowns the Duomo was designed by the Italian architect Filippo Brunelleschi and for centuries has remained the largest brick dome in the world. It is said that it was the source of inspiration for Michelangelo's dome that he designed for St Peter's Basilica inside the Vatican.
A must see feature on outside of the Baptistry is are large bronze doors adorned with relief sculptures. The most famous are the East doors created by Lorenzo Ghiberti and were considered so beautiful that Michelangelo named them "the Gates of Paradise".

BASILICA OF SANTA CROCE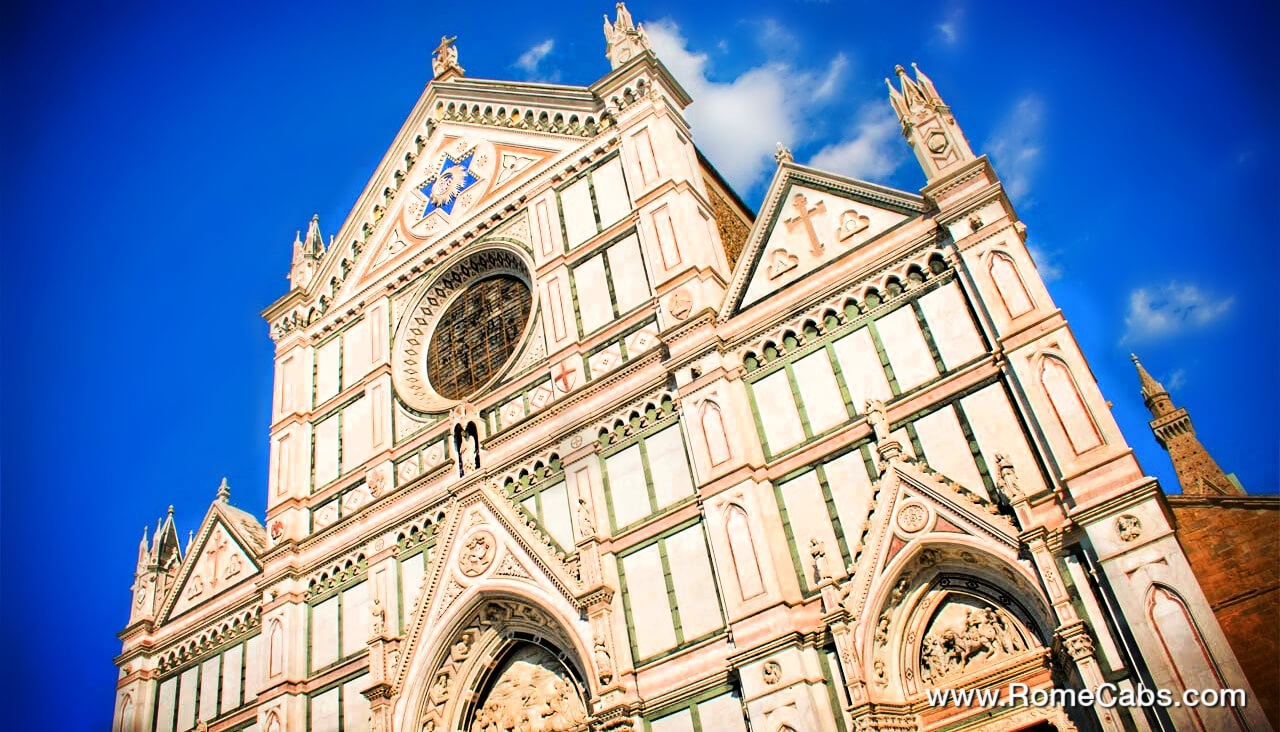 Inside Piazza di Santa Croce is the remarkable Franciscan Basilica of Santa Croce, also referred to as the "Temple of the Italian Glories" as some of Italy's most illustrious figures such as the astronomer Galileo Galilei, the master artist Michelangelo, the sculptor Donatello, and the great thinker Niccolo Machiavelli are buried here.


ACCADEMIA GALLERY
No trip to Florence is complete without a visit to the Accademia Gallery that features, among many works of art, the awe inspiring original statue of David, sculpted by Michelangelo.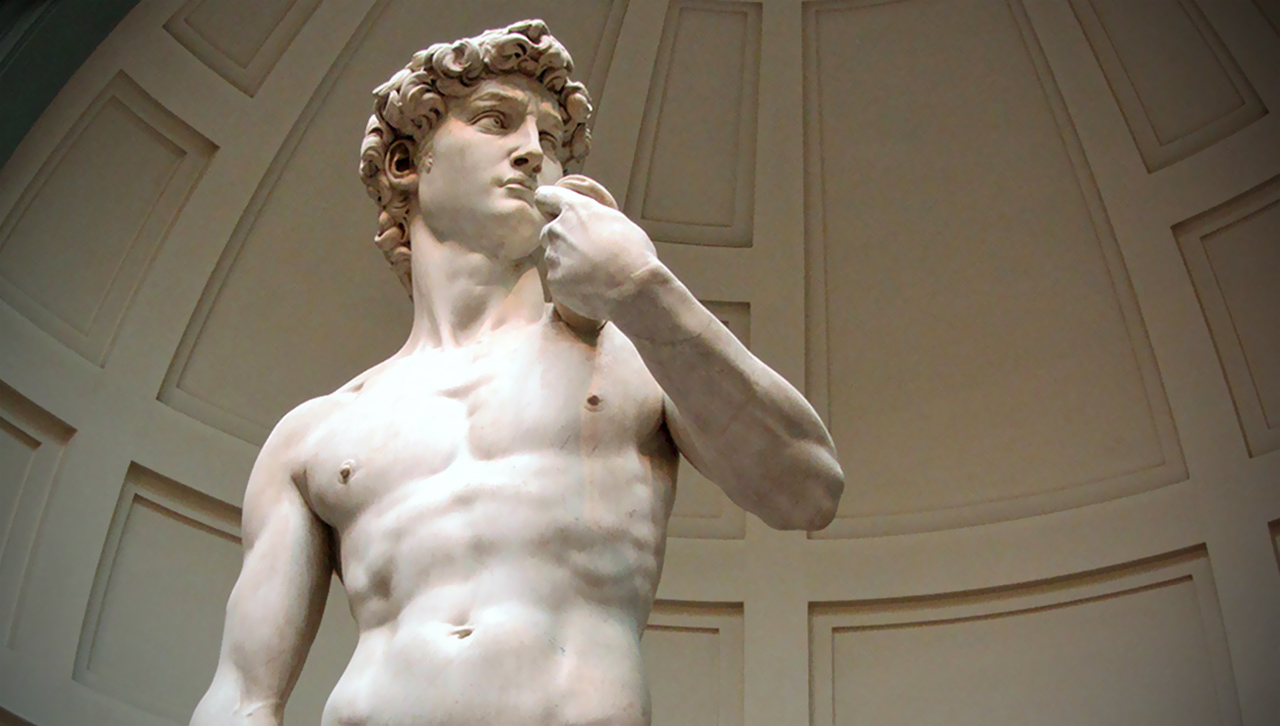 ** Please note that Museums are CLOSED on Mondays, and the museum visit will be substituted for other sites in Florence you will be sure to enjoy as Florence is full of amazing places to see.


Free time for Lunch will be enjoyed at a local restaurant or trattoria of your choice (your driver will make suggestions upon request, but in Florence food is a local pride for the Tuscans).


PIAZZA DELLA SIGNORIA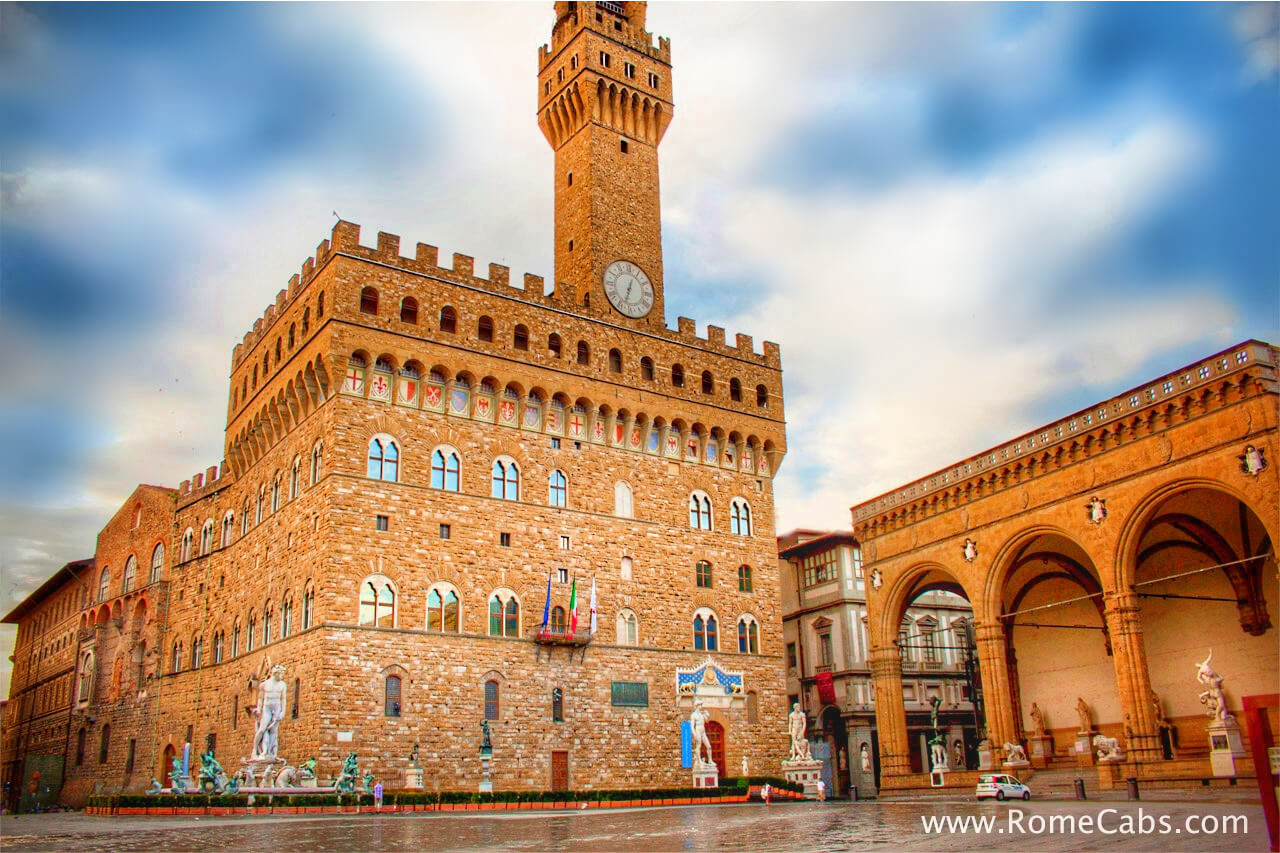 After lunch you will visit the spacious Piazza della Signoria dominated by Palazzo Vecchio and is well considered an open air museum boasting a replica of Michelangelo's David dominating attention in front of Palazzo Vecchio, various group sculptures proudly gracing the square, and a fantastic collection of notable sculptures inside the Loggia del Lanzi.


PONTE VECCHIO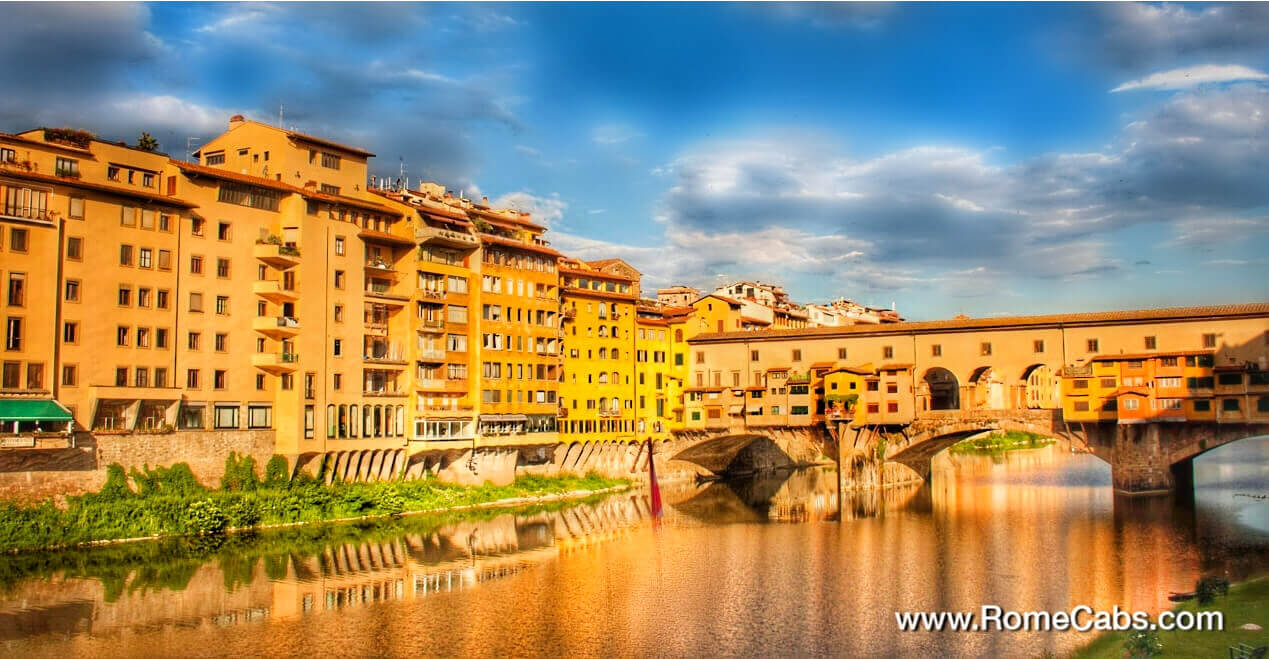 Not far from Piazza della Signoria is Florence's most famous bridge: Ponte Vecchio (The Old Bridge) lined with eye catching gold shops that resemble jewelry boxes. Above the bridge overhangs the long Vassari Corridor that connects Palazzo Vecchio to Palazzo Pitti across the Arno River which served as a safe commute passageway between the government palace and the residence of the Medici dynasty.

From here you will enjoy a relaxing drive through Tuscany's picturesque countryside back to your cruise ship in Livorno or journey back to your Rome accommodation.
Thank you for bookign our Best of Florence Day Tour and Shore Excursion, and for choosing Stefano's RomeCabs for your Italy Tours and Private Shore Excursions. We look forward to showing you beautiful places in Italy!
Important Information

PLEASE READ THE INFORMATION BELOW AND ACCEPT THE TERMS OF SERVICE AND PRIVACY POLICY BEFORE BOOKING.


PAYMENT OPTIONS
Payment for this Tour can be made in EUROS directly to your driver on the Date of Tour, or prepaid in advance via PayPal or Credit Card online upon request. (See Cancellation policy below)
CANCELLATION POLICY
We kindly ask that cancellations be made via E-mail at least 7 days prior to Date of Service.
Cancellations are accepted only via E-mail so your cancellation is on record. We do not accept cancellations by phone, text message, or 3rd parties.
** Cancelations for PREPAID SERVICES will be refunded the Reduced Net Rate we receive from your prepayment. Reduced Net Rate: actual service price minus PayPal/Credit Card fees retained by PayPal/Credit Card as they do not reimburse us the fees they retain from your payment.
FLORENCE MUSEUMS / ADMISSION TICKETS


Museums are CLOSED on Mondays, and on national holidays: January 1, May 1 and December 25.
It is also NOT possible to visit museums on 1st Sunday of Each Month as these are "free museum days" with no advance no-line tickets, and the wait times to enter can be very long.
On these dates your museum visit will be substituted with other sites in Florence that best suit your interests and desires.
Please book your Academia Gallery or Uffizi Gallery no-line admission tickets in advance for the 11:30 AM time slot. Not reserving your museum visit in advance may result in a lengthy wait in line and the chance of missing the museum visit. Please book your tickets here and bring your Vouchers with you on the tour date.
It is not possible to visit both museums in one day without missing out on much of Florence.
Accademia Gallery takes about 1 hour to visit.
Uffizi Gallery takes about 2 hours to visit.
Our clients prefer to book the Accademia Gallery in order to have more time to enjoy other sites in Florence.
ADMISSION TICKET into the church of Santa Croce is approximately 5 euros per person to be paid upon arrival



YOUR PRIVATE TOUR DRIVER
This Best of Florence tour provides an English speaking Private Driver who is NOT a Licensed Tour Guide.
Italy's laws prevent Drivers from acting as tour guides and accompany guests away from the vehicle to sightsee. Your Driver will be obliged to remain with the vehicle while you SELF TOUR away from the vehicle.


LICENSED TOUR GUIDES
If you prefer to have a licensed local tour guide accompany you during your tour, we can make arrangements for you as a courtesy service to our clients. Tour Guides are paid separately at the end of the tour service in Euro funds. Please inquire for Tour Guide Fees and to reserve your private tour guide in Florence.
MEETING POINT AT LIVORNO CRUISE PORT
For shore excursions from Livorno Port, your private driver will meet you on the Pier next to your Ship at your scheduled pick up time holding a sign with the NAME in your reservation.
Please do NOT leave the ship area, and do NOT take a shuttle bus outside the port.
BEST OF FLORENCE TOUR SHARING - share your private italy excursions
Save a lot on this Best of Florence Shore Excursion by sharing your tour with fellow cruiser for up to 8 guests for mini van! It's easy: just place an ad on Cruise Critic's roll call and invite others to join you. Share the fun and the expense.
FIND OUT HOW: TOUR SHARING