description

Escape to the idyllic landscapes of Tuscany and experience the captivating charm of Cortona and Montepulciano on our private "Under the Tuscan Sunshine" day tour from Rome. Get ready to be whisked away in your private deluxe vehicle, accompanied by your personal English-speaking driver, as you set off to explore these enchanting towns.
Immerse yourself in the irresistible charm that radiates from every corner of Cortona and Montepulciano as you enjoy free time on your own for independent exploration. Wander through their ancient streets and feel the vibrant pulse of these historic places. Marvel at the awe-inspiring panoramic vistas that stretch before you, capturing the essence of Tuscan beauty in its purest form.
Delight in the treasures of Tuscan culture as you indulge in the region's renowned wines and cuisine for lunch at a local restaurant of your choosing. Taste the tantalizing flavors of local Tuscany, each sip and bite a celebration of the region's heritage.
With convenient pick-up and drop-off at your Rome hotel, this extraordinary adventure promises to create lasting memories of Tuscany's irresistible magic.
CORTONA and MONTEPULCIANO TUSCANY TOUR Price List


For up to 2 participants from Rome Hotel: 500 Euros
For up to 4 participants from Rome Hotel: 600 Euros
For up to 6 participants from Rome Hotel: 650 Euros
For up to 8 participants from Rome Hotel: 750 Euros
** You may also do a QUICK PRICE CHECK using the Price Check & Booking form on the Right Side of this page. Once you receive the PRICE QUOTE based on the information you input, you may proceed to SUBMIT your Tour Request.
*** Dates on the Booking Form Calendar that are NOT Selectable, are NOT AVAILABLE.
CORTONA - Enchanting hilltop town


Amidst the picturesque landscapes of Tuscany, Cortona beckons you to bask in the warm embrace of the Tuscan sun. Take in the breathtaking vistas, immerse yourself in the timeless allure of this extraordinary town, and create cherished memories that will forever be etched in your heart.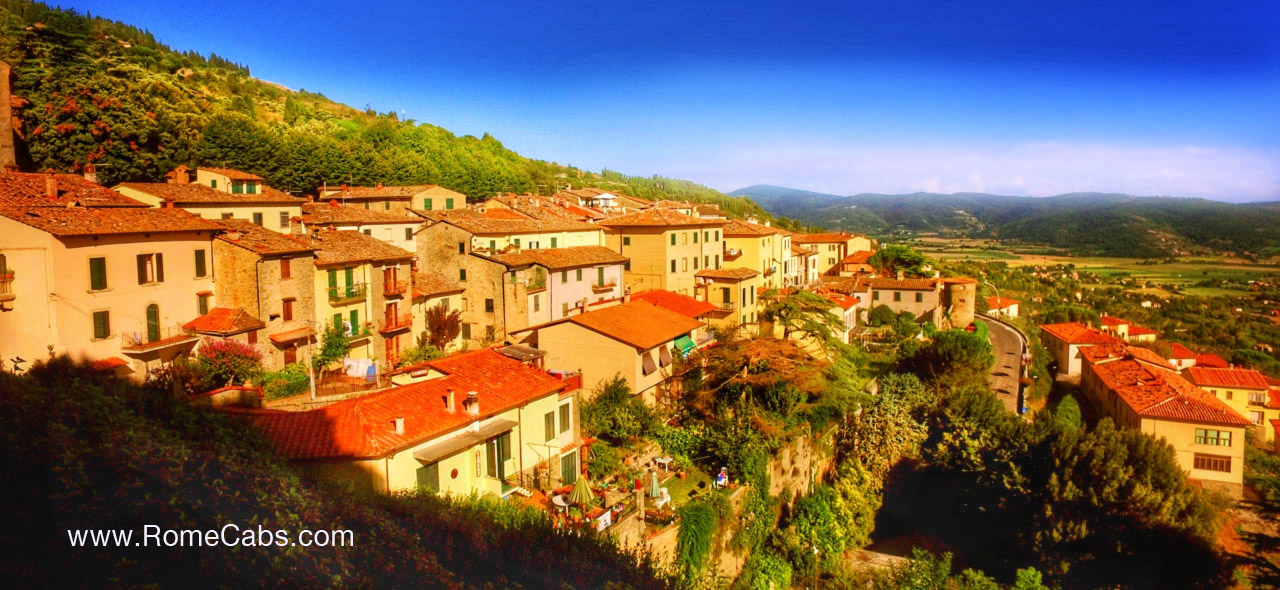 Embrace the freedom to explore Cortona on your own. Stroll through the charming squares such as Piazza della Repubblica and Piazza della Signoria, and meander along the narrow medieval streets adorned with inviting cafes, boutiques, art galleries, and shops brimming with local treasures.
For history and art enthusiasts, Cortona offers a wealth of cultural treasures to explore. Step into the MAEC Etruscan Academy Museum housed within the majestic Palazzo Casali in Piazza della Signoria, and immerse yourself in the ancient wonders of Etruscan civilization. Alternatively, visit the Diocesano Museum in Piazza del Duomo, where a rich collection of religious art and artifacts awaits your discovery.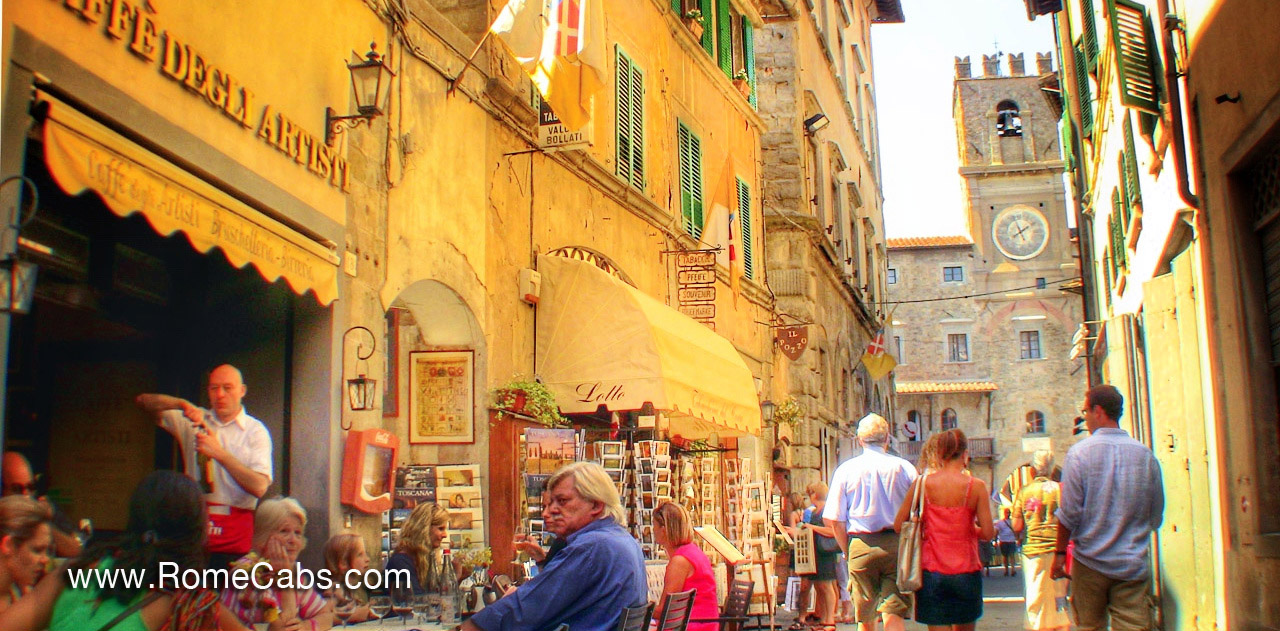 Delight in the abundance of regional products, from exquisite wines to gastronomic delights, allowing your senses to savor the true essence of Cortona. While in Cortona, savor a leisurely lunch, delighting in the flavors of delectable Tuscan delicacies at a charming local restaurant of your choosing.
MONTEPULCIANO - Majestic Renaissance gem

Montepulciano, often hailed as the pearl of the Renaissance, boasts a remarkable collection of palaces, churches, and ornate decorations that serve as a living testament to the height of the Renaissance. This captivating hill town invites you to immerse yourself in its labyrinthine historical streets, lined with magnificent architecture that transports you back in time. Explore the town's hidden gems, from local artisan shops to gastronomic boutiques, where you can indulge in the finest culinary delights and sample exquisite wines.


On top of Montepulciano is Piazza Grande, a picturesque square that captures the essence of the town's rich history and architectural beauty. At the heart of the square stands the impressive Duomo, also known as the Cathedral of Santa Maria Assunta. Its magnificent facade showcases a blend of Renaissance and Gothic elements. Flanking the Duomo, you'll find the Palazzo Comunale, the town's historic town hall.
As you wander through Piazza Grande, you'll be surrounded by other palazzi, each displaying its unique architectural charm. These palazzi reflect different periods of history, from the Medieval to the Renaissance, creating a harmonious blend of styles. Enjoy a leisurely stroll, savoring the architectural wonders and taking in the captivating views of the surrounding countryside from the edge of the town.
And of course, no visit to Montepulciano would be complete without stopping at local wine shops (enoteche) in town to savor the world-famous Vino Nobile di Montepulciano (Noble Wine of Montepulciano) that have earned Montepulciano the prestigious title of the "King of all Wines" as proclaimed by Francesco Redi in his poem "Bacchus in Tuscany."
The Noble Wine of Montepulciano is a classic red wine with a rich history dating back to the 15th century. The wine's velvety texture and captivating flavors have enchanted aristocracy and wine enthusiasts for centuries. Let the allure of Montepulciano weave its spell and create memories that will last a lifetime.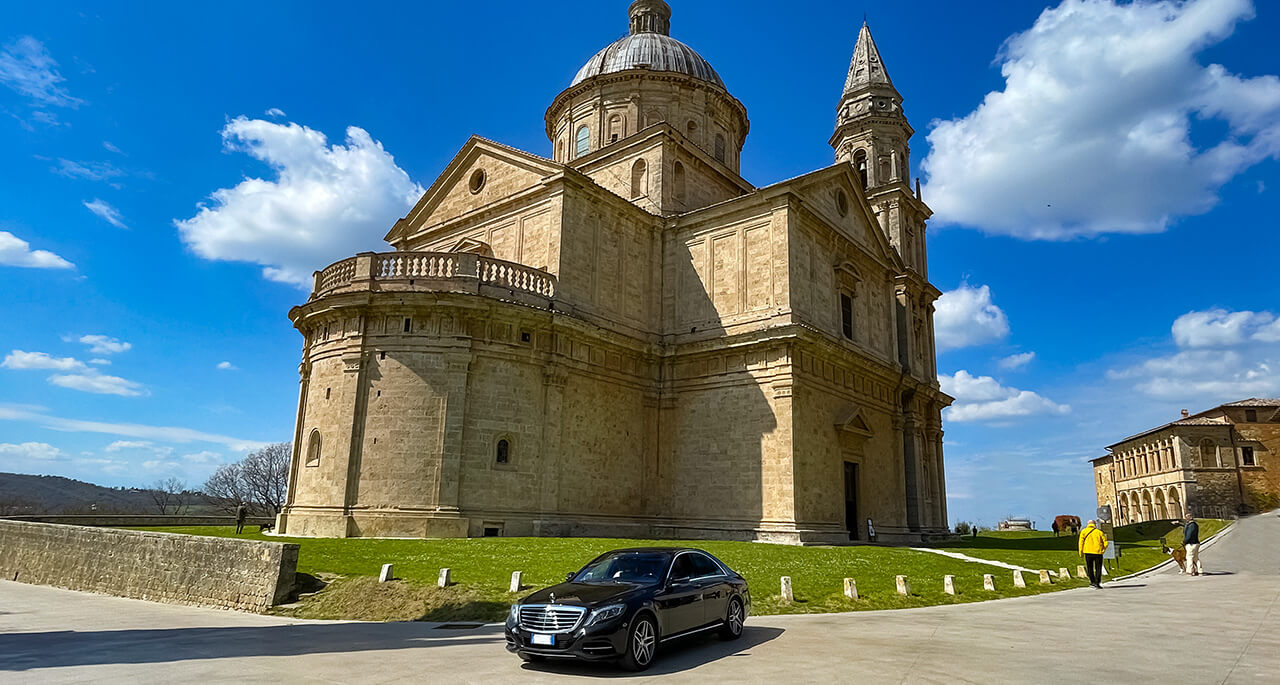 Among Montepulciano's architectural treasures is the splendid Temple of San Biagio, located at the base of the hill outside the town. A true masterpiece of Tuscan Renaissance, the sanctuary was designed by the eminent architect Antonio da Sangallo the Elder, the temple was built between 1518 and 1545 and occupies a striking position in the midst of a flat meadow at the base of the hilltop town.
This masterpiece design features a Greek cross plan, central dome, semicircular apse, and two bell towers, all adorned with striking travertine. You have the option if you wish to visit this sanctuary, tickets can be purchased at the nearby gift shop. Inside the sanctuary, a captivating marble reredos takes center stage, showcasing a fresco of the Madonna and Child with Saint Francis. As you wander through this architectural marvel, immerse yourself in its captivating history and artistic grandeur.
Bid farewell to Montepulciano as you once again join your driver for a leisurely journey back to Rome with an estimated arrival time of around 6 PM. Relax and soak in the pastoral landscapes as you traverse the picturesque Italian countryside, cherishing every precious memory created during your extraordinary day in the heart of Tuscany.

Thank you for choosing Stefano's RomeCabs for your Tuscany tours from Rome. We look forward to showing you beautiful places in Italy!
Guests who enjoyed this tour also booked the following exciting day tours from Rome:
Important Information
PLEASE READ THE INFORMATION BELOW AND ACCEPT THE TERMS OF SERVICE AND PRIVACY POLICY BEFORE BOOKING.


PAYMENT OPTIONS
Payment for this Tour can be made in EUROS directly to your driver on the Date of Tour, or prepaid in advance via PayPal or Credit Card online upon request. (See Cancellation policy below)
CANCELLATION POLICY
We kindly ask that cancellations be made via E-mail at least 7 days prior to Date of Service.
Cancellations are accepted only via E-mail so your cancellation is on record. We do not accept cancellations by phone, text message, or 3rd parties.
** Cancelations for PREPAID SERVICES will be refunded the Reduced Net Rate we receive from your prepayment. Reduced Net Rate: actual service price minus PayPal/Credit Card fees retained by PayPal/Credit Card as they do not reimburse us the fees they retain from your payment.
YOUR PRIVATE TOUR DRIVER
This Cortona and Montepulciano Tuscany Day Tour includes an English-speaking Private Driver who is not a Licensed Tour Guide.
Italy's strict laws prohibit Drivers from providing tour guide services and from accompanying guests away from the vehicle to sightsee on foot. Your Driver will be happy to offer basic touristic information while at the vehicle, but will be obliged to remain with the vehicle while you SELF-TOUR the sites included in this tour.
MEETING POINT at your Rome Hotel / Accommodation
For day tours from Rome, your private driver will meet you inside the lobby of your hotel or in areas permitted by hotels.

For Apartments or B&Bs without a lobby, your driver will meet you outside the main entrance of your Pick Up Address.

* If your hotel or accommodation is on a street or in an area restricted to vehicle traffic, your driver will park as close as lawfully possible and meet you on foot at your Address, and accompany you to your parked vehicle.


Museum Visit in Cortona (Optional)
If you wish to visit any museums in Cortona, please note that Museums are CLOSED on Mondays and December 25. Admission Tickets to museums can be purchased on-site inside the museums.


Wine Tastings at Local Wine Shops in Montepulciano
Wine tasting in Montepulciano is possible only in town at various wine shops operated by local wine producers. Wine tastings may cost anywhere between 5-15 Euros per person, and are paid directly to the wine shop. Please taste wine responsibly, and never on an empty stomach.


Visiting the Temple of San Biagio in Montepulciano:
Visiting San Biagio requires admission tickets that can be purchased at the gift shop near the sanctuary. Tickets are approximately 3.50 Euros Per Person. Family Rate for 2 parents with up to 2-3 children over the age of 5 years old: 10 Euros. Children under the age of 6 have free entrance.
Temple of San Biagio Opening Hours:
Monday to Saturday: 10:00 AM - 1:30 PM / 2:00 PM - 6:30 PM
Sundays: 11:30 AM - 1:30 PM / 2:00 PM - 6:30 PM
CLOSED on December 25