Buon giorno and welcome to Stefano's RomeCabs, Rome's leading company for Rome private transfers, Rome Tours and Civitavecchia Shore Excursions.
Finding the best car service in Rome for tours and transfers is important to ensure a safe and enjoyable experience in Rome for you and your family.
It's easy to do so with just a few practical preliminary steps which can be useful even when you travel to other cities in Italy or to other countries.
Below we will cover the following information every traveler should know before booking a car service in Rome (or elsewhere), and additional BONUS information to make your Italy vacation safe, flawless and exciting.


Tips for researching a reputable car service in Rome
Find a Rome car service company that best serves your Rome Tour and Transfer needs
Avoid fly-by-night car service agencies that are here today gone tomorrow
Establish a car service company's solid and enduring reputation
Check the car service company's online presence on different media platforms
Visit their website and look for telltale signs of professionalism, integrity and transparency
Gauge the car service company's professionalism via Email


BONUS TIPS:
Travel Safety Tips: Avoid illegitimate imposters (copycats) for your personal safety
Booking Car Service Helpful Tips: How to book your perfect tours and transfers in Rome
Simplify and Enhance your Italy vacation: Enjoy private day tours from Rome to top Italy destinations for an unforgettable vacation in Italy
HOW TO HIRE CAR SERVICE IN ROME
Planning for a trip often requires some advance preparation and research. It's how travelers usually find the best hotels, decide on must-see attractions, discover restaurants to try, and decide on the best car service for their needs.


Do your research for a reputable car service in Rome:


The simplest and most direct way to get started on your research for the best car service in Rome is to ask for recommendations from trusted sources such as your travel agent, family members, friends, co-workers, social media friends, or established travel forums like Fodor's, Rick Steves or Cruise Critic.
Although not everyone's experience is the same, you can easily gauge a company's reliability based on the experience of others whose opinions you trust.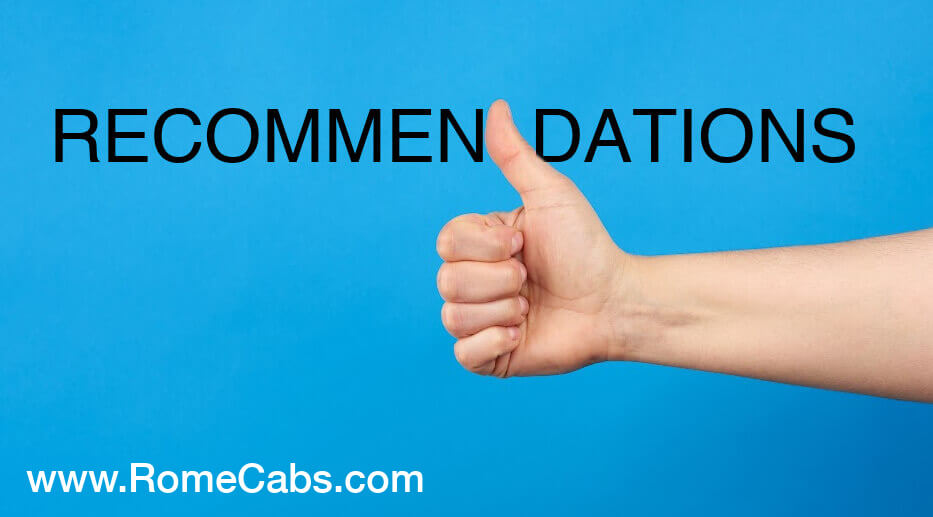 If you are unable to secure recommendations for driver service companies in Rome, or if you wish to back those recommendations up with your own research, the internet is a valuable tool that helps you find the best car service company in Roma.
Search for Transfer and Tour companies in Rome that specialize in services you need
Whether you need Airport Transfers, Civitavecchia Port Transfers, Rome Shore Excursions, Rome Tours, or long distance transfers from / to Rome, you can easily find the best car service in Rome for your and your family's needs.
Many transfer and tour companies in Rome like ours offer both tours and transfers (private driver service in Rome) to streamline your trip. Booking all your Rome tours and transfers with one good company greatly simplifies your Italy vacation, removes the challenges and confusion that occur when dealing with multiple companies on a single trip, and offers peace of mind having everything organized from start to finish by one company.
Trying to book multiple tours and transfer with various companies in one city can lead to confusion, reservation errors, and costly mistakes.
Shared or Private Rome Tours and Transfers? How about

Both

?


You can also easily narrow your search based on whether you prefer private transfers to shuttle services, or if you prefer private tours to group tours.
For more than 18 years we have specialized in private Rome Tours and Transfers.
However, many of our cruising clients have organized their own privately shared Civitavecchia Transfers, Pre Cruise Tours from Rome to Civitavecchia Cruise Port, Post Cruise Tours from Civitavecchia to Rome, and Italy Shore Excursions with fellow cruisers on their cruise ship. Our clients simply booked their preferred private Civitavecchia Transfer and Private Shore Excursion and invited other like minded fellow cruisers from their cruise ship to join them.
Privately shared Civitavecchia Transfers and Shared Rome Shore Excursions are superior to "shuttle services" and "group tours" in the sense that you are still in full control of your private cruise tour and transfer reservations, with the benefit of choosing who joins your private Civitavecchia and Private Italy Shore Excursions, and getting to know in advance your tour and transfer mates.
Privately shared tours based on common interests enhances your Italy shore excursions enjoyment. Choosing to share your Civitavecchia Transfers with fellow cruisers whose hotels are in close proximity to yours saves you time and money.
We dedicated a page to TOUR SHARING Information for cruisers who wish to share their private Civitavecchia Shore Excursions as well as their private Civitavecchia Transfers.
Evaluate Rome car service companies for consistent reliability and in business long-term


Once you narrowed down your search to the type of Rome tours and transfers you require during your Italy trip, evaluating companies to ensure they are in continuously good professional standing is another important step towards your selection of the best car service in Rome for your travel needs. To do this, you may simply check various online reviews sites and browse through customer feedback comments.
Choose a car service company that realistically delivers their services as promised (especially if they even exceed their clients' expectations), and be cautious of those who overpromise and under-deliver.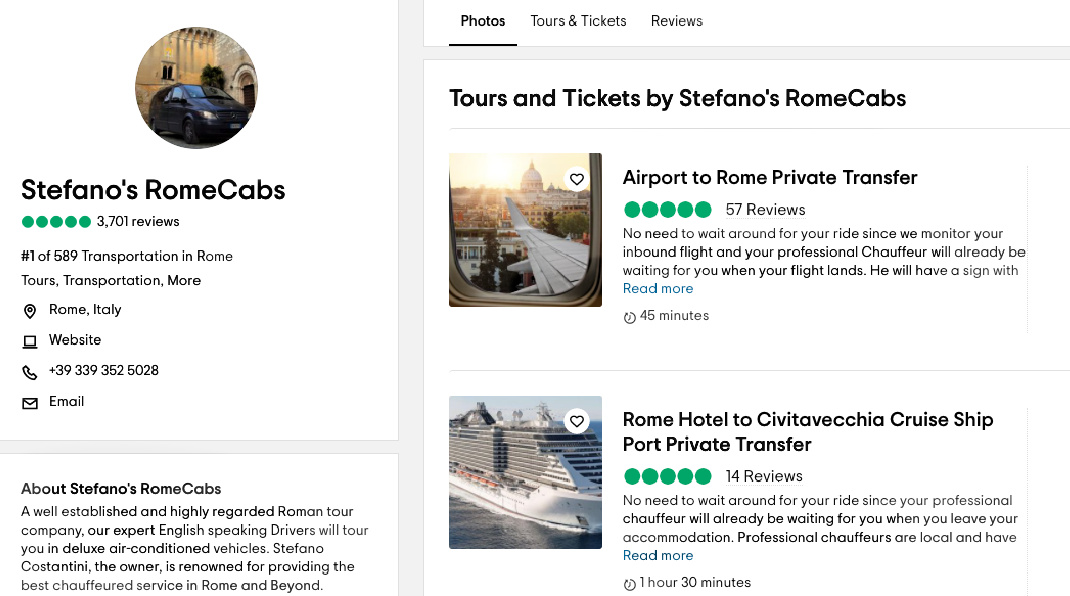 Conventionally, companies that have been in business for a significant amount of time (at least a decade or more) and are in solid good professional standing with continuous online feedback from real customers, are considered well-established and worthy of the public's trust.
A company that has endured the ups and downs of local and global economical tides (not to mention the pandemic that disrupted international travel for over a year) is likely well-rooted and in a strong position to be depended on for your important Italy trip that can be many months away. Our clients often book our tours and transfers even a year in advance! It takes time, effort, and a consistently outstanding reputation to earn that level of trust from our customers.
It's important to also know how long a company has been in business to avoid fly-by-night outfits that are here today and gone tomorrow. You can often find out also by checking online review sites to see when a company has been listed, social media platforms, and any online publications mentioning that company.
Visit the Car Service company's Social Media and online presence


Most reputable driver service companies have an online presence on at least 1 if not more different media and social network platforms such as: company blog(s), YouTube, or Social Media networks (Facebook, Twitter, Instagram…).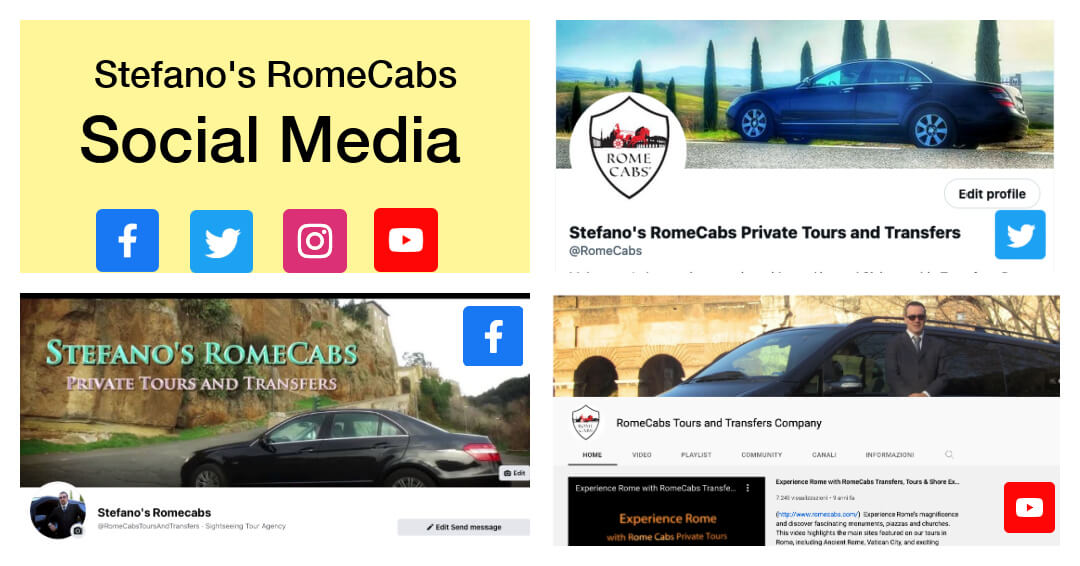 While not many small or medium size companies can afford to invest in a "social media manager" to regularly post, curate and maintain multiple social media accounts, having a presence on other media networks indicates an effort to reach out to customers outside their main websites. You have the unique opportunity to also learn more about the company from the posts they publish on their social media accounts.
Browse through the car service company's website


Visiting a company's website is, in some ways, like visiting a shop to see what services (instead of products) the car service company sells, how their services are presented to potential customers, their rates, etc.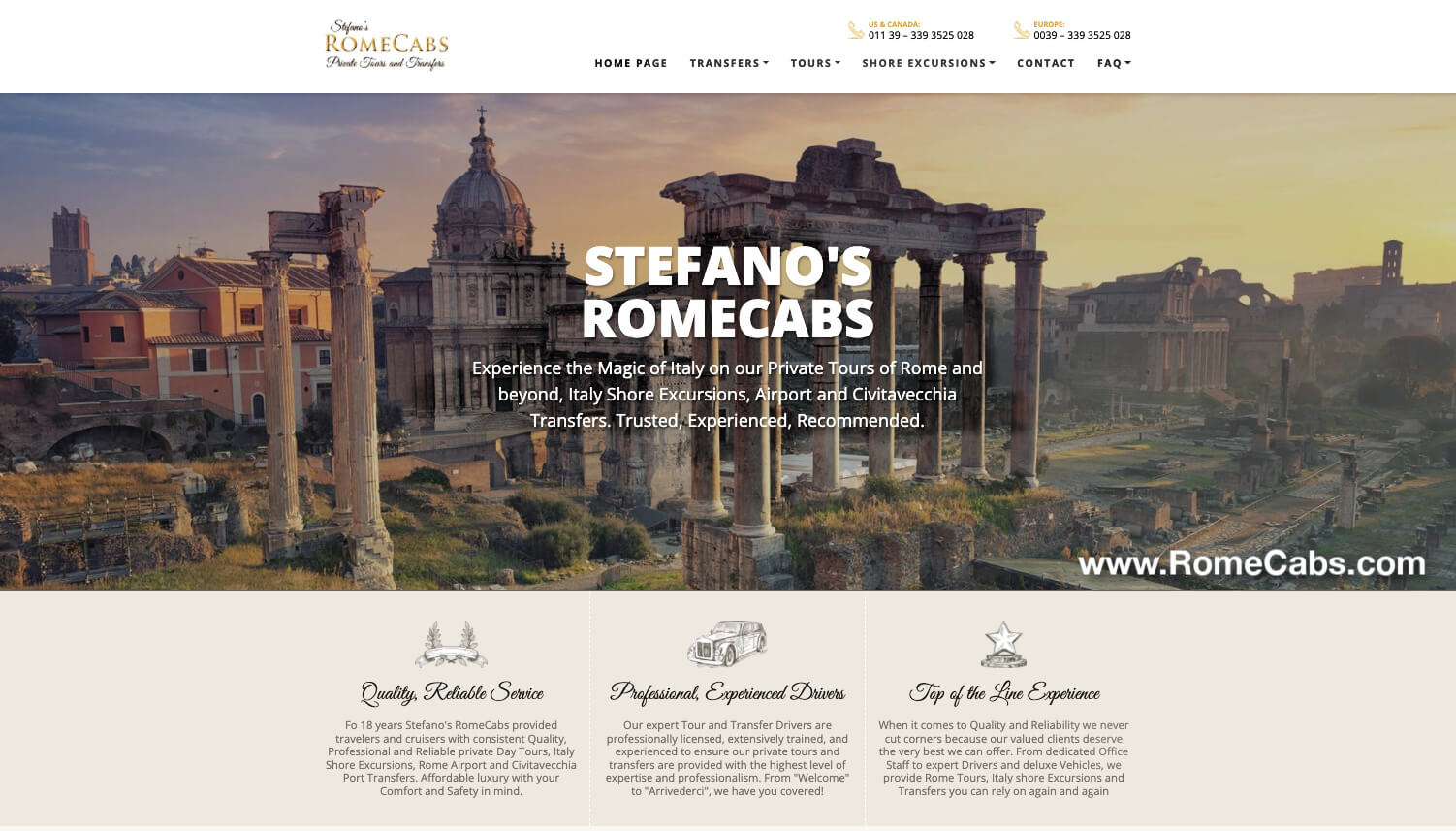 This is another opportunity to assess the company you wish to give your business to: Is their website professionally created, informative, detail-oriented, descriptive, easy to navigate, and transparent?
It's a universal belief that a professional and reputable car service company should be upfront and transparent by including important service information on their website, publishing price lists, and providing an online booking form where potential clients can book directly.
On our website we include detailed information about tours and transfers ranging from descriptions of sites suggested on our tours, what is included and not included in our prices, Meeting Points at the Cruise Port, Airport, and Hotel, skip lines ticket information, tour guide recommendations, and more!

We strongly believe in transparency and in full disclosure, and our informative website reflects our business philosophy.
Are service rates and prices prominently and publicly published on their website, or are their prices hidden with a requirement to fill out a detailed contact form just to find out the prices? A transparent company publishes their rates for all potential customers to see and to decide if they wish to book. On our website, we publish the Price List for each service we provide, along with our booking widget which also produces a quick price check.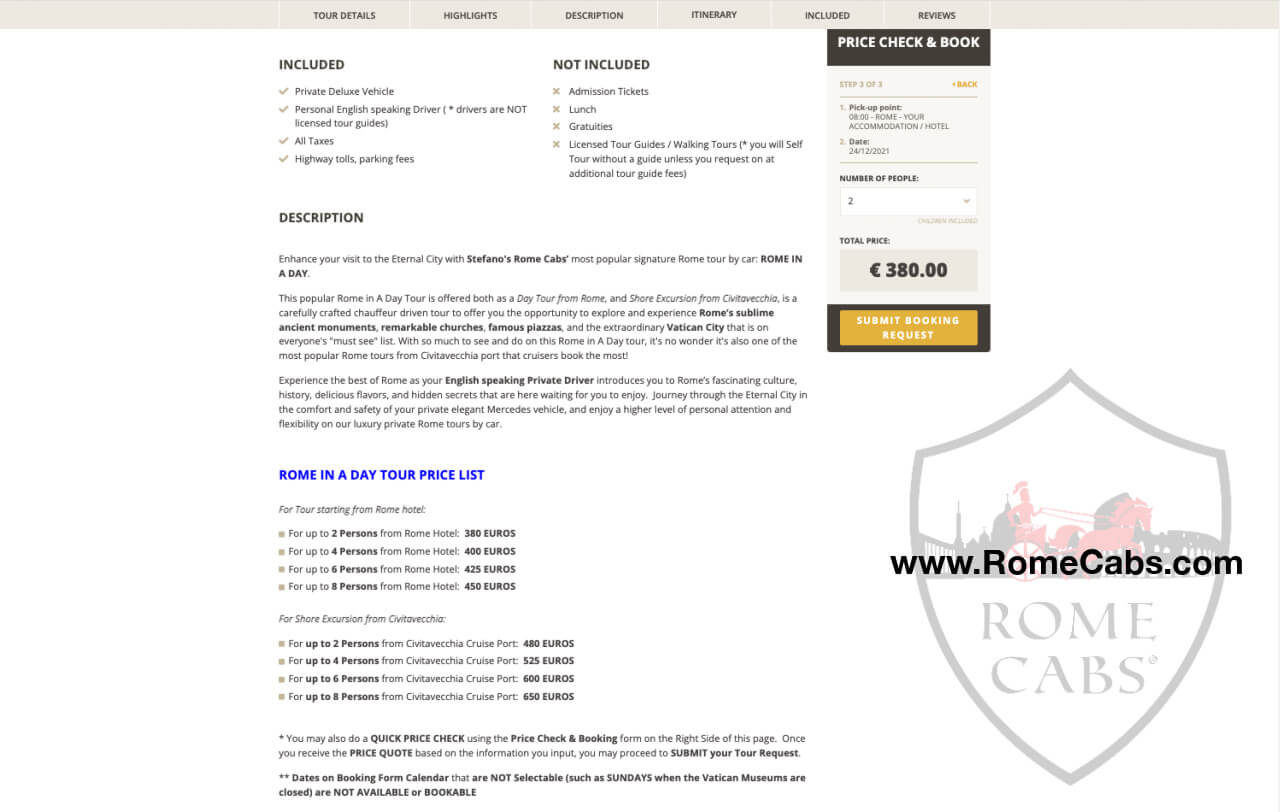 Be cautious of companies who don't disclose their prices up front.
Websites that require their website visitors to fill out detailed contact forms just to obtain prices or basic information which should be publicly displayed may have something to hide. This practice could mean the company may not charge all customers the same price, or they may reply with a sales pitch from their sales representative.
Ask yourself: would you feel comfortable shopping at a store if you have to give the business your name, email address, and/or phone number just to find out the price of an item you are interested in purchasing?
Does the company have flexible payment options and fair cancellation policies? Be sure these policies are clear and agreeable before you book a car service in Rome. Our payment options and cancellation policy are published on each and every transfer and tour page so our potential clients know in advance.

Does the car service company's website go an extra step to publish original photos (not purchased stock images) that describe their services? Do they include helpful original video content so potential customers can familiarize themselves with the company's services or benefit from useful tips and information?
For the past decade, we have created helpful videos for our clients to know in advance where to meet their RomeCabs private drivers at Rome's Airport, and we are continuously creating tour videos of our tours showcasing the locations our clients expect to see when touring with us.
Our website photos are in-house originals taken of places on our tours, as are our videos. We don't only talk about the places we take our clients on our tours, we show them! Our RomeCabs YouTube channel currently has 130 original videos and counting.
Contact the Rome car service company via email:


If you are satisfied with your research and all your questions are answered by the information on the website, at this point you may simply book your Rome Tours or Transfers directly online.
However, if you have questions about special services not offered on the website such as requiring a customized service, are in a large group traveling together that may require multiple vehicles, have a special request, or require specific information that is not provided on the website, contact the company directly via email with the details of your inquiry.
Due to time zone differences and expensive international calls, sending an email inquiry is the easiest and most efficient way to contact a car service company. Contacting a car service company via email also allows their staff the time necessary to give special consideration to your requests, formulate price quotes for customized services, or gather additional information you may need. You will also have their email response with requested information at your fingertips to refer to at any time.
This is also an opportunity to evaluate the company's customer service that creates a good first impression. For example:


* Do they answer emails they receive within a reasonable time such as within 24 hours or so?
* Are their email replies professional, informative, helpful, courteus, well thought out and written in proper English?
SAFETY TIPS:
Avoid imposters that can take you for a ride in more ways than one!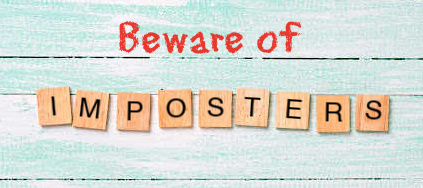 The internet can sometimes be a jungle. Did you know that there are nefarious entities who copy names of established companies and cleverly manipulate them on different websites to create confusion with the goal of misleading the public and stealing customers from legitimate companies?
We dedicated a couple of travel blogs to avoiding car service imposters, and how to protect yourself on your international travels. This is important because if travelers fall victim to an imposter who the travelers know nothing about, travelers could place themselves in potential harm or be ripped off.


How can you avoid becoming a victim of unscrupulous imposters?


When asking someone for recommendations for car service in Rome, ask also for the actual company's website and /or phone number or email, and contact the company directly. Don't just ask for the name of the company and google it.
Why? Because imposters often use such a similar variation of the legitimate company's name on their copycat websites or on Google ads that it's so easy for unsuspecting users to click on the wrong website in error (their website).
Once you have the company's official website, jot it down or save it in your browser, and always use it when visiting it online. Don't simply rely on googling it so you don't risk clicking on the wrong website.
When calling a company, use the official phone number on their website, from their business card, or as shared with you by a trusted source.
Do NOT touch-call listed numbers on a 3rd party website such as TripAdvisor listing, Social Media accounts, Google ads or Google listings.
Not only could you inadvertently call the number of an imposter without realizing it, but some sites may not publish updated or correct information.
Also, certain websites such as Tripadvisor allow their members to request changes to vital information such as phone numbers on any company's listing (via "improve this listing" option) without notifying the actual company of this change made on their listing. Also social media websites such as FaceBook allows users to "suggest edits" on a company's profile.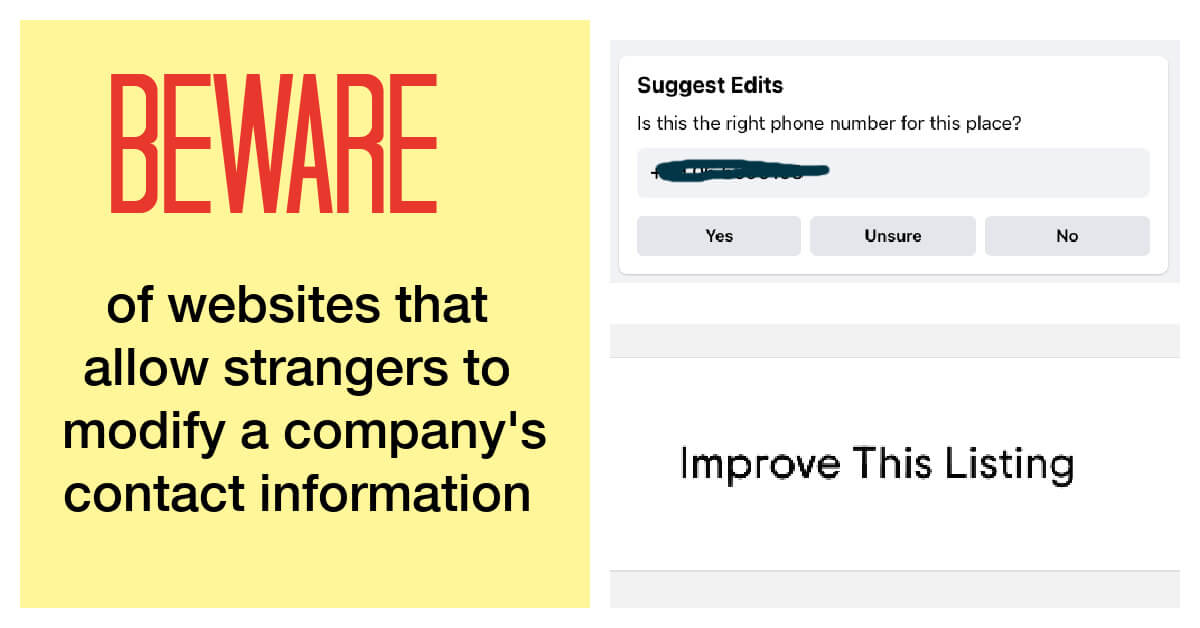 If not caught in time, this leaves the door wide open for nefarious entities posing as members to impersonate a legitimate company and siphoning business they are not entitled to.
Unfortunately imposters have successfully managed to change phone numbers on Tripadvisor companies' listings with their own phone numbers, siphoning customers who intended to call and book with the legitimate company.


How to Book your Perfect Rome Transfers, Rome Tours, Italy Shore Excursions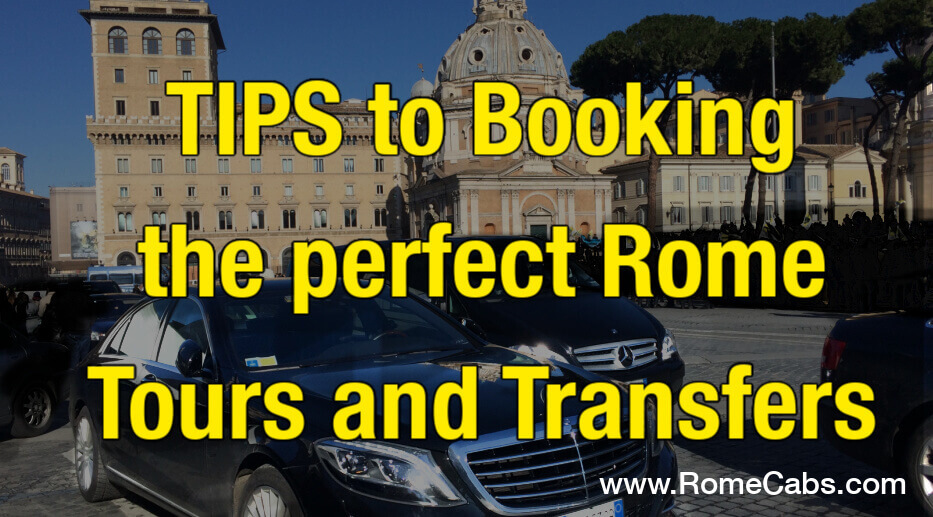 Once you decide to hire a car service in Rome, here are some helpful tips:

Once you've found the best car service in Roma for your needs, here are some helpful tips for a seamless experience.

1. Always book your Rome Tours and Transfers online via the company's website.
Most reputable companies invest in an online booking system to receive booking requests made via their website, automatically issue a reservation number as a reference, modify existing reservations, and keep your reservations secure in a well functioning system.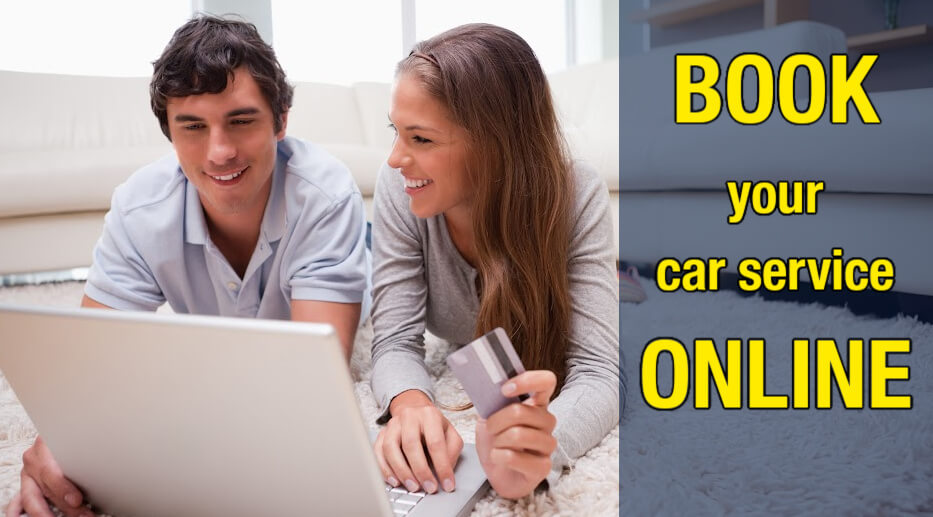 Merely booking via email could result in emails getting lost and reservations not securely preserved. Your Italy trip is very important to you, and so are your tour and transfer reservations.
It is also not recommended to book tours and transfers by phone as verbal information can sometimes be misunderstood, misinterpreted, or incorrectly booked by the person on the phone (this is especially true when booking a service in a foreign country where language barriers, dialects, or poor phone connection could result in misunderstandings that could lead to incorrect reservations).
Having everything on record and sent to your email inbox offers peace of mind that all the important details pertaining to your reservation are correct and secured.
2. Read the important information on the website, Terms of Service, and Vouchers.
Avoid disappointment during your trip by taking the time to read the information on the company website pertaining to the services you book, along with their Terms of Service to ensure that everything meets your expectations.
Also read and retain a copy of your Confirmation Email or Voucher as they can include important service related information such as Meeting Points, pick up times, prices, and emergency numbers. By being well informed in advance you will know what to expect and rest assured that the service you book meets your expectations.


3. Provide the car service company you book with correct and detailed information such as:
The total number of passengers and amount of luggage you anticipate bringing (number of suitcases and number of carry ons) so you will be provided a suitable size vehicle (or multiple vehicles) at the correct price
If you are traveling with young children that would require child safety seats
If you or someone in your party has mobility issues and concerns that could make it difficult to enter and exit vehicles, walk long distances, or visit certain sites in the tour(s)
4. Advise the company immediately of changes in your travel that impact your reservations
Changes in your travel plans? Be sure to immediately contact the company you book with if there are changes in the number of passengers or amount of luggage, if you change hotels, if there are changes in your flight arrival or flight departure, or if your trip to Rome is cancelled.
DID YOU KNOW?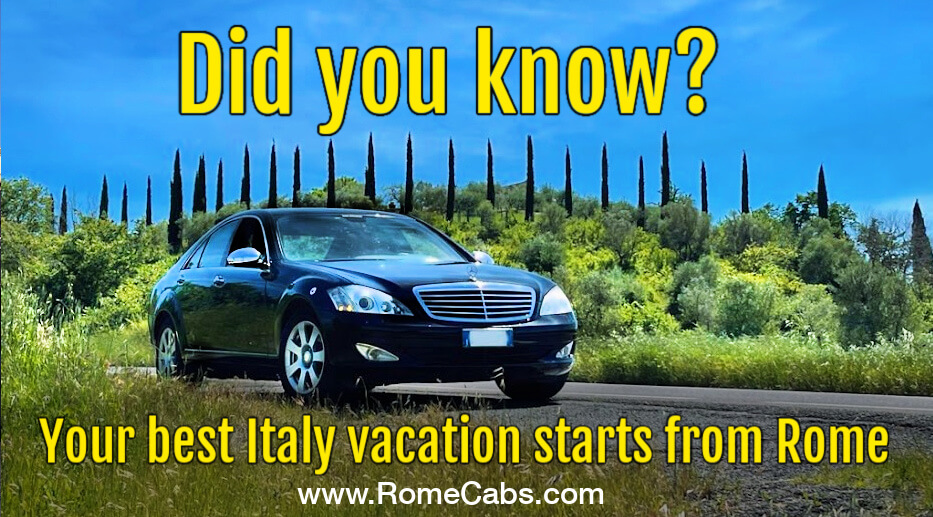 Did you know you can book a car service in Rome for day trips from Rome to popular regions such as the Roman Countryside, Tuscany, Amalfi Coast or Umbria, or other places of interest? Versatile car service companies in Rome offer a variety of day trips from Rome and private excursions through Italy that enhance your trip and make your vacation extra special.
Day Tours from Rome make exploring top destinations in central Italy easy, convenient, and effortless. You can enjoy wine tasting in Tuscany, stroll the ancient roads of Ostia Antica, explore the ruins of Pompeii, visit fairytale castles such as Bracciano Castle in the Italian countryside, walk in the footsteps of the saints in Assisi, and delight in seaside resort towns such as Sorrento or Positano on the Amalfi Coast. The possibilities of compelling discoveries on day tours from Rome are endless!
If you are cruising to Italy, you can book the same car service company in Rome for shore excursions from Civitavecchia, Livorno, La Spezia, or Naples cruise ports.
We at Stefano's RomeCabs specialize in day tours from Rome and Italy private excursions with English-speaking drivers, and we invite you to browse through our extensive collection of private tours on our website.
Don't see what you're looking for? Don't worry, we can also customize your perfect Rome Tour, Day Tour from Rome, or Italy Shore Excursion.
From Buongiorno to Arrivederci, we have you covered from your arrival to your departure transfers, and all the exciting day tours in between helping you create precious memories you will cherish for life.
Thank you for choosing Stefano's RomeCabs for your car service in Rome. We look forward to welcoming you to Italy!
* Find us online also on: