Buon giorno and welcome to Stefano's RomeCabs, Rome's leading company for private Airport Transfers, Civitavecchia Transfers, Day Tours from Rome, and Shore Excursions from Italy's main cruise ports.
We have been providing Transfers (Airport, Cruise Port Transfers to Civitavecchia) for more than 15 years, and through our extensive experience with tens of thousands of clients we've compiled a list of expert tips for booking a reliable transfer no matter where you are traveling to.
Our helpful tips are aimed at helping you book your transfers in the most secure and accurate ways possible and preventing common errors that can result in your transfers not provided as planned. We created the 10 Expert Tips for Booking Reliable Rome Airport, Cruise Port Transfers so you will enjoy a stress free and seamless experience on your next trip to Italy!
10 Expert Tips for Booking Reliable Rome Airport, Cruise Port Transfers
1. Choose a reliable company


No matter where you travel to, be sure to choose a company that's highly recommended by many people because a transfer is only as reliable as the company providing it.
While many companies can compete on price (and you'll always find a lower price advertised), not all companies are consistently reliable or compete on quality service.
Why take a chance with a cheap but not so reliable transfer and risk getting stranded in a foreign country on your trip of a lifetime? It costs far more to rebook a missed flight or missed cruise than to pay a few dollars extra for a reliable transfer with a reputable company.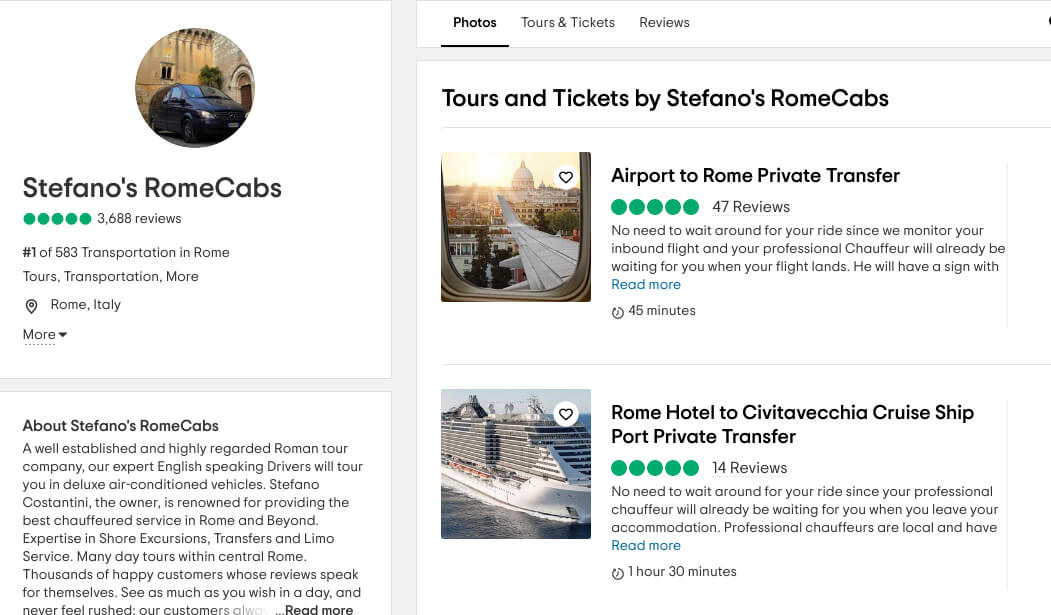 2. Book your transfers online


Book your transfers via the company's website online booking form or via email so all your booking records are preserved and you have a written copy of all the details and confirmation process.
Having written confirmation and written records of your transfer details helps you remember all the details of your transfer, and it means the company you booked with must also have written records of your transfer as well.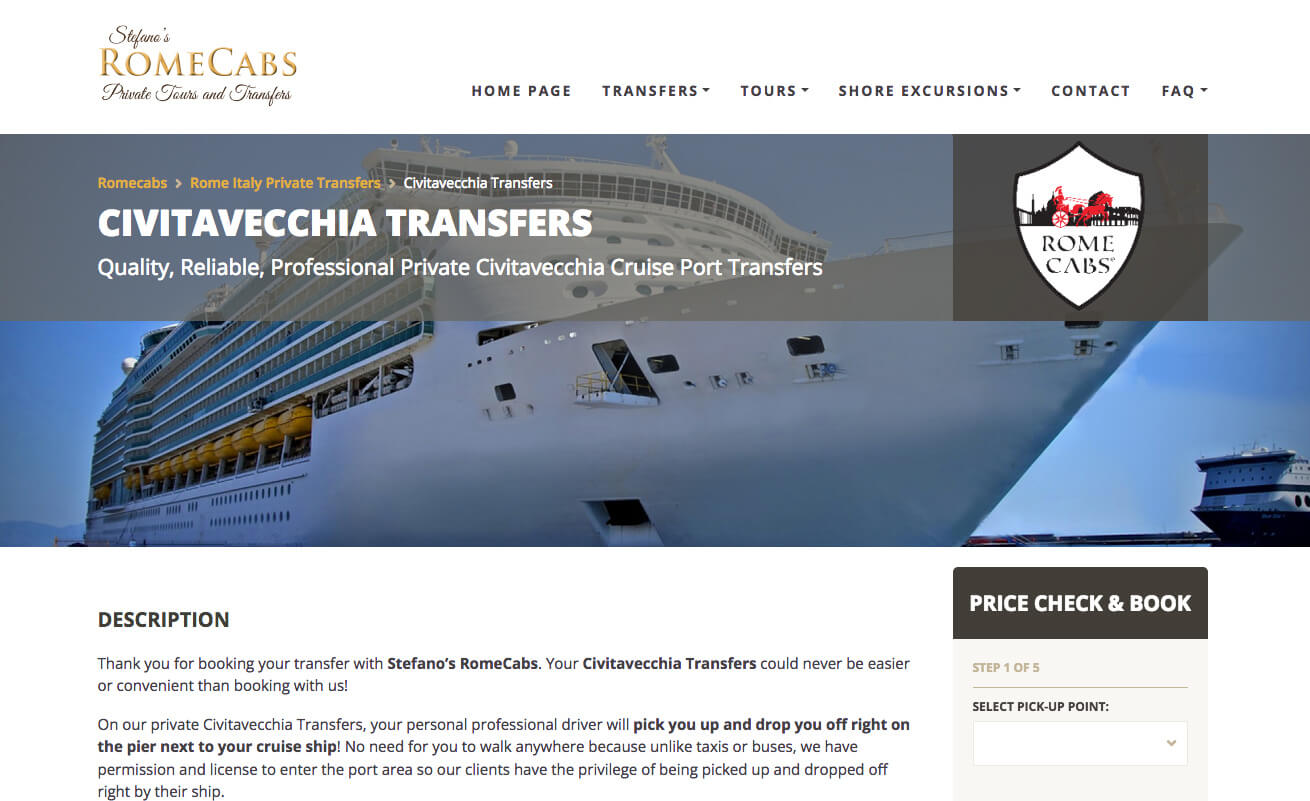 3. Do NOT book by phone (especially for transfers abroad)


Sure, booking by phone is easy and quick, but it's also not very reliable.
First, information taken by phone can get misplaced, lost, or not booked correctly by the person taking your call. And you have to actual record of it to correct any mistakes.
A simple misunderstanding of a pertinent detail, a mispronunciation of a street or hotel, or an unfortunate miscommunication can result in your transfer not provided accurately, and you have NO record to determine where the error occurred – resulting in "you said", "they said" so you have to recourse.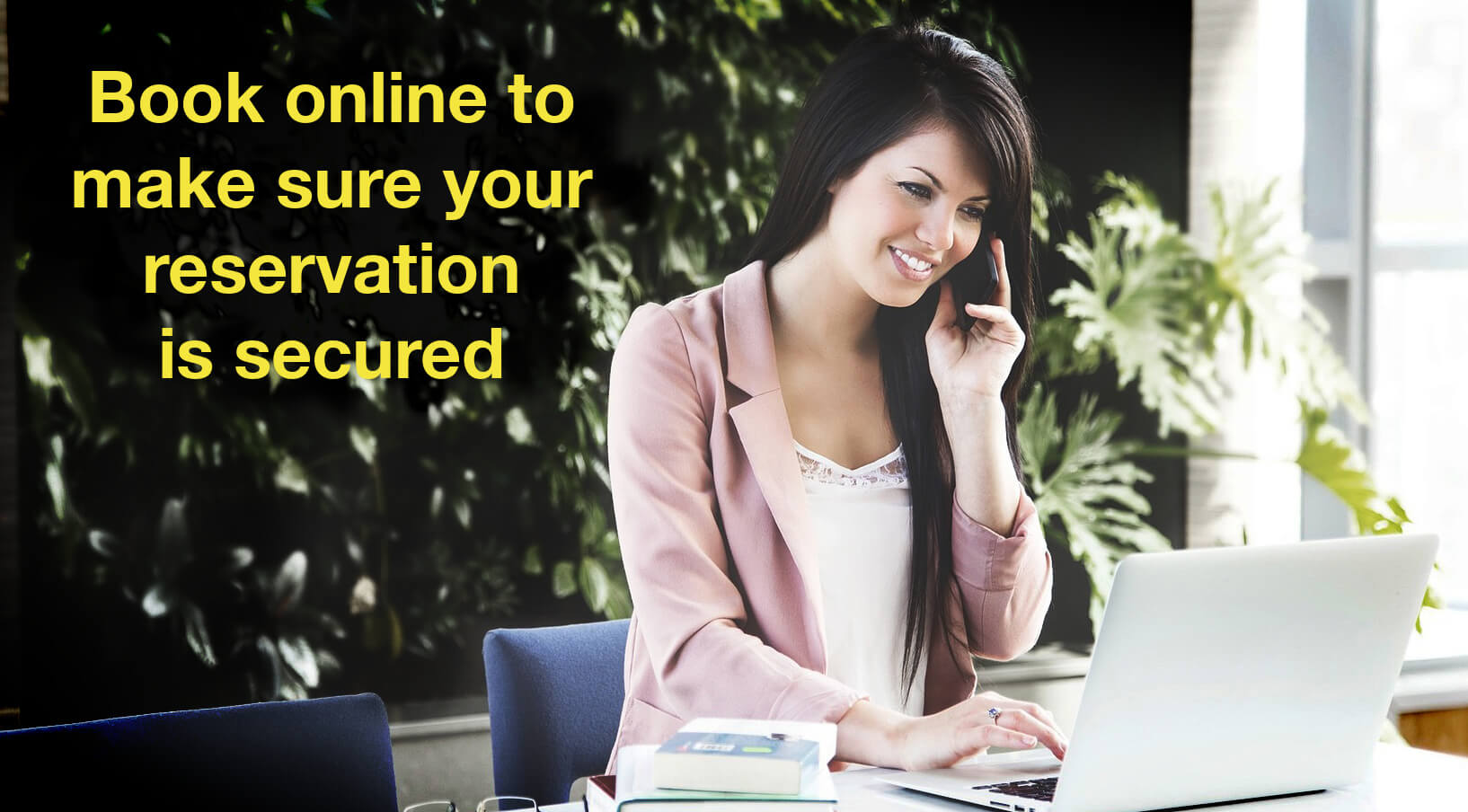 4. Check your airline tickets carefully


For transfers from the airport, check (and double check) your airline tickets carefully so you book the correct Date, and with the accurate flight number for arrival transfers.
It's important to check your airline tickets (and double check!) for the Date to ensure you are booking your transfer on the correct date as one of the most common booking error is booking a transfer on the wrong date.
For example travelers from the Americas (North and South Americas) traveling to Europe would likely arrive the day AFTER their departure date from home.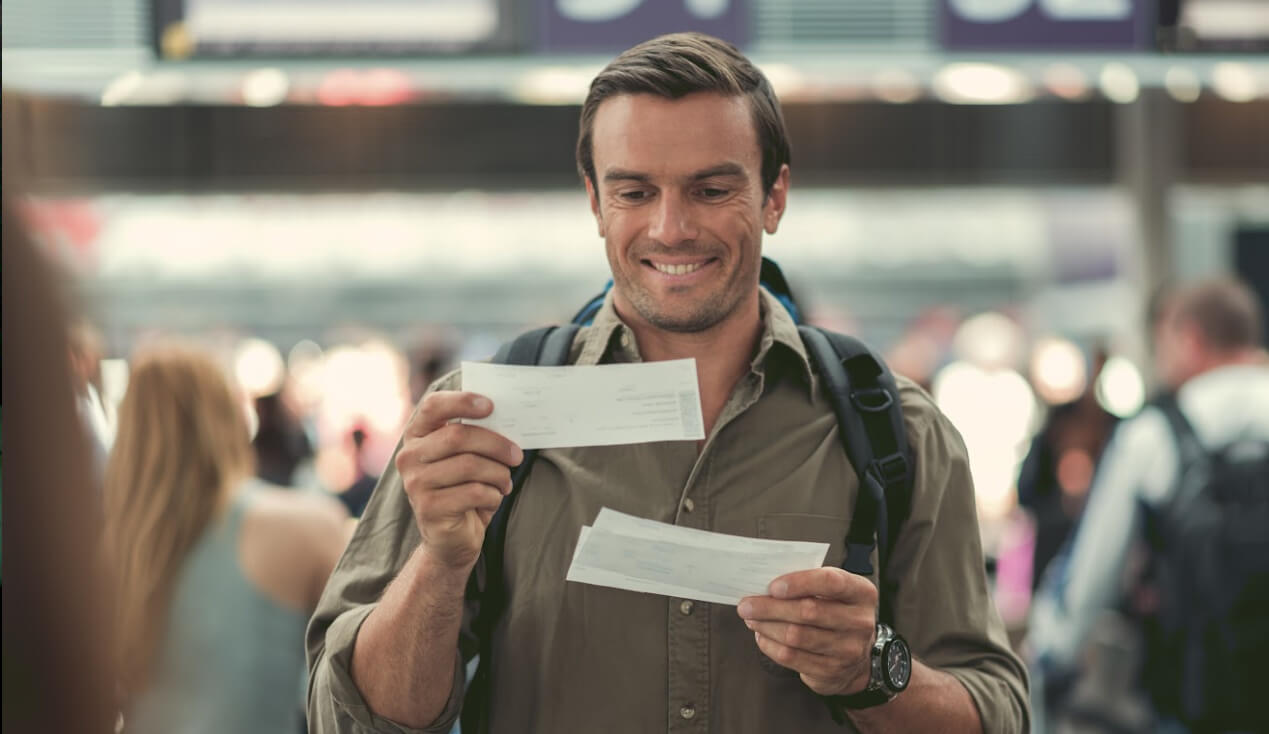 A common error is booking an airport pick up transfer on the date that travelers are departing their own country, not the date they arrive at their final destination. Many major airlines have daily regular flights arriving at the same time each day, therefore it's not possible for the transfer company to know that you will not be on the airplane that arrives at the airport each morning.
Also double check your correct flight number arriving at your final destination (not arriving at the airport you are connecting and changing flights from).
By booking your airport pick up with the wrong Date or wrong Flight Number, you will not be provided with a correct transfer and may not find a driver waiting for you as planned!
Taking a cruise? Also double check the date your cruise ship departs and arrives so you don't book your Port Transfer on the wrong date.
Some ports (such as Civitavecchia in Italy) is quite far from the nearest large city (such as Rome which is 1.5 hours from Civitavecchia). If you book the wrong date for your Port pick up it's very difficult to find a transfer in the moment if taxis are limited and the soonest available driver can be hours away.


5. Inform the company of your total luggage amount


It may not seem important, but it is very important to make sure all your luggage can fit in the vehicle size you book for. Be sure to inform your transer company of all your luggage (large and small), and if your luggage amount increases to ensure a proper size vehicle is provided to accommodate you and your luggage safely.

For example, 1-3 passengers may be priced for a car that is provided for small parties of up to 3 persons, however, if you bring extra luggage you may require a vehicle size upgrade to a minivan.
Also, if you are 7-8 passengers that require a large van, but bring extra luggage that would not fit inside the van's luggage compartment, you may require a 2nd vehicle.
It's very important to inform the transfer provider of your overall luggage (large suitcases and small carry-ons) so you will be assigned the correct size vehicle or 2nd vehicle for larger parties with a lot of luggage. If you show up for your transfer with too much luggage it would create untold delays and increases in prices (that you may not be prepared for) for a suitable vehicle or two vehicles to be provided for you in the moment.


6. Inform the company you book with of any travel itinerary changes such as:


Flight number changes (the company's driver will need it to monitor the flight for delays and know which Terminal Number to meet you at)
Missed flights or missed connections, and provide the company your new flight arrival information
Hotel accommodation changes (especially for hotel pick ups as the company and driver will need to know which hotel or accommodation to pick you up at)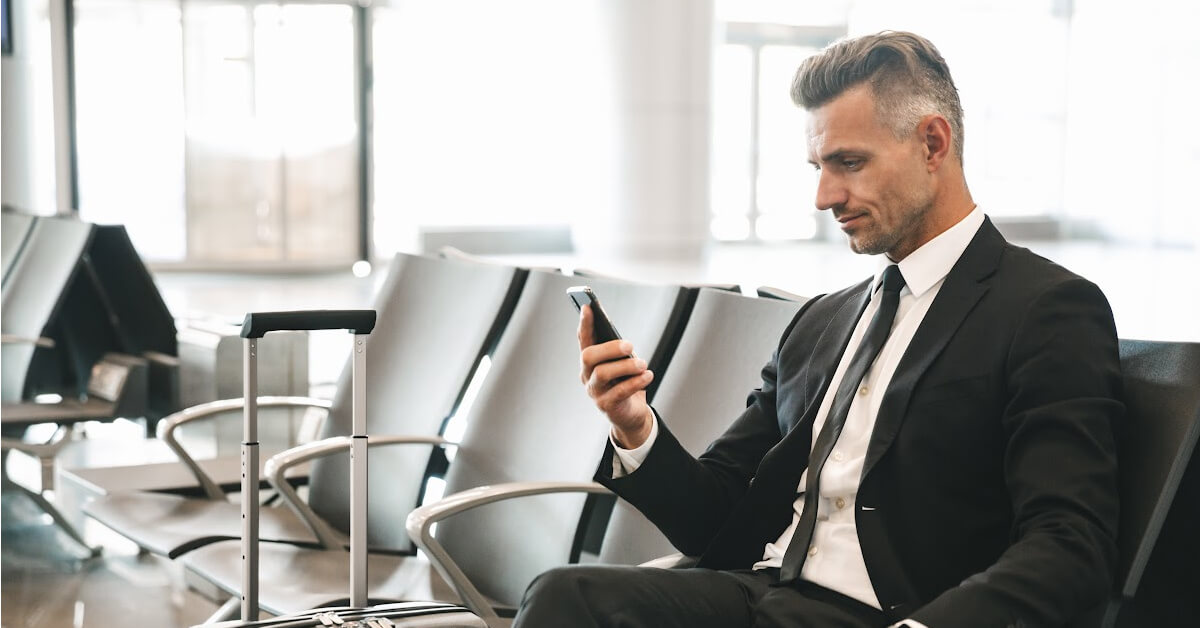 7. Double check your pick up address for accuracy


With so many travelers staying at apartment rentals, it's very important to double check that you provide the complete and correct address including the building number.
By missing even one digit of your address or mispelling a street (especially in a foreign country where 1 letter difference can create a different word or name unknown to you) can result in the driver not being able to find your location.


8. Traveling with young children


If you will be traveling with young children that may require a child seat or booster seat, be sure to inform the company so they can provide one for you.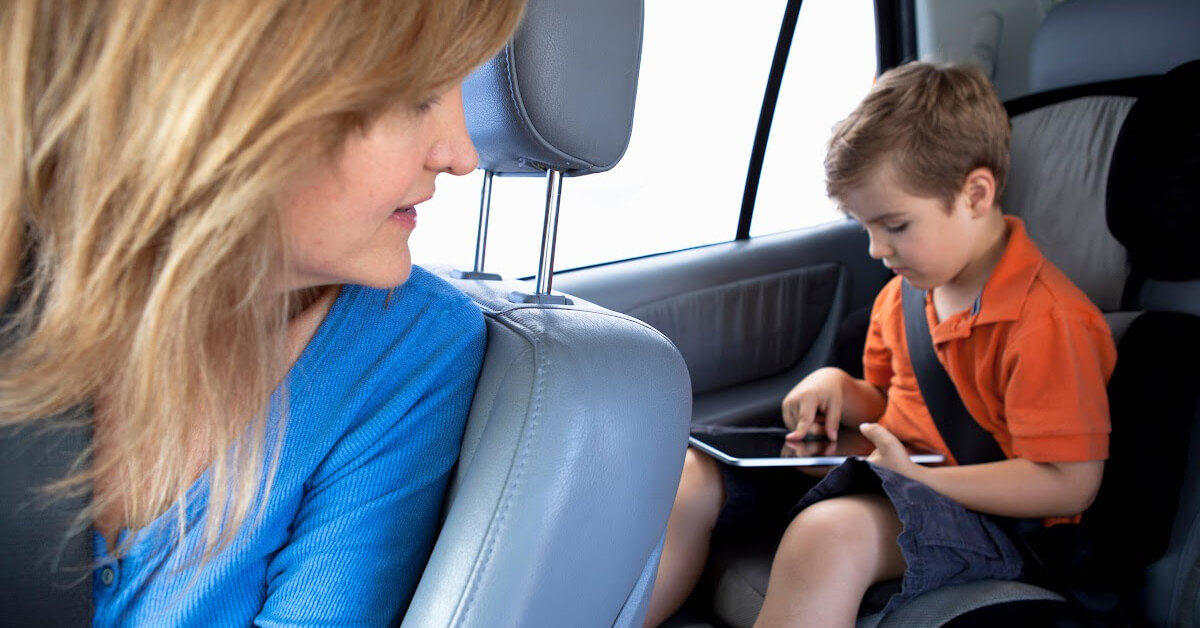 Many countries require children to be secured in age appropriate safety seats inside moving vehicles. It cannot be assumed that a passenger can travel with a baby in the lap inside the vehicle.
If you do not plan to travel with your own child seat, be sure to request one from the company, otherwise you may create extensive delays while the driver has to wait for a child seat to be brought to the vehicle.


9. Schedule your pick-up time correctly.


If you are not sure of a suitable pick up time for your transfer, ask your transfer provider for a recommended pick up time as they would know best based on experience.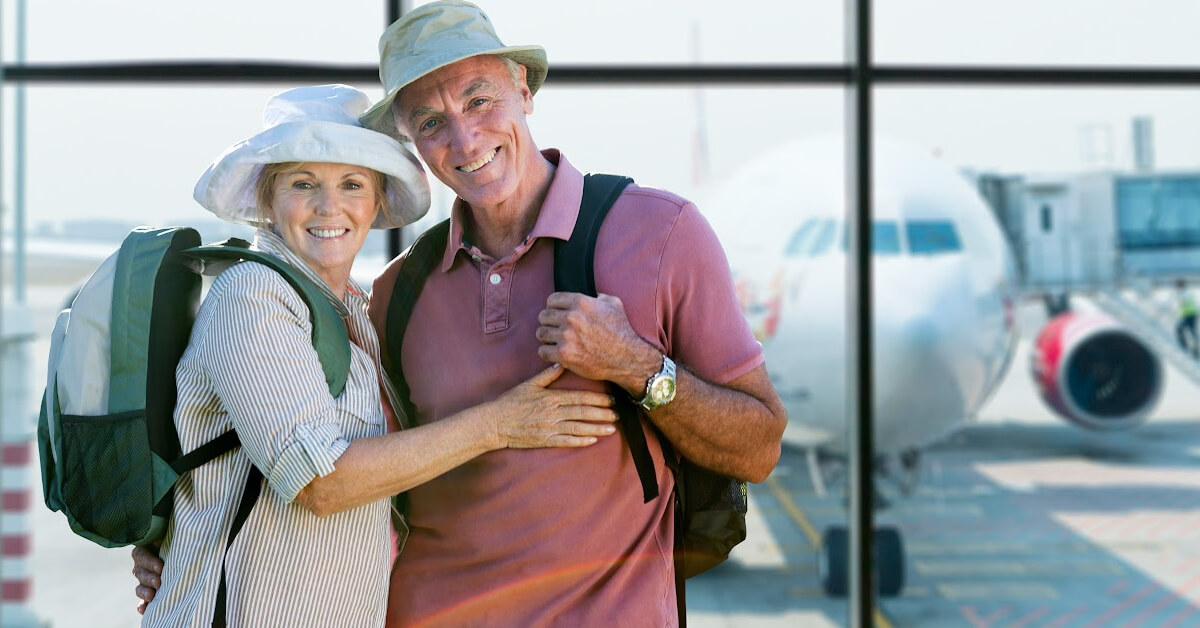 When scheduling your pick up, keep in mind:
The time you are required to arrive at the Airport (to check in) and the Cruise Port (for embarkation). Some airlines and cruise ships may have different requirements.
The average travel time from your pick up location to your drop off location.
Consider local traffic conditions in the city of your scheduled pick up: Is the city you are in is prone to traffic problems? Will you will be traveling during rush hour with slow traffic?


TIP: don't cut your arrival time too close, you never know if you encounter unexpected traffic delays you did not anticipate!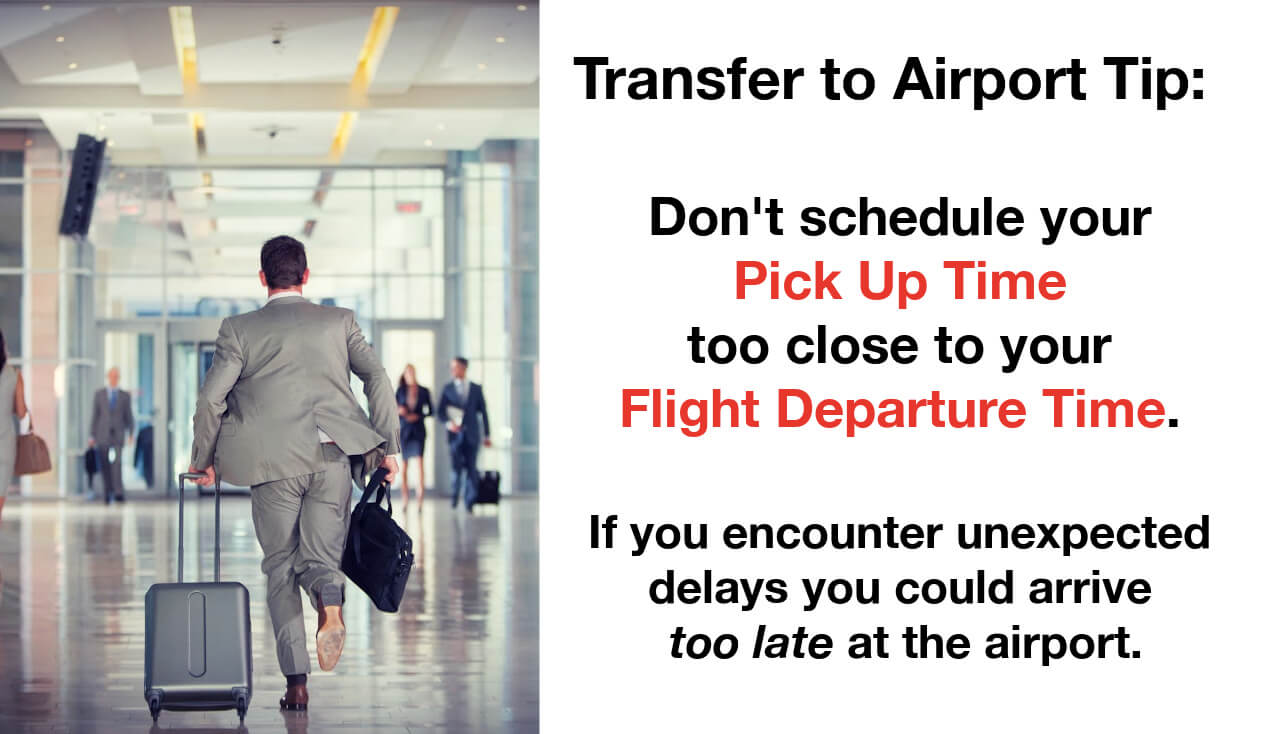 10. Bring your Confirmation Voucher and any important service information


Bring with you your confirmation voucher or any important service information such as the transfer company's emergency phone number, the confirmed price, your booking details, prepayment voucher, etc. If you can't print it, have a copy of it in your mobile device.
Your confirmation email or voucher may include very important information that you may actually need in a hurry. Having it handy it would be very helpful.
Double check in advance to make sure that all your reservations details are still up to date and there are no changes that may impact your transfer.


BONUS for International Travel: Bring a working cell phone with you.


It helps to have a call phone handy in case of emergency during your travels.
For transfers a cell phone is helpful to call the company if you are experiencing delays at the airport (lon lines in customs, or lost luggage) or if you are unable to spot their driver.
If you are not staying at a hotel with front desk service, it helps to have a working phone or an international cell phone in case the transfer company needs to contact you with important or urgent information, and you can easily contact your transfer company as well.
We hope this information helps with booking your future transfers, either in your home country or abroad.
If you are planning to visit Rome and require Airport and Civitavecchia Port Transfers, as well as Day Tours from Rome or Shore Excursions from Italy's main cruise port, please visit our website for more information, prices, and online booking forms to submit your reservations.
Thank you very much for reading our blog post 10 Expert Tips for Booking Reliable Airport, Cruise Port Transfers. We look forward to welcoming you to Italy!


The RomeCabs Team