Buon giorno and welcome to Stefano's RomeCabs, Rome's leading company for Rome Sea Port Civitavecchia Transfers and Shore Excursion Tours.
We have provided tens of thousands of private Civitavecchia Transfers over the many years, offering our clients personalized private transfers between Civitavecchia and Rome / Airport. Our clients have booked our Port Transfers for the peace of mind of being able to choose their own pick up times, have predictable service, and the flexibility of making changes as their travel needs require it.
Sharing your Civitavecchia Transfer to and from the Rome sea port with other follow cruisers is also a popular option with many travelers who wish to save on their port transfers and don't mind sharing their vehicle with other cruisers.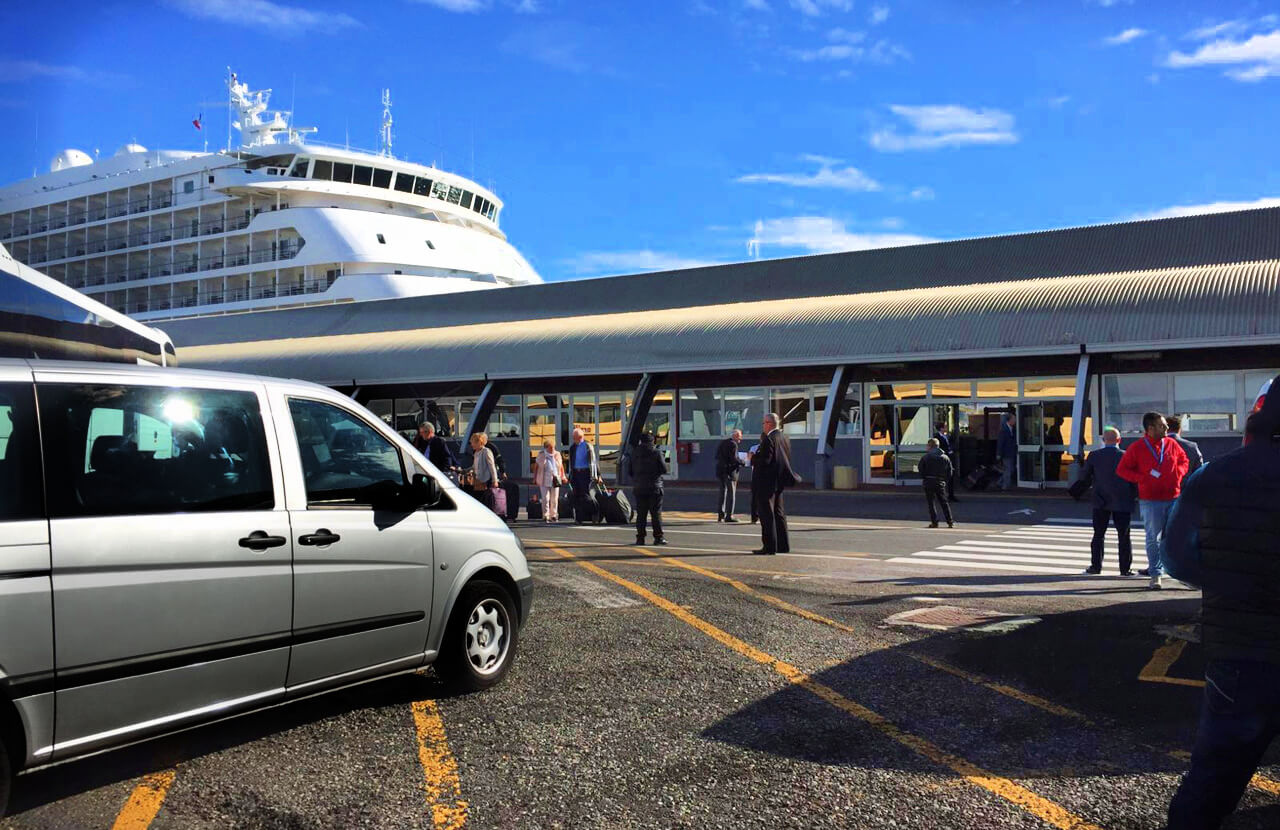 However, when booking a generic publicly "shared shuttle" as offered by many companies (meaning, you book a seat in a vehicle also occupied by other strangers), passengers often find themselves in many unknown and unpredictable situations and ask themselves:



* What time will I be picked up?
* How many other passengers will there be in my vehicle?
* How many different hotel pick ups will there be?
* How many drop offs will there be?
* Will the driver wait if I am unexpectedly delayed?
* Will I be kept waiting while the driver waits for other passengers who are delayed?
* How long will the entire transfer process take between MY pickup and drop off points?
These are some of the unknowns when booking a generic public shuttle service that can be discouraging for many cruisers who are anxious about the many uncertainties when they have a ship or plane to catch, or if they don't want to wait on the pier endlessly for other passengers to disembark….
Or worse: wondering if the shuttle will leave without them should they be unexpectedly delayed.
Most general public shuttle services are not very flexible as they have other passengers in the same vehicle that need to be transported within a reasonable time… which means, they can leave without you if you are extensively delayed.
These are legitimate concerns given the abundance of negative experiences cruisers experienced when booking shuttle services.
Just as with airline tickets varying in price for different passengers on the same plane based on when they booked and other variables, shuttle fares among passengers in the same van can also vary. This means that the passengers seated next to you in the same van may have paid less than you for the same transfer!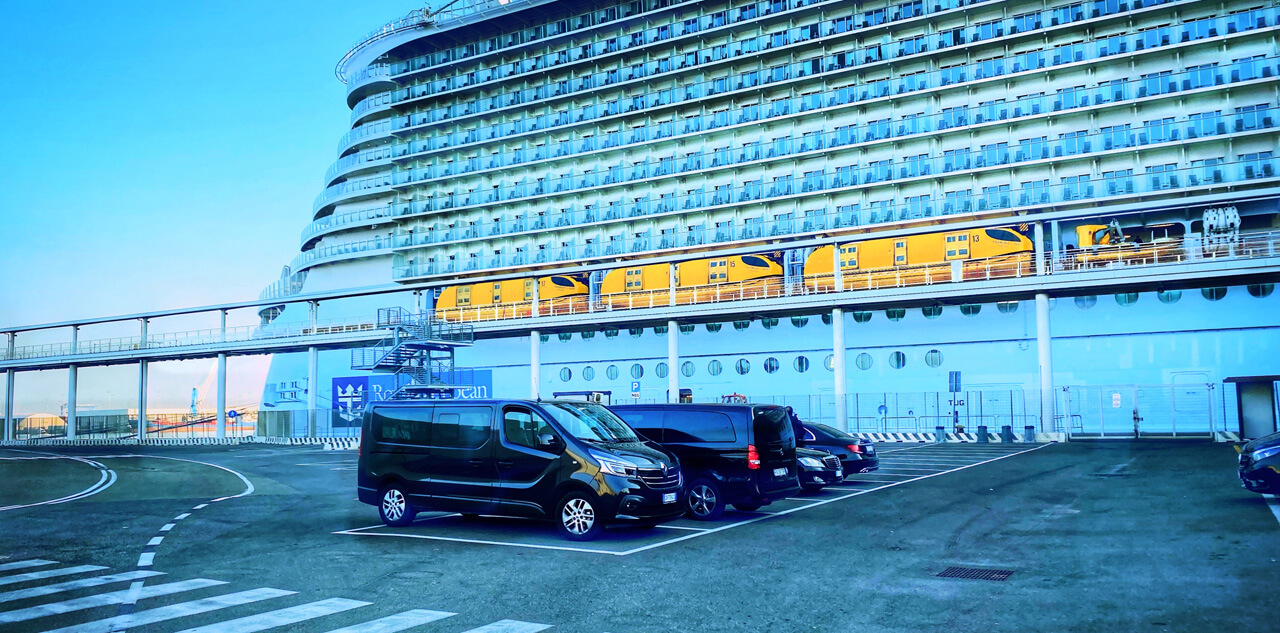 We have a solution that our clients have enjoyed for years: PRIVATELY SHARED CIVITAVECCHIA TRANSFERS!


IMAGINE IF....


YOU privately shared your Civitavecchia transfers with other fellow cruisers and YOU are in charge of everything including how much you are willing to pay per person/
YOU are in charge of your pick-up time
YOU are in charge of the number of persons sharing your vehicle


YOU are in charge of how many pick ups and drop offs there will be.
YOU are in charge of how much you are willing to pay by deciding on the number of passengers in your vehicle sharing the cost
EVERYONE pays their equal share (no different rates for different passengers in your shared transfer)
You get to know your transfer mates in advance, avoiding the awkwardness of being seated in a vehicle full of strangers.
Privately Shared Civitavecchia Transfers
on YOUR Terms
It's easy, and thousand of our happy clients have created their own privately shared Rome sea port Civitavecchia transfers with fellow cruisers from their ship that they get to know in advance for a more enjoyable and predictable transfer service.


All you need to do to arrange your own privately shared Civitavecchia Transfers is:


1. Place an ad on Cruise Critic Roll Call and invite other cruisers from your ship to share your specific transfers (send us an email with your Civitavecchia Transfer needs, we will be happy to provide you all the necessary details and links to place your ad and reservations)


2. Reserve your transfer for your group of up to 8 cruise mates via our website's CIVITAVECCHIA TRANSFER page and then confirm your reservation.

3. Enjoy your Cruise knowing your shared Civitavecchia transfers are taken care of YOUR way!
Important tips to remember when organizing your own shared transfers:



Shared Civitavecchia transfers are ideal for the following types of Rome sea port transfers:


From hotel in Rome to Civitavecchia Cruise Port



Civitavecchia Cruise Port to Rome accommodation



Civitavecchia Cruise Port to FCO / Fiumicino Airport
For shared Civitavecchia transfers between your Cruise Ship and Rome hotel accommodation, we suggest that all of the hotels be centrally located to save driving time and money. Travelers staying outside of Rome will increase transfer prices and driving time.


For shared Civitavecchia transfers from your Cruise Ship to Fiumicino / FCO Airport, please schedule your pick up at least 3 hours prior to the first flight departure time. Your driver can drop you off at different terminals as requested.




Shared transfers are not recommended from FCO Airport to Civitavecchia due to travelers arriving on different flights and at different times. Missed flights and connection, flight delays, lost or delayed luggage can throw a wrench in your transfer plans.
For transfers from Airport to Civitavecchia, we recommend a private transfer that will cater especially to you and your travel needs in case you experience any delays along the way.


While the most cost saving number of passengers in a vehicle is 8 passengers, a more comfortable number is 6 passengers in terms of more personal space inside the vehicle, more legroom, and greater flexibility regarding luggage space if some of you bring extra luggage.
Keep in mind your total luggage count:



The maximum capacity per vehicle is 8 passengers, and up to approximately 8 suitcases and up to 8 carry ons together in TOTAL.
If creating a shared transfer for a party of 7-8 passengers, please keep in mind the total luggage count to ensure your luggage can be accommodated inside the vehicle (otherwise with too much luggage you may require a second vehicle and that will increase the cost of the transfer).


For more information on booking your own shared Civitavecchia Transfers, please contact us and visit our Civitavecchia Transfer page.

Interested in SHARED SHORE EXCURSIONS in Italy, while making new friends and saving money?
Thank you very much and we look forward welcoming you to Italy!
The RomeCabs Team

RomeCabs Flickr Photo Gallery
Stefano's RomeCabs FaceBook
Twitter: @RomeCabs