Welcome to Stefano's RomeCabs, Rome's top-rated tour company for private luxury tours in Italy.
If you're seeking to immerse yourself in the timeless charm of Tuscany, a visit to the ancient Castle of Spedaletto is an experience you won't want to miss. And this is why we included this lesser-known wonder in our Enchanting Tuscany Tour from Rome.
Nestled in the enchanting Val d'Orcia Valley, a short drive from Monticchiello lies Spedaletto, an ancient castle with a fascinating story waiting to be unveiled.
Originally established in the late 12th century as a "little shelter" (Spedaletto in Italian) for pilgrims and travelers on the nearby Francigena route to Rome, Spedaletto holds centuries of intriguing history within its walls.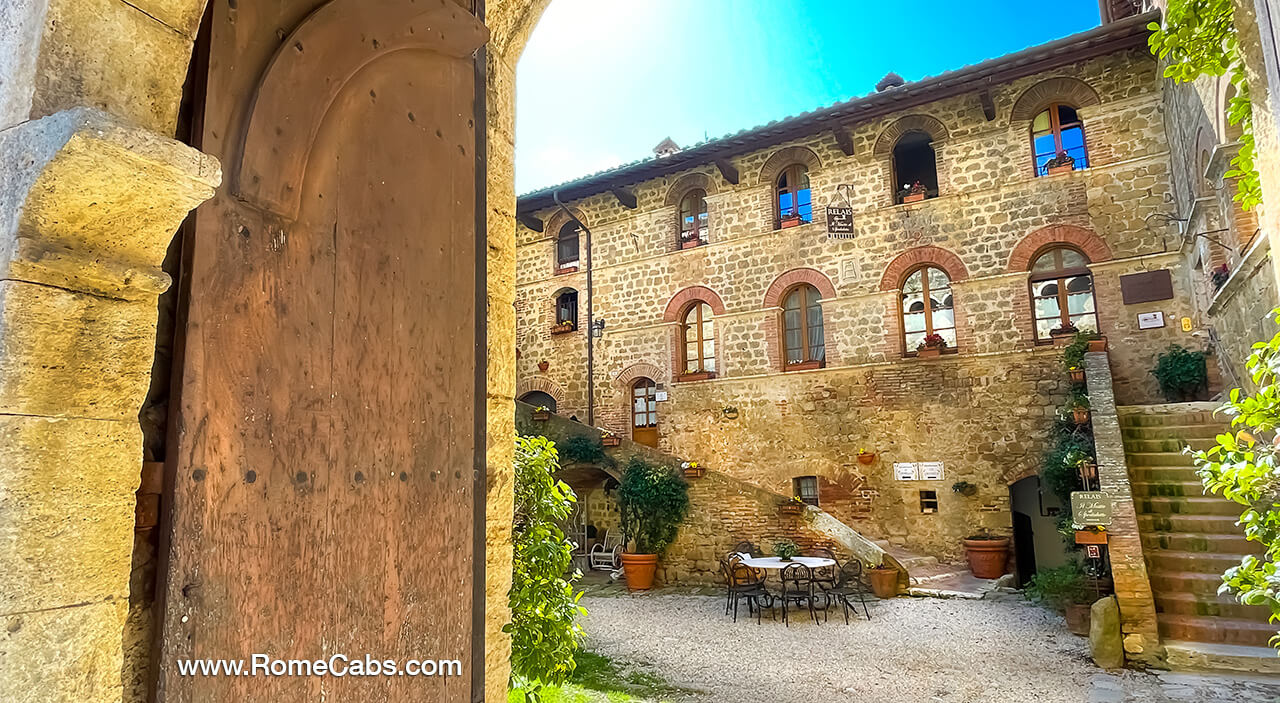 In 1263, it was generously donated to the Hospital of Santa Maria della Scala of Siena, and throughout the years, it hosted illustrious guests, including Pope Pius II and Charles II of Anjou, who sought solace within its protective walls.
Over time, Spedaletto transformed into a "grancia," a vast Medieval fortified monastic agricultural farm, under the guidance of the Cistercian order. As the 14th century drew to a close, this farm evolved into a grand fortified castle, complete with a formidable military garrison to protect its precious resources.
As you approach Spedaletto, you'll be captivated by its imposing crenelated walls and magnificent towers. The castle complex boasts a distinctive quadrangular layout, with an L-shaped arrangement of buildings serving partially as warehouses.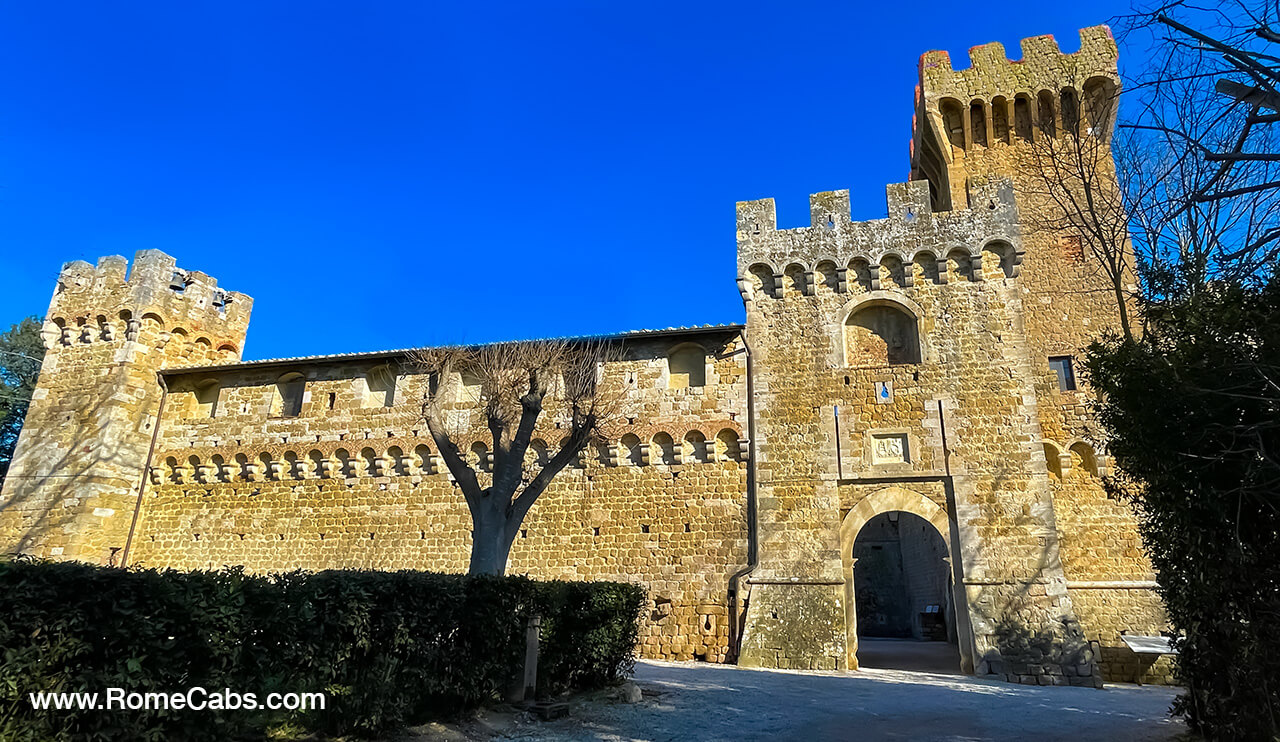 Towering crenelated walls grace the western side, standing tall at each corner, while an imposing fortified access gate, equipped with a powerful crenelated watchtower, speaks to its defensive prowess.
Adjacent to the gate tower, you'll find the charming church of San Niccolò a Spedaletto and the accompanying rectory. Consecrated in 1462, this sanctuary features a captivating facade adorned with a rose window, lunette, and portal—elements that may hark back to the 14th century.
Although the church is closed to visitors, there are two magnificent frescoes adorning the left wall. The first, dating back to the early 15th century, depicts the Baptism of Christ, elegantly framing the niche of the baptismal font.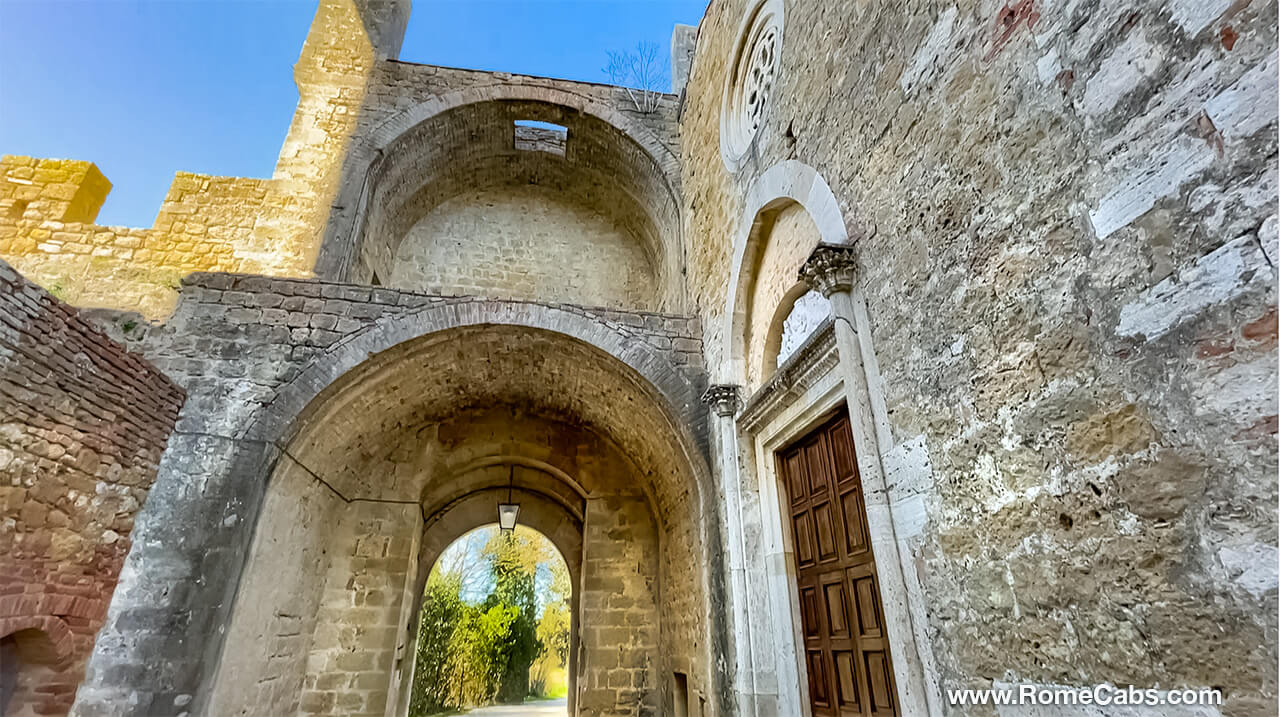 The second, from the 16th century, portrays the Madonna enthroned with child and saints, exuding a sense of divine serenity.
On the right wall, an image of St. Benedict from the end of the 15th century offers a glimpse into the rich spirituality of the past. At the front of the main altar, a portrayal of Christ in mercy from the 15th century adds to the church's sacred aura.
Today, Spedaletto has been thoughtfully transformed into an agriturismo farmhouse, preserving the heritage of the past while offering a warm welcome to visitors with modern comforts for a delightful stay in this corner of Tuscan paradise.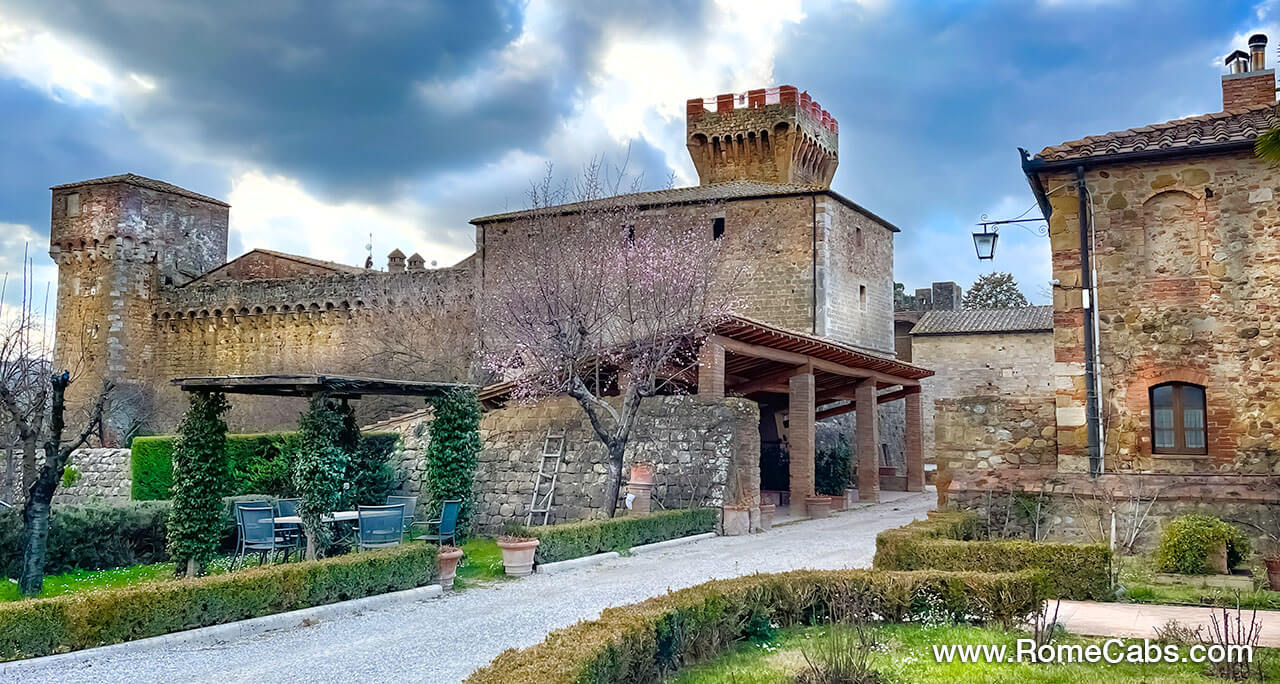 The old mill house, where the farm's organic grains were once ground into stone-ground flour, now houses a delightful shop. Here, you will discover a wide variety of organic artisanal whole-grain pasta crafted from local flour, sourced from the farm's larger mill in Montichiello.
Beyond pasta, immerse yourself in the flavors of the region as you explore farm-made quality virgin olive oil, organic wine, artisan beer, and delectable baked goods——a perfect way to bring the essence of Tuscany back home or to share with loved ones.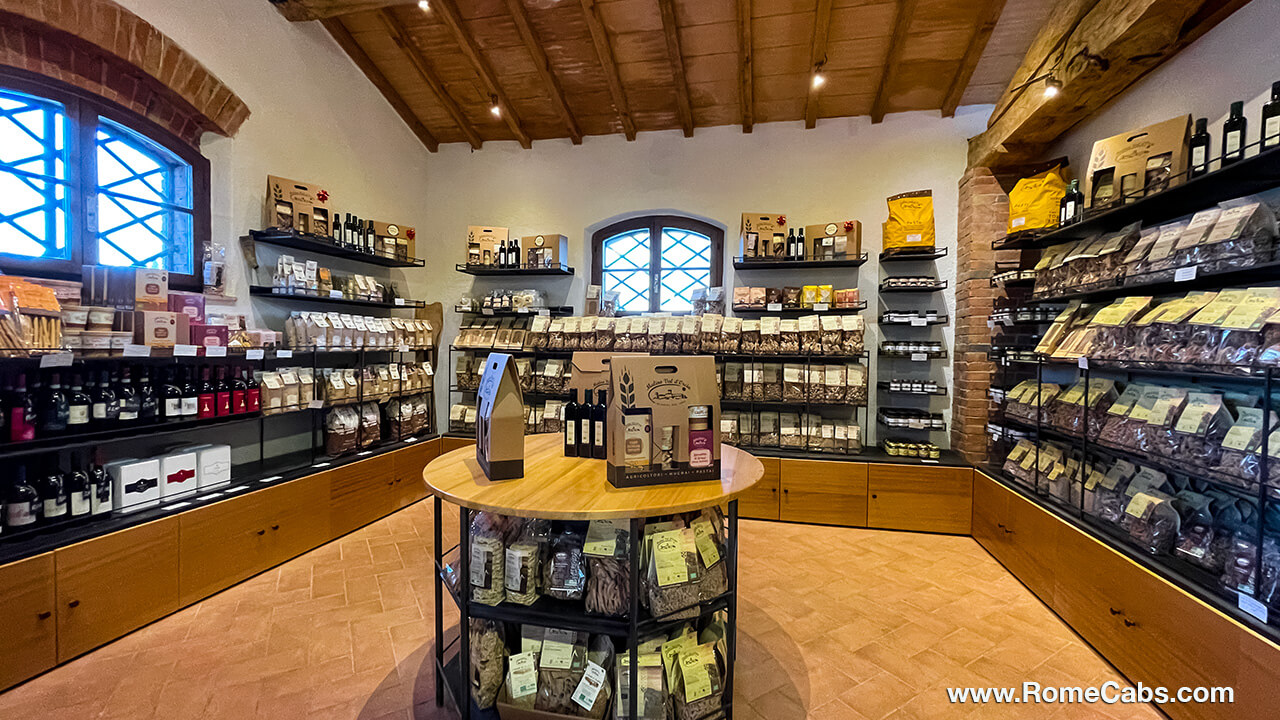 As you leave Spedaletto behind, let its timeless charm and captivating history remain etched in your heart, forever a treasured memory of your journey through the beguiling landscapes of Tuscany's Val d'Orcia.
Embrace the enchantment, flavors, and beauty of this exquisite corner of Italy, and take a piece of Tuscany's soul with you on your continued adventures.


We invite you to browse through our Day Tours from Rome to Tuscany and discover the perfect Tuscany tour from Rome and experience the magic and beauty of Tuscany.
On our Enchanting Tuscany Tour from Rome, in addition to the Castle of Spedaletto, our guests also have the opportunity to explore the medieval gems of Bagno Vignoni, San Quirico d'Orcia, Pienza, and Montichiello, nestled amidst the breathtaking Val d'Orcia landscapes. Uncover the essence of Tuscany's rich history and charm on this unforgettable journey.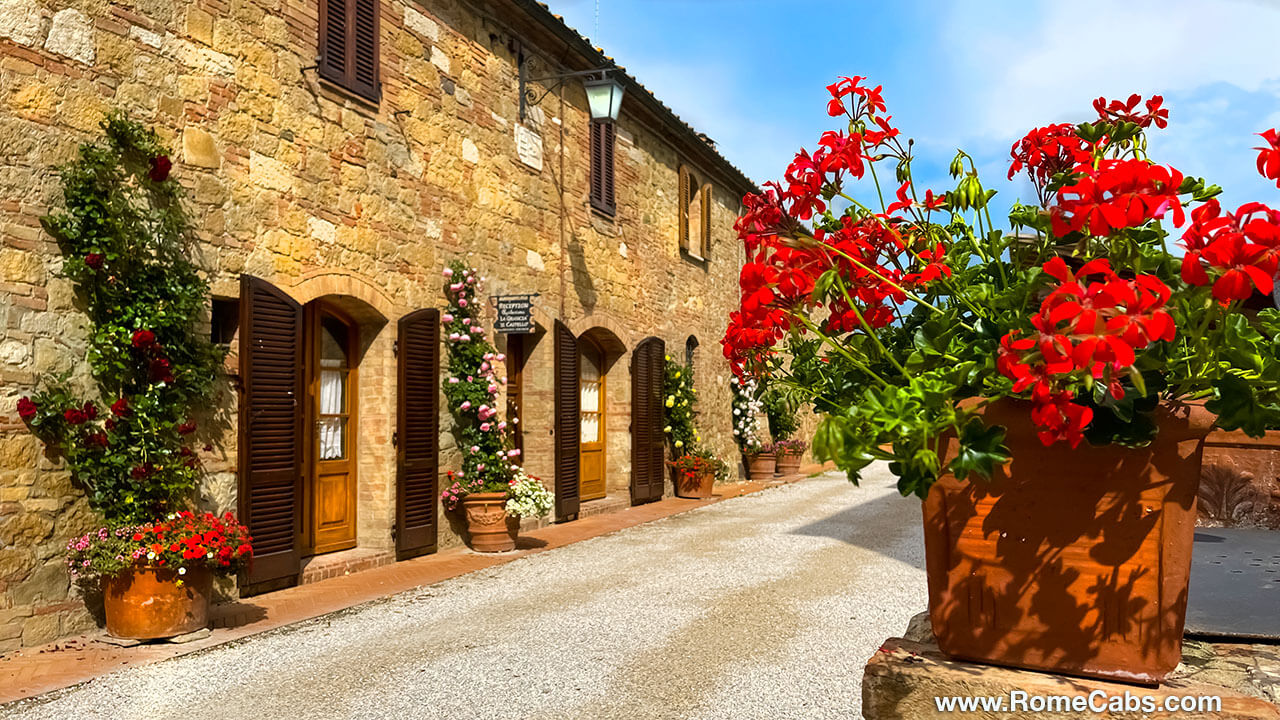 Thank you for choosing Stefano's RomeCabs to be part of this remarkable journey through Italy's exquisite landscapes and rich heritage.


* Find us online also on: