description
Buongiorno and welcome to Stefano's RomeCabs! The excitement of your cruise continues on disembarkation day with our cruiser's favorite Post Cruise Rome Town and Country Tour. Your personal English-speaking driver will pick you up on the Pier next to your Cruise Ship in Civitavecchia and whisk you away on a wonderful day filled with adventures.

Experience the wondrous Roman Countryside with visits to the historical town of Bracciano and its impressive medieval/ Renaissance castle that overlooks the pristine volcanic crater lake of Bracciano and relish a delicious traditional Italian lunch at a family-owned restaurant in the medieval clifftop village of Ceri.
After lunch, you will journey to the Eternal City of Rome for an afternoon enjoying Rome's most famous squares and monuments for a taste of La Dolce Vita. Your debarkation tour will conclude with your convenient drop-off at your hotel in Rome by approximately 5 PM. There's no better way to celebrate the conclusion of your cruise than with a fun-filled post-cruise tour from Civitavecchia.
Post Cruise Rome Town & Country Tour from Civitavecchia Prices:


For up to 4 Persons from Civitavecchia Port: 600 EUROS
For up to 6 Persons from Civitavecchia Port: 650 EUROS
For up to 8 Persons from Civitavecchia Port: 700 EUROS
* You may also do a QUICK PRICE CHECK using the Price Check & Booking form on the Right Side of this page. Once you receive the PRICE QUOTE based on the information you input, you may proceed to SUBMIT your Tour Reservation Request.
** The Booking Form is NOT to be used for inquiries. For inquiries, please send us an email.
** Tour Reservation Requests are confirmed based on availability.
*** Dates on the Booking Form Calendar that are NOT Selectable, are NOT AVAILABLE.



Enjoy a preview of the remarkable sites in our Post Cruise Rome Town and Country Tour VIDEO:


EXPLORE THE ROMAN COUNTRYSIDE
From Civitavecchia, you will travel through the bucolic countryside to Bracciano, a medieval town that overlooks the prehistoric volcanic crater lake, Lake Bracciano.

Lake Bracciano is one of the cleanest lakes in Italy due to the restriction of motor boats and strict anti-pollution regulations. Its lakeside beaches with dark volcanic sand attract many city dwellers (mostly from Rome) who choose Lake Bracciano as their preferred location to relax, swim, sail, canoe, and enjoy the charming lakeside villages such as Bracciano, famous for its majestic castle that you will soon visit.



BRACCIANO CASTLE - the enchanting castle by the lake


Visiting the castle is the highlight of visiting Bracciano. Castello Orsini - Odescalchi was named after the noble Orsini family who, 4 centuries ago, sold the castle to the powerful Odescalchi family who is still the rightful owner of this castle today. Due to the complexity of its formal name, the castle is commonly referred to as Bracciano Castle.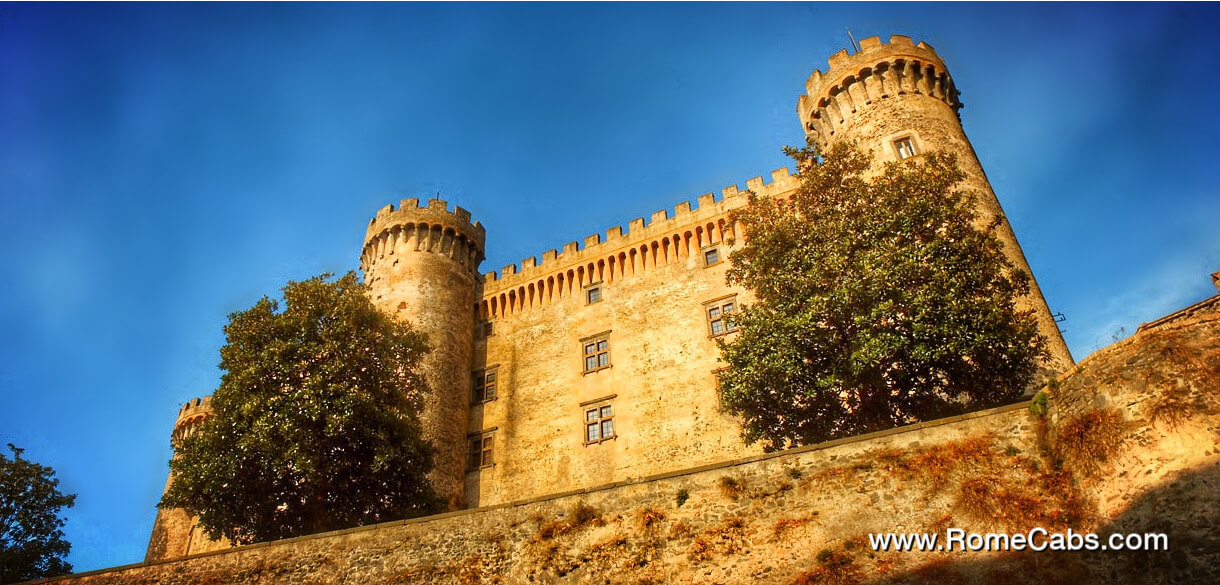 Bracciano Castle is one of the few castles in Italy that are perfectly preserved and open to visitors for the unique opportunity to feel transported back in time when castles were something fairy tales were made of.
On this tour, you will visit the enchanting Bracciano Castle and its opulent multi-level rooms that were once the private quarters of Kings, Popes, and Lords of the Renaissance era. Admire these impressive castle rooms that are still adorned with original Renaissance-era furniture, magnificent paintings, detailed wall frescoes, and ornate ceilings.
You will also discover the large castle kitchen that centuries ago fed hundreds of people at a time, climb up the castle defense walls and walk along the ramparts that will reward you with stunning views of Lake Bracciano and the lush countryside.
CERI - the charming clifftop hamlet

Strategically situated on top of a steep tufa cliff, Ceri's medieval defense walls seem to rise right out of the tuffaceous cliff itself, taking travelers by surprise. Ceri's authentic medieval past becomes apparent the moment you arrive at the foot of this tiny hamlet.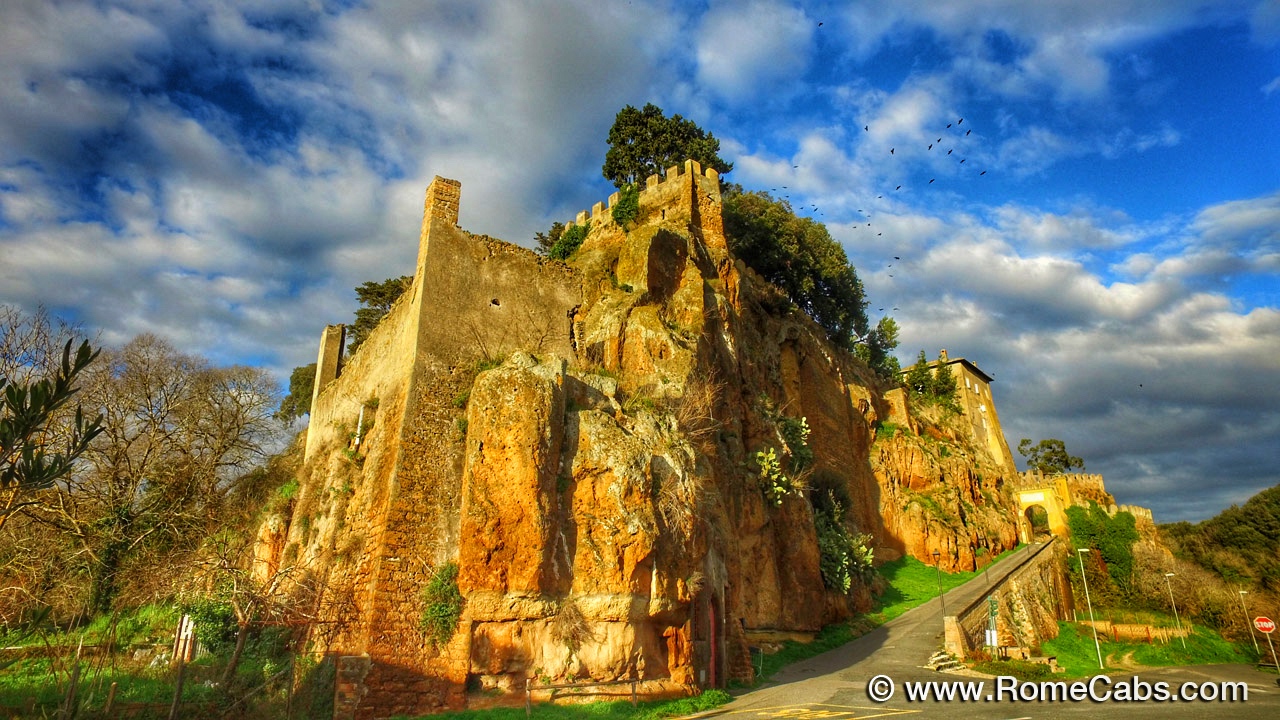 The village's narrow street leads through the arched village gate winding its way to the main square on top. Medieval streets were intended only for pedestrians and the occasional horses and wagons. Therefore, the village road is wide enough for just 1 vehicle to pass through at a time.
This unusual traffic issue was rectified by installing two traffic lights: one at the bottom of the cliff, and one in the main square above. Driving into and out of Ceri is always a delightfully endearing experience where Medieval and modern life coexists.
Not to be missed in Ceri is the Sanctuary of the Madonna di Ceri located in the town square. This small church was built above the site where the pagan goddess Vesta was venerated by the ancient Etruscans and Romans who settled here in ancient times. The church's interior walls are adorned with vibrant Medieval-era frescoes depicting scenes from the Old Testament.
Although Ceri is tiny and remote, it is well-regarded for its family-owned restaurants that draw foodies and culinary connoisseurs from all over the region (and beyond). Traditional homemade dishes using local fresh and in-season ingredients using secret recipes and techniques passed down from generation to generation and are carried out to perfection. Appreciate free time for a relaxing repast of traditional Italian dishes at a local restaurant in Ceri.

After lunch, you will join your driver for a relaxing drive through the countryside into Rome, the capital of Italy, where you will spend the afternoon enjoying its magnificent squares and discovering the glories of Ancient Rome. The order of the sites you will visit in Rome will vary.
VISIT ROME'S FAMOUS SQUARES
COLOSSEUM SQUARE - stroll amongst the monuments

Colosseum Square is surrounded by vestiges of the majesty and glory of the Roman Empire: the Colosseum, Arch of Constantine, and the Roman Forum. The square is dominated by the world's most famous amphitheater and Rome's icon.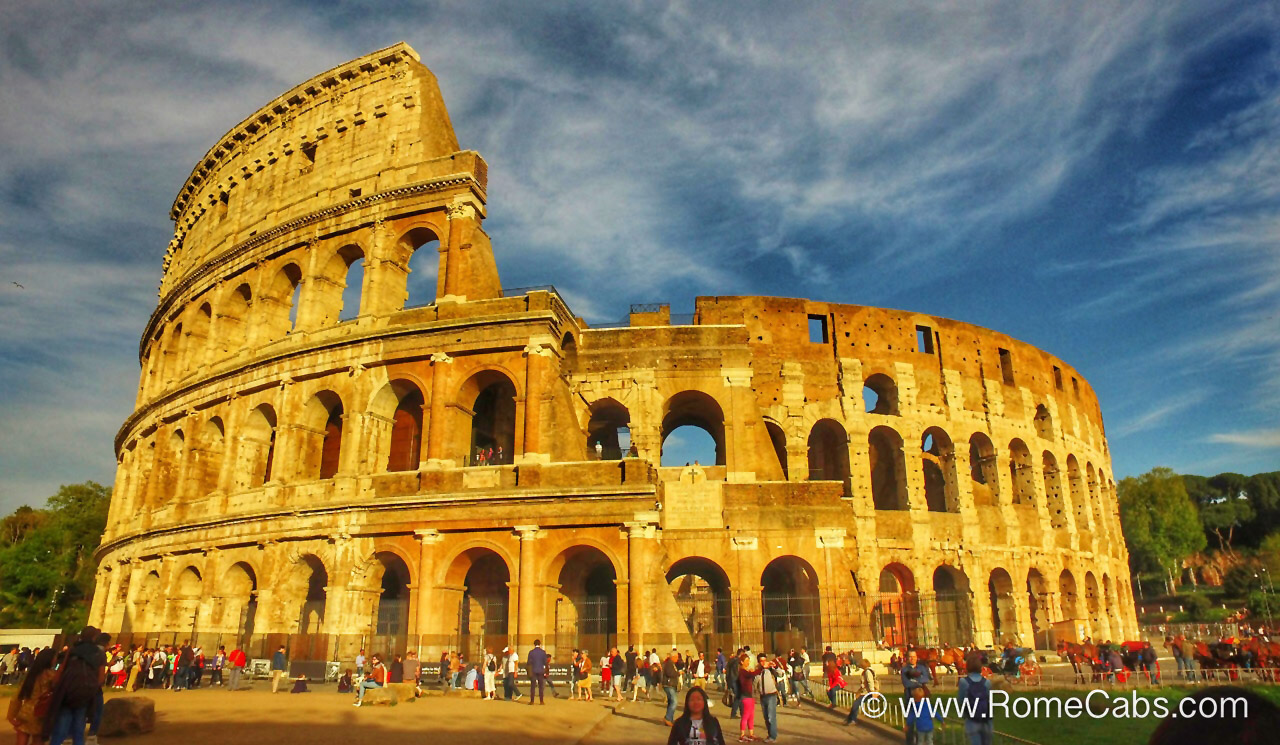 Originally named the Flavian Amphitheater after the family name of Emperor Vespasian who commissioned its construction, the Colosseum was built in 72 AD over the previous Domus Aurea (Golden House) that was once the vast and opulent personal domain of the infamous Emperor Nero.
In the middle ages, the amphitheater became known as the Colosseum (Colosseo in Italian) due to the ancient colossal bronze statue of Emperor Nero depicted as the pagan sun god Apollo: the Colossus of Nero.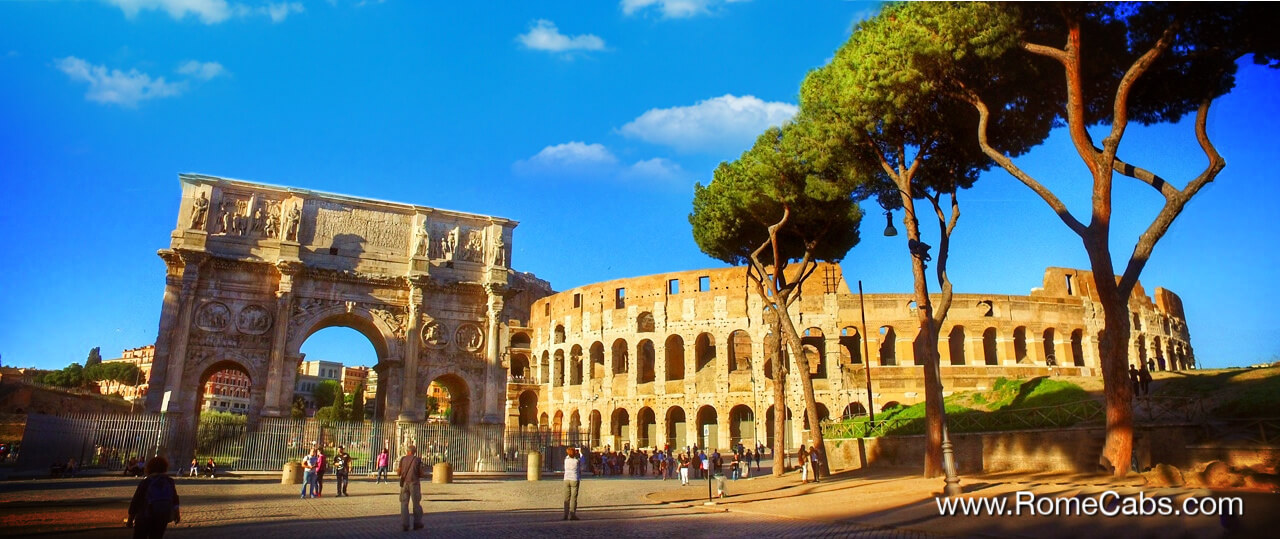 As you stroll around the cobblestoned Colosseum Square admiring its magnificence from various angles, don't miss the Arch of Constantine, an imposing 4th century AD Victory Arch commissioned by the Roman Senate to commemorate Emperor Constantine's victory over Maxentius at the Battle of Milvian Bridge in 312 AD. Emperor Constantine (also known as Constantine the Great) is most famously known for having legalized Christianity in the Roman Empire.
PIAZZA DELLA ROTONDA


Delight in the lively ambiance of the bustling Piazza della Rotonda dominated by Fontana del Pantheon and the Pantheon itself.
With its final transformation in 1711 commissioned by Pope Clement XI, the fountain stands proudly crowned by a striking red marble Egyptian obelisk, once part of a magnificent pair created for the Temple of Ra in Heliopolis. Its twin counterpart can be found in the Piazza della Minerva, located behind the Pantheon.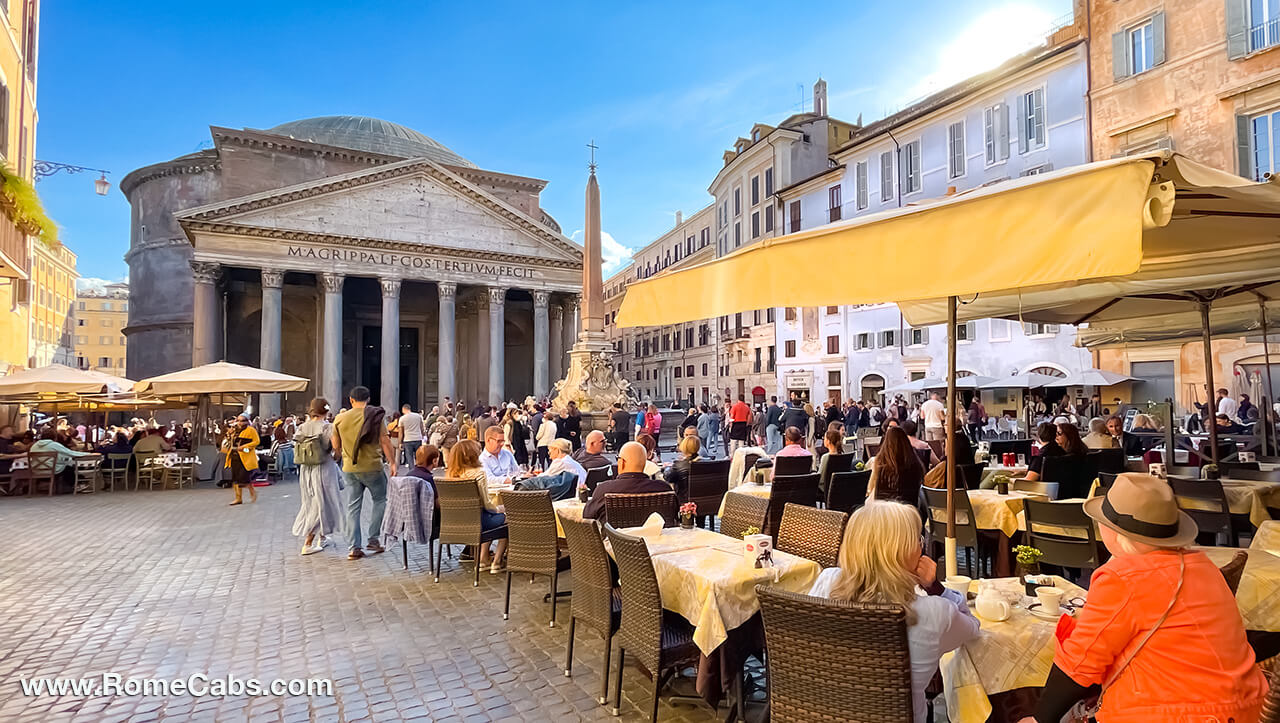 Take a moment to marvel at the exterior grandeur of the Pantheon, an awe-inspiring monument since the bygone era of the Roman Empire. Wander through the square and around the Pantheon, immersing yourself in the beauty of the architecture and indulging in the delightful experiences that await: historical palazzi, charming shops, and Rome's finest gelato at a nearby gelateria.
NOTE: A visit inside the Pantheon is not included in a day tour of Rome due to excessively long entry lines, even for visitors who have pre-booked tickets which are extremely difficult to obtain.



PIAZZA NAVONA - Rome's unique square

The vibrant Piazza Navona boasts three fountains across an oblong square ringed by warm-toned historic buildings.
Piazza Navona gets its unique shape from being built on top of the ancient 1st century AD Roman stadium built by Roman Emperor Domitian for athletic competitions. The name Navona evolved from the ancient word for games, 'agones'.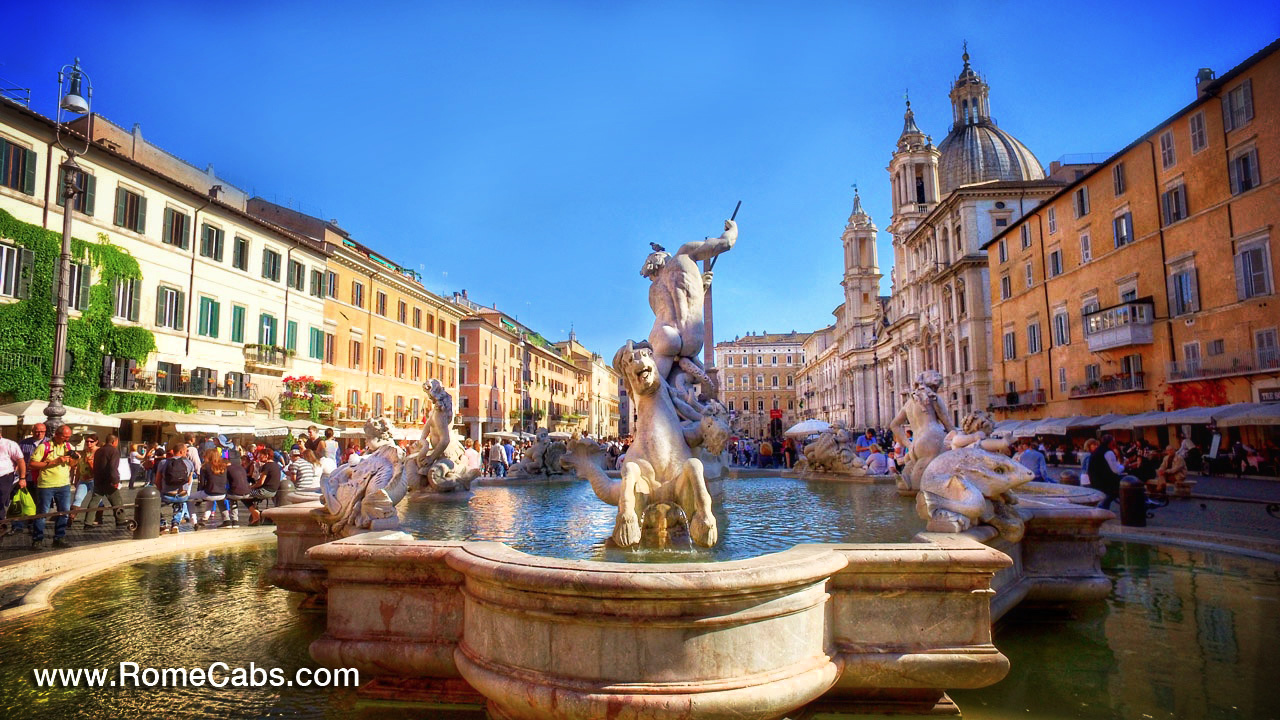 In the center of the square is the 17th-century Fountain of the Four Rivers created by the famous sculptor Gian Lorenzo Bernini. This enthralling fountain represents the four major rivers as the world was known at that time: Nile (Africa), Danube (Europe), Ganges (Asia), and Rio de la Plata (America). The fountain is surmounted by an ancient Egyptian obelisk commissioned by Pope Innocent X.
SPANISH STEPS - Rome's elegant square

The famous Spanish Steps is an elegant 18th-century stairway that unfurls to connect Piazza di Spagna (The Spanish Square) below, to the French church of Trinita dei Monti and Obelisk Sallustiano above. The tall obelisk is a smaller Roman copy of the original Egyptian obelisk (Flaminio Obelisk) that was erected in the center of Piazza del Popolo (The People's Square).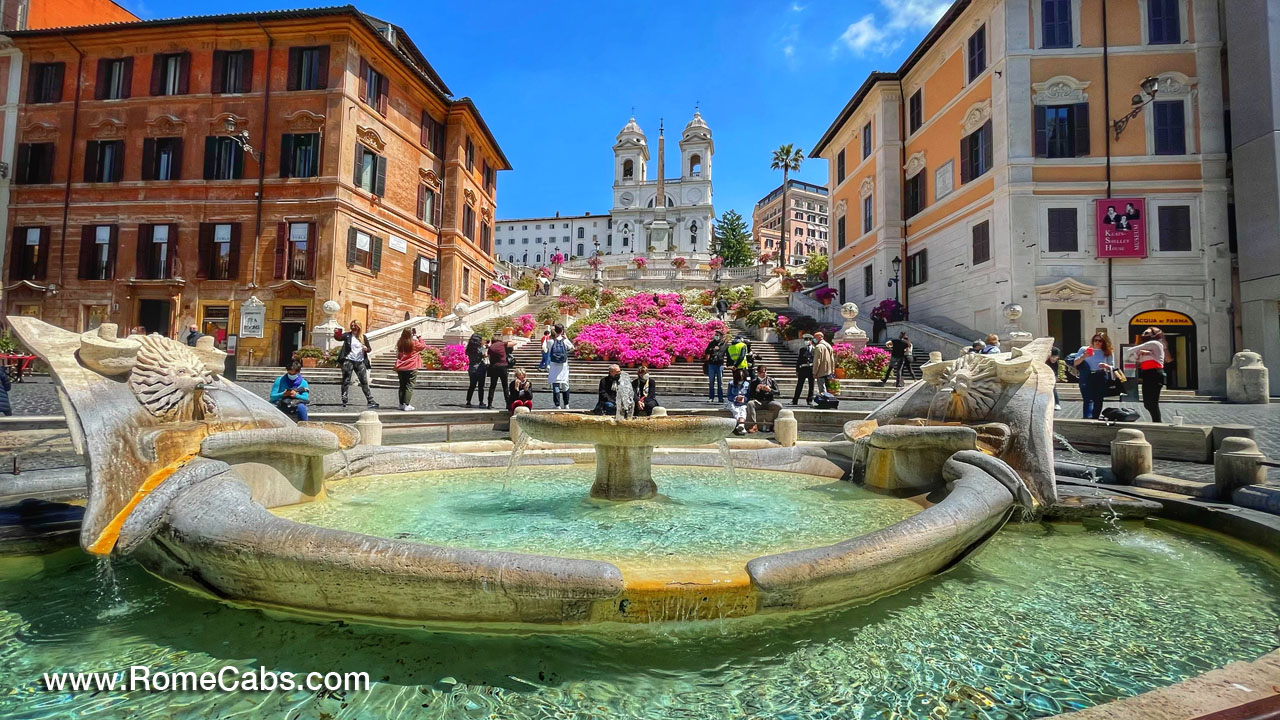 In the open square at the foot of the Spanish Steps is the Baroque fountain, Fontana della Barcaccio ("Fountain of the Old Boat"). This type of shallow boat was generally used to carry wine to the port of Ripetta. Created by Pietro Bernini (the father of the well-renowned sculptor Gian Lorenzo Bernini), the boat appears to be half sunken with water overflowing into the pool of water.
TREVI FOUNTAIN - the most famous fountain in the world

A visit to Rome is not complete without visiting the world's most famous Barque fountain: Trevi Fountain. Built against the facade of Palazzo Poli, this masterpiece carved of Travertine with marble statues is the largest fountain in Rome. The symphony of gushing water can be heard from a block away, beckoning you like a siren.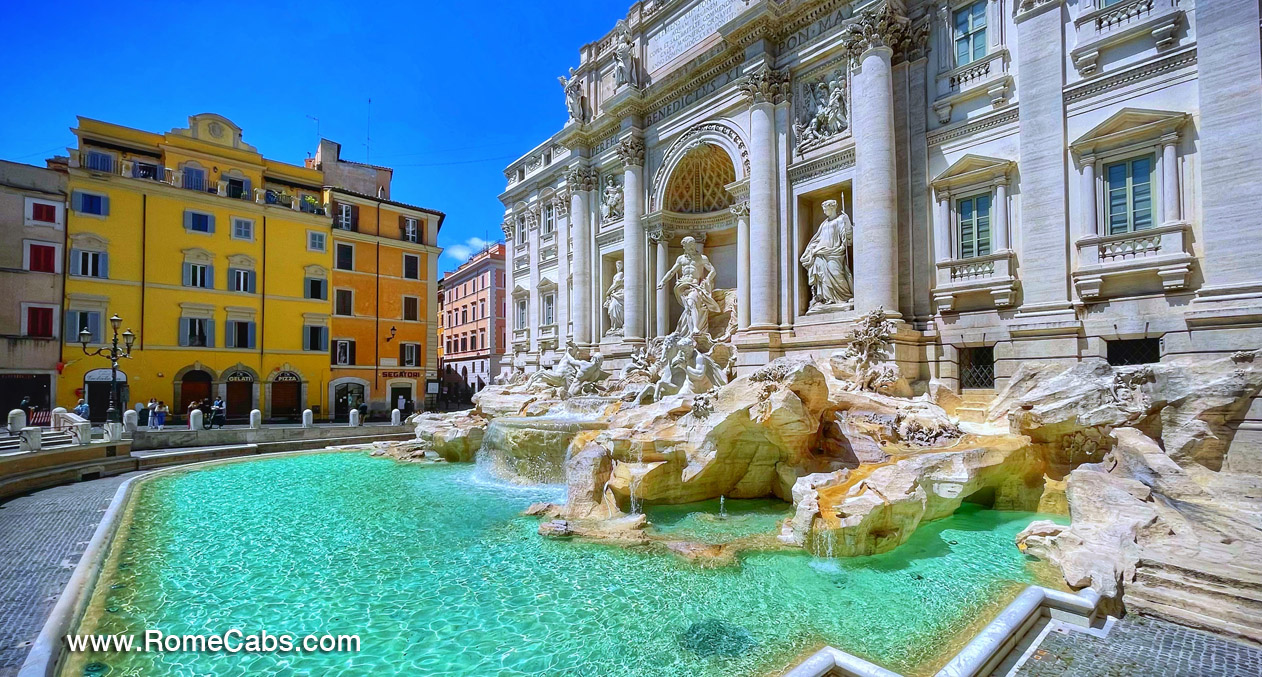 The fountain is dominated by a 16-foot statue of the pagan god Neptune standing under a triumphal arch, carried on his sea chariot by two mythical horses steered by two Tritons.

A long-lasting tradition has inspired millions of visitors to throw a coin into the Trevi Fountain with the right hand over the left shoulder to be assured of a future return to Rome.

The Trevi fountain was immortalized in the classic romantic movies Three Coins in a Fountain and Federico Fellini's La Dolce Vita.
Your post-cruise Rome tour concludes with your arrival at your hotel in Rome at approximately 5 PM.

Thank you for booking our Post Cruise Rome Town and Country Tour from Civitavecchia and choosing Stefano's RomeCabs for your Italy private tours. We look forward to showing you beautiful places in Italy!


Extend your Italy sightseeing adventures post-cruise with these popular day tours from Rome:
Important Information
PLEASE READ THE INFORMATION BELOW AND ACCEPT THE TERMS OF SERVICE AND PRIVACY POLICY BEFORE BOOKING.


PAYMENT OPTIONS
Payment for this Tour can be made in EUROS directly to your driver on the Date of Tour, or prepaid in advance via PayPal or Credit Card online upon request. (See Cancellation policy below)


CANCELLATION POLICY
We kindly ask that cancellations be made via E-mail at least 7 days prior to Date of Service.
Cancellations are accepted only via E-mail so your cancellation is on record. We do not accept cancellations by phone, text message, or 3rd parties.
** Cancelations for PREPAID SERVICES will be refunded the Reduced Net Rate we receive from your prepayment. Reduced Net Rate: actual service price minus PayPal/Credit Card fees retained by PayPal/Credit Card as they do not reimburse us the fees they retain from your payment.
MEETING POINT FOR POST-CRUISE TOURS FROM CIVITAVECCHIA:


Your driver will meet you on the Pier next to your Ship at your scheduled pick-up time holding a sign with the NAME in your reservation.

Please do NOT leave the ship area, and do NOT take a shuttle bus outside the port.

Look for the driver in the same area as ALL private drivers who will be waiting for their clients.
BRACCIANO CASTLE ADMISSION TICKETS:


* Bracciano Castle - currently approximately 10 Euros per person. Tickets can be purchased upon arriving at the site. Admission Ticket prices are subject to change without advance notice.
* Please note that Bracciano Castle may unexpectedly close for private events or internal reasons. If it's closed upon your arrival, your driver can take you to explore alternative lakeside villages like Trevignano or Anguillara after your visit to the village of Bracciano.


* PRIVATE TOUR OF BRACCIANO CASTLE:
Bracciano Castle offers private tours in English with advance reservations at 180 Euros including tickets. Please inform us in advance if you wish to reserve a private guide for your visit to the castle. Private Tours of Bracciano Castle require Non-Refundable prepayment as Bracciano Castle does not issue refunds for cancellations.
Without booking a guided tour, you will Self Tour inside the castle.
If you wish to Self Tour the Castle you will find additional information and helpful visiting tips on our travel blog: Orsini - Odescalchi Castle in Bracciano: Visiting Tips.
LUGGAGE
Car type vehicles priced for up to 2 persons can accommodate up to 2 standard check-in cases, and up to 2 small carryons in TOTAL. Please advise if you will be bringing extra luggage as you may require a vehicle size upgrade.
Deluxe Minivans can accommodate up to approximately 6 suitcases and 6 carry-ons in TOTAL. If you anticipate bringing luggage in excess of what the standard 8-seater vans can accommodate, please inform us prior to booking this service.
YOUR ROME TOUR DRIVER
Your Post Cruise Rome Town and Country tour includes a knowledgeable English-speaking driver who is NOT a licensed tour guide. Italy has strict laws protecting official licensed guides making it unlawful for Tour Drivers to provide guests commentary while outside the vehicle or accompany guests to sightsee on foot away from the vehicle.
Your driver will gladly offer basic touristic information while at the vehicle, however, in order to comply with Italian laws, Drivers are obliged to remain with the vehicle while you sightsee on your own (SELF TOUR) away from the vehicle unaccompanied by your Driver.
Pro Tips for visiting Rome's famous piazzas:
The areas around the Trevi Fountain, Spanish Steps, and Colosseum can become quite crowded, especially during the peak travel months. Please be aware of your surroundings and be mindful of your belongings and valuables at all times. Do not accept 'gifts' from street vendors or strangers approaching tourists. They may offer you roses, bracelets, or trinkets, but if you choose to accept, you will be expected to pay or give a tip to them.