description
Buongiorno and welcome to Stefano's RomeCabs! The excitement of your cruise continues on your disembarkation day with an exciting day trip to Tuscany on our Post Cruise Tour Montepulciano and Pienza Tuscany Tour from Civitavecchia.

Your personal English-speaking driver will pick you up in your private deluxe vehicle right on the Pier next to your cruise ship in Civitavecchia. Following your Tuscany post-cruise tour, you will be taken directly to your hotel in Rome for optimal ease and convenience. Your luggage will travel with you stowed in your vehicle's luggage compartment for a hands-free experience.
NOTE: This tour is ONLY Offered as a POST-CRUISE TOUR from Civitavecchia with drop off in Rome. This Tour is NOT possible as a Shore Excursion from Civitavecchia as this tour is not compatible with most cruise ships' docking schedules at the port.
POST CRUISE MONTEPULCIANO AND PIENZA TUSCANY TOUR:


For up to 4 Persons from Civitavecchia: 650 EUROS
For up to 6 Persons from Civitavecchia: 690 EUROS
For up to 8 Persons from Civitavecchia: 750 EUROS
** You may also do a QUICK PRICE CHECK using the Price Check & Booking Form on the Right Side of this page. Once you receive the PRICE QUOTE based on the information you input, you may proceed to SUBMIT your Tour Request.
*** Dates on the Booking Form Calendar that are NOT Selectable, are NOT AVAILABLE.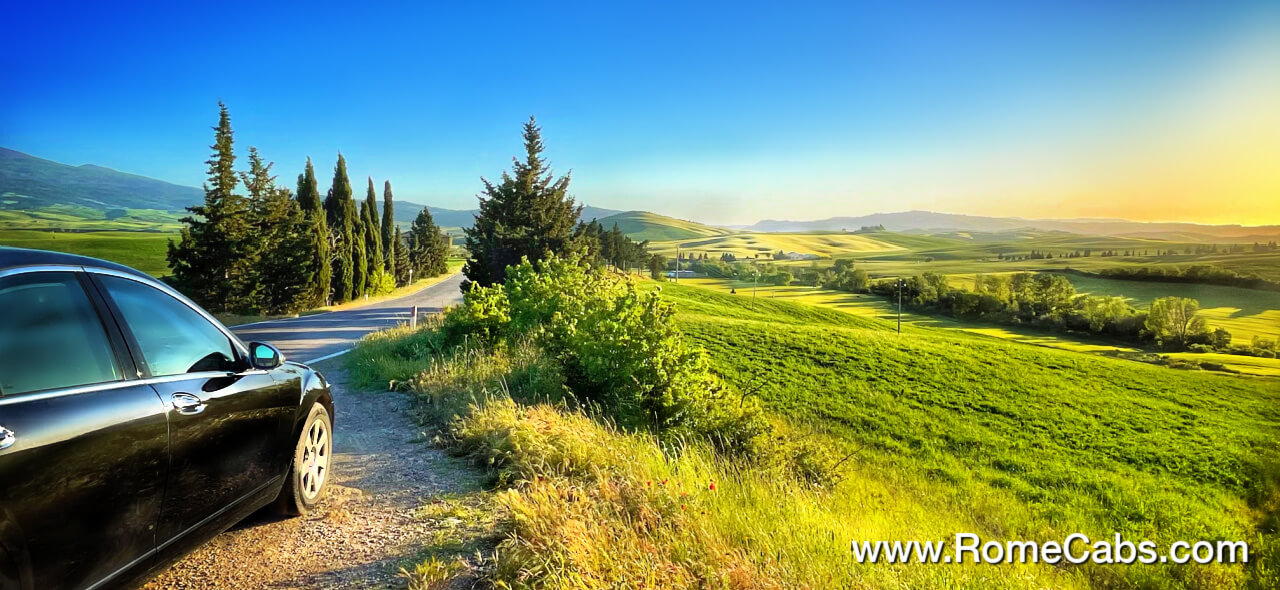 Visit MONTEPULCIANO - the "King of All Wines"


Montepulciano is a historic town whose ancestry can be traced back to the ancient Etruscan civilization that once ruled over this region once known as Etruria. Resting on the top of a hill, Montepulciano overlooks the picturesque Val di Chiana (Valley of Chiana) that surrounds it.
Enjoy free time independently exploring the lower and upper parts of Montepulciano. Narrow pedestrian-friendly medieval streets lined with imposing architecture will lead you to many of Montepulciano's treasures: local artisan shops that sell gorgeous Tuscany-themed hand-crafted ceramics and works of art, gastronomic boutiques, enoteche (wine shops), and wine cellars with plenty of opportunities to sample the famous local wine: Vino Nobile di Montepulciano.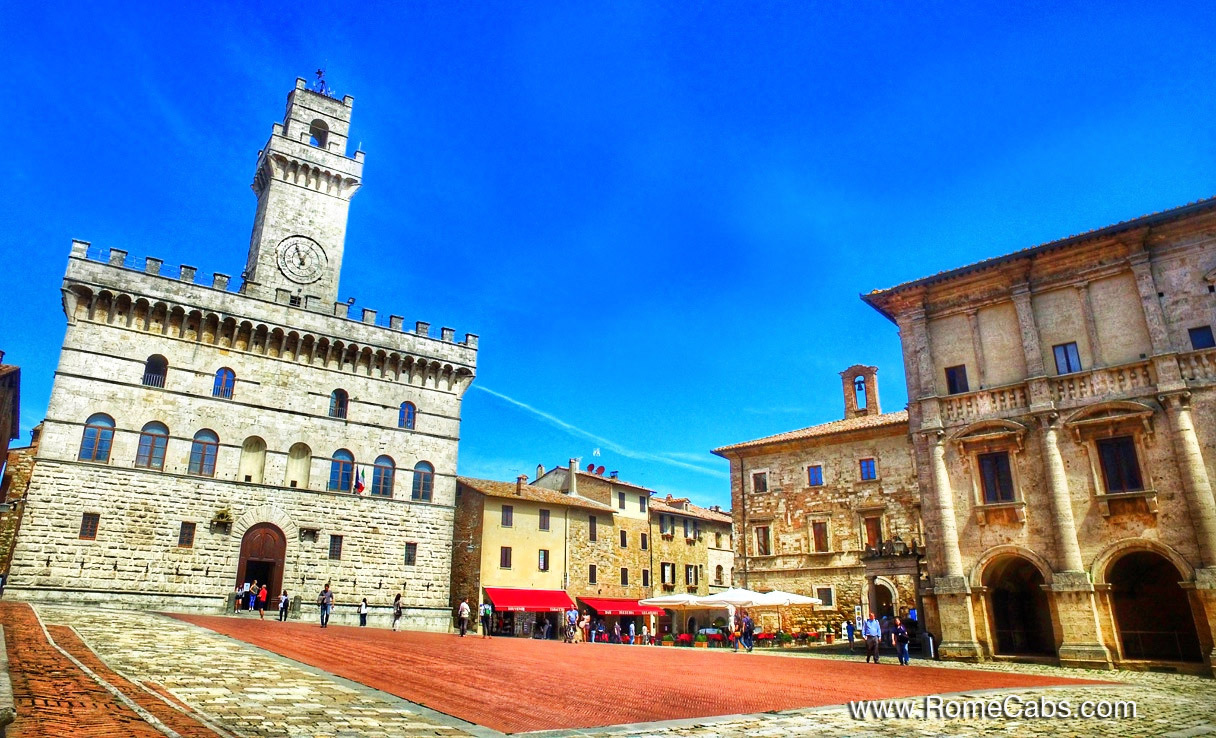 Montepulciano is world-renowned for the exceptional local wine, crowned "King of all Wines" by the prominent 17th-century Italian poet Francesco Redi, as noted in this his famous poem, "Bacchus in Tuscany".
On top of Montepulciano, admire the elegant Piazza Grande that's ringed by imposing medieval and Renaissance palazzi including Palazzo Communale which looks very much like Palazzo Vecchio in Florence, Palazzo Contucci, Palazzo Nobili-Tarugi, and Palazzo del Capitano del Popolo. Also dominating the square is the Cathedral of Montepulciano.
A brief stroll from Piazza Grande you will discover the magnificent Fortress of Montepulciano surrounded by a lovely garden. Venture to the edge of the town through one of the small alleys, and catch a glimpse of the gorgeous Val di Chiana valley below.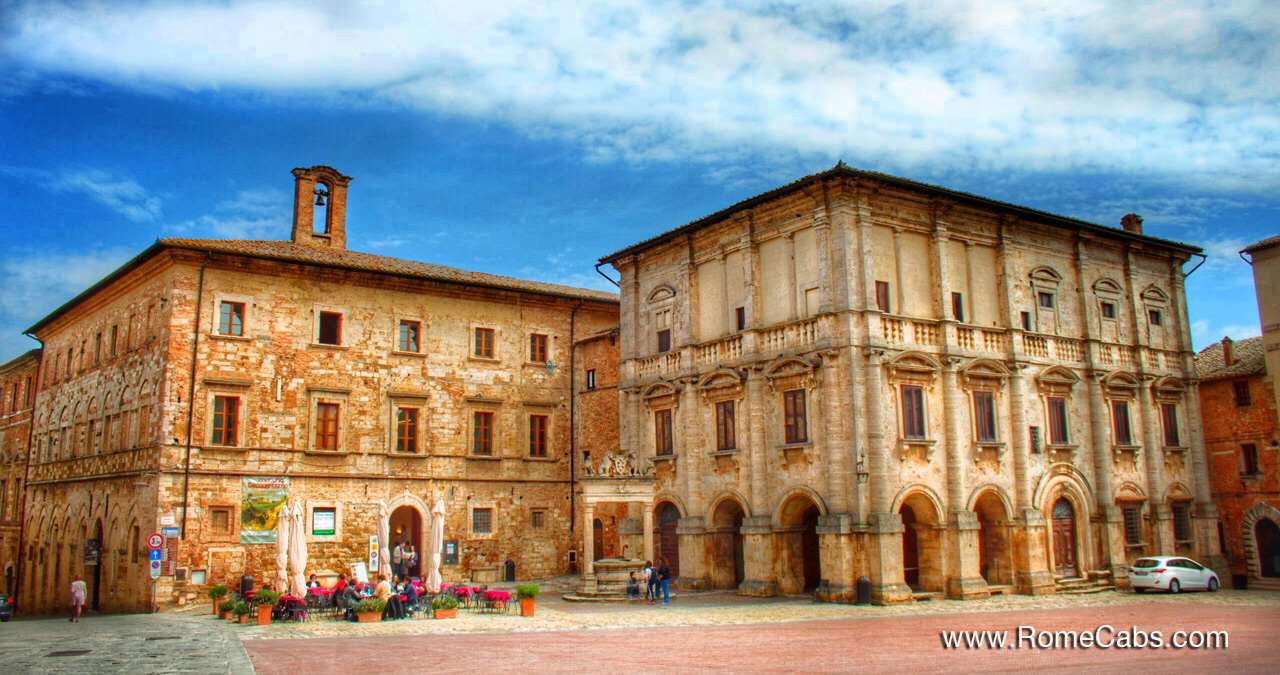 You may enjoy a repast of tasty Tuscan delicacies for lunch either in Montepulciano or in Pienza.


** Wine Lovers **: This tour does NOT include visits to wineries outside of Montepulciano. On this tour, it is possible to only sample the local wines at wine shops in town. Some wine shops also vaunt historic wine cellars where their wines age to perfection in huge wooden barrels that are open to visitors.
Visit PIENZA - the Renaissance Utopia


Following your visit to Montepulciano, you will meet your driver for a scenic short drive to Pienza. When you see Pienza, you will understand why it's considered a Renaissance utopia and why its historic center is a UNESCO World Heritage Site.
Originally the town was named Corsignano, but it was renamed Pienza after the homegrown Enea Silvio Piccolomini, an important humanist before became Pope Pius II in 1458 who helped transform this once-medieval village into a 15th-century ideal urban city that revolutionized city planning. Adding to Pienza's magnificence is the spellbinding Valley of Orcia (Val d'Orcia) that surrounds Pienza. Not surprisingly, also Val d'Orcia is a UNESCO World Cultural Landscape.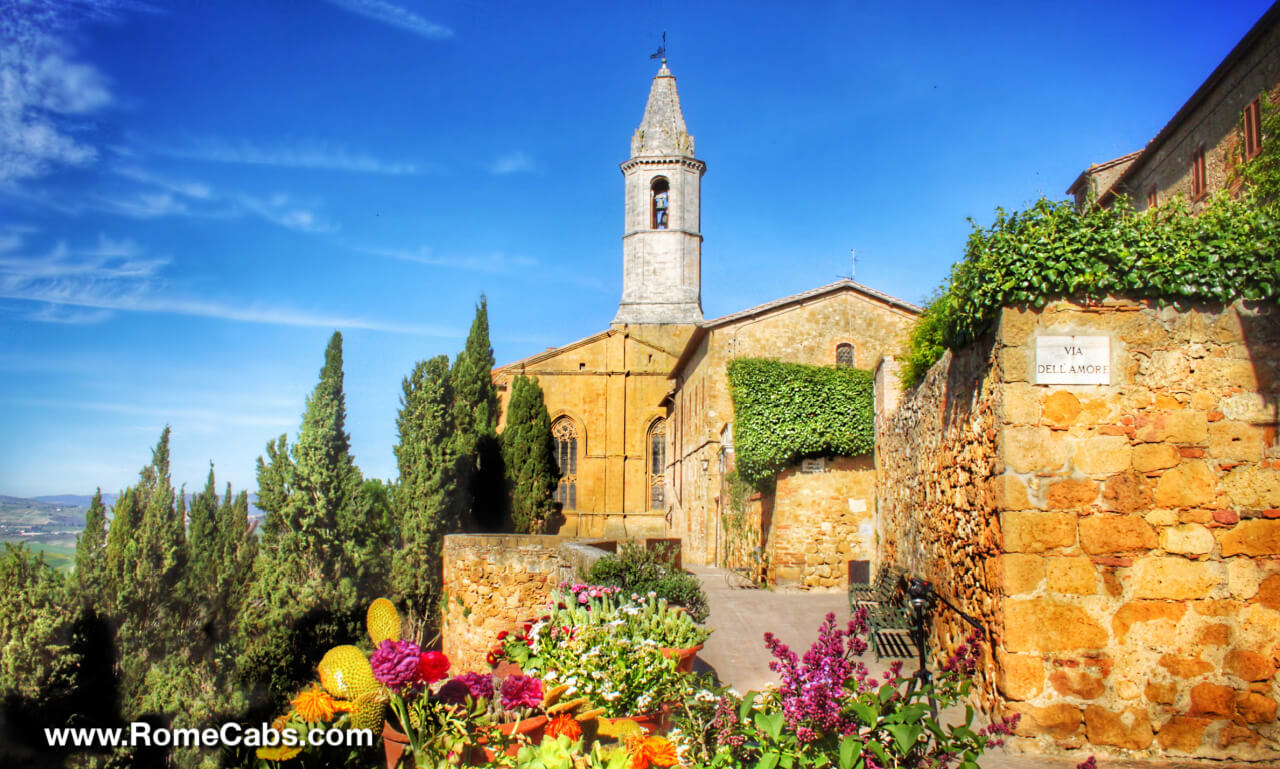 Adding to the town's undeniable charm are narrow lanes with romantic names like Via dell' Amore (Street of Love), and Via dell Baccio (Street of the Kiss) that lead you to the panoramic terrace on top of the city walls from where you may admire views of Val d'Orcia into the horizon.
Admire the cozy trapezoid Piazza Pio II that's surrounded by the Cathedral of Pienza, the Presbytery, the Papal Palace (Palazzo Piccolomini), the Town Hall, Palazzo Ammannanti, and the Episcopal Palace (Palazzo Borgia). You may wander along the alleys between the Cathedral and the palazzi leading to the panoramic terrace.
Charming narrow streets and alleys lined with historical buildings will entice you with artisan shops, gastronomic boutiques, cafes, and restaurants adding to the enchantment of this Tuscan village and making it perfect for a stroll.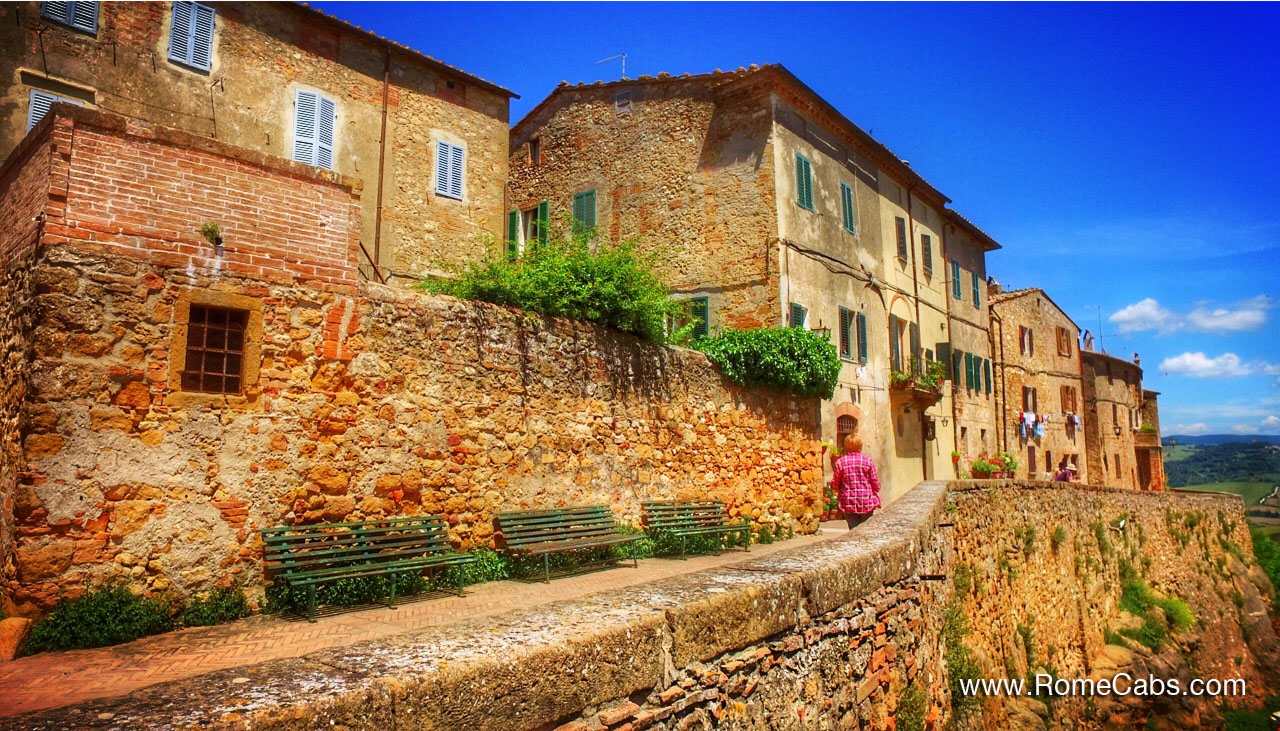 For travelers with a discerning palate for gastronomic delights, Pienza's other claim to fame is Pecorino di Pienza, one of the finest pecorino cheeses in Italy that's locally produced from the milk of ewes that graze upon the lush pastoral grasslands surrounding Pienza.
Gratify your tastebuds with pecorino fresco (soft fresh cheese) or pecorino stagionato (aged pecorino) and discover these distinct flavors of the finest local cheeses sold in many of the local gastronomic boutiques throughout Pienza.
After a day exploring the gorgeous sights and exquisite flavors of Tuscany, you will enjoy a relaxing drive through the picturesque countryside to Rome where your driver will take you directly to your hotel.




Thank you for booking our Post Cruise Pienza and Montepulciano Tuscany tour from Civitavecchia and for choosing Stefano's RomeCabs for your Italy Private Excursions. We look forward to showing you beautiful places in Italy!
Important Information

PLEASE READ THE INFORMATION BELOW AND ACCEPT THE TERMS OF SERVICE AND PRIVACY POLICY BEFORE BOOKING.


PAYMENT OPTIONS
Payment for this Post Cruise Montepulciano and Pienza Tuscany Tour from Civitavecchia can be made in EUROS directly to your driver on the Date of Tour, or prepaid in advance via PayPal or Credit Card online when you confirm your Tour.
If you wish to PREPAY you may do so online when CONFIRMING your BOOKING by SELECTING your preferred option of payment.
CANCELLATION POLICY
We kindly ask that cancellations be made at minimum 7 days prior to Date of Tour.
Cancellations must be made via email and confirmed by our office staff so we have your cancellation request on record. We do not accept cancellations by telephone, text message, or 3rd party.
** Cancelations for PREPAID SERVICES will be refunded the Net Rate we receive from your prepayment. Net Rate: actual service price minus PayPal/Credit Card fees retained by PayPal/Credit Card as they do not reimburse us the fees they retain from your payment.
WINE TASTING IN MONTEPULCIANO
Wine tastings at local wine shops in Montepulciano may cost anywhere between 5-15 Euros per person, and paid directly to the wine shop
Wine tasting in Montepulciano is available only in town at various wine shops operated by the local wine producers.
PLEASE NOTE: This tour does NOT include visits to wineries / winery visits outside of Montepulciano. If you wish to visit a winery, we invite you to book any of our other wine tours in Tuscany that include a winery visit.
Please taste wine responsibly, and never on an empty stomach.
Excessive consumption of wine may interfere with the enjoyment of your tour. In case of excessive consumption of wine and/or alcohol results in your desire to return to your hotel early, please be advised that you will not be reimbursed for the remaining portion of the tour, and will be charged the full fare of the tour as originally booked.
YOUR PRIVATE TOUR DRIVER
This Post Cruise Montepulciano and Pienza Tuscany tour from Civitavecchia provides an English-speaking Private Driver who is not a Licensed Tour Guide or sommelier.
Italy's laws prevent Drivers from acting as guides and accompanying guests away from the vehicle to sightsee. Only licensed tour guides are lawfully authorized to accompany guests to sightsee on foot. Drivers can provide basic touristic information while at the vehicle, but drivers are obliged to remain with the vehicle while guests sightsee on foot.
On this tour you will SELF TOUR on your own while you visit the towns.
MEETING POINT FOR POST-CRUISE TOURS FROM CIVITAVECCHIA
Your driver will meet you on the Pier next to your Ship at your scheduled pick-up time holding a sign with the NAME in your reservation.

Please do NOT leave the ship area, and do NOT take a shuttle bus outside the port.

Look for the driver in the same area as ALL private drivers who will be waiting for their clients.
WHAT IS VINO NOBILE DI MONTEPULCIANO?



The Noble Wine of Montepulciano (Vino Nobile di Montepulciano) is a classic red wine favored by royalty and aristocracy since Lorenzo de Medici in the 15th century.
This exceptional wine has also been elevated to the prestigious DOCG status - Denominazione di Origine Controllata e Garantita. According to the stringent DOCG law, the wine must contain at least 70% Sangiovese grapes cultivated from vineyards surrounding Montepulciano, up to 20% Canaiolo grapes, and up to 20% other red grape varieties.
The wine must also be aged for two years in chestnut or oak barrels before being released. For the more refined "riserva" label, three years is required.
Vino Nobile di Montepulciano is one of the most sought-after Tuscan wines that has made its way to wine cellars and dinner tables of wine lovers worldwide