description
Getting from Rome to Florence has never been more fun with our private Rome - Florence with visit to Assisi Sightseeing Transfer.
Enhance your long distance transfer between Rome and Florence with a visit to one of Italy's most fascinating cities and the birthplace of Saint Francis of Assisi: Assisi.
Rome - Florence with Assisi visit Price List:


For up to 4 Persons from Rome Hotel: 700 EUROS
For up to 6 Persons from Rome Hotel: 800 EUROS
For up to 8 Persons from Rome Hotel: 1,000 EUROS



* You may also do a QUICK PRICE CHECK using the Price Check & Booking form on the Right Side of this page. Once you receive the PRICE QUOTE based on the information you input, you may proceed to SUBMIT your Tour Request.
** Dates on the Booking Form Calendar that are NOT Selectable, are NOT AVAILABLE.


Your Stefano's Rome Cabs personal English speaking driver will pick up you at your hotel accommodation and whisk you off on a scenic drive where you will relax and enjoy the splendid countryside, free of worries about train tickets, chaotic train stations, or crowded public transportation while dragging your own luggage everywhere.
On our sightseeing transfer, you and you luggage will travel together for the most convenient hassle-free way to travel through Italy.
You will have the benefit of your private deluxe vehicle and personal English speaking Driver for the duration of the service.
At the end of your journey you will arrive at your new hotel accommodation so you can begin your new adventures rested and happy.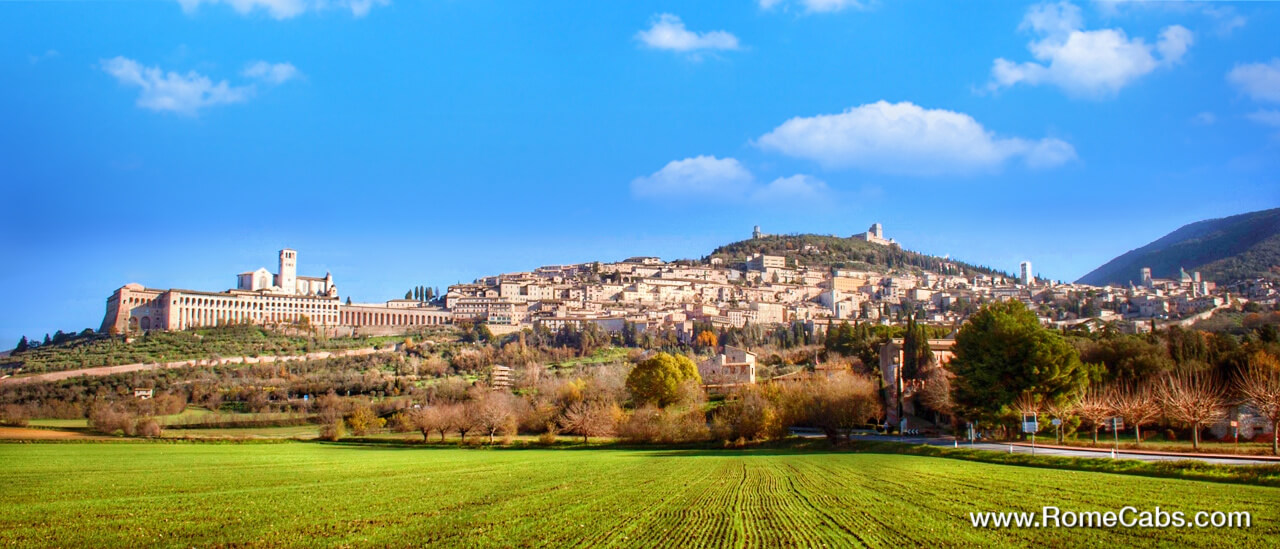 Your sightseeing transfer between Rome and Florence begins with a pleasant drive through the countryside where you will make your way to Assisi, a medieval town in the lush region of Umbria situated on the slopes of Mount Subasio.
Once you arrive you will have up to 2.5 hours to spend freely as you wish. Your luggage will remain safe inside the vehicle with your driver while you sightsee.
In Assisi you will have the opportunity to visit the Basilica of St. Francis, which is made up of an upper level and a lower level, known as the Upper Church and the Lower Church. The construction of the Basilica began immediately after St Francis was canonized as a Saint, and his tomb can be visited below the Lower Church, just follow the signs.
The Basilica is decorated with many stunning frescoes created by late medieval artists such as Giotto di Bondone, Cimabue, Pietro Lorenzetti and Simone Martini.
The town's main square is Piazza del Comune built on the site of an ancient Roman forum. The ancient 1st century BC Roman temple that was dedicated to pagan goddess Minerva dominates the square with its towering belltower.
During the 16th century, the temple was transformed into the church of Santa Maria Sopra Minerva, with further restorations and decorations in the rich Baroque style you can admire now.
In and near the square you can find a variety of local restaurants that serve up a delicious Umbrian lunch.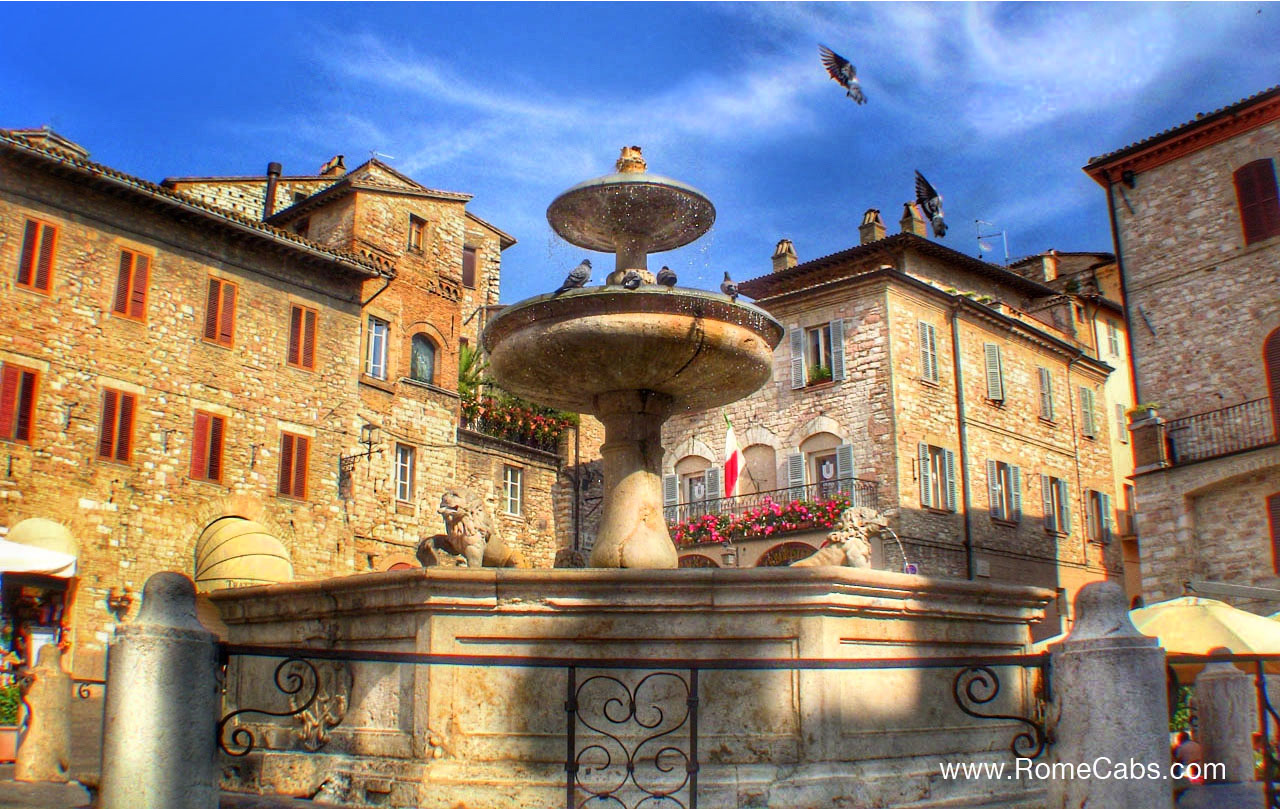 Nearby is the 13th century Gothic style Basilica of St. Clare (Santa Chiara) where the preserved body of Saint Clare is on display in a crypt with a layer of wax covering her face. Also displayed are garments worn by both St. Francis and St. Clare, various objects used by the saints, and locks of St. Clare's hair. Here you can also see the original crucifix believed to have spoken to St Francis inside the run down San Damiano church prior to his conversion.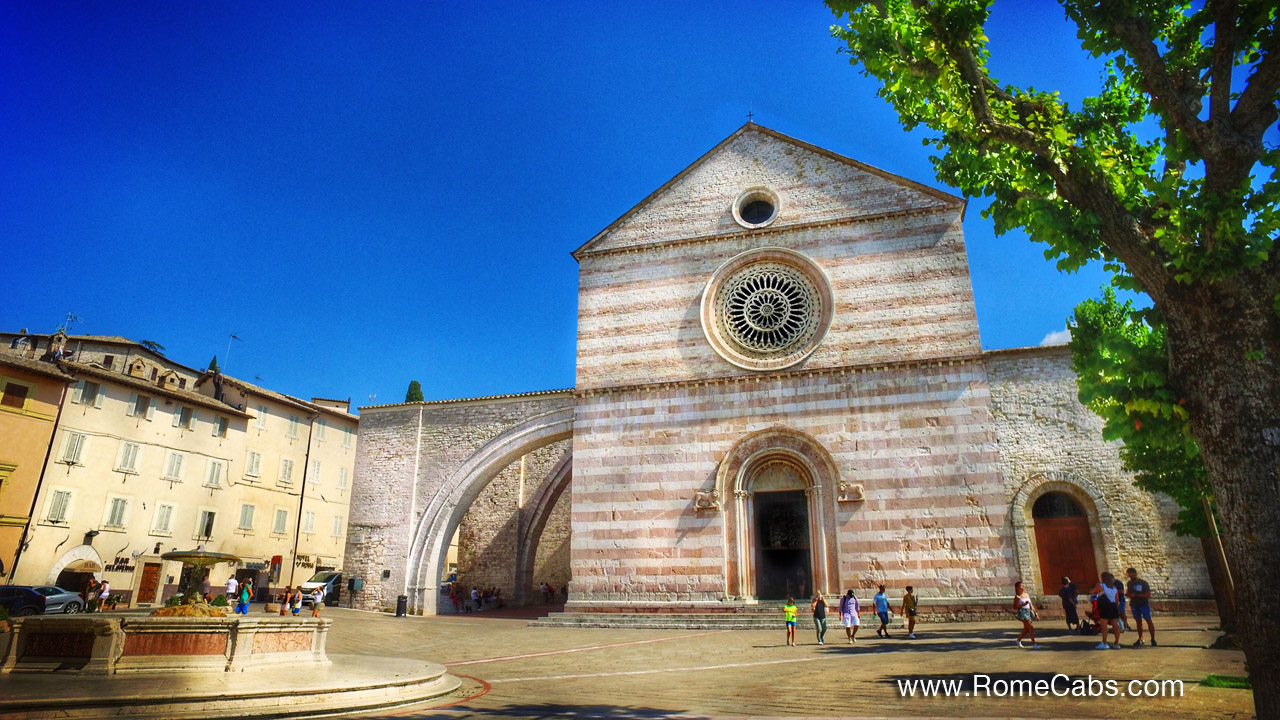 Outside the basilica in the piazza is a lovely patio where you can take in the verdant patchwork of the Umbrian countryside.
From here your journey will continue to your final destination.
Thank you for booking our Rome - Florence with visit to Assisi Sightseeing Transfer and for choosing Stefano's RomeCabs for your Italy Transfers and Tours. We look forward to showing you beautiful places in Italy!
Important Information

PLEASE READ THE INFORMATION BELOW AND ACCEPT THE TERMS OF SERVICE AND PRIVACY POLICY BEFORE BOOKING.

PAYMENT OPTIONS:
Payment for this Rome - Florence with visit to Assisi Sightseeing Transfer can be made in EUROS directly to your driver on the Date of Tour, or prepaid in advance via PayPal or Credit Card online when you confirm your Tour.
If you wish to PREPAY you may do so online when CONFIRMING your BOOKING by SELECTING your preferred option of payment.
CANCELLATION POLICY
Cancellations of service must be made via email at least 7 days prior to scheduled date.
Cancellations are accepted only via E-mail so your cancellation is on record. We do not accept cancellations by phone, text message, or 3rd parties.
** Cancelations for PREPAID SERVICES will be the Net Rate we receive from your prepayment. Net Rate: actual service price minus PayPal/Credit Card fees retained by PayPal/Credit Card as they do not reimburse us the fees they retain from your payment.
YOUR PRIVATE DRIVER
This service provides a Driver who is not a licensed tour guide, therefore Drivers cannot lawfully accompany guest to sightsee away from the vehicle or act as a tour guide. Your Private Driver will be obliged to remain with the vehicle while you SELF TOUR away from the vehicle.
In cases your accommodation is in a traffic and/or parking restricted area, your driver will park as close as lawfully possible and either meet you outside at your address for your pick up and accompany you to the parked vehicle, or accompany you to your hotel address from the parked vehicle for drop offs.


LUGGAGE
Sedans priced for 1-2 passengers can accommodate up to 2 standard suitcases and up to 2 small carryons.
Minivans for up to 8 passengers can accommodate up to 6 suitcases and up to 6 carry-ons in TOTAL. If you anticipate bringing luggage in excess of what the standard 8-seater vans can accommodate, please inform us prior to booking this service so we can help ensure that everyone and their luggage will travel safely inside the vehicle.

Private Driver MEETING POINT at hotel / accommodation:


Your private driver will meet you inside the lobby of your hotel or in areas permitted by your hotel management.

For Apartments or B&B's without a lobby, your driver will meet you outside the main entrance of your Pick Up Address.


* DOOR TO DOOR SERVICE is possible if your accommodation address is not in a traffic or parking restricted area. In case you are staying in an area with traffic and/or parking restrictions, your driver will park as close as lawfully possible and meet you outside at your address for your pick up and accompany you to the parked vehicle, or accompany you to your hotel address from the parked vehicle for drop offs.